Gareth Hoskins Architects, Scottish Design Office, Architecture Studio, Practice, Photos
Hoskins Architects Glasgow
Contemporary Architectural Practice Glasgow: Design Studio in Scotland, UK
post updated 3 Apr 2021
Hoskins Architects Building News
6 Mar 2021
Hoskins Architects Win at Civic Trust Awards
With two projects among just 40 winners from around the globe, Hoskins Architects are thrilled to have won the National Panel Special Award, for our transformational project at Aberdeen Art Gallery. Our project at Strawberry Field, a visitor and training centre for young people with learning disabilities, for the Salvation Army, was also a winner in the Selwyn Goldsmith award:
Read more at Hoskins Architects Civic Trust Awards
9 Feb 2021
Langside Halls: View New Proposals And Have Your Say
In October 2020 Langside Halls Trust, with funding from Glasgow City Council, Glasgow City Heritage Trust and the Architectural Heritage Fund Scotland, appointed Glasgow-based Hoskins Architects to lead a team of consultants including culture & heritage consultants, Jura Consultants to undertake a 20 week feasibility study of Glasgow's Langside Halls.
8 Oct 2020
Langside Halls: Study to find sustainable future for 'A' listed venue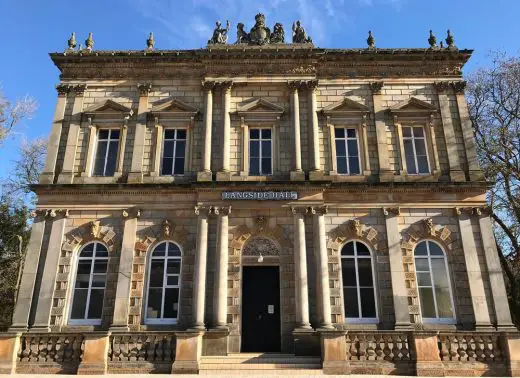 photo courtesy of architects
Langside Halls Queen's Park, Glasgow
Langside Halls Trust (LHT) is delighted to announce the appointment of award winning, Glasgow-based Hoskins Architects and culture & heritage management consultancy, Jura Consultants to undertake a 20 week feasibility study of Glasgow's magnificent 'A' listed Langside Halls. The study is tasked with producing a viable Business Plan and costed design and conservation proposal to enable the Trust to seek the capital funding necessary to refurbish the Halls and realise its vision.
2 Oct 2020
Laagberg Memorial and Learning Site, Wolfsburg, central Germany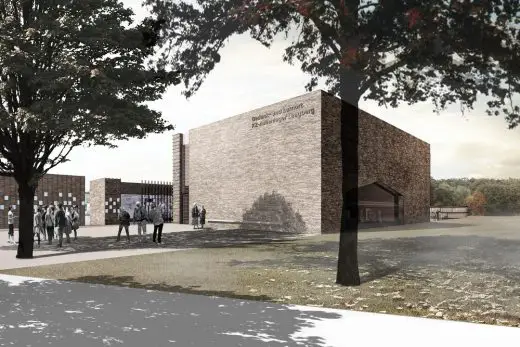 picture courtesy of architects
Laagberg Memorial and Learning Site, Wolfsburg
In September 2020 Hoskins Architects, working with landscape architects guba+sgard and exhibition designers Ralph Appelbaum Associates, won the competition to design the new Laagberg Memorial and Learning Site in Wolfsburg.
7 Sep 2020
Hidden Stories Map: Glasgow Doors Open Day
5 Jul 2018
World Museum, Vienna, Austria
Design: Hoskins Architects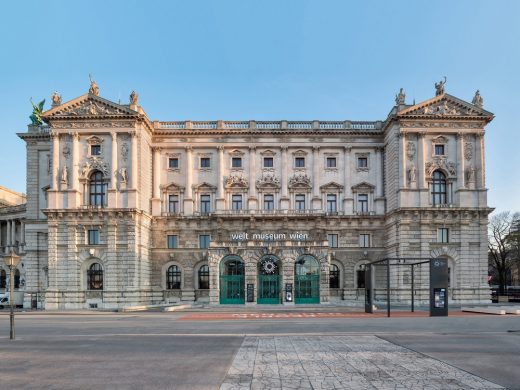 photography © Pierer.net/ARGE Ralph Appelbaum Associates/Hoskins Architects
World Museum Vienna Building
Following an international open competition in 2013, Hoskins Architects – in collaboration with Ralph Appelbaum Associates – were appointed to redevelop the Weltmuseum Wien's exhibition and visitor facilities. The 7,500m² museum is situated in the historic Hofburg Palace in Vienna and includes 2,400m² of permanent exhibits and 1,400m² of temporary exhibition spaces.
30 Jun 2018
The Registers, 20 West Register Street, Edinburgh, Scotland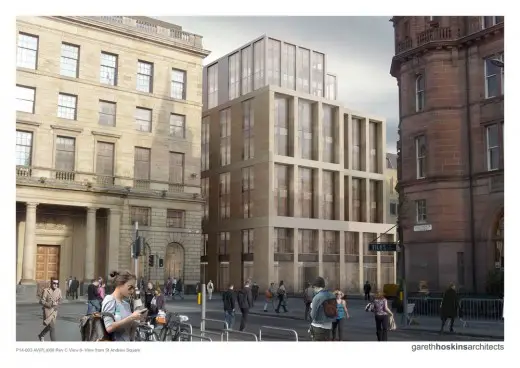 image courtesy of developer
The Registers, St Andrew Square
Chris Stewart Group (CSG) has confirmed that it has pre-let the office space at 20 West Register Street, designed by Hoskins Architects, part of the award-winning property developer's £85 million regeneration project at 'The Registers' in Edinburgh's city centre, to Baillie Gifford.
22 Jun 2018
Museum für Franken, Würzburg, southern Germany
Museum für Franken, Marienberg Fortress
Consortium of Hoskins Architects (Glasgow / Berlin), Ralph Appelbaum Associates and Wenzel+Wenzel to design the new Museum für Franken at Marienberg Fortress, Würzburg, Franconia, northern Bavaria, Germany.
18 Apr 2017
Perth City Hall Building Revamp
Hoskins Architects is one of five of architects firms competing for the right to redesign Perth City Hall.
Each has a grand vision for redeveloping the building into a cultural attraction capable of bringing visitors to the city from around the world. Shortlisted architects, alphabetical order:
– Austin Smith Lord
– Hoskins Architects
– LDN
– Mecanoo
– Richard Murphy Architects
Perth City Hall Building Revamp
4 Dec 2016
Brodie Castle Project, Scotland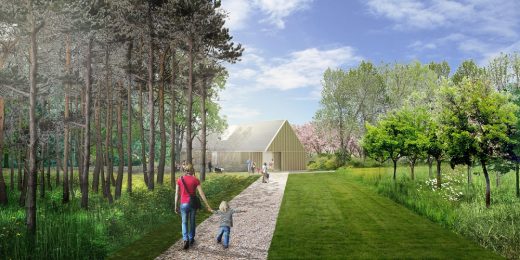 Hoskins Architects working in collaboration with landscape architects erz have designed a £2.8m 'Garden of Playfulness' to sit within the grounds of Brodie Castle, Morayshire, North East Scotland, reports Urban Realm.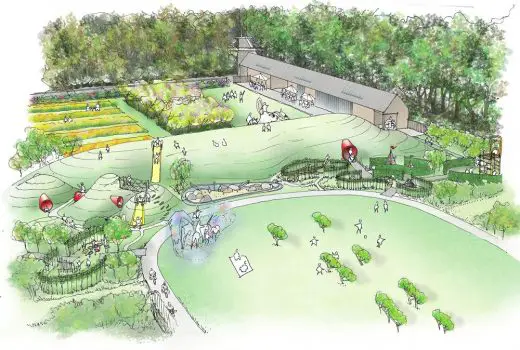 Commissioned by the National Trust for Scotland the work will see the Forres stronghold, ancestral home of the Brodie family, transformed into a key tourist attraction through construction of a visitor pavilion and gateway to the wider estate and gardens.
21 Sep 2016
3-8 St Andrew Square, Edinburgh, Scotland
Design: CDA / Hoskins Architects
Photos with sunshine taken late yesterday afternoon:
view from north west, showing golden facades to St Andrew Square (left) and South St David Street (right):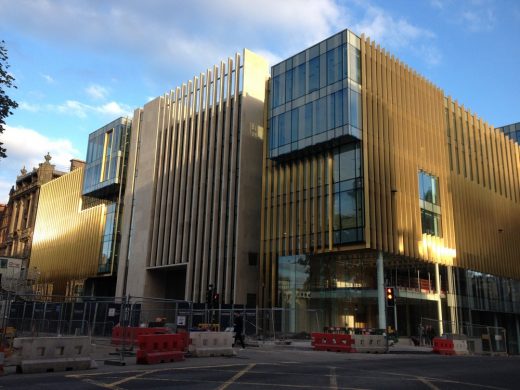 view from north, showing top of the facade detail onto St Andrew Square: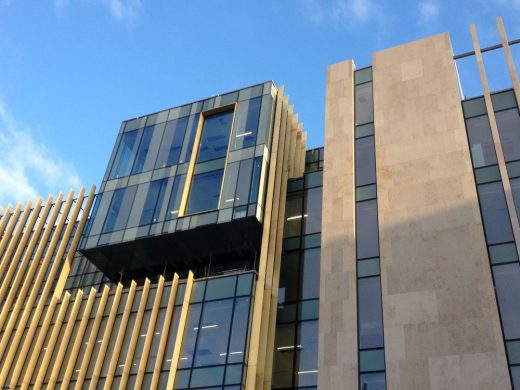 photos © Adrian Welch
TK Maxx Edinburgh St Andrew Square
2 + 1 Sep 2016
Scottish National Gallery Building Renewal, Edinburgh, Scotland
Work on the extension to the Scottish National Gallery in Edinburgh has started after the City of Edinburgh Council formally approved the planning applications.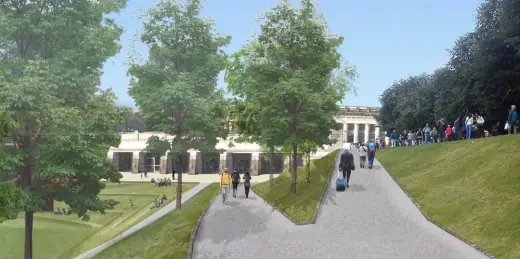 The planned £16.8m redevelopment of the Scottish National Gallery, will triple the exhibition space available to the Scottish collection from 440sqm to 1320sqm, vastly improving visitor access and circulation.
The late Gareth Hoskins OBE created the design that is now being taken forward by his office.
Hoskins Architects was appointed to the project in 2014.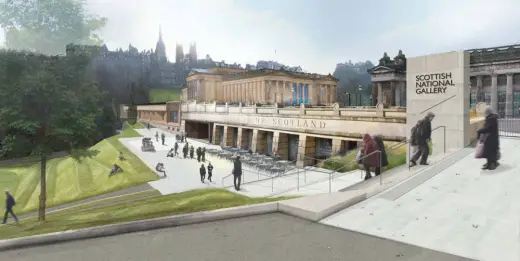 This famous building was designed by the Scottish architect William Henry Playfair (1790-1857).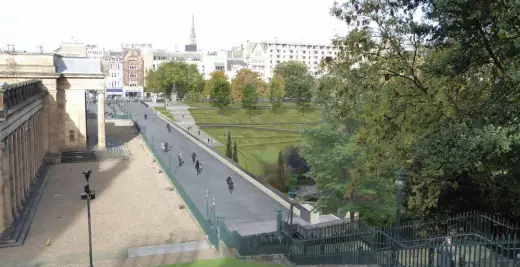 The Heritage Lottery Fund announced a £4.94m grant towards the project earlier in 2016.
Construction work will commence on site in spring 2017 and should complete in autumn 2018. The new spaces should open to the public in early 2019.
The SNG is the most popular UK art gallery outside of London.
During the renovation, the SNG will remain open to the public with access to rooms at the ground and upper levels.
11 + 10 Jan 2016
Gareth Hoskins Architect News
Gareth Hoskins, OBE, B. Arch (Hons), Dip Arch, M. Arch, RSA, RIBA, FRIAS
1967-2016
Gareth died on Saturday aged just 48. Reports suggest he has been in a coma since a heart attack after taking part in a fencing match.
He studied architecture at Glasgow School of Art in Scotland and at Florence University in Italy.
He worked as an associate with Penoyre and Prasad in London for six years.
Gareth then set up Hoskins Architects in Glasgow in 1998.
He was UK Young Architect of the Year in 2000, and UK Architect of the Year in 2006.
Key early projects include the Culloden Battlefield Visitor Centre.
More recently his practice has been involved in the major controversy of the hotel at the former Royal High School site on Calton Hill in Edinburgh.
For me his most successful architectural intervention (though I miss the old fish ponds) was the National Museum of Scotland Redevelopment, Edinburgh, a clever renewal of a popular old building, providing better access and circulation.
The practice also has an office in Berlin.
Website: Gareth Hoskins Obituary in The Times
RIAS secretary Neil Baxter commented: "Gareth was 48 and appeared to be fit and in good health. Sadly, it seems that he had an underlying health problem that had gone undetected.
"He had some very able people around him and his office will take those projects forward, but his creativity and vision will be sorely missed."
Information from The Royal Incorporation of Architects in Scotland:
RIAS Special Notice – Gareth Hoskins OBE FRIAS (1967-2016)
It is with very great regret that we write to notify you that Gareth Hoskins OBE FRIAS has died. His death followed a short illness.
Neil Baxter, RIAS Secretary & Treasurer
Hoskins Architects said this morning: "It is with great sadness that we confirm that Gareth Hoskins OBE, the founder and Managing Director of Hoskins Architects, has died.
"Gareth, who was 48, took ill at an event in Edinburgh on Sunday 3rd January and, despite receiving the best care possible in Edinburgh Royal Infirmary, he passed away on Saturday (9th January).
"Everyone at Hoskins Architects is deeply shocked and saddened by this untimely loss. Our thoughts are with Gareth's family."
Chris Coleman-Smith, a co-director of Hoskins Architects, said: "Everyone at Hoskins Architects has lost an exceptional architect, a visionary and a gifted leader, but above all a very good friend. Gareth leaves a huge gap, he was such a special person. We appreciate the very many messages of condolence that have already been received."
RIAS secretary Neil Baxter described Gareth Hoskins as "one Scotland's brightest young stars".
President of the Royal Incorporation, Willie Watt, added: "First and foremost, this is a tragedy for Gareth's family. Our hearts go out to them. It is also a tremendous loss to architecture in Scotland. Gareth's prolific and award-winning firm has been among the leading architectural practices in Scotland for nearly two decades. His many prestigious projects for major national cultural organisations includes the 2011 RIAS Andrew Doolan Best Building in Scotland winning reconfiguration of the National Museum of Scotland.
"More recently, his practice has diversified and now operates from its original base in Glasgow and from Berlin. Gareth's international reputation was growing steadily and he was a tremendous ambassador for Scottish architecture. As all who knew him will also testify, he was a very nice man who, despite his success and growing fame, was invariably modest. As a practitioner and teacher, he excelled. Scottish architecture is much the lesser with his parting."
There will be a private family funeral and a memorial service for Gareth is planned to be held at a later date.
Gareth Hoskins OBE
Fiona Hyslop, Cabinet Secretary for Culture, Europe and External Affairs, has expressed her sadness upon hearing of the tragic early death of Gareth Hoskins OBE, one of Scotland's finest architects.
Ms Hyslop said:
"Gareth Hoskins was an outstanding architect. His death at such a young age is a shock to the profession and a great loss for our country.
"His many highly-regarded projects have contributed a great deal to improving the quality of the built environment here in Scotland as well as raising the profile of Scottish architecture internationally. In his work abroad, he was an exemplary ambassador for Scotland and its architecture.
"The Scottish Government has been extremely grateful for his valuable contribution to the public benefit in Scotland both as a Board Member and Design Forum Member of Architecture and Design Scotland and, for a number of years, as National Healthcare Design Champion.
"My thoughts go to his family in this terribly sad time."
Scottish National Gallery Expansion
8 Jan 2016 – Hoskins Architects have submitted a planning application for a series of extensive extensions and alterations to the Scottish National Gallery in Edinburgh.
Royal High School hotel Bid Rejected by Edinburgh Council
17 Dec 2015 – Councillors have rejected controversial plans to turn the old Royal High School into a hotel.
The £75m plans had provoked a storm of protest from heritage watchdogs.
Council planning officials had previously recommended the bid from Rosewood Hotels be rejected, reports The Scotsman.
Following a lengthy and tense meeting, the 15 members of the council planning committee voted 8-7 against the proposal.
Gareth Hoskins, managing director of Hoskins Architects, said: "This was always going to be a tough decision for councillors. I remain confident that this is not just an ambitious design but a sensitive and appropriate proposal that would revitalise Thomas Hamilton's iconic building and breathe new life into Calton Hill for the people of Edinburgh and visitors alike.
Former Royal High School Edinburgh Planning, Calton Hill, Edinburgh, Scotland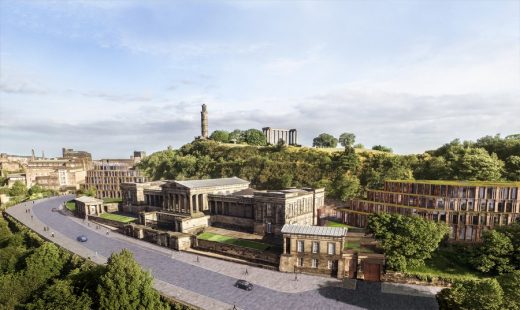 image from architects
Royal High School Edinburgh Hotel
11 Dec 2015
Edinburgh council planners have urged councillors to reject proposals to transform the former Royal High School building into a £75m hotel, jointly developed by Urbanist Hotels and Duddingston House Properties.
Hoskins Architects' designs for a 160-room development were revised down to 147 rooms after a public consultation "fundamentally altered" the initial plans. The original design was slated for being too modern and not blending into the surrounding area.
9 Dec 2015
Martha Street Development, Glasgow, Scotland
Proposals designed by Hoskins Architects for the Chris Stewart Group. The Martha Street development in Glasgow includes 59 serviced apartments, 375 student flats and 23,688 sqft of commercial space on vacant property.
2 Sep 2015; updated 8 Dec 2015
Former Royal High School Edinburgh Plans, Calton Hill, Edinburgh, Scotland


image from architects
Royal High School Edinburgh Alternative Proposals
15 Jun 2015
Hoskins Architects News
New identity launch and expansion for award-winning Hoskins Architects
The award-winning Glasgow and Berlin based architects' practice Gareth Hoskins Architects, is rebranding to become Hoskins Architects in a move that reflects its international growth.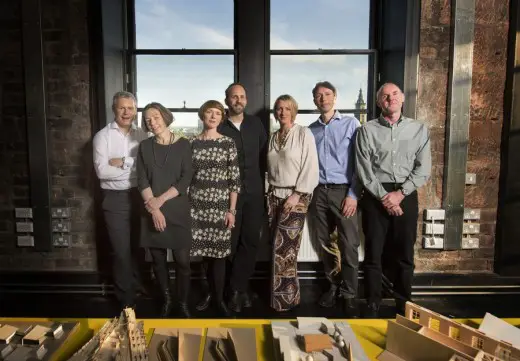 The studio was originally set up in Glasgow in 1998 by one of the country's leading figures in the industry, Gareth Hoskins OBE, and through a series of major international competition wins – including the multi-million pound National Museum of Scotland redevelopment – the company is now regarded as one of the leading architectural design practices in the UK.
The Glasgow studio has recently relocated to the creative industries hub South Block in Osborne Street and as part of their expansion plans to grow the business across a much wider, international stage, with a newly established, and quickly growing, studio in Berlin. Hoskins Architects employs 40 highly skilled people across its two studios and has a strong portfolio in major cultural and heritage initiatives; public sector projects; community and healthcare; and large scale regeneration and commercial projects.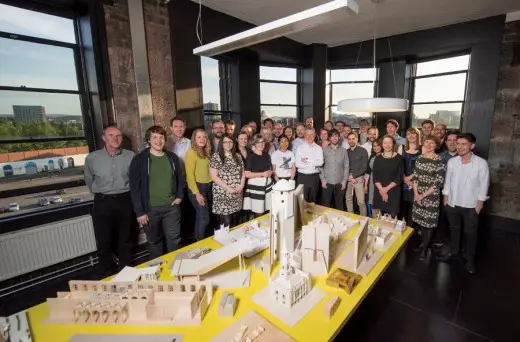 Hoskins Architects has worked on many high profile projects around the world including London's V&A Museum; the Culloden Battlefield Visitor Centre; Robin House Children's Hospice in Balloch; Mareel Concert Hall in Shetland; The National Museum of Scotland redevelopment; and the first ever Scottish Pavilion for the Venice Biennale.
Hoskins Architects is currently involved in projects in four world heritage sites which are spearheading its international expansion. In Edinburgh the practice is onsite with the next phase of the National Museum of Scotland; two major regeneration projects in St Andrew Square; and the new Scottish Collection Gallery for National Gallery. The team are also working on Aberdeen Art Gallery's redevelopment and in London they are onsite at Bird College of Dance Music and Theatre. The growing Berlin studio is working on the World Museum in Vienna and Berlin's City Library with other large scale projects starting soon.
Culloden Battlefield Memorial Centre, Scotland: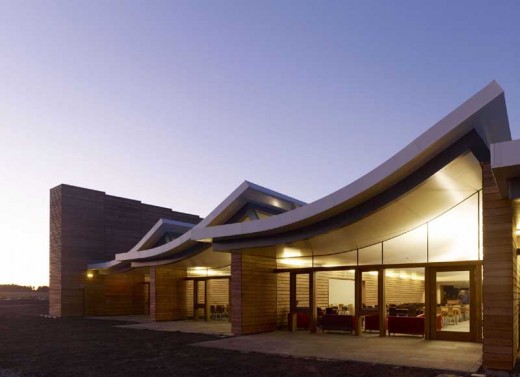 photo : Ewen Weatherspoon
Hoskins Architects has also recently won the David Livingston Museum project which was awarded Heritage Lottery Funding (announced 11 June) to take the project forward.
Gareth Hoskins, Managing Director said:
"I am incredibly proud of our achievements over the past 17 years and I am excited about our new identity and the wider creative opportunities we have in the international field. We have a great team of people at Hoskins Architects and our portfolio of award-winning designs is a testament to our belief that good architecture benefits people and places in profound ways. We work hard to make buildings and spaces great and we are all focused on creating architecture that enriches its environment and connects to the past, whilst at the same time being relevant and valuable to the people who use it."
15 June 2015
Website: www.hoskinsarchitects.com
/ @Hoskins_Arch / FB: Hoskins Architects
Hoskins Architects Buildings
National Museum of Scotland Redevelopment, Edinburgh
Following an international competition win in 2003, Hoskins Architects prepared a 15-year, £80M masterplan to guide the redevelopment of the National Museum of Scotland in Edinburgh. The principal £47.4M phase of this work, incorporating all major architectural interventions, was completed in July 2011 and within one month of reopening the museum attracted over 500,000 visitors, far exceeding all anticipated audience targets. The category A-listed Victorian building was completely refurbished with new public spaces and entrances allowing the museum to reconnect with the surrounding cityscape.
The stone-vaulted cellars were reconfigured to create a dramatic public entrance hall with new stairs and lifts taking visitors up into the delicate cast iron structure of the original central atrium gallery. A sequence of new voids and stairs create a clear promenade through the museum, drawing visitors up through all levels of re-displayed galleries. Current and future phases of development will see the masterplan works completed with twelve new galleries showcasing the Museum's internationally important collections of decorative art, design, fashion, science, technology and World Cultures.
Scottish Collection Gallery, Edinburgh
Hoskins Architects were appointed by the National Galleries Scotland in 2014, via a competitive tender process, to be Architects for the new Scottish Collection Gallery on The Mound, Edinburgh. This appointment runs from feasibility to completion. The project is to provide a world class gallery space below the Playfair designed, National Gallery building, to display the large collection of Scottish Works in the Scottish National Collection.
This £15.3m renovation project has now received £4.94m Stage 1 Heritage Lottery Funding and is now proceeding towards planning and will complete in 2018.The project involves extensive reworking of the 1978 PSA designed Scottish Collection gallery, as well as linking to the 2004, John Miller and Partners, Weston link and creating new circulation routes to the Grade A listed gallery above. The designs include forming a new façade onto Princes Street Gardens and propose extensive landscaping to the gardens to enhance accessibility down to the gardens entrance.
World Museum, Vienna
Following an international open competition in 2013, Hoskins Architects in collaboration with Ralph Appelbaum Associates were appointed to redevelop exhibition and visitor facilities at Weltmuseum Wien in the historic Hofburg Palace in Vienna. The 7,500m² redevelopment includes 2,400m² permanent exhibition and 1,400m² temporary exhibition spaces. A new information point in front of the main entrance with temporary café and performance area improves the museum's public presence on Heldenplatz.
New reception and introductory spaces lead visitors to the Säulenhalle, the heart of the museum, where visitors can relax in a new café area. From here visitors can directly access the temporary exhibition spaces, new museum shop and a new auditorium at ground floor level or the permanent collection and education facilities on the upper floor. The design uses a uniform architectural language, sensitive to its historic context, which works in conjunction with the exhibition design to create a clear and coherent museum.
More Hoskins Architects projects online soon
Location: 401, South Block, 60-64 Osborne St, Glasgow, Lanarkshire G1 5QH, UK
Architecture Practice Information
Architect studio based in Glasgow, Scotland
Recent key architectural news for the practice:
Bird College Building, Sidcup, Kent, England
– design competition winner
National Museum of Scotland Redevelopment, Edinburgh, Scotland




photos © Adrian Welch
National Museum of Scotland – RIAS Andrew Doolan Best Building in Scotland Award
Key Projects by Gareth Hoskins Architects
Buildings by Gareth Hoskins Architects
Ballymena Health & Care Centre, Northern Ireland
Design: Gareth Hoskins Architects / Keppie Design



image from architect
Trump Golf Resort, North East Scotland



image from architect
The Bridge, Easterhouse, Glasgow, Scotland



photograph © Andrew Lee
Culloden Battlefield Visitor Centre, nr Inverness, Scotland



photo © Andrew Lee
Helensburgh Pool, Scotland
New swimming pool and community facility – architecture competition win
Duncan House, Kinloch, Fife, Scotland



photo © Andrew Lee
Edinburgh Castle visitor centre, Edinburgh, Scotland


image from architect
The Lawlor House, Pollokshields, Glasgow, Scotland



image from architect
Lochend Care Home, Edinburgh, Scotland



photo © Adrian Welch
The Mareel, Shetland, Scotland



image from architects
Museum of Scotland refurbishment, Edinburgh, Scotland



image from architects
St Andrew Square proposal, Edinburgh, Scotland
Design: CDA and Gareth Hoskins Architects


picture from architects
Sandy Road Clinic, Partick, Glasgow, Scotland



photo : John Cooper
Saughton Visitor Centre, Edinburgh, Scotland



photo : David Churchill
V&A Architecture Gallery, London, England



image by Morley Von Sternberg
Culloden Battlefield Memorial Centre



photo : Ewen Weatherspoon
Gareth Hoskins – former archtects practice page
Glasgow Architects : Practice Contact
Gareth Hoskins: New Scottish Schools by Gareth Hoskins
Website: Scotland
Comments / photos for the Hoskins Architects page welcome
Website: www.hoskinsarchitects.com