Scottish Building News, Architecture Photos, Property Scotland Images, Architects, Design Links
Scottish Building News 2019
post updated 14 April 2020
Scottish Buildings News in 2nd Part of 2019
This page contains a selection of major Scottish Architecture News, with projects arranged chronologically, latest first. Each architecture news item links to an individual project page. We've selected what we feel are the key Scottish Building News stories.
Scottish Architecture Designs – chronological list
Scottish Architecture News – current news page
28 Jun 2019
Dramatic fall in planning permissions for new homes in Scotland
Dramatic fall in planning permissions for new homes in Scotland raises concern on whether housing growth can be sustained, new analysis shows.
New analysis of the number of new homes securing planning permission in tandem with statistics showing a long-awaited upturn in housing delivery levels last year has raised concern on whether the housing growth seen in Scotland in 2018 can be maintained in the longer-term.
This follows publication of the latest data Insights bulletin by industry body Homes for Scotland (HFS) which shows that, whilst housing completions increased by 15 per cent in 2018, there is no corresponding upward trend in planning permissions – something which is required in order to sustain recovery and tackle the country's housing crisis.
HFS Chief Executive Nicola Barclay said:
"Having recently increased our capabilities in terms of data analysis, this is the first time we have been able to examine these key indicators on a calendar year basis, bringing them together in an easy to read format covering both national and regional levels.
"Although figures for housing completions are encouraging, there was a dramatic 44.5 per cent drop in the number of homes receiving planning consent in the last quarter of 2018. This must serve as a warning that we cannot be complacent if housing growth is to be sustained.
"With new provisions in the Planning Bill signalling an end of tolerance in relation to below-par housing delivery, all stakeholders should seize this opportunity to move from conflict in the planning system to collaboration to ensure all our communities have the new homes they need for a successful future."
Homes for Scotland analysis highlights a dramatic drop-off in the number of homes receiving planning consent in the last quarter of 2018: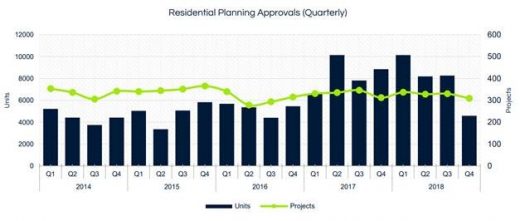 image courtesy of HfS
21 Jun 2019
SPF welcomes revised Planning Bill
The Planning (Scotland) Bill has successfully passed through its final stage of scrutiny in the Scottish parliament, following three days of debate in Holyrood.
The Scottish Property Federation (SPF) welcomes the outcome of the revised Planning Bill.
SPF Chairman, Miller Mathieson, said, "Ever since the independent planning review in 2015, we have called for these reforms to achieve a streamlined and delivery-focused planning system.
"We are pleased that the Bill has been strengthened over the course of its passage through parliament and that unworkable amendments introduced at Stage 2 were, in the end, either improved or removed from the Bill.
"We agree it is important that community views are incorporated into plan-making at the earliest stage and that effective and robust community engagement is undertaken at the outset of a development proposal.
"It will also be important to ensure that any further increases in planning fees go hand in hand with tangible improvements in planning services.
"After considerable cross-party efforts to improve the Bill, we are optimistic that it can now support much needed development in Scotland, which will be a catalyst for jobs, investment and creating places for people to live, work and enjoy."
21 Jun 2019
Muirton Living Perth Affordable Housing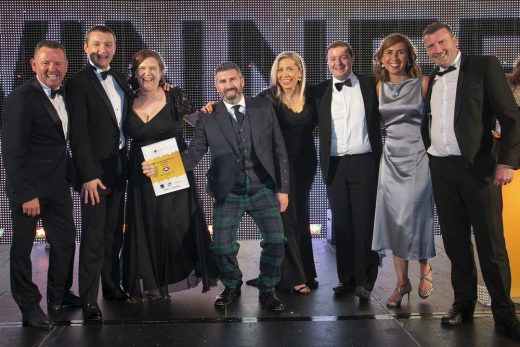 photo courtesy of Urban Union
Perth housing development named the best Affordable Housing Development of the Year in Scotland. Muirton Living, which is being delivered by Scottish home builder Urban Union scooped the award at this year's Scottish Home Awards – seeing off competition from across the country.
20 June 2019
Royal Highland and Agricultural Society of Scotland Event Space
RHASS Event Space
18 June 2019
Scottish Home Ownership News
As new figures show 7000 households helped into home ownership over last three years, builders highlight potential for disparity with the rest of the UK.
The home building industry has today welcomed news of the success of the Scottish Government's Help to Buy shared equity scheme following publication of latest information on household characteristics today, emphasising the importance of maintaining a level playing field across the border.
The details show that, over the last three years, more than 7000 households have been able to purchase a new build home with just a five per cent deposit. They also reveal that the number of First Time Buyers using the scheme has increased to over 80 per cent and that the number of purchasers who had previously been living with parents or relatives had risen to 45 per cent.
Fionna Kell, Director of Policy at trade body Homes for Scotland, said:
"Today's figures clearly demonstrate the demand that exists for Help to Buy and the important role it has to play in enabling those younger Scots who wish to, to get on the housing ladder and live independently as homeowners.
"The value that Help to Buy provides, not only as a proven policy driver for increasing housing delivery but also across a wide range of other areas (such as increasing opportunity, supporting jobs and developing skills) is clear but the scheme in Scotland is currently set to end in 2021.
"Whilst we keenly await details about the new pilot scheme to help First Time Buyers with deposits which the Scottish Government announced in April, and stand willing to help shape the scheme to ensure it is fit for purpose, it is important that neither buyers nor builders be placed at a disadvantage to their counterparts south of the border where Help to Buy there has already been extended to 2023.
"In order to ensure that more Scots have the opportunity to achieve their aspiration of home ownership, time is of the essence if builders are to have the confidence and certainty required to plan their development and investment decisions accordingly."
17 June 2019
Planning Bill faces final stage of scrutiny
The final stage of the Planning (Scotland) Bill is set to commence this week with a three-day debate in Holyrood.
Following the lodging of more than 200 Stage 3 amendments, the Scottish Property Federation (SPF) is pleased to see evidence of cross-party cooperation but remains concerned that a number of last-minute amendments could derail the planning system if passed.
Miller Mathieson, SPF Chairman, said, "At our annual conference in March, we called for parliament to work together to untangle the Planning Bill after a string of unworkable amendments were passed at Stage 2.
"We appreciate the time MSPs and officials have since dedicated to recovering this Bill, including the allocation of three days of debate.
"Efficient and effective planning is crucial for future development and investment in Scotland. It starts with a workable, competitive planning system that unlocks opportunity rather than hindering it.
"We call for MSPs to bear these implications in mind and agree to return the Bill to its original intention of creating a simplified planning system for Scotland, which focuses on delivering much-needed homes, jobs, and investment."
16 Jun 2019
The Crescent at Donaldson's, Edinburgh
The Crescent at Donaldson's was named the winner in the Innovation in Design and Show Home of the Year (Selling price over £400,000) categories at the annual Scottish Home Awards:
The Crescent at Donaldson's in Edinburgh
13 + 2 June 2019
Discover Scotland's 'Braw Buildings' with Hostelling Scotland
Hostelling Scotland is inviting young people and families to apply for Braw Buildings 2019, which will give them the opportunity to explore some of Scotland's most fascinating buildings, whilst at the same time exploring a new area of the country. This is the second year that the charity, which launched in 1931, has partnered with The Scottish Civic Trust's Doors Open Days Festival for the project.
Doors Open Days, which takes place around Scotland throughout September, gives people free access to hundreds of buildings, some that are closed to the public for the rest of the year, and to special festival events.
Braw Buildings 2019 offers both young people and families in Scotland the chance to go on a free weekend away, staying in one of six youth hostels across the country, during the Doors Open Days Festival – Inverness, Aberdeen, Pitlochry, Stirling, Glasgow and Edinburgh. They will then have the opportunity to explore some of Scotland's most iconic buildings being showcased as part of the annual Doors Open Days.
Hostelling Scotland Chief Executive, Margo Paterson, said: "The Braw Buildings Project 2019 will this year support both young people aged 16 to 25 and families from across Scotland by offering a fantastic opportunity for them to explore and experience our beautiful country, stay in a youth hostel and discover some of the fascinating buildings taking part in Doors Open Days – all for free."
Dr Susan O'Connor, Director of The Scottish Civic Trust, said: "Doors Open Days gives over 100,000 people free access to over 1,000 venues and events across Scotland every September. This year, we are celebrating 30 years of Doors Open Days with an incredible programme of events, from swimming pools full of flowers to tours of Scotland's finest buildings hosted by refugees. This is a chance for young people and families to explore unknown parts of Scotland and learn about our shared cultural heritage. We can't wait to learn about what they discover."
Young people aged 16 to 25, and families with at least one child aged up to 15 years, from across Scotland who are keen to explore new parts of the country, are being encouraged to apply. To apply for Braw Buildings 2019 please go to: www.hostellingscotland.org.uk/braw-buildings. The deadline for applications is midnight on Monday 15 July.
In 2018, 34 young people from all over Scotland took part in Braw Buildings. Participants visited a number of Doors Open Days venues, including Arlington Baths Club in Glasgow and Ness Bank Church in Inverness.
About Braw Buildings 2019
Key dates and locations for Braw Buildings 2019 are:
• Inverness Youth Hostel: Friday 30 and Saturday 31 August
• Aberdeen Youth Hostel: Friday 6 and Saturday 7 September
• Pitlochry Youth Hostel: Friday 6 and Saturday 7 September
• Stirling Youth Hostel: Friday 13 and Saturday 14 September
• Glasgow Youth Hostel: Friday 20 and Saturday 21 September
• Edinburgh Youth Hostel: Friday 27 September (One night only)
Hostelling Scotland is looking for applications from:
• Young people in Scotland aged 16 to 25 who want to stay in a hostel and visit Doors Open Days venues
• Families with at least 1 child aged up to 15 years who want to stay in a hostel and visit Doors Open Days venues
• To apply for Braw Buildings 2019 please go to: www.hostellingscotland.org.uk/braw-buildings. The deadline for applications is midnight on Monday 15 July.
For further information on Braw Buildings 2019 contact:
Lois Marshall, Youth and Volunteer Engagement Manager Hostelling Scotland [email protected]
About Hostelling Scotland:
Hostelling Scotland is a self-funding charity with a network of over 30 youth hostels in stunning locations around Scotland. We offer great value, flexible accommodation, expert local knowledge and a warm welcome for anyone wishing to experience the real Scotland.
www.hostellingscotland.org.uk
About Doors Open Days:
Doors Open Days gives natives, new arrivals and visitors free access to over 1,000 venues and events, many of which are not usually accessible to the public, across Scotland every September. We believe that the more that people are involved with Scottish culture and heritage, the richer it gets. This year, we are celebrating 30 years of Doors Open Days with an incredible programme of events that will be announced on the Doors Open Days website in July. Doors Open Days is coordinated nationally by the Scottish Civic Trust.
www.doorsopendays.org.uk / www.scottishcivictrust.org.uk
6 June 2019
Homes for Scotland launches brand refresh
Trade body Homes for Scotland has refreshed its brand, reflecting the overarching purpose of its new five-year strategy and the organisation's clear call to action of delivering more homes for Scotland.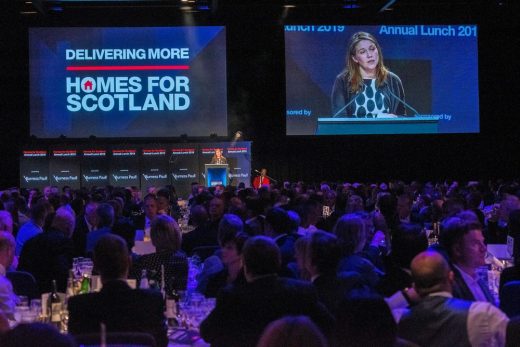 image courtesy of Homes for Scotland
Unveiled at its recent Annual Lunch in Edinburgh in front of a crowd of 1100 senior industry representatives and guests, the refresh provides a strong new identity which clearly reflects the organisation's main purpose to its members as well as consumers and wider stakeholders.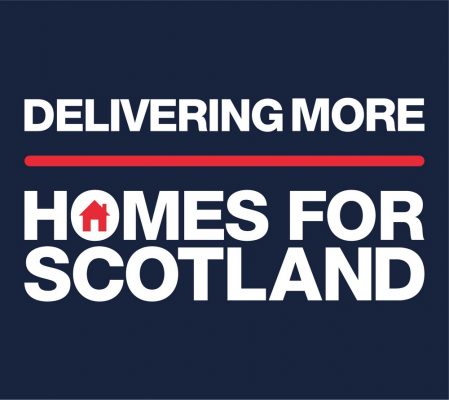 image courtesy of Homes for Scotland
Chief Executive Nicola Barclay said:
"This bold new logo perfectly complements our organisation's key objectives and core values as set out in our strategy. These include improving the understanding and image of the industry, influencing stakeholders and supporting a growing membership.
"It adds further strength to our voice and credibility as we engage with all those who have an interest in increasing vital housing supply and bolsters our commitment to delivering more high-quality homes that meet the needs and aspirations of the people of Scotland."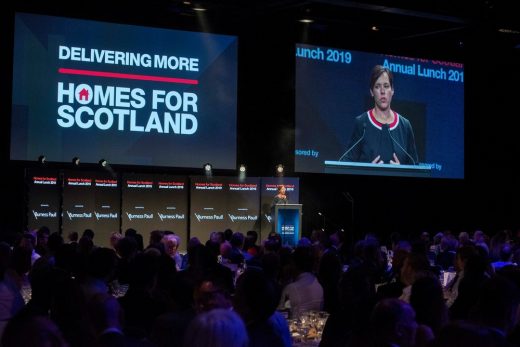 image courtesy of Homes for Scotland
Cabinet Secretary for Communities & Local Government Aileen Campbell MSP addressing the audience at the recent Homes for Scotland Annual Lunch & Awards where the organisation's new logo was unveiled.
23 May 2019
RICS Awards News
Two of Robertson's most significant projects have received coveted accolades at the prestigious Royal Institution of Chartered Surveyors (RICS) Awards.
Premium spirits giant Edrington's £140m Macallan Distillery and visitor experience in Speyside picked up the 'Design through Innovation' award at the Scotland ceremony, with judges commending the project team's careful management of the environment, sustainability and local resources, particularly water, and the building's innovative design.
New Macallan Distillery Building
There was also success in the Northeast, with Whitley Bay's iconic Spanish City regeneration project, which Robertson delivered for North Tyneside Council, awarded the 'Tourism and Leisure' title, with judges commending £10million project for transforming a declining waterfront building into a shining beacon of hope and prosperity.
Spanish City regeneration project in Whitley Bay: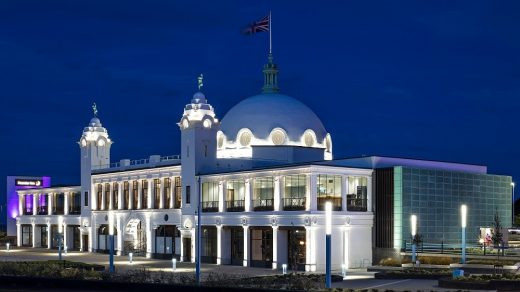 photo courtesy of Robertson
Derek Shewan, chief executive officer of Robertson said: "The awards celebrate the diverse range of skills and expertise that we have within the business – from the painstaking restoration and refurbishment of iconic buildings to delivering state of the art, innovative projects.
"We're incredibly proud to have played a key role in the delivery of two hugely significant buildings that will go on to bring lasting benefits for the local community and economies for decades to come."
George McKenzie, Edrington's UK Engineering Manager, said: "This award is testament to the vision, hard work, commitment and collaboration from our team and our partners.
"Together, their unwavering commitment to excellence enabled us to deliver this unique and striking piece of contemporary architecture."
North Tyneside's Elected Mayor, Norma Redfearn CBE, said: "We are immensely proud of our iconic Spanish City and the work that has gone into restoring it – so to see it claiming such a prestigious award is absolutely fantastic.
"The Spanish City is incredibly important to the people of North Tyneside and part of the reason that our borough is so special. The work from Robertson absolutely did it justice and they did an excellent job of maintaining the heart and history of a building that means so much to our community."
Adam Serfontein, chair of the judging panel for the RICS Awards, said: "A diverse range of innovative projects, of all sizes and budgets, made the shortlist this year and the winners are truly representative of our region's best and most innovative built projects that are having a significant positive impact on their communities.
"The teams behind these winning projects should be very proud of their exceptional achievements and contribution to the region."
Both projects will go on to compete against other regional winners at the national RICS Awards Grand Final in October in London for the chance to be crowned the overall UK winner in their respective category.
The titles adds to a string of high profile accolades for both projects, with the Macallan Distillery, which officially opened in June 2018, awarded 'Building of the Year' title at the Institute of Civil Engineers (ICE) Saltire Awards and the Structural Timber Awards' 'Winner of Winners' title.
Spanish City was commended by the Civic Trust in March and in April won two categories – 'Planning for a Successful Economy' and 'Excellence and Planning for Heritage and Culture' – at the Royal Town Planning Institute (RTPI) Awards for Planning Excellence 2019.
About Robertson
Robertson is one of the largest independently owned construction, infrastructure and support services companies in the UK, with a strong confirmed order book, diverse income streams and a dedicated, expert workforce.
11 May 2019
New whisky HQ in West Lothian
In a £4.5 million project which will be its second biggest to date, Edinburgh engineering firm Applied Engineering Design is working with Simon Laird Associates architects on what may become a new landmark for the industrial and commercial heartland of West Lothian:
Ian Macleod Distillers Headquarters Broxburn Building
19 Apr
V&A and National Galleries of Scotland News
The V&A and the National Galleries of Scotland (NGS) announce the joint acquisition of an exquisite 18th century portrait of architect James Adam (1732-94) by Italian artist, Antonio Zucchi (1726-95), on 18th April. James Adam was one of the leading Scottish exponents of the European Neoclassical movement and played a formative role in developing British architecture. The painting goes on display in the Scottish National Portrait Gallery today, before joining the V&A's British Galleries this autumn. It will then rotate between the two institutions.
The portrait is the third outstanding artwork jointly-acquired by the V&A and NGS after Antonio Canova's The Three Graces (purchased 1994) and Lorenzo Bartolini's The Campbell Sisters (purchased 2015). It has been purchased thanks to a major grant from Art Fund.
The portrait of James Adam has been acquired for £480,000. The purchase price was raised with £150,000 from the Art Fund, with the remaining contributions from the V&A and NGS.
16 Apr 2019
Wall House, Tower House and Pool, The Trossachs, central Scotland
Architect: Alan Dunlop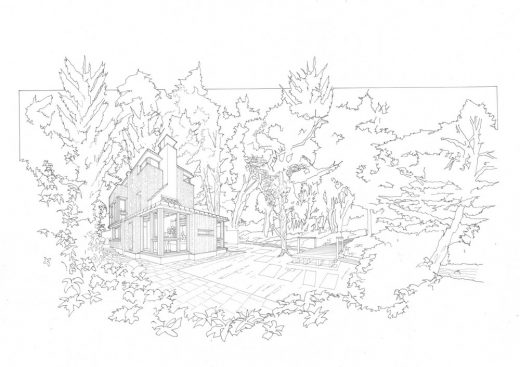 drawing : Alan Dunlop
New houses in The Trossachs
Alan Dunlop has begun discussions with Loch Lomond and Trossachs National Park Planning Authority to build two, four bedroom family homes and an outdoor pool on his 5 acre studio site.
Scottish property news from earlier in 2019:
Scottish Architecture News 2019
More Scottish Architecture news online soon
Location: Scotland
Scotland Buildings Updates Archive
Scottish Architecture News 2018
Scottish Architecture News 2017
Royal Incorporation of Architects in Scotland News
RIAS/RIBA Awards 2019 Shortlist news
Best Building in Scotland Award
Architecture Design Scotland News
Buildings / photos for the Scottish Building News page welcome