Scottish Building News 2017, Architecture, Property Scotland, Images, Links, Architects, Photos
Scottish Architecture News 2017 Archive
New Architecture Developments + Buildings in Scotland – Built Environment + Architects Updates
Scottish Buildings News 2017 Archive
This archive page contains a selection of major Scottish Architecture News in 2017
Scottish Architecture News – current page
Scottish War Blinded Hawkhead Building
11 Dec 2017 – This building is primarily for veterans who have visual impairments. The design is by architects Page and Park. Around 100 military veterans have already signed up to use the £17 million facility, along with residents of the nearby Royal Blind facility, Jenny's Well:
Scottish War Blinded Hawkhead Building
Advance Construction submit plans for major Glenrothes regeneration
5 Dec – Advance Construction has submitted plans for a major regeneration project, which will transform the historic Tullis Russell Paper Mill site in Fife.
The Bellshill-based company, who specialise in large-scale groundworks and civil engineering, is proposing circa 850 much-needed homes as well as retail and leisure facilities, employment, business space, industrial units and a new care home.
Tullis Russell Paper Mill site in Fife: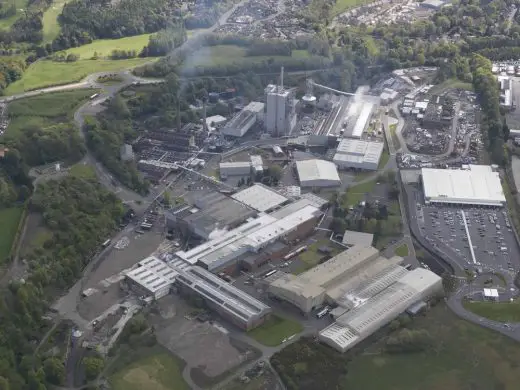 image courtesy of WS
The Proposal of Application Notice to Fife Council also outlines plans for two public consultation events in December to give members of the public a first look at the plans.
At the heart of the 58-hectare site between Glenrothes and Markinch is an extension to Riverside Park, which will see the reclamation of an unused brownfield site to create another park that connects the new district to the town centre.
Lynsey Breen, development manager for Advance Construction, said the plans will spark regeneration of the town of Glenrothes.
She said: "Advance Construction's plans to deliver a significant number of new homes, together with creating new jobs will signal a major transformation of the area over the coming years.
"It's an exciting regeneration project that will give Glenrothes the substantial economic boost it deserves, allowing it to continue to grow in the future."
Lead consultants Barton Willmore will work closely with Advance Construction to provide Town Planning, Masterplanning, Landscape, EIA and Socio-Economic Assessment services during the project.
Planning Director for Barton Willmore in Scotland, Colin Lavety, said: "The former Tullis Russell Paper Mill site is an important landmark historically for the town of Glenrothes. Plans to regenerate the area by delivering much needed housing together with new jobs will be a major transformation of the community over the next few years. We are delighted to be playing a part in helping give the area a new lease of life and make it an exciting place to live, work, play and visit."
Two informal drop-in events have been organised with lead consultants Barton Willmore and design partner Fairhurst at the Rothes Halls this week.
Representatives from Advance Construction, Barton Willmore and Fairhurst will be in attendance from 1pm to 8pm on December 7 and 8 to explain the plans, discuss the project with the community and respond to any questions raised.
Lynsey added: "We would encourage members of the local community to come along to the drop-in events to find out more information and talk to members of our project team."
Background
Tullis Russell went into administration in April 2015, with a total of 374 employees made redundant in the process so it's an important site historically for the town of Glenrothes.
About Advance Construction
Advance Construction is a groundworks and civil engineering firm with roofing, cladding, concrete and screed flooring divisions.
It first started trading with one digger and a few site personnel in 1993. By 2004 the company was turning over £8 million and this year, 2017, it is projected to hit the £200 million mark.
The growth is a direct result of the strong work ethic embedded in the company by its founder and the committed focus on quality workmanship and excellent customer service.
www.acscotland.com / @LtdAdvance
Transforming Planning in Scotland
5 Dec – Legislation to encourage development and improve community engagement.
New legislation to simplify and improve the planning system has been set out by Local Government Minister Kevin Stewart. He described how the Planning (Scotland) Bill, will create a new structure for a more proactive and enabling system with clearer development plans, earlier engagement with communities, streamlined procedures and smarter resourcing.
Read in full on the Glasgow Architecture news page.
Scottish Planning Bill
5 Dec – Sarah Baillie, Planning Partner at international law firm, Addleshaw Goddard, shares her views on the introduction of the Planning Bill into the Scottish Parliament today. Sarah Baillie is Partner with international law firm Addleshaw Goddard LLP.
Read in full on the Edinburgh Building news page.
4 Dec 2017
Second Year Student Projects at Dundee School of Architecture
e-architect follow architectural student Sean Noon through his latest project designs: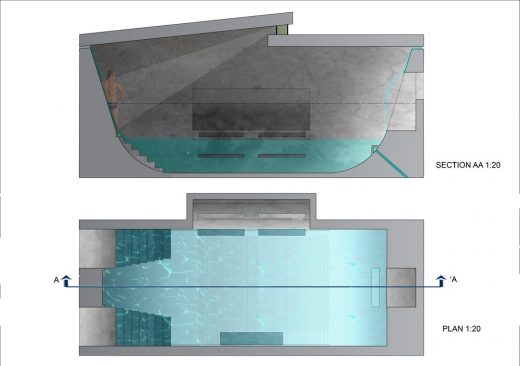 Second Year Student Projects at Dundee School of Architecture
24 + 22 Nov
Builders vow to ensure Scots not left behind following Budget for housing
With the Chancellor today announcing a raft of measures aimed at significantly increasing levels of home building and "reviving the British dream of home ownership", Scotland's home building industry vowed to continue to hold the Scottish Government to account to ensure those living north of the border were not left behind.
Key amongst the Chancellor's statements were the abolition of Stamp Duty Land Tax on homes under £300k for First Time Buyers, £15.3 billion of new financial support for house building over the next five years (which includes money for the government to buy land as well as delivering supporting infrastructure) and more money to help SME builders. This is in addition to the £10bn extra funding already announced for the English version of the Help to Buy shared equity scheme.
Chief Executive of trade body Homes for Scotland Nicola Barclay said:
"The Chancellor correctly identifies that not only have successive governments, over decades, simply failed to build enough homes to enable people's home ownership aspirations to be achieved, solving the housing challenge also requires money, planning reform and intervention.
"The case is similar in Scotland, where we also face the same barriers that have resulted in the number of new homes being built each year flatlining at levels still 36 per cent below the pre-recession levels of 2007. If we are going to effectively tackle Scotland's chronic undersupply of housing and address affordability, it is imperative that we have an all-tenure target that identifies the large number of homes that are required. This would focus all our minds on ensuring that the system is geared up to enable all parties to deliver the homes needed.
"With Homes for Scotland and its member companies standing ready to work with Ministers and officials to make this happen, we will be watching the Scottish budget closely to ensure that any consequentials received from the housing announcements are similarly allocated, particularly in relation to unblocking the infrastructure constraints that impact those developers who are trying to build new communities."
Barclay also considered the Chancellor's review into the gap between planning permissions and housing starts, saying:
"The main constraints on the use of land for housing are related to obtaining all of the necessary approvals and agreements, a process which is lengthy, complex and unpredictable. So any action taken to address such blockers, or that identifies others, is positive."
22 Nov
Queen Margaret Academy in Ayr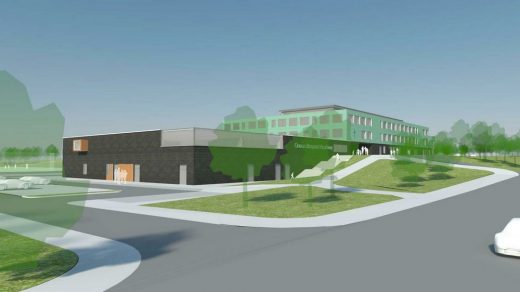 image courtesy of architects
Queen Margaret Academy in Ayr
Plans to build a new Queen Margaret Academy in Ayr are a step closer with the official contracts now signed after reaching financial close.
Neil Baxter Stands Down from RIAS
17 Nov – The Royal Incorporation has agreed to the request from the Secretary, Neil Baxter Hon FRIAS Hon FRIBA, to leave the organisation after ten years of service.
Neil will be standing down as of today and the senior management team at the RIAS will continue to deal with all matters relating to the business of the Incorporation.
18 Nov – Comment added by architect Alan Dunlop.
Comments welcome, send to info(at)e-architect.com
SELECT welcomes building standards review and calls for mandatory use of approved certifier schemes
15 Nov – The Scottish Government should seize the chance of a new review into building standards to make sure that its own approved certifier schemes become mandatory across the construction industry.
That was the view last night (Nov 14, 2017) of SELECT, the campaigning body for the electrotechnical trade in Scotland as it responded to the Review Panel on Building Standards (Compliance and Enforcement).
The review was prompted by an independent report into the closure of 17 Edinburgh schools last year after the collapse of a wall at Oxgangs Primary, and the subsequent tragic events this year at Grenfell Tower in London.
SELECT welcomed the review panel and said that it looked forward to working with the relevant bodies with a view to helping to introduce real change into the Scottish building standards system.
Dave Forrester, Head of Technical Services at SELECT, said: "Parts of the building standards regime work very well at the moment. Technical standards, for instance, are flexible enough to accommodate change and innovation.
"However, there are a number of issues surrounding approved certification which we think the review could profitably address in order to remove anomalies and build confidence in the certification process."
Mr Forrester pointed out that approved certifiers are directly responsible for the work that is certified under a building warrant. Local Authority Building Standards Scotland (LABSS), the membership organisation representing verifiers, has issued guidelines regarding certification services.
Some local authorities, however, are still either unaware of or ignoring the LABSS guidance and accepting forms of certification without detailed scrutiny.
Mr Forrester said: "The review is an excellent and thoughtful response to the issues raised by recent tragic events. It is an opportunity to really consider the regime of compliance and enforcement and to embrace meaningful change.
"This is the ideal moment to make it a mandatory requirement to use the existing approved certifier schemes, particularly for Government-funded work, and to extend the process to all Schedule 3 work [work subject to building regulations but not requiring a warrant]."
SELECT, Scotland's largest trade association has over 1250 member companies who account for around 90% of all electrical installation work carried out in Scotland. They have a collective turnover of around £1 billion and provide employment for 15,000 people.
The New Tenement – Residences in the Inner City Since 1970 by Florian Urban
14 Nov – A publication on the new tenement by Florian Urban, Professor and Head of Architectural History and Urban Studies at the Mackintosh School of Architecture at the GSA, has been issued by Routledge:
The New Tenement – Residences in the Inner City Since 1970
10 Nov
A New Chapter – Scottish Architects
Open letter, from A New Chapter to President Stewart Henderson of the RIAS
"A New Chapter is a loose (and growing) association of over 150 Scottish architects: many RIAS members, but all concerned at what they see as a lack of effectiveness, poor governance and insufficient financial accountability in Scottish architecture's professional body."
Dalbeattie Learning Campus Building
1 Nov – A £24 million state-of-the-art learning campus in Dalbeattie has been officially handed over to Dumfries and Galloway Council
The Dalbeattie Learning Campus will replace the town's primary and secondary schools and council nursery schools, which have operated in a number of buildings on separate sites.
Michael McBrearty, Chief Executive of development partner hub South West added: "The new Dalbeattie Learning Campus will be a fantastic asset to Dalbeattie and the wider Dumfries and Galloway area. Developed with the region in mind, the new contemporary campus will offer the very best amenities, tailored to this communities' rural heritage.
"This is the first project we have completed on behalf of Dumfries and Galloway council, and through this partnership we look forward to delivering more fantastic facilities that can be enjoyed throughout the region for generations to come."
More info on the Glasgow Architecture news page
31 Oct 2017
132 Princes Street Offices, Edinburgh, South East Scotland
Design: 3DReid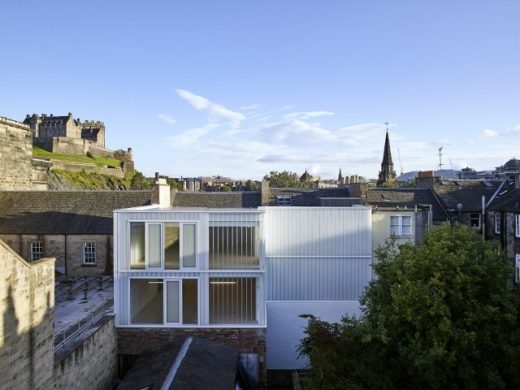 photograph : David Cadzow, Cadzow / Pelosi
132 Princes Street Offices Edinburgh
Architecture practice 3DReid has completed a sensitive £2.0 million conversion of three of the few remaining original Princes Street townhouses to office use. By converting the vacant upper storeys of the B-listed buildings and adding a contemporary extension, 3DReid has created 15,810sqft of light and practical quality office space for client and developer Hazledene House Limited.
GSA large-scale artwork by Louise Hopkins



photograph © Alan Dimmick
25 Oct – Glasgow School of Art Artwork by the leading artist Louise Hopkins unveiled on the central wall in front of the Mackintosh Building. A 2.5m high and 12.2m long digital print on metal, Dance Number, was specially commissioned by the GSA and is the artist's largest work to date.
Queensferry Crossing – New Forth Road Bridge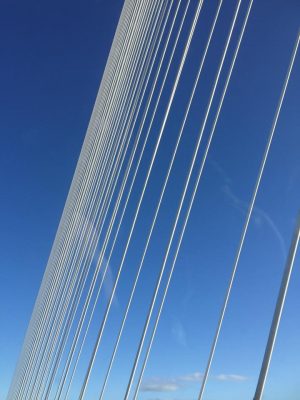 photo © Ruth Asher
9 Oct – The structure is the longest three-tower, cable-stayed bridge in the world and also the largest to feature cables which cross mid-span:
Queensferry Crossing
Work begins on multimillion pound Green Infrastructure projects
4 Oct 2017 – Close to £20 million will be spent transforming urban green spaces, says Scottish Natural Heritage
Scottish Natural Heritage – Social Housing Research
2 Oct 2017 – On World Habitat Day, Scottish Natural Heritage announces recently commissioned research into the opportunities for green infrastructure within housing projects.
Everyone in Scotland should be able to access nature on their doorstep, according to new SNH Chief Executive Francesca Osowska. As part of a wider drive to encourage greater access to green spaces, SNH has commissioned research into the opportunities to provide social housing projects with green infrastructure.
The theme for the United Nations' World Habitat Day, October 2 2017, is Housing Policies: Affordable Homes. SNH's ambition is that everyone should have easy access to good quality greenspace and opportunities to experience nature close to where they live, which supports the national indicator on access to local greenspace.
Green space and access to nature is beneficial for individuals, communities and society at large. There is also a growing recognition that access to nature can bring a range of health benefits.
The research, which will be published in April 2018, will review existing practice and research opportunities for green infrastructure to the residents of social housing and the wider community.
Francesca Osowska said, "Social housing providers account for around a quarter of new build homes in Scotland each year, and the Scottish Government has committed £3 billion over the lifetime of this parliament to deliver 50,000 affordable homes, including 35,000 social homes.
"Much of SNH's work is focused on ensuring that everyone is able to participate in and engage with nature in ways that enrich our lives. The recommendations in the report will be used to inform and support future work.
"It is our vision that nature should be accessible to all, and by continuing our work with a wide variety of individuals, businesses, the voluntary and other public sector bodies, we will continue to achieve results for Scotland's nature and people."
Background
The Steering Group for the Social Housing and Green Infrastructure research project includes representatives from Scottish Government, the Central Scotland Green Network Trust, the Glasgow and Clyde Valley Green Network Partnership and Architecture and Design Scotland.
Francesca Osowska joins Scottish Natural Heritage on October 2 2017. She was educated in Cumbria and at Cambridge University where she obtained an MA in economics. She also received and MA in European economics from the College of Europe in Bruges.
Francesca joined the civil service as an economist in 1993. Her first posting was in the Employment Department in Sheffield. After brief stints in London and Brussels, Francesca moved to Edinburgh in 1997 as a government economist with the then Scottish Office. In 1998 Francesca moved to the policy stream of the Scottish Office in the education department. Francesca then held posts in the education and justice departments of the Scottish Executive and was Head of Sport at the Scottish Executive / Government.
Between 2007 and 2009, Francesca was Principal Private Secretary to the First Minister, the Right Honourable Alex Salmond MSP, MP and moved in December 2009 to be Director for Culture, External Affairs and Tourism.
Francesca was appointed Director for Housing, Regeneration and the Commonwealth Games in the Scottish Government in January 2010 and subsequently moved to the post of Director for the Commonwealth Games and Sport in January 2013. And she was appointed as Director for the Scotland Office in the UK Government in January 2015.
Francesca was awarded an OBE for services to Government and the Commonwealth Games in the Queen's New Year's Honours in January 2015.
The United Nations has designated the first Monday of October of every year as World Habitat Day.
The theme for World Habitat Day 2 October 2017 is Housing Policies: Affordable Homes.
The purpose of World Habitat Day is to reflect on the state of our towns and cities, and on the basic right of all to adequate shelter. It is also intended to remind the world that we all have the power and the responsibility to shape the future of our cities and towns. World Habitat Day was established in 1985 by the United Nations General Assembly through Resolution 40/202, and was first celebrated in 1986.
19 Sep 2017
Quarry Studios News
Quarry Studios in the Scottish Highlands
19 Sep 2017
Inverness Justice Centre Building News
Design: Reiach and Hall, Architects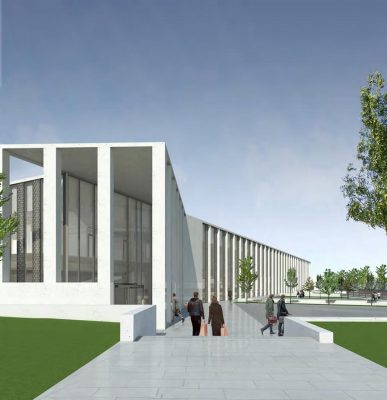 image courtesy of architects
Scottish Justice Centre Building News
Work set to start after Highland Council gives updated design approval. Preparations to build Scotland's first purpose-built Justice Centre in Inverness have taken another step forward after Highland Council approved the improved design.
Builders urge Scottish Government to guard against housing complacency
13 Sep 2017 – Scotland's home building industry is urging the Scottish Government to guard against complacency over housing as new statistics show a marginal increase of just 251 homes (one per cent) completed in 2016-17 compared to the year previous.
Nicola Barclay, Chief Executive of trade body Homes for Scotland, said:
"Given the chronic undersupply of housing in Scotland, any form of increase is obviously welcome but closer scrutiny of the figures shows serious systemic issues which appear to be being downplayed.
"The fact of the matter is that an additional 251 new homes doesn't even begin to address the scale of Scotland's housing crisis, and whilst affordable housing starts might be up, private sector numbers are down by nine per cent at their lowest level in three years. This is extremely worrying, not just in terms of its impact on the majority of Scots who aspire to own their homes but also in terms of the consequences for jobs, investment and economic growth.
"Unless there is a considered look at the big picture, the inter-dependences between sectors fully recognised and a whole system approach adopted, there must be serious doubt about the achievability of any party's housing targets.
"The Housing Minister states that he stands ready to discuss solutions to stimulate private sector growth. These latest figures underline that now is the time for action if we are to safeguard our country's social well-being and future prosperity."
9 Sep 2017
Cumbernauld Community Campus Building
Home building boss wins CEO of the Year at the Scottish Women's Awards
1 Sep 2017 – The boss of trade body Homes for Scotland (HFS), Nicola Barclay, won CEO of the Year at the inaugural Scottish Women's Awards in Glasgow on Wednesday night.
Approaching her second year in post as Chief Executive, Nicola is focused on addressing Scotland's housing crisis by creating the conditions that are necessary for increasing the delivery of new homes. With direct responsibility for managing the HFS secretariat, delivering business strategy and meeting the wide-ranging needs of some 200 member companies, she said:
"I am absolutely delighted to have been recognised by the Scottish Women's Awards. As a female leader in what is still very much a male-dominated industry, it is essential other women, particularly those of the younger generation, know that they can achieve in any field they choose.
"However, it remains a juggling act for many of us and that is why it is so important that we support each other and create the platform for even more brilliant women to shine."
Previously Principal Planning Advisor and Director of Planning at HFS before becoming Chief Executive, Nicola's 20 years' experience also includes periods working with Scottish Futures Trust as well as a number of HFS member companies.
A Chartered Member of the Royal Town Planning Institute, Nicola is a graduate of Heriot-Watt University and an active member of Women in Property. She also currently sits on the Scottish Government's Financial Innovation Advisory and Joint Housing Policy & Delivery Groups, the CITB Scotland Committee, NHBC Scottish committee and the Consumer Code for Home Builders' Board.
In addition, Nicola has formed a charity partnership between HFS and Habitat for Humanity Great Britain, travelling to India in January 2017 to work on a build for a family within a rural tribal community – an experience she says will stay with her forever.
Scotland Built Environment Updates Archive
Archive for 2017:
Scottish Architecture News Summer 2017 Archive
Scottish Architecture News Spring 2017 Archive
Scottish Architecture News Winter 2017 Archive
Archive for 2016:
Scottish Architecture News 2016
Location: Scotland
Scottish Building Links
Best Building in Scotland Award
Architecture Design Scotland News
Buildings / photos for the Scottish Building News 2017 Archive Page welcome