Scott Sutherland School of Architecture rews, RGU Aberdeen Student Work, Scottish campus development
Scott Sutherland School of Architecture
Robert Gordon University in Aberdeen – MArch course ; SSA Event, Northeast Scotland
10 October 2023
Thought leadership from Professor Peter Exley on UK Climate Change Policy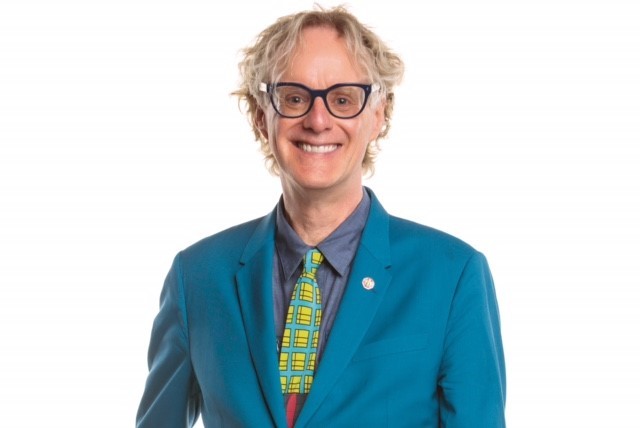 photograph courtesy of Scott Sutherland School of Architecture & Built Environment
No moral case seems strong enough to compel us all to slow global warming as a society. There is no moral bridge connecting the UN's Sustainable Development Goals and the private sector, however enthusiastic about ESG compliance some companies might be:
UK Climate Change Policy comment
post updated 3 June 2022
RGU alumna wins Royal Scottish Academy Medal for Architecture
An alumna from The Scott Sutherland School of Architecture (SSA) at Robert Gordon University (RGU) has won the prestigious Royal Scottish Academy Medal for Architecture.
Courtyard housing design by Claire Milnes: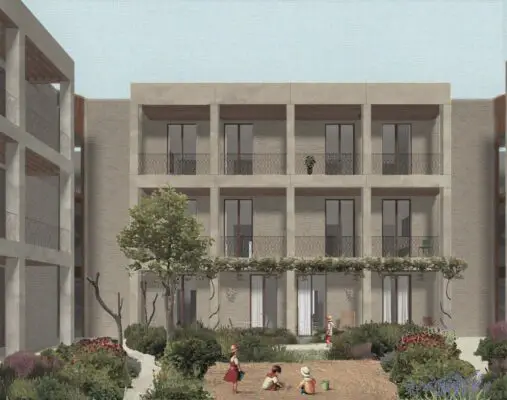 Master of Architecture alumna Claire Milnes has won the RSA Medal in recognition of her outstanding Masters' social housing project in Kirkwall, Orkney.
The RSA Exhibition, now in its 196th year, provides a platform to showcase some of the country's leading architects and also contemporary art. The RSA Medal is for the best work by a young architect at the RSA Annual Exhibition.
Claire's designs include a sheltered courtyard housing scheme set in beautiful, landscaped grounds. Her project offers affordable community housing, centred around 6 blocks of two and three bedroomed, flats each wrapped around an enclosed courtyard.
The courtyards provide shelter from the strong Orcadian winds and include a garden for children to play and a communal space for people to meet. The housing aims to be very community orientated with smaller flats located on the ground floor, where individuals who may live on their own would have direct access to the courtyard and more chance for social interaction. Larger family housing is situated above, with balconies overlooking this courtyard space. All the flats include a central space that allows for flexibility with different living situations and the designs also include a series of narrow pedestrian streets, sympathetic to the historic core of Kirkwall.
Speaking about her success, Claire Milnes, who is a Part 2 Architectural Assistant at Reiach and Hall Architects in Aberdeen, said: "It's a great honour to receive such a prestigious award from the Royal Scottish Academy and I am delighted they thought my work deserved this recognition.
"Architecture is a subject that requires you to develop a vast amount knowledge and a large skill set. Within The Scott Sutherland School of Architecture we work in studio environments alongside others, which offer an incredibly supportive and collaborative experience. The studio lecturers are incredibly encouraging and supportive. They always tried to bring out the best potential in everyone, which is incredibly important, especially in a subject that is by nature very critical."
Course leader from the Scott Sutherland Masters' of Architecture course, David Vila Domini, said: "It is wonderful that Claire has won the RSA medal. She has designed a thoughtful, and affordable housing scheme that includes co-living spaces that really foster social inclusion and complement the Orcadian environment.
"I'm delighted to see a former student building on the skills and teaching learnt at The Scott Sutherland School of Architecture & Built Environment. As one of the oldest architecture schools in the UK, we have a strong social ethos that underpins everything we do and we strive hard to encourage our students to design and build sustainable, well-considered spaces that reflect society's needs."
Claire's work formed part of her Master's Project which she undertook as part of the Scott Sutherland School of Architecture's Pomona framework in Orkney. The unit works with islanders to create sustainable living.
Claire graduated with a Msc in Architecture in 2020. Since graduating she's been working for Reiach and Hall Architects on a number of social housing developments. The design and research she undertook during her masters project has allowed me go to into the workplace with a good knowledge of how to design social housing in the real world. At the moment, she is working towards her Part 3 qualification to gain the knowledge and experience to become an accredited Architect.
To find out more about The Scott Sutherland School of Architecture visit: The Scott Sutherland School of Architecture and Built Environment | Academic Schools | RGU
The RSA exhibition is available to view online (LINK) as well as at the Royal Scottish Academy galleries in Edinburgh.
6 May 2022
Scott Sutherland School of Architecture Exhibition 2022
18 September 2021
The Scott Sutherland School of Architecture & Built Environment at RGU celebrate the class of 2020 / 21 with a digital exhibition
Pashara Gunasekera: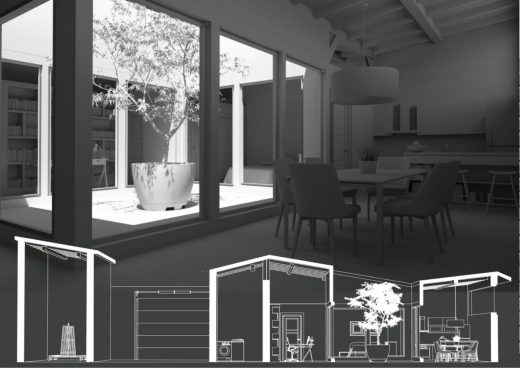 RGU Scott Sutherland School Digital Exhibition
The Scott Sutherland School of Architecture & Built Environment at Robert Gordon University is hosting a virtual exhibition to celebrate the class of 2020/ 21 which launches to coincide with the school's virtual open day on Saturday 18 September.
Visitors to the Scott Sutherland Digital Exhibition can immerse themselves in a dynamic virtual exhibition and explore a selection of exciting work from architecture students in years 1 – 3 and 5 – 6. The exhibition has been built by a team of students and lecturers at the school and showcases an imaginative range of work from the past year.
The exhibition highlights 'The Living Fabric' Masters project which builds upon last year's 'Living Edge' proposals to improve Aberdeen's beach front. Under the new plans, Aberdeen's harbour waterfront area would be transformed. Industry would be moved to the south harbour development and new spaces, with key views and vistas, created for the public to enjoy the harbour's edge. Entertainment, shopping and activities would replace industry and 'green routes' would link the city centre, beach and harbour front. A car free zone, dedicated to pedestrians and cyclists, would be built and a new auto tram network created along the route. More affordable housing, centred around a new village of St.Clements would encourage people to live in the city centre.
Emily Marshall: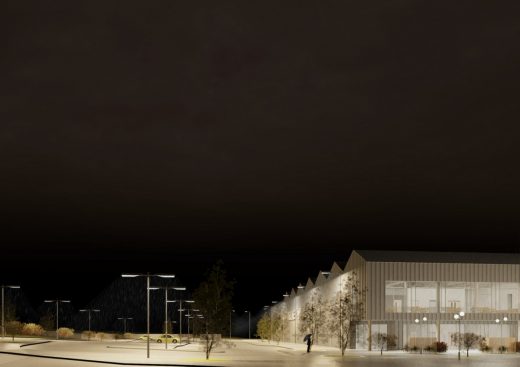 The exhibition also includes plans to improve the sustainability of Aberdeen's King Street as one of the main routes leading out of the city centre. Under the Stage 5 plans, this congested city centre street, would be transformed into three 15-minute city zones. A better sense of community would be created to improve people's well-being. An 'Artisan' zone, centred, around the arts centre, comedy club and performance venue, The Lemon Tree' would be established. Another "University" section, would focus on education including Aberdeen University whilst the 3rd 'Residential' section, would celebrate the urban character of this north part of the site.
Marco Paz: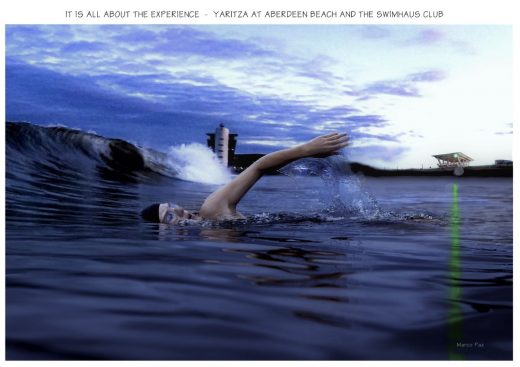 Head of the Scott Sutherland School of Architecture and Built Environment, Professor David McClean, said: "Visitors can explore a dynamic collection of imaginative work ranging from work to transform Aberdeen city centre to other projects in Orkney and the Western Isles. As one of the longest established schools of its kind in the UK, The Scott Sutherland School provides an outstanding grounding in architecture.
"As the work in this exhibition demonstrates, our students develop skills and techniques that equip them well for their future professional lives,and harness their creativity in the production of progressive ideas and proposals that are of value to the community."
Marie Airth: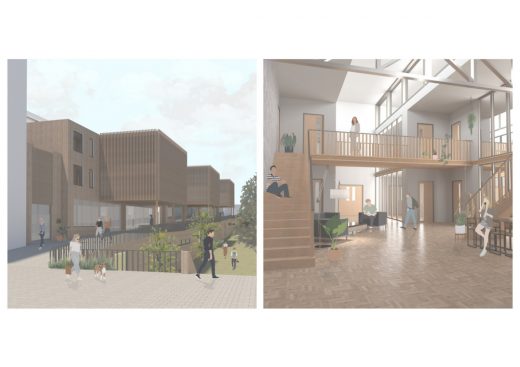 Other highlights from the show include designs for a zero-carbon hotel produced by first year students from the Architectural Technology course. The students have created designs which embrace a healthy lifestyle, zero carbon footprint whilst also tackling the challenges of COVID-19. The aim was to adopt sustainable technologies in their buildings and to use on-site energy creation be it in the materials, construction and life of the building. The group explored wind and solar energy sources and new material including timber, low carbon concrete and even algae in the design of the hotels. One student proposed a self-sufficient hotel with an urban farm whilst another designed a carbon neutral boutique hotel.
Elsewhere in the exhibition, visitors can explore projects from the Scott Sutherland School's Orkney Unit. Stage 5 architecture students set out plans to build a sustainable green future in the Finstown area of 'Mainland', the biggest island of the Orkney Islands through a project known as 'Pomono', the ancient name for Orkney and re-imagine horticulture on the island. Stage 6, final year architecture students explore the sense of community in Kirkwall Centre. Another group explore Brinkies Brae in Stromnes and propose reinstating Udal Law, where the strip of land from the sea to the top of the hill is divided in to five sections, to create a sustainable, community-based way of living.
6 St Clements Square: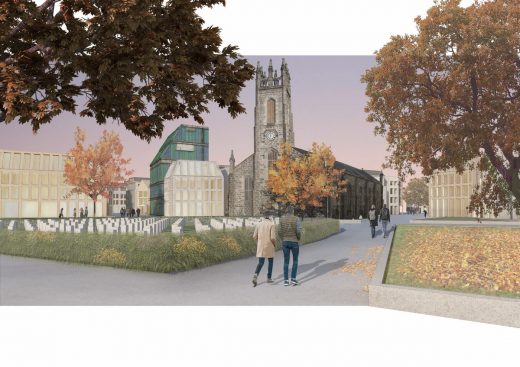 Another project, the Seaweed Farm, proposes creating a new self-powering platform to cultivate, harvest and produce seaweed products. The project would create a new skilled industry for Stromness. A seaweed hatchery would cultivate seaweed which would be harvested off-shore before being transported to Hamnavoe Bay to dry naturally on a series of floating drying racks. It could then be transported back and processed at Stromness to produce a range of products including seaweed food, cosmetics, fertiliser and compost. The project would be self-powered using biogas created from biodegradable seaweed and using a water source heat pump.
Dominic Skinner: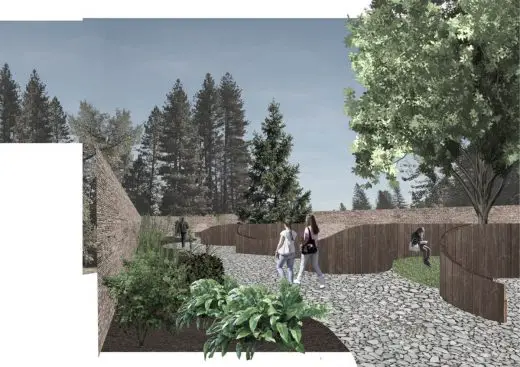 The exhibition also showcases work from the Outer Hebrides Unit and explores ways of making the island more sustainable and tackles issues such as an aging demographic, housing shortage, economic challenges, climate change and suggests way to generate self-sufficiency and to improve food production and energy.
The exhibition can be accessed for free via www.scottsutherlandschool.co.uk. The Scott Sutherland School is taking part in RGU's virtual open day on Saturday 18 September and on-campus open days on 2nd October and 30th November. To register, visit www.rgu.ac.uk/opendays.
Visit the Scott Sutherland School of Architecture to find out more: (https://www.rgu.ac.uk/study/academic-schools/the-scott-sutherland-school-of-architecture-and-built-environment)
14 June 2021
RGU students win national architecture competition
to feature at UN C0P26 Climate Change Conference
Architecture students from Robert Gordon University are celebrating winning a national competition for highly energy efficient buildings that will feature at the 2021 UN Climate Change Conference in Glasgow later this year.
Four students from Robert Gordon University's Scott Sutherland School of Architecture and Built Environment have won the prestigious 'Icebox Challenge Glasgow' award, after designing a vibrant energy efficient building.
The 'Icebox Challenge Glasgow' is a competition open to students from across Scotland who were challenged with creating a building that was both innovative and eye-catching.   The competition asked students to design one structure built to Scottish Building Standards and another built to a more environmentally friendly, 'Passive House' standard.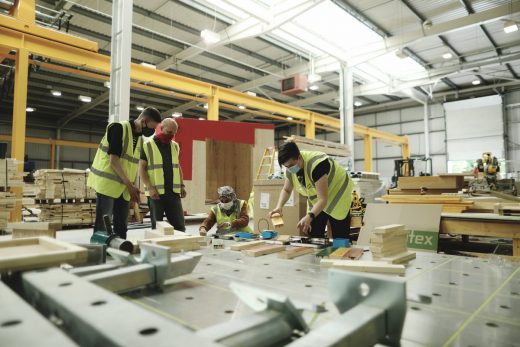 The structures will be left outside for three weeks, each holding an equal amount of ice. When opened, the amount of ice left in each box will be measured. How much ice remains will demonstrate how well each ice box keeps out the heat.
The team of architecture students from Robert Gordon University's Scott Sutherland School created a winning design celebrating a traditional highland building using timber, herringbone cladding, stained red, green, and yellow, that was inspired by the natural colours of the highlands.   They also took inspiration from the Integra House designed by RGU Professor Gokay Deveci.
From left to right – Icebox Challenge Glasgow entry designers – Kyle Henderson, Lina Khairy, Matt Clubb & Alina Vinogradova: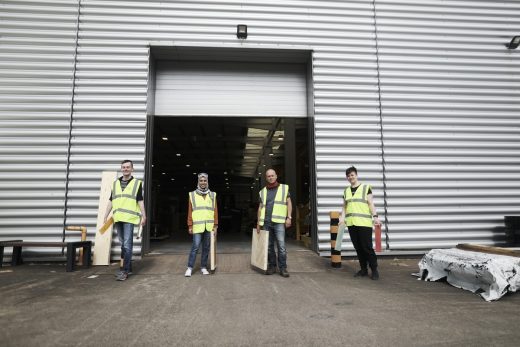 Each of the two structures designed by the RGU Architecture students will be built by the students at the Construction Scotland Innovation Centre in Glasgow before being put on public display in St.Enoch's Square Glasgow from 19 July to 8 August. This will run ahead of the UN Climate Change Conference, COP26.
One of the winners, mature architecture student, Matthew Clubb, from Aberdeenshire said; "I am absolutely thrilled that students at RGU have won the 'Icebox Challenge Glasgow'.   We have worked hard as a team to create a building that is vibrant aesthetically and embraces passive design and prefabrication.
"We drew inspiration from the Scottish Highlands and incorporated design features and materials that would minimise our building's embodied carbon.   It is fantastic that our designs will be showcased and built at a public installation in Glasgow city centre ahead of the UN Climate Change Conference."
Head of The Scott Sutherland School of Architecture & Built Environment, Professor David McClean said: "We are delighted that a group of architect students from Robert Gordon University has won this exciting national competition and will gain international exposure. The climate imperative occupies an increasingly central position in the education of architects, and in practice itself, and it is wonderful to see students motivated to engage creatively in this way and of their own volition.
"In the face of advancing climate change, the design of energy efficient buildings is now more important than ever. Building substantially on our research expertise, the School is constantly reinforcing the development of knowledge and skills in sustainable practices across the breadth of its curricula. I am delighted that the judges of the Icebox Challenge Glasgow, have recognised our talent and that our students' work will be showcased to a global audience ahead of the UN Climate Change summit in Glasgow."
Yogini Patel from the Passivhaus Trust said: "Passivhaus is a proven solution to slash energy use, back by three decades of performance evidence from across the globe.   Efficiency is crucial to meet net-zero carbon targets.   The Icebox Challenge has travelled the globe, and this year comes to Glasgow in the run up to COP26.   Student design competitions like this offer valuable opportunities for our next generation of architects and designers to get inspired by the climate action they can engage in. We anticipate the public installation will capture people's attention, facilitate vital discussions and, raise awareness of the impact of simple solutions such as Passivhaus."
The winning group of students from Robert Gordon's University included mature student Matt Clubb, Lina Khairy, aged 23, Alina Vinogradova aged 28 and Kyle Henderson, aged 23.
In addition to gaining international exposure thanks to the run-up to COP26 and involvement from the International Passive House Association, the winning group will be awarded £1000 from the Glasgow Institute of Architects (GIA) after the fabrication and public display stages.
The 'Icebox Challenge Glasgow' is run by the International Passive House Association and The Passivhaus Trust, who are a global network of architects, planners, scientists, and contractors in partnership with Edinburgh Napier University.
The group strive to promote Building Passive which means building better! The aim of the competition is to create an energy efficient building that was judged on design, cost-effectiveness, innovation, energy supply and sustainability. More information can be found at https://iceboxchallenge.org/
#EfficiencyFirst
This competition is part of "Efficiency: The First Renewable Energy #EfficiencyFirst", a campaign organised in 2021 by the iPHA Network which consists of a series of activities and events to promote the significance of an efficiency first approach.
Previously on e-architect:
26 May 2021
Scott Sutherland School of Architecture Non-Fungible Tokens – NFTs
RGU architecture students among first in the world to release their work as NFTs
Students from Robert Gordon University's (RGU) Scott Sutherland School of Architecture and Built Environment will be among the first in the world to release their work as Non-Fungible Tokens (NFTs).
The students, studying MSc Advanced Architectural Design, have been developing a series of forward-looking projects for the Northeast of Scotland and have now released their work on the OpenSea.io NFT marketplace.
Castleton high tower design: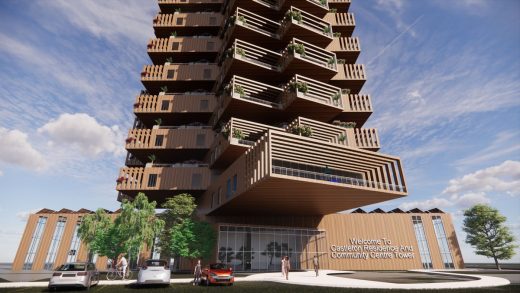 NFTs are unique digital objects which are housed on a blockchain, the technology behind cryptocurrencies. They are best described as a registration licence number for a particular unique object.
NFTs provide a platform for artists to break through previously inaccessible markets, or in this case, for architectural designers creating original designs.
NFTs are currently trending due to the sale of popular digital assets such as the first ever tweet by the founder of Twitter and the original image behind the 2005 Disaster Girl meme.
The students, inspired by the theme "automata", have designed hyperloop and vertiport stations, high-rise towers and community centres in Aberdeen. These architectural designs address future challenges, with a particular focus on zero-carbon issues.
Theo Dounas, Learning Excellence Leader at the Scott Sutherland School of Architecture and Built Environment, commented: "Our work on the applications of blockchain technologies in architectural design expose the MSc AAD students to the cutting edge of digital tools that can be used for design and design management.
Hyperloop design: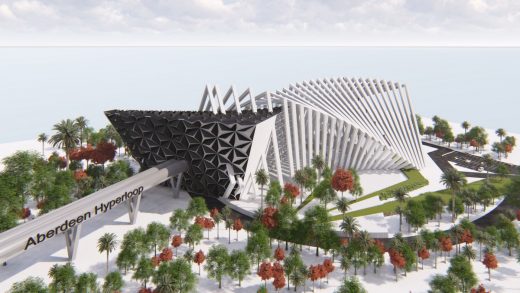 "To connect our research into building information modelling and blockchain with our day-to-day teaching activities in the MSc Advanced Architectural Design, we set up a week-long, intensive workshop where the students were able to design and model their own designs on the blockchain.
"The students were excited about the workshop and working with blockchain technologies, as it allowed them to develop new business and operational models for architectural designers and their engagement with decentralized communities."
The Scott Sutherland School has already built mechanisms to create NFTs for building components and use the blockchain as an information layer for a circular economy for the Architecture Engineering and Construction Industry.
Additionally, the School recently hosted the second research workshop in blockchain in construction along with the Construction Blockchain Consortium.
Previously on e-architect:
18 + 17 Dec 2017
SSA Master of Architecture Unit 2 Work
Unit 2 Scott Sutherland "Home"
We present current work of Year 5 of my Unit 2 at Scott Sutherland "Home".
Penny Lewis and Professor Alan Dunlop worked to change the MArch to a full two-year, four-semester course of study on a single project to allow greater time to do full research work which would benefit students doing their individual projects but be of such high quality that it could be published and accessed.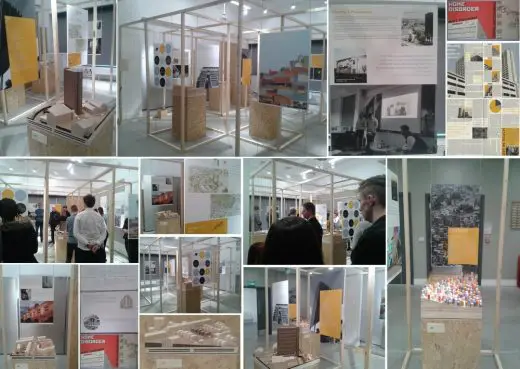 Year 5 are working on a project looking in depth at social housing, in the UK and International, and into precedent, procurement, developer interest, urban housing, best practice and so on. They will also produce a database which can be accessed beyond Scott Sutherland. The purpose of the study is to allow these young architects to be fully informed on a critical issue affecting architecture, practice and society. They have worked as a group so far but will begin on their individual projects next semester.
Scott Sutherland School of Architecture Master of Architecture Unit 2 Exhibition Publication Zine: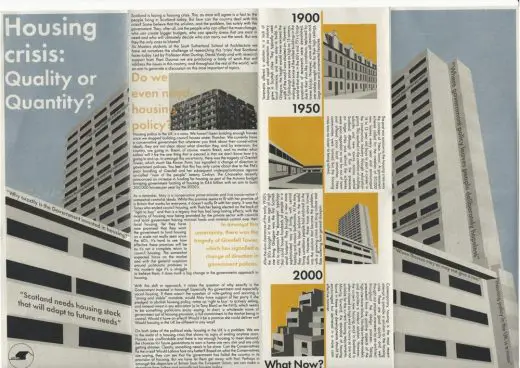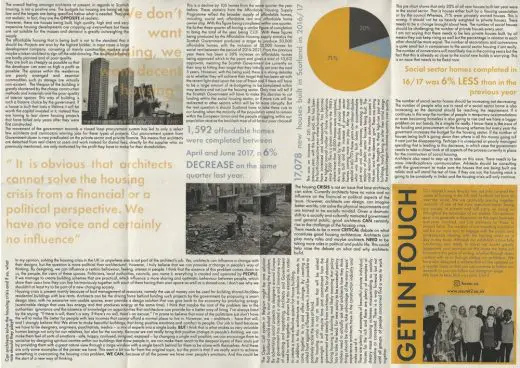 Their exhibition opened on Thursday and will go to The Lighthouse, Glasgow, shortly.
Their website which will develop further as the project itself continues: https://homesssrgu.wixsite.com/unit2
Architects "are never taught the right thing" "Universities are failing to give architects the training that will enable them to find solutions for an imminent global housing crisis. Poverty, population growth, natural disasters and war are combining to create demand for more than a billion homes." "But architects are unable to overcome the challenges posed by politics, economics and building codes to deliver viable solutions. It would be great, with more than one million architects in the world, that more solutions and more proposals try to address the issue".
2016 Pritzker laureate Alejandro Aravena."
"I try to create homes, not houses."
Louis Kahn
17 Dec 2016
Scott Sutherland School of Architecture Master of Architecture Unit 2
School: Architecture Informed by Education
The work of Alan Dunlop's Master of Architecture Unit 2 in Scott Sutherland, informed by recent UK school issues: Oxgangs, PFI, PPP, the 17 Edinburgh school closures, BBC Investigates "How Safe is My School" and the recent about turn by Michael Gove, SFT and EDC:
The structure of the MArch course involves a two-year period of in-depth study on a single project, which Alan thinks is relevant to a contemporary issue in architecture. Research, design and in-depth study starting this year will focus on school design, worldwide.
So, for four semesters years 5 and 6 work on a single brief: School design, procurement, construction, Curriculum for Excellence, Scottish Futures Trust.
Semester 1 as a research unit.
Semester 2 focusing on individual design projects.
Semester 3 individual Projects then taken to an advanced level and high technical resolution.
Semester 4 in depth research work in a single topic of their choice.
To start, the unit undertook global research work on school design and gathered information and did a comparative study of the following in a range of countries identified by the students.
The educational policy (approach and teaching methods)
The procurement system (current and proposed)
The programme (school type, numbers, facilities)
The construction method
Semester 1 research work now to be published in three books: 01 Research and Analysis; 02 Precedent Studies; 03 Design Interventions and supported by an exhibition, web site and models. Books will be sent out to Scottish Government and others involved in procurement of school buildings, educationalists and teachers. Web site online early in New Year. Exhibition to RIAS, various schools, those involved in school procurement, councils and hopefully the RIBA.
18 May 2012
Scott Sutherland Big Crit
Scott Sutherland School of Architecture Event
Architects of the future present designs to the public in 'Big Crit' Public event bucks the trend of 'unfashionable' debates.
Students at Robert Gordon University in Aberdeen will present their designs for review to high-profile members of the architecture profession in a public event on Friday 18 May.
The Scott Sutherland School of Architecture and Built Environment is giving members of the public the unique opportunity to witness reviews of student design projects by a distinguished panel in its annual 'Big Crit' event. The day-long public discussion includes individual presentations and reviews of work from all year groups to learn lessons and influence future projects. To help reflect on the design proposals, the School invites a number of high-profile architects and critics from industry to talk about the student work in the context of broader discussions about contemporary architecture and urbanism.
The panel this year includes renowned international architects Charlie Sutherland, Joe Morris and Pier Vittorio Aureli, as well as Scott Sutherland Visiting Professors Neil Gillespie OBE and Alan Dunlop. Deputy Editor of The Architects' Journal and Fellow of the Royal Society of Arts, Rory Olcayto, will also be on hand to offer his comments.
Neil Lamb, Senior Lecturer at the School, comments:
"A wide range of student work will be critiqued providing a great opportunity to see the review process in action, something which is normally done behind closed doors. The open discussion will also be an exciting event for those interested in the field.
"Over the past twenty years, public 'crits' have become unfashionable in architectural education as some feel that it is designed to flatter staff and undermine fragile students. Our ambition is to demonstrate that an open public debate is the ideal forum to help us understand the challenges of contemporary practice."
The Crit will run from 9.30am – 4.30pm at the Scott Sutherland School, Garthdee, and members of the public are welcome to join the audience at any point during that time. After the Crit at 5pm the distinguished panel will give a 20-minute talk followed by an open discussion.
Scott Sutherland Lecture Series
Scott Sutherland School of Architecture Lecture Series 2011-12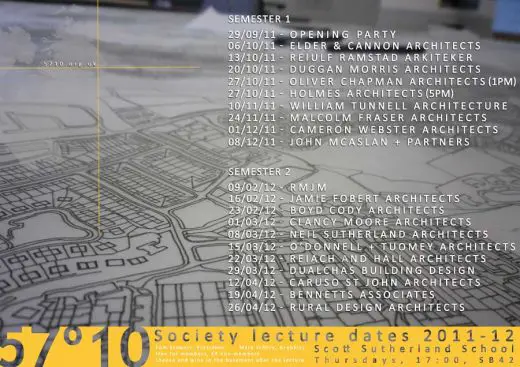 image from SSSA
The 5710 Society at the Scott Sutherland School of Architecture are pleased to announce an exciting year ahead with a diverse range of guest speakers, ranging from well-established international names to some exciting young practices. Our lectures are open to members and the public, and held every Thursday at 5pm in our Main Lecture Hall, with a members' drink reception afterwards – always a good opportunity to meet the architects informally.
While we are in the final stages of organising this year's series, we are pleased to announce the majority of our timetable. Highlights include Duggan Morris Architects, Reiulf Ramstad Architects from Oslo, Peter St John of Caruso St John, Clancy Moore and O'Donnell & Tuomey from Dublin along with many top Scottish practices such as Reiach & Hall and Rural Design.
Annual membership is £20, or £4 a week at the door, and is open to all students and anybody wishing to attend from other universities or from the wider public are more than welcome. Membership also entitles the holder to our after-lecture Cheese, Beer and Wine event held in our Main Hall.
Please see the full timetable for more information:
Semester 1
Sep 29th – 5710 Opening Party
Oct 6th – Tom Connolly of Elder and Cannon, Glasgow
Oct 13th – Reiulf Ramstad of RRA Architects, Oslo
Oct 20th – Mary Duggan and Joe Morris, Duggan Morris, London
Oct 27th – Oliver Chapman, Edinburgh (1pm Lunchtime Lecture) Holmes Architects, Glasgow (5pm Lecture)
Nov 10th – William Tunnel, Edinburgh
Nov 24th – Malcolm Fraser, Edinburgh
Dec 1st – Robin Webster of Cameron Webster, Glasgow
Dec 8th – Peter McLaughlin of John McAslan Architects, Edinburgh
Semester 2
Feb 9th – RMJM, Glasgow
Feb 16th – Jamie Fobert Architects, London
Feb 23rd – Boyd Cody Architects, Dublin
Mar 1st – Andrew Clancy of Clancy Moore, Dublin
Mar 8th – Neil Sutherland Architects, Inverness
Mar 15th – O'Donnell & Tuomey, Dublin
Mar 22nd – Neil Gillespie of Reiach and Hall, Edinburgh
Mar 29th – Dualchas, Skye
April 12th – Peter St John of Caruso St John, London
April 19th – David Henderson of Bennetts Associates, London
April 26th – Rural Design, Skye
We hope to announce a number of other speakers soon, please check our newly revamped website at www.5710.org.uk for up-to-date information.
Robert Gordon University – New Buildings
Started on site – Jul 2011
Design: BDP, architects
Combined Gray's Art School / Scott Sutherland School of Architecture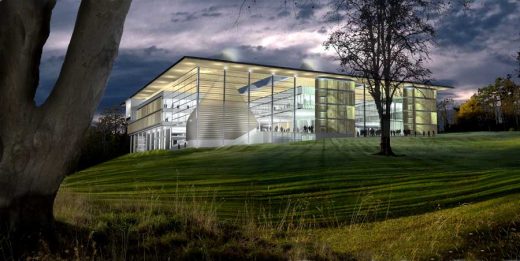 image from architect
Campus + 6 buildings incl. combined Scott Sutherland school of Architecture and Gray's School of Art
Robert Gordon University Garthdee Campus
Scott Sutherland Show
Scott Sutherland School of Architecture Show 2011
16 – 30 Jun
Drawing by Rowan Morrice ; Jenny Jarman:



images from SSSA
There have been considerable changes at Scott Sutherland in the last few years, as the school opens up more to the rest of the UK. The Big Crit initiative has been a great success and involved some of the country's most respected architects and writers in their end of year review.
The Master of Architecture course has architecture and urban design units run by Professors Gokay Deveci, Neil Gillespie and Alan Dunlop. The drawings above are by students from Professor Alan Dunlop's unit. The students in this unit are not allowed to use computers to develop their ideas and present their work. They must sketch, draw by hand and make models, quite a radical idea for a school of architecture in the 21st Century but it has resulted in some beautiful work and drawings and worth seeing.
Drawing by Scott Sutherland students of masterplan in east end of Glasgow:



image from SSSA
25 May 2011 Images from The Big Crit:
21 Mar 2011
Scott Sutherland School of Architecture Event
Big Crit event at the Scott Sutherland School of Architecture in Aberdeen
19 May 2011
The Big Crit is an annual event organised by staff and students from the Scott Sutherland School of Architecture and Built Environment in Aberdeen. It is a day-long public discussion about the work of architecture students within the school, with individual presentations and reviews of work from all years and Masters units.
The aim is to draw general lessons about architectural design from an analysis of students work and a review of the school's studio briefs, with a number of high-profile architects and critics reflecting on the proposals. At the end of the reviews, the critics and public are invited to reflect and comment about individual schemes and talk about the work in the context of broader discussions about contemporary architecture and urbanism.


poster from SSSA
The Big Crit event is a fantastic opportunity to see the work undertaken by students over the last year and explore some of the design, construction and social issues that the school embarks upon. There will be a social event in the Scott Sutherland School of Architecture and Built Environment and adjacent grounds after the critiques have finished.
The Big Crit event this year will take place in the school on Thursday 19th of May. This year's guest critics are Peter St John, of Caruso St John, Annalie Riches from RHMA, William Mann from Witherford Watson Mann Architects, Ellis Woodman from Building Design, along with Masters Studio tutors Neil Gillespie from Reiach and Hall, and Alan Dunlop of Alan Dunlop Architects.
Website: http://www.bigcrit.org/
Scott Sutherland School RGU : Glasgow Group Degree Show 2008 Images
Scott Sutherland School of Architecture & Built Environment
Scott Sutherland School of Architecture & Built Environment 2007
14 Sep 2007
Appointment of Visiting Professor
The Scott Sutherland School of Architecture & Built Environment at the Robert Gordon University in Aberdeen is delighted to announce the appointment of a new Visiting Professor.
Alan Dunlop, a partner of Gordon Murray + Alan Dunlop Architects in Glasgow, was educated at the Mackintosh School in Glasgow. He brings a wealth of professional experience developed through a portfolio of challenging and dynamic designs across the UK, which have consistently won a number of high-profile accolades.
More recently, the work of the practice has expanded into Europe. Alan has taught in a number of schools of architecture in the UK, and has been published widely, including two practice monographs: 'Challenging Contextualism' and 'Curious Rationalism'.
'It is a critical time for architecture in Scotland', says Alan Dunlop. "Architects require a full range of technical, communication and artistic skill in order to fully engage. I also believe it is important that practitioners influence the development of the coming generation".
Alan's primary role will be to lead and direct a group of final year architecture students in their exploration of contemporary urban issues, building on the experience of his practice, and his personal passion for the city.
Professor Gokay Deveci said 'I am delighted. This is good news for our students. Alan Dunlop works at the leading edge of practice and will make his professional experience and design skills accessible to us all'.
Professor G Deveci RIBA ARIAS
Scott Sutherland School, Garthdee Road, Aberdeen AB10 7QB
t +44 (0) 1224 263714 e [email protected]
Alan Dunlop, Gordon Murray and Alan Dunlop Architects – 0141 331 2926
Location: Garthdee Road, Aberdeen, Scotland
17 Aug 2020
Architecture students design affordable housing for Grampian residents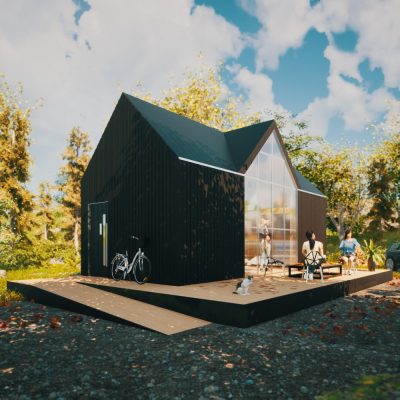 image courtesy of designers
Robert Gordon University Aberdeen
Grays School of Art:



photo © Adrian Welch
Robert Gordon University Aberdeen
Comments / photos for the Scott Sutherland School of Architecture – Robert Gordon University Aberdeen page welcome