London Architectural News 2017, UK Capital Buildings Developments, Architects, Design
London Architecture News 2017
Key Property Developments in the British Capital City – New Buildings in England, UK
London Architecture News – current page
London Building News 2017 Archive
20 Dec 2017
Cambridge House Hotel and Residences, Mayfair, West End
Design: PDP London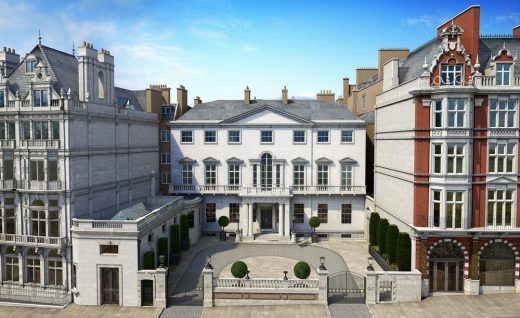 photo courtesy of architects office
Cambridge House Hotel and Residences, Mayfair
PDP London Architects achieve Planning Consent for Luxury Hotel and Residences at the former In & Out Club on Piccadilly. Heritage driven scheme approved at Westminster City Council committee paving way for 102 key five star hotel and 7 apartments on site of the former In & Out Club and adjacent properties.
16 Dec
Second Home new Spitalfields rooftop space
Design: architects SelgasCano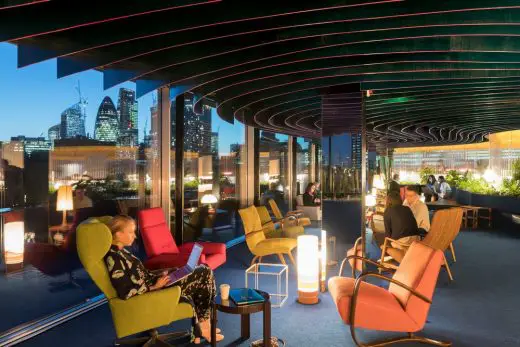 photo : Iwan Baan
Second Home Rooftop Space in East London
Second Home opens a new 15,000 sq ft rooftop space in its critically-acclaimed building in Spitalfields, East London, designed by Spanish architects SelgasCano.
The new rooftop space, surrounded by pools filled with aquatic plants on every side and featuring over 800 tropical trees and plants, extends the work of Selgascano on the original Spitalfields building, which opened in November 2014.
11 Dec
Dollar Bay, Isle of Dogs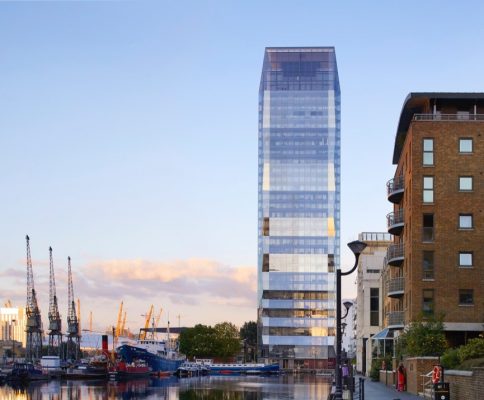 photo © Hufton+Crow
Dollar Bay Building
A new 31 storey residential tower in London Docklands, commissioned by a joint venture between developer Mount Anvil and Citystyle (part of One Housing).
8 Dec
Ailsa Wharf Development – Poplar Riverside Housing
Design: Stockwool Architects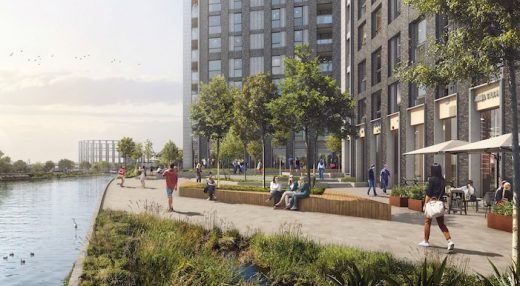 images courtesy of architects
Ailsa Wharf Buildings
Tower Hamlets approves plans by Stockwool for a 785-home regeneration scheme – the first major project to come forward as part of the Mayor of London's Poplar Riverside Housing Zone.
6 Dec 2017
One Tower Bridge
One Tower Bridge for Berkeley Group was designed by Murdoch Wickham and led by main contractor Maylim
Scotscape carried out the soft landscaping on this prestigious flagship Berkeley Development project over a 27 month period.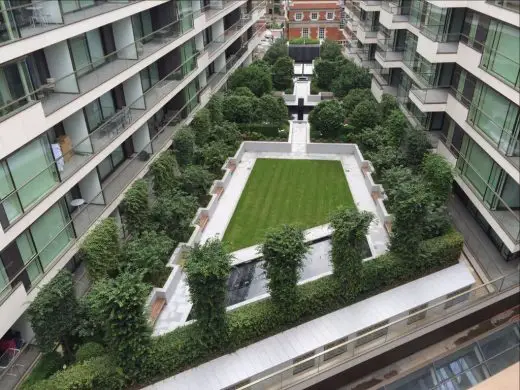 image courtesy of Scotscape
The BALI Grand Award Winning Landscape Scheme at One Tower Bridge was led by Maylim with soft landscaping, tree planting and living walls installed by Scotscape.
The project was multi-phased and logistically challenging as cranes were required to lift all materials and trees onto the podiums and tight schedules had to be followed, whist coordinating with the hard landscape teams.
6 Dec
LHG Aparthotel in Wembley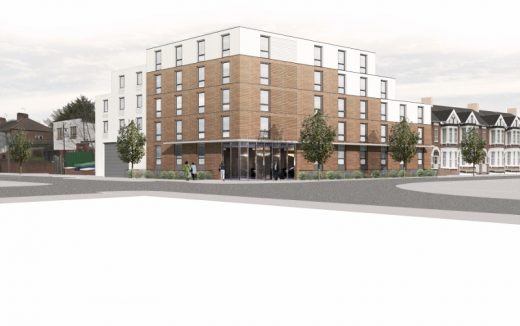 image courtesy of Dexter Moren Associates, architects
Elm Road Wembley Building – Dexter Moren Associates
Planners green-light proposals for LHG (London Hotel Group) to transform a faded hotel in Elm Road with a new lease of life.
The design by award-winning hotel architects Dexter Moren Associates includes 128 suite-style guest apartments, a restaurant and a leisure centre.
1 Dec
House Extension Contest Winners
Don't Move, Improve! 2017
London Festival of Architecture in 2018 News
LFA update:
London Festival of Architecture 2018 News
21 Nov
Norton Folgate City Continuity Community in Spitalfields, North East London
Design: Burrell Foley Fischer Architects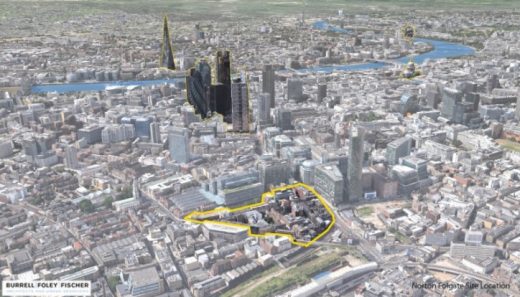 image courtesy of architects
Norton Folgate Spitalfields Buildings
2017 IMCL Honor Award, Proposed Project – City Continuity Community
20 Nov
Millbrook Park Master Plan, Barnet / Mill Hill, NW7
Design: 3DReid, Architects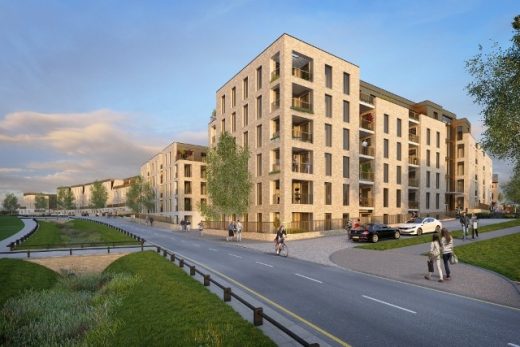 image courtesy of architects
Millbrook Park Properties
Millbrook Park master plan phase 5 designs, overlooking the newly created Panoramic Park and Officers' Mess Gardens, with 111, 1 and 2 bed apartments and 33 townhouses for Joseph Homes. The scheme gained reserved matters approval from the London Borough of Barnet Planning Committee on 19th September 2017.
14 Nov
The London Animal Hospital Completed
Alma-nac have recently completed the The London Animal Hospital (TLAH); the first of its kind in central London offering around the clock care and emergency services to all pets. Alma-nac were commissioned by the TLAH to create a sector leading facility that would provide the best possible care for its patients while creating a relaxing environment for the owners and exemplar facilities for the staff.
Alma-nac (working with Constant SD) have won an open competition to design a playhouse for a new Berkeley Development. The competition organised by the Architects Journal, James Hardie and Berkeley asked for an innovative colourful playhouse for children. Alma-nac's response was to create an upside down house referencing some of the surreal worlds created in children's stories such as Alice in Wonderland and the Pixar film Up. Its simple concept gives rise to a whole new world. The floor becomes the sky, the roof becomes the floor, enter through the chimney and slide out the door.
Alma-nac is an award winning RIBA Chartered architecture and design studio, based in central London. Set up by 3 partners in 2009, Alma-nac uses a design process that facilitates innovative, high quality, contextual design across any sector. Specialising in PRS, residential, retrofit, mixed use and arts projects, Alma-nac has worked in 19 London boroughs and across the UK.
8 Nov
New Hospitality Hub in Croydon
Design: Dexter Moren Associates (DMA) Architects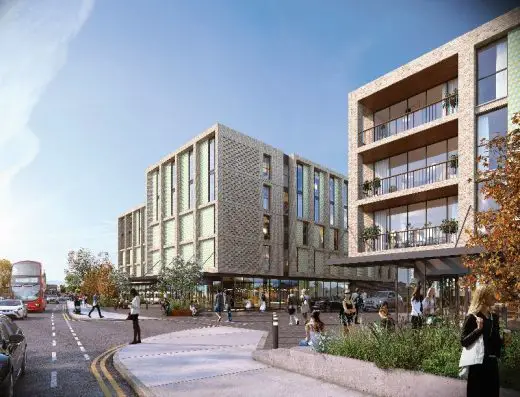 image courtesy of architects
New Hospitality Hub in Croydon
The site for a new £90 million hospitality hub in Croydon, developed by LHG (London Hotel Group) and designed by award-winning hotel architects Dexter Moren Associates, was included as one of the strategic projects in a study tour organised by New London Architecture.
8 Nov
Learning Campus Thamesmead
Architects: Keppie Design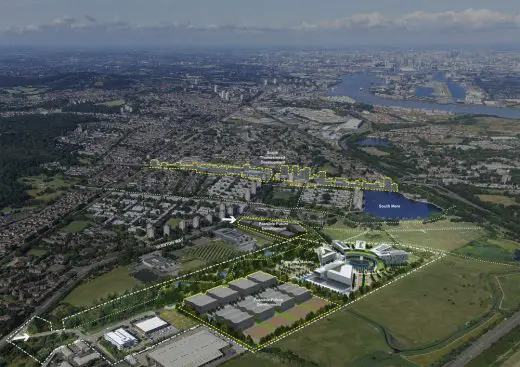 image courtesy of architects
Learning Campus Thamesmead Building
Keppie Design have unveiled visionary proposals for a state of the art Learning Campus at Thamesmead for the London Borough of Bexley and their partners Peabody and London South East Colleges. The proposals – known as The Place & Making Institute – will be located at the centre of one of Europe's largest regeneration projects.
6 Nov
Canaletto Tower, 257 City Road, Islington
Design: UNStudio, architects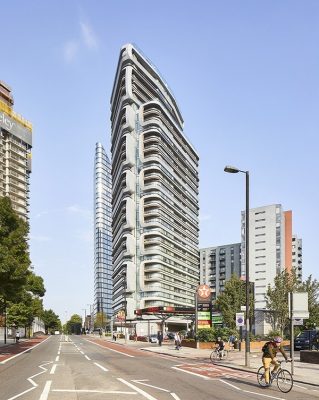 photography © Hufton+Crow, © EvaBloem
Canaletto Tower Building
Outside of the privacy afforded by the 190 individual living units, the Canaletto tower caters for a variety of collective leisure activities by way of shared amenities where the residents can enjoy healthy leisure pursuits or relax in areas designed for gathering and socialising.
6 Nov
Ashburnham Primary School Playground, West London
Design: Foster + Partners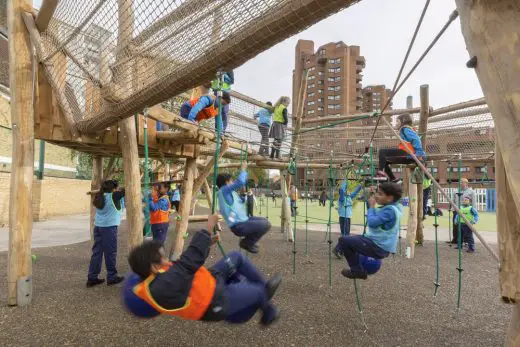 photograph : Aaron Hargreaves / Foster + Partners
Ashburnham Primary School Playground
The opening of the new children's playground at Ashburnham Community School in West London was met with shrieks of delight, as the children got a first taste of the recently transformed school grounds.
27 Oct 2017
S1 Building Kings Cross
Design: Mossessian Architecture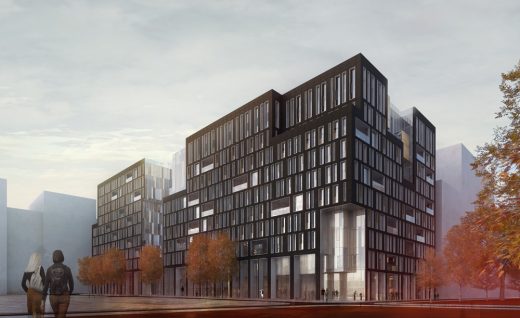 image courtesy of architects
S1 Building Kings Cross
This new 11-storey office building has had planning permission granted by Camden Council. Known as S1 it forms an architectural pair with neighbouring S2, which was also designed by Mossessian Architecture and is home to Google. Both are located on the new Handyside Street, by Lewis Cubitt Park.
16 Oct 2017
London Festival of Architecture in 2018
The London Festival of Architecture has announced that its theme for 2018 will be 'identity'. The theme will be explored and celebrated through a lively and diverse programme of public events across the capital.
9 Oct
Glaziers Hall
The reopening of Glaziers Hall takes place later this month.
A £2.5m investment has transformed the 200-year-old, Grade II listed building situated on London's Southbank. It includes stunning new riverside rooms, a new basement level and bespoke wine cellar which showcases three restored Georgian brick arches.
9 Oct
Hallmark Building in London
8 Oct
Art Workers' Guild in Bloomsbury
7 Oct
Vyn Yard Apartments, Vyner Street, Bethnal Green, East London
Design: Stockwool Architects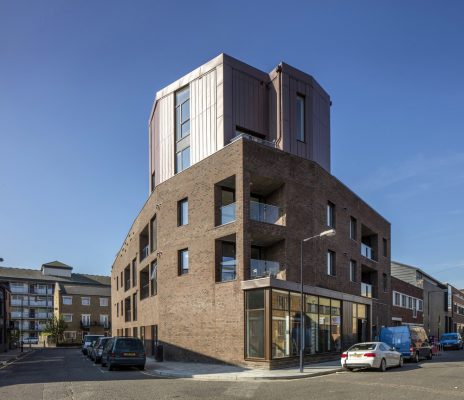 photo : Morley von Sternberg
Vyn Yard Apartment Building
Vyn Yard apartments are located on a regenerated brownfield site on a thriving artistic street in the Regents Canal conservation area. It is a mixed-use scheme of 23 apartments and commercial space.
4 Oct
White City Living London Development
4 Oct
Bloomberg's New European Headquarters in London
2 Oct
Velehrad Organisation Building in Barnes
15 Sep
Nautilus Spiral Staircase
Architect: Hassan Nourbakhsh (Borheh)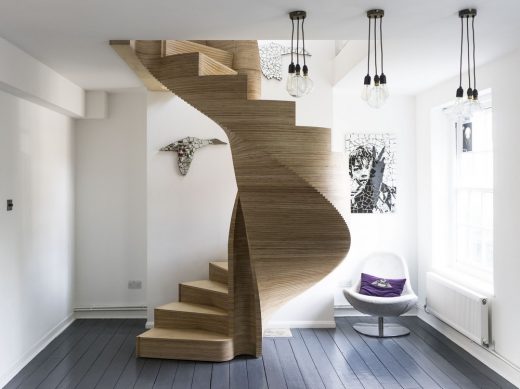 photo courtesy of Wood Awards
Spiral Staircase
European birch spiral staircase on new dynamic residential refurbishment. The minimalist hollow stair is formed from 180 unique pieces of ply, CNC cut and assembled on site with no visible connections.
14 Sep
Royal London Asset Management Office, 25 Wilton Road, Victoria
Design: MAX Architects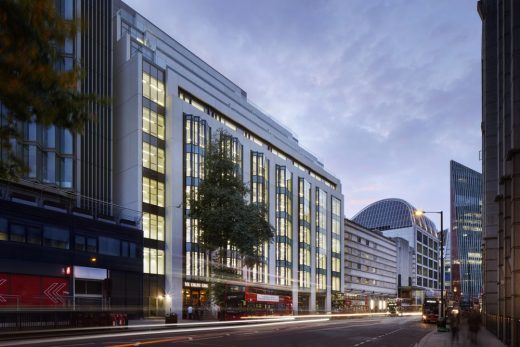 image courtesy of architects
Royal London Asset Management Office in Victoria
£35m, 150,000 sqft mixed-use redevelopment of 25 Wilton Road for Royal London Asset Management: an inventive refurbishment, infill and extension built by Kier in the south west of the UK capital city.
14 Sep
Snowdon Aviary Refurbishment, Regent's Park
Design: Foster + Partners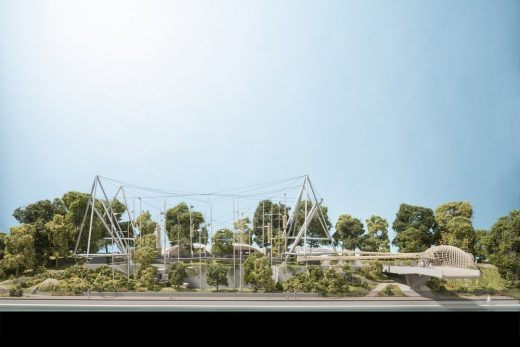 photo © Tom Miller
Snowdon Aviary Building Renewal
Preservation of listed zoo building + new education and community space
13 Sep
The London Cat Clinic, Bermondsey, Southwark
Architect: Gort Scott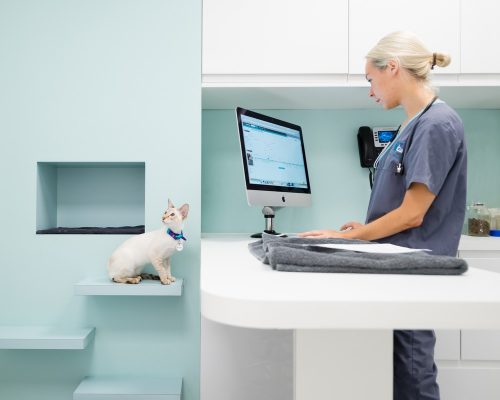 photograph : Jim Stephenson
London Cat Clinic
This Dalston-based architectural practice completes a characterful and high quality feline veterinary practice in Bermondsey.
11 Sep
Central Foundation Boys School, Old Street, Islington
Design: Hawkins\Brown Architects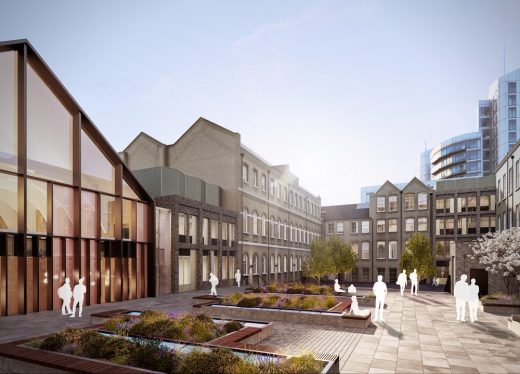 image from architects
Central Foundation Boys School
Detailed plans for sensitive refurbishment and new buildings approved by Islington Council Hawkins\Brown has won planning consent on behalf of Central Foundation Boys' School for the transformation of the school's collection of buildings in Old Street. When the project completes in 2021/22 the school will occupy 13,000 sq/m of accommodation on the site it has occupied for over 150 years.
11 Sep
Mixed-Use Development in Midtown at Chancery Lane
8 Sep
Winton Gallery at the Science Museum in London
1 Sep
designjunction 2017 in Kings Cross
30 Aug 2017
Silver Building in the Royal Docks
30 Aug
Battersea Power Station Chimneys
27 Aug
Lanesborough Hotel & Spa, Hyde Park Corner, Belgravia
Architecture: Filer & Cox ; Interiors: 1508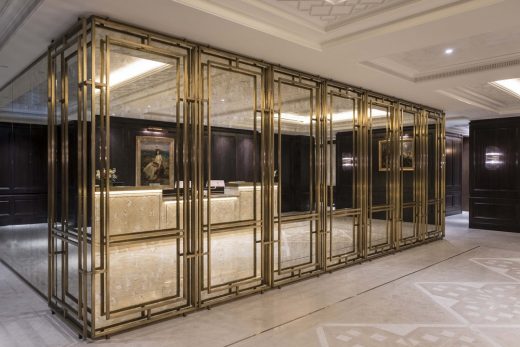 image from architects
Lanesborough Hotel & Spa in South West London
This building is situated between Mayfair and Belgravia. The sumptuous interiors reflect the elegant architecture of the original grand Regency-period building.
14 Aug 2017
Garden Bridge Trust Winds Up Flawed Project
The Garden Bridge Trust, the charity established to build and run the proposed Garden Bridge in central London, today announced that it will be winding up the controversial project designed by Thomas Heatherwick, after £37m of public money was spent.
3 Aug
Fairfax House, Teddington, South West London
Architects: Coupdeville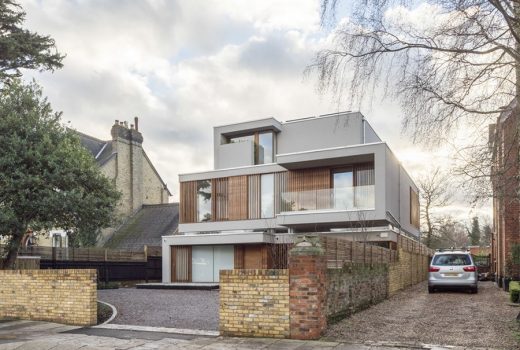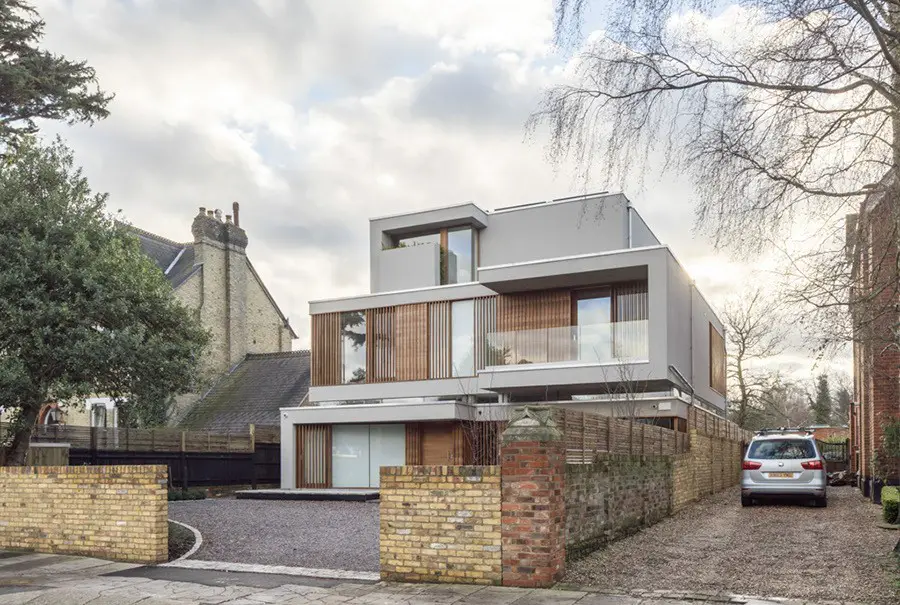 photograph : Simon Kennedy
New House in Teddington
This property replaces a simple 1930s bungalow, which sat on a generous plot that the family had lived in for ten years.
10 Aug 2017
Metropolitan Police Training and Operations Facility, Hendon, North London
Architects: Bennetts Associates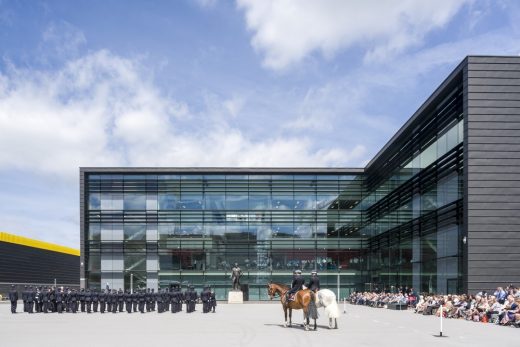 image courtesy of architects office
Metropolitan Police Training and Operations Facility
Working with Mace to produce a turnkey project, Bennetts Associates has completed a new Training and Operations facility for the Metropolitan Police Service at their historical Hendon site, creating a contemporary, flexible learning and working environment.
Camden Highline Crowdfunding Campaign Hits Target
A crowdfunding campaign for the Camden Highline has raised £64k, almost double its initial target a month after beginning.
The campaign benefitted from a wave of support including the Mayor of London Mayor of London, Sadiq Khan and Camden Market, who joined over 300 residents, community groups and businesses who donated to the campaign.
4 Aug 2017
Musicity London Architecture
Music inspired by the buildings of London – from Borough Market to the Finnish Church, Peckham Library to the Shard.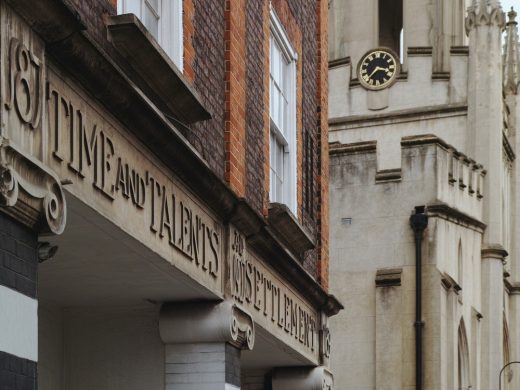 photo courtesy of Musicity
Musicity London news
3 Aug 2017
Artwork at Assembly London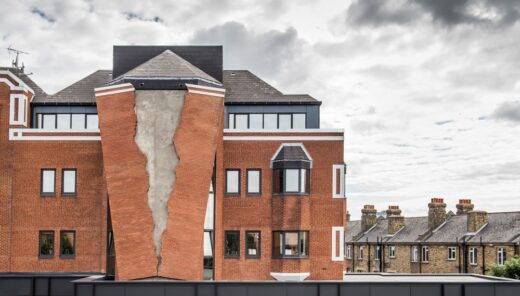 photo : Charles Emerson
Assembly London Artwork
Artist Alexander Chinneck completes monumental artwork entitled 'Six pins and half a dozen needles' on this new office campus in Hammersmith.
2 Aug 2017
Grenfell Cladding Test Is "An Absolute Failure"
The Department for Communities and Local Government (DCLG) has published results of the first of the large scale tests. These large scale tests allow experts to better understand how different types of cladding panels behave with different types of insulation in a fire.
Immediately after the Grenfell Tower fire, the government began a testing programme on aluminium composite material (ACM) on high rise residential buildings, which is one element of a wall cladding system: Grenfell Tower Cladding Test News
29 Jul 2017
The Boilerhouse for Royal Holloway, University of London, Egham, Surrey
Design: Cartwright Pickard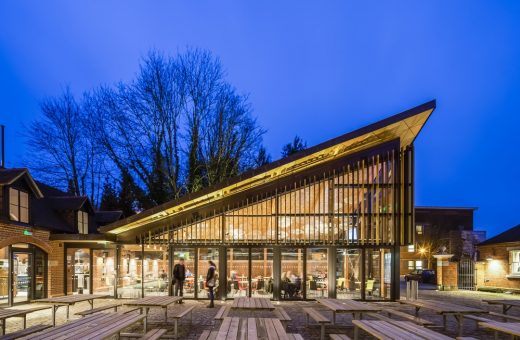 photography © Hundven-Clements
The Boilerhouse for Royal Holloway, University of London
The Boilerhouse comprises a new café pavilion and event space carefully inserted into the courtyard of the original Boilerhouse complex serving the Grade I Listed Founders Building as well as the refurbishment of the original stable block into a seating and servery area.
28 Jul 2017
Brent Cross Housing
Design: Architects pH+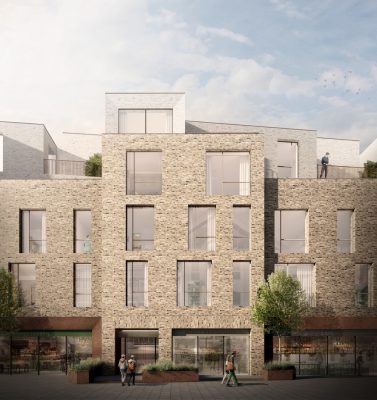 picture courtesy of architects studio
Brent Cross Property
28 Jul 2017
SIDESHOW Installation, Equipment Works site near Blackhorse Road Station, Walthamstow, E17, Northeast of the city
Design: Ehk!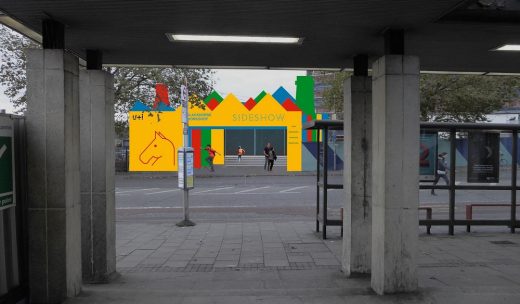 image courtesy of architects studio
SIDESHOW Installation
This summer, the Blackhorse Workshop and specialist regeneration company U+I are presenting SIDESHOW, a new installation that celebrates the maker culture of the capital, at the Equipment Works site near Blackhorse Road station.
27 Jul 2017
College Road Houses in Dulwich, South East London
Architects: Thompson + Baroni with Stephen Marshall Architects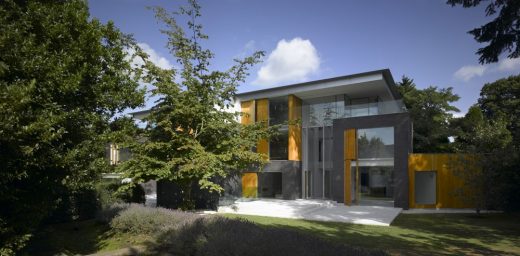 photograph courtesy of architecture office
College Road Houses in Dulwich
Minimalist architects studio design a pair of houses located in Dulwich.
24 Jul
Feilden Fowles Studio, Waterloo
Architects: Feilden Fowles Studio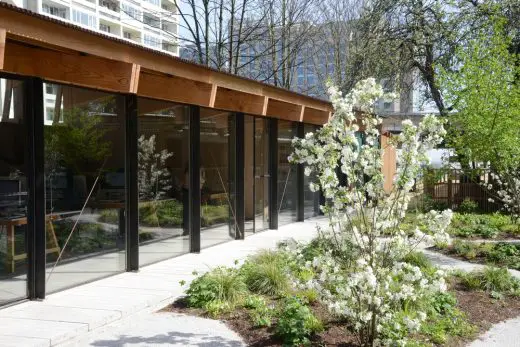 photos © Edmund Fowles
Feilden Fowles Studio Building
This architecture office master-planned Waterloo City Farm from the design of animal pens, sheltered outdoor classroom and barn, to their new architects studio which was offered in exchange for their design services.
24 Jul
Belarusian Memorial Chapel
Design: Spheron Architects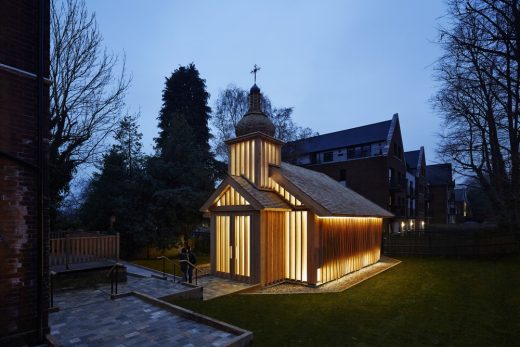 photo © Joakim Boren
Belarusian Memorial Chapel in London Building
This 70sqm project is the first wooden chapel to be built in the British capital since the Great Fire. The tiny wooden building is dedicated to the memory of victims of the Chernobyl disaster.
22 Jul 2017
Houses of Parliament Building Renewal Contracts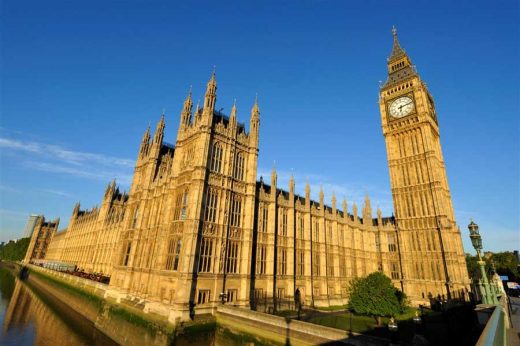 picture © Nick Weall
Palace of Westminster London Restoration
28 Jun 2017
Blackwall Reach, Tower Hamlets, East London
Design: C. F. Møller Architects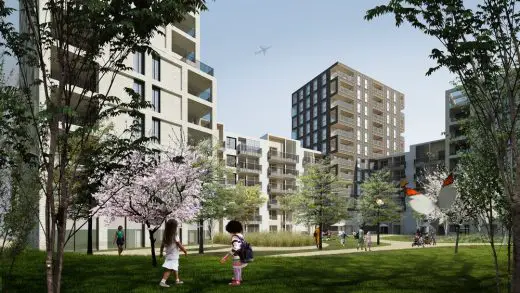 Court Yard View CGI
Blackwall Reach Development
Swan Housing Association announce the appointment of C.F. Møller as the architects for Phase 3 of the £300m regeneration of Robin Hood Gardens, known as Blackwall Reach.
26 Jun 2017
Architectural Association Projects Review
Review by architect Eleonora Nicoletti, one of e-architect's London architecture guides:
AA Projects Review 2017
The narrow spaces of the Architectural Association at 36 Bedford Square seem incapable of containing the exuberance of drawings, models and installations produced by students during the AA's 2016/17 academic year.
Read more at Architectural Association Projects Review in London
25 Jun 2017
Sky Garden Renewal
Walkie Talkie Building London – news
The Sky Garden will be undergoing a refurbishment from the of 7th July 2017. Renewal work is due to last for a number of weeks. The work is set to improve the visitor experience.
25 + 24 Jun 2017
Is the Chalcots Estate Evacuation Needed?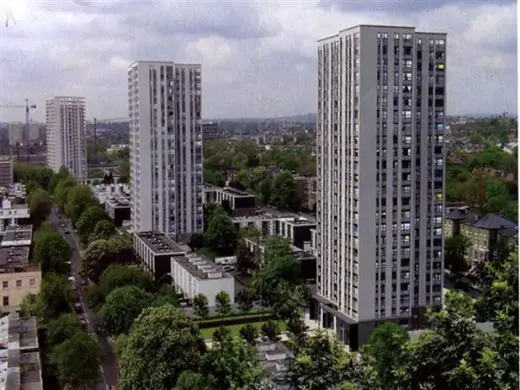 image courtesy of the architects
Chalcots Estate Tower Cladding
from 14 Jun 2017
Grenfell Tower Fire Cladding News
Grenfell Tower Cladding
June is dominated by the London Festival of Architecture. And to help sift through the range of contemporary classics in the capital, here is an accessible Top 10 guide to London's finest buildings: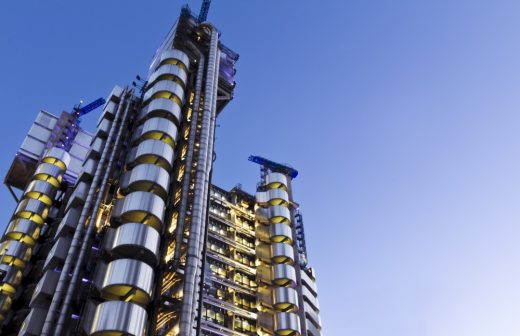 photograph courtesy of Utility Design
Top 10 London Buildings
16 Jun 2017
City of London's 60 green roofs win top planning award
The City of London Corporation's green roof initiative has seen over 60 installed. The programme to install green roofs in the City of London won in the Excellence in Planning for the Natural Environment category at the Royal Town Planning Institute's Awards for Planning Excellence 2017.
City of London Green Roofs
16 + 15 + 14 + 13 Jun 2017
Grenfell Tower Fire
Massive blaze engulfs 24-storey block of flats in North Kensington, west London.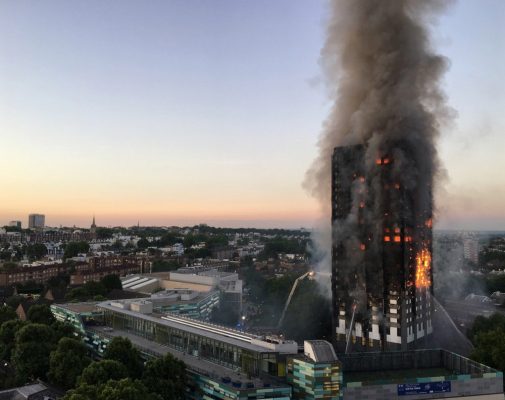 photograph courtesy of SE9
Grenfell Tower in West London
13 Jun 2017
Southmere Village Library in Thamesmead Competition
International architecture competition for a new library building in Southmere Village run by Peabody and the Royal Institute of British Architects:
RIBA Southmere Village Library in Thamesmead Architecture Competition
29 Apr 2017
Hyde Park Library Design Competition Winners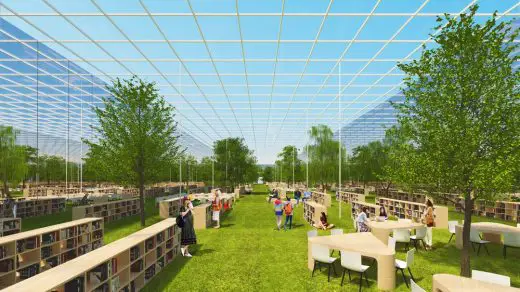 image courtesy of architects
Hyde Park Library Architecture Competition
This architecture competition run by archasm generated 378 registration. The winners are Seounghyun Cheon, Jihyeon Min from South Korea.
28 Apr 2017
London Garden Bridge Scrapped by London Mayor Sadiq Khan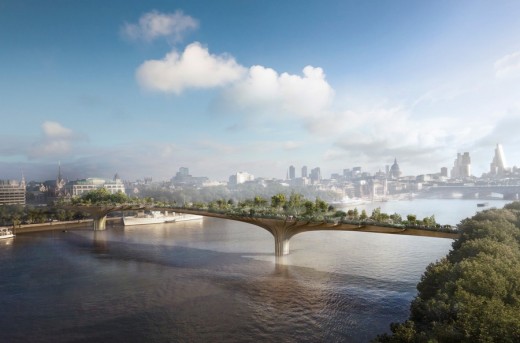 picture courtesy of architecture studio
Garden Bridge across the River Thames
This controversy has gone on too long, with some basic procurement faults evident. Sadiq Khan will not give financial guarantees for construction work to begin.
The new bridge was supported by actress Joanna Lumley and politicians Boris Johnson and George Osborne.
28 Apr 2017
London Festival of Architecture 2017 Speaker
London Festival of Architecture 2017
British architect Richard Rogers joins architects Sir David Adjaye and Daniel Libeskind to complete an impressive line-up of global architectural superstars taking part in the London Festival of Architecture 2017.
Richard Rogers will be in conversation with fellow architect Boris Bernaskoni at the Design Museum on 22 June. They will discuss their work and the influence of the Russian avant-garde on contemporary architecture.
28 Apr 2017
Wardian London Penthouses, Isle of Dogs
Design: Glenn Howells Architects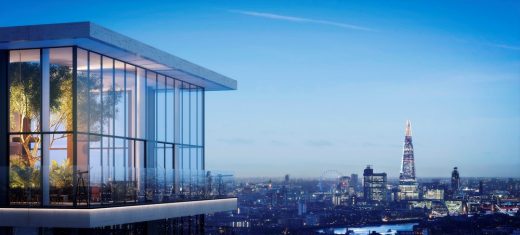 image courtesy of architecture practice
Wardian London Property
EcoWorld Ballymore today launch twelve luxury penthouses for sale at Wardian London, offering residents a botanical oasis with panoramic views of Canary Wharf and the City. The homes will offer buyers the gift of time, being ideally located to the financial districts of Canary Wharf and The City.
1 Apr 2017
Boon Brown Architects major mixed use development win
Boon Brown Architects is celebrating a successful start to Spring with its appointment as architect / lead consultant on a large-scale London project. The award-winning practice has been chosen to complete the coordinated technical design for plots 202b-203 of the ambitious Barking Riverside scheme.
Barking Riverside aerial by VIZ: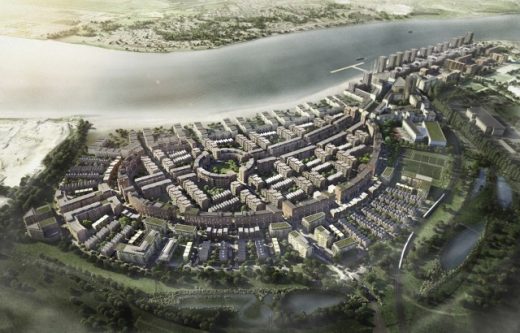 image courtesy of VIZ
Barking Riverside Development News
London Building News
London Architecture Links – chronological list
e-architect post London architecture news daily
We have picked out some key posts below leading up to Spring 2017:
11 Mar 2017
Berkeley Group launch new lifestyle-led property search tool
Berkeley Group who have just launched their unique luxury property search tool My View, which pans magnificent views of London allowing you to find your ideal city living.
Berkeley Group lifestyle-led property search tool: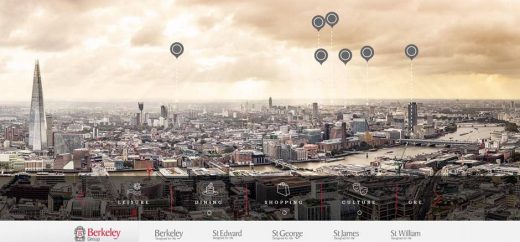 image courtesy of Berkeley Group
The lifestyle-led search tool allows prospective buyers to choose their home based on surrounding attractions including leisure, dining, shopping, culture, green space, education and transport. Ultimately allowing people to live out their desired lifestyle aspect.
The tool can be found here: www.berkeleygroup.co.uk/myview including Berkeley developments and information about its facilities as well as nearby attractions.
11 Mar 2017
Saatchi & Saatchi's new Chancery Lane HQ
Design: Jump Studios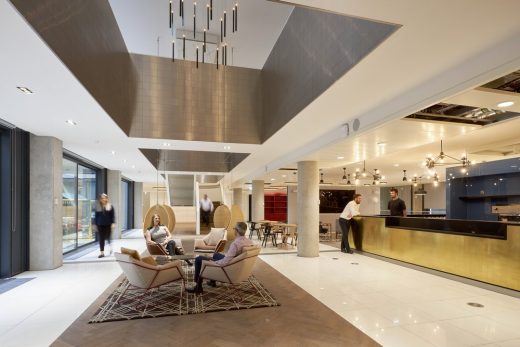 photo courtesy of architects
40 Chancery Lane Building
Architecture and interiors practice Jump Studios, a Populous Company, has delivered a new London office for Saatchi & Saatchi, the renowned global communications and advertising agency.
10 Mar 2017
London Assembly Planning Committee Meeting News
The Committee will examine the different sustainable ways to provide housing without compromising on quality.
Tuesday 14 March
Increasing housing density through the London Plan
Planning Committee – 10:00am in Committee Room 5
London's rapidly growing population is expected to exceed 10 million by 2036. This puts the capital under considerable pressure to provide new housing. The Planning Committee will discuss ways to optimise housing growth without compromising sustainability and quality. The guests are:
• Lin Cousin, Three Dragons
• Crispin Kelly, Baylight
• Elliot Kemp, Senior Strategic Planner, Greater London Authority (GLA)
• Jennifer Peters, Strategic Planning Manager, GLA
• Pieter Zitman, Mix Developments
Further info: http://www.london.gov.uk/moderngov/ieListDocuments.aspx?CId=258&MId=6121
8 Mar 2017
Planning Approval for New Chelsea Football Stadium
Design: Herzog & de Meuron, Architects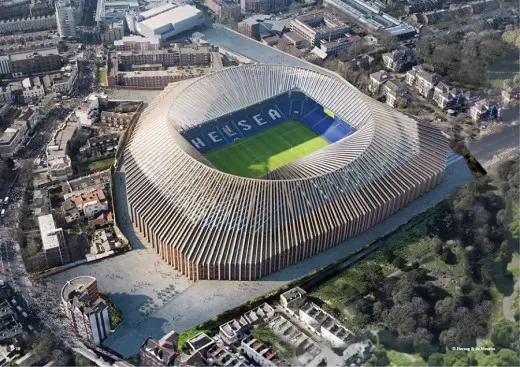 picture courtesy of architects
New Chelsea Stadium Building
Chelsea Football Club has been given permission by the City's Mayor to build a new £500m 60,000-seat stadium building in the South West of the capital.
7 Mar 2017
Mies van der Rohe & James Stirling Exhibition
The Architecture Gallery, RIBA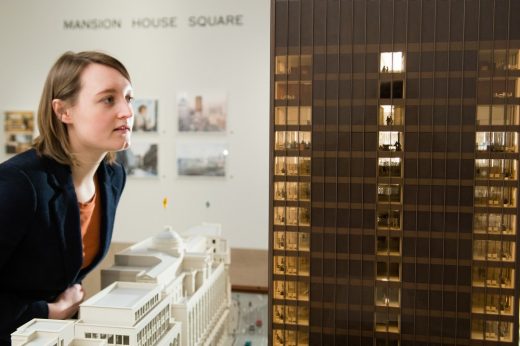 image courtesy of RIBA
Exhibition at RIBA Architecture Gallery
The Royal Institute of British Architects unveils a new exhibition, Mies Van der Rohe & James Stirling: Circling the Square (8 March 2017 – 25 June 2017). The show reviews two important architectural schemes proposed for the same site in the City.
6 Mar 2017
Serpentine Sackler Gallery nominated for London Architecture Award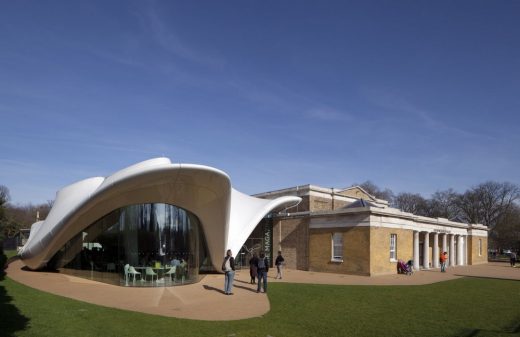 image courtesy of the architectsimage courtesy of the architects
Serpentine Sackler Gallery London Building
Westminster' Council's search for the city's best building of the last decade.
28 Jan 2017
40 Leadenhall Street
Design: Make Architects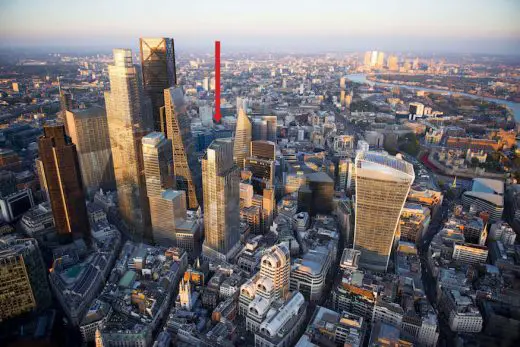 image from architects
Brookfield receives resolution to grant consent from the City of London for the £400m 1 Leadenhall, a 36-storey skyscraper. the building will be 182.7-m (600ft) high, and include 36-storeys:
1 Leadenhall Tower – planning approval news update
26 Jan 2017
40 Leadenhall Street Skyscraper News
Design: Make Architects
Status Planning approved
Sectors Office, Tall buildings
Area 84,500m²/910,000ft²
Client Henderson Global Investors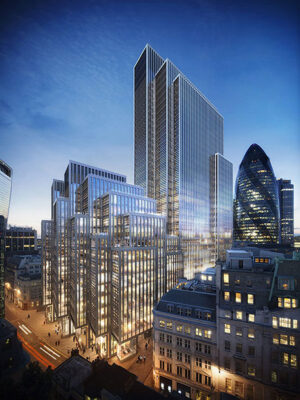 image courtesy of the architects
A resolution to grant planning permission has been awarded for Make's striking office building in the heart of the City of London's insurance district. The 40 Leadenhall Street site – also known as the Leadenhall Triangle – is owned by Henderson Global Investors and sits within the City's dense cluster of tall buildings, defining its easternmost edge.
The scheme varies in height, reaching 154m at its highest point, and creates a striking and harmonious composition of shifting rectilinear planes inspired by the early 20th century skyscrapers of Chicago and New York. Formed from a series of stepped vertical 'slices', the building terraces down to reduce its profile in response to key vantage points on the skyline, mediating between the scale of the adjacent towers to the north and west, and the lower buildings to the east and south. The tallest and widest 'slice' is positioned closest to the centre of the City cluster and steps down towards the River Thames and the Tower of London.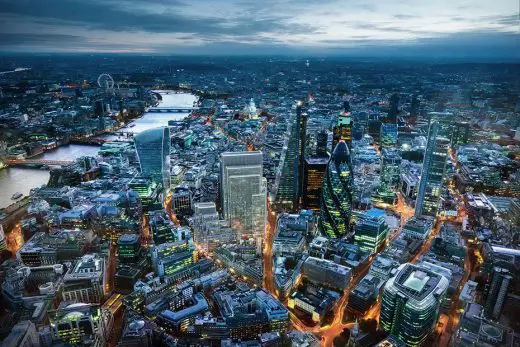 image courtesy of the architects
All buildings on the site will be demolished, with the exception of the highly ornamental Grade II listed 19-21 Billiter Street, dating from 1865, which will be substantially retained, enhanced and sensitively integrated into the scheme. Over 10,000 people will be accommodated in the building on completion, which offers a wide variety of floorplates catering for different office occupier requirements in terms of floor size and divisibility. Over 14% of the site outside of the building footprint will become publicly accessible space; the ground floor double-height entrance lobby and retail entrances are set back to create generous pedestrian zones and active street frontages to most of the perimeter.
Website: 40 Leadenhall Street Skyscraper Building
12 Jan 2017
Architecture Foundation launches pan-London architecture schools database
The Architecture Foundation has created the first comprehensive survey of masters-level architectural design teaching in London.
The site aggregates all 88 MArch and Diploma studios from London's eleven architecture schools into a single searchable database. The project intends to connect cutting-edge thinking in architecture and design, making it easier for tutors or students to find and connect with people researching similar issues across institutional and geographic boundaries.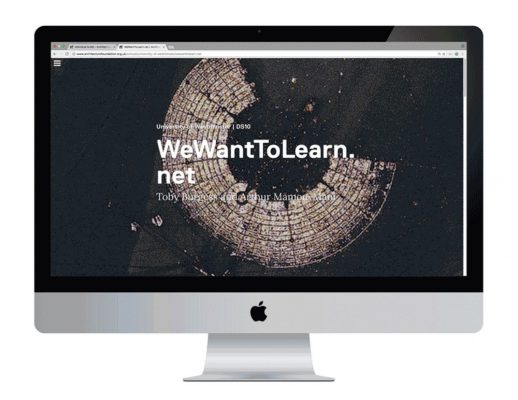 image courtesy of Architecture Foundation
Architecture Foundation London News
5 Sep 2016
Spire London Docklands Tower
Design: HOK, Architects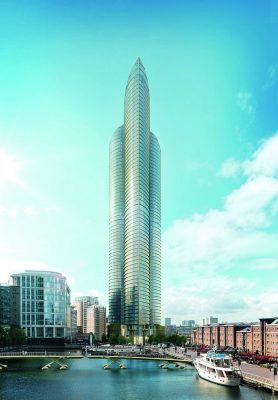 image from architect
Spire London Docklands Tower
The tallest resi-tower in Western Europe
28 Dec 2015
60-70 St Mary Axe London
Design: Foggo Associates Architects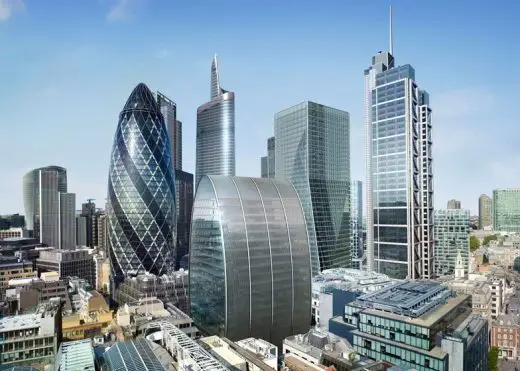 image courtesy of the architects
9 + 8 Dec 2015
1 Undershaft Tower London
Design: Eric Parry Architects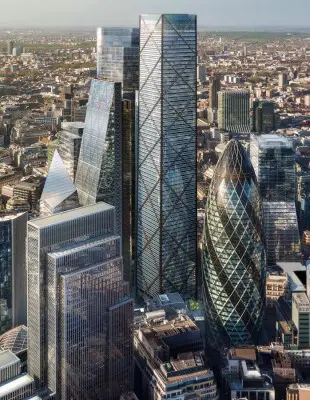 image : DBOX, courtesy Eric Parry Architects
28 Dec 2015
The Scalpel City of London Skyscraper
Design: Kohn Pederson Fox – KPF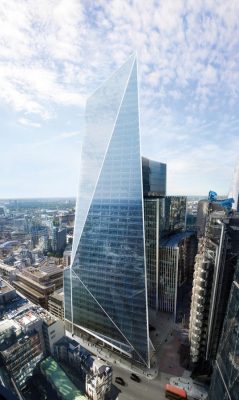 image courtesy of the architects
9 Oct 2013
Ludgate House & Sampson Houses Building Development
Architect: PLP Architecture



picture from architects
Location: London, UK
London Architecture
London Architecture Walking Tours
257 City Road, Islington, north east London
Design: UNStudio



image by dbox branding & creative
257 City Road Tower – 12 Mar 2012
London Skyscraper Buildings – alphabetical list
Buildings / photos for the London Building News 2017 page welcome