Snowdon Aviary, London Zoo Building Renewal, Architects, English Listed Project Preservation News, Images
Snowdon Aviary in London
Zoological Building in Regent's Park design by Foster + Partners Architects, south east England, UK
31 July 2021
ZSL London Zoo 'unwraps' Snowdon Aviary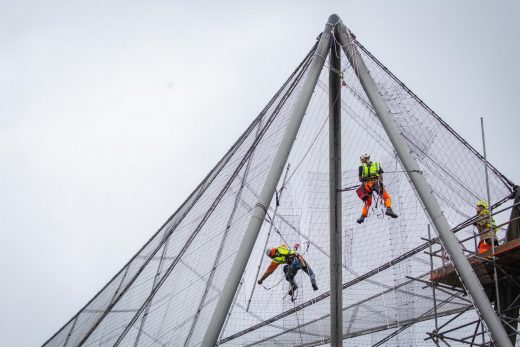 photograph © ZSL London Zoo
Snowdon Aviary Restoration, London Zoo
Landmark footage shared by ZSL London Zoo shows the historic moment the famous Snowdon Aviary is 'unwrapped' – signaling a defining moment in the iconic structure's restoration journey.
19 Dec 2017
Snowdon Aviary Refurbishment
Design: Foster + Partners
Location: Regent's Park, north London, NW1, England, UK
New primate enclosure building
Snowdon Aviary Refurbishment Funding
ZSL offers supporters chance to become part of iconic Snowdon Aviary
Conservation charity calls for support restoring iconic London landmark
The Zoological Society of London (ZSL) is calling on animal lovers to help renovate ZSL London Zoo's iconic Snowdon Aviary – offering donors the chance to become an integral part of the historic building's metamorphosis.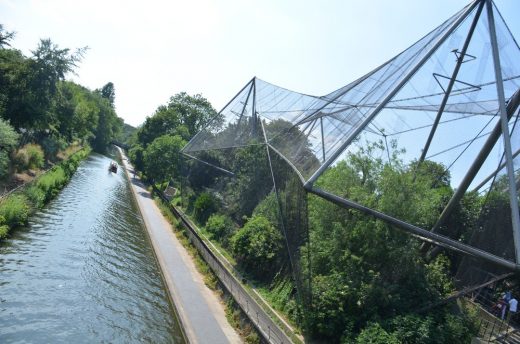 photograph © Daniel Sprawson, ZSL
Earlier this year the Heritage Lottery Fund (HLF) granted an incredible £4.9M for the Aviary to be overhauled by Foster + Partners, but the international conservation charity still needs to raise a further £2.2M before restoration work can begin.
The charity is giving donors the opportunity for their names to be immortalised in the structure for a £100 donation, or for their own personal message to become a permanent part of the London skyline for £400.
Thanks to the support made possible by National Lottery players, ZSL London Zoo is set to transform the historic exhibit into a state-of-the-art walk-through primate enclosure, allowing visitors and schoolchildren to get closer than ever before to its troop of incredible colobus monkeys.
ZSL Fundraising Director, James Wren, said: "Nearing our 190th anniversary, ZSL London Zoo is an iconic location in our capital city, steeped in cultural history and brimming with wonderful architecture. The Snowdon Aviary was Britain's first-ever walk-though aviary, and has stood proudly on the bank of Regent's Canal for more than 50 years, allowing our visitors to explore the habitat of the birds and admire them in a free-flying space.
"We will be able to transform the iconic feature into a modern exhibit with help from our supporters. With £2.2million needed to complete this exciting renovation we are giving our supporters the opportunity to donate and become part of the incredible transformation of this iconic landmark."
Arrival view from the bridge: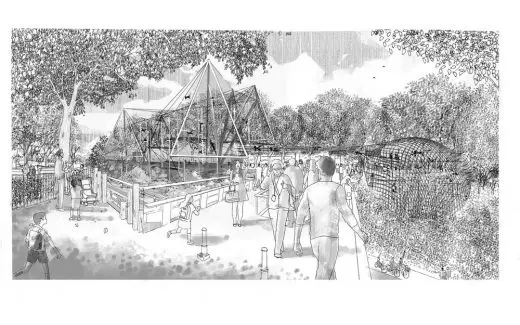 drawing © F+P ZSL
The new exhibit is set to be turned into a walk-through colobus monkey enclosure, which will give visitors a unique and up-close experience of the stunning primates. The historic exhibit's transformation will include an innovative community learning space that will put ZSL London Zoo at the heart of the community, engaging 100,000 people, including those from disadvantaged backgrounds – making learning about wildlife accessible to all.
Donations will help to restore the Grade II* listed structure, protect colobus monkeys in the wild, and provide the opportunity to educate thousands of schoolchildren – playing a unique role in bridging the growing divide between people and nature.
ZSL has £2.2 million left to raise for the project and is offering a variety of donation opportunities. To donate and save a landmark of historic, cultural and architectural significance visit zsl.org/savethesnowdon
14 Sep 2017
Snowdon Aviary Renewal
Design: Foster + Partners
Location: Regent's Park, north London, NW1, England, UK
Snowdon Aviary Refurbishment
Preservation of listed zoo building + new education and community space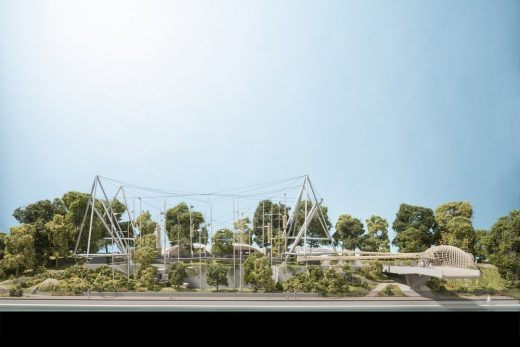 photo © Tom Miller
The Grade II* listed structure, designed by Cedric Price with Frank Newby and Lord Snowdon in 1962, was, and still is a sensational statement. It was the first aviary in Britain that gave visitors a 'walk-through' experience, bringing them closer to the birds in their natural habitat. The new design adapts the heritage structure to suit its new inhabitants – a troop of colobus monkeys and parrots – and offers visitors an enhanced experience. It replicates their natural habitat, with a series of vertical elements at different heights that the monkeys can climb onto, encouraging them to leap, jump, and swing to the higher levels of the aviary.
Norman Foster, Founder and Executive Chairman, Foster + Partners said: "The rebirth of the Snowdon Aviary continues our work with historical structures. It is about the fusion of the old and new, but also about repurposing this extraordinary structure. The brand-new walk-though home will allow it to extend its role for decades to come. It will ensure the preservation of an iconic structure and honour its distinguished authors from the past, while preserving a unique built example of Cedric Price's work."
The proposal also features an education and community space for Zoo visitors. Hosting up to 30 people, the indoor space will allow school groups to learn more about the colobus monkeys, their habitat and conservation, ZSL's history and about the architectural legacy of the Zoo.
Zoological Director, Professor David Field said: "We're delighted that the Council has recognised the value of the restoration of ZSL London Zoo's Snowdon Aviary, and has granted us planning permission to carry out this exciting work. The new exhibit is set to be turned into a walk-through colobus monkey enclosure, which will give visitors a unique and up-close experience of the stunning primates. Our plans for the Aviary will both improve its use as an important habitat for our animals and ensure it serves as an educational hub for the millions of people who visit the Zoo to be inspired by wildlife – while recognising its heritage status and prominent position on the Regent's Canal."
Snowdon Aviary in London images / information received 140917
Foster + Partners Architects
Location: Snowdon Aviary, London NW1 4RY, UK
London Architecture
London Architecture Design – chronological list
Aviary at London Zoo, Regent's Park, north London
Date built: 1961
Design: Cedric Price with The Earl of Snowdon and Frank Newby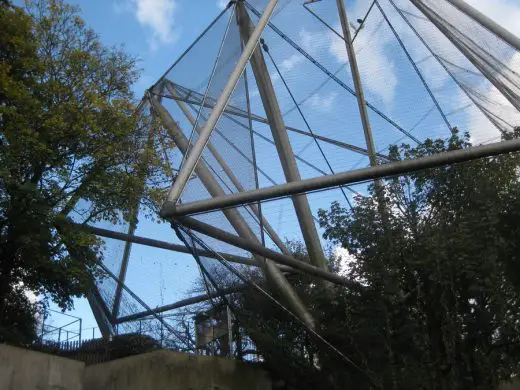 photograph © Adrian Welch
London Zoo Building by architect Cedric Price
London Zoo Penguin Pool architect : Berthold Lubetkin
London Zoo
This is the world's oldest scientific zoo. It was opened in London in 1828, and was originally intended to be used as a collection for scientific study. It was eventually opened to the public in 1847. It houses a collection of 758 species of animals, with 16,802 individuals, making it one of the largest collections in the United Kingdom. The zoo is sometimes called Regent's Zoo.
It is managed under the aegis of the Zoological Society of London (established in 1826), and is situated at the northern edge of Regent's Park, on the boundary line between City of Westminster and Camden (the Regent's Canal runs through it). The Society also has a more spacious site at ZSL Whipsnade Zoo in Bedfordshire to which the larger animals such as elephants and rhinos have been moved. As well as being the first scientific zoo, ZSL London Zoo also opened the first Reptile house (1849), first public Aquarium (1853), first insect house (1881) and the first children's zoo (1938).
ZSL receives no state funding and relies on 'Fellows', 'Friends', 'Members', entrance fees and sponsorship to generate income.
Source: wikipedia
Foster + Partners Architecture
Foster + Partners Architecture Designs
Comments / photos for the Snowdon Aviary in London – New ZSL primate enclosure building page welcome
Website: Foster + Partners