Los Angeles Building News, Architects, USA, Photos, American Architecture, L.A. Real Estate
Los Angeles Architectural Designs
Key Southern Californian Property Developments News, United States of America Built Environment + Architects Info
Los Angeles Building News
Los Angeles Architecture Tours – architectural walks by e-architect
L.A. Architecture Designs – chronological list
Los Angeles Architecture News – current posts
Los Angeles Architecture Designs from 2017
Los Angeles Architecture, chronological:
Dec 2, 2017
Beer Belly on Long Beach
Design: Make Architecture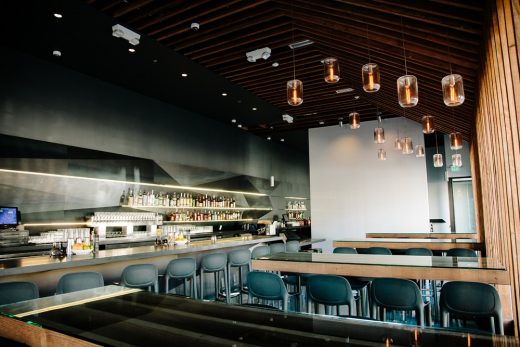 photograph : Monika Siauw
Long Beach Bar
Make Architecture sought to utilize the existing douglas fir wood truss ceiling as a dominant architectural feature by creating continuous skeletal forms emanating from the ceiling that wrap down and become floating table tops at the bar area as well as angle down and provide the spatial definition of the booths adjacent to the bar.
Nov 14, 2017
WSP to Provide Planning and Design Services for Taylor Yard River Park Site
The city of Los Angeles Board of Public Works has approved the Bureau of Engineering's selection of WSP USA to provide planning, design and remediation consulting services in connection with the planned Taylor Yard G2 Parcel Park Project, a major component of the city's ambitious plan to revitalize the Los Angeles River.


image courtesy of architects
The site will require soil remediation before construction can start. WSP will produce an implementation plan and pre-design report that includes a site remediation strategy and concept designs for phased development (interim and long term uses). A phased approach of the project is intended to address required remediation as funding is available, while allowing more immediate public use of portions of the site.
"We are excited to begin working on one of the most significant steps toward the city's vision of a revitalized Los Angeles River," said Michael Drennan, WSP's project manager. "The Taylor Yard G2 Parcel Park Project is moving one step closer to reality with the launch of this project."
The project includes a robust stakeholder engagement process to gather input from the surrounding neighborhoods about how this new park could serve them.
Jun 16, 2017
The Main Museum of Los Angeles Art
Design: Tom Wiscombe Architecture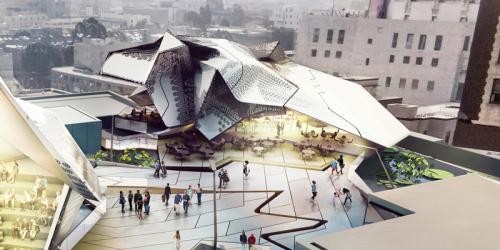 image courtesy of architects
The Main Museum of Los Angeles Art
This LA building is located in the heart of the Old Bank District of Downtown. Capitalizing on the tension between historical and contemporary architecture, the project is part adaptive re-use and part new construction. It is devoted to engage the public with the most important ideas of our time through the art of Los Angeles.
Clocks and Clouds: The Architecture of Escher GuneWardena
Dates: July 8 – August 20, 2017
University of California Santa Barbara Exhibition News, Goleta, Isla Vista, Southern California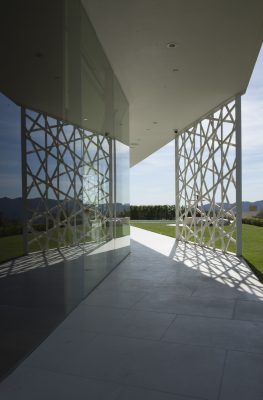 photo by Clarke Henry, 2016
University of California Santa Barbara Exhibition News
'Clocks and Clouds: The Architecture of Escher GuneWardena' is a survey of the firm founded in Los Angeles by Frank Escher and Ravi GuneWardena, on show at the The Art, Design, & Architecture Museum.
It highlights Escher GuneWardena's engagement with art, craft, and architecture. It presents the full scope of their architectural practice, collaborations with artists, and explorations in architectural history.
Los Angeles Construction Photos
Photos by Kenneth Johansson Photography, Santa Monica, California – shown below is C-Lax: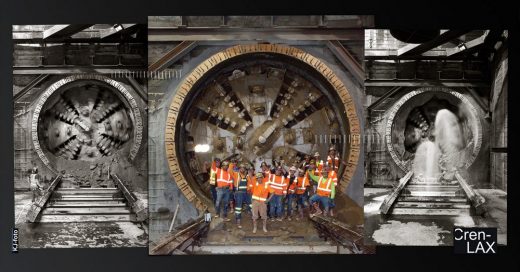 photo © Kenneth Johansson Photography
Los Angeles Construction Images
May 7, 2017
New designs for the Lucas Museum of Narrative Art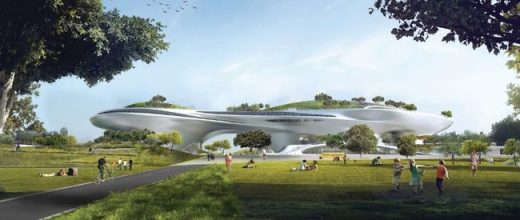 image courtesy of architects
Lucas Museum of Narrative Art Los Angeles
After looking at sites in Chicago and San Francisco the art collection and archives of film director George Lucas has at last found a home, in Exposition Park.
Apr 13, 2017
Mirror House in Beverly Hills
Architects: XTEN Architecture
New Property in Beverly Hills
May 1, 2017
The Wave House Venice
Architect: Mario Romano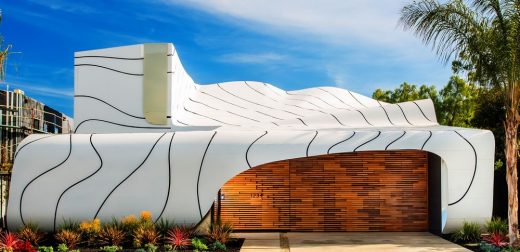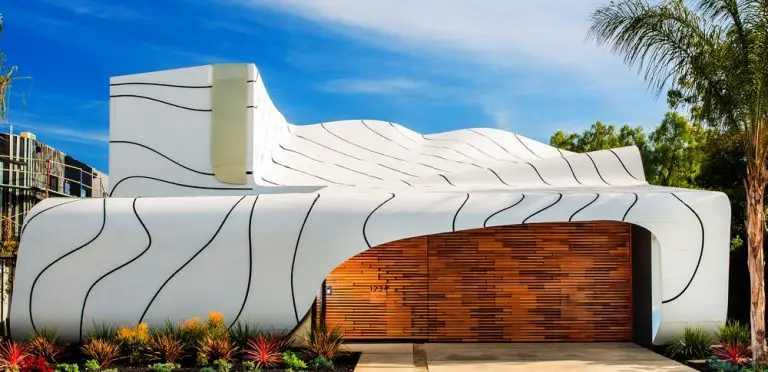 photograph : Brandon Arant
The Wave House, Venice, California
Hundreds of unique pieces assembled into a self-organizing form. Similar to the way a tailor crafts a suit of clothing, the aluminum skin was digitally rolled and unrolled, then cut by a CNC machine and finally attached to a complex metal substructure made of straight lines, leaving a space between the white aluminum panels of exactly one and three/fourth inches.
Apr 26, 2017
Berlin/Los Angeles: Space for Music, now on view at the Getty
Dates: April 25 – July 30, 2017
Location: Getty Research Institute, Getty Center
elebrating the 50th anniversary of the sister-city partnership between Berlin and Los Angeles, Berlin/Los Angeles: Space for Music on view at the Getty Research Institute from April 25 through July 30, 2017 explores two iconic buildings: Berlin Philharmonic (1963) by German architect Hans Scharoun, and Walt Disney Concert Hall building (2003) by famous LA architect Frank Gehry.
Berlin/Los Angeles: Space for Music Exhibition News
Apr 25, 2017
UCLA's Hitoshi Abe and USC's Qingyun Ma on L.A. Architecture
In 2007, L.A. architecture saw a major changing of the guard as architect Hitoshi Abe from Sendai, Japan, became chair of the department of architecture and urban design at UCLA and Shanghai-based architect Qingyun Ma took over as dean of the USC School of Architecture, reports the LA Times.
Now both men are moving on from those posts: Abe stepped down last year, while Ma's final day in the job is June 30. (Both will retain professorships at their respective schools.) There has sometimes been tension in their relationship, and either wanted to hold the Q&A on the other's campus.
Exhibition by Atelier Hitoshi Abe architecture firm (AHA), at the SCI-Arc Gallery at the Southern California Institute of Architecture (SCI-Arc)
source: Hitoshi Abe and Qingyun Ma discuss Architecture in Los Angeles
Mar 8, 2017
United States Courthouse
Design: Skidmore, Owings & Merrill LLP (SOM)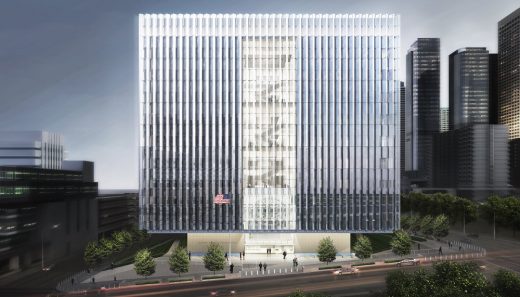 This new federal courthouse in downtown Los Angeles designed by SOM "conveys a strong civic presence rooted in classic principles, and features an innovative structural engineering concept that allows the cubic volume to "float" over a stone base while being one of the nation's safest buildings", according to the architects.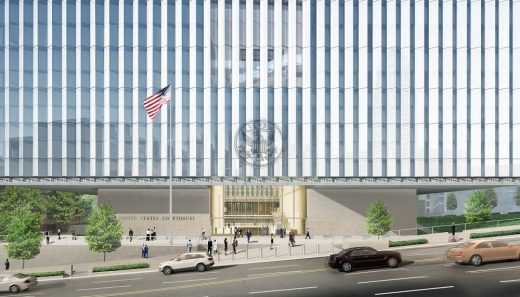 The 633,000-sqft facility "contains 24 courtrooms and 32 judges' chambers. The building is designed to achieve LEED® Platinum certification, with sustainable features such as a serrated facade that maximizes views, while reducing solar heat gain by nearly 50 percent. SOM's design for the courthouse optimizes workflow and promotes efficient operations and maintenance".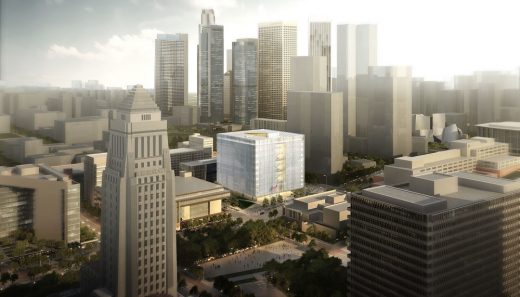 source: United States Courthouse Building in Los Angeles
Images courtesy of architects © SOM
Mar 3, 2017
Bunker Hill Building Project in Downtown LA
Architects: M-Rad | Architecture, Design + Development Studio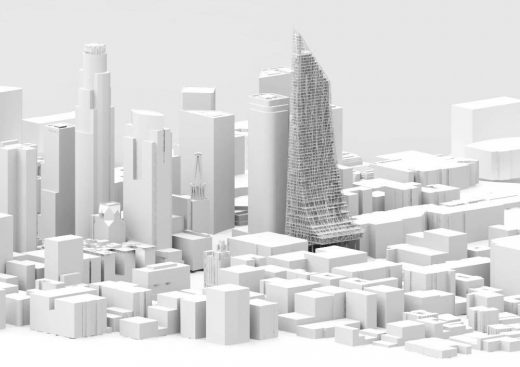 M-Rad's newest project is located behind the infamous Bunker Hill site next to the Angel's Flight vernacular in the heart of downtown, Los Angeles. With the flourishing densification of downtown, we have seen a lack of public green space as well as increased opportunities to develop mixed use buildings.
The architectural concept behind the Bunker Hill project aims to create a place for the community to gather in an environment inspired by nature while maximizing the potential use of housing, creative office, research facilities, retail and hospitality spaces. The tower will be elevated above the existing greenscape to highlight both the history and importance of Bunker Hill while connecting it to the streetscape of Los Angeles, blurring the line between urban landscape and nature.
Feb 8, 2017
Roberts Pavilion at Claremont McKenna College
Jan 29, 2017
The Future Perfect, West Hollywood Hills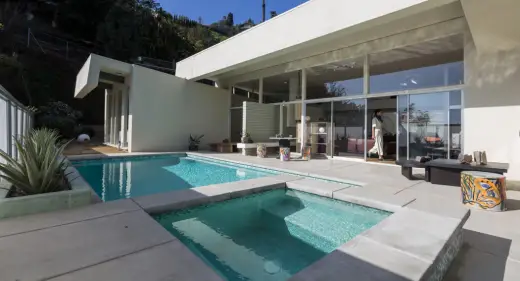 Since 2003, design retailer and curator David Alhadeff has built a reputation with The Future Perfect, his design showroom and gallery that started in Brooklyn.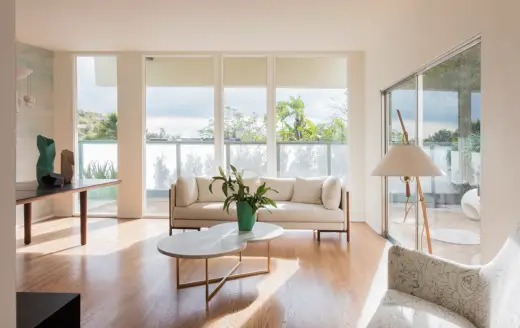 The firm has now opened their first Los Angeles outpost. TFP founder David Alhadeff said "I love LA and have for years. We did an installation with Tenoversix years back and I fell in love with the energy in LA…I started to see an increase in the appreciation for contemporary design and felt now was a great opportunity to bring The Future Perfect to LA."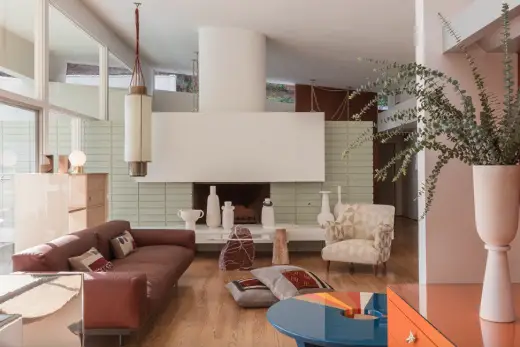 The Southern California store occupies an entire private home in the West Hollywood Hills. Dubbed "Casa Perfect," the Modernist villa was designed by architect David Hyun and built in 1957.
Link: http://www.thefutureperfect.com/present_tense/articles/casa-perfect
Jan 22, 2017
Car Park House
Design: Anonymous Architects
Luxury Contemporary Property in Los Angeles
Starting with a vacant lot with a very steep down-slope from the street, the design of the house places the carport on the roof with the residence below. In addition to being a dramatic shift of expectations, it is also a logical response to the building code which requires parking for two vehicles.
Jan 19, 2017
House in Trees
Anonymous Architects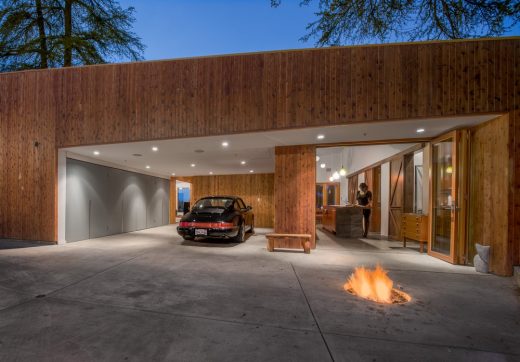 photographers : Steve King & Michael Wells
New House in Echo Park
Luxury LA property set within a plot containing mature trees.
Jan 10, 2017
SCI-Arc Presents an Exhibition by José Oubrerie
SCI-Arc is pleased to present José Oubrerie's Chapel of Mosquitoes architecture and paintings, opening February 3, 2017 in the SCI-Arc Library. Oubrerie's Chapel of Mosquitoes synthesizes the opposite spatial investigations of two of the architect's most significant works: the 1986 French Cultural Center in Damascus and the 1992 Miller House in Lexington, Kentucky. The Chapel, planned for a site in upstate New York, becomes a contraction of these two projects yet retains attributes of both.
SCI-Arc Events in LA
Jan 6, 2017
HOLLYWOOD – arch out loud competition
Is the home a place for both work and play? A place for entertainment? A destination for travel? A place for family, friends and beyond to gather? Does a home shield you from the elements or bring you closer to them? Who does the home serve? A single individual or large family? Who does it serve today and in the future?
HOLLYWOOD arch out loud competition
Los Angeles Architecture Designs from 2016
Sep 22, 2016
Crossing Wall House, Santa Barbara
Mobile Office Architects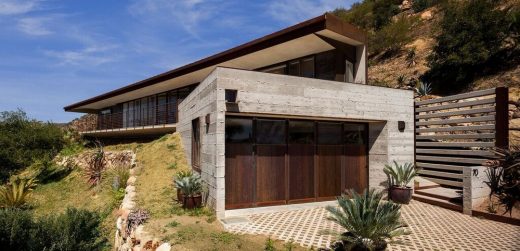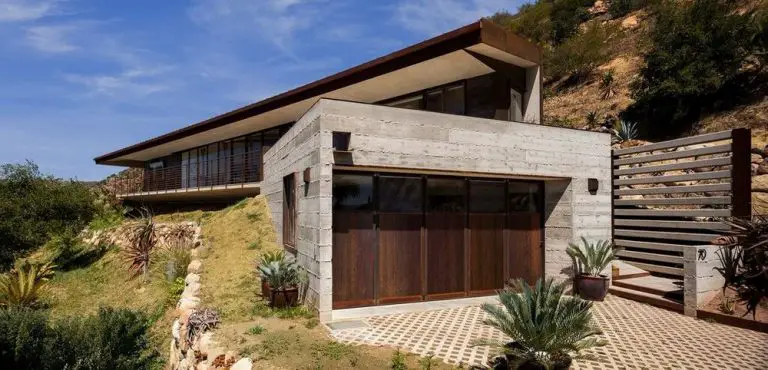 photograph : Tyson Ellis
Santa Barbara Property
Sep 7, 2016
Tree Top Residence
Design: Belzberg Architects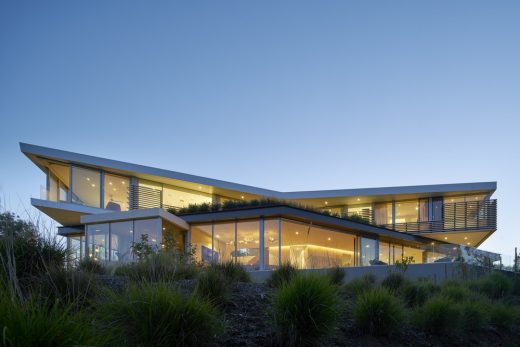 photograph : Bruce Damonte
Tree Top Residence in LA
This three-story contempoorary property emerges above the canopy of trees that surround it.
Sep 7, 2016
Cal Tech Keck Institute for Space Studies, 345 S. Michigan Avenue, Pasadena, CA 91106
Design: Lehrer Architects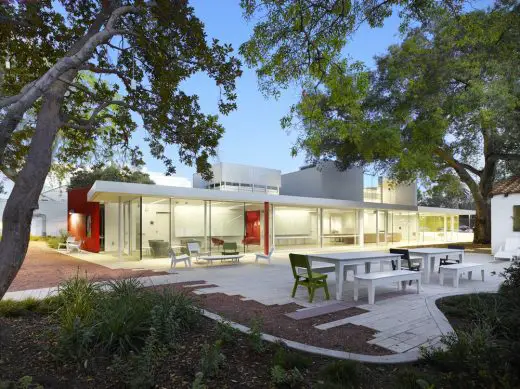 image : Benny Chan Fotoworks
New Pasadena Building
A flexible University Campus building for a leading Scientists Think Tank, Board of Trustees and various other activities.
Aug 12, 2016
LACMA Building Extension
Design: Peter Zumthor Architect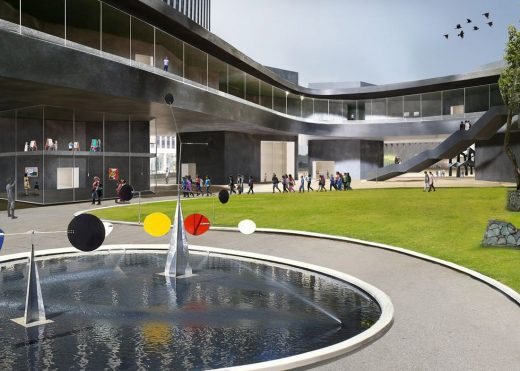 image from architects
New Pasadena Building
Images revealed for the new Los Angeles County Museum of Art building expansion.
Los Angeles Architecture Designs from 2012-13
Mar 4, 2013
Ocean Avenue Project, Santa Monica, Los Angeles Waterfront
Design: Gehry Partners, LLP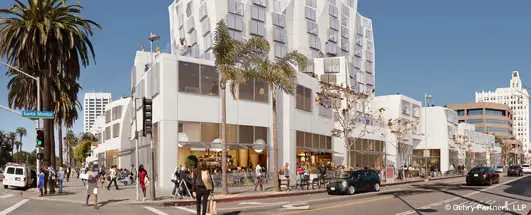 image © Gehry Partners, LLP
Ocean Avenue Project Santa Monica
The proposed Ocean Avenue Project is a hotel and museum campus that merges world-class urban design with historic preservation to create an important cultural anchor for the community. Located on the corner of Ocean Avenue and Santa Monica Boulevard in the heart of downtown, the project is being proposed by M. David Paul Associates and Worthe Real Estate Group, both with strong roots and involvement in Santa Monica.
Dec 14, 2012
Oakpass Residence, Beverly Hills
Design: Heusch Inc Architecture
Oakpass Residence
Elegant Californian residence set up in the hills above LA – a "sleek modernist box wrapped in floor to ceiling glass", 12 feet above the ground. This cleanly detailed house is set amongst oak trees and owned by the architect who designed it, lucky him!
Oct 5, 2012
Nakahouse, Hollywood Hills
Design: XTEN Architecture
Nakahouse
Nakahouse is an abstract remodel of a 1960's hillside home located on a West facing ridge in the Hollywood Hills, just below the Hollywood sign. To the South and West are views of the Beechwood Canyon; to the East is a protected natural ravine, with a view of Griffith Park Observatory in the distance.
May 30, 2012
PAS House, Malibu
Architects: Francois Perrin and Gil Lebon Delapointe
Malibu House
The idea for the PAS House was to create a fully hybrid structure, finding the middle ground between a house and a skate park. As opposed to simply placing skateboarding elements inside a domestic environment or installing furniture inside a skate park, the notions behind the PAS House are fully integrated with the architecture.
Los Angeles Architecture Events
AIA Los Angeles Event – AIA|LA Design Award Winners
AIA Los Angeles Awards news
Architecture + Design Museum Los Angeles Exhibition
Architecture + Design Museum Los Angeles
Recent Los Angeles Architecture Projects
Apr 27, 2012
Union Station Master Plan
Design: UNStudio / EE&K / Jacobs Engineering
Union Station Los Angeles Master Plan
Submission of a proposal by this US-Dutch design team for the Master Plan development of Los Angeles' Union Station.
Ben van Berkel and Jonathan Cohn presented their conceptual rendering set in the year 2050, showing this major L.A. building as a multi-modal transit hub with a mix of uses, new development and outdoor spaces.
Jan 9, 2012
Saperstein Residence, Hollywood Beach, CA
Design: Enclosures Architects
Hollywood Beach Residence
This 3,000 square foot three story residence is meticulously designed to make the very most of its privileged ocean front setting. The home's interiors combine a collection of fine materials and rich colors to define, animate and sculpt the spaces.
Dec 19, 2011
The 747 Wing House, Malibu
Design: Studio of Environmental Architecture
The 747 Wing House
This project exists on a massive property in the Malibu hills with unique topography and panoramic views looking out to a nearby mountain range, a valley, and the Pacific Ocean with islands in the distance.
More contemporary Los Angeles Architecture Designs online soon
Location: Los Angeles, California, USA
Architecture in L.A.
L.A. Architectural Projects
Los Angeles Architects Studios – LA Design Office Listing
Comments / photos for the Los Angeles Architectural Designs – Southern California Buildings page welcome
Website: Los Angeles