Herzog & de Meuron's Chelsea Football Stadium, New Ground in Southwest London, Planning
Herzog & de Meuron's Chelsea Stadium
Stamford Bridge Football Ground in Southwest London design by Herzog & de Meuron architects / LDS.
12 + 8 May 2020
Design: Herzog & de Meuron & Lifschutz Davidson Sandilands
New Chelsea Football Stadium Abandoned
The £500m design for Chelsea FC's Stamford Bridge stadium is no more after planning permission expired.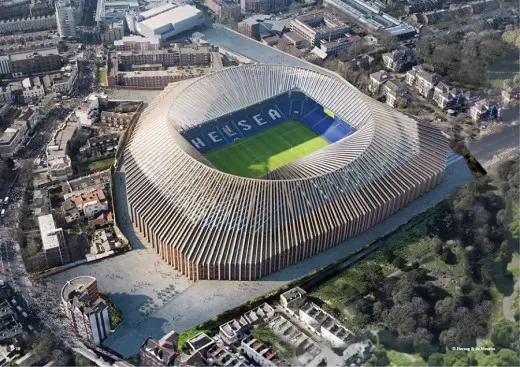 New Chelsea Stadium Building News
The new ground was designed by the celebrated Swiss firm Herzog & de Meuron and London architects Lifschutz Davidson Sandilands.
Planning consent to start the ground redevelopment ran out on 31 March 2020, as reported by Building Design.
The Stamford Bridge project was put on hold indefinitely in 2018 due to an unfavourable investment climate.
The London football club's Stamford Bridge transformation was granted planning permission in 2017, but the project dates back even further, to 2015.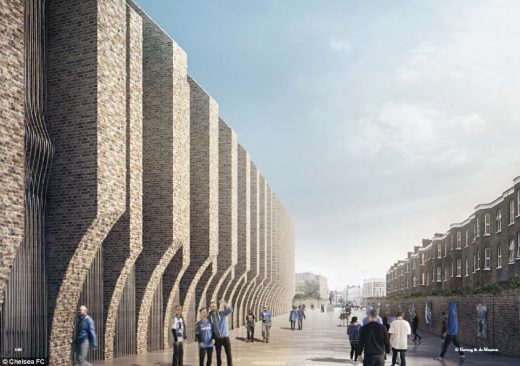 The Wandon Road Residents Association and Moore Park Area SW6 Residents had implored the council to refuse permission in January 2017. They had demanded an overland station (paid for by Chelsea Football Club) located within the football ground. The residents also requested a public walk way, cycle path and even a bridge over the River Thames be established priot to granting planning.
Then in 2018 the council prevented a court injunction against the new stadium design after locals claimed it would block natural light to their properties.
New Chelsea Football Stadium Halted – report by Building Design
8 Mar 2017
New Chelsea Stadium Approval
Design: Herzog & de Meuron Architects
Planning Approval for New Chelsea Football Stadium
Chelsea Football Club has been given permission by the Mayor of London to build a new £500m 60,000-seat stadium building in Southwest London.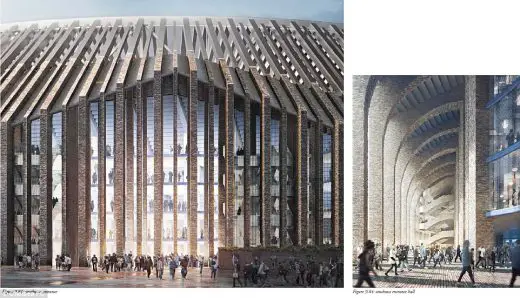 Hammersmith and Fulham Council approved the plans in January to demolish the current 41,600-capacity Stamford Bridge stadium.
The mayor has the final say on major planning applications in London.
Earlier, Sadiq Khan said the "high quality and spectacular design" would add to the capital's "fantastic array of sporting arenas".
Chelsea FC stated, "This is the latest significant step toward redevelopment of the stadium and the delivery of the extensive local community programme.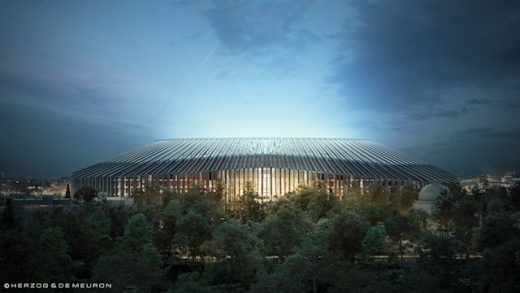 Further steps lie ahead, both during and after the planning process, before construction work can commence.
We continue to collaborate with all stakeholders and will keep you informed of progress made."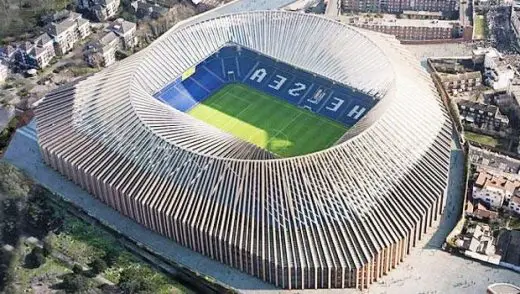 source: http://www.chelseafc.com/news/latest-news/2017/03/update-on-stadium-planning-application.html
5 Jan 2017
New Chelsea Stadium by Herzog & de Meuron
Design: Herzog & de Meuron Architects
New Chelsea Football Stadium Planning Approval
Chelsea FC are set to get the go-ahead for Herzog & de Meuron-designed plans to redevelop their Stamford Bridge, reports Building Design today.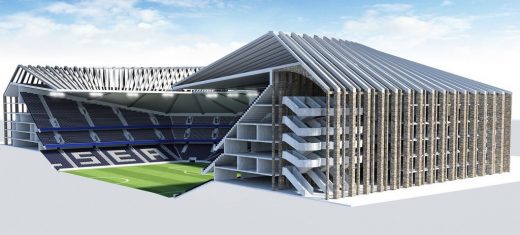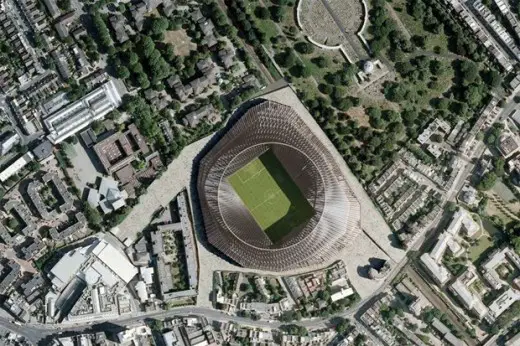 9 Sep 2016
New Chelsea Football Stadium Planning Application
Last November a planning application was submitted to the local authority, Hammersmith and Fulham Council, for permission to expand the seating capacity at Stamford Bridge.
The assessment of the planning application then commenced with a public consultation on the proposals.
The results of that consultation were fed into the ongoing work on the proposals, which Chelsea FC have continued with the local authority.
The planning application therefore progresses on course and on time; the next stage is the second consultation, when the continuing work on the proposals is shared with the community.
Chelsea Football Club are pleased to announce that the second consultation period opens today 9 September and will run until 7 October.
30 + 26 Aug 2016
New Chelsea Football Stadium Planning Issue
Planners demand design impact details of Herzog & de Meuron's Chelsea FC stadium plans, reports the Architect's Journal.
Chelsea Football Club has been forced to provide more information on its proposed new stadium by Herzog & de Meuron after planners deemed their original submission inadequate.
If successful in their application, then work could begin in 2017, with the Club needing to groundshare for at least the 2017/18 season.
To put the proposed 60,000 capacity into context, here are capacities at Chelsea's London rivals:
Tottenham Hotspur – Spurs (White Hart Lane, Northeast London): 61,000, from 2018
Arsenal (Emirates Stadium, North London): 60,432
West Ham United (redeveloped Olympic Stadium, East London): 54,000, from 2016/17 season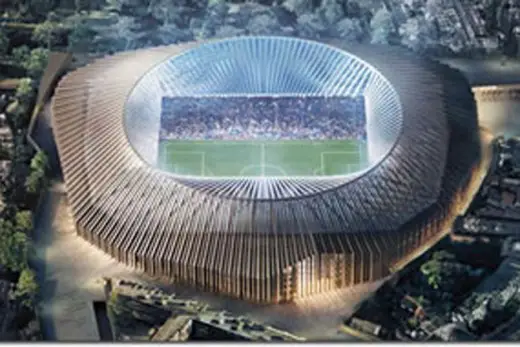 2 Dec 2015
New Chelsea Football Stadium Building
New Chelsea Football Stadium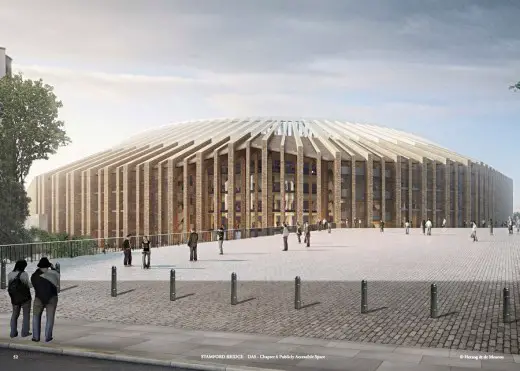 Swiss architects Herzog & de Meuron has unveiled its final design for the revamp of Chelsea FC's London stadium, with a brick and steel addition it describes as a "contemporary sculpted form", reports Dezeen today.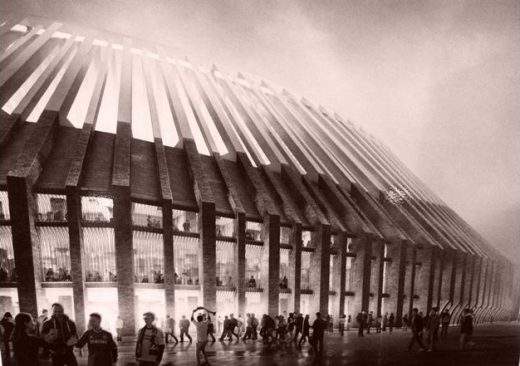 The Swiss architecture studio is working with London architecture firm Lifschutz Davidson Sandilands on the overhaul of the west London football club's 41,837-seat Stamford Bridge stadium. The main aim of the project is to increase spectator capacity to 60,000.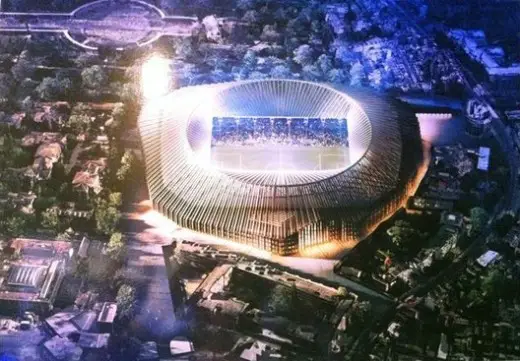 Chelsea FC report that a planning application for a new stadium at Stamford Bridge with an expanded seating capacity has been submitted. This follows a successful consultation process during which we received very helpful feedback.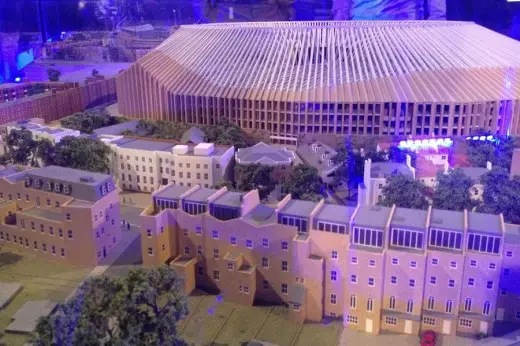 This application will now be examined by the London Borough of Hammersmith and Fulham. Full details can be found on their website at www.lbhf.gov.uk/stamfordbridgegrounds.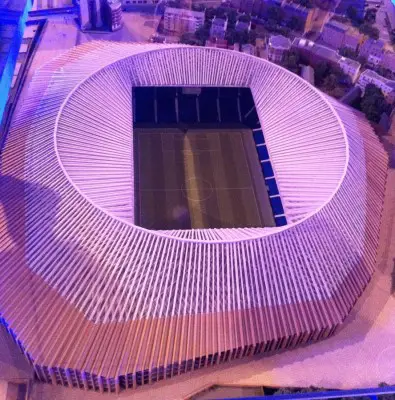 The main details of the application are:
– Stadium seating capacity to expand from 41,600 to 60,000 spectators
– An outstanding view of the stadium from every seat
– An arena designed to create an exciting atmosphere
– Direct access to and from Fulham Broadway Station, making travel more efficient
– Stadium facilities improved for every area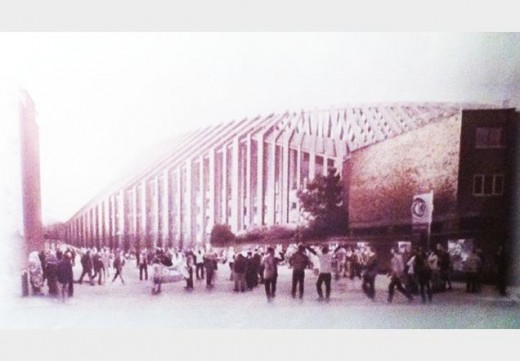 The planning process will last beyond the end of the season; if the application is granted planning permission there will still be a lot of work to do before redevelopment can start, including obtaining various other consents. We will inform you of progress through this process.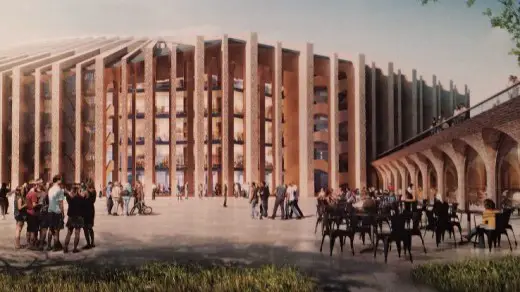 images : Herzog & de Meuron
New Chelsea Stadium architect : Herzog & de Meuron, Basel, Switzerland
New Chelsea Stadium co-architect : Lifschutz Davidson Sandilands, London, UK
an image of the earlier design shown by e-architect in Spring 2015: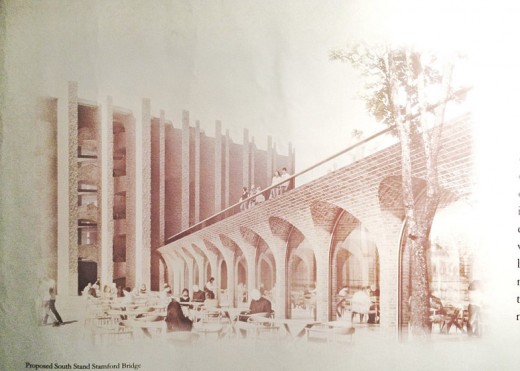 Stamford Bridge Chelsea Football Stadium
Stamford Bridge Stadium Chelsea Ground
Website: New Chelsea Stadium at Stamford Bridge
Location: Stamford Bridge, Chelsea, London, UK
London Football Stadium Buildings
London Football Stadium Buildings designs on e-architect:
West Ham United Football Stadium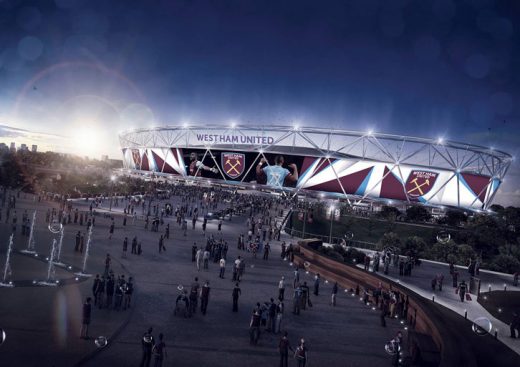 image from West Ham United Football Club
West Ham United Football Club Stadium
New Tottenham Hotspur Stadium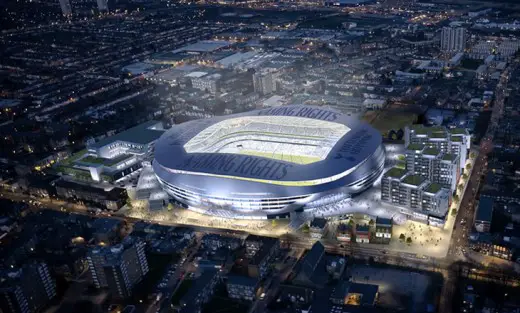 image from architects
New Tottenham Hotspur Stadium in London – home of Spurs
Emirates Stadium, northeast London
Architect: Populous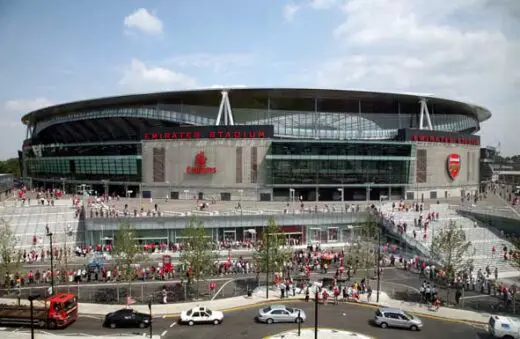 photo © Hufton and Crow
Emirates Stadium London – home of Arsenal
New Queens Park Rangers Stadium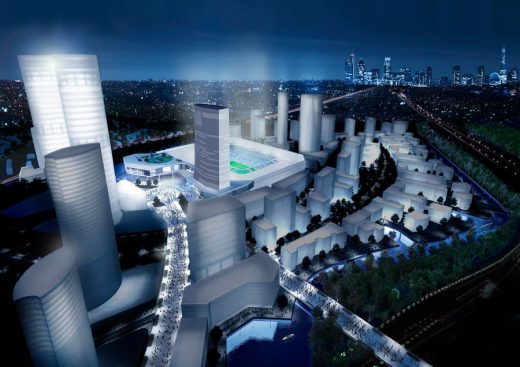 image : Populous
New Queens Park Rangers Stadium – home of QPR
Allianz Arena, Munich, Bavaria, Germany
Allianz Arena – Munich Stadium design also by Herzog & de Meuron, Architects
English Football Stadiums
London Sports Stadium
Football Grounds – Links
One of the greatest football grounds in Europe: Nou Camp Stadium
Wembley Stadium Redevelopment, north west London
Foster + Partners / HOK Sport
Wembley Stadium
Chelsea Tower, UAE
Comments / photos for the Herzog & de Meuron's Chelsea Stadium – Southwest London Football Ground page welcome
Website: Chelsea FC Stamford Bridge London