Grenfell Tower Building Cladding, West London High Rise Fire, News, Celotex, ACM Panels, PIR
Grenfell Tower Cladding
North Kensington Block of Flats Fire, London Building Facade Issues
18 Apr 2018
Grenfell Tower Dame Judith Hackitt Review
2 Aug 2017
Grenfell Tower Cladding Test
Grenfell Cladding Test Is "An Absolute Failure"
Grenfell Tower Fire: ACM cladding testing.
Large scale tests will allow experts to better understand how different types of cladding panels behave with different types of insulation in a fire.
Immediately after the Grenfell Tower fire, the government began a testing programme on aluminium composite material (ACM) on high rise residential buildings, which is one element of a wall cladding system.
Following advice from the Independent Expert Advisory Panel, BRE has now started a further programme to test the wall system of a building in its entirety. Three different types of ACM cladding are being combined with 2 different types of insulation to test their combustibility when taken together, with 6 combinations being tested in total.
Each test involves building a 9-metre-high demonstration wall with a complete cladding system including cladding panels, insulation and cavity barriers. This is then subjected to a replica of a severe fire inside a flat as it spreads out of a window, to see whether it meets the requirement to resist vertical fire spread.
The first test was of a wall cladding system consisting of ACM with polyethylene filler (Category 3) and foam insulation, with fire breaks and cavity barriers in place.
The expert panel advise that the results show this combination does not meet current building regulation guidance.
• 82 buildings are currently known to have this combination of materials in their wall cladding systems – 47 of which are local authority or housing association owned or managed
• the government has issued advice to every building owner known to be affected and other interested parties, and will ensure that where local fire services have advised works are essential to ensure the fire safety of a building, current restrictions on the use of financial resources will not prevent them going ahead.
The Building Research Establishment (BRE)—commissioned as part of an independent advisory council charged with investigating the deadly Grenfell fire—published findings after completing a scale test of the cladding applied to the North Kensington tower, which a BBC News correspondent calls "an absolute failure."
To test how the cladding, paired with the plastic insulation, used at Grenfell "behaves in a fire," BRE created a model unit to scale, and set it ablaze. According to the results, the test was terminated after only 8 minutes 45 seconds with "flaming several meters beyond the top of the rig," which measured almost 20 feet tall upon construction. At its peak temperature during the test, the cladding reached 1,495 F.
"The first system tested, a wall cladding system using an aluminum composite material cladding with unmodified polyethylene filler and foam insulation, failed the test which is set out in current building regulations guidance," the Department for Communities and Local Government wrote in a press release. "Immediate action is already underway to ensure the safety of residents in these buildings. But the results also make clear that we need to understand how current building regulations and fire safety works in order to make them as effective as possible in the future."
As such, the regulatory agency has called for another independent review specific to "the regulatory system around the design, construction, and ongoing management of buildings in relation to fire safety; related compliance and enforcement issues; [and] international regulation and experience in this area," which will be led by Judith Hackit, president of British manufacturers association EEF.
This news comes less than a month after the British government called for an inquiry into the cladding, which is suspected to be largely to blame for the rapid spread of the June 14 fire that killed around 80 people.
Grenfell Tower BRE Cladding Report
8 + 6 Jul 2017
Grenfell Tower Fire-Proof Cladding
Grenfell Tower: fire-proof cladding specified by architects used only on ground floor
Studio E architects specified cladding for the Grenfell Tower refurbishment that did not burn: however, that material was used only on the ground floor, where nobody lived, report The Guardian.
Non-combustible concrete panels (GRC) were fitted to the base of the building's concrete columns, while plastic-filled panels, described by industry sources as about twice as cheap, were used for the upper floors of the building, planning documents reveal.
Glass reinforced concrete panels used at the base of Grenfell were not flammable. GRC has achieved the highest UK fire rating of A1.
Kensington and Chelsea Tenant Management Organisation (KCTMO) appear to have been over zealous in cutting costs, with the original zinc cladding with fire-resistant core specified by Studio E Architects being abandoned.
This cost-cutting culture prevalent in the UK needs to be curtailed. This disaster will hopefully mark a turning point but the culture is deep-rooted and embedded in contractual systems where value engineering (often simply over-enthusiastic cost cutting demanded by clients who don't fully understand the details) and a shift of power from architects to contractors (almost self-regulating) who often sub-contract work (and decisions) down a chain.
source: Grenfell Tower fire-proof cladding – article in The Guardian
30 Jun 2017
Grenfell Tower Cladding Cost Saving
Change to aluminium cladding saved nearly £300,000
Cladding fitted to Grenfell Tower during its refurbishment was changed to a cheaper version, documents obtained by the BBC suggest.
Documents show the zinc cladding originally proposed was replaced with an aluminium type, which was less fire resistant, saving nearly £300,000, report the BBC.
A list of requested savings sent to contractors in July 2014 details a potential saving of £293,368 by fitting "aluminium cladding in lieu of zinc cladding".
source: Grenfell Tower aluminium cladding – BBC article
Building with Reynobond ACM PE Panels
Students have been moved from buildings at Nottingham Trent University after they were found to have the same cladding as the Grenfell Tower.
Three of seven blocks at Byron House student accommodation have the Reynobond ACM panels, report Global Construction Review.
Building with Reynobond ACM PE Panels
28 Jun 2017
Grenfell Tower Architects
ARB Investigate Role of Architects in Grenfell Tower Refurbishment
Statement from The Architects Registration Board (ARB), UK, regarding Grenfell Fire Tragedy:
A number of queries have been raised with ARB in respect of the Grenfell Tower fire tragedy. In the main these related to the involvement or culpability of architects involved in the refurbishment of the tower. ARB has responsibilities to uphold good standards in the profession, both in terms of regulating the conduct and competence of individual professionals, and in ensuring that educational standards are sufficiently robust to produce architects capable of providing high quality architecture.
The exact causes of the fire are yet to be established, and there has been a Public Inquiry announced that will seek to establish the facts behind the disaster. ARB will be undertaking its own investigations as to the involvement of any architects, but not making any further comment unless and until disciplinary matters reach the public domain.
26 Jun 2017
Grenfell Tower Building Cladding
Reynobond PE Sales Stopped for Tower Blocks
The US firm that supplied cladding used on London's Grenfell Tower says it has ended global sales of the product for use in high-rise blocks.
Arconic said it was discontinuing sales of Reynobond PE for tower blocks due to "issues" identified by the fire. Reynobond PE features a polyethylene core.
The manufacturer said in a statement: "Arconic is discontinuing global sales of Reynobond PE for use in high-rise applications. We believe this is the right decision because of the inconsistency of building codes across the world and issues that have arisen in the wake of the Grenfell Tower tragedy regarding code compliance of cladding systems in the context of buildings' overall designs. We will continue to fully support the authorities as they investigate this tragedy."
Panels for the European market are made in the Arconic factory in Merxheim, France.
Unsafe Tower Block Cladding
Sixty towers across England found to have unsafe cladding
Test results on building materials reveal that sixty English high-rise blocks are unsafe, reports The Guardian.
The fact that all the samples submitted failed is a very sad indictment on all parties involved in designing, constructing, supplying and signing off buildings in the UK.
Arconic Statement on Flammable Panels Supply
In a statement about the leaked emails, Arconic said: "We sold Reynobond PE to our customer, the fabricator, in 2015 for use as one component of the overall cladding system. We did not supply other parts of this cladding system, including the insulation. While we publish general usage guidelines, regulations and codes vary by country and need to be determined by the local building code experts."
25 Jun 2017
Flammable Panels at Grenfell Tower
Arconic Knowingly Supplied Flammable Panels Report Reuters
More detail on cladding supplied by Arconic, report Reuters:
"Six emails sent by and to an Arconic Inc (ARNC.N) sales manager raise questions about why the company supplied combustible cladding to a distributor for use at Grenfell Tower, despite publicly warning such panels were a fire risk for tall buildings."
The product is the Reynobond panel. The PE version has a polyethylene core.
"The emails, dating from 2014 and seen by Reuters, were between Deborah French, Arconic's UK sales manager, and executives at the contractors involved in the bidding process for the refurbishment contract at Grenfell Tower."
e-architect already reported days ago that Arconic diagrams for its Reynobond panels describe how PE core panels are only suitable up to 10 meters in height.
To recap Reynobond comes in 3 types and only panels with the non-combustible core – the A2 model – should be used above 30 meters. Grenfell Tower is 60m high.
What is new here is what appears to be damning evidence, according to Reuters, that:
"between May and July 2014, [Deborah] French, who was based at Arconic's factory in Merxheim, France, responded to requests from the companies involved in refurbishing Grenfell Tower on the availability of samples of five different types of Reynobond aluminum-covered panels, all of which were only available in the combustible PE and FR versions".
Who was Arconic liasing with?
According to Reuters, "In the emails, French and representatives of Harley and Rydon also discuss the choice of panel models and colors".
It appears that the panel supplier and the contractor discussed a panel that wasn't suitable for use on the upper floors of Grenfell Tower.
Grenfell Tower Combustible Cladding Supplier – Reuters report
Frankly the construction industry should consider outlawing combustible panels as there will always be a chance they might get used in incorrect locations.
As an architecture website we are not so interested in who was to blame, the Police will hopefully take care of that. However what we are focused on at e-architect is identifying architectural issues which need considering in future so we can share with the architecture profession and the construction industry, such as:-
– correct specification of rainscreen panels and insulation
– correct fixing of fire stops, checked by relevant people prior to being covered up
– correct design of cladding in terms of cavities, fixings and venting
Many architects and fire engineers are studying this fire and if the Building Regulations need changing then we trust that can be done as soon as possible.
Speaking as an architect who has worked in architecture offices for 30 years I have always found aspects of the combination of Building Regulations and British Standards confusing, and that is an opinion widely shared in desing studios I have worked in across the UK.
Editor – Adrian Welch, ARB RIBA RIAS
RIBA Statement on Design for Fire Safety
Concerns have been raised by RIBA members and other experts about aspects of the regulatory and procurement regime for buildings in the UK:
RIBA Statement on Design for Fire Safety
23 Jun 2017
Grenfell Tower Fire Compartmentation
Effective Fire Compartmentation at Grenfell Tower?
Article by Herodotos Phylaktou, Director, MSc Fire and Explosion Engineering (Part-Time & Full-Time) at the University of Leeds, England, on his linkedin blog – excerpts below:
"The most fundamental premise of our fire precautions and life safety strategy for blocks of flats is effective fire compartmentation.
The terrifying speed of fire spread and the devastating consequences for so many people, are not the result of the
– "stay put" policy
– lack of sprinklers
– lack of multiple escape stairs
– lack of communal fire alarm or public address system
The presence of a combustible facade, as in the case of the retrofitted insulation and cladding system on the Grenfell Tower, can lead to rapid and uncontrollable fire engulfment of the building externally and internally.
What was the input [of] the other interested parties, Building Control, Fire Service? Where is the oversight and the checks in this process – why and how did they fail? How did we allow this to happen?
Could sprinklers have prevented this from developing the way it did?….In the Grenfell Tower fire, once the cladding was ignited and the fire was transferred to the other apartments then it would have activated more sprinkler heads that would have caused the sprinkler system to be ineffective and fail.
We believe the fire escalated and the catastrophe happened because of the wrapping of the building in combustible facade compromising the fire compartmentation of the building and invalidating the fundamental fire safety strategy for this type of building.
We are confident (sadly) that it will transpire that as in all fires, most fatalities were caused by toxic poisoning from the combustion products released during the fire."
Grenfell Tower Fire Saferty Analysis
Grenfell Tower Cladding Problems
Grenfell Tower Cladding Exposed
Some excellent research here by a source:
Were the horizontal and vertical fire-stops installed correctly at Grenfell Tower?
The photo http://www.studioe.co.uk/wp-content/uploads/2016/09/DSC_0214-001.jpg on Studio E's website shows one facade of Grenfell Tower.
click on the photo for a larger size: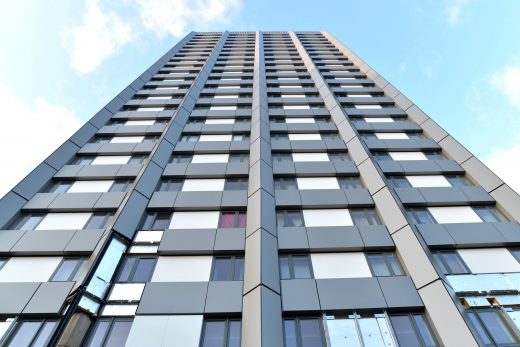 At the bottom of the left vertical rib some of the rainscreen panels are missing and you can see details of how the cladding was installed. You can see the horizontal firestops running across the picture; they are the projecting chunk of material about 100mm high with a black facing. Now look at the left rib. You can see the aluminium foil facing of the PIR insulation (Celotex RS5000) on the oblique face of the vertical rib.
The horizontal firestop which has been running across the face of the building runs across this at the level of the floor slab. This firestop should be fixed to the face of the building with separate panels of insulation above and below the firestop (that's how it stops the vertical transmission of the fire).
Close up of bottom left of photo, showing base of cladding on vertical rib: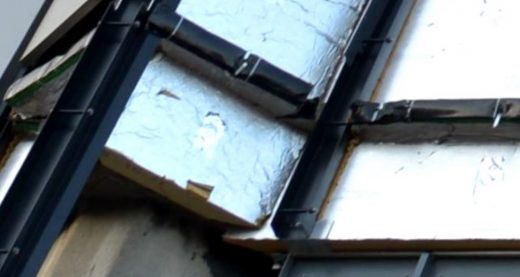 Now look at the panels of insulation on the vertical rib. There are two breaks between panels in the distance between successive firestops. This distance appears to be about 2400mm = 8 feet. The Celotex RS5000 comes in boards 1200 x 2400mm. The separate panels on the rib appear each to be about 1200mm high. If you were fixing insulation to the rib having previously fixed the firestops, you would put two panels 1200mm high (or slightly less) between each pair of firestops.
Yet here we can see one 1200mm panel and two fragments between successive firestops. Further, the distance between the visible breaks between panels appears to be the same all the way up.
It looks as though the firestops on the oblique faces of the ribs have been installed over the surface of the insulation rather than to the face of the rib. This nullifies their effect and would help to explain the rapid propagation of fire up the cladding of the vertical ribs.
One thing which you can't tell from the photograph is whether the vertical firestops are installed correctly. These would be expected at least between the flats. On this photograph that means up the central rib, which unfortunately is completely clad, so you can't tell what lies underneath. Photographs post-fire, e.g. – Grenfell Tower Fire cladding damage – suggest that there were no such vertical firestops.
Grenfell Tower fire early on 14th June 2017: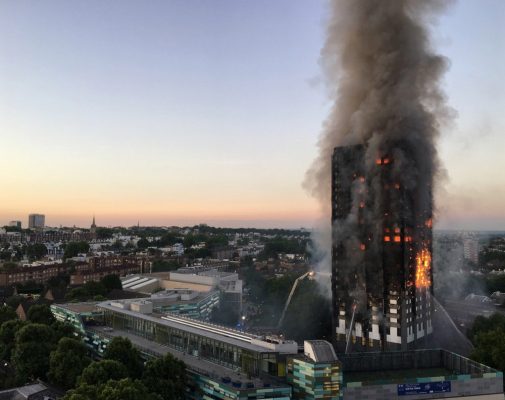 photo by Natalie Oxford, Courtesy of wikimedia commons
Is 3mm Rainscreen Cladding OK with PIR Insulation?
A Rockwool document (link removed – broken) explains how cladding systems can meet Building Regulations. Celotex advertise that their RS5000 product as the first PIR insulation to meet the requirements of BR135 for use on building over 18m in height.
The Celotex sets out the configuration which was tested. Note that this used 12mm fibre cement rainscreen cladding and horizontal and vertical firestops.
Given that the firestops, e.g. PFC Corofil rainscreen barrier fire stop, rely upon the presence of the rainscreen cladding as something firm against which the intumescent material can expand to form, with the rainscreen, a barrier to the propagation of fire, questions must be asked as to whether any aluminium-based rainscreen is actually compatible with PIR insulation.
Has the BRE done any tests of Celotex RS5000 with a 3mm ACM panel using mineral fibre core?
some more footage of the fire for reference:
Grenfell Tower Fire Footage – BBC link, interview with an escapee from 7th floor
Excerpts below from main page on the Grenfell Tower Fire:
Grenfell Tower Building Insulation
Grenfell Tower Insulation – Celotex
22 Jun – Toxic gases released in Grenfell Tower fire may have caused some deaths, report Sky News.
Experts say that insulation fixed on the outside of Grenfell Tower possibly filled flats with hydrogen cyanide when they caught fire.
This regards the 150mm wide Celotex attached to the existing building, not the outer ACM panels.
At least three of those injured in the fire have been treated with an antidote for hydrogen cyanide poisoning in hospital (King's College Hospital).
The insulation used at Grenfell Tower was made of Polyisocyanurate (PIR), rigid plastic foam sandwiched between two sheets of aluminium foil that supplied in 150 mm-thick boards.
Richard Hull, professor of chemistry and fire science at the University of Central Lancashire, stated that the gas produced by the insulation when it burned may have been deadly.
The Celotex RS5000 purchased for use in refurbishing the building has a fire rating classification of Class 0.
Grenfell Tower Celotex Insulation
Grenfell Tower ACM Cladding
Government on ACM Cladding
21 Jun – We have been made aware of this document – Safety checks following Grenfell Tower
Department for Communities and Local Government letter to Local Authority Chief Executives & Housing Association Chief Executives, dated 18 June 2017.
"It is important to stress that ACM cladding is not of itself dangerous, but it is important that the right type is used. If you identify that cladding on any of your buildings is made of ACM, then a sample will need to be tested."
Legality of Arconic's Reynobond Usage at Height
Some confusion in the media about this issue with claims that the cladding installed on Grenfell was not designed for use on buildings taller than 10metres high OR 18metres high OR there are no restrictions. The tower was 67metres high.
– Manufacturers' instructions say it is 'crucial' that the panels should not be fitted above 10 metres (32ft).
– The Department for Communities and Local Government (DCLG) said cladding with a flammable core (ACM panels) was banned on buildings over 18metres high.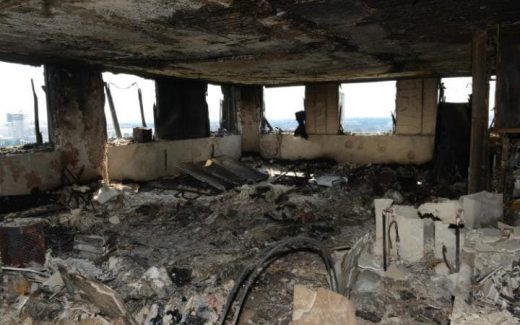 photo : Metropolitan Police
A breach of building regulations is a criminal offence with unlimited fines.
Critics of the (Reynobond) ACM panels have warned for years that aluminum surface sheets can melt in a fire, after which flames could race through flammable insulation, report the New York Times. If other protections fail and fire penetrates the cladding, "It is like you have got a high-rise building and you are encasing it in kerosene," said Edwin Galea, director of the Fire Safety Engineering Group at the University of Greenwich. "It is insanity, pure and simple."
However several British experts on fire safety said that the existing rules had not, in fact, banned use of the cladding, even in high-rise buildings like Grenfell Tower.
The critical building regulation — Clause 13 of Appendix A of Document B — requires only that the exterior "surface of a composite product" used as exterior cladding must be "composed throughout of materials of limited combustibility."
(clarification note 'Ignitability' refers to the ease of ignition whereas 'Flammability' describes the burning behavior, eg wood shavings and solid wood have similar flammability but shavings are far more ignitable.)
The sheets of aluminum believed to have been the "surface" around flammable insulation in the Grenfell Tower cladding would pass the test noted above, even though the surfaces could, and did, melt in a fire.
A spokesman for the Department for Communities and Local Government told the Sunday Times: 'Cladding using a composite aluminium panel with a polyethylene core should not be used for cladding on a building taller than 18m.' Where does this come from in the British building regulations?
This is to be found at 12.7 on p.94 of ADB 2007:
Insulation Materials / Products
12.7 In a building with a storey 18m or more above ground level any insulation product, filler material (not including gaskets, sealants and similar) etc. used in the external wall construction should be of limited combustiibility (see appendix A). This restriction does not apply to masonry cavity wall construction which complies with Diagram 34 in Section 9.
Arconic, a US company, provides customers with a height guidance table. While PE can be used up to 10 metres, FR products should be used on buildings up to 30 metres. Above that height – the limit of American fire ladders – Arconic strictly advises cladding panels containing non-combustible substances.
Comments from architectural / fire research professionals regarding the relevant UK Building Regulations welcome ref cladding.
A company involved in the renovation of the tower was forced to deny cladding on the building was banned in the UK after comments made by Chancellor Philip Hammond on the BBC's Andrew Marr Show.
It was reported that the material used in the cladding was Reynobond PE – a cheaper, more flammable version of two available options.
John Cowley, managing director of CEP Architectural Facades, which produced rainscreen panels and windows for Grenfell Tower's cladding sub-contractor Harley Facades Ltd, said: "Reynobond PE is not banned in the UK. Current building regulations allow its use in both low-rise and high-rise structures. The key question now is whether the overall design of the building's complete exterior was properly tested and subsequently signed off by the relevant authorities including the fire officer, building compliance officer and architect before commencement of the project."
Grenfell Tower elevation & section of a typical floor: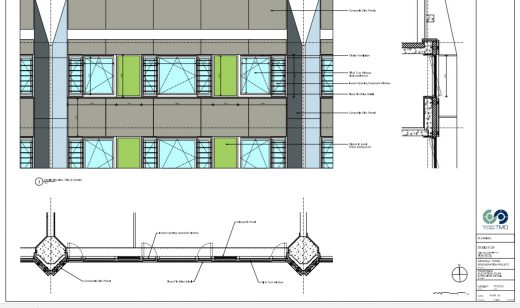 Revised Drawing-952306.pdf?- image courtesy of architects via RBKC planning portal
Grenfell Tower section through window of a typical floor – no section drawing located for non-window condition which should show a fire break in the insulation at floor level – nor any intumescent seals around the windows (could be argued not shown at this scale):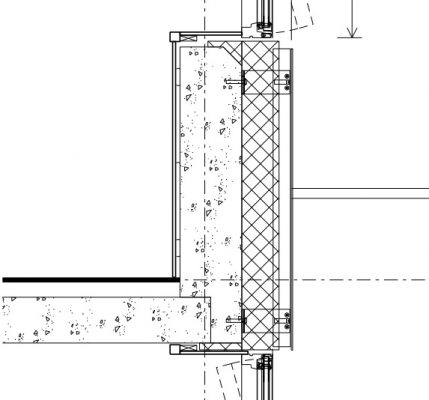 extract from Revised Drawing-952306.pdf?- image courtesy of architects via RBKC planning portal
Link ref. tests (BS 8414-2, BR 135 see commentary by Sarah Colwell on pp 13-16 of this IFP magazine issue: Fire Performance of external cladding systems.
The article linked above suggests there are around 5000 blocks of flats in England representing around 300,000 homes, a lot of people especially if extrapolated to the rest fo the world.
We welcome architectural information regarding the aluminium composite material (ACM) cladding panels – [email protected]
Grenfell Tower aluminium composite cladding in The Guardian:
Expanded polystyrene (EPS) industry alliance website.
Details of the cladding:
new aluminium composite cladding (Arconic Reynobond – two coil-coated aluminium sheets that are fusion bonded to both sides of a polyethylene core) and Reynolux material with Celotex RS5000 PIR thermal insulation.
Grenfell Tower West London – planning submission for the renewal works
Location: Grenfell Tower, North Kensington, West London, England, UK
London Building Designs
Contemporary London Architectural Designs
London Architecture Links – chronological list
London Architecture Tours – bespoke UK capital city walks by e-architect
257 City Road, Islington, north east London
Design: UNStudio



image by dbox branding & creative
257 City Road Tower
London Skyscraper Buildings – alphabetical list
Comments / photos for the Grenfell Tower Cladding – West London Flats Fire page welcome