Chalcots Estate Tower Building Cladding, North London Housing Estate ACM Panels News
Chalcots Estate Cladding
Block of Flats Development in Swiss Cottage / Camden area, British Capital City, England, UK
26 Jun 2017
60 UK Towers with Unsafe Cladding
Sixty towers across England found to have unsafe cladding
Test results on building materials in the wake of the Grenfell Tower disaster reveal that 60 high-rise blocks in 25 areas of England are unsafe, reports The Guardian.
The announcement came after Sajid Javid, UK Communities Secretary, revealed that ALL of the buildings that had so far submitted cladding samples have failed combustibility tests.
The fact that all the samples submitted to the BRE via the DCLG failed is a very sad indictment on all parties involved in designing, constructing, supplying and signing off buildings in the UK.
UK Tower Cladding Tests: High Rise Building Safety
25 + 24 Jun 2017
Chalcots Estate Building Cladding
Is the Chalcots Estate Evacuation Needed?
The Chalcots Estate is a council housing estate on Adelaide Road in Swiss Cottage in the London Borough of Camden.
Chalcots was refurbished in 2006-09 by the same firm, Rydon, that oversaw work at Grenfell Tower in 2015-16. It appears that Reynobond ACM panels were also used.
4mm thck ACM panels are noted on the Harley Facades website page on this work (link further down this post). Their website does not appear to state what filled the panels, this is of crucial importance.
Omnis supplied Harley with the cladding panels, just like at Grenfell Tower.
The Estate comprises five high-rise tower blocks with a total of 711 or 717 flats, in four identical 23-storey towers and one smaller 19-storey block.
Five towers – titled Taplow, Burnham, Bray, Blashford and Dorney: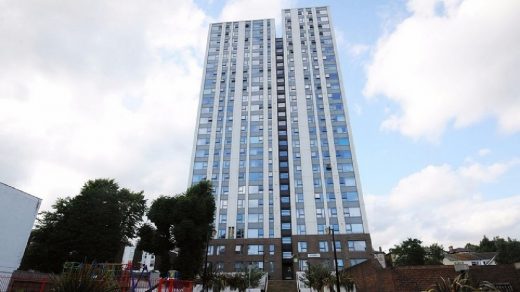 The blocks were built in two stages, with approvals being given in 1965 and 1966, and construction in 1967 and 1968.
In 2012, there was a fire in the estate's Taplow Block, where the fire-resistant rock-wool insulation and fire-resistant sealant between floors meant that the fire was contained: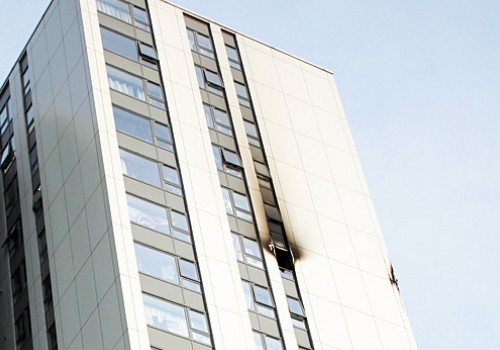 The fire in the 17th-floor flat led to the evacuation of more than 100 residents: it was started by a candle in a flat where it is believed the tenant had no electricity.
Taplow was given a multi-million-pound council refurbishment in 2010 through a Private Finance Initiative.
On 22 June 2017, following the Grenfell Tower fire, Camden Council said that it would remove similar outer cladding panels that were added to the five blocks in a 2006 refurbishment by the same firms who renovated Grenfell Tower.
However, Camden Council stated that the insulation used "significantly differs" from that on Grenfell Tower, as it included "fire-resistant Rockwool insulation designed to prevent the spread of fire and fire-resistant sealant between floors, designed to stop a high-intensity flat fire from spreading to neighbouring flats".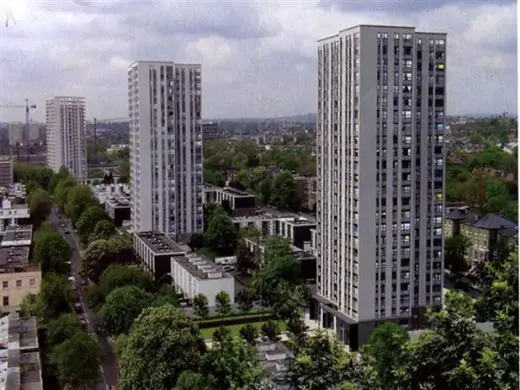 HCP confirm the works comprised of these elements:
Overhaul of external roofs
External thermal rain screen cladding to 5 towers
New aluminium thermally broken windows to 5 towers
Occupied refurbishment of tenanted/leasehold flats, including new heating, kitchens, bathrooms and rewiring of 711 Flats
Replacement of existing communal services including electrical risers and a new door entry system
Redecorated corridors, new flooring
Provision of 2 staffed show flats
Chalcots Estate Evacuation
On 23 June, Camden Council stated that 800 homes in the five tower blocks were being evacuated in order to undertake "urgent fire safety works".
Residents are to moved out for up to four weeks after the inspection by fire brigade.
Sajid Javid, the UK Communities Secretary, said that the evacuation was forced not by the cladding alone, but "multiple other fire safety failures" including problems with insulation on gas pipes and missing fire doors.
Camden Council had already announced that it would immediately begin preparing to remove cladding from five towers on the estate that was discovered in an inspection ordered after the Grenfell disaster.
On Thursday the council said its safety inspection found that while the cladding and insulation were different from that used on Grenfell Tower, the former "did not satisfy our independent laboratory testing or the high standards we set for contractors".
source: Chalcots Estate Evacuation – article in The Guardian
In the early hours of Saturday morning, the council then announced that one of the five – Blashford – did not need to be evacuated, and that residents could return. Blashford is smaller and has "several different design elements".
source: Evacuation of Chalcots Estate in Swiss Cottage – article on BBC
Chalcots Estate Cladding
Looks like (some?) Chalcot Estate materials or method may be compliant:
Chalcots Estate Tower Fire
It shows scorching and smoke damage above window but no significant vertical or lateral spread.
A view of part of the Burnham residential tower on the Chalcots Estate showing the bottom section of the building after cladding was removed (are all the panels of the same type up the facade?):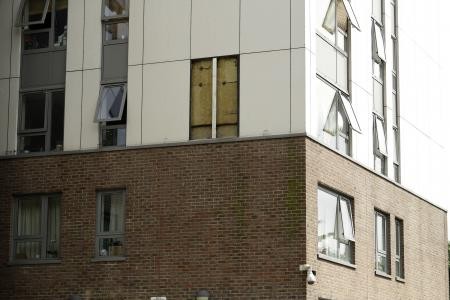 Noted that the Camden Fire Test result for a lower panel on a Chalcots Estate Tower has confirmed it is PE. Now this may only be the lower cladding, or it may be, given the previous fire in one of the blocks that the insulation etc fixing method hid the flammabilty of the cladding used.
Note the cladding work here was actioned under a PFI contract and Rydon have the Maintenance of the Buildings for a number of years.
Architects: Hunt Thompson Architects (the practice split and the main office is now known as HTA Architects). This architecture practice led by Ben Derbyshire has a strong reputation for large-scale housing projects up and down the UK. The architecture studio is headquartered in Camden and was also known for its vegetarian communal dining facility and good office spirit.
What specification for the ACM panels was used in Tender documentation?
"Harley Facades Ltd has confirmed it installed aluminium composite material (ACM) panels made from Reynobond at the Chalcots Estate in Camden and that the panels have a combustible polyethylene core."
source – ITN report: Chalcots Estate Cladding
Local councils around Britain are testing similar panels on hundreds of their buildings. Fourteen apartment blocks have so far tested positive for combustible materials at the time of writing, 24th June 2017, clearly this number might rise.
"Scope of works:
Complete external envelope including; aluminium windows, rainscreen cladding (face-fixed 4mm ACM), curtain walling, smoke vents, copings, internal trims and boards, mast climber access."
source – Chalcots Estate towers facade cladding – Harley Facades Ltd page on this work (offline when checked on 11 January 2022)
Camden Council original press release on the PFI for the estate: Chalcots Estate PFI – links since de-activated by Camden Council, so switched to a related news report
Panels suppplier: Chalcots Estate cladding
Main contrctor: Chalcots Estate refurbishment
All documents appear to omit the insulation specification which Camden Council has thankfully reported as being mineral wool non-combustable type (to be confirmed).
Two more companies apparently involved in the refurbishment, unverified, from a source:
Cost Consultants: Artelia Group – http://www.uk.arteliagroup.com
CDM lead: studio3 architects
Grenfell Tower Cladding Exposed
Were the horizontal and vertical fire-stops installed correctly at Grenfell Tower?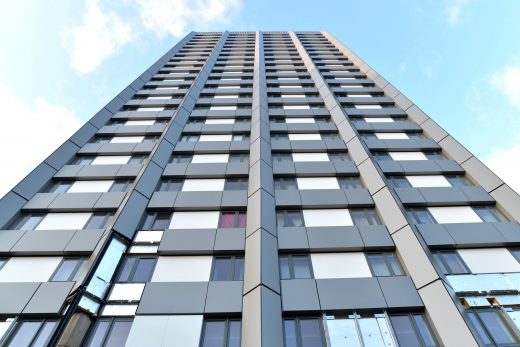 Grenfell Tower Fundraising page on justgiving.com
We welcome architectural information regarding the aluminium composite material (ACM) cladding panels – [email protected]
some footage of the fire for reference:
Grenfell Tower Fire Footage – BBC link, interview with an escapee from 7th floor
Grenfell Tower fire, 4:43 a.m. on 14 June 2017: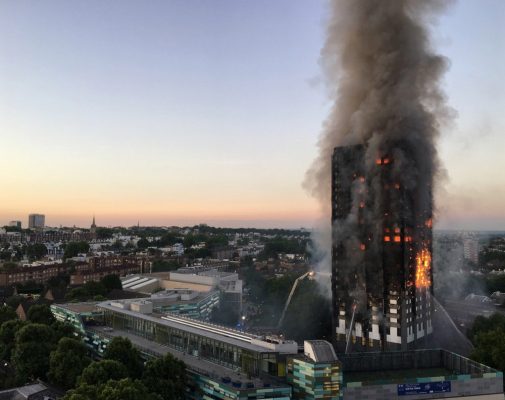 photograph by Natalie Oxford, courtesy of wikimedia commons
Links below from main page on the Grenfell Tower Fire:
Grenfell Tower Fire Saferty Analysis
Grenfell Tower Insulation Toxic Gases
UK Government Safety checks on high rise blocks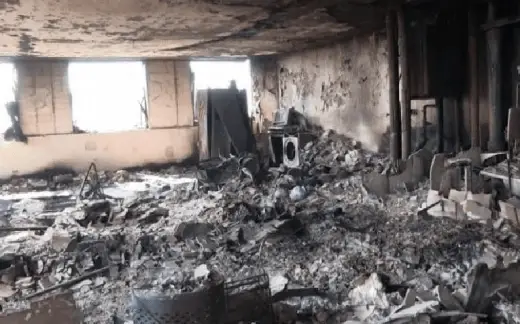 photograph : Metropolitan Police
Chaclots Estate aluminium composite cladding – Omnis Exteriors, Grenfell Tower article in The Guardian
Location: Brocas Close, Northwest London, England, UK
London Building Designs
Contemporary London Architectural Designs
London Architecture Links – chronological list
London Architecture Tours – bespoke UK capital city walks by e-architect
North London Housing
Agar Grove Homes, Camden, North London
Design: Hawkins\Brown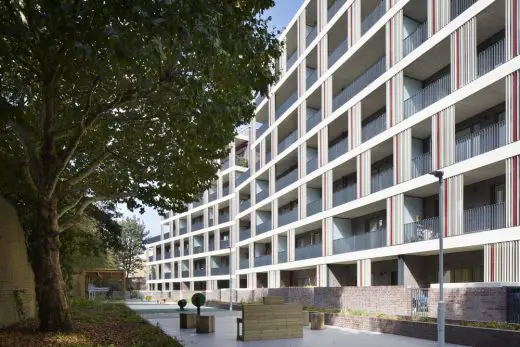 photograph © Jack Hobhouse
Agar Grove Homes
Alto Residential Development, Wembley Park, Northwest London
Architects: Flanagan Lawrence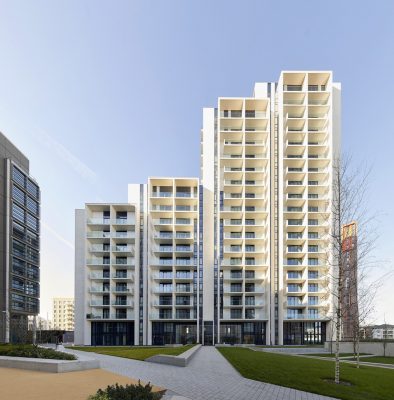 photo © Hufton+Crow
Alto Residential Development
257 City Road, Islington, north east London
Design: UNStudio
257 City Road Tower
London Skyscraper Buildings – alphabetical list
Comments / photos for the Chalcots Estate Cladding – Swiss Cottage Flats Evacuation page welcome