Hangzhou architecture news, Zhejiang Province building projects photos, Chinese designs architects
Hangzhou Buildings: Architecture
Zhejiang Province Architectural Projects + Architects: Built Environment in East China
post updated post updated 8 September 2023
New Hangzhou Buildings
Hangzhou Buildings News
5 September 2023
Age House
Architects: PIG Design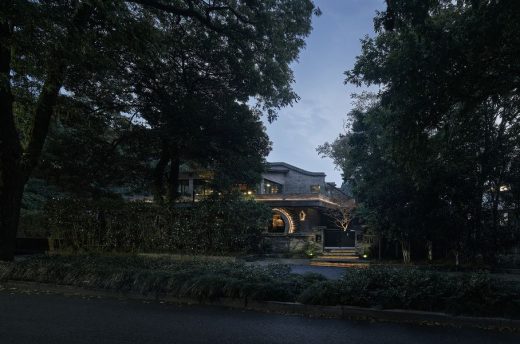 photo : Qi Shuoqian
Age House Hangzhou
The story of the project originates from A Kang, the owner of AGE HOUSE, who has based his business beside West Lake since the emergence of bars in this area in the 1990s, followed by the boom of the millennium, and the resurgence of the night economy in current times.
20 July 2023
Qianjiang New City of Hangzhou
Architects: 10 Design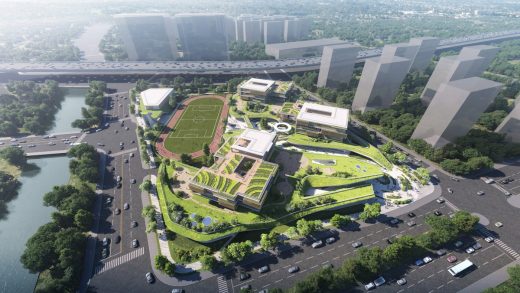 visualisation : Frontop
Qianjiang New City Future School Hangzhou Building
International architecture practice 10 Design (part of Egis Group) has won the competition to design a major 74,000 sqm school project within Qianjiang New City of Hangzhou, China. 10 Design envisages an innovative educational hub for 2,000 elementary school students which doubles as an accessible and child-friendly public space for the community.
25 Apr 2023
DESMAN (Hangzhou) Headquarters, Binjiang IoT (Internet of Things) Town
Design Architect: Aedas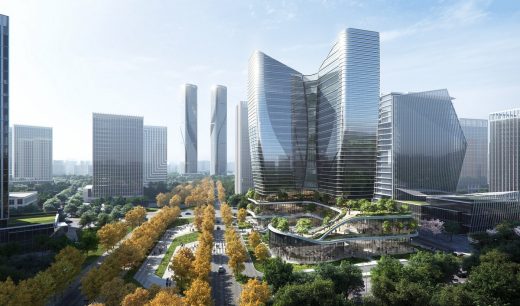 image courtesy of architects practice
DESMAN Hangzhou Headquarters
The DESMAN (Hangzhou) Headquarters is located in the Binjiang IoT (Internet of Things) Town, a cradle for high-tech industries in Zhejiang, Hangzhou. Covered with advanced transport network and infrastructure, top-notch enterprises have also set up their headquarters in the area to enjoy the collaborative environment and aggregation of talents.
25 Oct 2022
Hangzhou International Sports Centre
Design: Zaha Hadid Architects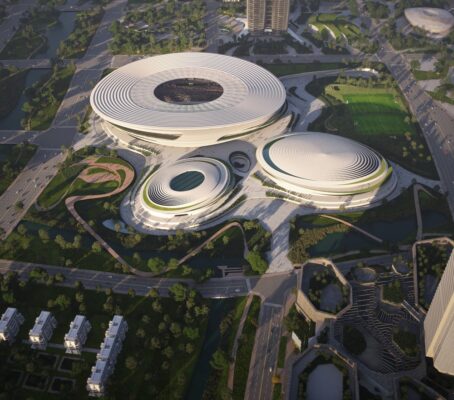 render : BrickVisual
Hangzhou International Sports Centre
Zaha Hadid Architects (ZHA) has won the competition to design the new Hangzhou International Sports Centre. Incorporating a 60,000-seat football stadium and practice pitches, the Hangzhou International Sports Centre's design also includes a 19,000-seat indoor arena as well as an aquatics centre with two 50-metre pools
Hangzhou Winland Center Towers
Qianjiang Century City A-07 Plot
19 Aug 2022
The Arcade
Design: Superimpose Architecture, The Netherlands / China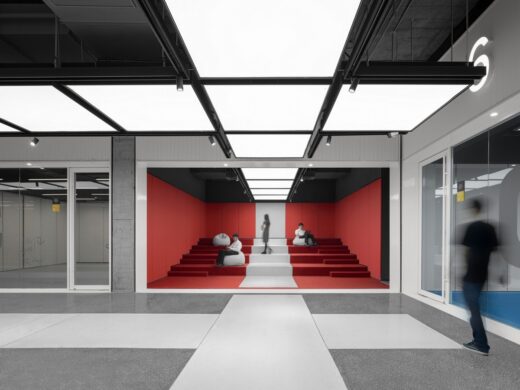 photo : Wu Qingshan
The Arcade Hangzhou Conference Center
How can a dark basement of a commercial mixed-use development be transformed into a warm and pleasant conference center that appeals to a young, trendsetting customer target group? Creating this interior design project 'The Arcade' in Hangzhou presented Superimpose Architecture with that as its main design challenge.
5 Aug 2022
Huaxia Center
Architecture: PH Alpha Design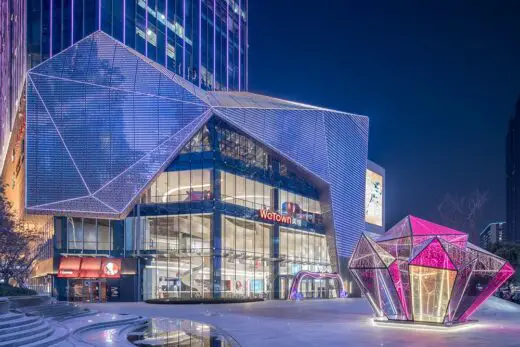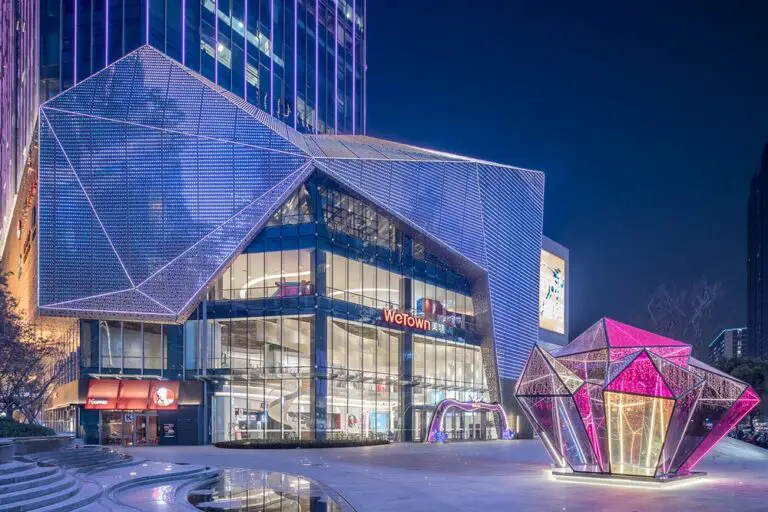 photo : LUOHAN Architechtural Photography
Hangzhou Huaxia Center
Located in the newly developed district of Hangzhou, Huaxia Center is a mixed-use development that includes grade A offices, a 5 star international hotel, a boutique shopping mall and a rain protected shopping street. It brings Hangzhou a trendy and high end retail destination.
28 July 2022
Yinno Unico
Design: MMC DESIGN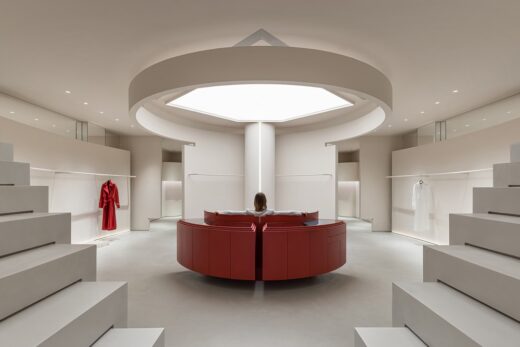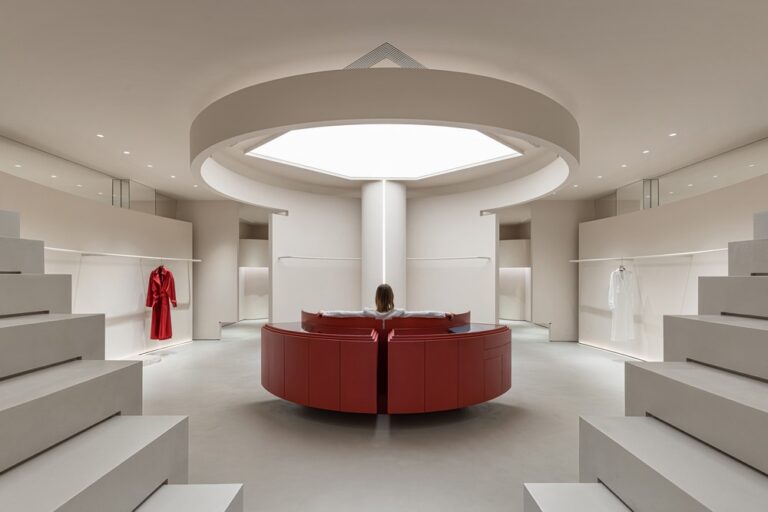 space photographs : HAMO VISION / Ye Song
Yinno Unico Boutique Store
The brand concept of Yinno Unico is to show contemporary females' spirit of self-growth in multiple dimensions including wisdom, knowledge, courage, confidence, artistic cultivation, etc. Athena, the goddess of wisdom who represents the awakening of females' power and the break of traditional shackles, is still a role model for modern women today.
2 July 2022
Techsize Global Flagship Store, Binjiang
Design: Chen Lin and Cui Shu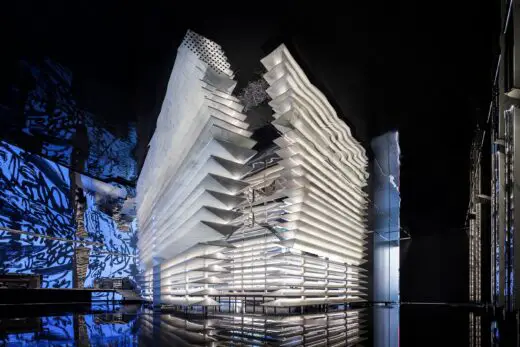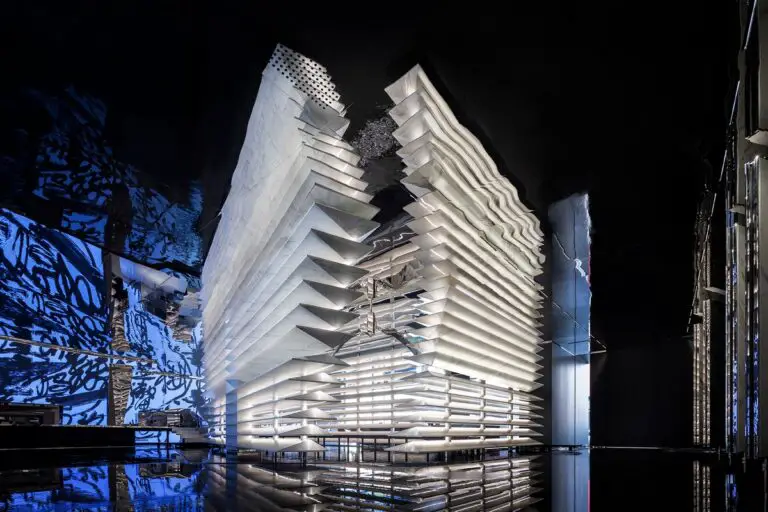 photos by Pan Jie, WM STUDIO, Si You
Techsize Living Aesthetic Exhibition Hall
Originated in Spain and located in Hangzhou, the Techsize global flagship store adheres to the spirit of "feeling new beauty and exploring new trends in art and design" to convey the brand concept of "creating a beautiful living space". Breaking through the traditional display logic, the design does not focus on displaying product features, but to present the spiritual core, thus creating a space full of art and a living atmosphere.
24 May 2022
GUD Restaurant and Cocktail Bar
Interior Designers: STUDIO8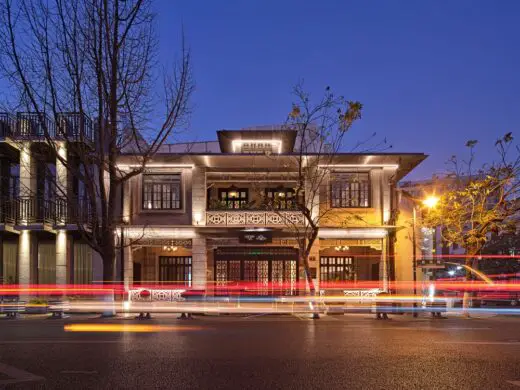 photo : Sven Zhang
GUD Restaurant and Cocktail Bar
Located in a heritage building from the 1930s in the central area of Hangzhou, GUD is a restaurant and cocktail bar specializing in hotpot cuisine and craft cocktails. STUDIO8 was commissioned to design the architecture re-use, interior and visual identity for the project.
20 May 2022
Old street, 295 Middle Zhongshan Road, Hangzhou, Zhejiang Province, East China
Design: TEAM_BLDG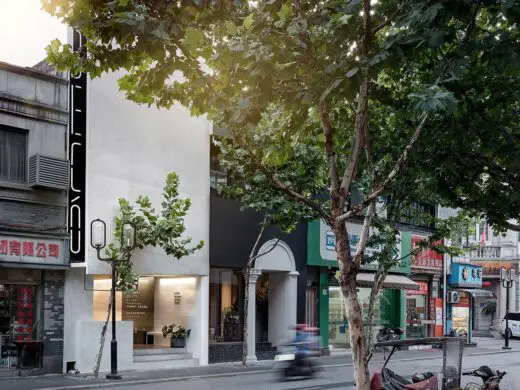 photo : Jonathan Leijonhufvud
Scenery Alley Hangzhou Becó295 select store
Known as Imperial Street, Middle Zhongshan Road was one of the most important streets of Hangzhou in Southern Song Dynasty. The prosperity and flourishment of this busy street lasted till the 1990s.
12 May 2022
Hangzhou Qianjiang Century City Riverfront Digital Industrial Park
Design: Aedas in Joint Venture with Zhejiang Province Institute of Architectural Design and Research (ZIAD)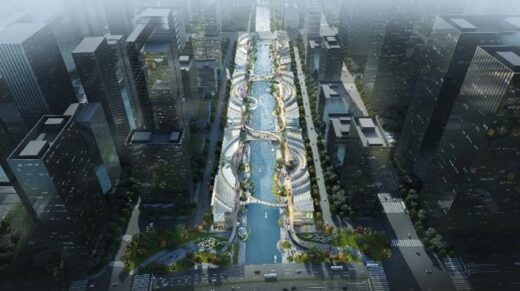 image courtesy of architects practice
Hangzhou Qianjiang Century City Riverfront Digital Industrial Park
With the approaching Hangzhou 2022 Asian Games, the new economic and cultural center Qianjiang Century City is undergoing rapid construction, expected to become the new icon for the area. Aedas, led by Executive Director Wei Li, and the Zhejiang Province Institute of Architectural Design and Research (ZIAD) won the International Competition for the architectural and urban design of this featured rivers side retail center — Hangzhou Riverfront Digital Industrial Park.
17 Mar 2022
Sunac Mogan Valley
Interior Designers: ZOOM DESIGN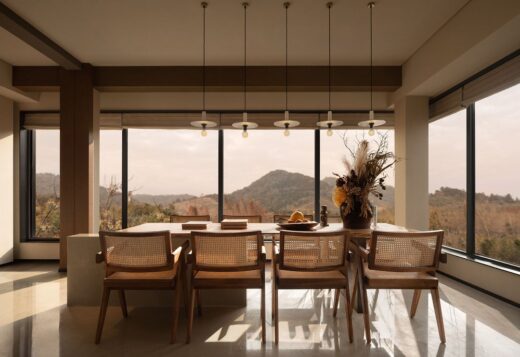 photo : Bmstudio
Sunac Mogan Valley
Having occupied in estate design related to culture and tourism for many years, with expert experience on plan, design and materialization of multiple cultural and tourism county which covers hundreds of thousands of sq meters, ZOOM DESIGN takes on the soft design of this project, covering showroom, coffee, rooms of 50, 70 and 120 sqm size and single cabin.
28 February 2022
Enshadower Hangzhou clothes store, Southern Song Imperial Street
Design: say architects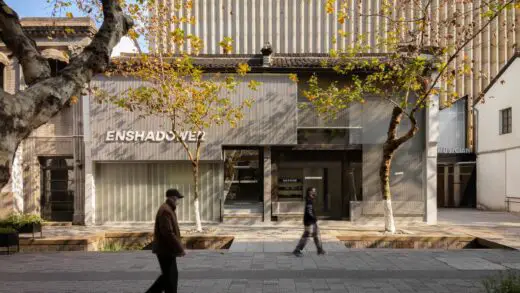 photo : Minjie Wang
Enshadower Hangzhou clothes store design
Established in 2012, ENSHADOER® is a functional clothing brand that acquired inspiration from fixed-gear bicycle sport. say architects was commissioned to design the first offline store located in Nanyu street of Hangzhou. Reviewing the past decade, a developing golden era for both the brand and Hangzhou City, say introduced the industrial materials used in the city's construction and started a conversation across time between the brand and the site.
More Hangzhou Architecture News on e-architect soon
Hangzhou Buildings News 2021
14 Dec 2021
UAD Campus
Architects: The Architectural Design & Research Institute of Zhejiang University Co., Ltd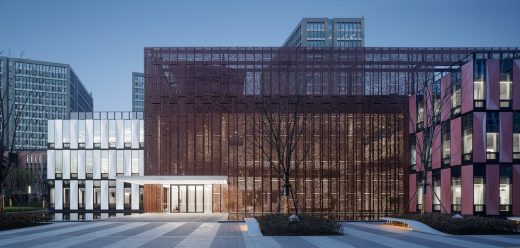 photography : Zhao Qiang, Zhu Xinliang, UAD 9+studio
UAD Campus in ZITOWN
As China continuously promoting the industrialization of architecture, an unconventional rapid construction mode based on prefabricated system has gradually become a mainstream in the market. Is industrialized construction a synonym of "roughness" and "low quality"? And how should it express the poetry of architecture?
25 Nov 2021
AYO Room Night Club
Architects: J.H Architecture Studio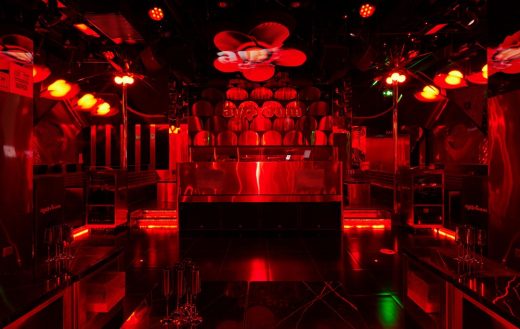 photograph : Hu kaifan
AYO Room, Hangzhou Night Club
AYO Room is located in the corner of Hangzhou IN77 commercial complex. It is a "home" built by a group of people who love hip-hop culture and who know the preferences of contemporary people best.
23 Nov 2021
Panasonic Flagship Store
Design: Say architects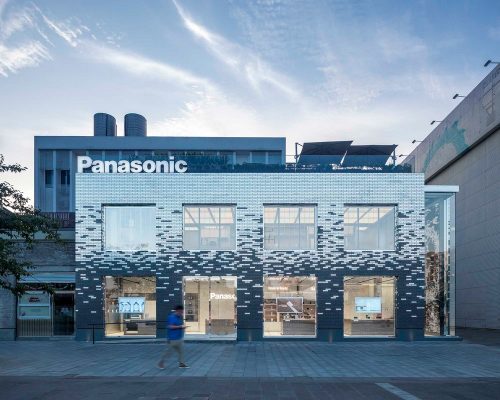 photograph : RAW VISION, dk
Panasonic Flagship Store
Say Architects has designed a new concept store for Panasonic, a global leader electronics brand, on Hangzhou Lakeside Pedestrian Street. Panasonic entered the Chinese market in 1987, has been committed to the Chinese market to convey the concept of people-oriented.
19 Oct 2021
Hangzhou Quiet World Sales Center
Design: UMA Interior Design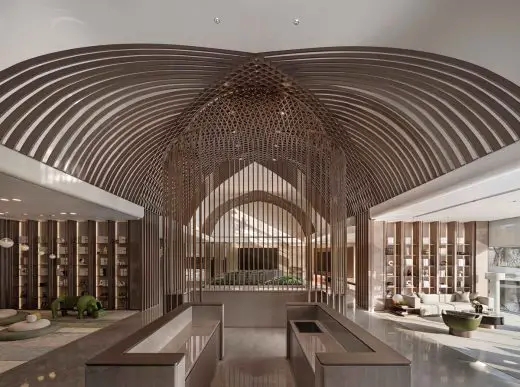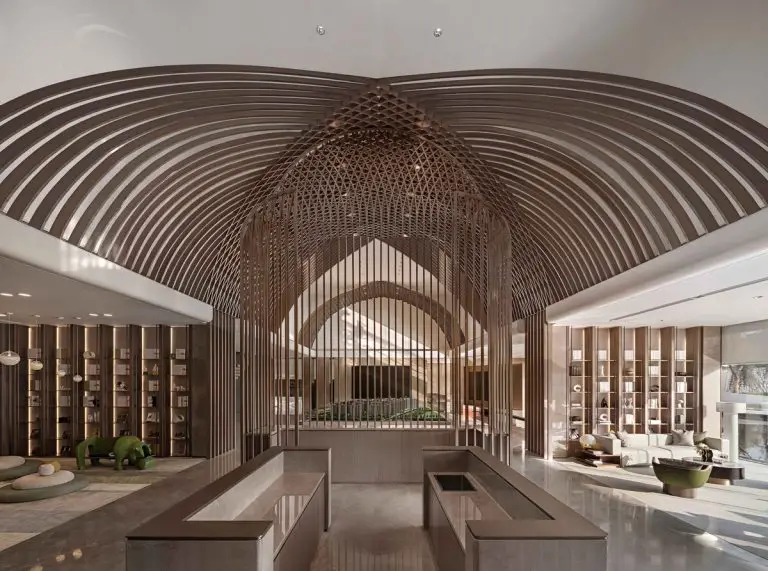 photos by Chen, Yanming
Hangzhou Quiet World Sales Center Design
In the core area of Hangzhou, Zhejiang, the designer hopes to combine futuristic and natural elements to create a futuristic, comfortable and pure park-like community within the city. Inside the space, the wood structure is used to create a net-like ceiling, like a lush tropical rain forest, and like a network linking the future.
26 Jul 2021
rīpāria-Golong Offices in Hangzhou
Architects: PINES ARCH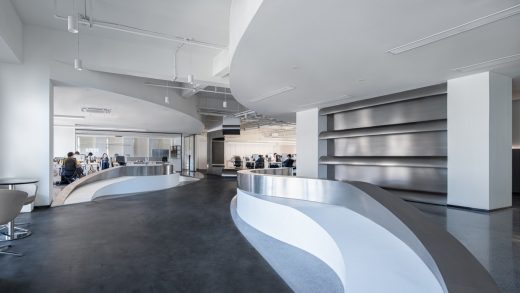 photo : Breeze Image-Guozhe
rīpāria-Golong Offices Hangzhou
Humans have settled near historic waterways since the earliest days of our existence. The Sumerians exploited the natural forces and sedimentary lands of the Tigris and Euphrates rivers, creating an irrigation system that gave rise to an advanced, well-populated civilization that became the first literate society in history.
5 July 2021
Westlake University in Hangzhou
Architects: HENN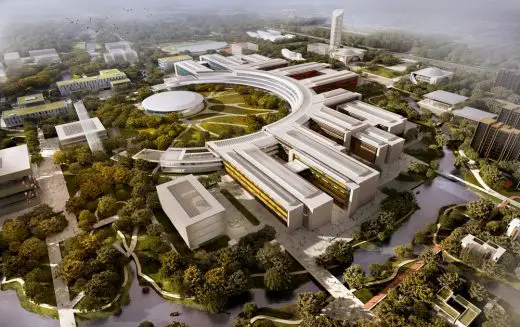 image courtesy of architects practice
Westlake University Buildings
China's first private research university is aiming to establish itself as a cutting-edge institution rivaling other well-known, world-class universities. HENN was selected as the winner of the international design competition for the Westlake University Campus in July 2017.
23 Jun 2021
Guanyun Qiantang City
Design: Aedas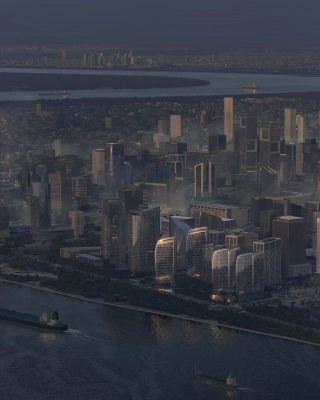 image courtesy of architects office
Guanyun Qiantang City Hangzhou
The Qiantang River, with the title of "World's Largest Tidal Bore" under its belt, has now become a brand-new urban center in Hangzhou. Aedas has designed a landmark commercial complex in the core area of the Qianjiang Century City, the future CBD, alongside the River.
4 Jun 2021
Alibaba DAMO Academy Headquarters, Nanhu Lake, Yuhang District
Design: Aedas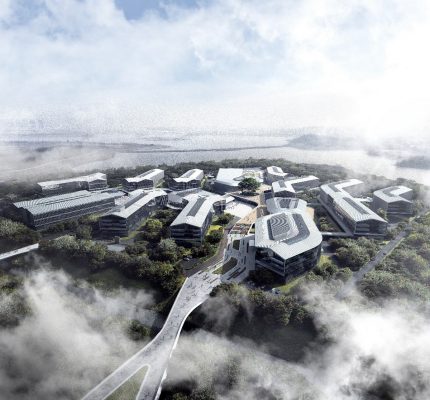 image courtesy of architecture office
Aedas Alibaba DAMO Academy Headquarters
Designed by Aedas Global Design Principal Ken Wai, the Hangzhou Alibaba DAMO Academy has commenced construction. As the first headquarters of Alibaba DAMO Academy, this project integrates the most technologically advanced offices, research laboratories, visitors and exhibition centers, and ancillary facilities, to build a world-class scientific research institute on the banks of Nanhu Lake in Yuhang District, Hangzhou.
31 May 2021
Zijing Paradise Walk
21 May 2021
Qin Wang Fu Exhibition Hall
8 May 2021
MICR-O, Tai Yang Valley, Lin'an
Design: Superimpose Architecture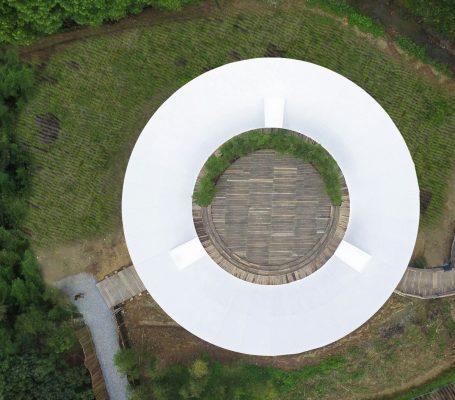 photo : Superimpose Architecture
Micr-O
Inside the rural Tai Yang Valley, West of Hangzhou, the Sun Commune is a local initiative raising awareness of sustainable farming and promoting healthy living and outdoor activities for the increasing urbanization of China.
19 Apr 2021
Infinity Loop
Architects: BIG-Bjarke Ingels Group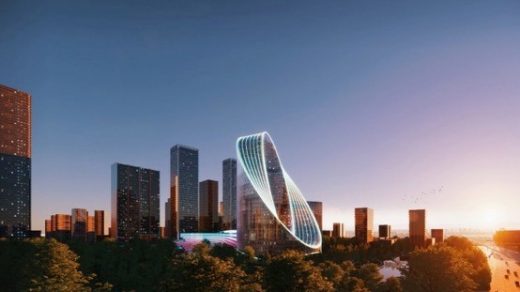 image © BIG-Bjarke Ingels Group
OPPO R&D Headquarters
BIG – Bjarke Ingels Group's design for the new OPPO R&D Headquarters will exemplify the OPPO design philosophy of pursuing the perfect balance between refined aesthetics and innovative technology, in a building that will be environmentally, economically, and socially sustainable – a responsible citizen and iconic gateway to Hangzhou's Future Sci-Tech City.
28 Apr 2021
Aoti Vanke Centre
Architects: LWK + PARTNERS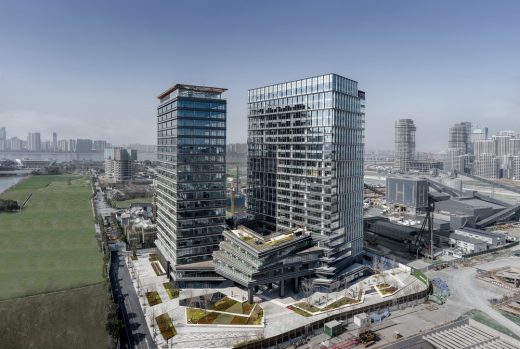 image © LWK + PARTNERS
Aoti Vanke Centre
The future of work is constantly being reimagined. Aoti Vanke Centre, an innovative working hub in Hangzhou, China designed by LWK + PARTNERS, embraces the hybrid mode as the way forward and challenges conventional workspaces by externalising human activities to a fluid and highly permeable field of semi-outdoor space.
5 Apr 2021
Chenguangli Sales Center
31 Mar 2021
Hangzhou Tonglu Archives Building
More contemporary Hangzhou Architecture News online here at e-architect soon
Hangzhou Buildings News 2020
10 Nov 2020
Joya Hotel
Design: Vermilion Zhou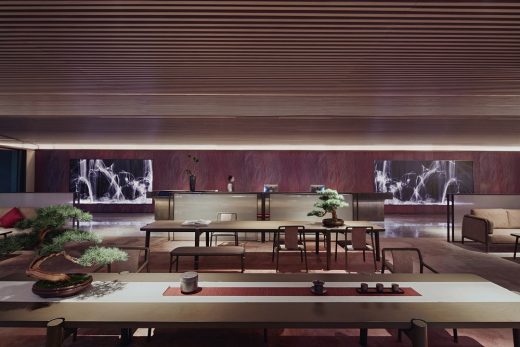 photograph : Yunpu Cai
Joya Hotel, Hangzhou
Staying away from the busy city is not easy. If people can keep the urban life but sometimes have an urban escape, the leisure time can be extended to become a part of daily life.
24 Sep 2020
Zijing Paradise Walk, Hangzhou
Design: LWK + PARTNERS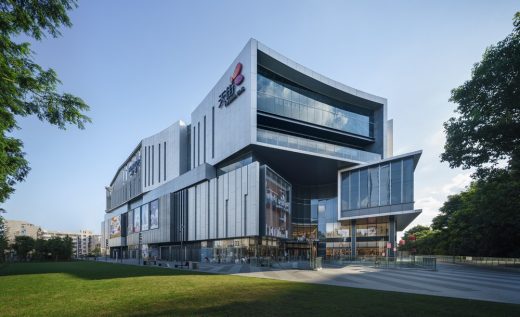 image courtesy of architects
Zijing Paradise Walk, Hangzhou
Taking good care of personal health and staying comfortable in a space are growing priorities for today's consumers, a trend that has intensified since the pandemic. The Zijing Paradise Walk retail mall is a considered response by architectural practice LWK + PARTNERS.
23 Sep 2020
Hangzhou Wangjiang New Town
Design: Adrian Cheng, Shigeru Ban and Ole Scheeren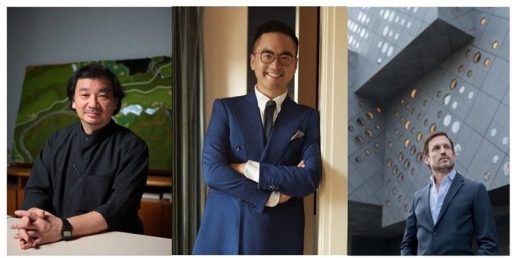 Adrian Cheng (centre) collaborates with Shigeru Ban (left) and Ole Scheeren (right) to create a new art and cultural destination in Hangzhou
Hangzhou Wangjiang New Town
New World Development Company Limited ("New World Group" or the "Group", Hong Kong stock code: 17) announces the appointment of Pritzker Prize-winning (2014) architect Shigeru Ban and RIBA (Royal Institute of British Architects) silver medallist Ole Scheeren, to masterplan Hangzhou Wangjiang New Town project (New World China Hangzhou-Hong Kong High-end Service Industry Demonstration Zone Comprehensive Development Project), establishing a new art and cultural destination in this historical city with deep cultural heritage.
More current Hangzhou Buildings News online here oon
Hangzhou BuildingsNews 2019
31 May 2019
Raffles City Hangzhou wins World Gold Winner of Retail Category at 2019 FIABCI World Prix d'Excellence Awards
Raffles City Hangzhou Award News
9 Apr 2019
Kindergarden 180, Yu Hang, eastern Hangzhou
Design: Peter Ruge Architekten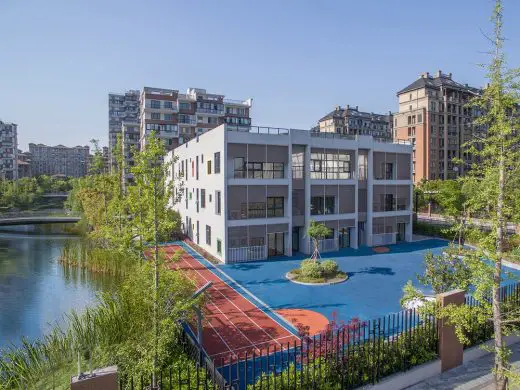 photography : Yan Binfeng
Kindergarden Building in Hangzhou
The Kindergarden 180 is part of the new residential area in Yu Hang. The three-storey new building is planned for 180 children in 6 groups dependent from their age.
11 Mar 2019
Xinhu Hangzhou Prism, Zhejiang
Architects: OMA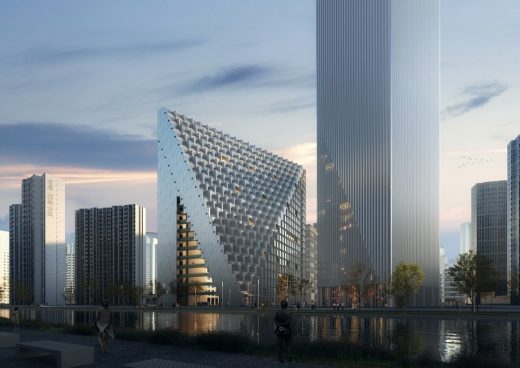 image : Bloomimages, Courtesy of OMA
Xinhu Hangzhou Prism Building
Construction has begun on OMA's pyramid-shaped mixed-use building which forms the heart of Hangzhou's Future Tech City in the new Technology Central Business District (CBD). The project is commissioned by Zhejiang Xinhu Haichuang Group.
19 Dec 2018
Dothink Center, West Lake, Zhuantang Sub-district, Xihu District
Design: DOSYSTEM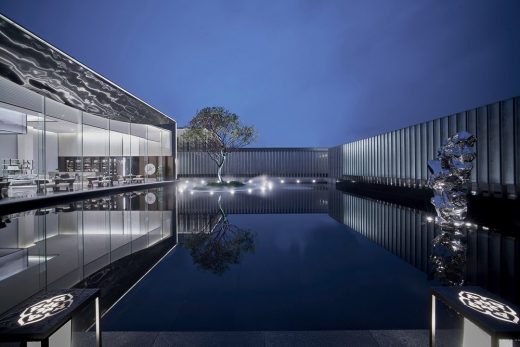 photograph : Liu Gangqiang
DoThink – Jiuxi Elegant Mansion Life Experience Center in Hangzhou
Jiuxi has a fantastic natural landscape and cultural relics. The name of the project is derived from the Jiuxi Scenic Spot. And the design displays Oriental charm in contemporary context.
26 Aug 2018
Anadu Resort, Sanchen Line, Chenqi Village, Heping Town, Changxing County, Huzhou, ZheJiang
Architects: Studio8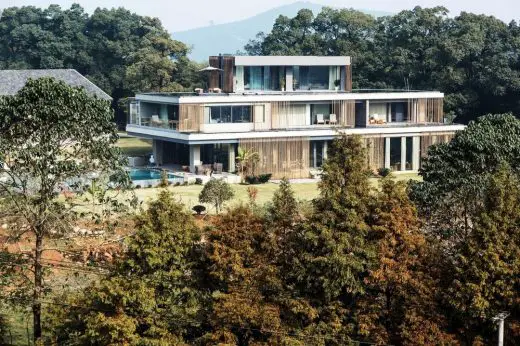 photograph : Sven Zhang
Anadu Resort in Changxing County
Anadu is a luxury rural resort located at the northern foot of the Mogan Mountain in Huzhou (Zhejiang province), with a total extension of 30000 sqm.
24 Aug 2018
Westlake University in Hangzhou
Architects: HENN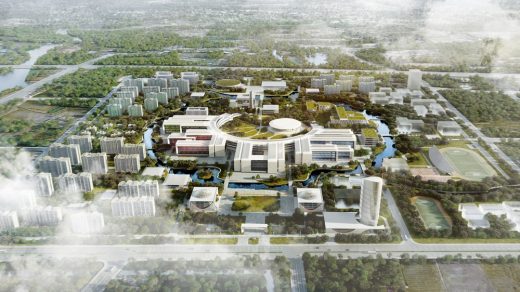 image courtesy of architects
Westlake University in Hangzhou
Forty years after opening itself to the world in 1978, China has established a new educational milestone symbolized by the founding of Westlake University in Hangzhou.
25 May 2018
Lin'an Sports and Culture Center, Linan District, Northwest Zhejiang Province
Architects: The Archtectural Design & Research Institute Of ZheJiang University Co, Ltd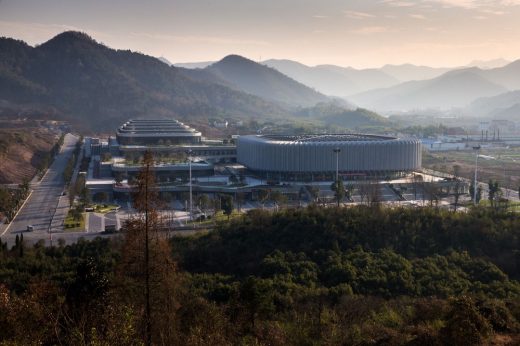 photo : Huang-Hai
Lin'an Sports and Culture Center, Hangzhou
Landscape is the name card of Lin'an city. The idea of this project originated from the landscape of Lin'an. Using the freehand brushwork method, it outlines the landscape of the mountains and rivers, which is consistent with the profound cultural heritage of the city of Lin'an.
20 May 2018
Junxi Mountain Villa Sales Centre, Vanke Junxi, Yuhang District, Hangzhou City, Zhejiang Province, China
Architects: More Design Office (MDO)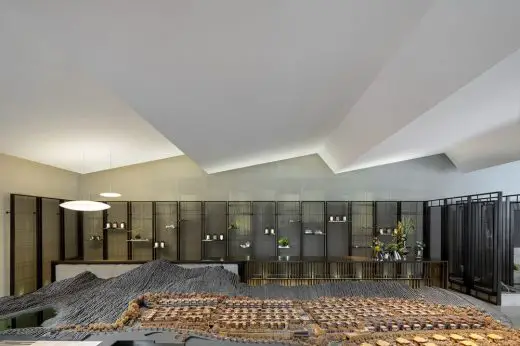 photograph : Sicong Sui, Dirk Weiblen
Junxi Mountain Villa Sales Centre in Hangzhou City
MDO were honoured to be offered the chance to design the interior for a unique piece of architecture situated in the beautiful Liangzhu area, in the northwestern outskirts of Hangzhou.
19 Apr 2018
Integrated Campus Complex for Hangzhou Normal University
Design: WSP ARCHITECTS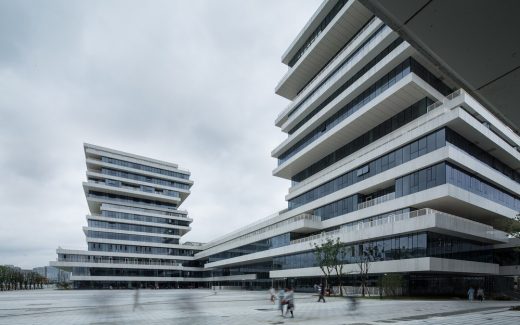 photograph : RUIJING Photography/Zhang Hui
Integrated Campus Complex for Hangzhou Normal University
Century-old Hangzhou Normal University builds a new campus five kilometers west of the Xixi Wetland. Here, there is a typical river network in the south of the Yangtze River. One kilometer west of the University is the Warehouse Street of nearly nine hundred years of historical heritage; Water Silk Cotton was once prominent.
30 Jan 2018
Zhejiang World Trade Center
Architects: Leigh & Orange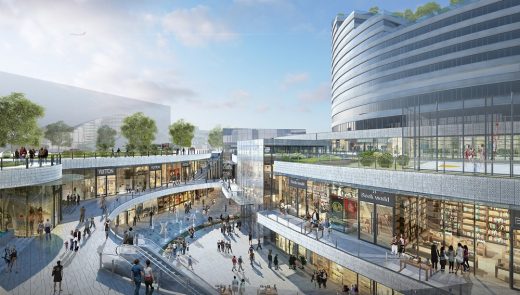 image from architecture office
Zhejiang World Trade Center in Hangzhou
L&O appointment to deliver the new Zhejiang World Trade Center (WTC) in Hangzhou. The original building was first established in 1987, designed as a key venue to facilitate foreign trade, during the early years of the Chinese economic reforms.
7 Dec 2017
JOOOS Fitting Room, Xingguang Avenue
Architects: X+Living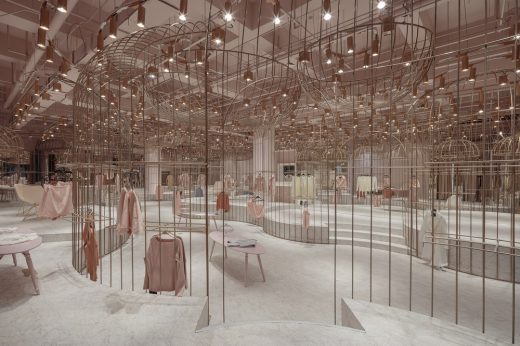 photograph : Shao Feng
JOOOS Fitting Room in Hangzhou
JOOOS Fitting Room integrates the Top 100 fashion brands in the sales list of Tmall, and selects 4 most representative collections through buyers: Mori Girl Collection, Celebrity Collection, OL Collection and Fashionable Girl Collection. The store hopes to make up the sense of emptiness of fitting brought by modern online shopping.
18 Sep 2017
Raffles City Hangzhou Building
Design: UNStudio / Ben van Berkel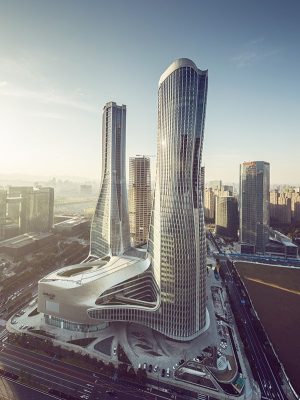 photos : © Hufton+Crow, © Seth Powers, © Jin Xing
Raffles City Hangzhou Building
Designed by Ben van Berkel / UNStudio, CapitaLand's new Raffles City is a sustainable urban hub for living, working and leisure located in Hangzhou, one of China's most picturesque cities. It forms the eighth Raffles City development in China.
21 Aug 2017
Jingshan Boutique Hotel
Design: Continuation Studio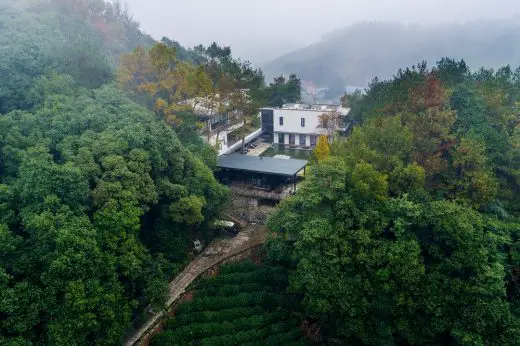 photo : SHIROMIO Studio
Jingshan Boutique Hotel in Hangzhou
This is a project that started from engaging with the site. The site is located up on a mountain ridge, next to a reservoir's dam. There was previously a two-story "San-Ho-Yuan" style dormitory block built back in the 1980s, with a courtyard surrounded by the concave form of the block.
Hangzhou International Expo Center in the Zhejiang Province
Office Building Moganshan Road in Hangzhou
Ripple Hotel
Design: Li Xiang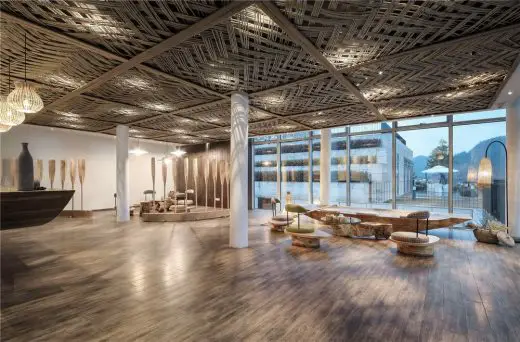 image from architects
Ripple Hotel in Hangzhou
2 May 2016
Hangzhou Architectural Photos
Crowne Plaza Hotel in Hefei: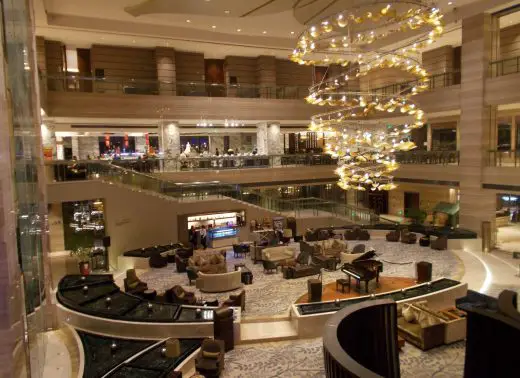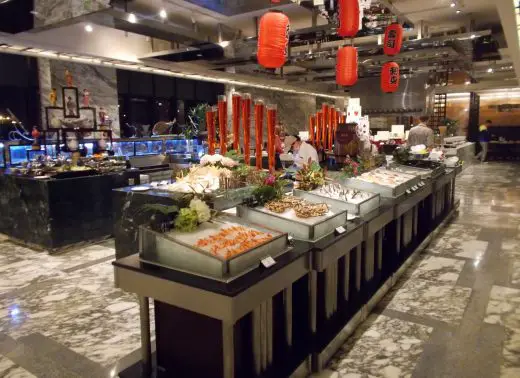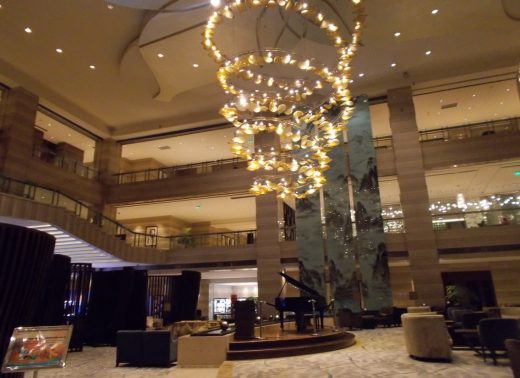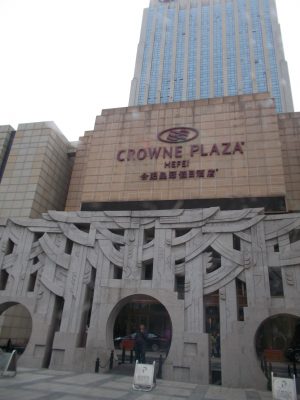 railway station: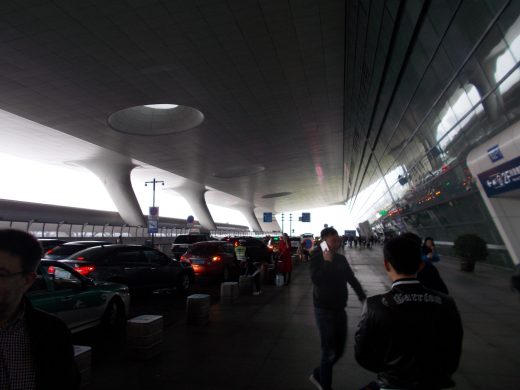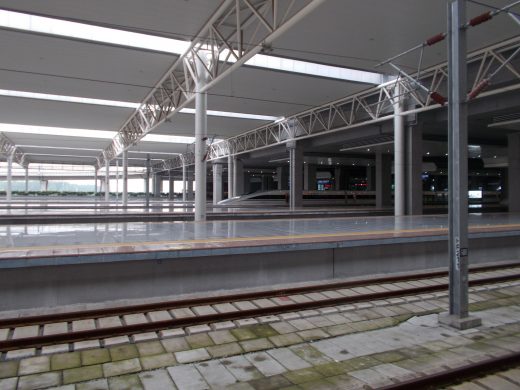 West Lake: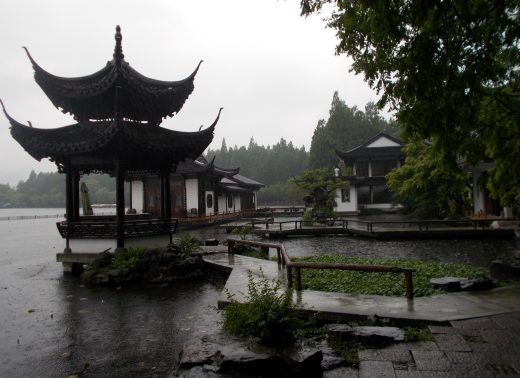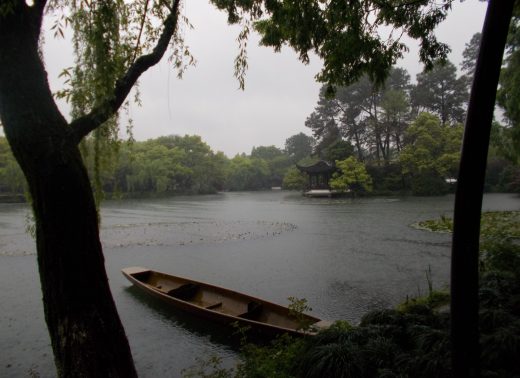 photographs © Dr. S. Welch
Hangzhou Buildings – New Architecture
Xixi Wetland Estate in Hangzhou
Design: David Chipperfield Architects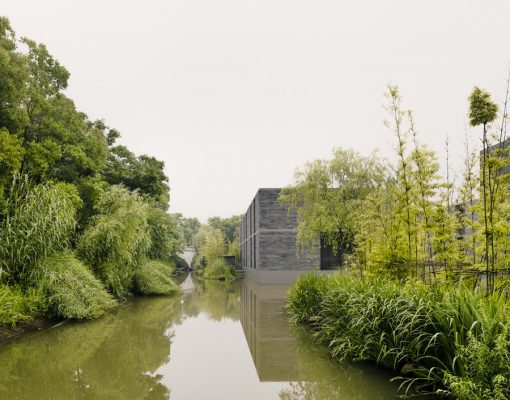 photograph : Simon Mengese
Xixi Wetland Estate in Hangzhou
Office Building Moganshan Road
Design: David Chipperfield Architects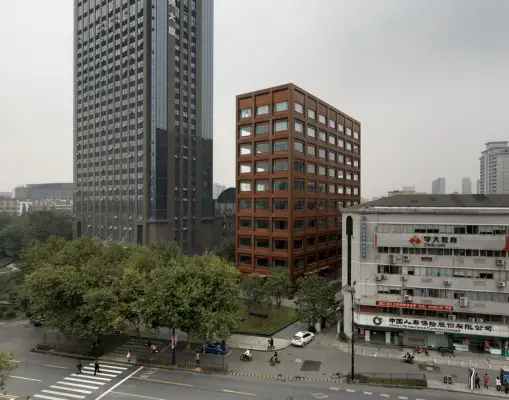 image from architect
Office Building Moganshan Road in Hangzhou
The ten-storey office building is located in a diversely built area on Moganshan Road near Hangzhou's tranquil Shuyhan Park. The positioning of the slim building in the middle of the site provides spatial distance to the neighbouring buildings.
Alibaba Headquarters Hangzhou
Design: HASSELL



photo from HASSELL
Alibaba Headquarters Building
This new Hangzhou building establishes new international workplace standards in China, providing 150,000 sqm of flexible open-plan office space within a campus style layout. The campus accommodates approximately 9,000 employees and is arranged around a central open space or 'common' surrounded by a cluster of buildings.
New CITIC Headquarters Tower
Design: Foster + Partners



image © Foster + Partners
CITIC Headquarters Tower, Hangzhou Skyscraper Building
Construction has commenced on Foster + Partners first project in Hangzhou, China, with a sustainable, landmark headquarters tower for CITIC Bank. The 100-m-high skyscraper building's bold diagonally-braced structure will establish an iconic presence for the bank.
International Tourism Complex Competition Hangzhou
Design: Steven Holl Architects



image from architect
Hangzhou towers
Steven Holl Architects awarded first prize in the design competition to redevelop the site of the oxygen and boiler plants in Hangzhou, China. Steven Holl Architects' design won first place, Herzog & de Meuron won second place, and David Chipperfield Architects was selected as the third place winner by a nine-member international jury.
Hangzhou New District
Design: UNStudio



image : UNStudio
Hangzhou New District
Hangzhou Gateway
Design: JDS Architects – Julien De Smet



image : JDS Architects
Hangzhou Tower
Raffles City Hangzhou
Design: UNStudio / Ben van Berkel
Raffles City Hangzhou
Hangzhou South Railway Station
Design: von Gerkan, Marg and Partners (gmp)



image © gmp Architects
Hangzhou South Railway Station
Jinsha Lake Pedestrian Bridge, Hangzhou
Chinese Architecture Competition



picture © Denton Corker Marshall
Jinsha Lake Pedestrian Bridge
Boutique – Romanticism 2 Store
Design: Keiichiro Sako, Takeshi Ishizaka/ SKSK architects



photograph : Koji Fujii / Nac·sa & Partners Inc.
Hangzhou Shop Design
Hangzhou towers
Design: Sheppard Robson Architects



image from architect
Hangzhou towers
Location: Hangzhou, Zhejiang Province, East China
Architecture in China
China Architecture Designs – chronological list
Chinese Architect Studios – Design Office Listings
Shenzhen Vanke Center : Architecture Competition winner
Hangzhou Competition Architect : Steven Holl Architects
Chinese Buildings – Selection:
Changzhou Culture Center Building
Comments / photos for the Hangzhou Building Developments – Chinese Architecture page welcome
Website: Hangzhou