BIG Architects, Danish Buildings, Bjarke Ingels Office News, Design Studio Denmark
BIG Architects, Denmark / USA
Bjarke Ingels Group, Copenhagen, Denmark & NYC – Contemporary Danish Architecture Practice
post updated 7 December 2022
BIG architects News
BIG-Bjarke Ingels Group Architects News
7 Dec 2022
IQON, Quito, Ecuador, South America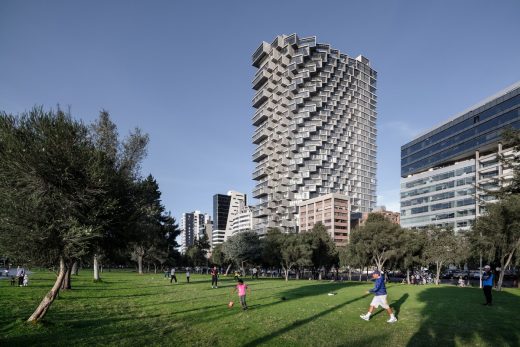 photo : BICUBIK
IQON Quito, mixed-use residential building
After four years of construction, IQON rises 130 m making it the tallest building in the Ecuadorian capital Quito – a city with one of the highest elevations in the world.
Oct 5, 2022
Robert Day Sciences Center, 888 Columbia Avenue, Claremont McKenna College, Los Angeles, California, California, USA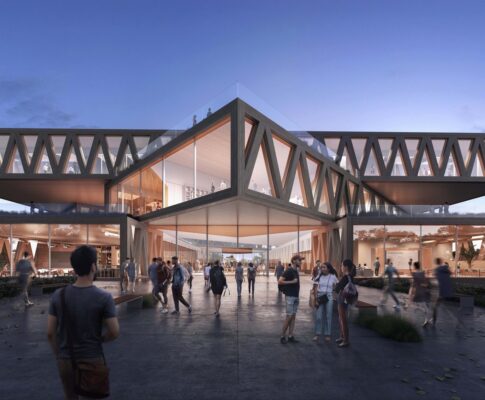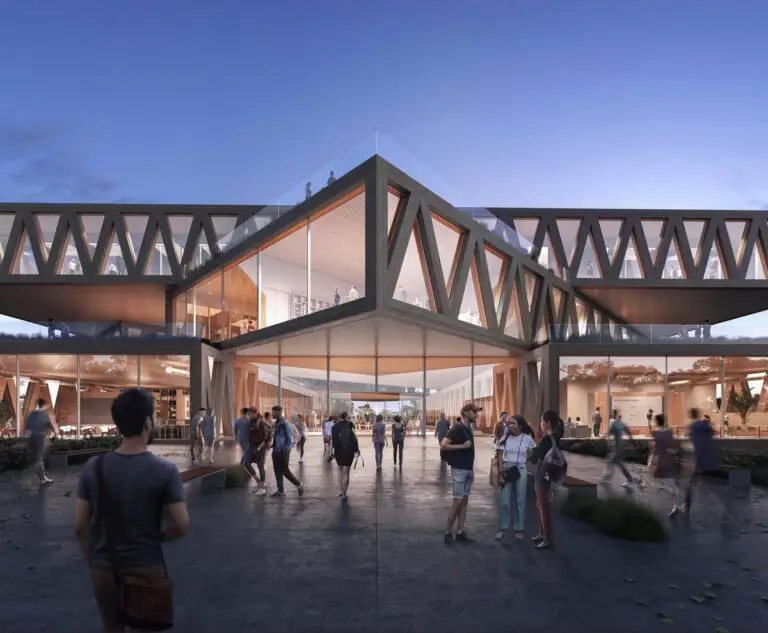 image courtesy of architects practice
Robert Day Sciences Center Claremont McKenna College
7 June 2022
The Plus, Magnor, Eidskog Municipality, Innlandet county, Norway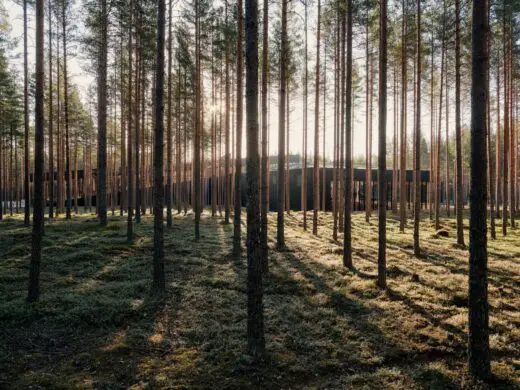 photo : Einar Aslaksen
The Plus Building by BIG in Magnor
Norway's single largest investment in furniture industry in decades, the 7,000 m2 production facility doubles as a public park for hiking and camping and aligns with the region's mission to establish a green manufacturing hub outside of Oslo. The colorful manufacturing village is dedicated to the cleanest, carbon-neutral fabrication of urban furniture, leading the way for manufacturing facilities and high-efficiency production of the future.
16 Mar 2022
NEURO, Århus, Jutland, Denmark
Design: BIG-Bjarke Ingels Group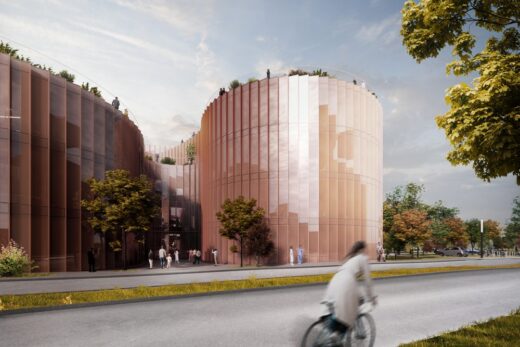 picture courtesy of architects office
Neuroscience Center, Århus, Jutland
NEURO is the first of its kind in the world, a new Neuroscience Center designed by BIG will bring together psychiatry and neuroscience under one roof to combine groundbreaking science and treatment of physical and mental brain diseases, spinal cord and nervous systems. BIG's 20 000 sqm design for Aarhus University Hospital mimics the gyrification of the human brain to utilize the limited site area most efficiently while creating synergies between the different disciplines within the hospital.
3 December 2021
Oslo Science City, Oslo, Norway
Architects: Bjarke Ingels Group – BIG with a-lab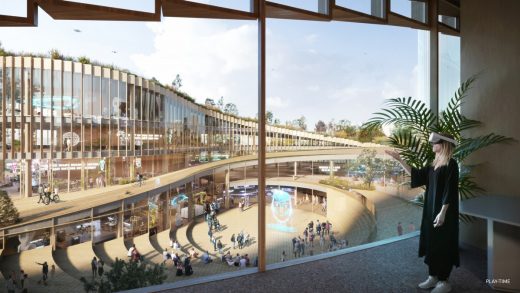 picture courtesy of architects office
Oslo Science City Building by BIG
Anchored in the City of Oslo's 2019 "Strategy for the Development of the Knowledge Capital", the new 1.4 million m2 Oslo Science City will create a physical framework for Norway's innovation environment of estimated 150,000 scientists, students, entrepreneurs, and contribute to the country's transition to renewable energy.
27 Oct 2021
120 Fleet Street Redevelopment, City of London, England, UK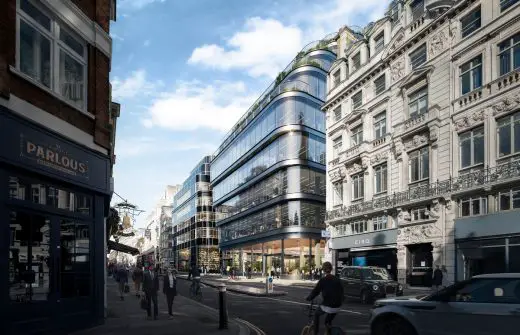 image courtesy of architects office
120 Fleet Street Building by BIG
The proposed redevelopment of 120 Fleet Street has been granted planning permission by the City of London Corporations's Planning and Transportation Committee. Designed for developer CO—RE, the proposals involve the redevelopment of River Court and the renovation and opening to the public of the Grade II* listed Daily Express Building.
28 Sep 2021
Farfetch HQ, by Leça River, Porto, northern Portugal
Architects: BIG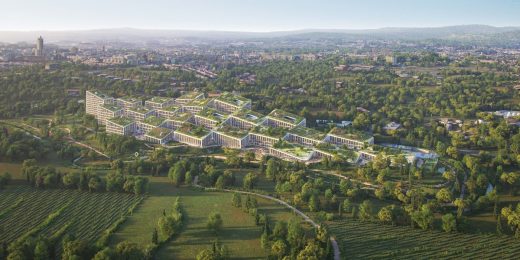 visualization : Lucian R
Farfetch HQ in Porto
Farfetch, the leading global technology platform for luxury fashion, seeks to further connect creators, curators, and consumers in a purpose-built urban fashion village on the slopes of Leça River in Porto. The 178,000 m2 art-filled site has been named FUSE VALLEY and is developed in collaboration with Portuguese real estate developer, Castro Group.
11 Aug 2021
Marsk Tower – Observation Helix, Wadden Sea National Park, Southern Jutland, Denmark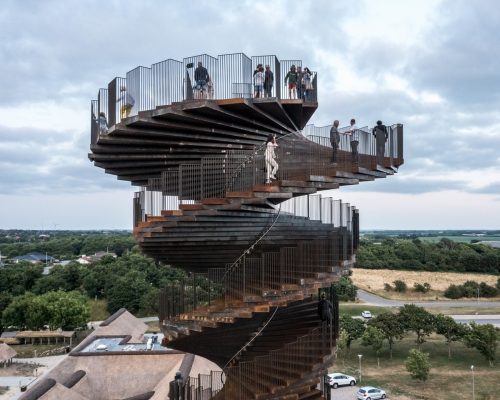 photo : Rasmus Hjortshoj
Marsk Tower Denmark
Marsk Tower, a new sculptural landmark and lookout point in Southern Jutland, Denmark, is now officially open to the public, providing a new gathering place in the UNESCO World Heritage site of Wadden Sea National Park.
15 Jul 2021
BIG-Bjarke Ingels Group Announces Seven New Partners



image from architectural firm
BIG-Bjarke Ingels Group Architects News
BIG-Bjarke Ingels Group adds to its leadership team with the announcement of seven new Partners, 33 new Associates, and one new Director. With the number of staff more than doubling in the last four years, the leadership expansion reflects BIG's 20-year evolution as a global firm with a local presence, underscored by a holistic approach to design and development.
Dec 15, 2020
The Smile Harlem Housing, New York City, NY, USA
Architects: BIG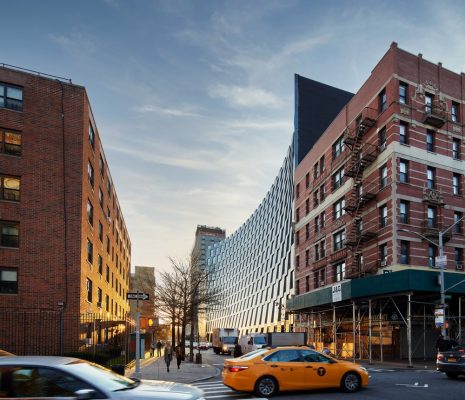 photos by Thomas Loof and Pernille Loof
The Smile Harlem Housing
In 1912, the Equitable Building in Lower Manhattan was designed to be the largest building that could fit its site and rose skywards from the street lot-line without any setbacks. The building has since served as the prime example of the perils of unregulated development and as a result, the first building regulation in the United States was born.
29 Nov 2020
Formgiving. An Architectural Future History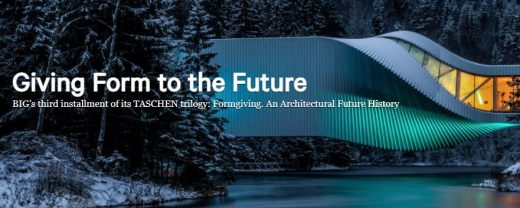 Formgiving. An Architectural Future History : news from 29 Nov 2020
Rooted in the Danish word for "design", "formgivning" literally means to give form to that which has not yet taken shape. In other words, to give form to the future.
Nov 10, 2020
Virgin Hyperloop Pegasus Pod – tested in Las Vegas, Nevada, USA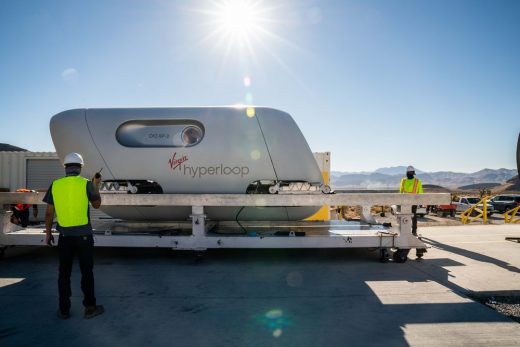 image Courtesy of Virgin Hyperloop
Virgin Hyperloop Pegasus Pod
November 10th, 2020 – Designed by BIG Architects and Kilo Design, Virgin Hyperloop's Pegasus pod makes history in the Nevada desert as it successfully carries its first passengers in the newest form of travel in over a century.
20 Aug 2020
BiodiverCity Masterplan, Penang South Islands, Malaysia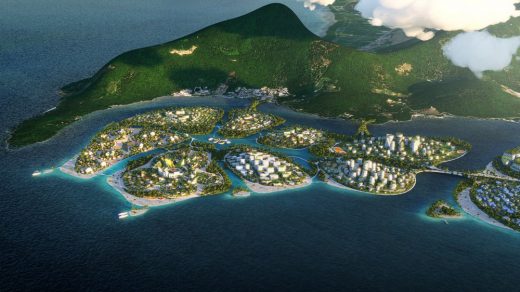 image from architecture practice
BiodiverCity Masterplan in Malaysia
BIG, Hijjas and Ramboll are selected as winners of Penang State Government's international competition to design a masterplan for Penang South Islands, providing Penangites with approximately 4.6km of public beaches, 600 acres of parks and a 25km waterfront.
1 July 2020
The Plus Furniture Factory, Magnor, Norway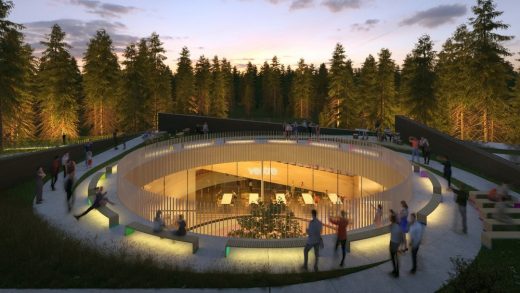 image © Lucian R
The Plus Furniture Factory in Magnor
Together with Vestre, the Norwegian manufacturer of urban furniture, BIG-Bjarke Ingels Group unveils The Plus as the world's most sustainable furniture factory tucked in the heart of the Norwegian forest.
24 Apr 2020
Musée Atelier Audemars Piguet, Le Brassus, Switzerland
Architects: BIG and ATELIER BRÜCKNER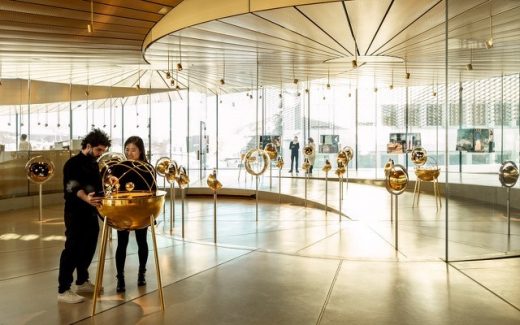 Musée Atelier Audemars Piguet: The Complications. Photography: Giovanni Emilio Galanello
Musée Atelier Audemars Piguet
On the outskirts of the small village of Le Brassus, secluded in a high mountain valley of the Swiss Jura, the Musée Atelier Audemars Piguet – an iconic total work of art of the Bjarke Ingels Group (BIG) and ATELIER BRÜCKNER, the scenography specialist – opens its doors on 25 June.
31 Jan 2020
Bjarke Ingels interview – Time Space Existence
Time Space Existence video interview with Danish architect Bjarke Ingels:
Bjarke Ingels – TIME SPACE EXISTENCE from PLANE—SITE on Vimeo.
"If you look, listen and learn, there is so much to play with" Bjarke Ingels features in a new video produced for the Time Space Existence biennial exhibition.
Copenhagen-based architect Bjarke Ingels is not one to shy away from big ideas. Founder of the aptly named BIG (Bjarke Ingels Group), he eschews cohesive style in favor of flexible urban environments — something he believes is vital in a constantly changing world. In a new video produced for the Time Space Existence video series, Ingels unpacks his approach to design, incorporating humor, surprise and sustainability.
More than simply an architect, Ingels is a place-maker in its broadest sense. Having coined the term 'hedonistic sustainability', he blends fun with deeply rooted sustainable principles. "What if sustainability is not a compromise?" he asks in the video. "What if it's not a sacrifice? What if it's actually simply the more desirable life choice?" This approach has led to bold, original designs such as the Copenhill Power Plant, topped by an artificial ski slope, and the LEGO House in Copenhagen, made using over 25 million LEGO bricks.
The Time Space Existence video series has already featured both prominent and emerging architects, including Balkrishna Doshi, Ricardo Bofill, Denise Scott-Brown, Peter Eisenman, WOHA Architects, Curt Fentress, Toshiko Mori, Daniel Libeskind, Tatiana Bilbao, Arata Isozaki and many others. The series will be exhibited at the Time Space Existence biennial exhibition in Venice and distributed digitally to the media and press. Videos will be released in the run-up to the opening of the exhibition on May 21-22, 2020.
The interview series was made possible with the support of the European Cultural Centre.
30 Jan 2020
Bjarke Ingels No longer WeWork's Chief Architect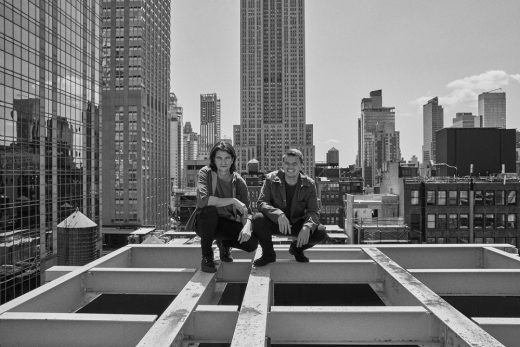 Adam Neumann (left), Bjarke Ingels (right): photo : Alexei Hay
On 8th May 2018 WeWork announced Bjarke Ingels as Chief Architect to advise and develop the firm's design vision and language. The AJ now reports that Bjarke Ingels is no longer employed as chief architect for WeWork.
The Danish starchitect is facing mounting criticism after appearing with the Brazilian president Jair Bolsonaro, whilst on a trip investigating development of tourism projects in the Brasil.
BIG released a statement rejecting a binary reading of the world's countries as good and bad. Ingels rejects the idea that countries like Brazil should be off-limits to architects:
"Creating a list of countries or companies that BIG should shy away from working with seems to be an oversimplification of a complex world".
This is reminiscent of the fellow starchitect Daniel Libeskind / China controversy back in 2007, when he was asked 'Do you want to build in China?', to which the architect replied "I have been approached a couple of times but I grew up in Poland when it was Communist. I like working in open societies where there is due process. It's a personal feeling."
Then in February 2008, he told an audience in Belfast that architects should consider boycotting China and, generally speaking, "take a more ethical stance", saying he would not "won't work for totalitarian regimes."
WeWork is also under fire, with CEO and founder Adam Neumann stepping down in September 2019 after pressure from some of the company's board members. The coworking giant, wwhose IPO had been one of the most highly anticipated public offerings of 2019, has mostly imploded.
4 Nov 2019
Panda House, Copenhagen Zoo, Copenhagen, Denmark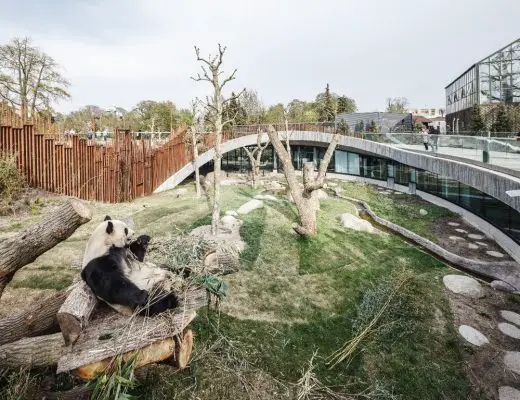 photo : Rasmus Hjortshøj
Panda House, Copenhagen Zoo
The new home for giant pandas Mao Sun and Xing Er in Copenhagen Zoo resembles the panda's natural habitat and creates a peaceful living environment for one of the world's rarest mammals.
20 Sep 2019
The Twist at Kistefos, Jevnaker Museum, near Oslo, southern Norway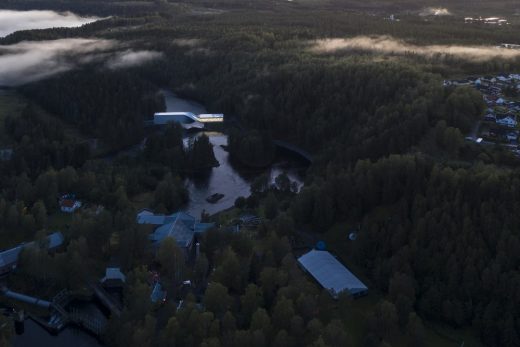 photo : Laurian Ghinitoiu
The Twist at Kistefos, Jevnaker Museum
26 July 2019
Dortheavej Apartments – World Architecture Festival 2019 Shortlist News
Dortheavej Apartments shortlisted for World Architecture Festival 2019
18 June 019
FORMGIVING – An Architectural Future History from Big Bang to Singularity, DAC, Copenhagen, Denmark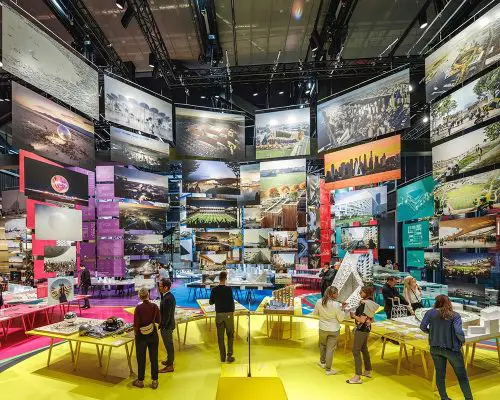 photo by Rasmus Hjortshøj
Architectural Exhibition at Danish Architecture Center by BIG-Bjarke Ingels Group
FORMGIVING – An Architectural Future History from Big Bang to Singularity explores how the world around us has taken shape – and has been given shape – from the past to the present, with 71 BIG projects as glimpses of and gifts to our future. The show is on view until January 5, 2020.
4 Jun 2019
Galeries Lafayette concept store, Avenue des Champs-Élysées, Paris, France
Design: BIG-Bjarke Ingels Group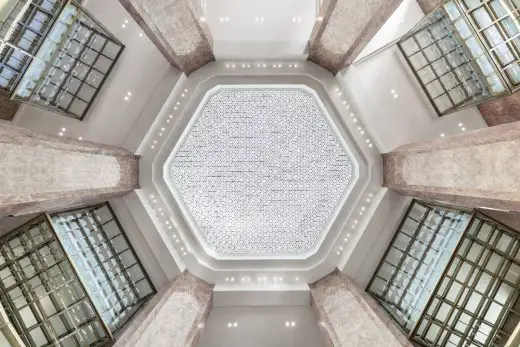 photo by Delfino Sisto Legnani and Marco Cappelletti
Galeries Lafayette concept store by BIG
19 Apr 2019
Glasir – Tórshavn College, Tórshavn, Faroe Islands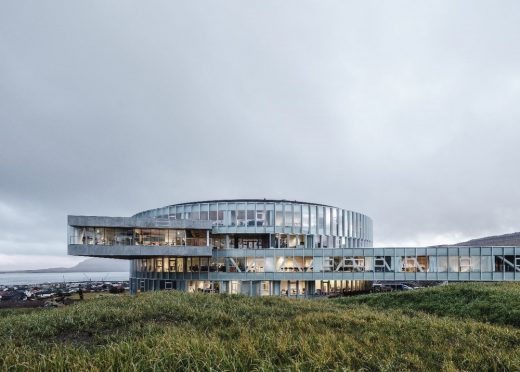 photograph : Rasmus Hjortshoj
Glasir – Tórshavn College Building
Students have settled in to this 19,200m2 (206,000ft2) vortex-shaped education center that combines three schools under one roof and celebrates the dramatic Faroese landscape.
Apr 16, 2019
Isenberg School of Management Building, Amherst, Massachusetts, USA
Design: BIG-Bjarke Ingels Group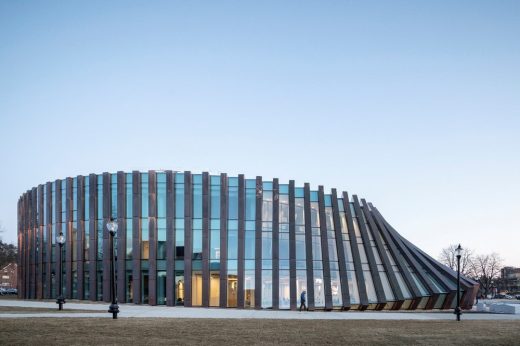 photo © Laurian Ghinitoiu
Isenberg School of Management Building
Designed by BIG-Bjarke Ingels Group and Architect of Record Goody Clancy, the copper-clad Business Innovation Hub at the heart of the University of Massachusetts Amherst adds 70,000SF of hyper-collaborative study and social space to one of the top-30 public business schools in the United States.
5 Apr 2019
Oceanix City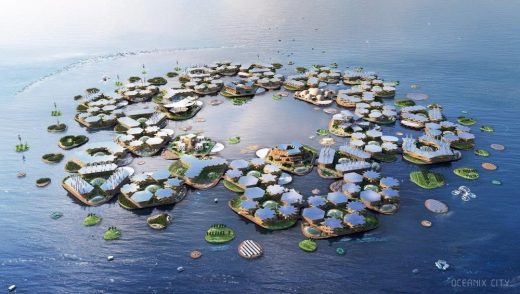 image courtesy of architects
Oceanix City by BIG
As part of UN-Habitat's New Urban Agenda, floating cities non-profit OCEANIX, the MIT Center for Ocean Engineering, BIG and partners propose a vision for the world's first resilient and sustainable floating community for 10,000 residents: Oceanix City.
16 + 9 Nov 2018
79&Park Stockholm, Stockholm, Sweden
79&Park
A cascading grid arrangement of 169 housing units.
Oct 31, 2018
WeGrow school, New York City, NY, USA
Architects: BIG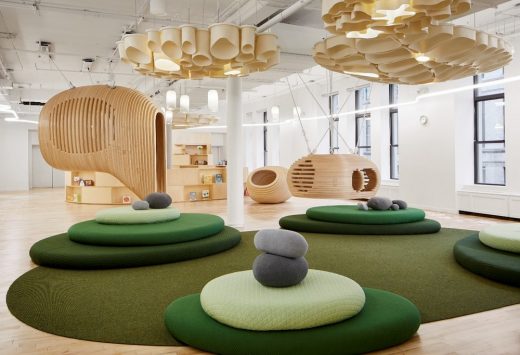 photo © Dave Burk
WeGrow School Building in New York City
BIG and WeWork's collaboration and belief in creativity manifests through the first WeGrow school in New York City. The interactive learning landscape supports a conscious approach to education, nurturing the growth, spirit and mind of the 21st century child.
9 Oct 2018
Dortheavej Apartments, Copenhagen, Denmark
Design: BIG – Bjarke Ingels Group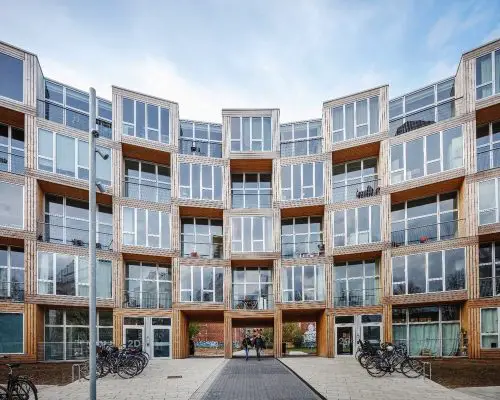 photo : Rasmus Hjortshoj
Dortheavej Apartments in Copenhagen
BIG fulfills "Homes for All" mission for non-profit affordable housing association Lejerbo with the recently completed 6,800m2 winding wall in Copenhagen's multicultural northwest area. The building offers 66 new homes to low-income citizens featuring unprecedented 3.5m ceilings, generous floor to ceiling windows and outdoor terraces, realized on a strict budget.
May 8, 2018
Bjarke Ingels Named WeWork's Chief Architect
Adam Neumann, Bjarke Ingels (right):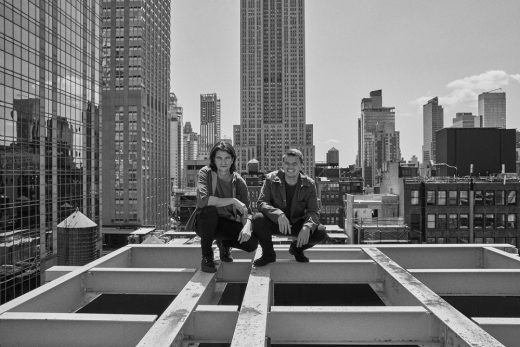 photo : Alexei Hay
8th May 2018 – WeWork announces Bjarke Ingels as Chief Architect to advise and develop the firm's design vision and language for buildings, campuses and neighborhoods globally. Bjarke will maintain his role as Founding Partner and Creative Director at the New York, London and Copenhagen-based architecture firm, BIG-Bjarke Ingels Group.
"WeWork was founded at the exact same time as when I had arrived to New York. In that short amount of time – the blink of an eye at the time scale of architecture – they have accomplished incredible things and they are committed to continuing their trajectory to places we can only imagine. WeWork's commitment to community and culturally-driven development is perfectly aligned with our active, social and environmental agendas.
As WeWork takes on larger and more holistic urban and architectural challenges, I am very excited to contribute with my insights and ideas to extend their community-oriented vision to ground-up buildings and urban neighborhoods. BIG and I are incredibly thrilled to take an advisory role in WeWork's evolution as a company and as a design culture." Bjarke Ingels, Founding Partner and Creative Director, BIG.
"Bjarke caught my attention because he's changing the way we think about architecture. His designs inspire as much as they surprise. When we started WeWork eight years ago, we knew the world didn't need another office building, it needed spaces where people could collaborate on projects, connect and create together, and potentially change the world.
As WeWork's Chief Architect, Bjarke Ingels will help us reimagine and reshape the future of our spaces, our company and ultimately our cities." Adam Neumann, Co-Founder and CEO, WeWork.
17 Apr 2018
Swiss Hotel with Roof to Ski Down
Hôtel des Horlogers, Vallée de Joux, Switzerland by architect Bjarke Ingels
Celebrated Danish architect Bjarke Ingels loves challenging with bold building designs:
for example the Amager Resource Center in Copenhagen could have just been another power plant, but the waste-burning production has a roof ready for skiing in 2018.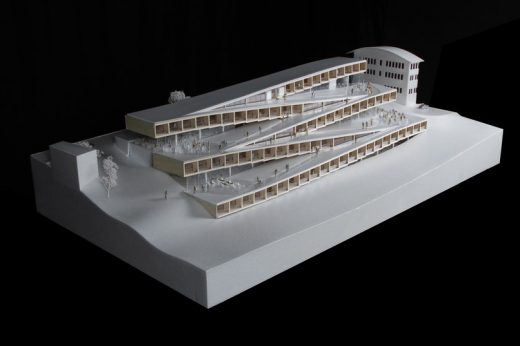 image : BIG-Bjarke Ingels Group
In this latest design to be revealed by the head of BIG architects, guests will be able to ski down the roof and onto an adjacent slope.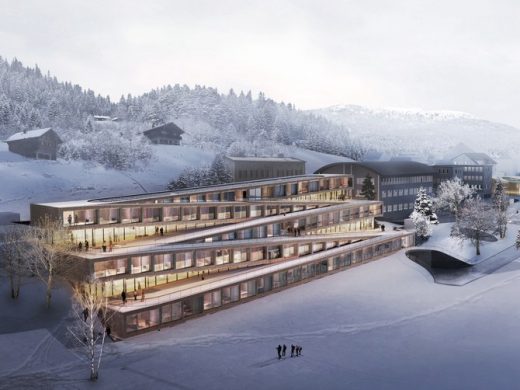 The building was designed by Bjarke Ingels Group (BIG) in collaboration with the Swiss-based architecture firm CCHE. It is for Swiss company Audemars Piguet.
The property is due to contain fifty rooms, two restaurants, a bar, a spa, and a conference center.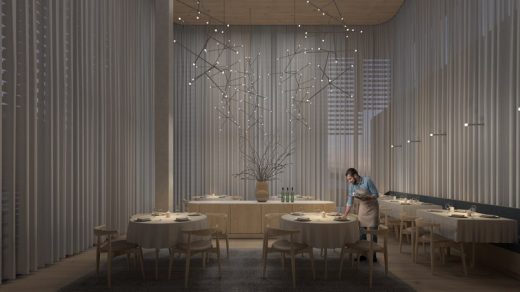 Five zigzagging building volumes are stacked next to each other to allow guests the luxury of skiing out of the hotel and down the slopes!
The hotel is already under construction and is due to open in 2020.
The site for the building is adjacent to Musée Atelier Audemars Piguet, designed by CCHE, which features magnificent and rare watches.
19 Mar 2018
The National Theatre of Albania, Tirana, Albania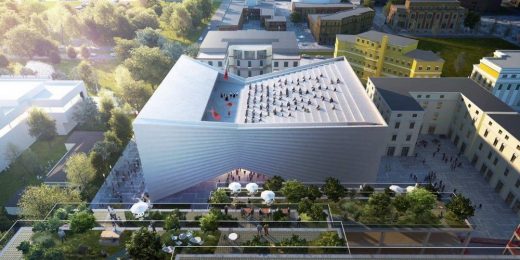 image Courtesy of architects office
The National Theatre of Albania
This building is a 9,300 sqm contemporary venue designed to host local and touring theatre companies in the country's capital. Located in the cultural and administrative heart of downtown Tirana, adjacent to the iconic Skanderbeg Square, the National Opera and the National Art Gallery, the cultural space will replace the existing theatre and add three new indoor performance spaces, a rooftop amphitheater as well as a covered public space underneath the building.
Dec 5, 2017
East Austin District, Austin, Texas, USA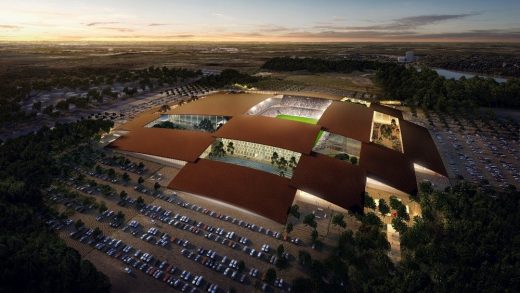 image by BIG-Bjarke Ingels Group
East Austin District Arena
The new East Austin District created by Austin Sports & Entertainment and designed by award-winning architects BIG-Bjarke Ingels Group is an entirely new sports and entertainment neighborhood tailored to celebrate world-class sports and cultural experiences under one checkered roofscape.
3 Oct 2017
Danish LEGO Experience Opens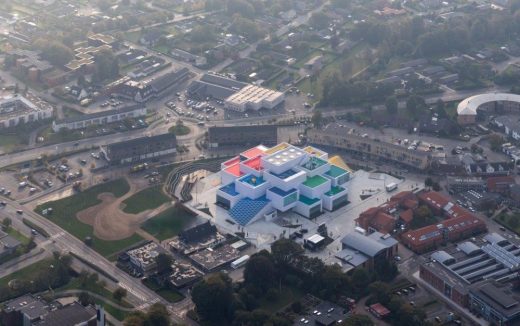 photo : Iwan Baan
LEGO House Billund Building
Designed by BIG and COWI, LEGO House is an experience hub for LEGO fans of all ages, as well as an architectural landmark and a significant step towards the city's goal of making Billund the Capital for Children.
13 Jul 2017
TIRPITZ Museum, Blåvand, Denmark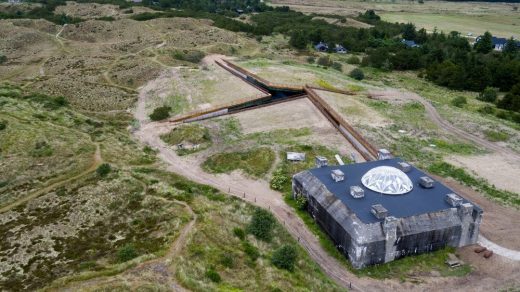 photo © Rasmus Bendix
TIRPITZ Museum Denmark
The new TIRPITZ transforms and expands a historic German WWII bunker into a groundbreaking cultural complex comprising four exhibitions within a single structure, seamlessly embedded into the protected shorelands of Blåvand in western Denmark. The construction of the 2,800 m2 'invisible museum' expected to attract around 100,000 visitors annually.
28 Mar 2017
Panda House in Copenhagen Zoo, Denmark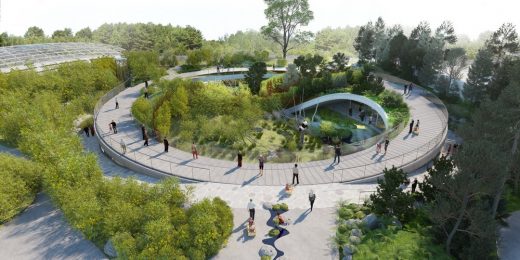 image courtesy of architects
Panda House in Copenhagen Zoo
The design of the new Panda House begins with a circular shape, formed by the surrounding existing facilities at the intersection of multiple walkways. Panda House is designed to feel like humans are the visitors in the Pandas' home, rather than Pandas being the exotic guests from faraway lands.
10 Mar 2017
BIG-Bjarke Ingels Group Engineering
March 9th, 2017 – BIG – Bjarke Ingels Group has further strengthened its in-house capabilities by hiring Duncan Horswill—former CCO at Søren Jensen Engineers—to lead BIG Engineering, a new specialized unit dedicated to ensuring the structural, mechanical integrity and resilience of BIG buildings globally.
BIG – Bjarke Ingels Group
16 Feb 2017
S.Pellegrino Flagship Factory, San Pellegrino Terme, Bergamo, Italy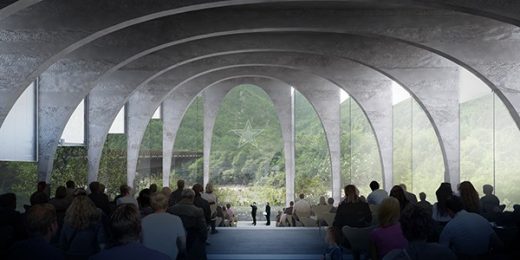 image courtesy of architects
San Pellegrino Factory Building
Shaped by the serpentine run of the Brembo river and the sloping Alpine mountainsides, this winning design for the new 17.500 sqm flagship factory embraces the surrounding forces of nature and taps into S.Pellegrino's industrial heritage, guiding visitors through the 30-year journey of the natural mineral water.
26 Dec 2016
BIG Annual Update
In BIG's 11th year, the CPH and NYC offices were joined by a new office in London.
Projects new and old received many great honors, including the Aga Khan Award for Superkilen and the Danish Steel Prize for the Danish Maritime Museum, and Bjarke was recognized by Time Magazine in their annual TIME 100 Most Influential People.
2016 marked the completion of many pivotal projects for this architecture firm, with the opening of six projects in different parts of the globe.
BIG established a NYC design studio in 2010 to work on VIA W57: the project was completed in 2016 and residents moved into the courtscraper on Manhattan's west side. In addition to garnering numerous awards, including the CTBUH's Best Tall Building in the Americas Award and the International Highrise Award 2016, VIA 57 was praised by the New York Times, which stated that "no building redrew the city's skyline more ingeniously."
Other projects that opened this year include the twisting Coconut Grove towers in Miami, the Intrepid office building in Philadelphia's Navy Yard, Transitlager, the mixed-use conversion in Basel, and the first prototype of the next generation of affordable student housing, Urban Rigger, now parked in Copenhagen's harbor. Last but not least, in June, the Serpentine Gallery Summer Pavilion opened in London's Kensingtons Gardens, an enormous honor for the firm.
The project marked the opening of the practice's newest office, in London, where BIG is working on projects such as the new Google Headquarters at Kings Cross with Thomas Heatherwick and the Malaysia Square development at the Battersea Power Station, among others.
The office's most recent "opening" was the HOT TO COLD exhibit as it continued on its world tour, and which can now be seen at the Deutsches Architekturmuseum in Frankfurt until Feb 17th.
BIG projects continue to be built all over the world, with an impressive 21 projects under construction. Among these building sites are cultural projects in their native Denmark—such as the Lego House and Blavand Museum—Audemars Piguet's La Maison des Fondateurs in Switzerland, and the MECA project, which broke ground in Bordeaux.
BIG are also building high-rises in Europe, North America, and Asia, including the Omniturn Tower in Frankfurt, the Eleventh in NYC, the Vancouver House, Telus Sky Tower in Calgary, and the Shenzen Energy Mansion. Closer to home, the skyline of Copenhagen has begun to evolve as the Amager Resource Center topped out; the power plant will start its waste-burning production at the start of next year and the roof will be ready for skiing in 2018.
Designs were revealed for many exciting projects that are keeping teams busy, including many competition wins: a few projects in Paris, such as the Galeries Lafayette store on the Champs-Élysées and the Pont de Bondy Metro Station, and most recently the Sluishuis floating residential block in Amsterdam.
Other notable commissions from 2016 include projects in the US, such as the Spiral in NYC, the NYPD 40th Precinct Station, the Los Angeles Arts District, and in the Middle East the Hyperloop project, which will transform the future of mobility as plans move ahead with a route between Dubai and Abu Dhabi. Other projects charging ahead include our East Side Coastal Resiliency project, the first phase of the BIG U, and the Smithsonian Institution Master Plan in Washington, which won the AIA National Honor Award, and smaller cultural gems such as the Kistofos Museum in Norway.
29 Nov 2016
Sluishuis IJburg Building in Amsterdam, Amsterdam, The Netherlands
Design: BIG – Bjarke Ingels Group and Barcode Architects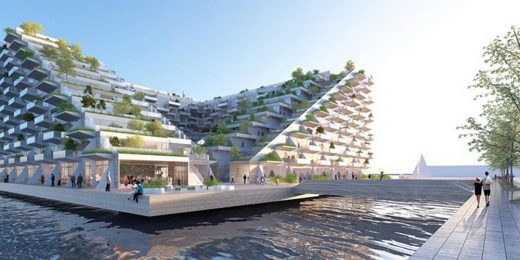 image from architect
Sluishuis IJburg Building by BIG
The 46.000 m2 mixed-use building named Sluishuis will create a landmark in the emerging neighborhood of IJburg, bridging the new urban district to the harbor areas near Amsterdam's historic city center.
16 Nov 2016
New Google Headquarters at Kings Cross, London, England, UK
Design: BIG – Bjarke Ingels Group and Heatherwick Studios, architects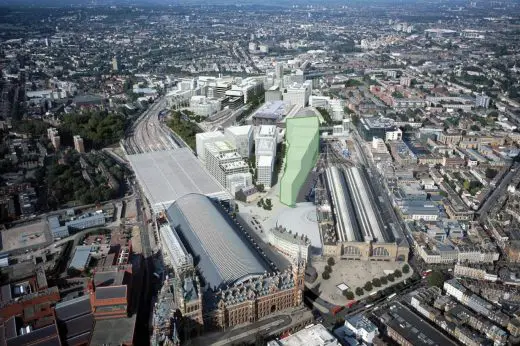 image from architect
New Google Headquarters at Kings Cross
BIG – Bjarke Ingels Group and Heatherwick Studios are confirmed as the architects for Google's new Headquarters at Kings Cross in London.
Nov 8, 2016
Hyperloop Pods and Portals in Dubai by BIG-Bjarke Ingels Group, Dubai, UAE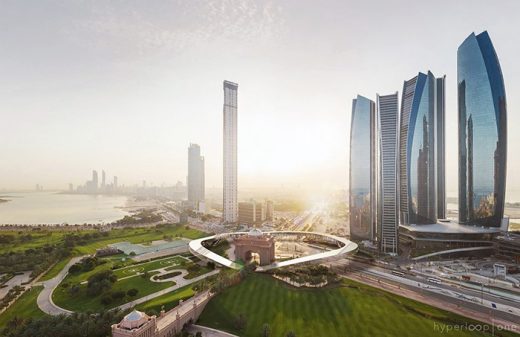 image from architects
Hyperloop Pods and Portals in Dubai by BIG-Bjarke Ingels Group
Hyperloop One has partnered with BIG on a detailed feasibility study financed by the RTA. Since May 2016, the team has been working on a concept for autonomous transportation in the UAE, including designs for the world's first Hyperloop One Portals and Hyperloop One Pods that take passengers from downtown Dubai to downtown Abu Dhabi in 12 minutes, instead of a two-hour drive.
12 Aug 2016
Grove at Grand Bay, Miami Beach, Florida, USA
London Architecture Links – chronological list