10 DESIGN Architects, Hong Kong architect studio, HK office, China, Dubai, Shenzhen, Edinburgh
10 DESIGN Architects
Contemporary Architectural Practice – Chinese Design Office News
post updated 25 August 2023
10 DESIGN News
10 DESIGN Architects News
25 August 2023
Bintaro Jaya West District Masterplan, South of Jakarta, Indonesia, southeast Asia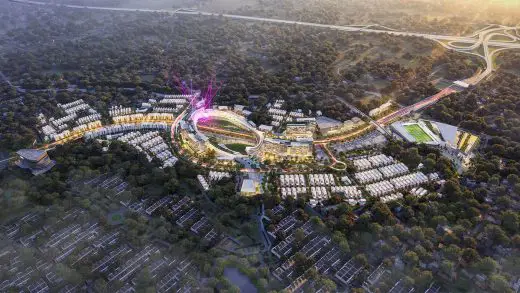 visualisation : KOMA
Bintaro Jaya West District in South Tangerang
Located along Bintaro Boulevard in South Tangerang, 15 kilometers from the Jakarta Central Business District, the development will become the western gateway to Bintaro Jaya Township, an emerging economic centre in the Greater Jakarta Metropolitan Area.
20 July 2023
Qianjiang New City of Hangzhou, Hangzhou, Zhejiang Province, East China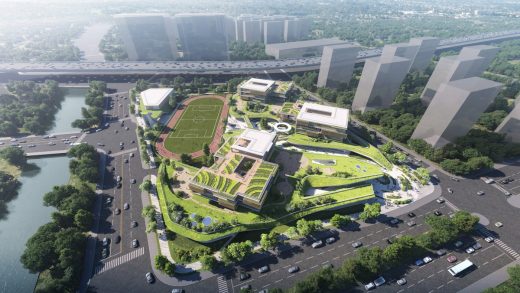 visualisation : Frontop
Qianjiang New City Future School Hangzhou Building
International architecture practice 10 Design (part of Egis Group) has won the competition to design a major 74,000 sqm school project within Qianjiang New City of Hangzhou, China. An innovative educational hub for 2,000 elementary school students which doubles as an accessible and child-friendly public space for the community is envisaged.
21 Apr 2023
Jinwan Huafa International Business Centre, Jinwan District, Zhuhai, southern Guangdong province, southern China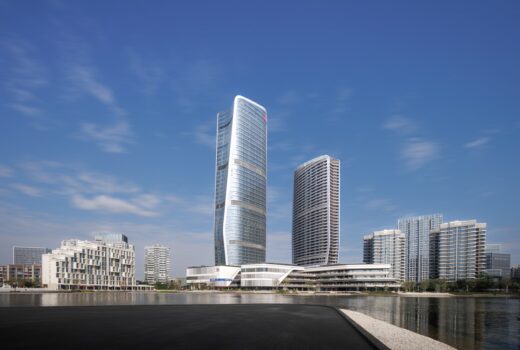 photo : SeilaoJiong Photography
Jinwan Huafa International Business Centre
8 July 2022
10 Design Shenzhen architects studio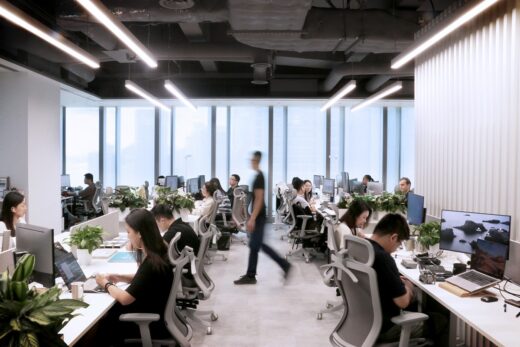 image courtesy of architects practice
10 Design Shenzhen architects office
The expanded studio will further strengthen the practice's design expertise throughout Asia. This follows the appointment of Peby Pratama, Associate Partner, as the design lead of the new Shenzhen design studio.
20 May 2022
10 Design Singapore relocation to accommodate growth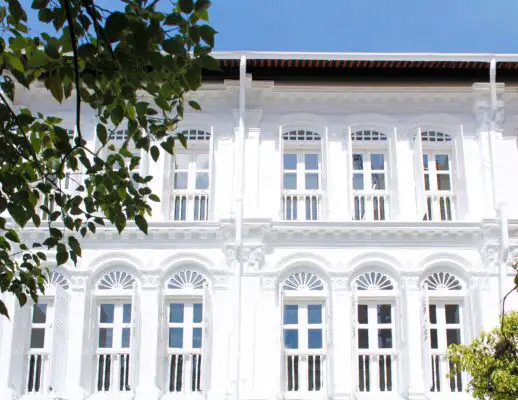 image courtesy of architects practice
10 Design Singapore Architects
14 Apr 2022
Harbourfront High-rise, Shenzhen, southeastern China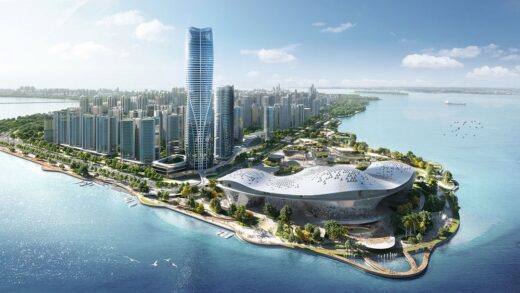 render : 10 Design
Harbourfront High-rise, Greater Bay Area
The submission includes design of a super high-rise tower of office, hotel and serviced apartment sitting on top of a 4-storey podium. Inspired by the local ritual of dragon dance to pray for rain and blessings to the land, the spiraling form of the tower resembles a dragon ascending from the sea, thrusting up to the sky.
2 Mar 2022
Shanghai West Bund Vision, Shanghai, Jiangsu, People's Republic of China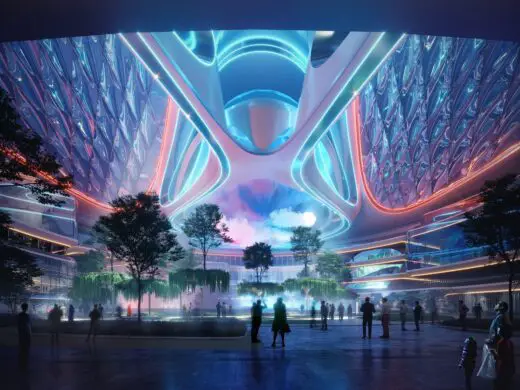 image courtesy of architects practice
Shanghai West Bund Parcels C&D Vision by 10 Design
10 Design (part of Egis Group) reveals the shortlisted design vision for Shanghai West Bund in China. The proposed scheme for parcels C&D was submitted as part of Hongkong Land's 32-hectare site with direct subway and a planned cable car connection.
15 Feb 2022
CIFI Chengdu Wansheng TOD Project, Wenjiang District Sub-center, western Chengdu, China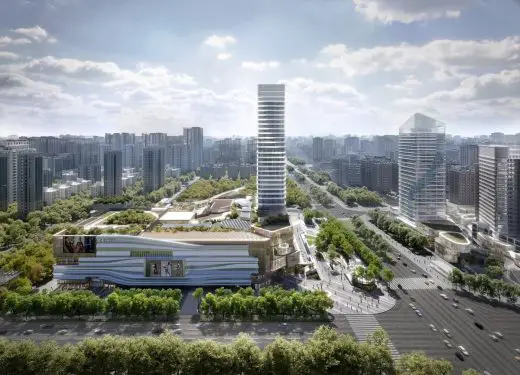 visualisation : Frontop
CIFI Chengdu Wansheng TOD Project
International architecture practice, 10 Design (part of Egis Group), revealed plans for a 117,700sqm retail destination located within Wenjiang District Sub-center, an important node in the western part of Chengdu, China. CIFI Chengdu Wansheng TOD is 10 Design's second on-site project for CIFI Group after CIFI Kunming Plaza, a retail mixed-use destination in Yunnan, China.
12 + 11 Jan 2022
Dongguan University Of Technology International Cooperation Zone, China
Design: 10 Design with BIAD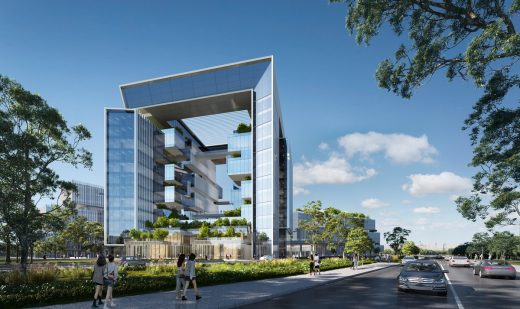 rendering : Frontop
Dongguan University Of Technology International Cooperation Zone
10 Design (part of Egis Group), in collaboration with local architect BIAD, has won an international competition to design a new campus for the International Co-operation Innovation Zone (phase 1) at Dongguan University of Technology in China.
16 Dec 2021
Prince Bay Taiziwan residences, Shenzhen Bay, south east China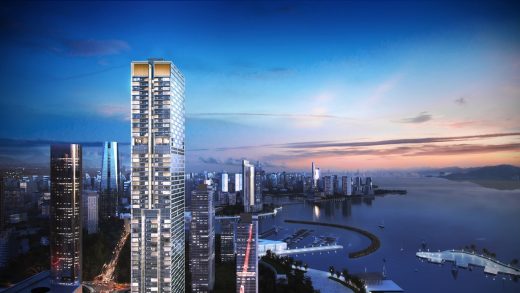 image courtesy of architects practice
Prince Bay Taiziwan residences Shenzhen
This residential development created by China Merchants and 10 Design offers luxurious coastal living in a new entertainment and cultural destination in Shenzhen, China. Prince Bay Taiziwan at 250m high is set to become Prince Bay's tallest residential landmark when completed in Jun 2023.
30 Sep 2021
10 Design Announces Further Expansion in Hong Kong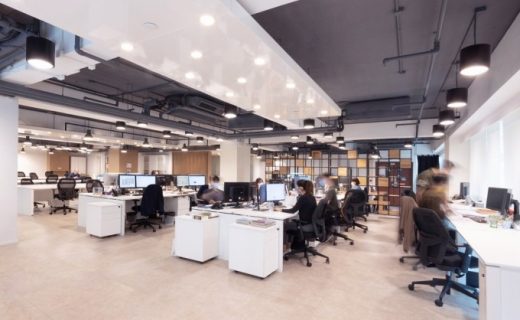 International architecture practice, 10 Design (part of Egis group), reinforces its presence in Asia by announcing further expansion of the Hong Kong office, now occupying over 3 floors at East Town Building. This expansion comes shortly after the recent office openings in Shenzhen and Singapore. With now more than 200+ architects and designers across Asia, the practice will continue to build a regional presence to support the ongoing and new projects, leading design and innovation across the region.
Ross Milne, CEO of 10 Design, commented:
"I couldn't be more excited that our Hong Kong head office is further expanding. We operate with the highest quality of service which is reflected in the environments we provide for our staff. The diversity and design talent in Hong Kong is incredibly compelling and the expansion provides our current and new staff with a larger and better equipped workplace, enabling them to better serve clients."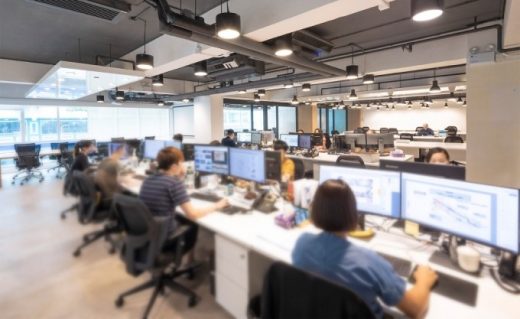 Miriam Auyeung, COO of 10 Design, said that the expansion comes at a time of significant growth in the scale and complexity of the work that 10 Design has designed and delivered through the Asia offices, as well as international offices in Edinburgh, Miami, and Dubai. The practice works at diverse scales, from the design of individual buildings to the planning of cities. The works include large-scale mixed-use development, transport-oriented-development, retail, office, residential, hospitality, education, cultural, civic, and recently retail interiors projects.
Visit the Hong Kong studio at East Town Building in Wanchai or write to the team below should you have any enquiries about the region.
23 September 2021
Chris Jones News
Chris Jones, 10 DESIGN Managing Partner for the UK, Europe and MENA: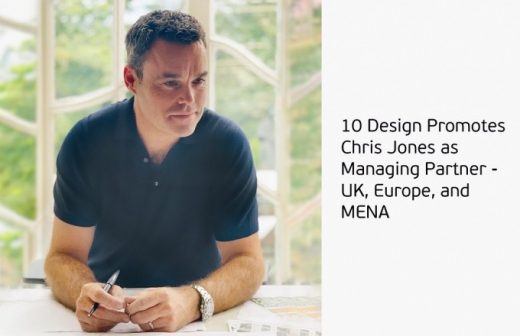 The architectural practice are proud to announce Chris Jones as the new Managing Partner for the UK, Europe and the MENA region. Chris has spent the last ten years heading up 10 Design in the Middle East with great success. In his new role, Chris will continue to bring his considerable experience to bear in enabling 10 Design to further grow its presence in these regions.
With 10 Design having reached the landmark 10th anniversary last year, Chris together with the design partners of the Edinburgh studio, Gordon Affleck and Paul Rodgers, has opened up an exciting chapter by designing and delivering some incredible projects in the UK, Europe and the Middle East.
Chris Jones of 10 DESIGN: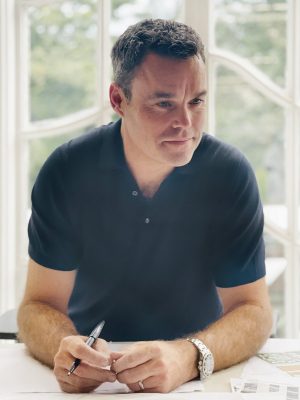 photo courtesy of architects office
With over 25 years of international experience in major developments, Chris and the design team have led the design, delivery, and management of projects across all stages. These include different scale mixed use and masterplanning schemes, such as the following:New Town Quarter – one of the largest redevelopment projects in Edinburgh's city centre, that considers a significant addition of public realm, residential and commercial spaces.
Al Seef – which activates 670m of Dubai Creek waterfront with F&B, retail hospitality, and marina amenities.
Bluewaters Residences – a premium residential development on a man-made island housing the world's largest observation wheel Ain Dubai.
Al Barari Ashjar and Al Barari Seventh Heaven – both luxury residential developments with the majority of the site dedicated to dense forest landscape.
Chris will be spending his time across the UK, Europe and the Middle East over the coming months. He will be attending the London Real Estate Forum on the 29-30th September. Get in touch if you want to meet Chris or reconnect.
11 Aug 2021
Nanjing Dajiaochang Airport Mixed-Use Development, Nanjing, China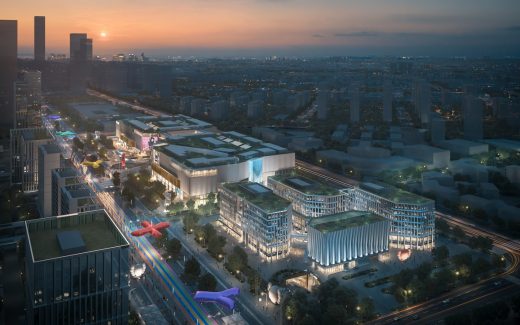 image courtesy of architects office
Nanjing Dajiaochang Airport mixed-use development
New plans for one of the largest transport-oriented retail destinations and most complex developments in Nanjing. In 2020, 10 Design won an international design competition to transform developer China Fortune's 243,768sqm site into a contemporary mixed-use project.
20 Apr 2021
10 Design Singapore Studio News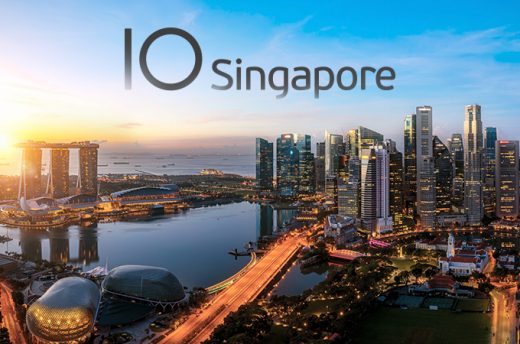 International architecture practice, 10 Design, is pleased to announce the opening of a new design studio in Singapore. It is established to support the practice's ongoing and new projects in SE Asia:
10 Design Singapore Studio
15 July 2020
Industrial Service Centre in Jinwan Aviation City, Zhuhai, China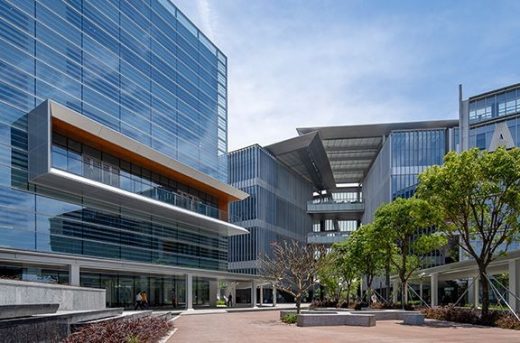 image courtesy of architects office
Industrial Service Centre in Jinwan Aviation City
The Industrial Service Centre provides 54,699sqm of office space for burgeoning start-up companies and entrepreneurs to collaborate, establishing an incubation platform in the new Jinwan Aviation City Zhuhai, China.
13 May 2020
China Resources' MixC Market Hall, Shenzhen, China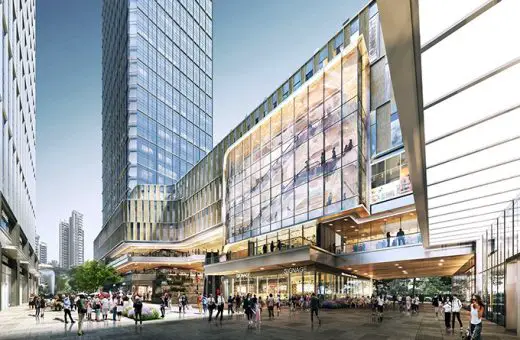 image courtesy of architects office
Sungang MixC Market Hall Shenzhen
The frontage of MixC Market Hall is marked by a stainless steel sculptural canopy which leads to a pedestrianised retail street, creating a new and dynamic boulevard for shoppers and diners to enjoy.
29 + 28 Apr 2020
Narra Residences by 10 DESIGN Wins Asia Pacific Property Awards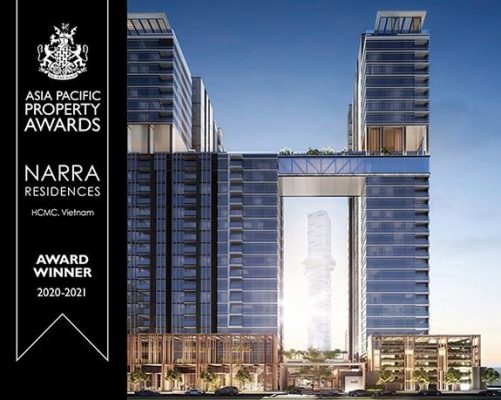 image courtesy of architecture office
Conceived by 10 DESIGN, Narra Residences at Empire City in Ho Chi Minh City (HCMC), Vietnam, has won this year's Asia Pacific Property Awards for the Residential High Rise Architecture category. The 278 unit residential complex will be amongst the most prestigious addresses within the new Empire City in Thu Thiem New Urban Area (District 2) of HCMC.
22 Feb 2019
Al Seef Dubai Creek Development by 10 Design in running for MIPIM Awards 2019
21 Sep 2018
Huabang International Centre, Pazhou, Guangzhou, China
Architects: 10 DESIGN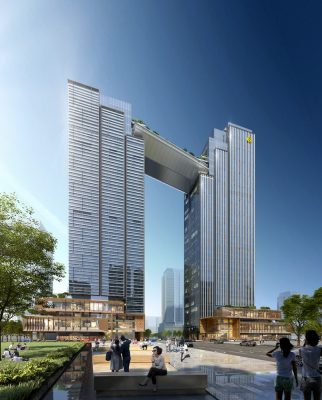 image courtesy of architects practice
Huabang International Centre Pazhou Building
10 DESIGN has created a new iconic destination for Huabang Holdings right in the heart of the Pazhou district, an important new CBD which will be developed to lead the City of Guangzhou into an international innovation and technology centre.
NEW SENIOR APPOINTMENTS
The Partners at lO are delighted to announce two new senior appointments in our HK studio, Ian Milne as Design Partner and Edmond Lau as Director.
Ian Milne joins lO as Design Partner. He has been practicing architecture globally since 1988 throughout China, SE Asia, India, the Middle East, and Europe. He has led the design of many award-winning commercial projects. Ian's work on mixed-use developments has extended into their integration with transport facilities (TOD). A number of his projects have also included super high-rise towers with the tallest built example being 460m in height. Finally his expertise extends to include a number of major airport terminals in the UAE, India, and China.
Edmond Lau joins lO as Director. With over 16 years of architectural practice, Edmond brings his extensive statutory knowledge and project management experience to the studio. He is proficient in China building regulations and is familiar with China statutory submission and approval process. He had great successes in obtaining statutory approvals for a number of large scale and complex commercial developments throughout the country. His project management experience gained from his former tenure at a well-respected property development organization offers in-depth knowledge and skills on project execution and realization.
IO UK STUDIO MOVES TO PRINCES STREET IN EDINBURGH
lO is pleased to confirm the relocation and expansion of our UK studio to 132 Princes Street in Edinburgh. The new city centre location reflects both ongoing success in new projects worldwide and a continuing commitment to our regional design studio in Europe. Gordon Affleck (Design Partner) and Paul Rodgers (Design Director) continue to work in the region.
New studio starting on 24th September.
IO AT THE GREATER BAY AREA DESIGN WEEK AT ZHUHAI CEC
25th to 31st October.
This is lO's first exhibition held at a project venue which the studio has been closely involved in – Zhuhai International Convention and Exhibition Centre in China. The studio is now leading the design for phase 2 of the exhibition facility due to open in 2020. At the exhibition, lO will showcase a roster of both international and regional works in the Greater Bay Area including Zhuhai, Guangzhou, Shenzhen, and more.
6 Jun 2018
The Keyne Sailer Centre, Gaoyou District, Yangzhou City, Jiangsu Province, China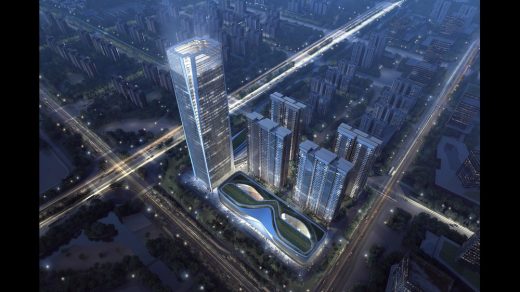 picture from architects office
The Keyne Sailer Centre
The Keyne Sailer Centre currently under construction is a large mixed-use development expecting completion in the second quarter of 2019 just north of the Nanjing, Jiangsu province in China.
30 Nov 2017
10 Design Wins Design Competition For The Shizimen CBD In Zhuhai, China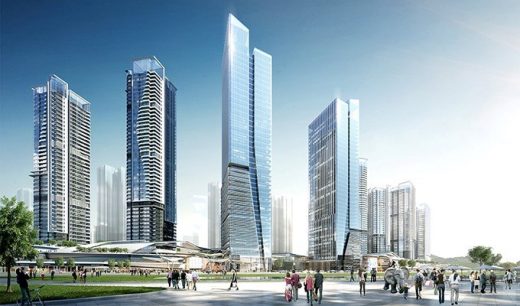 picture from architects office
Huafa International Seafront Garden, Zhuhai
With the recent design competition win of HUAFA INTERNATIONAL SEAFRONT GARDEN, 10 DESIGN celebrates the addition of their third major project in the Shizimen CBD, a new leading financial hub of Zhuhai, China.
6 Nov 2017
10 DESIGN Architects Joins Egis Group
On 31st October 2017, Hong Kong-based architectural firm, 10 DESIGN, joined Europe's leading consulting and engineering firm, Egis, to form an integrated design group with a global capability.
Egis and 10 DESIGN made the following joint statement: "Both firms are delighted to announce Egis' investment of a majority interest in 10 DESIGN. The complimentary geographic footprints and design skills of each firm provide an incredible platform for multiskill collaboration.
Thomas Salvant, Executive Director – Buildings at Egis says: "Egis has been looking into expansion of building design activities in Southeast Asia for some time. The strategic partnership with 10 DESIGN presents a great opportunity to enrich Egis' services to include high value added architectural design."
David Pringle, CEO at 10 DESIGN adds: "Having established a strong reputation for design in Asia and MENA, working in Europe was always 10 DESIGN's next big step. Egis offers us a significant opportunity to do so, and the Partners at 10 DESIGN are very excited about our future collaboration.''
How did this investment come about?
Egis initially approached 10 DESIGN seeking a strategic design partner in Asia. As discussions about design philosophy and synergies developed, it became clear that there were greater opportunities in joining together.
How will the leadership structure change?
The current business structure which has allowed I0 DESIGN to become a successful architecture firm will be preserved. The leadership will remain unchanged and will be linked to the larger Egis Group by a board dedicated to strategic synergies.
How will the investment impact the existing clientele in Asia, in particular China?
10 DESIGN's business will remain unchanged in China and across Asia, with our complete focus on delivering design closely with our clients.
Does this partnership imply an exclusive tender relationship for future project opportunities with other architects/engineers?
Both firms plan to maintain relationships with our respective strategic partner consultants in the various locations and to combine skills in opportunities where they are appropriate and geographically relevant.
About Egis
Egis is an international group offering engineering, project structuring and operations services. In engineering and consulting, its sectors of activity include transport, building, urban development, industry, water, environment and energy. In roads and airports, its offer is enlarged to encompass project structuring, equity investment, facilities delivery and operations.
The Group additionally deploys its expertise in areas such as new mobility services and turnkey energy systems. Imagining a sustainable future for the benefit of populations is our vocation. We strive to meet the planet's challenges and support the energy, ecology, digital and territorial transitions, working to serve the common good.
Employing 13,800 people, including 8,300 in engineering, the group generated a managed turnover of €1.02 billion in 2016.
Egis is 75%-owned by the French "Caisse des Dépôts" and 25%-owned by Partner managers (Iosis Partenaires), and employees ("FCPE" shareholding fund).
egis-group.com
27 Jul 2017
Jinwan Aviation City Research & Development Center in Zhuhai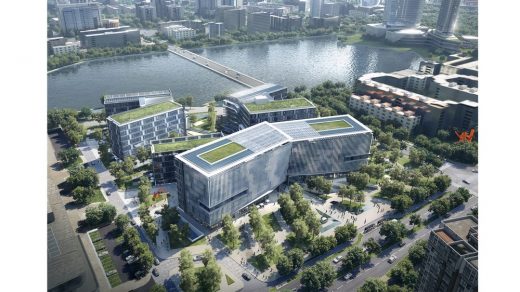 picture from architects office
Jinwan Aviation City Research & Development Center
The 55,000 sqm Research & Development Center is located on a prominent site within the Jinwan Aviation District. It is located in one of the prime locations along the eastern edge of the Jinshan Lake that forms the heart of the district.
22 Oct 2012
Badshahpur IT Park, Gurgaon, India
10 DESIGN



image from architect
Badshahpur IT Park
The Badshahpur IT Park is a campus of ten buildings, set across a sinuous series of adjacent plots of varied ownership. The challenge was to create a common identity across the site, a hierarchy of amenity spaces, and a strategy for future expansion (or contraction) of the campus.
22 May 2012
Infinity Loop Bridge – Zhuhai Shizimen Bridge Competition, China
Design: 10 Design + Buro Happold



picture from architects
Zhuhai Shizimen Bridge
10 DESIGN and Buro Happold have won the international design competition for the key signature gateway bridge for the new Shizimen Business District in Zhuhai, China. The feature bridge is the gateway entry to south China's new planned commercial hub and also marks the connection of the Shizimen Canal to the Pearl River Delta.
10 Design – Recent Building Projects
26 Apr 2012
Yabao Hi-Tech Enterprises Headquarter Park, China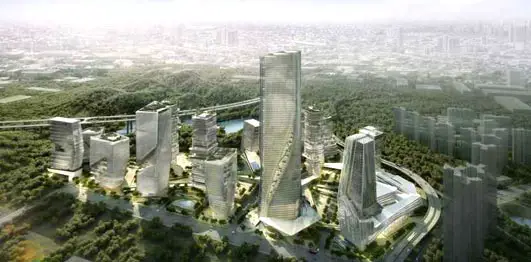 image : 10 Design
Yabao Hi-Tech Enterprises Headquarter Park Shenzhen
The project is an examination of the relationship between a pristine rural landscape and the advancing forces of a rapidly growing city. The Gross site area is about 65 ha; and the GFA is over 1,050,000 sqm, consisting of 18 high-rise towers ranging from 100-300 meters tall, a 5 star hotel, 3 service apartment towers, 3 residential towers, a shopping mall and a 32 ha park.
8 Feb 2012
Dalian Library, China – Architecture Competition
10 Design



picture : 10 Design
Dalian Library Building
Ted and his team have previously submitted the scheme to the Dalian Planning Bureau for an international design competition. In the competition, 10 is pleased to be able to compete with some of the world's most high-profile architects including Zaha Hadid Architects, Kengo Kuma and Associates, Hopkins Architects and AC Architects."
6 Jan 2012
Dalian Planning Museum Competition, China



picture : 10 Design
Dalian Planning Museum
The planning museum is envisioned to be a new civic sculpture for the city located at the heart of the main the governmental district. The sculptural nature of the building ties to the existing network of sculptural elements and parks placed throughout the city.
More projects by 10 Design online soon
Location: 41 Lockhart Road, Wanchai, Hong Kong
Hong Kong Architects Practice Information
HK-based architectural design studio with offices in Shanghai, Denver and Edinburgh
About 10
10 Design is an international studio of architects and designers, with office in Hong Kong, Edinburgh, Shanghai and Denver. We have worked together for almost 20 years, designing and delivering award-winning places and buildings across the world including, Europe, US, the Middle East, India, SE Asia and China. Our collective international perspective and our commitment to collaboration and research is what differentiates us.
10's expertise is in large scale masterplanning, mixed use development, civic and public buildings, tourism and hospitality, research and development, corporate offices, education and high-end residential development. We offer master planning and urban design, architecture, sustainable research, landscape and interior design. 10 is also developing a series of research projects aimed at improving the quality of the built environment. Their most successful ideas are developed in concert with artists, manufacturers, and universities.
Collaboration and the sharing of ideas are the key foundation of the group. The results of 10's collaborative, multi-disciplinary environmental research are incorporated directly into projects.
Ted Givens
Ted Givens has been an award-winning lead designer on projects ranging from exclusive resorts to large corporate headquarters.
Ted currently has eight projects finishing construction around the world, has received more than 16 AIA Awards across most sectors and has recently won 10 out of 11 international design competitions in China. He has recently received the AIA Hong Kong Merit Award 2011 for the Dalian Public Library.
Ted is leading the design for a 1 million sqm Yabao Galaxy Hi-Tech Headquarters Park in Shenzhen, China; a mixed use development with an integrated transport hub in Shanhou, Beijing; and a Financial and Business Centre in Jinan, China.
Ted is also developing a series of research projects aimed at improving the quality of the built environment. Recent explorations include from a collapsible tornado proof house to an organic algae-powered farm.
Currently, his research on "using photocatalyst nano-coatings on the skin of a building to neutralize air pollution and bacteria" is applied to a residential project in Kuala Lumpur.
Hong Kong Architect : HK Architect Office Listings
Comments / photos for the 10 Design – Hong Kong Architects page welcome
Website: www.10design.co