Cambridge Architecture News, Building Photos, English Offices, Architects, Tour, New Property Images, Links
Cambridge Building News
Key Building Projects, southeast England, UK – Architectural Developments
post updated 1 January 2023
Cambridge Architecture News
Cambridge Architecture Designs – chronological list
Architecture Tours
Book a tailor-made city walk with e-architect – pre-booked groups only: Cambridge Architecture Walking Tours
Cambridgeshire Architecture News, chronological:
18 August 2022
Cambridge Cancer Research Hospital, Addenbrooke's Hospital, Robinson Way
Design: NBBJ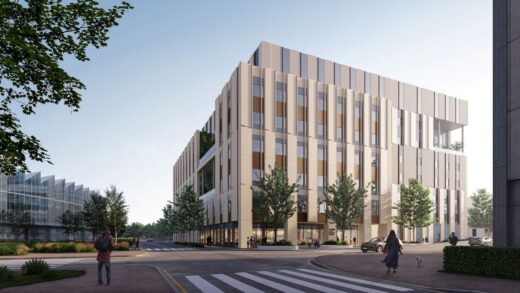 image : NBBJ / Brick Visual
Cambridge Cancer Research Hospital, Addenbrooke's Building
The Cambridge Cancer Research Hospital (CCRH) project has been given the green light by the government's New Hospital Programme to commence the process that will lead to the appointment of a construction partner, who will build the seven-storey 26,000 m2 facility at the heart of the Cambridge Biomedical Campus, next to Addenbrooke's hospital.
14 June 2022
West Hub at the University of Cambridge, JJ Thomson Ave, Cambridge CB3 0US
Design: Jestico + Whiles Architects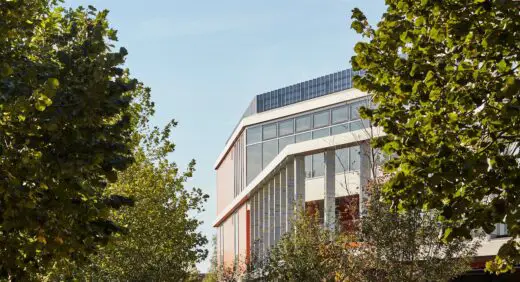 photo : Paul Raftery
West Hub University of Cambridge Building
Bouygues UK has handed over the West Hub to the University of Cambridge. The first building of its kind for the University, the West Hub is located at the heart of its West Cambridge site, where the Ray Dolby Centre, the new centrepiece of the Cavendish Laboratory, is also currently under construction by Bouygues UK.
8 June 2022
Northstowe Heritage Centre Building, Cambridgeshire
Design: Proctor & Matthews Architects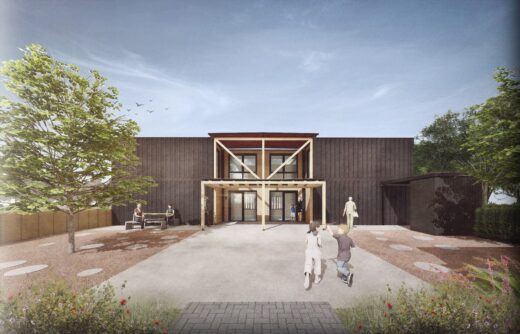 image courtesy of architects practice
Northstowe Heritage Centre Building Cambridgeshire
Proctor and Matthews Architects' Heritage Centre at the heart of the major Northstowe development has been granted planning permission by Cambridgeshire County Council. The contemporary exhibition space will showcase artefacts discovered during the major archaeological excavation for Northstowe, and the simultaneous A14 upgrade by National Highways.
29 May 2022
Magdalene College Library, University of Cambridge
Design: Niall McLaughlin Architects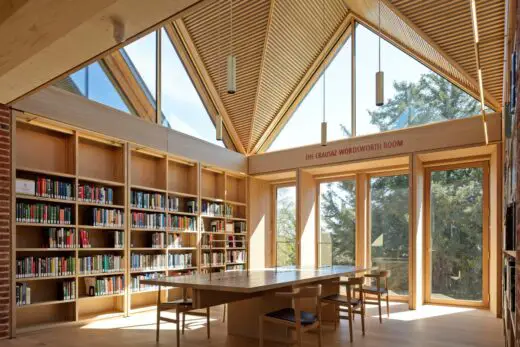 photo : Nick Kane
Magdalene College Library University of Cambridge
A brief to create a college library with a lifespan of 400 years – to replace a library gifted to Magdalene by Samuel Pepys 300 years previously – is no small task. Niall McLaughlin Architects have certainly risen to the challenge with this deft and inspiring temple to learning. The library combines load-bearing brickwork with exquisitely detailed horizontal engineered timber structure to establish a lofty, surprisingly vertical space with a complex three-dimensional tartan grid.
29 May 2022
Civil Engineering Building University of Cambridge
Design: Grimshaw with RHP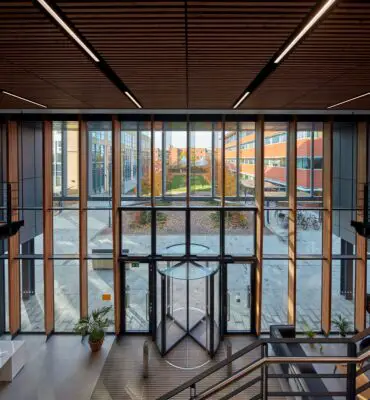 photo : Paul Raftery
Civil Engineering Building University of Cambridge
The Civil Engineering Building is the first part of a move of the University's engineering faculty from its current central location on Fen Causeway to the University's West Cambridge site, where it incorporates the National Research Facility for Infrastructure. The building design is by Grimshaw.
29 May 2022
1704_Wuduhus, Huntingdon, Cambridgeshire
Design: Mole Architects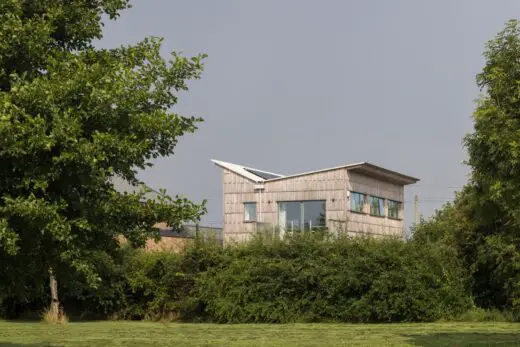 photo : Matt Smith
1704_Wuduhus
This project has been driven by a client with a very clear sense of destination – the creation of a place to live after retiring as a city headteacher with as little environmental impact as possible: a desire for compact self-sufficiency. Having identified a site on the edge of a fen village she contacted Mole Architects to design her an appropriate house.
29 May 2022
Wintringham Primary Academy, St Neots, Cambridgeshire
Design: dRMM Architects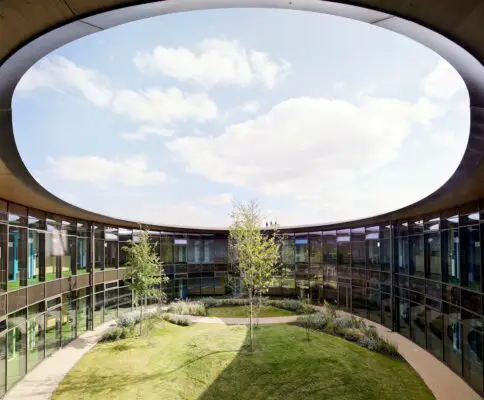 photo : Hufton + Crow Photography
Wintringham Primary Academy St Neots
The school is one of the first pieces of social infrastructure to be built of the new settlement at Wintringham and will eventually sit at the heart of an emerging community. As such this is pioneering building, creating a bold intervention at the centre of the masterplan.
29 May 2022
Copper House
Design: Butcher Bayley Architects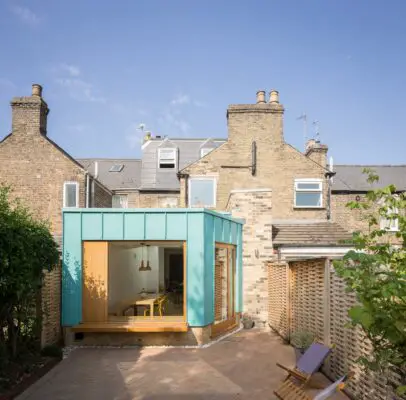 photo : Matthew Smith
Copper House Cambridge
This single storey extension to a Victorian terrace in central Cambridge demonstrates the creative value a good architect can bring to the simplest project. With space at an expensive premium in the city, this simple housing stock has proven to be adaptive, but needs careful handling to ensure that extension does not throw the older parts of the house into darkness and neglect.
29 May 2022
Friars, Holywell, St Ives, Cambridgeshire
Design: Mole Architects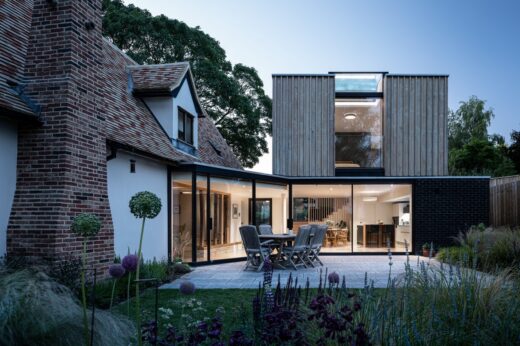 photo : David Butler
Friars St Ives, 16th-century house restoration
Taken on as something of a rescue project, the restoration of this derelict grade II listed building revealed a rich & varied history. In addition to sensitively revealing the delights of a decidedly characterful and intriguing 16th century house, Mole Architects have added a wholly contemporary addition as an effective foil.
29 May 2022
Ely Museum, Ely, Cambridgeshire
Design: HAT Projects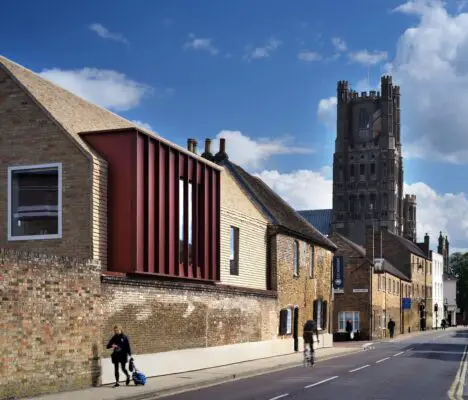 photo : Philip Vile
Ely Museum Building, Cambridgeshire
HAT Projects have taken on a badly degraded historic building and lovingly restored and extended it to give new life and purpose to Ely Museum, creating a great resource for the town. Everything about the project starts with modest means – the Bishop of Ely's former Gaol, unsympathetically altered in the 1990s, at which point many of the building's original features were lost.
25 May 2022
36 Storey's Way
36 Storey's Way, Churchill College Cambridge Building
24 May 2022
2022 RIBA East Building of the Year announced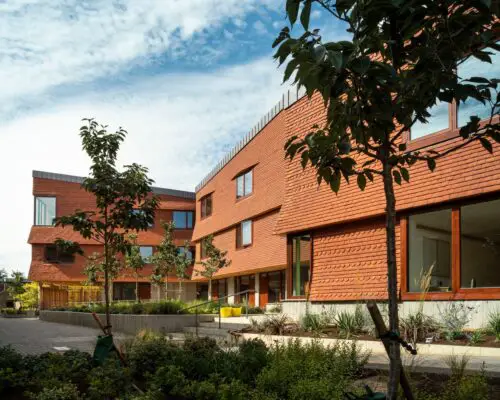 photo : Anthony Coleman
36 Storey's Way, Churchill College by Cottrell & Vermeulen Architecture has been announced as the 2022 Royal Institute of British Architects (RIBA) East Building of the Year:
36 Storey's Way, Churchill College Cambridge Building
3 May 2022
BreadOven
Architects: chadwickdryerclarke.studio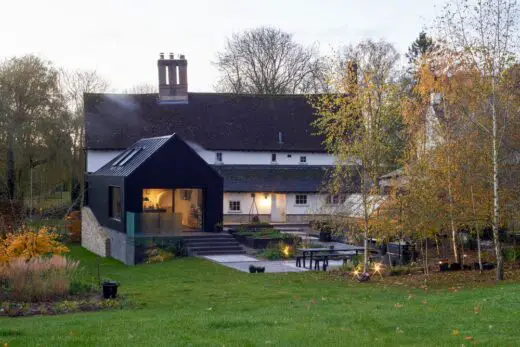 photo : Richard Chivers
The Bread Oven House Cambridgeshire
23 Sep 2021
Eddington smart rental homes
Design: Jo Cowen Architects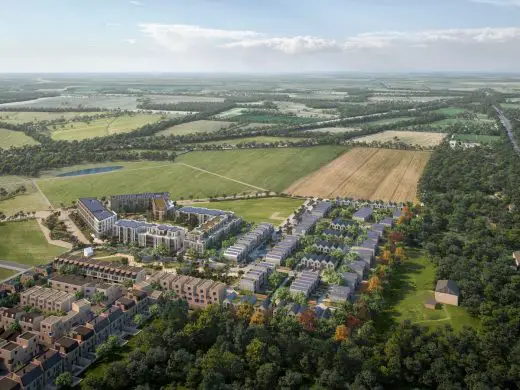 design and image courtesy of Jo Cowen Architects
Eddington smart rental homes
Jo Cowen Architects-designed precision engineered smart single-family rental homes submitted for planning as part of Eddington masterplan. Jo Cowen Architects (JCA) have designed a series of pioneering smart homes for rent to be delivered as part of the University of Cambridge's sustainable development at Eddington.
23 + 16 Sep 2021
Cambridge Central Mosque
Design: Marks Barfield Architects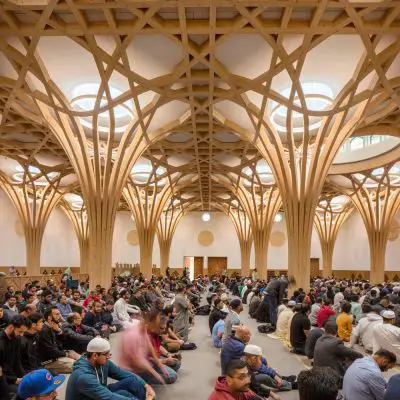 photo : Morley von Sternberg
Cambridge Central Mosque
The urban intervention of inserting a mosque capable of welcoming 1000 worshipers within a low rise, residential neighbourhood, without dominating it, is masterful. Its presence is clear but modest, considering the size of the mosque relative to the two storey terrace houses around it.
19 Aug 2021
Grantchester Pavilion House Extension, Cambridgeshire
Architects: Ashworth Parkes Architects Ltd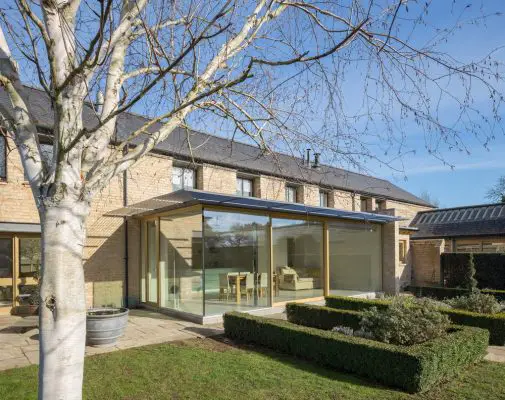 photo : Matthew Smith
Grantchester Pavilion House Extension
The client runs his own construction company, which built the project. The site is part of a range of heavy brick built barns that sit within the curtilage of a Grade 1 listed manor house in a village outside Cambridge.
13 Jul 2021
Gables
Architects: chadwickdryerclarke.studio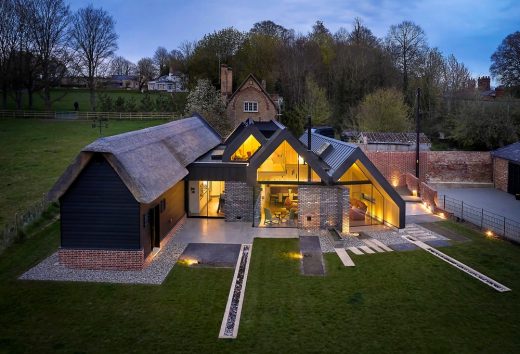 photos : Nick Hufton and Al Crow
Gables House in Cambridgeshire
Designed to be the retired clients' forever home, the striking low impact village home is accessible, highly contemporary, low energy, sustainable and secure. The clients wanted it to be not too big for two, but big enough to accommodate village parties and wider family coming to stay.
More Cambridge Building News on e-architect soon
Cambridge Building News 2020
15 Oct 2020
Education Campus in Alconbury Weald, Cambridgeshire
Architect: Atkins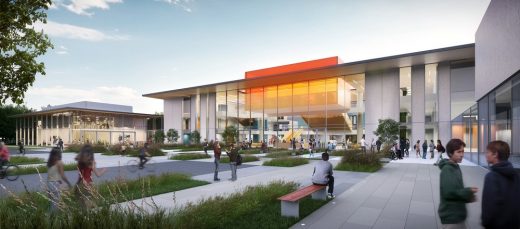 image courtesy of architects
Education Campus in Alconbury Weald
Atkins, a member of the SNC-Lavalin Group, has been appointed to provide architecture and engineering services to Morgan Sindall Construction on a £36m new education campus in Alconbury Weald, Cambridgeshire.
6 Aug 2020
Emmanuel College
Architect: Stanton Williams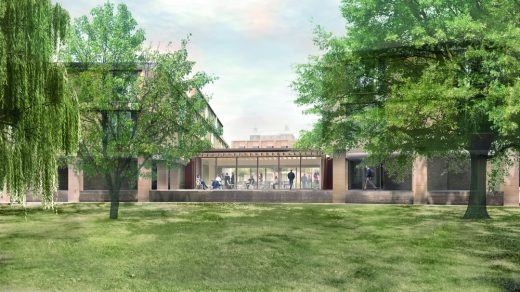 image courtesy of architects
Emmanuel College Building in Cambridge
Planning approval for a new College Court at Emmanuel College, Cambridge. Bringing new opportunities for communal life, Stanton Williams' 7,800 sqm development marks the College's most significant transformation in over 100 years.
30 Apr 2020
Eddington Housing Development
Design: Mecanoo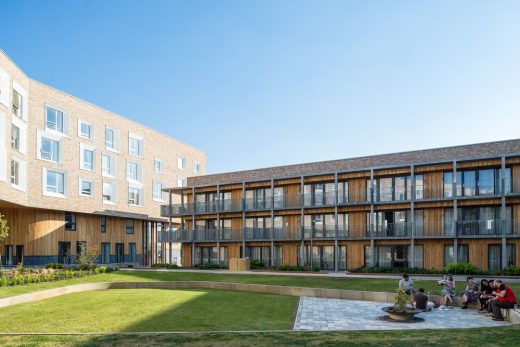 photography : Greg Holmes and Mecanoo
Eddington Housing
The Northwest Cambridge Development (NWCD) transforms a 150-hectare site of University of Cambridge farmland into a community with residential buildings, academic facilities, public amenities and open green space.
More contemporary Cambridge Building News online here soon
Cambridge Building News 2019
25 July 2019
New Buildings in Eddington
Design: Stanton Williams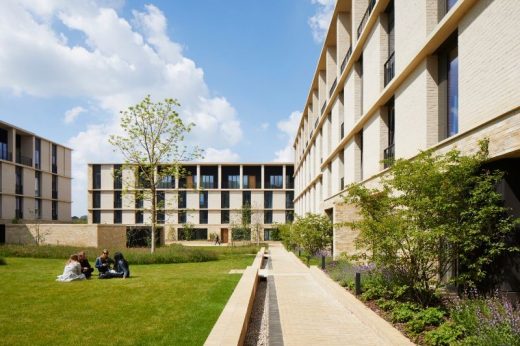 photo © Jack Hobhouse
Buildings in Eddington, Northwest Cambridge Homes
264 key worker homes, together with social spaces and retail facilities in Eddington, Northwest Cambridge for the University of Cambridge.
21 May 2019
Northstowe, Cambridgeshire
Design: Urban Splash and Proctor & Matthews architects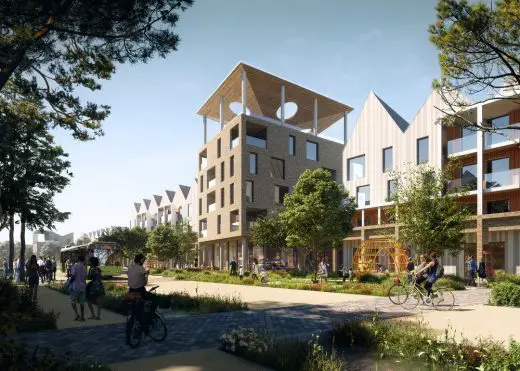 image courtesy of architects
Northstowe
Regeneration specialist, Urban Splash, select Proctor & Matthews architects to partner on a Homes England project to deliver the first houses in the second phase of Northstowe, Cambridgeshire's newest town and contemporary fenland village which will include a total of 10,000 homes once complete.
Cambridge Building News 2018
18 Oct 2018
Cavendish III Physics Laboratory, Cambridge Science Park
Design: Jestico + Whiles Architects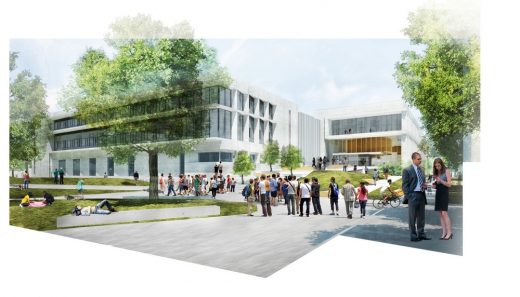 image : Forbes Massie
Cavendish III Physics Laboratory Building
Bouygues UK, a British subsidiary of Bouygues Construction, and the University of Cambridge have signed a construction contract for the university's Cavendish III physics laboratory and a neighbouring shared facilities hub, both designed by architect Jestico + Whiles. The contract, which was awarded by Lynxvale Limited, the university's development arm, is worth £250 million (approximately €281 million).
9 Oct 2018
Stapleford Granary Arts and Music Venue
Design: MCW architects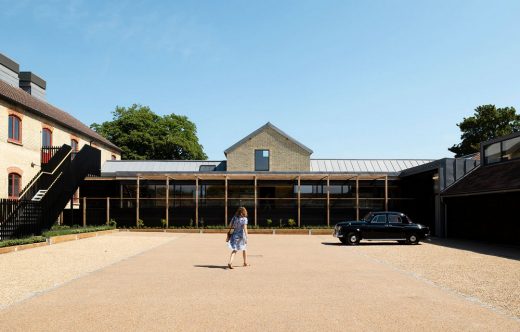 photograph : Jim Stephenson Colin Moses ACE Foundation
Stapleford Granary Arts and Music Venue Building
Transformation of a Victorian Farm into a music and arts venue. The ACE Foundation is a Cambridge based charity with the aim of encouraging and developing cultural understanding. Providing support for educational projects, courses and summer schools, both locally and internationally, the ACE Foundation has played a pioneering role in adult and continuing education.
17 Sep 2018
The Triangle Building
Design: Eric Parry Architects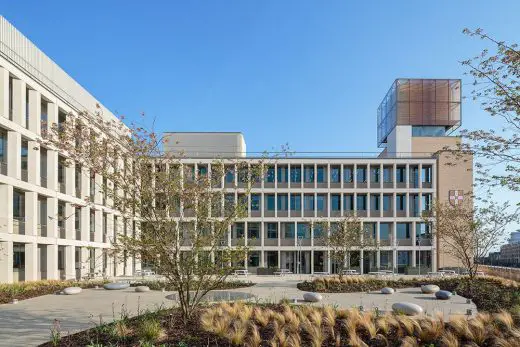 image Courtesy architecture office
The Triangle Building
This new 360,000 sqft building will accommodate the growth of the company from 2,500 to 3,000 employees and consolidate office space previously housed in eleven locations around the city onto one site, bringing all Cambridge-based staff under one roof. The building underlines Cambridge Assessment's continuing commitment to the city of Cambridge's development as a centre of educational excellence in the global market.
30 Jun 2018
The Simon Sainsbury Centre Shortlisted at WAF 2018 Awards
World Architecture Festival Awards 2018 Shortlist
7 Apr 2018
The Works, Unity Campus, South Cambridge
Design: NBBJ Architects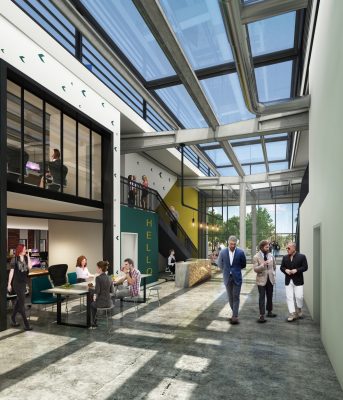 image courtesy of architects
The Works, Unity Campus Cambridge Building
Planning secured for the redevelopment of an industrial unit on Cambridge's Unity Campus into an innovative office space, known as The Works. The new space is intended to harness the exceptional demand for office and R&D space in the South Cambridge biomedical cluster.
27 Feb 2018
Cavendish Laboratory Building
Architects: Jestico + Whiles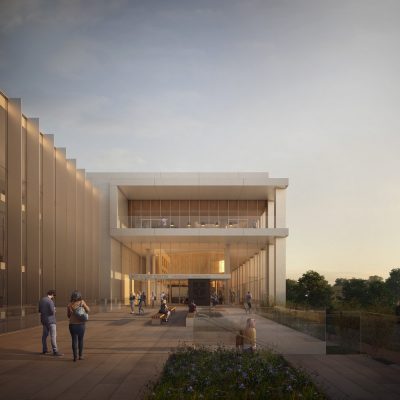 image courtesy of architects
Cavendish Laboratory Building
The 35,000 sqm new building has been designed with CH2M, who were recently acquired by Jacobs in December 2017, acting as technical architects on the laboratories and specialist cleanroom areas, and will support the world-leading research carried out at Cambridge for the next 50 years.
12 Jan 2018
The Simon Sainsbury Centre
Design: Stanton Williams, Architects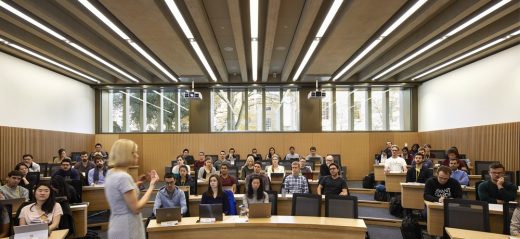 photography © Hufton+Crow
The Simon Sainsbury Centre Building
This Stirling Prize-winning architecture practce has completed a £21.5 million expansion for Cambridge Judge Business School at the University of Cambridge, demonstrating the practice's expertise in unlocking the potential of complex sites, and creating a versatile hub for postgraduate and executive business education.
Cambridge Building News 2017
5 Aug 2017
Abcam HQ at Cambridge Biomedical Campus, Hills Road
Design: NBBJ Architects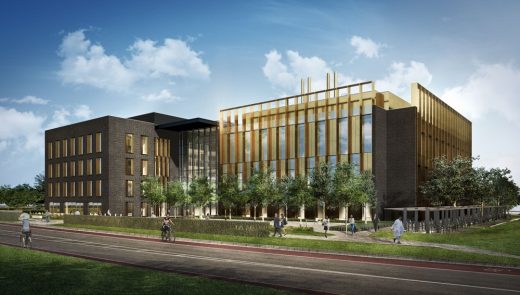 image courtesy of architects
Abcam HQ Building at Cambridge Biomedical Campus
Design unveiled for a new headquarters building for Abcam plc at Cambridge Biomedical Campus. The 100,000 sq ft laboratory and office facility, is now under construction at CBC's global healthcare village, which is being jointly developed by Liberty Property Trust and Countryside Properties.
4 Mar 2017
James Dyson Building at University of Cambridge
Design: Nicholas Hare Architects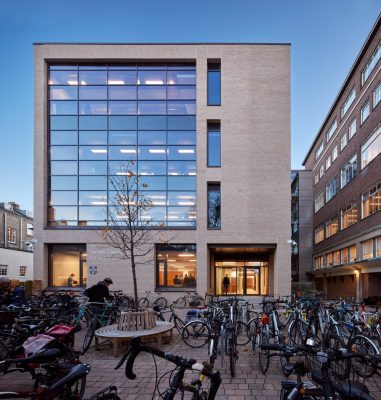 photo © Alan Williams photography
James Dyson Building, University of Cambridge
The new building occupies a restricted, but important site adjacent to the existing Department of Engineering building and with frontage onto The Fen Causeway – a busy artery into and out of Cambridge. The building aims to raise the department's profile by providing a 'window' into its varied activities and to improve its somewhat undistinguished entrance forecourt.
13 Oct 2017
UTC Cambridge Building
Design: Hawkins\Brown, Architects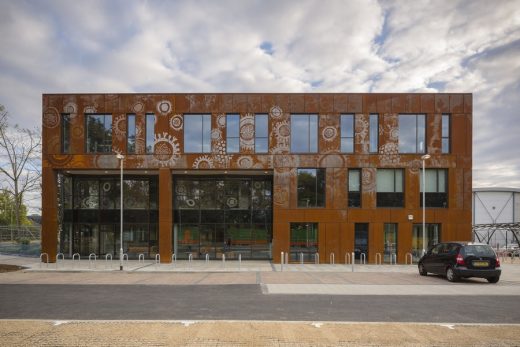 image from architects
UTC Cambridge Building News
UTC Cambridge, a new centre of excellence for Biomedical and Environmental Science and Technology, has completed and welcomed its first students.
The school, which has an internal area of 5,300sqm, combines a new syllabus and a new way of teaching for 14-19 years olds, in a uniquely designed environment.
Cambridgeshire Architecture Updates 2016
11 Oct 2016
Long-list for Homerton College Competition Shortlist
Homerton College Cambridge Building Competition News
13 Sep 2016
Homerton College Competition Long-list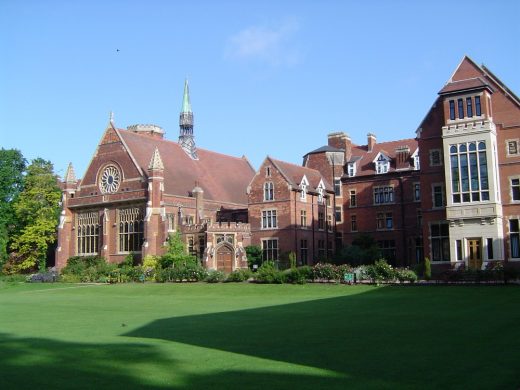 photo courtesy wikimedia commons
155 architects applied to be considered for the long-list in the design competition to select a team for its £7m centrepiece building to house a new 300-person dining hall.
22 Aug 2016
Combined Colleges Boathouse in Cambridge
Design: R H Partnership Architects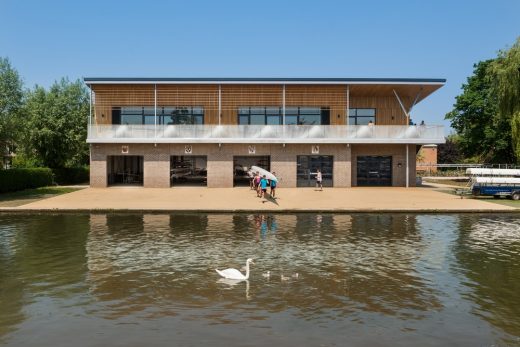 image from architects
Combined Colleges Boathouse Building
RHP completes work on a new boathouse for the combined Cambridge Colleges of Churchill, King's and Selwyn, together with The Leys School.
11 Feb 2016
Newmarket Road Mixed Use Development, Severn Place, East Cambridge
Design: Alison Brooks Architects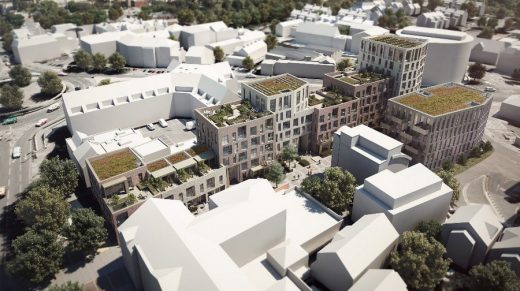 image from architects
Newmarket Road Cambridge
This mixed-use scheme to reactivate a 19th Century street off Newmarket Road in Cambridge has won resolution to consent from Cambridge Planning Department.
Cambridgeshire Architecture Updates Archive
12 Jan 2012
Northwest Cambridge Development – architects news
Preferred architects announced for first phase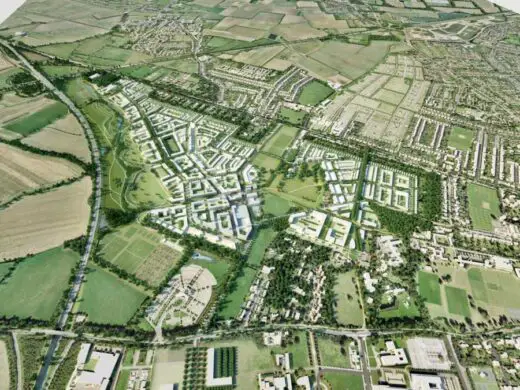 image from organisers
Northwest Cambridge Development
Stanton Williams, former RIBA Stirling Prize winners, has been appointed by the University of Cambridge as one of the architects for the first phase of the Northwest Cambridge development. The architects will work on architectural designs in Lot 2 which includes university housing, shops and amenities.
25 Jun 2013
Cambridge Judge Business School Building – Masterplan news
Design: Stanton Williams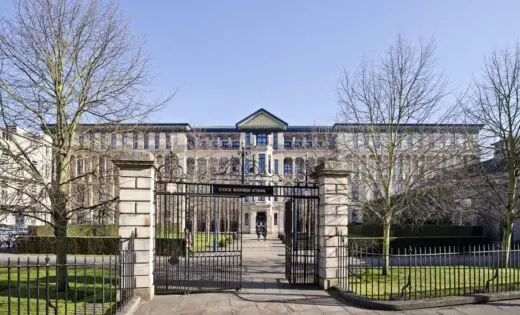 image from architects
Cambridge Judge Business School Building
The University of Cambridge has appointed a design team led by Stanton Williams to develop a masterplan for the expansion of Cambridge Judge Business School (CJBS) on the Old Addenbrooke's Hospital site in the centre of Cambridge and to design a first phase of the proposed works, following a competition with a strong field of architects.
30 Apr 2013
The Forum Development
Design: NBBJ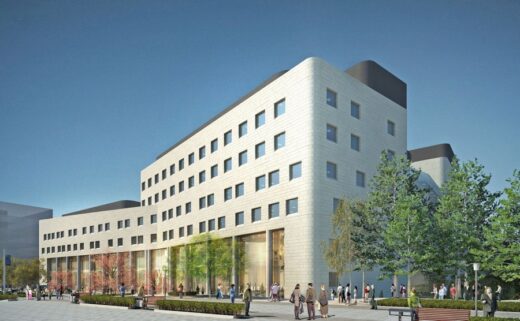 image : NBBJ
The Forum Cambridge
NBBJ is to design the £120m mixed-use Forum development for specialist investor in and manager of public sector infrastructure assets, John Laing in partnership with Cambridge University Hospitals.
23 Apr 2013
Trumpington Community College Building, south Cambridge
Design: Avanti Architects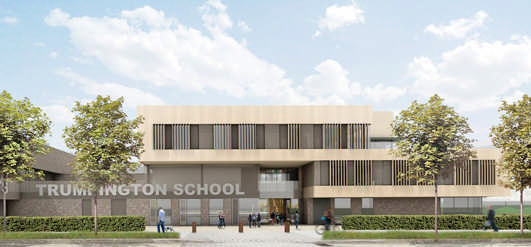 image from architects
Trumpington Community College Cambridge
Trumpington Community College will provide places for 750 students and be at the heart of Clay Farm, an urban extension to the south of Cambridge, as 4,000 new homes are built over the next decade. When the new five-form-entry school – which will specialise in science – opens in September 2015, students will be welcomed into a 21st century learning environment.
13 Mar 2013
Long Lane Development
Design: C.F. Møller Architects + PRP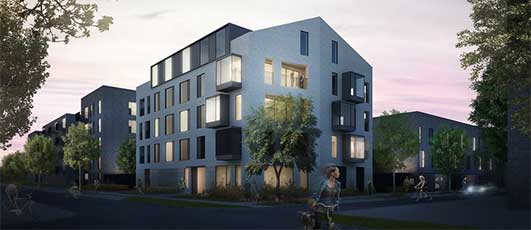 image from architects
Long Lane Development Cambridge
Long Lane, a key section of the Great Kneighton development on the southern fringe of Cambridge, has received planning approval. The proposal covers 5.4 hectares and will provide 273 homes.
7 Feb 2013
Great Fen Visitor Centre Design Competition, Cambridgeshire
Design: SPUTNIK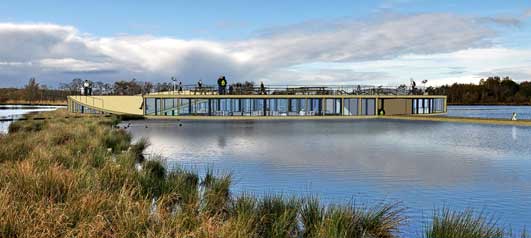 image from architects
Cambridge Architecture Competition
Low impact, Great experience: The one storey, multi accessible, gently deepened visitor centre offers up-close experiences of the Great Fen and grand vistas from the panorama deck.
16 Oct 2012
Cambridgeshire Design Competition
Great Fen Visitor Centre Design Competition, Cambridgeshire
RIBA Competitions is pleased to announce the launch of a two-stage Design Ideas Competition for the Great Fen Visitor Centre in Cambridgeshire. Great Fen is an internationally acclaimed vision, one of sweeping scale and ambition. Over the next 50-100 years, more than 3,000ha of largely arable land will be transformed into a mosaic of habitat: open water, lakes, ponds and ditches; reedbed; fen, bog and marsh; wet grassland; dry grassland; woodland and scrub.
17 Jul + 15 Mar 2012
Northwest Cambridge Extension Competition – Design Contest winners
Northwest Cambridge Extension : winner + shortlisted architects
28 Nov 2011
Cambridge Mosque, England
Design: Marks Barfield Architects
Cambridge Mosque
4 Mat 2011
Sainsbury Laboratory, University of Cambridge Botanic Garden
Design: Stanton Williams
Sainsbury Laboratory
2 Aug 2010
Gonville & Caius Boathouse – Architecture Competition
Belsize Architects
Gonville & Caius Boathouse
5 Aug 2009
Clare College – New Court
van Heyningen and Haward Architects
Clare College New Court
11 Mar 2008
Cambridge University Department of Architecture Extension
Mole Architects
Cambridge School of Architecture
Medical Research Laboratory
2007-
RMJM Architects
for Medical Research Council
Addenbrooke's Hospital, south Cambridge
£200m approx.
All Saints Church
2006
Barber Casanovas Ruffles Ltd
Peterhouse Ward Library
2006
Freeland Rees Roberts
Jesus College – New North Court
2006
Avanti Architects
St Catherine's College – Graduate Hostel
2006-
5th Studio Architects
Cambridge CB1 Scheme
2006-
Design: Richard Rogers Architects
£725m masterplan for 25 acre Cambridge railway station area – entitled the CB1 Scheme – for the Ashwell Property Group: flats, offices, hotels, public square, bus interchange, county heritage centre and shops.
Richard Rogers became famous with his designs for the Pompidou Centre, Paris and
once taught architecture in Cambridge.
Faculty of Education Cambridge
Design: Building Design Partnership (rebranded as BDP)
Faculty of Education Cambridge
Accordia Housing : Stirling Prize winner
Design: Feilden Clegg Bradley Architects + others
Accordia Housing by Feilden Clegg Bradley
Proposed Maggies Centre
proposed start was 2004
Studio Daniel Libeskind
Charles Jencks in charge
Location: Cambridge, south east England, UK
Cambridge Architecture
Cambridge Architecture Designs – chronological list
Cambridge Architecture Walking Tours
Useful Links re Cambridge Buildings
The Martin Centre
6 Chaucer Rd, Cambridge CB2 2EB, UK
+44 (0)1223 331700
Cambridge University School of Architecture
Department of Architecture, Faculty of Architecture & History of Art,
University of Cambridge, 1-5 Scroope Terr, Cambridge CB2 1PX, UK
+44 (0)1223 332958
Architect Leslie Martin was appointed to the first Chair of Architecture at Cambridge University in 1956, a position he held until his retirement in 1972.
Buildings / photos for the Cambridge Architecture News page welcome