Botanique Hotel, Campos do Jordão Brasil, Brazilian Spa Design, Accommodation Resort Images
Botanique Hotel & Spa, Brazil
Campos do Jordão Building design by Candida Tabet Arquitetura
14 Sep 2012
Star Brazilian Architecture Firm, Candida Tabet, Opening Exquisite Botanique Hotel & Spa
Design: Candida Tabet Arquitetura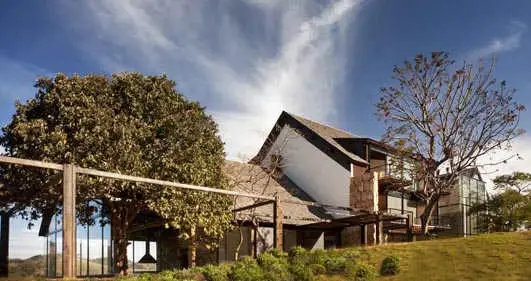 photo © Marcio Scavone
Botanique Hotel & Spa Brazil
Following proudly in the footsteps of giants of Brazilian architecture like Oscar Niemeyer and Affonso Reidy, the Candida Tabet Arquitetura will be unveiling their latest masterpiece, Botanique Hotel & Spa. Nestled amid the untouched hills and mountains of Campos do Jordão and situated between Rio de Janeiro and São Paulo, the idyllic complex will be set on 700 acres and will launch this November.
An intimate retreat, Botanique will include eleven private villas, as well as six suites, recognizing local nature and also paying tribute to modernism. Overlooking the valley, each room is individual in design. Each villa has an elaborate private garden measuring at least 600m2, whilst the suites are located in the main building around the spa and Mina restaurant.
The hotel also boasts the first 100% Brazilian spa in the country, which will be accompanied by a dramatic restaurant, private movie theatre, stables with Olympic standard horses, library and cookery school. A first of its kind in the country, Botanique Hotel is a vision of entrepreneur, Ricardo Semler and will showcase the country's indigenous design, furnishings, culture, cuisine, and experiences. The architecture is particularly outstanding and incorporates huge river stone boulders, towering walls of glass and exposed steel, offering expansive and unobstructed views of the valley.
Located 200 km (two hour drive) north of São Paulo, and three hours from Rio, the closest town is Campos do Jordão. This is Brazil's highest town and it is tucked away in the green peaks of the Mantiqueira Mountains. The hotel lies seven miles outside of the heart of Campos, enveloped by lush mid-Atlantic forests and botanical gardens. Proclaimed "the world's best climate" at the Davos Climatology Conference, the region is a paradise for outdoor enthusiasts, with hiking, mountain climbing, golf, horse riding, hang gliding, and falconry. The area is also home to the Puma and over 165 local bird species.
Additional Information
Conceptualized by some of the most brilliant minds in business – Ricardo Semler, prolific entrepreneur and published author and his wife, Fernanda Semler, David Cole, co-founder of AOL, and Gordon Roddick, founder of the Body Shop – Botanique is the epitome of what they call "post luxury" *According to Fernanda Semler, Botanique is "introducing a new concept of contemporary Brazilian hospitality, rescuing the authenticity of old Campos do Jordão, which was an anchor for spiritual retreats, and blending that with a top-of-the-line-luxury feel."
The goal is to create a new sort of guest experience that combines the high standards of service expected of a five-star establishment with the intimate, personal qualities of staying at a bed and breakfast.
Serene Surroundings, Inside and Out
Located two hours north of São Paulo and overlooking one of the stunning river valleys of the chic countryside escape that is the Campos do Jordão area, Botanique is surrounded by 700 acres of lush mid-Atlantic forests and botanical gardens. The property's architecture is contemporary yet reflective of the natural beauty of its surroundings. In fact, nature appears to have been virtually invited indoors via the triple-story glass walls of the main building, locally sourced chocolate slate and stone, and massive 120-year-old timber beams. Bounded by an expansive kitchen garden of 400 raised beds, accommodations include six suites in the main building and 11 stand-alone villas.
Gourmet Goldmine
The restaurant, Mina, is overseen by Executive Chef Gabriel Broide, one of Brazil's rising culinary stars, and serves farm-to-fork contemporary Brazilian cuisine with an exclusive Brazilian wine menu to match. Good food and good drink are not all that is on offer at the restaurant; in addition to enjoying sweeping 180° views of the mountains and river valley, yet another special menu is available to guests featuring pre-Castro 1957 Dunhills and a selection of Brazilian cult Terroir cigars. Botanique also grows and roasts its own coffee and presses its own olive oil.
Relax and Renew
Cut into the hillside, the 10,000-square-foot Spa at Botanique offers eight treatment rooms that include wet rooms, dry rooms, and couples treatment rooms as well as a swimming pool, a wet sauna, and a dry sauna that feature glass walls and breathtaking vistas. The menu of services consists of Afro-Brazilian and native Indian treatments as well as local healing and relaxing rituals.
Get Out and About or Just Stay In
With year-round spring-like temperatures, the region is a paradise for outdoor enthusiasts. The hotel grounds feature an extensive circuit of well-marked hiking and mountain biking trails, an outdoor swimming pool and swimmable lake, plus clay tennis courts, a private equestrian center with Brazilian and world champion horses, and some serious bird watching (over 165 local bird species can be seen). Those wishing to spend some quality time indoors will appreciate Botanique's cutting-edge listening room, private cinema, and library of hundreds of hand-selected books by Brazilian novelists.
Souped-up Service
The true passion point for the team behind Botanique is quality of service and guest experience, going a step beyond the 'personal butler' concept and doing away with the dogmatic departmental approach to running a hotel. Botanique does not have a front desk, a concierge service, or a housekeeping department; rather, the hotel is pioneering a new approach and has developed a series of highly trained teams, each led by an "anchor" staff member.
Guests at the Botanique Hotel & Spa will be assigned a dedicated team, the members of which will be those they encounter making up their rooms, playing the piano in the restaurant, arranging their next spa treatment, or improving their game on the tennis courts – yes, tennis pros are among the multi-talented team members. The hotel will even handle the unpacking and pressing of clothing upon arrival as well as folding and packing prior to departure.
Rates for the Botanique Hotel & Spa start at $2500BR per night (approximately $1,200 USD) and include all meals, minibar items, on-property activities (excluding spa treatments), gratuities, and laundry service. Aside from the nightly rate and spa services, there are no extra charges.
For more information on Botanique Hotel & Spa, call +55 (11) 3500 2115 or visit www.botanique.com.br.
Botanique Hotel & Spa Brazil Campos do Jordão images / information from Candida Tabet Arquitetura
Address: R. Elídio Gonçalves da Silva, 4000 – Bairro dos Mellos, Campos do Jordão – SP, 12460-000, Brazil
Phone:+55 12 3662-5800
Website: https://www.sixsenses.com/en/resorts/
Brazilian Architecture
Brazilian Architectural Designs – Selection
Panoramic House, Itajaí, Santa Catarina
Design: Schuchovski Arquitetura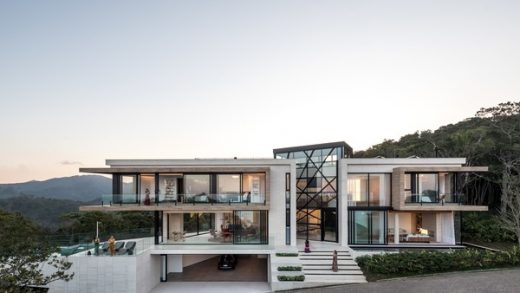 photograph : Eduardo Macarios
House FY in Santa Catarina State
House of Coffee, Divinópolis
Architect: Tetro Arquitetura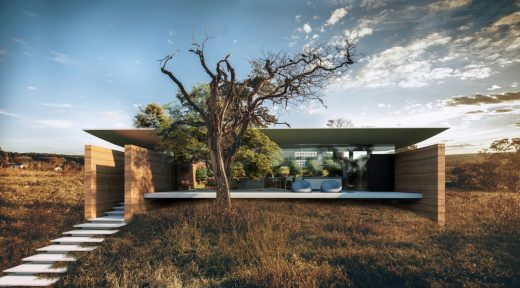 visualization : Igor Macedo
House of Coffee, Divinópoliso
Image and Audio Museum, Rio de Janeiro
Diller Scofidio + Renfro
Museu da Imagen e de Som
Museum of Tomorrow, Rio de Janeiro
Santiago Calatrava
Museum of Tomorrow
Comments / photos for the Botanique Hotel & Spa Brazil –Campos do Jordão Building design by Candida Tabet Arquitetura page welcome