São Paulo House, Brazilian Residence, Architecture, Architect, Home Design, Property
Toblerone House : São Paulo Residence
Luxury Contemporary Home in Brasil design by Studio MK27 Architects
post upated 6 Sep 2020 ; 15 June 2019
Toblerone house São Paulo
Category: House
Location: Brazil
Architecture and interiors: studio mk27 – marcio kogan + diana radomysler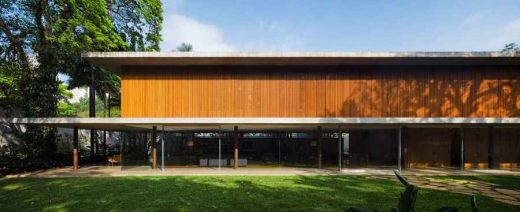 Photographs: Nelson Kon
English text (scroll down for Portuguese):
Toblerone House
The basic concept of the Toblerone House can be described as a unique image: a free first floor with large sliding glass doors which support a wooden box delimited by concrete beams.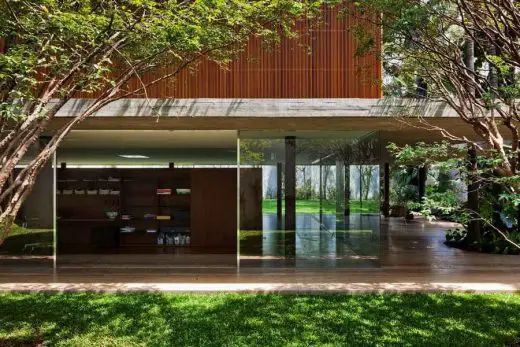 The first floor houses the collective program, with living room, utilities and kitchen. On the second floor are the three bedrooms, the den and a home theater.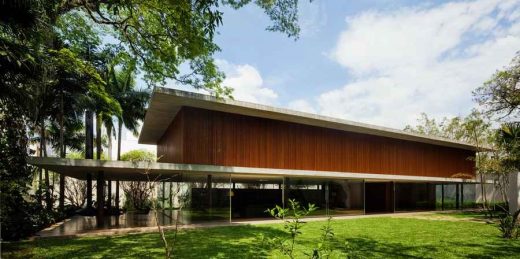 The conceptual and programmatic simplicity of the house joins a structural simplicity: a 14-pillared grid, organized in two lines, support the construction. All of the pillars are exposed with a rounded format. When the doorframes of the first floor are open, the living room becomes a free floor, totally open to the gardens – a house on pilotis. The simple architectural concept reminds of the Domino corbusian system, a type of manifestation about the free structure.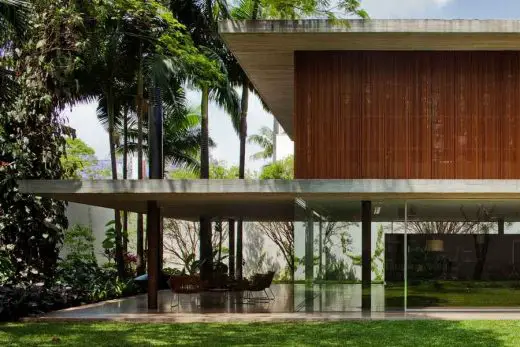 The shape of the land allowed for a longitudinal implanting of the house with spatial permeability between the two extreme areas, with a loose canopy in the garden. The apparent architectural simplicity ends up revealing complex spaces. The veranda, which extends from the living room, becomes a central living space, with an external fireplace.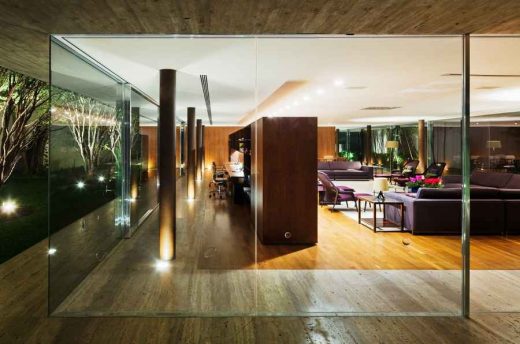 The office, integrated to the living room, is delimited by a stand, free from any other element. This office is connected with the back patio, which has beautiful jabuticabeiras. On the second floor, the master bedroom and bathroom open to a beam – the roof of the veranda – and look out over the treetops that perfume the beam of the first floor.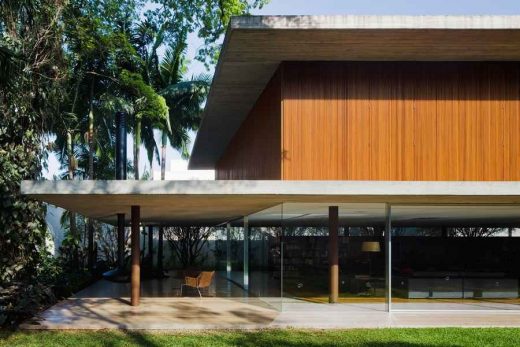 The wood establishes a dialogue with the other raw material, such as the concrete, and is used as a sun filter for the bedrooms. Each piece of this brise-soleil has a triangular shape and was fixed to folding doors, able to be kept open according to the needs of the users. On the ground floor, cross-ventilation allows for excellent thermal comfort.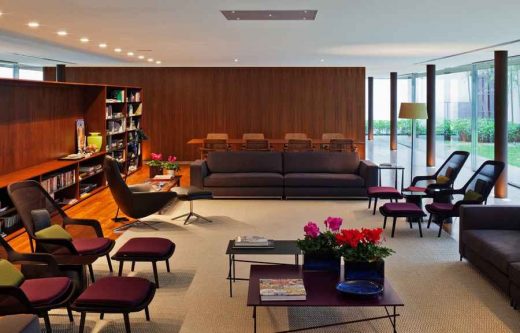 The simplicity of Toblerone House surpasses the organization of the house, the solutions for environmental comfort, or even in the everyday use by the inhabitants, little surprises complete the architecture.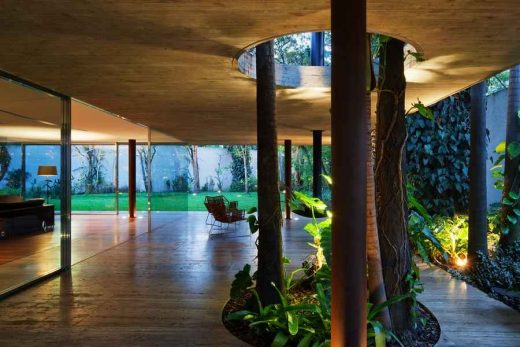 Toblerone house São Paulo – Building Information
project: casa toblerone
location: são paulo, sp, brazil
project: jan 2008
completion: oct 2011
site area: 1.453 m2
built área: 590 m2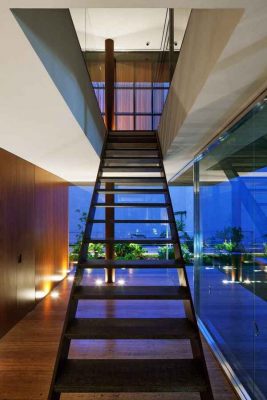 architecture: studio mk27
architect: marcio kogan
co-architect: diana radomysler
project architects: oswaldo pessano, fernando falcon
interior design: diana radomysler
custom made furniture design: carolina castroviejo
team: eduardo chalabi, eduardo glycerio, eduardo gurian, elisa friedmann, gabriel kogan, lair reis, luciana antunes, marcio tanaka, maria cristina motta, mariana simas, renata furlanetto, samanta cafardo, suzana glogowski
photographer: nelson kon – tel: 55 11 32314868 / email: [email protected]
contractor: lock engenharia – eng. marcello pessoa, eng eduardo menezes, arq. Gustavo berard
structure engineer: eng. gilberto pinto rodrigues
Portuguese text:
Casa Toblerone
O conceito fundamental da Casa Toblerone pode ser descrito em uma única imagem: um térreo livre com grandes portas de vidro deslizantes e que sustenta uma caixa de madeira delimitada por lajes de concreto. O térreo comporta o programa coletivo, com sala, serviços e cozinha. No segundo andar ficam três quartos, a sala de estudos e o home theater.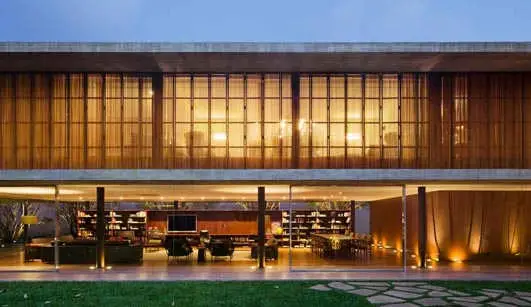 A simplicidade conceitual e programática da casa se une a uma simplicidade estrutural: uma grelha de 14 pilares, organizados em duas linhas, sustenta a construção. Todos os pilares são aparentes com formato redondo. Quando os caixilhos do térreo estão abertos, a sala se torna um piso livre, totalmente aberto para os jardins – uma casa sobre pilotis. A concepção arquitetônica simples lembra o sistema corbusiano Domino, espécie de manifesto sobre a estrutura livre.
O formato do terreno permitiu uma implantação longitudinal da casa com permeabilidade espacial entre as duas principais áreas externas, como um pavilhão solto no jardim. A aparente simplicidade arquitetônica acaba por revelar espaços complexos. A varanda, que prolonga a sala, torna-se um espaço central de convivência, comportando uma lareira externa. O escritório, integrado a sala, é delimitado por uma estante, solta de qualquer outro elemento. Este escritório se conecta com o pátio dos fundos, que tem belas jabuticabeiras. No segundo piso, o quarto e o banheiro da suíte principal se abrem para uma laje – a cobertura da varanda – e tem vista para as copas das árvores que perfuram a laje do térreo.
A madeira estabelece um diálogo com outros materiais brutos como o concreto e é usada como filtro solar para os quartos. Cada pedaço de madeira desse brise-soleil tem o formato triangular e foram afixados em portas-camarão, podendo ser abertos conforme a necessidade dos usuários. No térreo a ventilação cruzada permite um excelente conforto térmico.
A simplicidade da Casa Toblerone perpassa a organização da planta, as soluções para o conforto ambiental e para a implantação no terreno. Nos detalhes da própria simplicidade, ou mesmo no uso cotidiano da casa pelos moradores, pequenas surpresas completam a arquitetura.
Toblerone house São Paulo – Ficha técnica
projeto: casa toblerone
local: são paulo, sp, brasil
projeto: janeiro 2008
conclusão: outubro 2011
area do terreno: 1.453 m2
area construída: 590 m2
arquitetura: studio mk27
autor: marcio kogan
co-autor: diana radomysler
interiores: diana radomysler
design de mobiliário customizado: carolina castroviejo
colaboradores: oswaldo pessano, fernando falcon
equipe: eduardo chalabi, eduardo glycerio, eduardo gurian, elisa friedmann, gabriel kogan, lair reis, luciana antunes, marcio tanaka, maria cristina motta, mariana simas, renata furlanetto, samanta cafardo, suzana glogowski
fotógrafo: nelson kon – tel: 55 11 32314868 / email: [email protected]
construtora: lock engenharia – eng. marcello pessoa, eng eduardo menezes, arq. Gustavo berard
cálculo estrutural: eng. gilberto pinto rodrigues
Toblerone house São Paulo images / information from Studio MK27
Location: Bahia, São Paulo, SP, Brasil
Architecture in São Paulo
São Paulo Architecture Designs – chronological list
São Paulo Architecture Walking Tours by e-architect
Paraty House
Design: Marcio Kogan
Paraty House
Casa dos Ipês
studio mk27 – marcio kogan + lair reis
Casa dos Ipês São Paulo
Kon Studio
studio mk27 – marcio kogan
São Paulo Photography Studio
Decameron
studio mk27 – Marcio Kogan + Mariana Simas
São Paulo furniture store
Punta House, Uruguay
studio mk27 – Marcio Kogan + suzana glogowski
Punta House
Studio mk27 Designs
Gama Issa outland, Porto Feliz, Brazil
Studio mk27 : Latest building design
Bahia house, São Paulo, Brazil
Bahia house
São Paulo Home : House RR by Andrade Morettin Arquitetos
Porto Alegre House : more info + images
Comments / photos for the São Paulo House page welcome
Website: Visit São Paulo