Berlin architectural news 2023, New German capital buildings architects, DE property designs
Berlin Architecture News
Contemporary Building in German Capital: Built Environment Updates
Post updated 30 September 2023
Berlin Architectural Designs – chronological list
Berlin Building News
Berlin Architectural News in 2023
26 Sep 2023
Griebnitzsee Apartments, Wannsee district, Berlin Steglitz-Zehlendorf, Germany
Design: TCHOBAN VOSS Architekten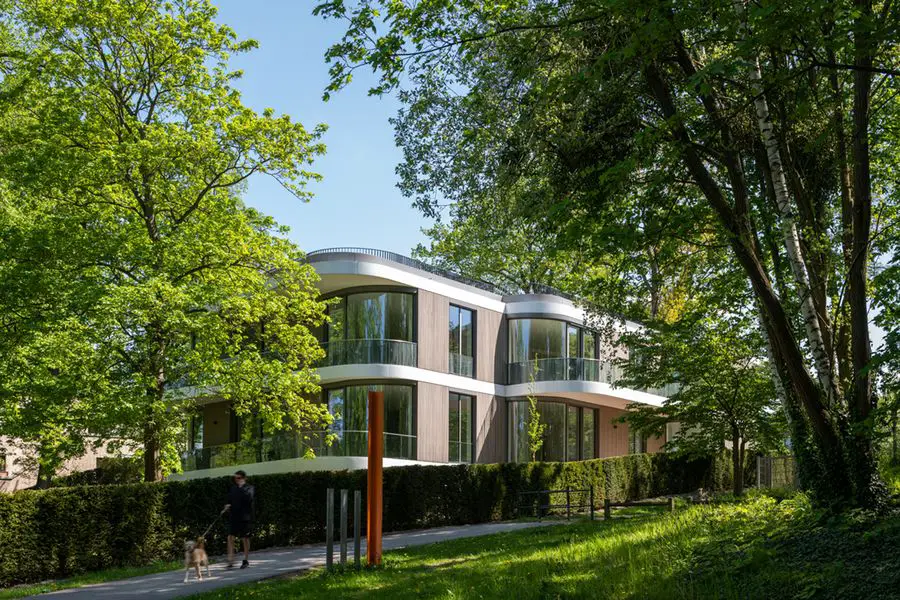 photo : Ilya Ivanov
Griebnitzsee Apartments
Located in the Wannsee district of Berlin Steglitz-Zehlendorf, this three-storey residential building with underground parking is situated on the shores of the lake Griebnitzsee. The property, in an exposed location on the lakeside, widens out towards the shore and has generous access to the water. In the immediate vicinity is Babelsberg Park with the palace of the same name as well as Glienicke Palace Park.
12 Aug 2023
Tempelhof Airport Viewing Platform
Architects: :mlzd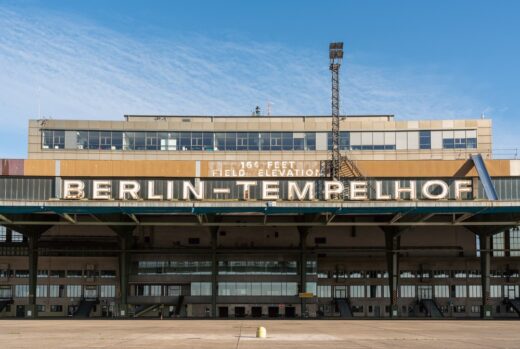 photo © Kristian Alveo
Tempelhof Airport Viewing Platform
A key stage in the redevelopment of Berlin's historic Tempelhof Airport has completed, with the opening of a 600 sqm rooftop walkway and 360° viewing platform on the 26m high airport tower, constructed with Kebony wood decking.
9 August 2023
New Unionhilfswerk Admin Building, Schwiebusser Str. 18, 10965 Friedrichshain-Kreuzberg
Design: Baumschlager Eberle Architekten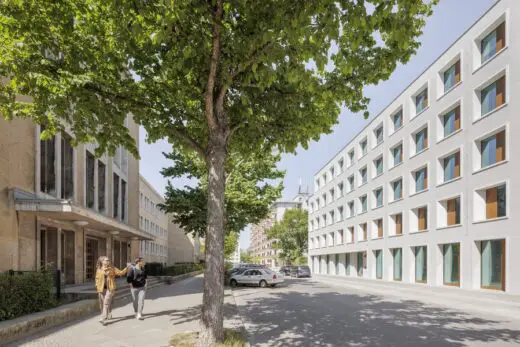 photo : Ulrich Schwarz
New Unionhilfswerk Admin Building, Berlin
Unionhilfswerk's new admin building was to make an unpretentious yet positive and powerful contribution to the Berlin cityscape with a particular focus on sustainability – in the widest sense of the word. It was to blend into its environment and provide high-quality space, to use resources sparingly and age gracefully.
6 July 2023
Museum für Naturkunde
Architects: gmp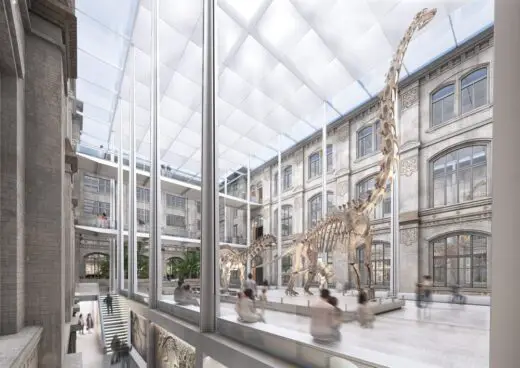 image courtesy of architects practice
Museum für Naturkunde
In the years to come, the Museum für Naturkunde in Berlin will continue developing as an open and integrated research museum. This German architecture competition's brief was to repair and refurbish the listed ensemble, including the outdoor facilities, in line with building preservation principles.
27 June 2023
John Hejduk Tower, Charlottenstraße 96-97, Kreuzberg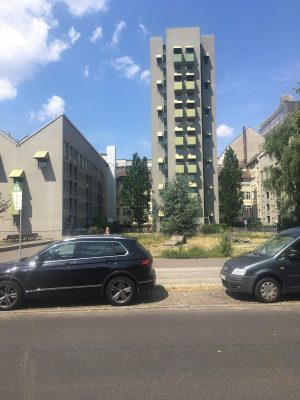 photo © Daniel Lomholt-Welch
John Hejduk Tower Kreuzberg
LEO & ALEX Bornitzstrasse, Lichtenberg
LEO & ALEX Bornitzstrasse, Lichtenberg
4 May 2023
Tegel Airport Terminal B
Architects: chaixetmorel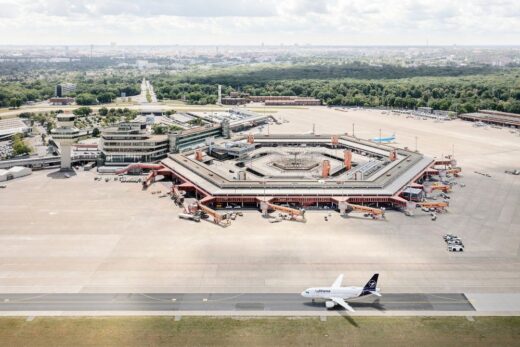 image courtesy of architects practice
Terminal B, former Berlin-Tegel Airport
The French-German architects chaixetmorel. have been commissioned to renovate the listed Terminal B of the former Berlin-Tegel Airport, as part of the overall project "Forschungs- und Industriepark Berlin TXL – The Urban Tech Republic", in collaboration with Schüssler-Plan GP GmbH Berlin, in a negotiation process in the fall of 2022.
22 Feb 2023
Oasis Residential Complex, Bachstrasse 1, 10555 Berlin
Design: TCHOBAN VOSS Architekten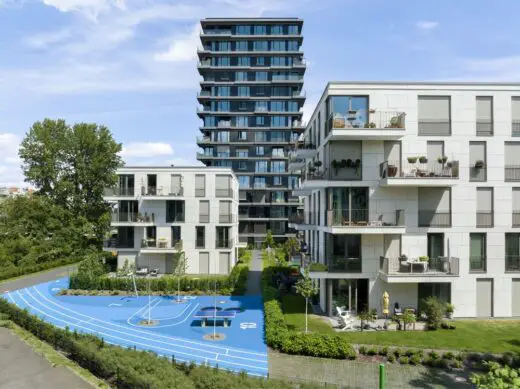 photo © Roland Halbe
Oasis Residential Complex, Tiergarten District
The Hansaviertel in Berlin's Tiergarten district was built in the 1950s according to plans by renowned architects as an urban landscape in which solitary houses alternate embedded in green spaces. Today, the district is one of the world's largest ensemble monuments of "New Objectivity" and post-war modernism.
Berlin Buildings in 2022
Berlin Architectural News in 2022
19 Dec 2022
Tiny Home on the Water, Stößensee
Architect: Crossboundaries, Beijing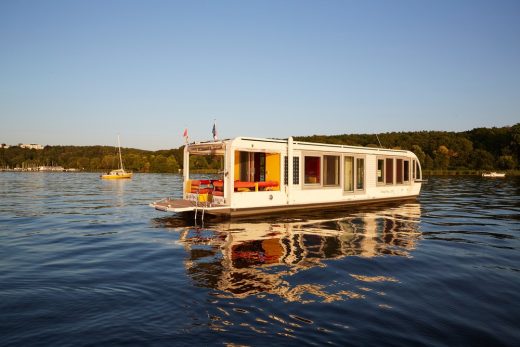 photo : Johanna Link, Munich
Tiny Home on the Water
With the world seemingly turned upside down due to pandemic travel restrictions, the effects of global warming, conflicts, an energy crisis, and more, the time has never seemed more urgent for a refuge with a high level of self-sufficient energy and the ability to remain mobile despite mounting challenges.
26 Nov 2022
Eiswerk
Design: GRAFT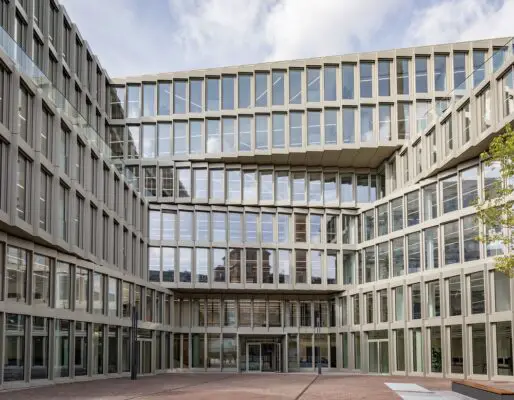 photography : Trockland, Noam Rosenthal
Eiswerk Building
The redevelopment and transformation of the former Eiswerk site ia located between the Spree and Köpenicker Straße in Berlin's Mitte district. GRAFT's architecture focused on the redevelopment of the former cooling house and residential building and the part of the site situated on the Spree.
15 Nov 2022
EDGE Suedkreuz Berlin, Hildegard-Knef-Platz 2 and 3
Design: TCHOBAN VOSS Architekten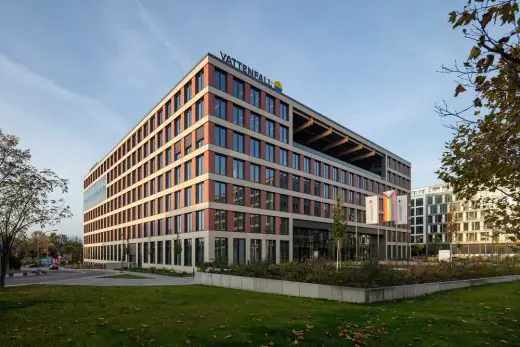 photograph : HG Esch
EDGE Suedkreuz
The seven-storey office complex EDGE Suedkreuz Berlin was built sustainably using a modular timber hybrid construction method. The larger of the two free-standing buildings covers around 20,000 sqm of floor space, making it the largest wood-hybrid building in Germany. The German Sustainable Building Council (DGNB) certified the project as Germany's most sustainable building in 2022.
30 Oct 2022
Cuvry Campus, Cuvrystrasse 50-51
Design: TCHOBAN VOSS Architekten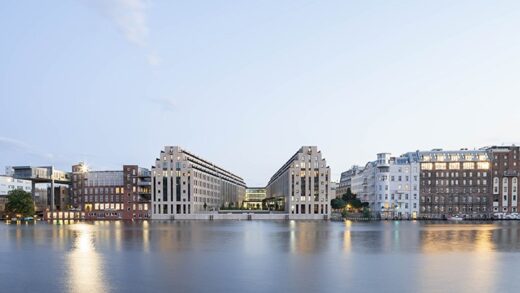 photograph : Klemens Renner
Cuvry Campus Berlin
The approximately 9,800 sqm site at Cuvrystrasse 50-51 in the Berlin-Kreuzberg district stretches from Schlesische Strasse to the banks of the Spree River. The Oberbaum Bridge and the East Side Gallery are only a few minutes' walk away.
15 Sep 2022
Rosenthaler Strasse 43-45, Spandauer Vorstadt district, Berlin-Mitte
Design: TCHOBAN VOSS Architekten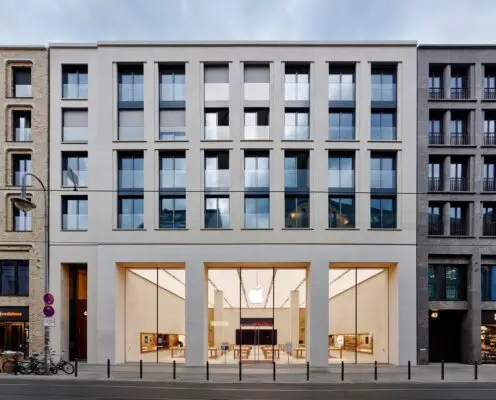 photograph © Stefan Mueller
Rosenthaler Strasse
The Scheunenviertel, part of the Spandauer Vorstadt district in Berlin-Mitte, is a trendy neighbourhood which is popular with the international fashion industry, mobile phone, electronics and IT companies, and creative start-ups and is known for its diverse range of restaurants and cultural offerings.
10 Aug 2022
KU 64 Dental Clinic & Kids Club
Design: GRAFT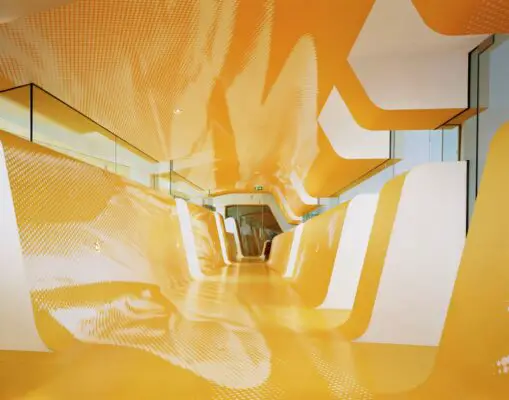 photos © Tobias Hein and hiepler, brunier
KU 64 Dental Clinic and Kids Club
There are few environments with more negative associations than dental clinics. The hygienic, sterile atmosphere, the obligatory "white color palette" and the distinctive smell are usually connected with a feeling of physical and psychological discomfort.
3 Jun 2022
House K, Zehlendorf
Architects: STUDIOHANSEN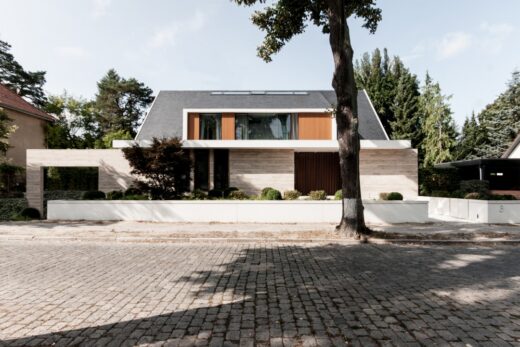 photo : Christoph Theurer Photography
House K Zehlendorf
The goal with House K was to create a family residence – spacious, representative but modern. with children's room. As a meeting place for family and large circle of friends. With a spacious kitchen – the husband is a passionate cook. Both like to host many people and friends around.
2 Jun 2022
Holistic Living
Architects: GRAFT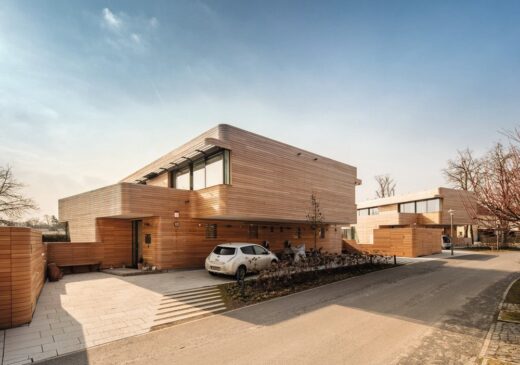 photo : Tobias Hein
Holistic Living Berlin Homes
GRAFT's design for Holistic Living represents a single-family house and two semi-detached houses combines the aspects of mobility, energy and healthy living with environmentally-friendly construction. The project's holistic approach encompasses modern architecture, innovative building services and e-mobility as well as sustainability and physical health.
21 May 2022
The Lynk&Co
Design: S-P-A-C-E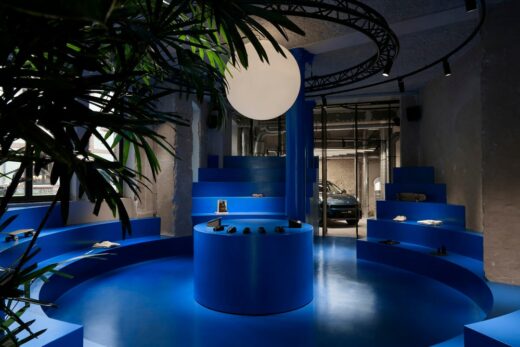 photo : Kasia Gatkowska
The Lynk&Co Club
Lynk & Co's newest location, the Berlin Club, opened its doors in the creative heart of Berlin. With this new Club, Lynk & Co is expanding its global presence and connecting with German customers in their own backyard.
30 Mar 2022
Templiner Park, Teutoburger Platz
Architects: GRAFT Gesellschaft von Architekten mbH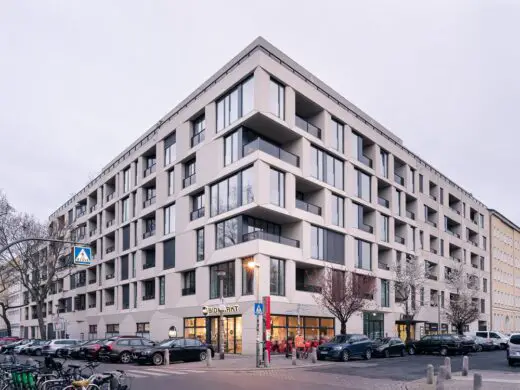 photo : Kevin Fuchs
Templiner Park Complex
The Templiner Park is a new residential complex on Teutoburger Platz is located in one of the German capital city's most popular neighborhoods, Prenzlauer Berg. The corner building extends over four street-side building units and two courtyard houses.
28 Mar 2022
Zalando BHQ-Z Building
Architects: HENN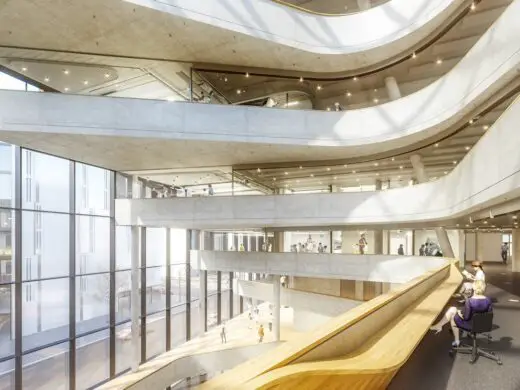 rendering : HENN
Zalando BHQ-Z Building
HENN's Zalando BHQ-Z Building is currently under construction in Berlin. BHQ-Z will complete HENN's three-building headquarter complex for Zalando, one of Europe's leading online platforms for fashion and lifestyle. The design declares the city's identity as a global tech hub, while staying true to its Berlin roots.
4 Mar 2022
Villa M, Grunewald
Architects: GRAFT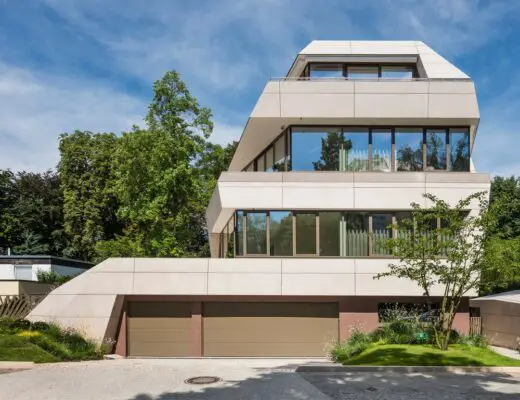 photos : Frank Herfort and Tobias Hein
Villa M, Grunewald
GRAFT's design for Villa M – a private home in Berlin's venerable Grunewald quarter presents a striking, modern interpretation of comfortable living in the city. It's trapezoidal, sculptural form and modern architectural language symbolizes a boulder in a glacial landscape and differentiates it from its neighbours.
More contemporary Berlin Architecture News on e-architect soon
Berlin Building News 2021
5 Dec 2021
HWKN Architecture Exhibition in Berlin: 'Shape Tomorrow – Towards a Future-Oriented Built Environment'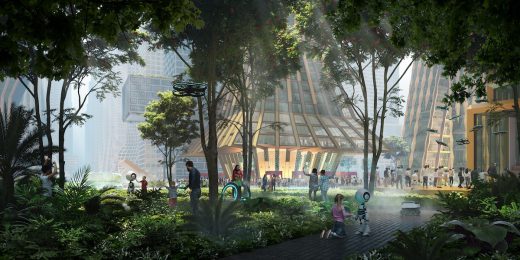 rendering © HWKN Architecture
HWKN Architecture at Aedes Architecture Forum
German architect Matthias Hollwich and his New York-based firm HWKN have been dedicated to pioneering projects for over a decade, earning them a rank in Fast Company's world's Top 10 Most Innovative Architects. Most recently, Hollwich provoked with his publication New Aging: Live Smarter Now to Live Better Forever by turning stereotypical outdated building typologies "upside down" to make aging a graceful and fulfilling aspect of our lives through designed spaces.
15 Nov 2021
Shortlisted RIBA International Prize 2021
Three exceptional architecture projects from around the globe are revealed as the 2021 shortlist for the RIBA International Prize by the Royal Institute of British Architects (RIBA). The prestigious biennial award celebrates projects that demonstrate design excellence and social impact.
James-Simon-Galerie, Berlin Museum Island, designed by David Chipperfield Architects Berlin is one of the three.
15 + 4 Nov 2021
Bastian Gallery, Taylorstraße 1, 14195 Berlin
Design: John Pawson Architect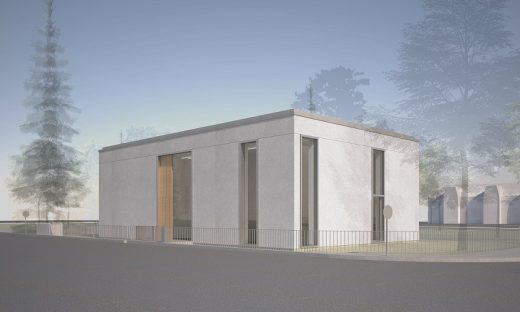 image © John Pawson Ltd, Courtesy BASTIAN
Bastian Gallery Berlin Dahlem Building
The inaugural exhibition ANSELM KIEFER – LE DORMEUR DU VAL sends a strong message about the profile that Aeneas Bastian intends to adopt at his newly built gallery. The Bastian family have created a new home for their gallery on Taylorstrasse in Dahlem close to the Grunewald Forest in the Southwest of Berlin.
7 Oct 2021
Corkscrew House, Lindower Strasse
Design: rundzwei Architekten BDA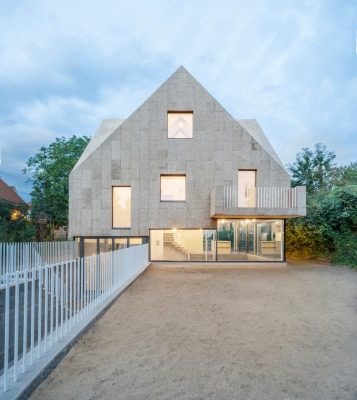 photo : Gui Rebelo
Corkscrew House
The young office rundzwei Architekten has realised an unusual residence with a cork facade and roof. A base of rammed concrete lies below the ground level. Above, skilfully stacked split levels, which allow for flexible use, are accessed via a central, atrium like staircase.
8 Oct 2021
KaDeWe
Design: OMA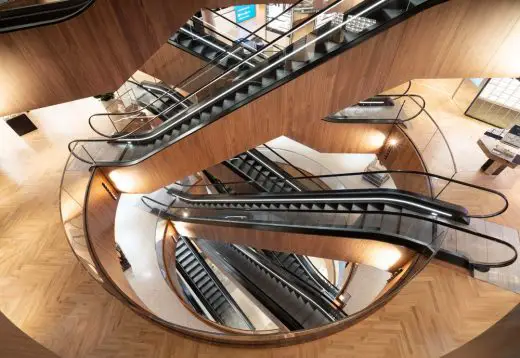 image courtesy of architects practice
Kaufhaus des Westens, Tauentzienstraße Berlin
Kaufhaus des Westens (KaDeWe) belongs to a consolidated tradition of historical European urban department stores such as Galeries Lafayette in Paris, Selfridges in London and La Rinascente in Milan. Historically, these department stores have been some of the pillars of early modern retail, acting as incubators for sophisticated crafts, social exchange and experimentation in services.
4 Oct 2021
Li18.Berlin, Lindower Strasse
Design: Holzer Kobler Architekturen + zweikant architekturen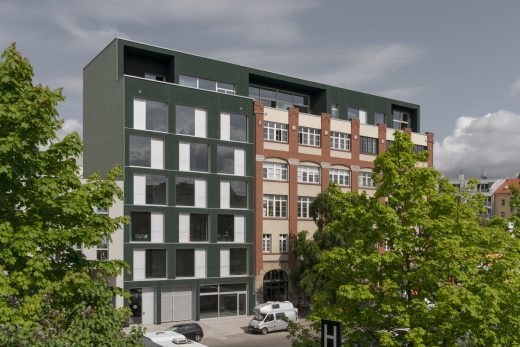 photo : Jan Bitter
Li18.Berlin
With new residential and commercial units, existing commercial courtyards in the Berlin district of Wedding were repurposed and expanded, using timber hybrid construction methods.
28 July 2021
EMBASSY, opposite Koellnischer Park, Mitte
Design: TCHOBAN VOSS Architekten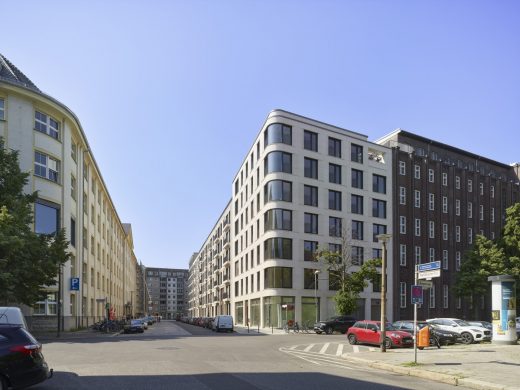 photograph © Roland Halbe
EMBASSY Berlin Buildings
The "EMBASSY" residential project, consisting of six buildings, was built on a 22,774 sqm plot opposite Koellnischer Park. The listed park in Berlin's Mitte district, not far from the Spree River, dates back to a city fortification from the 17th century.
25 Jun 2021
Francis Kéré Exhibition at Aedes Architecture Forum Berlin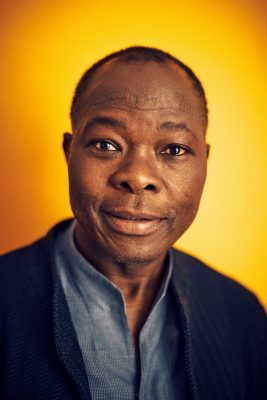 photograph © Urban Zintel
Francis Kéré Exhibition at Aedes Architecture Forum Berlin
Francis Kéré is a precise observer, excellent visionary and builder – his architecture is of radical simplicity. The architect, who was born in Burkina Faso and lives in Berlin, uniquely combines the culture and habits of the African and European continents.
25 May 2021
UP!, Hermann-Stöhr-Platz, Friedrichshain
Design: Jasper Architects with Gewers Pudewill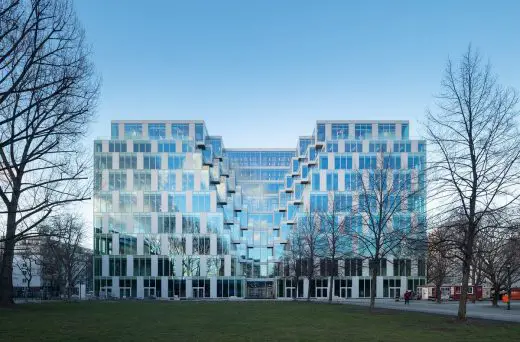 photo © HG Esch
UP! Building
International Architect Martin Jasper Completes his design "UP!", the Adaptive Reuse of East Berlin's Former Shopping Mall. A new chapter for an icon of Berlin's city history: Martin Jasper and his team at Jasper Architects, in collaboration with Gewers Pudewill, have designed the transformation of an aging iconic shopping mall into a modern place for work and retail in Berlin's Friedrichshain neighborhood.
3 May 2021
RTL Audio Center
Architects: Evolution Design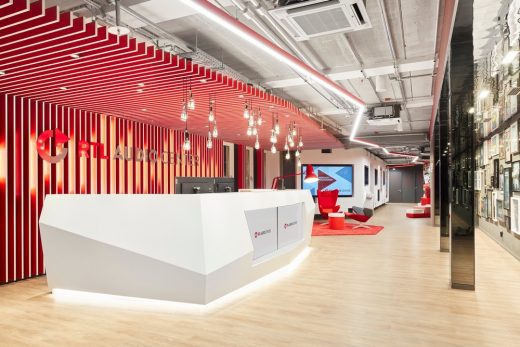 photography © Sebastian Dörken_Max Schroeder
RTL Audio Center
Broadcasting and media production company RTL has relocated its Berlin-based audio units to a new location. Completed in January 2021, the RTL Audio Center Berlin was designed by Swiss architecture studio Evolution Design.
14 May 2021 + 10 Nov 2020
BRICKS, Hauptstraße
Design: GRAFT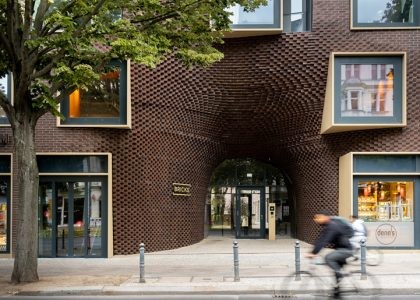 photo : BTTR GmbH
BRICKS, Berlin Schöneberg
A revitalized historical post office premises, expanding it with two new buildings and converting the original rooftops for commercial purposes. Thus a 32,000 sqm modern ensemble accessible to the public was created comprising offices, restaurants, retail outlets and apartments.
Berlin Architecture News 2020
Berlin Architecture News in 2020
28 Oct 2020
Komische Oper Berlin Expansion
Architect: REX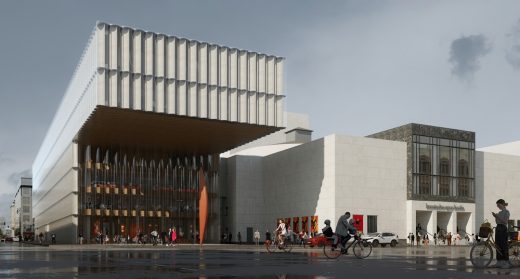 image : Luxigon
Komische Oper Berlin
This proposed design by REX for the Komische Oper Expansion aspires to create a respectful and individual partner that highlights the Komische Oper building and defines a new urban node befitting the significance of the institution. Its contextual massing, outward-facing public functions, and generous urban plaza integrate the building in the neighborhood's fabric.
16 Oct 2020
BASTIAN Gallery
BASTIAN Gallery, Berlin Dahlem
Axel Springer Building
Design: OMA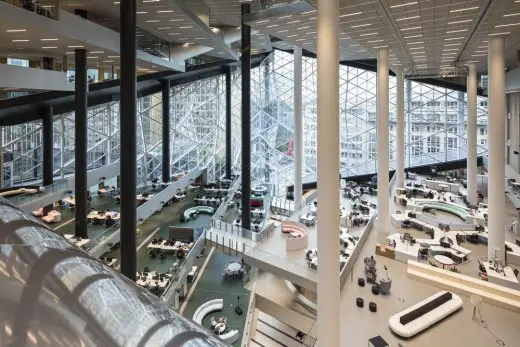 photograph : Laurian Ghinitoiu, courtesy of OMA
Axel Springer Building
The new Axel Springer Building in Berlin was officially opened this morning during a ceremonial opening with inaugural speeches by Federal President Frank-Walter Steinmeier, architect Rem Koolhaas and Axel Springer CEO Mathias Döpfner.
Terminal 2 at Berlin Brandenburg Airport
ATP architects engineers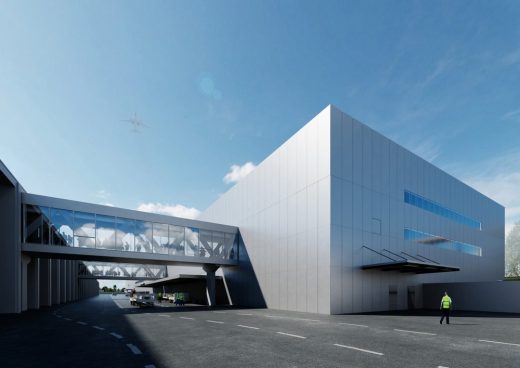 image : ATP
Terminal 2 at BER Airport is already "ready for take-off" and can open together with the main terminal T1 at the end of October. The additional terminal was conceived and planned in record time by the planner team ATP/amd.sigma strategic airport development. Just 38 months elapsed between the "first design sketch" and the "operational handover". This means that the turnkey delivery of T2 took place "in time", despite the complicated process, the late emergence of additional customer requirements, and a tight timetable. This makes it the fastest-built terminal project in German history.
"In order to realize a project of this scale in line with the quality requirements and the timetable, integrated design with Building Information Modeling (BIM) is simply indispensable", said the architect Niklas Veelken, Managing Director of ATP Berlin, drawing attention to the successful cooperation of the experienced and widely-based planner team and the huge commitment of so many project participants. In its role as an integrated designer with responsibility for managing the planning process, ATP's in-house experts delivered architectural and structural and building services design services.
T2 expands the capacity of BER by six million passengers a year and, at peak times, can process around 2,000 passengers per hour. In order to ensure that this capacity is available from the opening, the planner team conceived the building of just 23,000 m2 as a "fast track" project with an optimally simple building structure and façade. This approach paid huge attention to lean processes and high productivity in the execution.
In aesthetic terms, the fair-faced concrete and exposed ceilings are derived from an industrial building approach. The modern, metal-clad, and introverted building volume distinguishes itself very clearly from the strict, almost classical design of the adjacent BER buildings. The two-story terminal with three halls includes spaces for checking-in, handing in and collecting luggage, security controls, service facilities, shops, and restaurants. A bridge connects the new building with the waiting areas in the north wing of the main terminal.
3 Sep 2020
Digital Media Centre and Campus Development, Masurenallee 8-14
Design: Baumschlager Eberle Architekten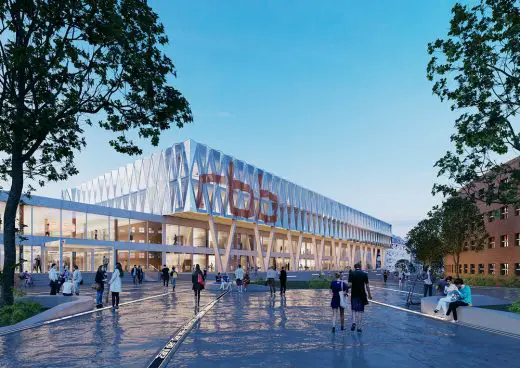 renderings : Baumschlager Eberle Architekten, bloomimages Berlin GmbH
Digital Media Centre and Campus Building in Berlin
In a negotiated procedure, the Baumschlager Eberle Architekten design won the Digital Media Centre and Campus Development project of the Rundfunk Berlin-Brandenburg (rbb).
1 Sep 2020
Bard College Residences in Berlin
18 Aug 2020
Berlin Hyp Bank HQ
Architects: C.F. Møller Architects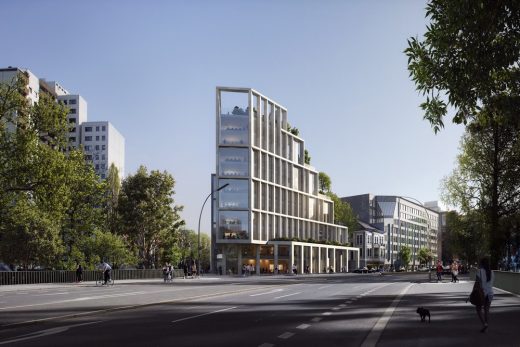 image courtesy of architects practice
Berlin Hyp Bank HQ Building
The new HQ is designed to support the banks sustainable vision, while at the same time contributing to the transition and urban development of the surrounding area.
23 June 2020
Mulberry Yards Housing Complex
10 June 2020
Kurfuerstendamm 68, 10707 Berlin-Charlottenburg
Architects: tchoban voss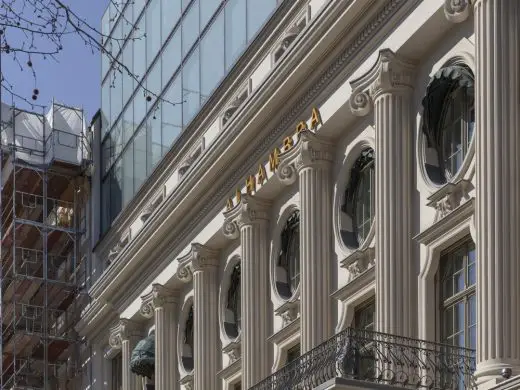 photograph : Klemens Renner
Kurfuerstendamm 68
The Alhambra cinema palace in Berlin-Charlottenburg was built in 1921 according to the plans of the architect Max Bischoff and became known in 1922 as the premiere location of the sound movie.
31 Mar 2020
Cube Berlin, Washington Platz
Design: 3XN Architects, Denmark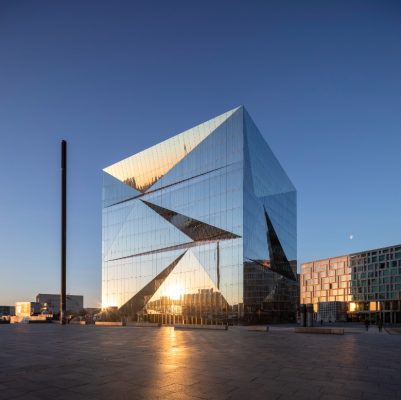 photo © Adam Mørk
Cube Berlin Building
An 11-story office building located on Washington Platz in the Europa City urban district. The 19,000 sqm commercial property was produced by CA Immo.
11 Mar 2020
Georg-Knorr-Park Quarter
German Capital Architectural Updates 2019
Berlin Architecture News in 2019
6 Nov 2019
Wave Apartments, Stralauer Allee 13/14
Architects: GRAFT Gesellschaft von Architekten mbH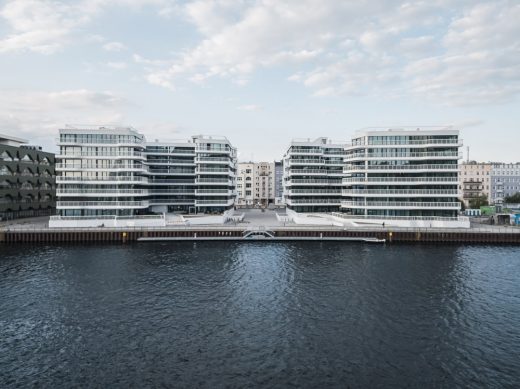 photograph © BTTR GmbH
Wave Apartments
By not building along the waterfront and pairing the inner side wings, the two buildings, that make up the Wave Apartments development, form a continuous architectural figure.
11 Sep 2019
Atelier Event Space
10 Sep 2019
Apartment overlooking a Graveyard
4 Sep 2019
LG Signature – IFA Fair In Berlin News
IFA 2019
The Global Innovations Show
Berlin, September 5-11th
Interview with Studio Fuksas: Thursday, September 5th 15:00 to 17:00
Hall 18 – Mezzanine
Messegelände Berlin ExpoCenter City


image courtesy of article provider
The first significant appointment to discover news from LG SIGNATURE is IFA Fair in Berlin, one of the most important international electronics exhibition, that marks the beginning of the collaboration of LG SIGNATURE with Studio Fuksas.
If you planned to visit the fair, you can view the newly designed LG SIGNATURE exhibition area on Thursday, 5th September 2019, by the acclaimed architects Massimiliano and Doriana Fuksas, in charge of the concept of the installation called "Infinity": a large kaleidoscopic play object that allows visitors to experience the space intensively through an infinite and repetitive pattern reflection. IFA 2019
28 June 2019
C.F. Møller Architects Office in Berlin News
On 1 July, C.F. Møller Architects will open the doors to a new office in central Berlin. This is a consequence of an increasing influx of assignments following recent years' focused efforts directed at the German market:
C.F. Møller Architects Office in Berlin News
18 June 2019
Lindower 22, Wedding district, Northwest Berlin
Design: Heim Balp Architekten, DE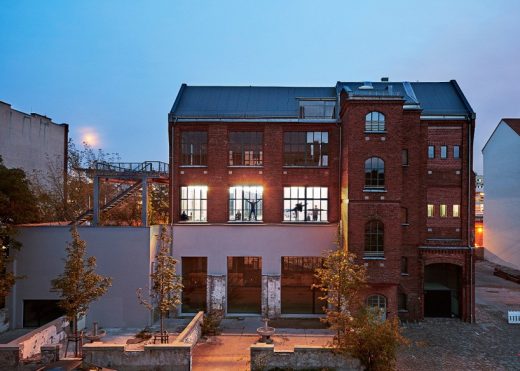 photo : Nick Ash
Lindower 22 Berlin Building
This interesting architectural project was conceived by the architects as a cultural project organized in the abandoned industrial compound of the Max Hasse Maschinen Fabrik, in the Wedding district.
12 Apr 2019
Futurium
Design: Richter Musikowski Architekten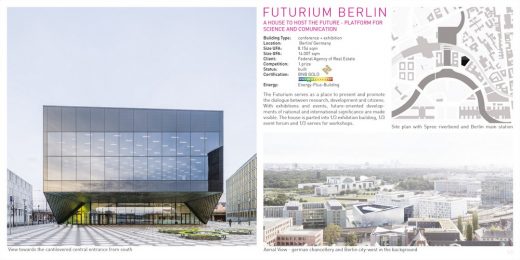 photo : Schnepp Renou, Dacian Groza
Futurium BERLIN
19 Feb 2019
Two Sides of the Border Exhibition
14 Feb 2019
Terrassenhaus Berlin / Lobe Block Building
1 Feb 2019
Flat Lands and Massive Things Exhibition
Architecture and Landscape in Norway Exhibition, Felleshus of the Nordic Embassies
5 Oct 2018 – 17 Jan 2019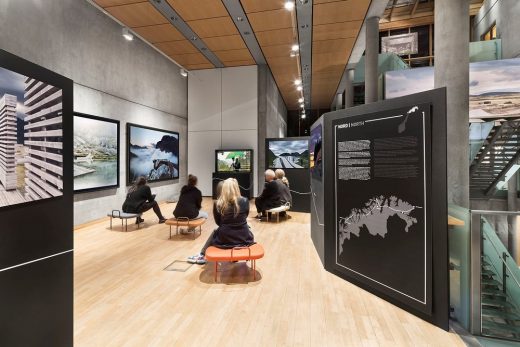 photo courtesy of PLANE—SITE, Berlin
Architecture and Landscape in Norway Exhibition in Berlin
More contemporary Berlin architecture news online soon
German Capital Building Updates 2016 – 2018
More Berlin Architecture News online soon
Location: Berlin, Germany
Architecture in Berlin
Berlin Architecture Designs – chronological list
Berlin Architecture Walking Tours by e-architect
Comments / photos for the Berlin Building News – Architecture in the German Capital City page welcome