Berlin Architectural News 2020, New Buildings in the German Capital, Architects, Designs
Berlin Architecture News
Contemporary Building in German Capital: Built Environment Updates
post updated 5 Feb 2021
Berlin Building News
Berlin Architectural News
Berlin Architectural Designs – chronological list
10 Nov 2020
BRICKS, Hauptstraße
Design: GRAFT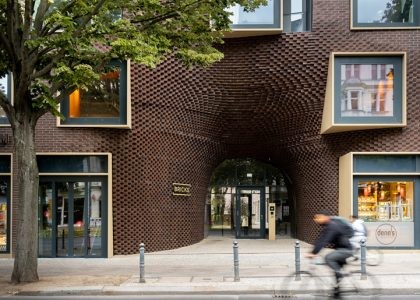 photo : BTTR GmbH
BRICKS, Berlin Schöneberg
A revitalized historical post office premises, expanding it with two new buildings and converting the original rooftops for commercial purposes. Thus a 32,000 sqm modern ensemble accessible to the public was created comprising offices, restaurants, retail outlets and apartments.
28 Oct 2020
Komische Oper Berlin Expansion
Architect: REX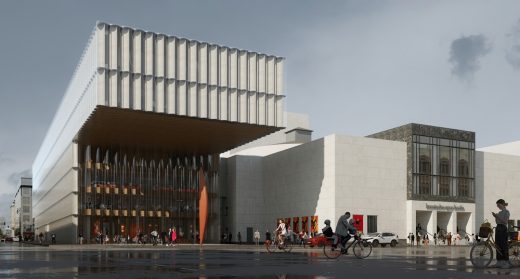 image : Luxigon
Komische Oper Berlin
This proposed design by REX for the Komische Oper Expansion aspires to create a respectful and individual partner that highlights the Komische Oper building and defines a new urban node befitting the significance of the institution. Its contextual massing, outward-facing public functions, and generous urban plaza integrate the building in the neighborhood's fabric.
16 Oct 2020
BASTIAN Gallery, Berlin Dahlem
Axel Springer Building
Design: OMA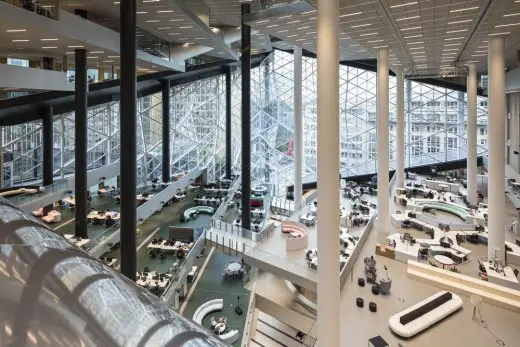 photograph : Laurian Ghinitoiu, courtesy of OMA
Axel Springer Building
The new Axel Springer Building in Berlin was officially opened this morning during a ceremonial opening with inaugural speeches by Federal President Frank-Walter Steinmeier, architect Rem Koolhaas and Axel Springer CEO Mathias Döpfner.
Terminal 2 at Berlin Brandenburg Airport
ATP architects engineers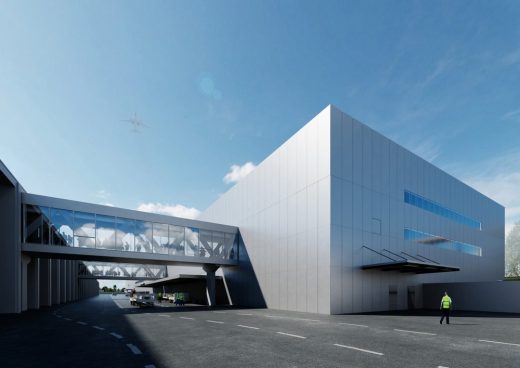 image : ATP
Terminal 2 at BER Airport is already "ready for take-off" and can open together with the main terminal T1 at the end of October. The additional terminal was conceived and planned in record time by the planner team ATP/amd.sigma strategic airport development. Just 38 months elapsed between the "first design sketch" and the "operational handover". This means that the turnkey delivery of T2 took place "in time", despite the complicated process, the late emergence of additional customer requirements, and a tight timetable. This makes it the fastest-built terminal project in German history.
"In order to realize a project of this scale in line with the quality requirements and the timetable, integrated design with Building Information Modeling (BIM) is simply indispensable", said the architect Niklas Veelken, Managing Director of ATP Berlin, drawing attention to the successful cooperation of the experienced and widely-based planner team and the huge commitment of so many project participants. In its role as an integrated designer with responsibility for managing the planning process, ATP's in-house experts delivered architectural and structural and building services design services.
T2 expands the capacity of BER by six million passengers a year and, at peak times, can process around 2,000 passengers per hour. In order to ensure that this capacity is available from the opening, the planner team conceived the building of just 23,000 m2 as a "fast track" project with an optimally simple building structure and façade. This approach paid huge attention to lean processes and high productivity in the execution.
In aesthetic terms, the fair-faced concrete and exposed ceilings are derived from an industrial building approach. The modern, metal-clad, and introverted building volume distinguishes itself very clearly from the strict, almost classical design of the adjacent BER buildings. The two-story terminal with three halls includes spaces for checking-in, handing in and collecting luggage, security controls, service facilities, shops, and restaurants. A bridge connects the new building with the waiting areas in the north wing of the main terminal.
3 Sep 2020
Digital Media Centre and Campus Development, Masurenallee 8-14
Design: Baumschlager Eberle Architekten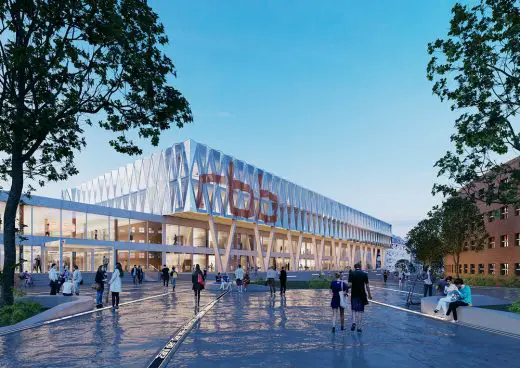 renderings : Baumschlager Eberle Architekten, bloomimages Berlin GmbH
Digital Media Centre and Campus Building in Berlin
In a negotiated procedure, the Baumschlager Eberle Architekten design won the Digital Media Centre and Campus Development project of the Rundfunk Berlin-Brandenburg (rbb).
1 Sep 2020
Bard College Residences in Berlin
18 Aug 2020
Berlin Hyp Bank HQ
Architects: C.F. Møller Architects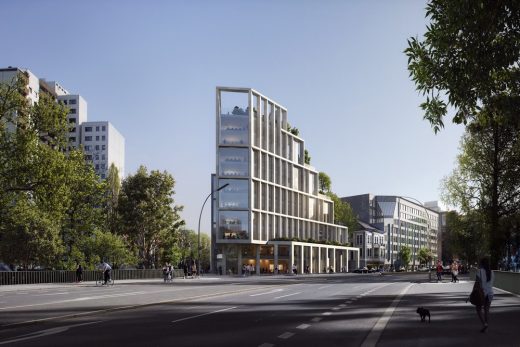 image courtesy of architects practice
Berlin Hyp Bank HQ Building
The new HQ is designed to support the banks sustainable vision, while at the same time contributing to the transition and urban development of the surrounding area.
23 June 2020
Mulberry Yards Housing Complex
10 June 2020
Kurfuerstendamm 68, 10707 Berlin-Charlottenburg
Architects: tchoban voss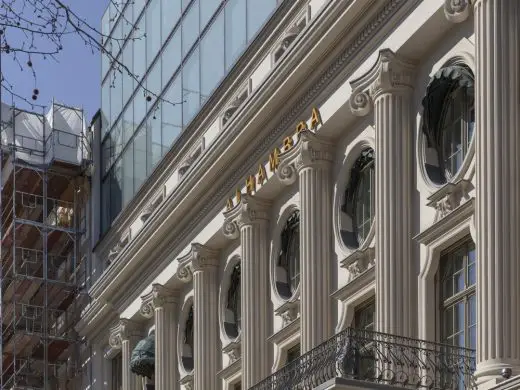 photograph : Klemens Renner
Kurfuerstendamm 68
The Alhambra cinema palace in Berlin-Charlottenburg was built in 1921 according to the plans of the architect Max Bischoff and became known in 1922 as the premiere location of the sound movie.
31 Mar 2020
Cube Berlin, Washington Platz
Design: 3XN, Architects, Denmark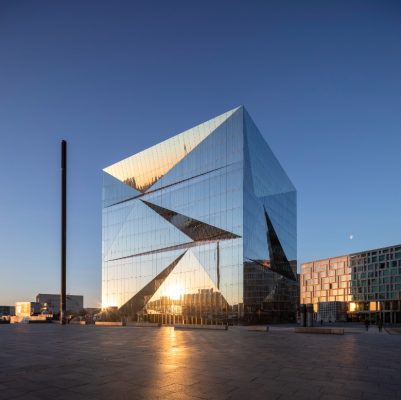 photo © Adam Mørk
Cube Berlin Building
An 11-story office building located on Washington Platz in the Europa City urban district. The 19,000 sqm commercial property was produced by CA Immo.
11 Mar 2020
Georg-Knorr-Park Quarter
6 Nov 2019
Wave Apartments, Stralauer Allee 13/14
Architects: GRAFT Gesellschaft von Architekten mbH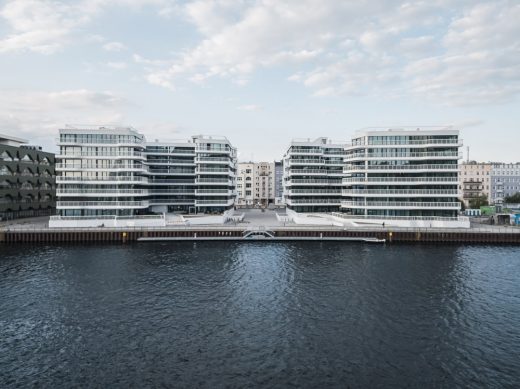 photograph © BTTR GmbH
Wave Apartments
By not building along the waterfront and pairing the inner side wings, the two buildings, that make up the Wave Apartments development, form a continuous architectural figure.
11 Sep 2019
Atelier Event Space
10 Sep 2019
Apartment overlooking a Graveyard
4 Sep 2019
LG Signature – IFA Fair In Berlin News
IFA 2019
The Global Innovations Show
Berlin, September 5-11th
Interview with Studio Fuksas: Thursday, September 5th 15:00 to 17:00
Hall 18 – Mezzanine
Messegelände Berlin ExpoCenter City


image courtesy of article provider
The first significant appointment to discover news from LG SIGNATURE is IFA Fair in Berlin, one of the most important international electronics exhibition, that marks the beginning of the collaboration of LG SIGNATURE with Studio Fuksas.
If you planned to visit the fair, you can view the newly designed LG SIGNATURE exhibition area on Thursday, 5th September 2019, by the acclaimed architects Massimiliano and Doriana Fuksas, in charge of the concept of the installation called "Infinity": a large kaleidoscopic play object that allows visitors to experience the space intensively through an infinite and repetitive pattern reflection. IFA 2019
28 June 2019
C.F. Møller Architects Office in Berlin News
On 1 July, C.F. Møller Architects will open the doors to a new office in central Berlin. This is a consequence of an increasing influx of assignments following recent years' focused efforts directed at the German market:
C.F. Møller Architects Office in Berlin News
18 June 2019
Lindower 22, Wedding district, North West Berlin
Design: Heim Balp Architekten, DE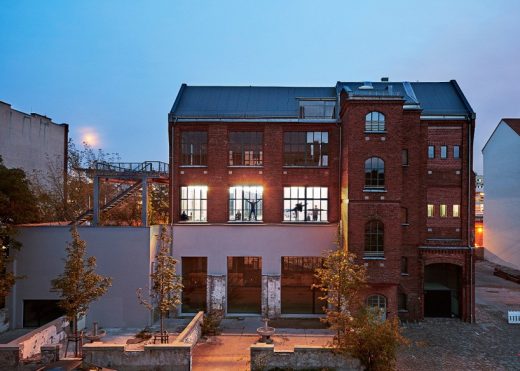 photo : Nick Ash
Lindower 22 Berlin Building
This interesting architectural project was conceived by the architects as a cultural project organized in the abandoned industrial compound of the Max Hasse Maschinen Fabrik, in the Wedding district.
12 Apr 2019
Futurium
Design: Richter Musikowski Architekten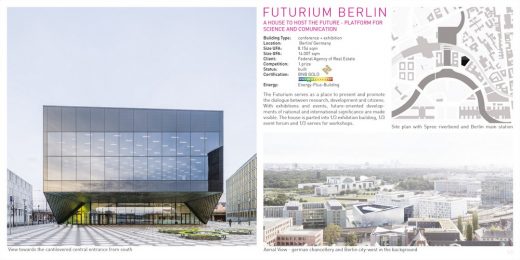 photo : Schnepp Renou, Dacian Groza
Futurium BERLIN
19 Feb 2019
Two Sides of the Border Exhibition
14 Feb 2019
Terrassenhaus Berlin / Lobe Block Building
1 Feb 2019
Flat Lands and Massive Things Exhibition
Architecture and Landscape in Norway Exhibition, Felleshus of the Nordic Embassies
5 Oct 2018 – 17 Jan 2019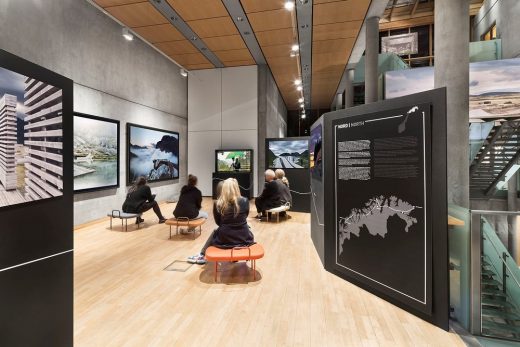 photo courtesy of PLANE—SITE, Berlin
Architecture and Landscape in Norway Exhibition in Berlin
More contemporary Berlin architecture news online soon
German Capital Building Updates 2017 – 2018
17 Dec 2018
James Simon Galerie, Museum Island
Design: David Chipperfield Architects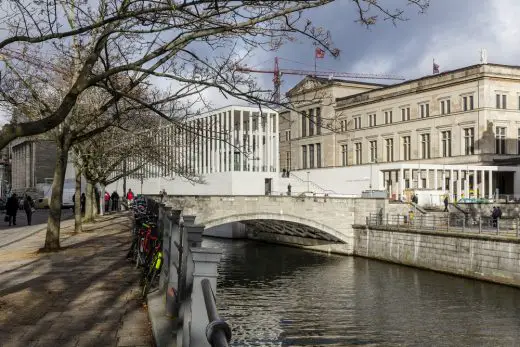 photo © Ute Zscharnt for David Chipperfield Architects
James Simon Galerie Berlin
As a continuation of Friedrich August Stüler's forum architecture, the James Simon Galerie serves as the new entrance building for Museum Island, completing the ensemble between the Kupfergraben canal and the south-west façade of the Neues Museum.
17 Dec 2018
Enchanting Traces – Reflections on b720 Arquitectos' work, Aedes Architecture Forum, Christienen Strasse 18-19, 10119 Berlin
Exhibition: until the 17th of January 2019
The Aedes gallery dedicates an exhibition to the b720 architecture studio which can be visited until January 17th 2019 in Berlin. The Aedes Architecture Forum is one of the most prestigious galleries in the world:
Enchanting Traces – Architecture Exhibition in Berlin
16 Nov 2018
BARRY Bar by Rebecca Brodsky, Rosa-Luxemburg-Straße 20, Mitte
Design: Architects Kristina Wiese & Franziska Lindholz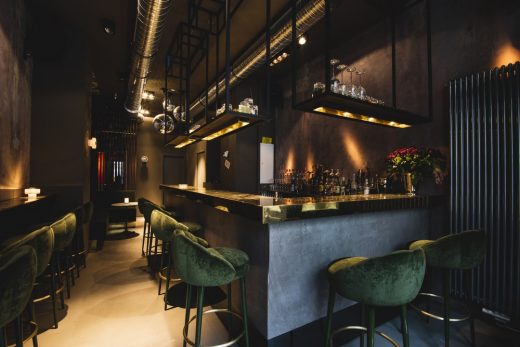 photo : Chris Kratzmann
BARRY Bar Berlin
As Berlin's hottest new party spot, BARRY pays homage to the Studio 54 nightclub days, long before techno took over.
24 May 2018
Arcs and Squares Housing, Mitte
Design: TCHOBAN VOSS Architekten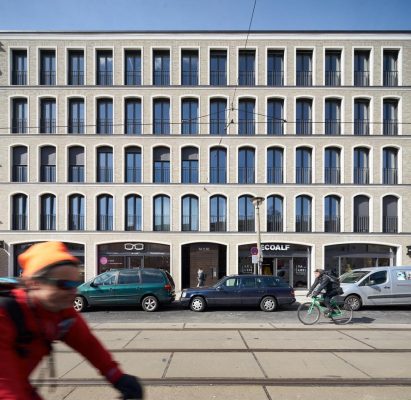 photo © Nils Koenning
Arcs and Squares Housing
This new Berlin residential development was created on a former gap site between Alte Schönhauser Straße and Rückerstraße. The construction refers to the historical development taking in the spirit of the Gründerzeit.
11 Jul 2018
Collaborative Laboratory at Architektur Galerie Berlin
new exhibition by Philip Yuan of Archi-Union Architects:
Archi-Union Architects: Collaborative Laboratory
Opening: 19TH JULY 2018, 7:00PM
Greeting by ULRICH MÜLLER
Introduction by VLADIMIR BELOGOLOVSKY
ARCHITEKTUR GALERIE BERLIN
KARL-MARX-ALLEE 96 10243 BERLIN
TEL +49 (0)30 788 974 31
WWW.ARCHITEKTURGALERIEBERLIN.DE
Berlin Architecture Tours by e-architect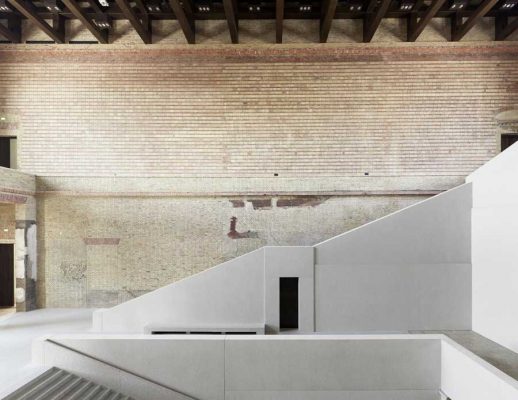 © Stiftung Preussischer Kulturbesitz/David Chipperfield Architects, photo: Joerg von Bruchhausen
Major buildings included on our Berlin Architecture Tours are the Neues Museum Redevelopment by David Chipperfield Architects, Netherlands Embassy Building by OMA, IBA Housing by various architects.
8 Oct 2017
Marina One Singapore – Architecture Exhibition in Berlin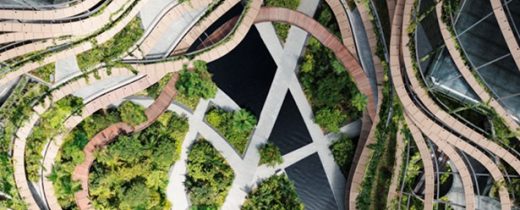 image Courtesy architecture office
Marina One Singapore – Architecture Exhibition in Berlin
Building design by Ingenhoven Architects & Landscape design by Gustafson Porter + Bowman:
The high-density building complex with its mix of uses extends to over 400,000 square meters and, with its group of four high-rise buildings, defines the "Green Heart"—a public space extending over several stories. This three-dimensional green oasis reflects the diversity of tropical flora.
29 Sep 2017
Public Baths, Karl-Thon-Straße, Nauen, 30 km west of Berlin
Architects: TCHOBAN VOSS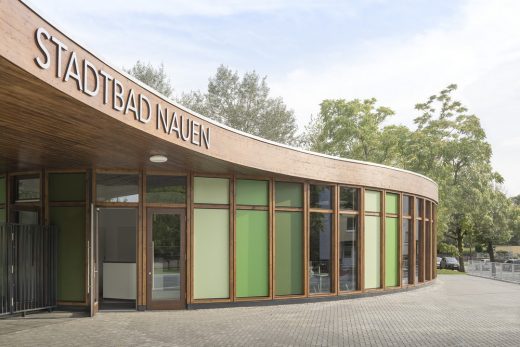 photography © Lev Chestakov
Public Baths in Nauen City
The competition winning design has been comppleted: ocated on a 2.6 hectare plot in the south-east of the historical town centre the new leisure and meeting place means much more to the town than just a replacement: it provides the community with a café, a wellness-centre and a neighborhood management and will from now on be open throughout the year.
18 Sep 2017
Winners of School without classrooms Berlin Competition
First Prize: Carla Sentieri, Lucas Vidal, Alba Carinena (Spain)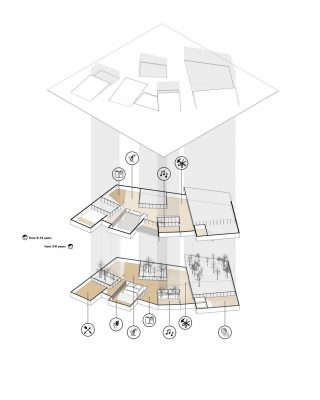 image Courtesy of designer
School without classrooms Berlin Competition winning designs / architects news
Over time man is losing his relationship with nature, he is forgetting where he comes from and what the resources are. We need to re-learn important things in life. What will the children of the future need? What should be your resources? What is fundamental to learn for the world of the future?
29 Jul 2017
50Hertz Berlin Headquarters Building
Design: Love architecture and urbanism, Graz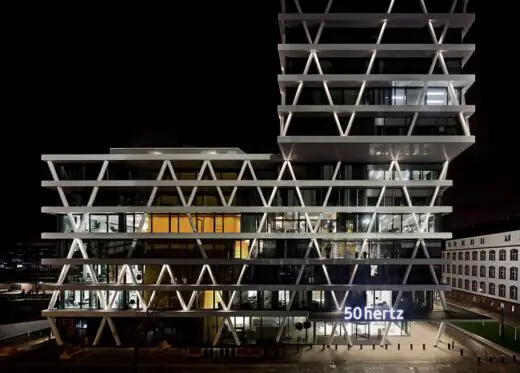 photograph : Werner Huthmacher Photography
50Hertz Berlin Headquarters Building
This building forms the headquarters of the power supply company 50Hertz in the Mitte district of Berlin, in the new Europacity quarter of the city.
25 Apr 2017
Roda Erdmann Haus Campus
Architects: Bodamer Faber Architekten BDA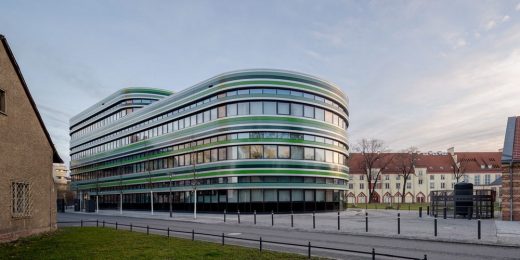 photograph : George Messaritakis
Roda Erdmann Haus Campus in Berlin
With its architecture of four centuries and its garden, the Campus North of the Humboldt University is not only an attraction for teachers and students alike.
26 Mar 2017
School without classrooms Berlin Competition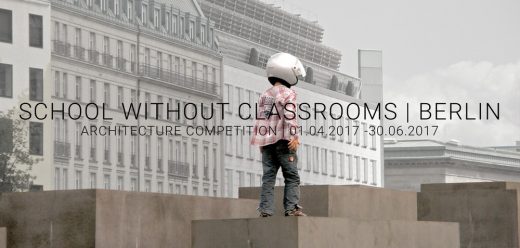 image courtesy of architects
School without classrooms Berlin Competition
Berlin architecture competition seeking creation of a school (age group 5-12) to completely negate present day 'bench-table-chalkboard' classrooms and a regularized building typology.
1 Mar 2017
Ackerstrasse 29
Design: Tchoban Voss Architekten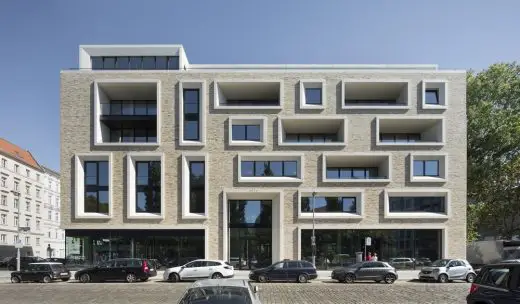 photograph © Werner Huthmacher
Ackerstrasse 29 in Berlin-Mitte
The new five-storey high residential building is part of a vivid and varied cultural area of Berlin-Mitte, impressively presenting itself with three open façades and a penthouse.
13 Jan 2017
BECYCLE Boutique Fitness Studio: Quality over Quantity
Design: Lien Tran Interior Design in cooperation with Götz + Bilchev Architekten, DRAA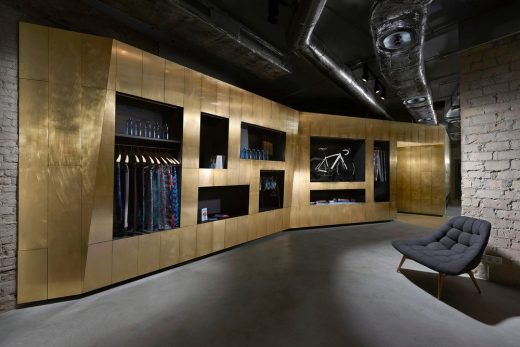 image : Sven Philipp
BECYCLE Boutique Fitness Studio in Berlin
BECYCLE is the first Boutique Fitness Studio in Berlin, Europe's clubbing capital, to offer "high energy" spinning classes with hi-tech bikes and a nightclub atmosphere featuring music from live DJs.
More Berlin architectural news online soon
German Capital Building Updates 2016
10 Nov 2016
The Museum of the 20th Century
Design: Architects of Invention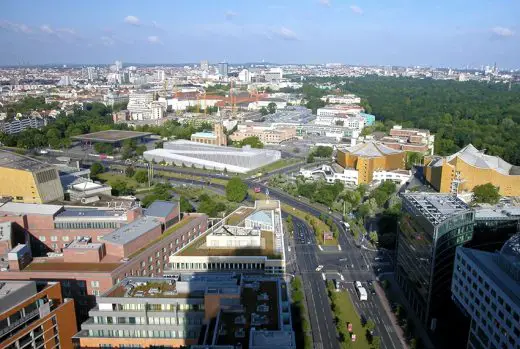 image courtesy of architects
The Museum of the 20th Century in Berlin
The LANDSCAPE BUILDING idea was conceived as a gentle exchange; it is a terrain in itself. The building uses every aspect of its construction for navigation and art exhibition. The roof slopes are pedestrian walkways and they form a sculpture park.
1 Nov + 31 Oct 2016
Competition Design for The Museum of the 20th Century, Kulturforum
Design: REX, architects



image : Luxigon
Museum of the 20th Century Berlin by REX
Forming a curatorial unity with the Mies van der Rohe-designed Neue Nationalgalerie, plus new administration, art storage, café, education/art appreciation spaces, exhibition spaces, media/event space.
14 Oct 2016
Residential Building in Chausseestrasse
Design: Studio Daniel Libeskind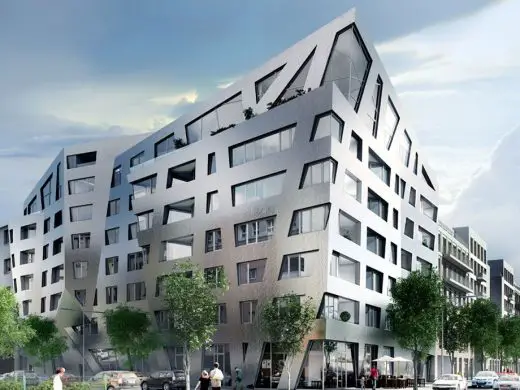 image Courtesy of Ziegert Immobilien, a Tranio.com partner
The Sapphire Residential Building in Chausseestrasse, Berlin
The Sapphire occupies a corner on Chausseestrasse. It features large angular windows designed to catch maximum light, canted walls, and a metallic-coated ceramic façade.
12 Oct 2016
New Media Campus for Axel Springer in Berlin
Design: OMA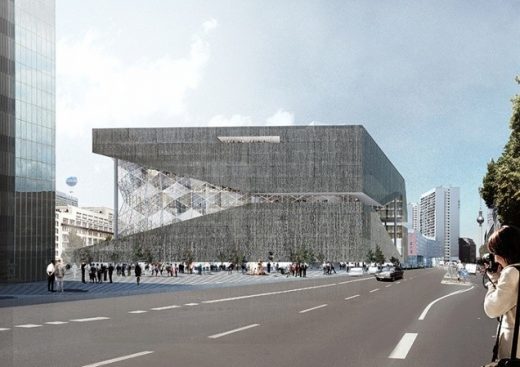 image courtesy OMA
Media Campus Axel Springer Berlin
page updated 25 Jul 2016
Science Center Medical Technology Building in Berlin
Architects: Gnädinger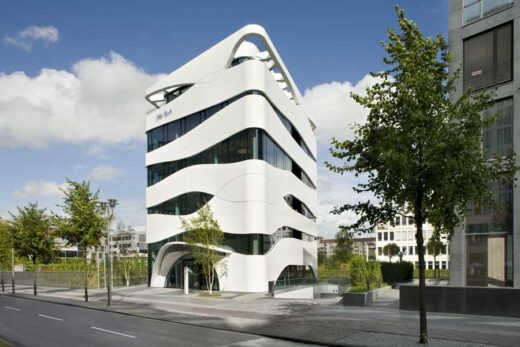 photo © Otto Bock
Science Center Medical Technology Building in Berlin
This German healthcare building presents itself in the center of the New Berlin – the Science Center Medical Technology at Potsdamer Platz. The new building is the representative office in the capital city for the medical technology company Otto Bock HealthCare GmbH, which is based in Duderstadt.
7 Sep 2016
The White, Stralauer Allee
Architects: nps tchoban voss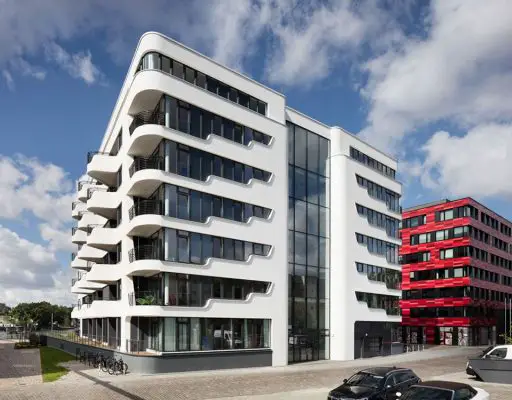 photo © Werner Huthmacher
The White Building in Berlin
This seven-storey residential building is integrated into a row of commercial and office buildings located at the former east port (Osthafen) in Berlin. In addition to the almost continuous glazing the distinctive shapes of the balconies underline the horizontal structure of the façade.
More Berlin Architecture News online soon
Location: Berlin, Germany
Architecture in Berlin
Berlin Architecture Designs – chronological list
Berlin Architecture Walking Tours by e-architect
Comments / photos for the Berlin Building News – Architecture in the German Capital City page welcome
Website: Visit Berlin