Romanian architecture news 2023, Southeast Europe buildings, Construction design, Property images, Architects
Romanian Architecture News
Key Architectural + Property Developments in Romania: New Buildings – Southeast Europe Built Environment Updates
post updated 16 August 2023
Romanian Architecture Designs – chronological list
Romanian Architectural News 2021 – 2023
Romanian Architecture News
24 July 2022
Palas Residential, Iași county
Design: UNStudio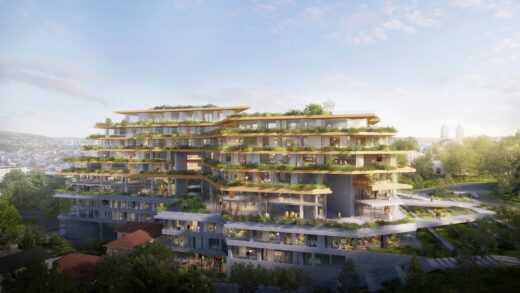 render : WAX
Palas Residential
The IULIUS Group selects UNStudio's proposal for a new development in Iasi from designs submitted by four of the world's leading architecture firms. The design proposal submitted by Dutch architects office UNStudio has been selected as the winning design for Palas Residential, their latest project in the historical downtown of this city.
13 May 2022
Palace of the Parliament, Strada Izvor 2-4, București
Design: Anca Petrescu Architect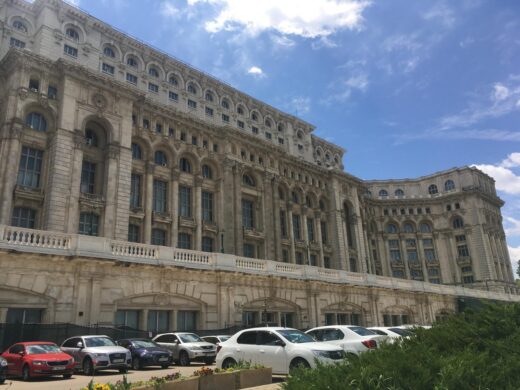 photo © Daniel Lomholt-Welch
The Palace of the Parliament, also known as the Republic's House or People's House/People's Palace, is the seat of the Parliament of Romania, located atop Dealul Spirii in Bucharest, the national capital. It is the heaviest building in the world, weighing about 4,098,500,000 kilograms (9.04 billion pounds; 4.10 million tonnes), also being the second largest administrative building in the world.
The building was designed and supervised by chief architect Anca Petrescu, with a team of approximately 700 architects, and constructed over a period of 13 years (1984–97) in Socialist realist and modernist Neoclassical architectural forms and styles, with socialist realism in mind. The Palace was ordered by Nicolae Ceaușescu (1918–1989), the president of Romania.
22 Feb 2022
MORA35 a Sophisticated Home, Bucharest
Architects: sculpta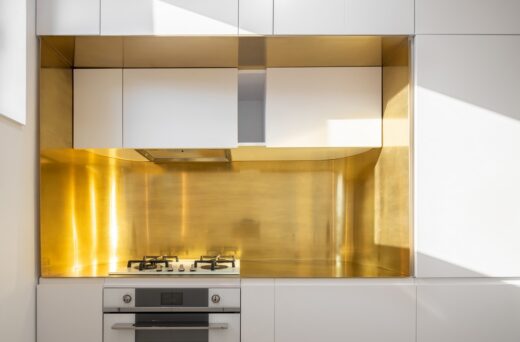 photo : Vlad Pătru – photography
MORA35 a Sophisticated Home, Bucharest
There's no denying that older buildings have more character and beauty than modern ones and this new renovation by Cristina & Anton Giuroiu of sculpta is here to showcase just that. While pre-war apartments feature large doorways, natural wood flooring, and heavy wooden doors, they lack new and practical amenities that most modern apartments have. And that's what sets them apart from post-war flats.
21 Feb 2022
Small Space in a Postwar Building, Bucharest
Architects: sculpta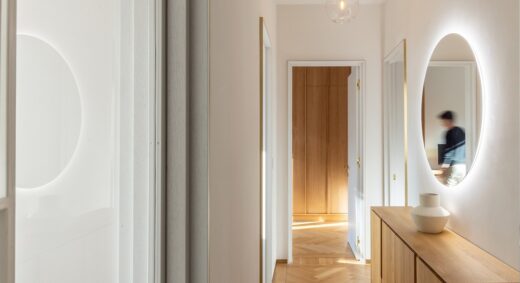 photo : Vlad Pătru – photography
Small Space in a Postwar Building
In an aristocratic residential neighborhood known for retaining the mid-twentieth century charm, sculpta architects found a small hidden space in a Postwar Building. Spread over just 52 square meters, it still had the old terracotta stoves and floors made of solid wood. Before the discovery, the space had remained untouched, with its now yellowed walls reminiscent of the bygone years.
5 Apr 2021
Electra Electronic Industry Centre, Miroslava, Iași county
Design: APLUSNOIMA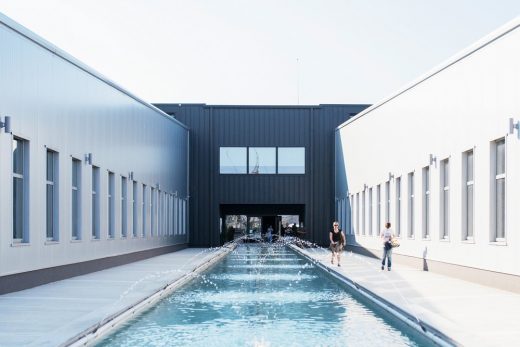 photo © Katerina Nedelcu
Electra Electronic industry Centre, Iași county
The Electronic Industry Centre in Iași brings together 11,000 square meters of production, office, technical and representation spaces, in a compact set of three industrial halls. They are linked together by a central body, which houses the common functions. At the center of this core sits a connecting "void".
More contemporary Romanian Architecture News on e-architect soon
Romanian Architecture News 2018
28 Jun 2018
CRAZY_Undr Club, Constanta
Design: re-act now Architects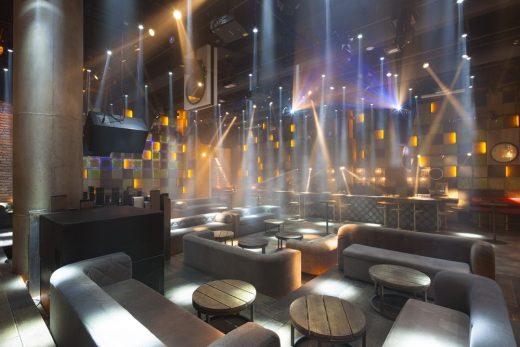 photo : Andrei Margulescu
Nightclub in Constanta
We are dominated by mental flashbacks of some residual urban spaces, "ghost" spaces or spaces dismantled of initial activities.
28 Jun 2018
Funky Resto – Bar in Bucharest, 33A Dorobanti, Bucharest
Design: re-act now Architects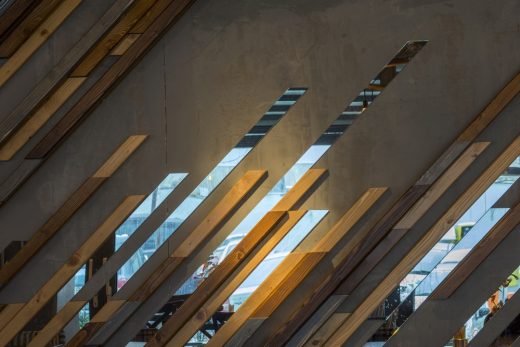 photograph : Gabriela Enache
Funky Resto Bar Bucharest
post updated 21 Feb 2018 with new photos
Pension Atra Doftana, Valea Doftanei
Design: TECON Architects


photo : Cosmin Dragomir
Hotel Atra Doftana
The building is situated nearby a mountain lake and is configured with two major volumes, taking advantage of the natural form of the site, which presents two major level drops alternated with two approximately flat areas: one volume that houses the rooms and reception, and the second volume that contains living and dining spaces, the restaurant kitchen and technical spaces.
More contemporary Romania Architecture News on e-architect soon
Romania Architectural Updates 2014 to 2017
30 Oct 2017
Stefan cel Mare Building, Bucharest
Architects: Lauster & Radu Arhitecti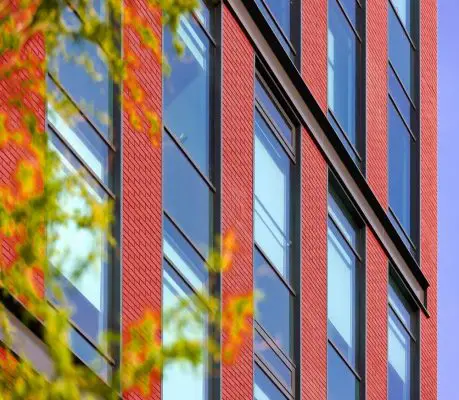 photograph : Andrei Margulescu
Stefan cel Mare Building in Bucharest
Until 2006 the site located at the intersection between B. Mumuleanu and Tunari Street was a neighborhood vulcanization shop for cars. Between 2006 – and February 2015 the site was empty and people were mistakenly using it as a place for garbage.
11 Jan 2017
Take a(l)titude, Lighthouse on Fagaras Mountains, Ploiești
Design: Archaeus ltd.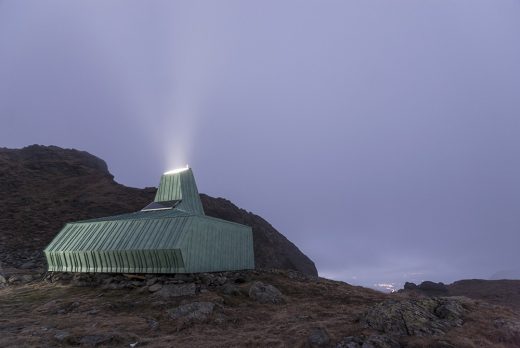 photo © Dan Purice
Lighthouse on Făgăraș Mountains in Romania
The Făgăraș Mountains are the highest mountains of the Southern Carpathians, in Romania. A "lighthouse" in the Fagaras mountains, on the most dangerous (and the most beautiful) places.
page updated 16 Oct 2016 with new images ; 8 Jul 2014
Bucharest Apartments, Str. Dogarilor 26–30, București / 26–30, Dogarilor Street, Bucharest
Design: ADN Birou de Arhitectură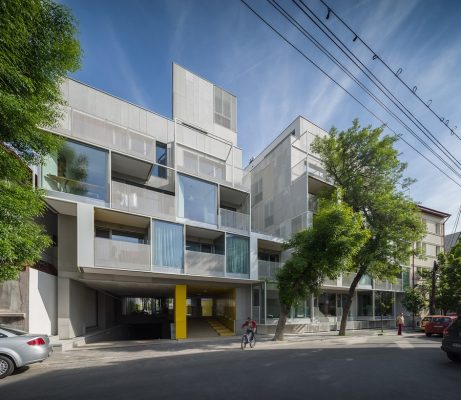 photo : Cosmin Dragomir
Bucharest Apartments
One of the most important and problematic aspects of nowadays Bucharest is the fast densification of the central area. While the architects believe that density can, and many times must be seen as a form of sustainability, they also admit that the often fragile relationship between habitation within an old neighborhood and the increase of density could many times alter the place and reduce its existing qualities.
14 Jul 2016
Garage Conversion, Bucharest
Design: arhiDOT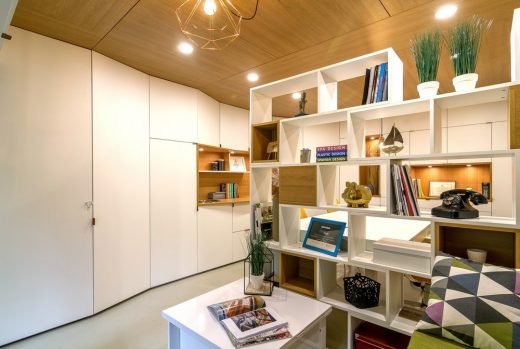 photograph : Arthur Tintu
Garage Conversion in Bucharest
This architectural practice wanted an unconventional and representative space, small and manageable, a place where we'll feel more at home than at the office, providing a direct contact with the street and the city. Thus they set their office in a 22 square meters garage (used for storage at that moment), on the ground floor of a 60's apartment building in Bucharest, recovering a forgotten space at the same time.
21 Mar 2014
The Flagship Tower, Cluj-Napoca
Design: Kubota & Bachmann Architects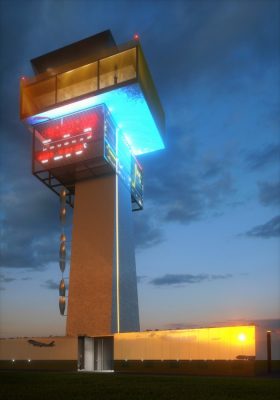 perspective : Jigen ; image courtesy of architects
New Control Tower Airport, Cluj-Napoca
The « passive house » and the concrete constructions have both minimized openings given by three triple glazed windows. This construction is optimal for insulation and to avoid energy leakage. It is also very useful in blocking noise pollution created by airplanes.
More Romanian Architecture News online soon
Location: Romania, southeast Europe
Architecture in Romania
Romania is located in Southeastern Europe, bordering the Black Sea, Bulgaria, Ukraine, Hungary, Serbia, and Moldova. It has an area of 238,397 sqkm and a temperate-continental climate.
With almost 20 million inhabitants, the country is the seventh most populous member state of the European Union. Its capital and largest city, Bucharest, is the sixth-largest city in the EU. Key buildings include sites such as Bran and its Dracula's Castle, the Painted churches of Northern Moldavia, the Wooden churches of Maramureș and the Sculptural Ensemble of Constantin Brâncuși at Târgu Jiu.
More Modern Buildings in Romania
More recent buildings in the country:
6 Mar 2013
Avincis Winery, Olt Valley, Dragasani
Design: BBM Grup S.R.L.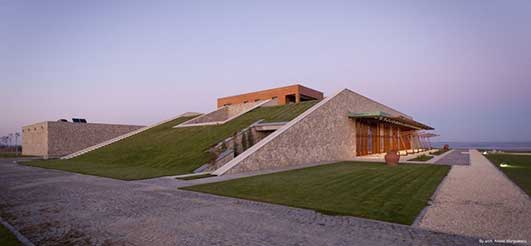 photo : Andrei Margulescu
Avincis Winery Building
Located about 230 km northwest of Bucharest, in the Olt Valley, the hills of Dragasani – an old winemaking tradition area – AVINCIS ensemble comprises: a mansion, a winery composed of two buildings (A and B) and the park. MANSION – built in 1905 in the neo-Romanian style, was in semi-ruins but still standing up in June 2007 when we first visited the site and still having sufficient originating architecture elements to be worth restored.
14 Feb 2013
Cluj Arena, Cluj,
Design: Dico Si Tignans Birou De Proiectaire Srl


photo : Cosmin Dragomir
Cluj Arena Building
Cluj Arena is a multipurpose stadium built on the footprint of the previous two facilities of the last hundred years on the same spot.
21 May 2012
Free Form Buildings 01, Cioboteni
Design: Portik Adorján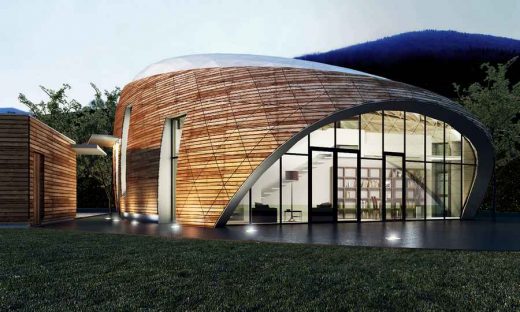 image from architects
Free Form Building
The building is designed for a five member family. It contains – next by the living area – five bedrooms and two bathrooms. The internal spaces are arranged in the living area in a high ground-floor, the bedrooms and the service areas on two levels. The garage and an external storage forms a separate volume.
Dorobanti Tower, Bucharest
Design: Zaha Hadid Architects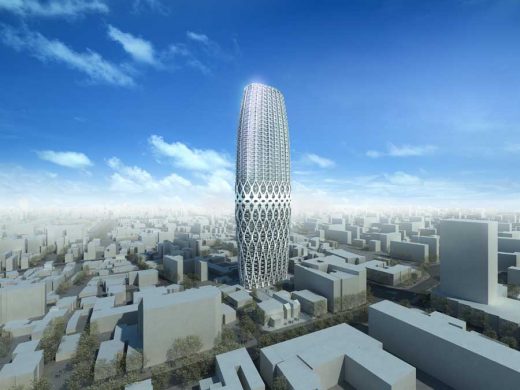 image from architect firm
Bucharest Tower
Victoria Palace extension : HQ of the Romanian Government, Bucharest
Design: de Architekten Cie.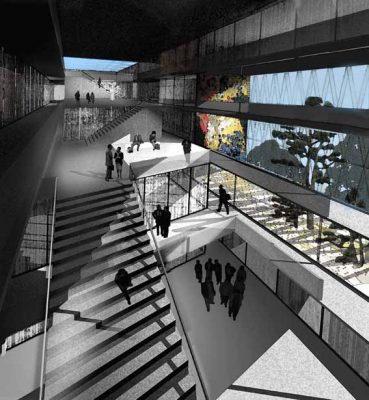 image from architect practice
Victoria Palace building
Comments / photos for the Romanian Building News page welcome