Romania Building Conservation, Haiti Earthquake Architecture Design, Disaster Structure
Romanian Buildings Article 25 + Haiti Conservation & Reconstruction
Safer Buildings for Communities Across the Globe
1 Mar 2011
Architecture as an Investment for the future
Conservation in Romania. Reconstruction in Haiti
'Article 25: the built environment's charity'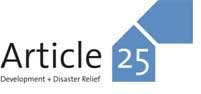 Monthly Report by Article 25 written for www.e-architect.com
Romanian Buildings Article 25 by Katja Ortiz Hintz
Architecture aimed at development must be seen as an investment for the future, as well as an immediate solution to a problem. In order for this to be feasible, projects have to be site-specific as every community, geography and culture have their own needs and demands. Culturally and regionally appropriate buildings are achieved through site assessments and community consultation. Whether it is conservation of historical buildings in rural Romania or school rehabilitation in post-earthquake disaster in Haiti, conservation provides many practical solutions as well as serving as a platform for future change.
Conservation project in Romania
In 2006, Article 25 (then known as Architects 4 Aid) partnered with the Mihai Eminescu Trust (MET) in order to evaluate and assess the damaged architectural heritage of traditional Transylvanian villages and to mitigate the deterioration of the vernacular structures. This was done through comprehensive community consultation. I wondered, with a declining economy, mass unemployment and limited education, poor sanitation, widespread poverty and poor roads, how could building preservation be top of the agenda?
The villages were originally constructed during the C17th and C18th using traditional Saxon building techniques from readily available local materials. A traditional Saxon building includes a vaulted cellar and an open stone wall as foundation, with the outside brick plastered and decorated. They follow a standard pattern of design and construction consisting of shallow foundations in rubble and stone.
Wall construction is generally of soft handmade brick and limestone is burnt to provide mortar- this is the vital layer that provides protection against extreme continental temperatures. This vernacular technique is a highly durable form of construction but due to the harsh summer and winter temperatures, it requires regular maintenance. The upkeep and repair of homes by local inhabitants ensured the continuity of these buildings.
Street view of the village of Viscri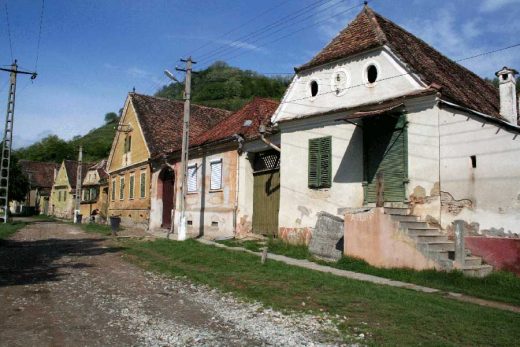 The fall of the Ceausescu political era in Romania brought tremendous cultural and social transformations. These political changes had their toll on the people and this was felt on the buildings and village infrastructure (roads, drainage). Mass emigration from rural to urban areas left traditional buildings neglected and uncared for. With no economic prospect and hardly any opportunities for the young, the way of life and heritage of these rural communities is under threat.
The Article 25 study was aimed at finding a way in which to promote rural development through building conservation. By recovering these traditional architectural techniques, the objective was to make the space itself an economic resource. Exploiting the area's uniqueness by preserving medieval buildings would provide the villages with a distinctive landscape to attract tourism.
To avoid the dreaded process of 'Museumification', whereby a village acts as an exhibition of its past rather than a representation of its present, extensive community consultation throughout was vital in achieving an effective and tailored heritage conservation scheme. Through various workshops, individual interviews, role-plays and focus groups, the research team and local community began to put forward their views and interests. This promoted cooperation and set in motion a willingness to participate, with villagers beginning to develop a sense of ownership over the project. Taking part in the process of conservation leads to a collective social consciousness which ensures the conservation plan is sustainable.
One-to-one interview with local villager


Increasing awareness of the importance of traditional architecture as an economic asset was important as it could be seen as an investment for the future. By focusing on the existing community and their needs, the aim was to accomplish a balance between traditional technologies and modern living requirements to act as a catalyst for positive change.
Community workshops where villagers expressed their concerns and perceptions


School Reconstruction in Haiti
We all saw the images of Haiti devastated after the earthquake in January 2010. Mountains of rubble everywhere, buildings turned into dust. The densely populated Port-au-Prince, with its inadequate building structure, had little chance against an earthquake of that magnitude. The extent of the damage caused by the earthquake was largely due to Haiti's architectural heritage of inadequate buildings. One year after the earthquake, there are over 1.5 million people living in temporary tents, government and health buildings are still in ruins and roads and transport systems are in pieces.
An example of a destroyed building in Haiti after the earthquake



image : Wayne Rowe
Article 25 partnered with Outreach International and the local Haitian Organisation for the Social Development of the Masses (ODSM) in order to undertake various conservation amd reconstruction projects throughout Haiti. The team are presently on the ground working to rehabilitate a school at Croix de Mission. The school had suffered extensive damage to the rear gable at the end wall and there was a lack of structural support at the front half of the building. The roof structure needed additional strengthening. Repair works are underway and include corner reinforcement, roof braces and new columns for extra roof support.
Outside of the Croix de Mission School ; Overview of installed columns with bracing



Increasing community awareness about sustainable and safe buildings is vital in order to ensure safe and durable seismic-resistant architecture. However, beyond this practical implication, the events of January 13th 2010 are still very vivid in the minds of the people and it is important for them to preserve the standing symbols of their survival. Trying to refurbish rather than rebuild those schools that are still intact sends an important message to the local population that their historical and cultural heritage will be maintained.
Comprehensive research is what makes the difference between assembling materials into a habitable room and building a tailored, useful and long-lasting structure. A community should be proud of the buildings they have and these should represent them and their needs.
In the case of Romania, public participation gave the community a voice, a form of self-expression and identity. Conservation also has the potential to provide a means of economic development. In the case of Haiti, it gives people a sense of security amidst incredible uncertainty and fear. The conservation of a building that is still standing after an earthquake has incredible value for a community that have seen their country devastated. Conservation projects can have myriad benefits for these communities by ensuring the continuity and continued relevance of their architectural heritage for a better future.
Photos: Article 25
Romanian Buildings Article 25 received from this built environment charity based in London, England
Location: Romania
Romanian Buildings
Romanian Architecture Designs – chronological list
Romanian Architecture – Links
20 Apr 2010
Article 25 in Haiti
More than two months after the January earthquake, Haiti is still very much in emergency mode. First responders with food, water, tents, sanitation and medical supplies are vital on the ground.
However, there is also a crucial role for built environment professionals. Development and disaster relief charity Article 25 visited Haiti in mid-March to assess sites and structures in the interest of public safety, and with a view to setting up temporary schools while permanent reconstruction efforts are mobilised.
Collège Boisrond-Tonnerre, Pétionville: Pre-Earthquake:



photo © outreach-international.org
Article 25 partnered with humanitarian organisation Outreach International and their local Haitian affiliate Organisation for the Social Development of the Masses (ODSM) to support their long-established education programme with construction expertise. The assessment team was composed of Director of Projects Robin Cross and Project Coordinator Melissa Arcand of Article 25, and Structural Engineer Franck Robert of Buro Happold.
Haiti Earthquake Building Reconstruction – report by Article 25
Haiti Earthquake Buildings – previous disasters text by Article 25
Music Studio Design Competition
Debris Design Competition Haiti
Yingxiu Memorial Museum, China
Chinese Earthquake Memorial design by Sutherland Hussey Architects
Chile Earthquake Rebuilding Design – Article 25 for e-architect.com
Monthly Reports by Article 25
Democratic Republic of Congo Schools
Haiti Design Competition, Caribbean
Haiti Design Contest
Comments / photos for the Romanian Buildings Article 25 – Architecture Conservation and Disasters page welcome