Norwegian architecture news 2023, Norway buildings architects, Oslo property development, Construction design
Norwegian Architecture News
Key Property Developments in Norway: New Buildings – Built Environment Updates
post updated 10 September 2023
Norwegian Architecture Designs – chronological list
Oslo Architecture Walking Tours
Oslo Architecture Walking Tours by e-architect for groups
Norwegian Building News
Norwegian Building News – latest additions to this page, arranged chronologically:
27 July 2023
Toneheim Folkehøgskole, Hamar
Architects: ASAS arkitektur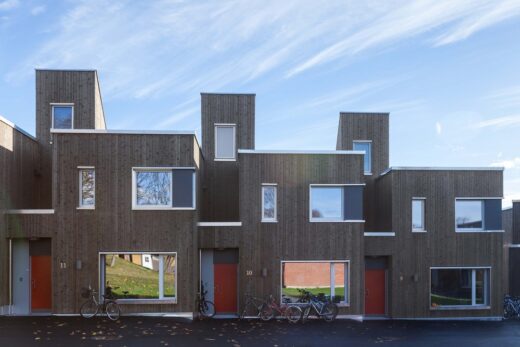 photos by Fredrik Myhre, Ola Spangen, Niklas Hart – ASAS arkitektur
Toneheim Folkehøgskole
ASAS arkitektur introduces a new student housing project, built to replace existing housing at Toneheim Folkehøgskole, just outside the city of Hamar, Norway. The small wooden village has been erected around a common yard, which is a Norwegian traditional typology called "tun". The new village-like structure is vernacular and deeply rooted in the site and history.
14 June 2023
The Treetop Walk, Hamaren Activity Park, Fyresdal
Architects: EFFEKT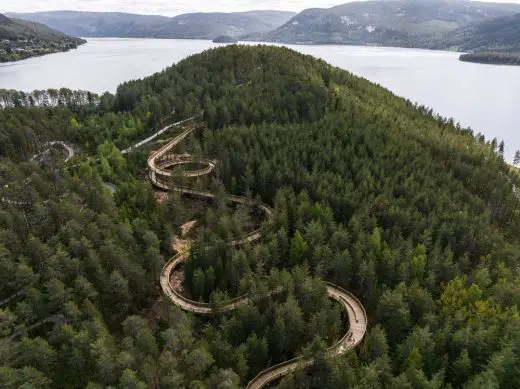 photo : Rasmus Hjortshøj
The Treetop Walk, Norway
The Treetop Walk is a one kilometer long and two meters wide plank boardwalk extends on pillars all the way from the forest floor, along lake Fyresvatn, up between the treetops, along the mountain ridge and up to the summit of Klokkarhamaren. At the end of the trail, a considerable circular viewpoint with a diameter of 50 meters provides a spectacular 360-degree view over the pine forest, clear lakes and rock formation that make up the natural landscape.
19 Aug 2022
Ski Tower, Akershus, Southern Norway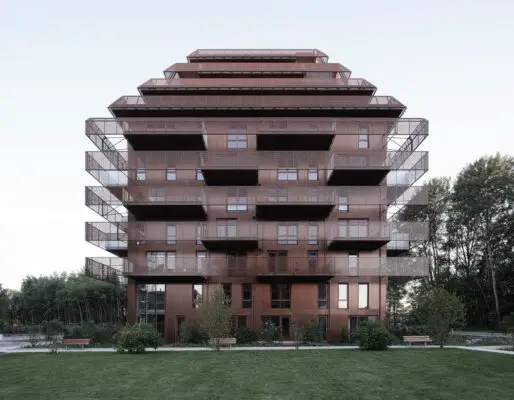 photos : Kyrre Sundal and Reiulf Ramstad Arkitekter
Ski Tower, Akershus Southern Norway Housing
The new high quality housing project, Ski Tower, in Magasinparken offers innovative apartments sheltered in a new green neighborhood in Ski Vest, Norway.
7 June 2022
The Plus, Magnor, Eidskog Municipality, Innlandet county
Architects: Bjarke Ingels Group – BIG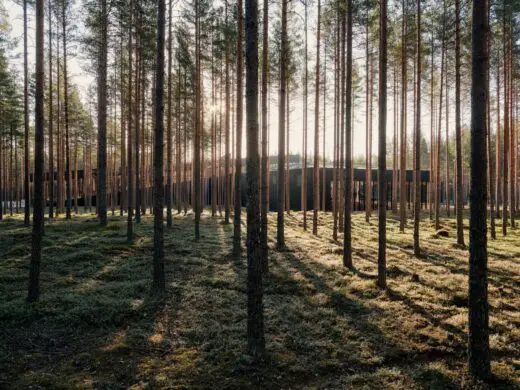 photo : Einar Aslaksen
The Plus Building by BIG in Magnor
Norwegian furniture manufacturer Vestre and BIG celebrate the opening of THE PLUS – a new furniture factory, experience center, and 300-acre public park. The colorful manufacturing village is dedicated to the cleanest, carbon-neutral fabrication of urban furniture, leading the way for manufacturing facilities and high-efficiency production of the future.
More Norwegian Architecture News on e-architect soon
Norwegian Architecture News 2021
10 Dec 2021
Villa Aa, Oslo Fjord
Design: C.F. Møller Architects
Villa Aa, Oslo Fjord
3 Dec 2021
Oslo Science City, central Oslo, southern Norway
Architects: Bjarke Ingels Group – BIG with a-lab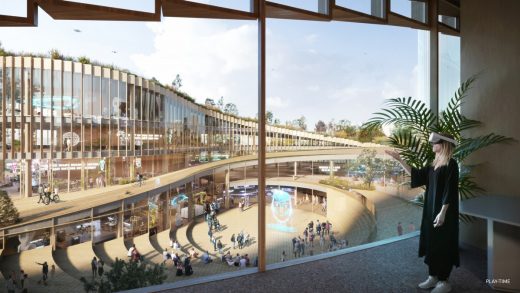 picture courtesy of architects office
Oslo Science City Building by BIG
Anchored in the City of Oslo's 2019 "Strategy for the Development of the Knowledge Capital", the new 1.4 million m2 Oslo Science City will create a physical framework for Norway's innovation environment of estimated 150,000 scientists, students, entrepreneurs, and contribute to the country's transition to renewable energy.
22 Oct 2021
Munch's Cliffhanger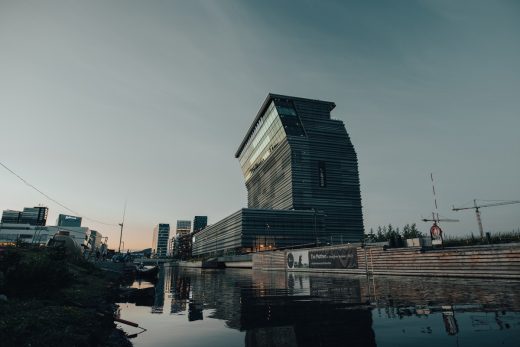 photo courtesy of architects office
Edvard Munch's life and artwork made for the most spectacular stories in the world:
Munch Museum Oslo Building
27 Aug 2021
Powered by Ulsteinvik
Design: Kaleidoscope Nordic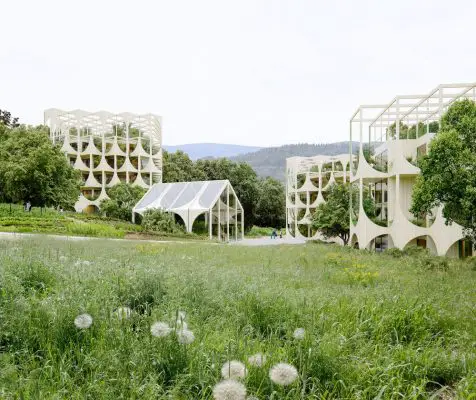 image : KVANT-1 and Kaleidoscope Nordic
Powered by Ulsteinvik, West Norway
The project was selected from over a hundred nominations worldwide as the Architectural model/Render category winner. Imagining the future of architecture and urban form is an important aspect of how Kaleidoscope works, and it is an honor to be recognized for this.
27 May 2021
New Kristiansund Opera and Culture Centre
Design: C. F. Møller Architects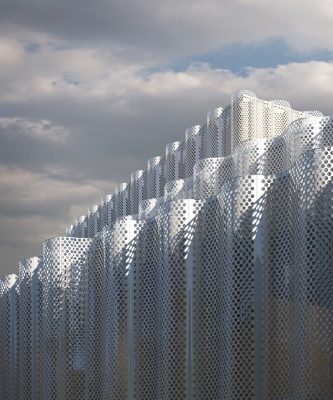 image : C.F. Møller Architects (skyfish.com)
Kristiansund Operahouse and Culture Centre
At the very heart of Kristiansund, C.F. Møller Architects has designed the city's next cultural hub – the combined location of various different cultural institutions that will vitalise the street environment and create a new urban meeting place for the general public.
9 Apr 2021
Hillside Home, near Oslo
Design: Derlick Architects
Hillside Home near Oslo
27 Jan 2021
Floating Sauna, Tromsø Harbour, Troms county, Northern Norway
Design: Skapa Architects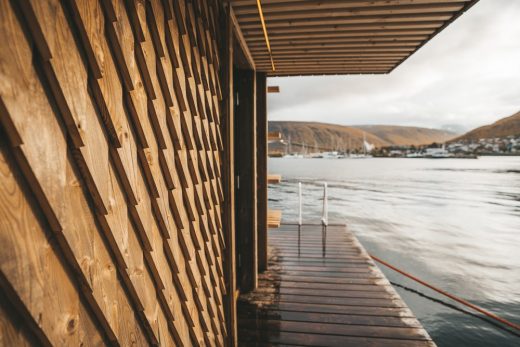 photo : David Jensen
Floating Sauna Tromsø Harbour
Floating Sauna in Tromsø Harbour is a place where locals and visitors have space to breathe, disconnect from the world whilst connecting with each other.
More Norwegian Architecture News online here at e-architect soon
Norwegian Architecture News in 2020
9 Dec 2020
Paper House, Moss
Paper House, Moss
12 Nov 2020
Domen Viewpoint, Northeast Norway
Design: Biotope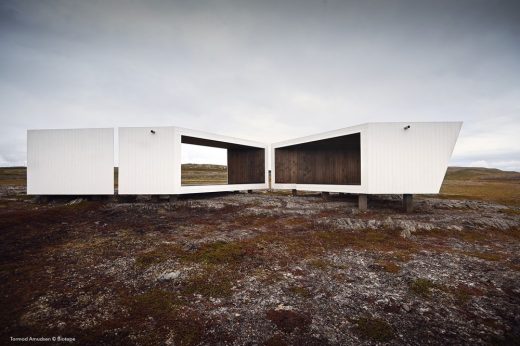 photograph : Tormod Amundsen / Biotope
Domen Viewpoint in Northeast Norway
Located overlooking the Barents Sea, this bold viewpoint has opened to tourists visiting the interesting destination. The sustainably designed building provides much-needed shelter from the harsh arctic climate.
29 Oct 2020
Energy Positive Powerhouse, Telemark
Architects: Snøhetta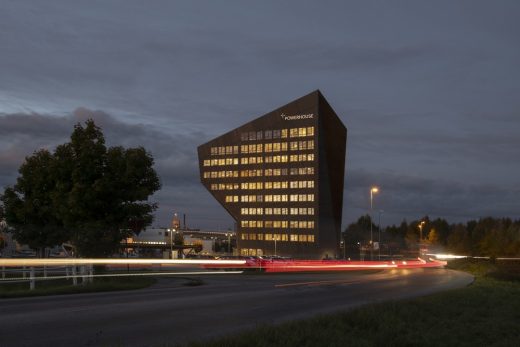 photo © Ivar Kvaal
Energy Positive Powerhouse Telemark
A sustainable model for the future of workspaces. The energy sector and building industry account for over 40% of global industry's heat-trapping emissions combined.
31 Oct 2020
Ibsen Library, Skien, Vestfold og Telemark county, southern Norway
Architects: Kengo Kuma & Associates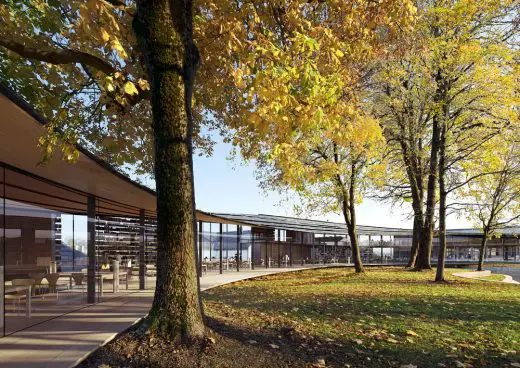 image © MIR
Ibsen Library Skien
The Ibsen Library is the result of a desire to make Ibsen's drama and literature accessible to everyone. Skien municipality also has bold ambitions regarding Ibsen Library's contribution to the maintenance and development of democracy, as an arena of inclusion, openness, and integration of art as a resource in society.
26 Oct 2020
New FRAM Museum Building, Oslo
Architects: Reiulf Ramstad Arkitekter (RRA)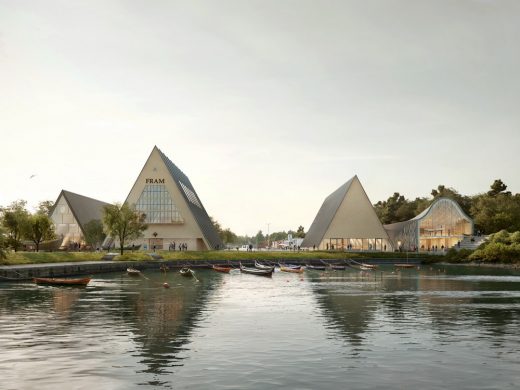 image Courtesy architecture office
New FRAM Museum, Oslo
"Framtid" (Future) will be the next extension to the FRAM Museum, dedicated to polar exploration and environmental education. The result of an invited architectural competition, our proposal will propel the museum towards the future with a simple idea: that architecture exemplifies how we care for our environment.
15 Oct 2020
Sweco acquires Norwegian TAG Arkitekter
Sweco has signed an agreement to acquire TAG Arkitekter, thereby establishing an architectural business in the Norwegian market. Through the acquisition, TAG Arkitekter will become part of Europe's leading provider of integrated architectural and technical consulting services.
The acquisition is in line with Sweco's growth strategy to establish a leading position in all core markets and in all service areas where the company operates. Sweco started as an architectural firm in 1958 and has grown out of the conviction of the strength of combining architectural and engineering consulting services.
"I am very happy and proud that TAG Arkitekter is becoming a part of Sweco, ensuring that we can offer our clients in Norway fully integrated architectural and technical consultancy services", says Åsa Bergman President and CEO of Sweco.
TAG Arkitekter, with its 95 employees, is mainly active within the real estate and landscape architecture segments. The company has offices in Oslo, Bergen and Trondheim. TAG Arkitekter has had strong growth over the last ten years achieving a revenue of MNOK 113 in 2019.
"With its prize-winning designs and a strong focus on urban development, TAG is the ideal partner now that Sweco is establishing its own architecture division in Norway. We are looking forward to TAG becoming part of Sweco," says Grete Aspelund, President of Sweco Norway.
"Partnerships between disciplines permit us to design the homes and residential environments of the future. We are now looking forward to being part of one of the world's biggest specialists in sustainable urban development," says Lars Eirik Ulseth, CEO of TAG Arkitekter.
Sweco is one of the leading companies within architecture in the world with approximately 1,300 architects and landscape architects. Sweco Norway has a revenue of MNOK 2,424 (2019) with 26 offices and 1,630 employees.
29 Sep 2020
Skigard Hytte, Kvitfjell, Lillehammer
Design: Mork-Ulnes Architects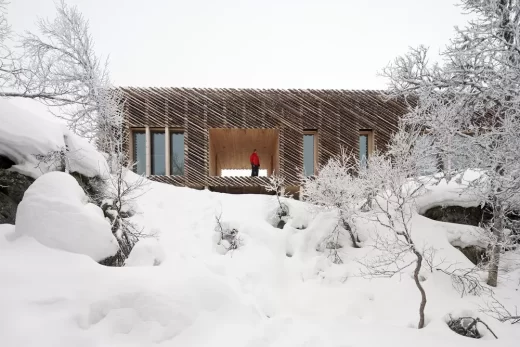 photography : Bruce Damonte
Skigard Hytte, Kvitfjell, Lillehammer
Casper and Lexie Mork-Ulnes complete a mountain cabin for themselves and their children in Kvitfjell, a ski resort in Norway that was developed for the 1994 Winter Olympics in Lillehammer. This new Norwegian building is perched upon the ledge of a steep mountain, and frames panoramic views of the valley and river below.
5 Aug 2020
Senja Cabin, Senja, Troms og Finnmark county
Architects: Bjørnådal Arkitektstudio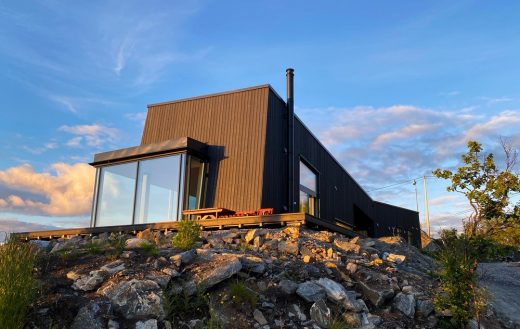 photography : Hans-Petter Bjørnådal
Senja Cabin in Northern Norway
The cabin is located in Senja at 69° north in Norway surrounded by majestic mountains, magical fjords with thriving fishing villages, holding on to narrow bits of land between mountains and ocean. The National Tourist Route leads you on a 10 mil long journey along with one of the finest landscapes, with spectacular points of view and several exciting detours.
8 July 2020
Pilestredet 77/79, Fagerborg, Oslo
Architects: Reiulf Ramstad Arkitekter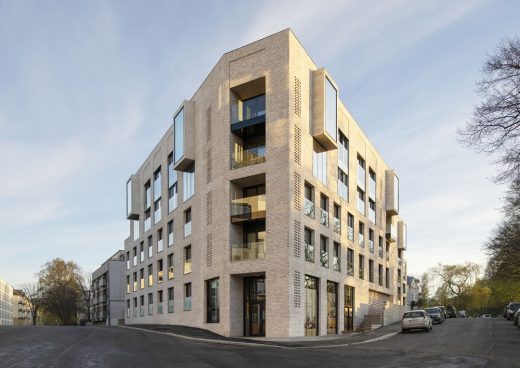 photography : Ivar Kvaal
Pilestredet 77/79
The project has been developed on a very site-specific approach. It has elaborated solutions, that primarily refer to the historical context of the neighborhood of Fagerborg. The project unites tradition and innovation in a carefully reflected way and provide good homes that will help to form a qualitative neighborhood.
1 July 2020
The Plus Furniture Factory, Magnor
Architects: BIG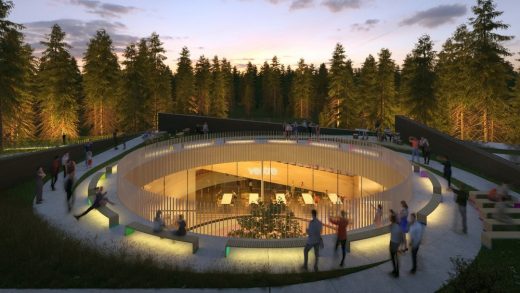 image © Lucian R
The Plus Furniture Factory, Magnor
Together with Vestre, the Norwegian manufacturer of urban furniture, BIG-Bjarke Ingels Group unveils The Plus as the world's most sustainable furniture factory tucked in the heart of the Norwegian forest.
29 Feb 2020
Outdoor Care Hospital Retreats, Oslo
Architects: Snøhetta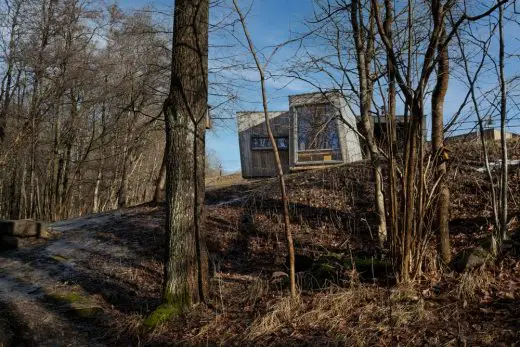 photography © Kebony
Outdoor Care Retreats in Oslo
Located in verdant woodland just a stone's throw from the entrance of Norway's largest hospital, two sensitively designed wooden shelters are aspiring to make hospitalisation easier and more comfortable for patients and their families.
27 Feb 2020
Trondheim Central Station, northern Norway
Design: Arkitema Architects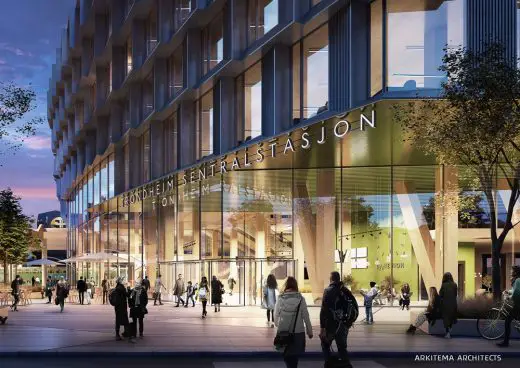 image © Arkitema Architects
Trondheim Central Station Building
The winning entry in the architectural competition for the design of the new Trondheim Station has been chosen. Arkitema Architects has designed the new station building, which will be constructed across the tracks in a central location in Trondheim, northern Norway.
More Norwegian Architecture News online at e-architect soon
Norway Architectural Designs in 2019
10 Nov 2019
Solberg Tower & Rest Area, Sarpsborg, Østfold
Design: Saunders Architecture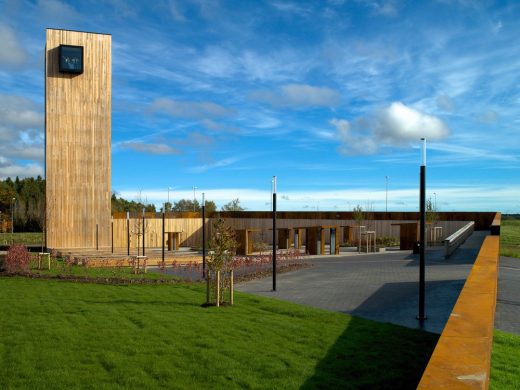 photo : Bent Rene Synnevaag
Solberg Tower & Rest Area Sarpsborg
Sarpsborg is a green, flat and calm piece of South Norway and a traditional stopover for travellers on the route to and from Sweden. In 2004, the Norwegian Highway Department together with the Regional Government approached Saunders for a new project in the area; uniquely however, without having predetermined the commission's particular needs.
20 Sep 2019
The Twist at Kistefos, Jevnaker Museum
Architects: BIG-Bjarke Ingels Group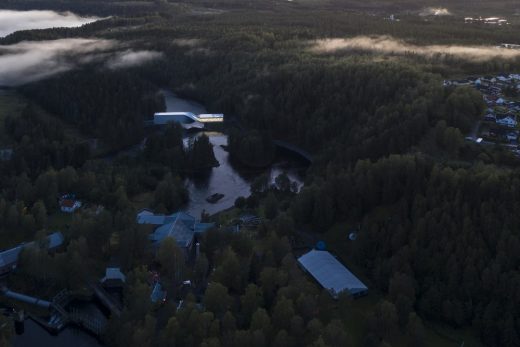 photo : Laurian Ghinitoiu
The Twist at Kistefos, Jevnaker Museum
19 Jun 2019
Peace Bench Oslo
Architects: Snøhetta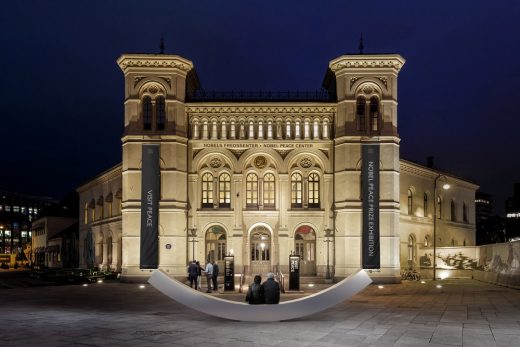 photo : Laurian Ghinitoiu
Peace Bench at Nobel Peace Center, Oslo
The Nobel Peace Center in Oslo, Norway, has commissioned a new art piece. Designed by Snøhetta and created in partnership with collaborators Hydro and Vestre, the Peace Bench, entitled The Best Weapon, will be first unveiled at the United Nations Headquarters in New York City on Nelson Mandela Day, July 18th. The installation will remain at the Headquarters' plaza through September, when the plan is to transfer it to Oslo and a permanent location near the Nobel Peace Center and the Oslo City Hall.
17 Jun 2019
The Twist, Jevnaker, Oslo,
Architects: BIG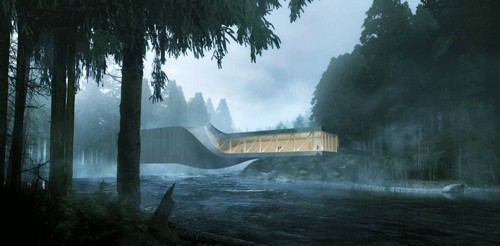 The new museum building, The Twist, at Kistefos, Norway. Courtesy BIG
image Courtesy architecture office
The Twist Museum in Jevnaker, Oslo Building
Kistefos has announced its new museum designed by award-winning architecture practice BIG-Bjarke Ingels Group, which will open to the public on 18 September 2019. Set within the existing museum and sculpture park complex on a woodland estate at Jevnaker near Oslo, Norway, the building named The Twist will host an international programme of contemporary art exhibitions beginning with 'Hodgkin and Creed – Inside Out' from 18 September to 17 November.
10 Jan 2019
Daytrip Cabin, Hammerfest, Finnmark, North Norway
Architects: SPINN Arkitekter (Norway) and Format Engineers (UK)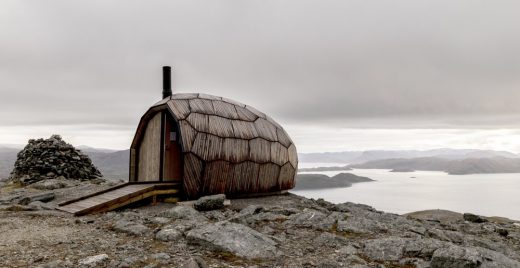 image : SPINN Architects
New Hammerfest Building
Norway Building Updates Archive
Norwegian Architecture News 2016 to 2018
5 Dec 2018
Fornebubanen Metro Line Stations
Design: Zaha Hadid Architects and A_Lab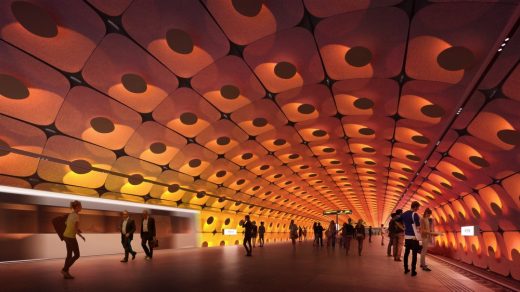 image © VA
Fornebubanen Metro Line Station Buildings
Zaha Hadid Architects and A_Lab win the architectural competition to design the Fornbuporten and Fornebu Senter stations, two of the six stations planned for the new Fornebubanen metro line in Oslo.
13 Nov 2018
Holmen Industrial Area, Vesterålen, Nordland county, Northern Norway
Architects: Snøhetta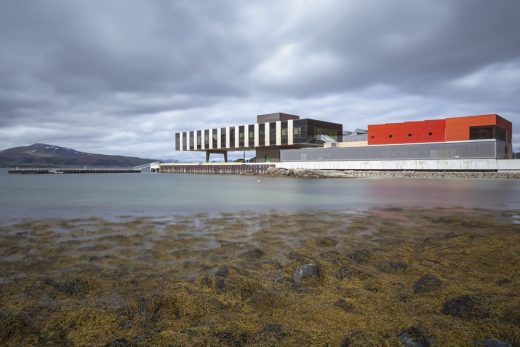 photograph © Stephen Citrone
Holmen Industrial Area in North Norway
24 Sep 2018
Hadar's House in Stokkøya, Trøndelag County
Design: Frida Öster, Asante Architecture & Design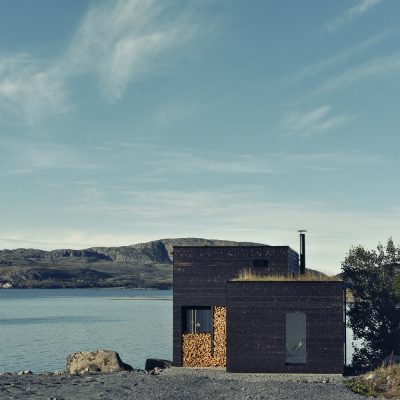 photograph : Marius Rua
Stokkøya House
14 Sep 2018
Oslo Architecture Triennale Autumn Program 2018
21 Jun 2018
Huntonstranda, Gjøvik, Norway
Architects: URBAN POWER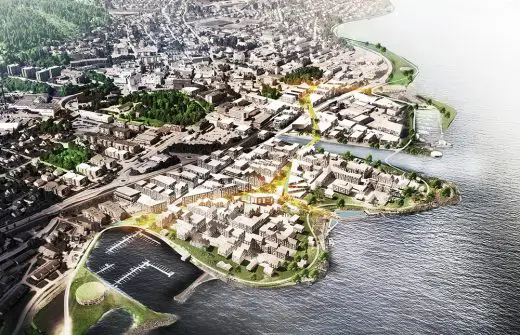 image Courtesy architecture office
Huntonstranda
The city of Gjøvik between Oslo and Lillehammer is facing a comprehensive transformation. With new coastal barriers the city is preparing to expand with new residential areas and a new cultural center.
24 Apr 2018
Two-in-One House, Ekeberglia
Architects: Reiulf Ramstad Arkitekter
New House in Ekeberglia
20 Mar 2018
Birdwatching Tower, Askøy, Hordaland county, western Norway
Architects: LJB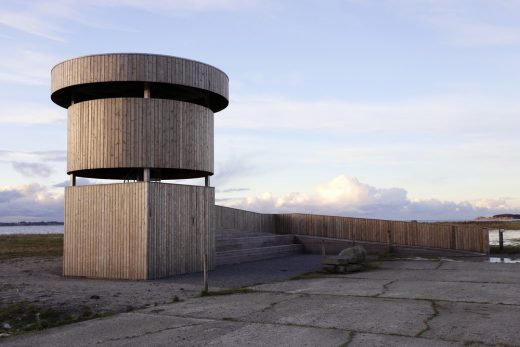 photography: Anders E. Johnsson
Birdwatching Tower in Askøy
Comprised of two public floors, the tower was designed to provide a 360 degree perspective from the viewing platform on the top floor which rises seven metres above an abandoned airfield, now transformed into the perfect nesting ground for birds.
14 Mar 2018
Slipway Housing Complex, Mandal, Vest-Agder county, southern Norway
Design: Reiulf Ramstad Arkitekter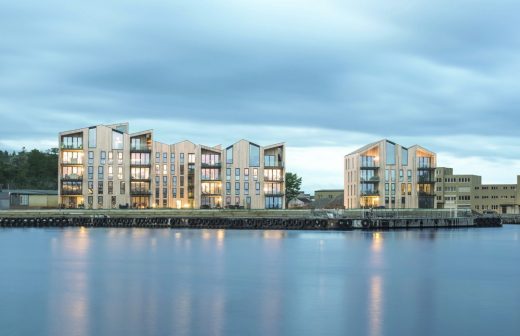 photograph : Reiulf Ramstad Arkitekter
Slipway Housing Complex in southern Norway
The project is 'iconic' with its unique roof forms and minimal window details, while at the same time evoking the character of the local surroundings, taking its inspiration from the unique character of Mandal: the encounter between timber construction and the open sea. The architecture is steeped in local vernacular building traditions, but with a new and modern interpretation.
8 Mar 2018
Oslo Airport City
Design: Haptic Architects and Nordic – Office of Architecture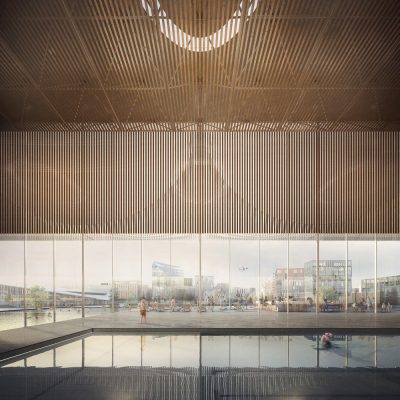 image © Forbes Massie_Haptic_OAC
Oslo Airport City
The 4 million sq. metres city, is set to be powered entirely by renewable energy, served by electric vehicles and will take 30 years to build. The scheme is being developed by Norwegian development vehicle Oslo Airport City.
New Avinor Oslo Airport Building, Norway
Design: Nordic-Office of Architecture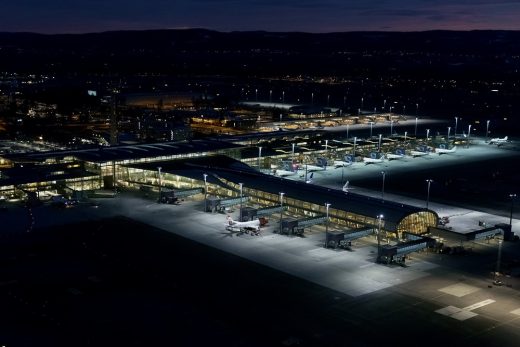 photo © Avinor Oslo lufthavn/Sune Eriksen
New Oslo Airport, Norway
8 Mar 2018
Hemsedal Suites, Hemsedal, Buskerud county, central-southern Norway
Architects: HR Prosjekt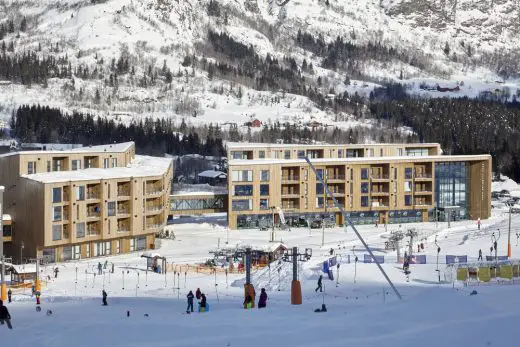 photo : Per Erik Jæger
Hemsedal Suites, Norway
Providing the perfect family getaway, Hemsedal's apartments are furnished with fantastic facilities including a climbing wall and sports restaurant. For HRP, the interaction between the building and the ski slope was an essential component of this design; evidenced in the building's roof which is a particularly impressive facet that has been carefully considered from initial concept through to completion.
20 Feb 2018
Gjøvik House, Mjøsa Lake
Design: Norm Architects
Gjøvik House near Oslo
12 Feb 2018
Svart Powerhouse* hotel, Holandsfjorden Fjord – the World's First Energy Positive Hotel Concept Above the Arctic Circle
Architects: Snøhetta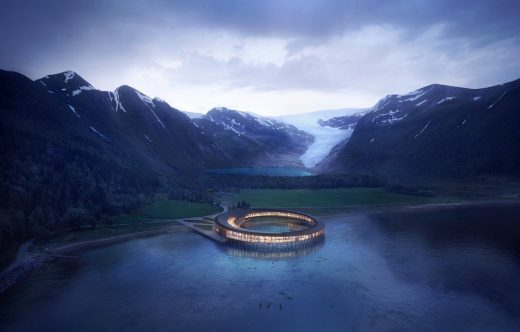 image : Snøhetta / Plompmozes
Svart Powerhouse* hotel on Holandsfjorden Fjord
The first building to be built after the energy positive Powerhouse standard in a Northern climate. Not only does this new hotel reduce its yearly energy consumption by approximately 85% compared to a modern hotel, but it also produces its own energy – an absolute "must" in this precious arctic environment, the architects say.
More Oslo Architecture news online soon
Location: Norway, northern Europe
Architecture in Norway
Norwegian Architecture Designs – chronological list
Astrup Fearnley Museet
Design: Renzo Piano Building Workshop / Narud Stokke Wiig architects
Astrup Fearnley Museet Oslo
Oslo Operahouse
Design: Snøhetta
Oslo Operahouse by Snøhetta
Signal Mediahus
Design: Space Group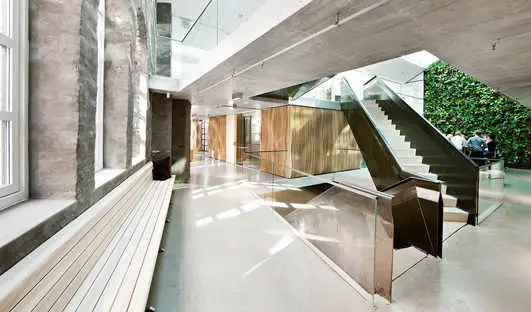 photo : Vegard Kleven
Signal Mediahus Oslo
Knut Hamsun Center by Steven Holl Architects
Comments / photos for the Norwegian Architecture News page welcome