Norwegian House, Residential Architecture Norway, Architects, Property Images, Modern Homes
Norwegian Houses : New Properties
Key New Residential Buildings in Norway: Contemporary Property Designs
post updated 20 May 2023
Norwegian Architecture Designs – chronological list
New Norwegian Homes
Latest Norwegian Houses, chronological:
10 Dec 2021
Villa Aa, Oslo Fjord
Design: C.F. Møller Architects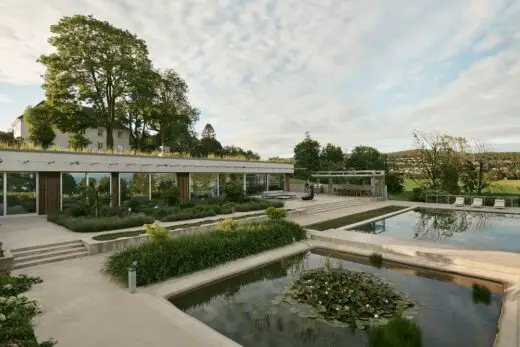 photo : Ivar Kvaal
Villa Aa, Oslo Fjord
The historic farm building is situated in a protected countryside near the Oslo Fjord, which has been inhabited since the Viking Age. Villa Aa is built as a residence for the next generation of the family on the farm and is designed to adapt to the regulations for the protected area, the nature of the site, and the use as both an office and a home.
9 Apr 2021
Hillside Home, Oslo, southern Norway
Design: Derlick Architects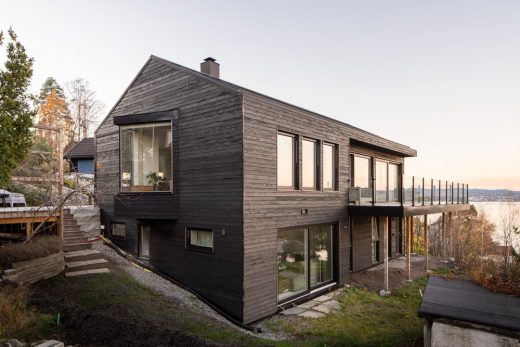 photo © Melissa Hegge
Hillside Home near Oslo
This stunning Oslo property transformation is beautifully perched on a sloping verdant hillside overlooking the fjord just outside of the Norwegian capital city.
More Norwegian Houses News on e-architect soon
Norwegian Houses News 2020
9 Dec 2020
Paper House, Moss
Design: AART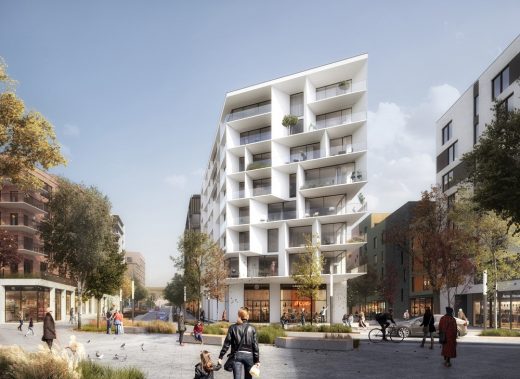 photo © AART
Paper House, Moss
The Scandinavian architecture firm AART has, together with Höegh Eiendom, designed a new landmark building for the new district of Verket in Moss, Norway. With its paper-like architecture, the mixed-use Paper House building not only pays homage to the papermaking history of the area.
29 Sep 2020
Skigard Hytte, Kvitfjell, Lillehammer
Design: Mork-Ulnes Architects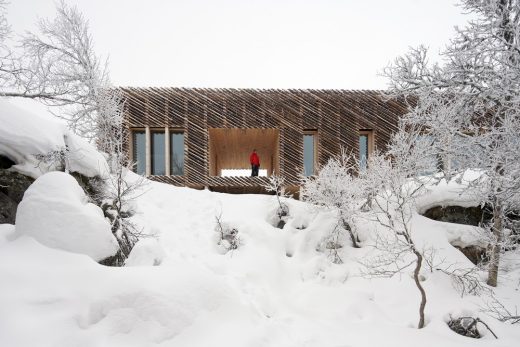 photography : Bruce Damonte
Skigard Hytte
Casper and Lexie Mork-Ulnes (Mork-Ulnes Architects) have recently completed Skigard Hytte, a mountain cabin for themselves and their children in Kvitfjell, a ski resort in Norway that was developed for the 1994 Winter Olympics in Lillehammer. Perched upon the ledge of a steep mountain and framing panoramic views of the valley and river below, the cabin connects to the ground lightly.
5 Aug 2020
Senja Cabin, Senja, Troms og Finnmark county
Architects: Bjørnådal Arkitektstudio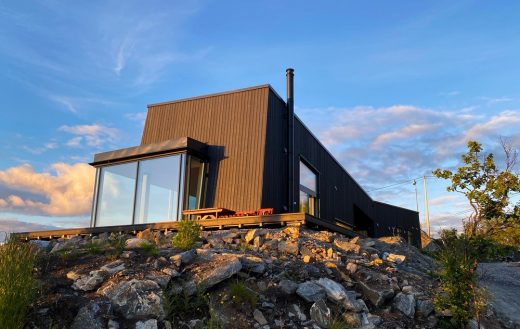 photograph : Hans-Petter Bjørnådal
Senja Cabin in Northern Norway
The cabin is located in Senja at 69° north in Norway surrounded by majestic mountains, magical fjords with thriving fishing villages, holding on to narrow bits of land between mountains and ocean. The National Tourist Route leads you on a 10 mil long journey along with one of the finest landscapes, with spectacular points of view and several exciting detours.
More contemporary Norwegian Houses online here at e-architect soon
Norwegian Houses in 2019
2 Nov 2019
Bygdøynesveien 15, Oslo
Architects: Reiulf Ramstad Arkitekter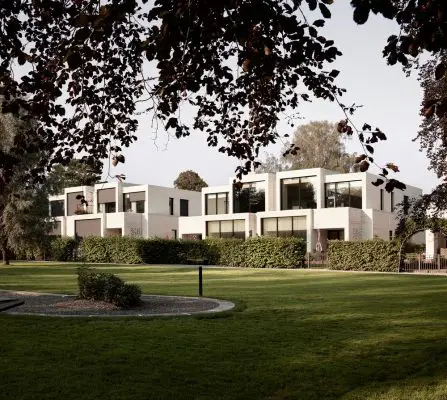 photo © Mariela Apollonio – fotografadearquitectura
BNV15 Oslo Houses
Bygdøynesveien 15 has been developed to become a comprehensive facility that combines new buildings within a historic facility in an attractive and innovative way.
New photos added 13 Sep 2019
Summer house Vestfold
Design: JVA – Jarmund/Vigsnæs AS Arkitekter MNAL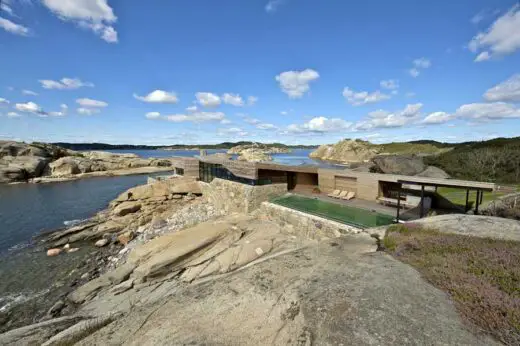 photo : Nils Petter Dale
Summer House Vestfold
The Summer house is located on the coast of Vestfold in the southern part of Norway. The house replaces an older building at the site. To get the planning permit, the project had to be well adjusted to the terrain, both in terms of shape, scale, material and color.
9 Sep 2019
Sørenga 3 Apartment Building
7 Sep 2019
New Home in Tønsberg, Vestfold county, Southern Norway
Design: Architect Thomas Nesheim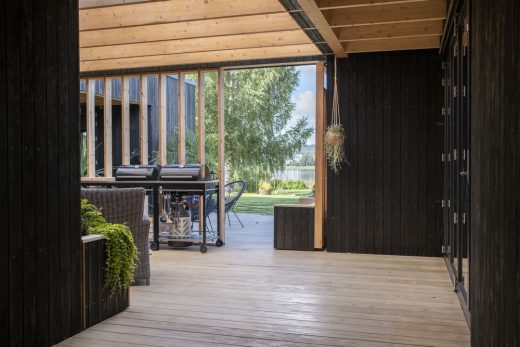 photo @ gamasj.no
New House in Tønsberg, Southern Norway
Located in Tønsberg, Southern Norway, architect Thomas Nesheim's ambitious new coastal home is the product of unique design and the use of innovative materials.
10 Jan 2019
Daytrip Cabin, Hammerfest, Finnmark, North Norway
Architects: SPINN Arkitekter (Norway) and Format Engineers (UK)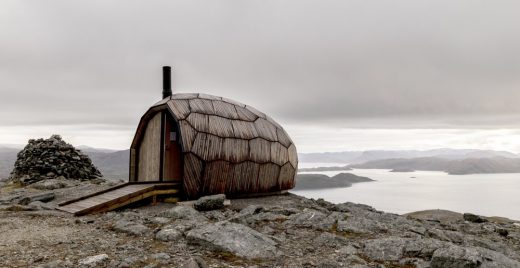 photo : SPINN Architects
Daytrip Cabin in Hammerfest
The Norwegian Trekking Association (DNT) has completed the first of a series of unique 'daytrip cabins', built to make treks in the Norwegian Mountains more accessible for novice hikers and explorers.
More contemporary Norwegian Houses on e-architect soon
Norwegian Houses 2018
30 Oct + 22 Sep 2018
Malangen Family Retreat, Malangen peninsula, southwest of Tromsø, Troms county, Northern Norway
Design: Snorre Stinessen Architect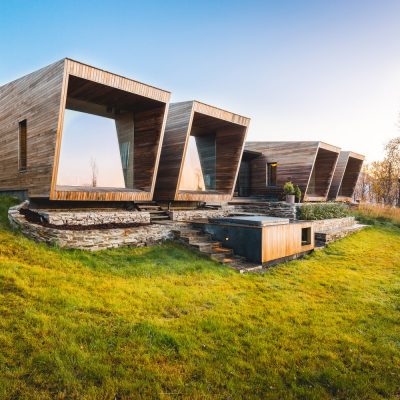 photo © Terje Arntsen
Malangen Family Retreat
Inspiration was mainly drawn from the landscape, the orientation in relation to views, privacy and the sun, but also strongly from the client wish to entertain guests and family visiting over longer periods.
24 Sep 2018
Hadar's House, Bygda 2.0, Stokkøya, Åfjord, Trøndelag County, central Norway
Design: Frida Öster, Asante Architecture & Design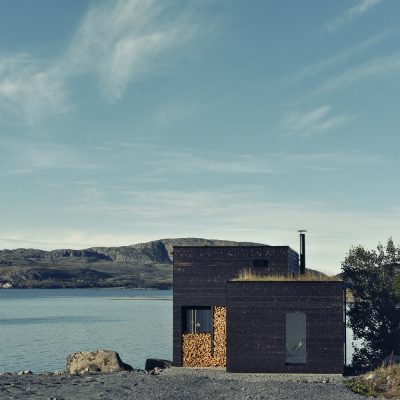 photography © Marius Rua
Hadar's House in Stokkøya
The client, a chef on the island, decided to settle down and to be surrounded by this beautiful landscape. His dream was a small house where he could overlook the sea from all of his rooms. This was the inspiration for the architects – Asante Architecture.
24 Apr 2018
Two-in-One House, Ekeberglia
Architects: Reiulf Ramstad Arkitekter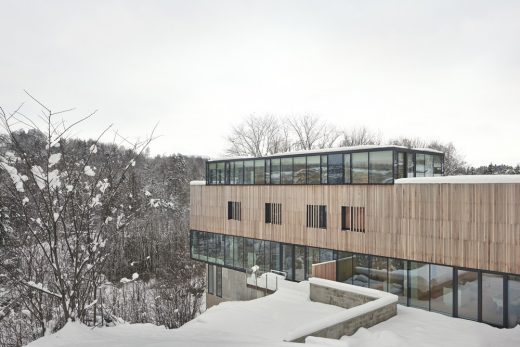 photography © Ivar Kvaal, Reiulf Ramstad Arkitekter
New House in Ekeberglia
A calm piece of architecture resting on the steep and dynamic landscape of Ekeberglia. Its slender and rectangular form is manifested at the top of the sloping landscape.
20 Feb 2018
Gjøvik House, Mjøsa Lake, southern Norway
Design: Norm Architects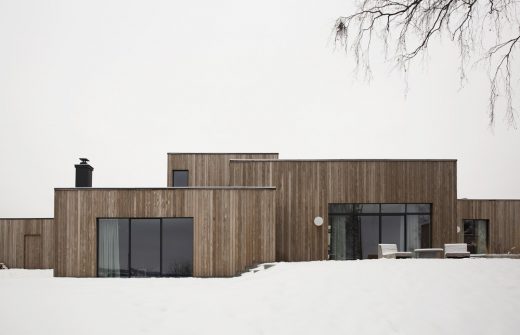 photography : Norm Architects
Gjøvik House near Oslo
This new Norwegian property is sited an hour north of Oslo, on a majestic hillside facing the Norwegian woods and Mjøsa Lake.
More new Norwegian Houses welcome for consideration
Norwegian Houses 2017
29 Aug 2017
Norwegian Timber Bath House, Hankø Island, Oslo Fjord, Østfold county, southern Norway
Architect: Oslotre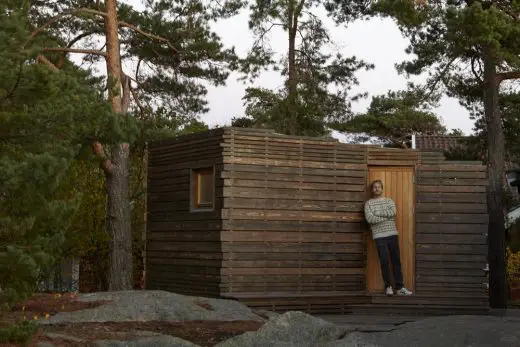 photography © Patric Katzman
Bath House on Hankø Island
Oslotre, a Norwegian architect firm and specialist in timber construction, has carefully designed a charming Bath House on the beautiful island of Hankø off Fredrikstad.
10 May 2017
Infinity House, Northern Norway
Architects: Vladimir Konovalov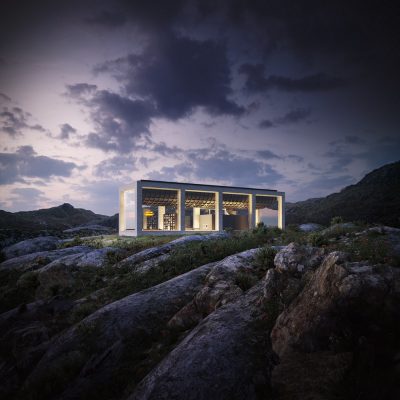 visualization : www.omegarender.com
Infinity House in Norway
Located in the remote area tis Norwegian residence is surrounded by harsh northern landscapes with panoramic views of mountains and Norwegian Sea.
5 May 2011
Oppdal Sentrum
Design: ADEPT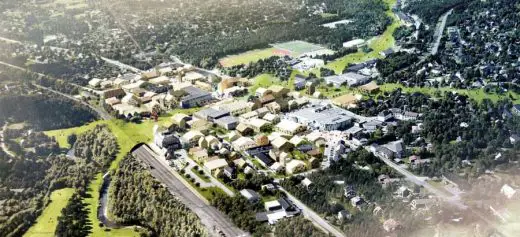 image from ADEPT
Oppdal Sentrum
The scenic skiing and hiking area Oppdal in Norway is being revitalized with a new dynamic city center. ADEPT, in collaboration with Various Architects and Lalaland landscape architects, won the international competition for Oppdal Sentrum.
Contemporary Norwegian Homes
Major Contemporary Nordic Residential Architecture Developments, alphabetical:
Boxhome, Oslo
Design: Rintala Eggertsson Architects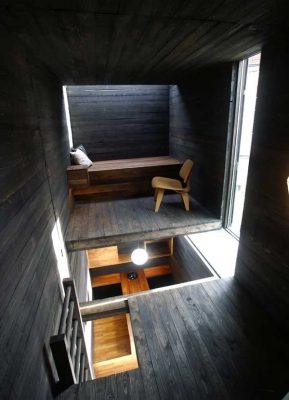 photo from REA
Boxhome Oslo
Boxhome is a 19 square meter dwelling with four rooms covering the basic living functions: kitchen with dining, bathroom, living room and bedroom. Firstly, the project focuses in the quality of space, material and natural light, and tries to reduce unnecessary floor area.
Cabin Inside-Out, Hvaler
Design: Reiulf Ramstad Architects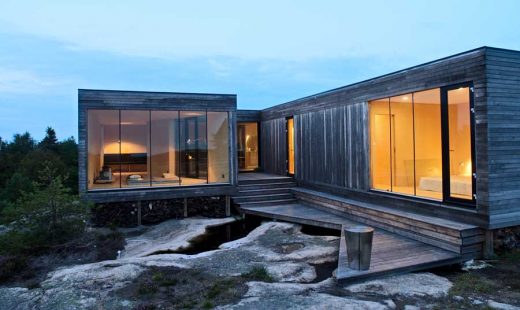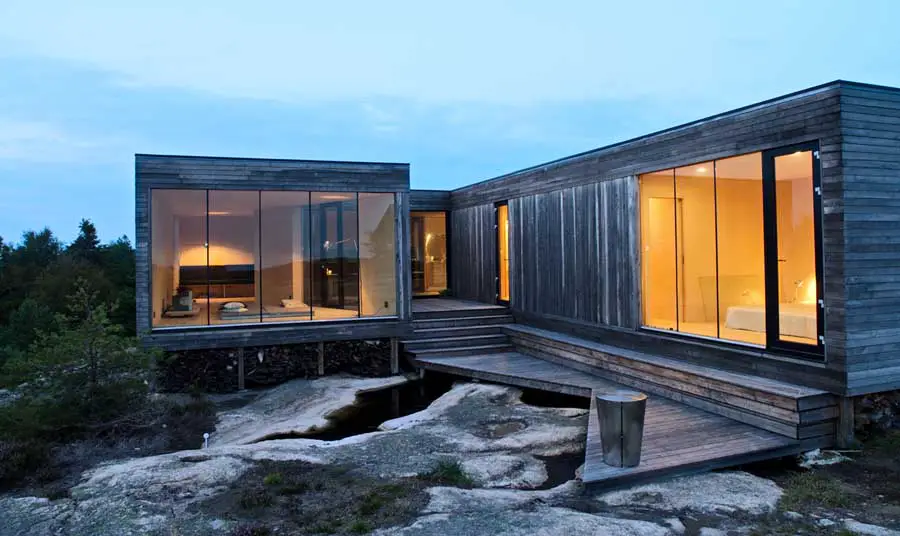 photo : Kim Müller
Cabin Inside-Out
This contemporary home is beautifully situated on the top of a hill overlooking the ocean and the horizon, placed in the midst of an uncultivated landscape on a small peninsula. The design of the residence allows a close interaction with nature and the beautiful scenery.
More Norwegian Houses online soon
Location: Norway, northern Europe
Architecture in Norway
Norwegian Architecture Designs – chronological list
Norwegian Architect – Design Office Listings
Norwegian Architecture : A-K
Norwegian Building Designs : L-Z
Norwegian Buildings : no images
Norwegian Architects : key designers
Nordic Wood Houses – Seminar : Wooden Homes
Photovoltaic Ice Skating Rink in Russia
Properties / photos for the Norwegian House page welcome