Los Angeles Houses, Hollywood Real Estate, New LA Property, Buildings, Architects, US Home Photos
Los Angeles Houses: New Residences
Contemporary L.A. Real Estate News – Southern Californian Houses + Property Developments, USA
post updated July 12, 2022
Los Angeles Houses – Latest Design
L.A. Houses – latest architecture additions to this page, arranged chronologically:
Jun 10, 2022
Depp-Heard LA Love Nest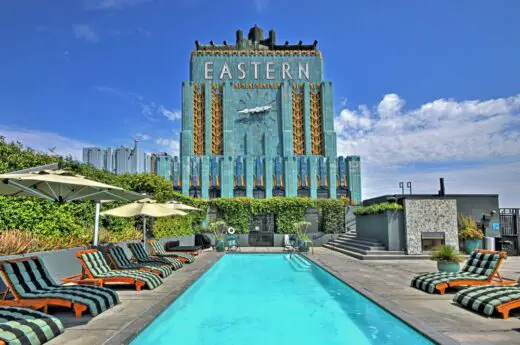 photo Courtesy of Douglas Elliman Realty
Depp and Heard LA Love Nest
Though only married for 15 months, the Los Angeles building was Johnny Depp and Amber Heard's home and the one-bedroom penthouse was where they "spent a good amount of their time. Now, one of the apartments, the one-bedroom, two-bath penthouse, is again for sale – priced at $1.765 million.
May 20, 2022
Toluca Lake Mansion and Golf Course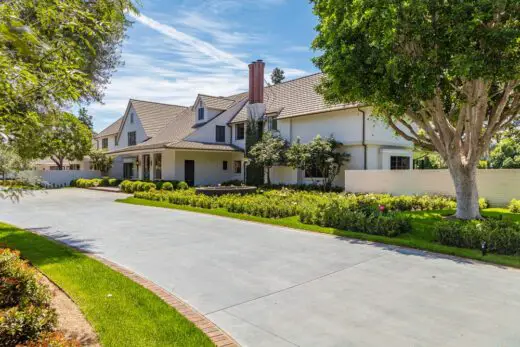 photo : Simon Berlyn, courtesy of The Agency
Toluca Lake Mansion and Golf Course, LA
What was Bob Hope's full-time home in Toluca Lake has a one-hole golf course, designed by Hope himself, with two tee positions. That home has currently hit the market at $29 million.
May 16, 2022
3000 Benedict Canyon, LA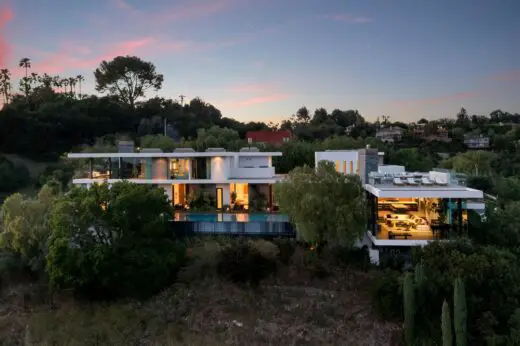 photo Courtesy of The Oppenheim Group
3000 Benedict Canyon Mansion, L.A.
A grand house for entertaining, the spacious kitchen, open to the outdoors, will welcome an impromptu party that can be carried to the pool terrace. A secondary kitchen will be helpful to caterers for larger events.
May 12, 2022
Centered Home
Design: Annie Barrett and Hye-Young Chung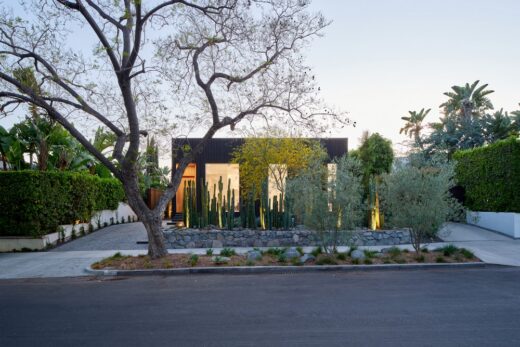 photo : Brandon Shigeta
Centered Home
Architects Annie Barrett (of aalso architects) and Hye-Young Chung (of HYCArch) have completely transformed an existing Spanish-style house in Los Angeles for a couple anticipating semi-retirement, and the programmatic shifts that a new phase of life brings.
May 12, 2022
Montecito House, UCSB
Design: LOC Architects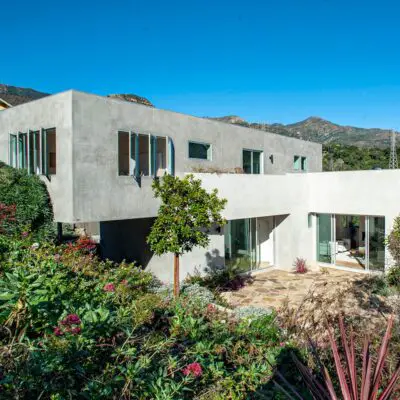 photo : LOC Architects
Montecito Home, Santa Barbara House
The Montecito House home is located on what was a steep and lushly landscaped site that was left vacant after an existing house there was destroyed in the 2008 Tea Fire. LOC capitalized on this by placing a series of bold, shifting volumes to frame a courtyard and create a series of terraces from which to better experience the dramatic views and topography.
May 5, 2022
Prosser Residence, west Los Angeles
Design: NWGC Inc. Construction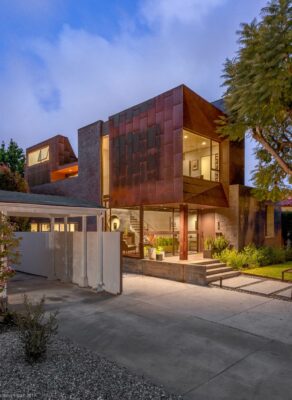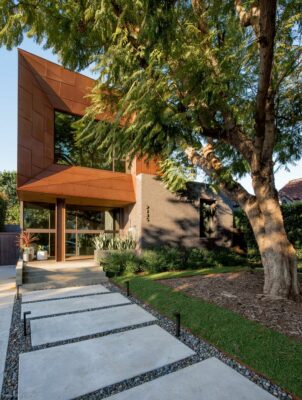 photo : Steve King
Prosser Residence
The Prosser Residence in west Los Angeles explores how a residence in a busy urban area can create spaces that are private, intimate, light-filled and interconnected. Spaces and form are differentiated through the use of material and woven together to create a harmonious, engaging composition.
May 3, 2022
Johnny Depp LA Penthouse Collection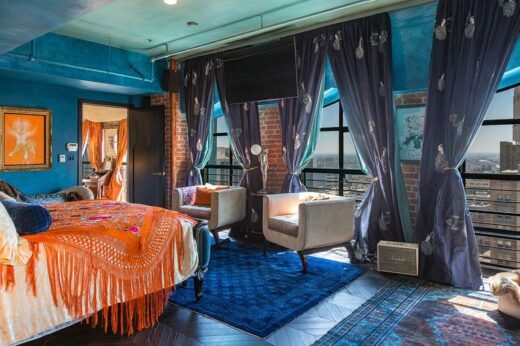 photo : James Lang, Berlyn Photography for Partners Trust (now Compass)
Johnny Depp's LA Penthouse Collection
What once was a successful pairing between Johnny Depp and Amber Heard has changed course and their dirty laundry is playing out in real time all over the world.
Apr 26, 2022
The Faring Estate, Los Angeles, Holmby Hills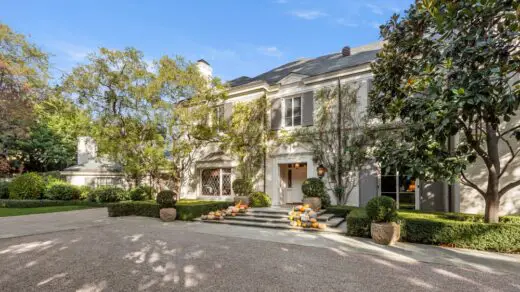 photo courtesy of Compass
The Faring Estate, Holmby Hills
After splitting from the British boy band, Take That, Robbie Williams has become one of the all-time, best-selling British singer-songwriters. As most of the mega-wealthy have been doing, Williams and his American-actress wife, Ayda Field, have been sinking their fortune of approximately $300 million into some of the most glamorous real estate on the planet.
Mar 18, 2022
Milan's Zona Tortona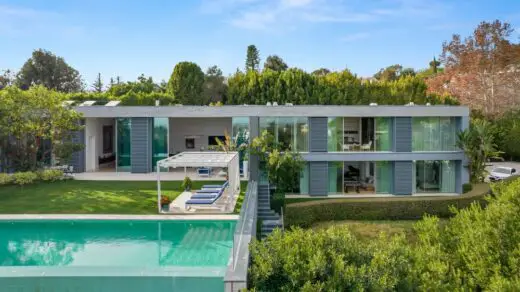 photo : Marc Angeles
Milan's Zona Tortona Mansion, L.A.
Formerly a gritty industrial zone, Milan's Zona Tortona has become a lively enclave filled with independent fashion studios and boutiques. Where the movers and shakers of the fashion world, celebrities such as Rihanna, Rita Oro, Sharon Stone and Anna Wintour, recently attended Milan Fashion Week. And where the most important fashion design companies create and show off their newest trends.
Mar 8, 2022
Richard Neutra Hilltop Home, Tujunga
Design: Richard Neutra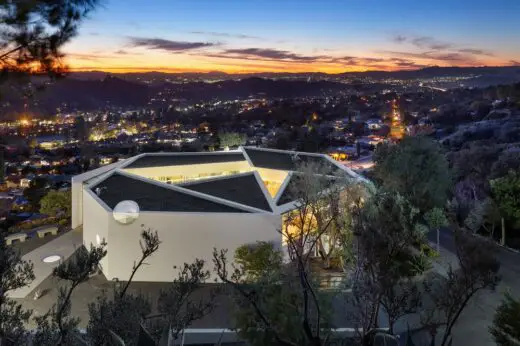 photo : Cameron Carothers
Richard Neutra Hilltop Home, Tujunga L.A.
Richard Neutra was one of America's most important modern architects from the 1920s to the 1960s designing famous homes such as the Kaufmann Desert House in Palm Springs for Edgar J. Kaufmann (who also commissioned Fallingwater in Pennsylvania), the Julian Bond House in San Diego, and the Kronish House in Beverly Hills.
Mar 14, 2022
Pacific Palisades Home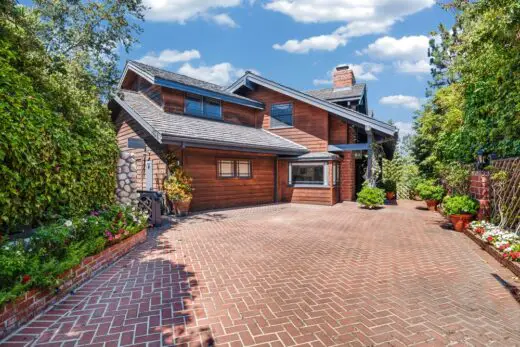 photo : Adrian Van Anz
Brooke Shields' Pacific Palisades Home, L.A.
Model/actress Brooke Shields began her career at just 11 months old, starring in an Ivory Soap commercial. She first came to national prominence with her role as a child prostitute in the controversial film Pretty Baby.
Apr 1, 2022
Malibu Rosenthal Estate, Malibu, California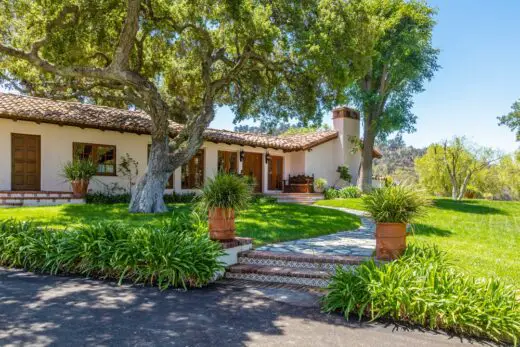 photo : Simon Berlyn
Malibu Rosenthal Estate, California
Mar 21, 2022
Cindy Crawford's Former Malibu Mansion, California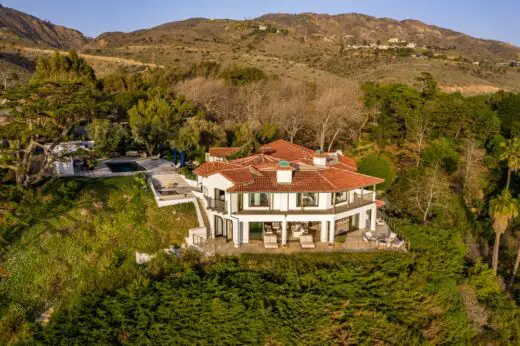 photo Courtesy of Coldwell Banker Realty
Cindy Crawford's Former Malibu Mansion
Feb 11, 2022
San Remo Residence, Sullivan Canyon, Pacific Palisades
Interior Architecture: Magni Kalman Design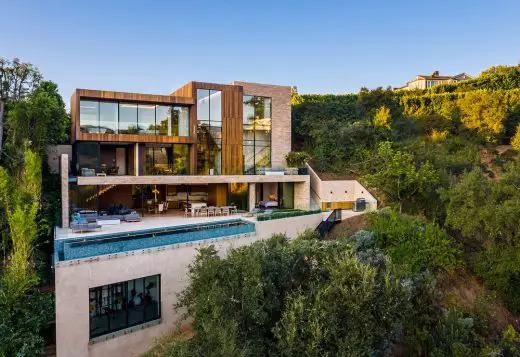 photo : Manolo Langis
San Remo Residence, Pacific Palisades
Set into a steep hillside of Sullivan Canyon in Pacific Palisades, this contemporary residence organizes stacked volumes toward the North with panoramic views of the natural landscape and the Getty beyond. The parti of the house is composed of two vertical and horizontal volumes on a stone limestone plinth, rooted into the rugged hillside.
Feb 8, 2022
Cheaper By The Dozen Mansion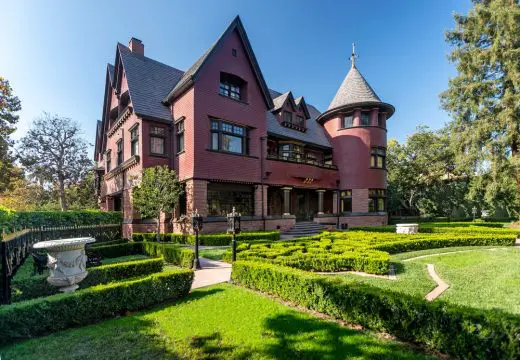 photo : The Sher Group
Cheaper By The Dozen Mansion
Best known for her TLC reality show LA Ink, which chronicled her work as a tattoo artist and tattoo studio owner, Kat Von D is a multi-faceted star. A model, recording artist, New York Times bestselling author, animal rights campaigner, and entrepreneur, the Mexican-born Kat Von D is famous for her gothic style.
Jan 20, 2022
Venice Walk-Streets Compound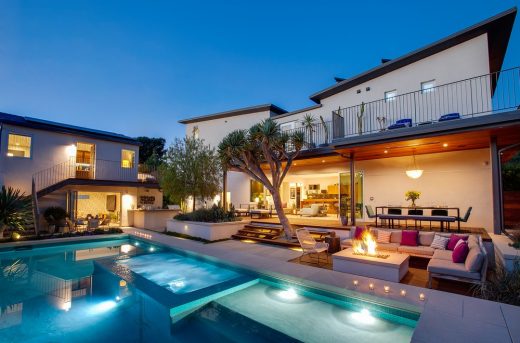 photo : Luke Gibson Photography
Marco Place House, Venice
It's always fun to take a look into the homes of Hollywood movers and shakers and if you're a fan of Dreamgirls, Stillwater, Roma or the recently released tearjerker/futuristic movie Swan Song, award-winning, film-producer Jonathan King is selling his bespoke Venice, California home. King turned two properties into one very private, glamorous compound on one of the city's historically famous walk streets that add to making Venice unique.
Jan 17, 2022
Perfect Storm Entertainment Penthouse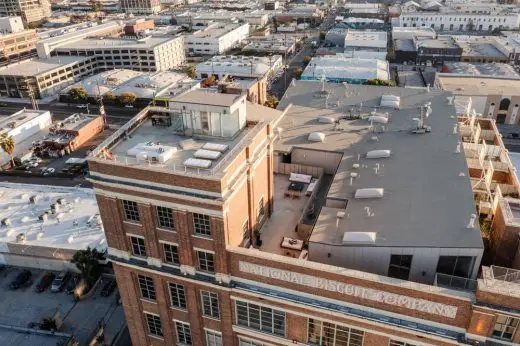 photo : NeueFocus
Perfect Storm Entertainment Penthouse
Just as Fast & Furious 10 is starting to film this month, scheduled to debut in May, its Taiwanese-born American film director, Justin Lin, has put his historic Downtown Los Angeles penthouse on the market, located in the thriving LA Arts District. Originally constructed in 1925 as the West Coast headquarters of Nabisco, it was converted to a live/work community in 2007.
Jan 8, 2022
Venice House
Architecture: FINNE Architects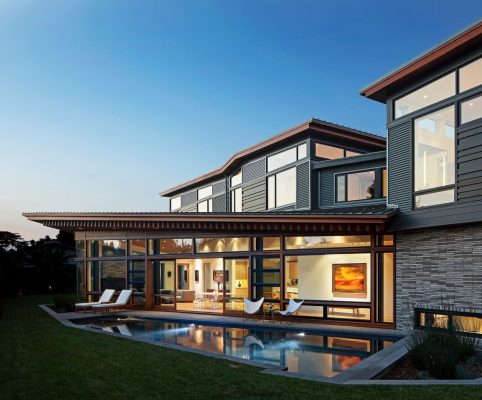 photograph : Tom Bonner
Venice House, Los Angeles Residence
The Venice House creates a garden sanctuary in the city. Located on a long, narrow lot in the Venice neighborhood of Los Angeles, the house comprises a dramatic series of folded roof planes and a collage of textured metal and wood exterior surfaces.
More Los Angeles Houses on e-architect soon
Los Angeles Houses 2021
Dec 15, 2021
LA Bachelor Pad, Beverly Crest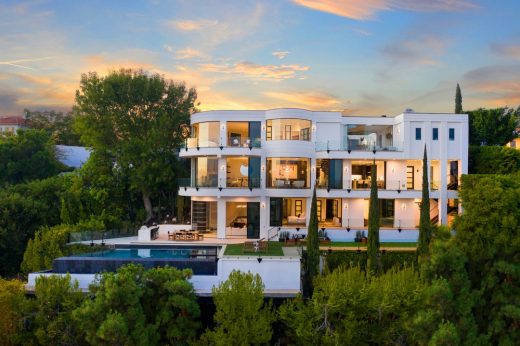 photo courtesy of Compass
LA Bachelor Pad, Beverly Crest
The LA mansion where Sean "Diddy" Combs lived when he starred in the TV movie A Raisin in the Sun, won BET awards for Diddy – Dirty Money and Hello Good Morning, grabbed multiple MTV awards, developed several clothing lines, opened two restaurants and a very successful liquor business, just came on the market at $14.5 million.
Dec 4, 2021
Seidenbaum Residence, Sunset Boulevard area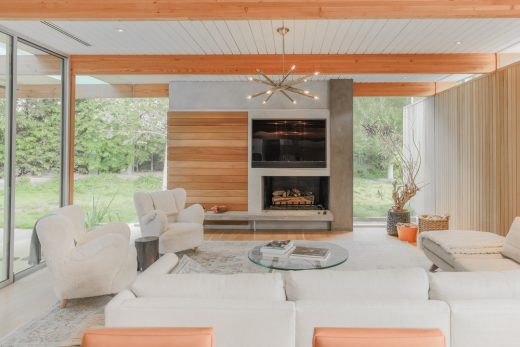 photo : Marc Angeles
Seidenbaum Residence
The Seidenbaum Residence, a home designed by Richard Dorman, has been listed by the American Institute of Architects as among the greatest pieces of architecture in Los Angeles created between 1947 and 1967. This tour de force is the recipient of the Grand Prix Award, now for sale for the first time in 45 years. It is priced at $16.5 million.
Nov 15, 2021
Arnold Schwarzenegger's Home, Sunset Boulevard area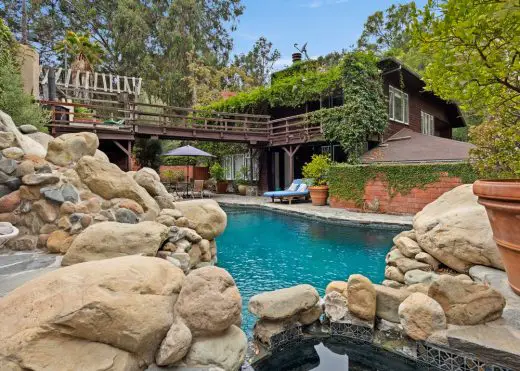 photo : Marc Angeles
Arnold Schwarzenegger's Home
Privately tucked away on a country lane that meanders off of Sunset Boulevard in Los Angeles is a small community of 16 secluded homes that has attracted world-famous politicians, actors and industry leaders. One house on the sparsely populated lane was previously the home of California Governor Arnold Schwarzenegger and his then-wife, Maria Shriver.
Nov 13, 2021
Enchanting Oasis, Laurel Canyon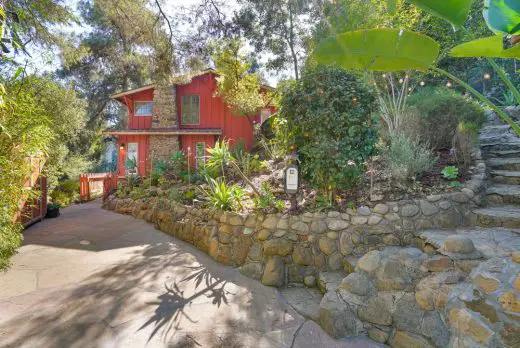 photo : Nate Williams
Enchanting Oasis, Laurel Canyon
Nicole Sullivan is best known for her acting roles in the TV series Black-ish and The King of Queens, but her charming Enchanting Oasis cottage-style home in L.A.'s Laurel Canyon is a colorful example of her keen eye and romantic take on the type of environment that shows her true personality. She has recently put it on the market priced at $1.45 million.
Nov 9, 2021
New $4.3 Million LA House Giveaway!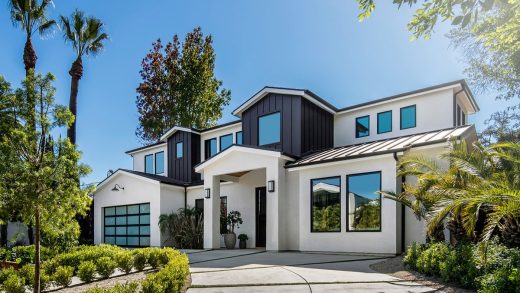 This spectacular new construction (2019) 5-bedroom, 6-bath home is spread across 5,800 square feet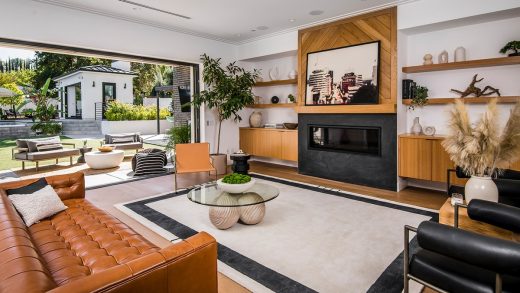 The L.A. luxury property is decked out in a modern farmhouse design.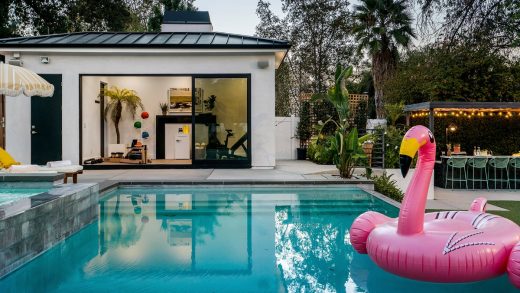 You can become everyone's favorite party host with your new in-home movie theater, pool, basketball court and putting green.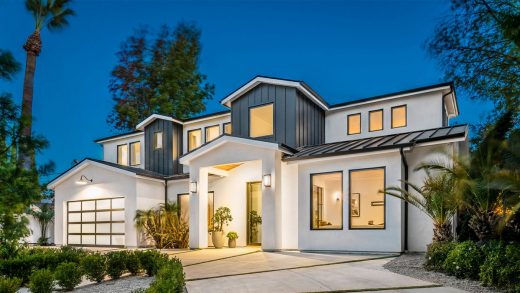 The winner also has the option to choose a multimillion-dollar cash prize instead of the house.
Support Rebuilding Together and Win This $4.3 Million Los Angeles Dream House
Nov 9, 2021
Elementi Luxury Mansion, Beverly Hills
Elementi Luxury Mansion, Beverly Hills
Oct 11, 2021
Orum House, Bel Air, L.A., Southern California, USA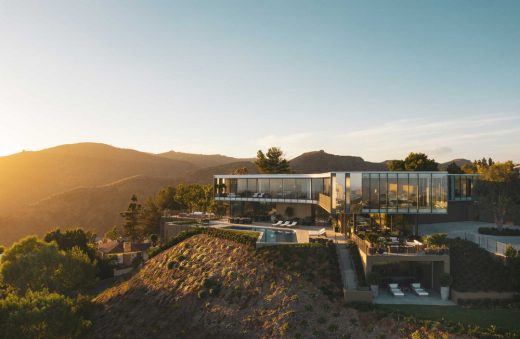 Source: TopTenRealEstateDeals
Orum House, Bel Air
Beyoncé is the face of a new Tiffany ad, which debuted during 2021's Emmy Awards broadcast, and has the Internet and Madison Avenue abuzz. A tribute to the Audrey Hepburn movie Breakfast at Tiffany's, the 90-second commercial showcases Beyoncé playing the piano.
Oct 1, 2021
Encino Mansion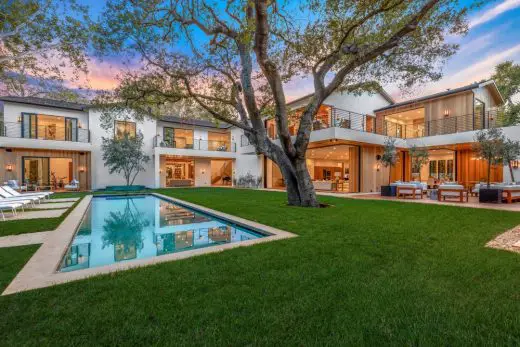 photo courtesy of TopTenRealEstateDeals
Encino Mansion, Royal Oaks
A-Listers Joe Jonas and wife, Sophie Turner, have sold their Encino, California estate, which they turned into one of Southern California's most glamorous contemporary homes. Taking two years and the magic of celebrity-designer Jae Omar, the couple purchased the Encino Mansion in 2019 for $14.1 million.
Sep 27, 2021
Byrdview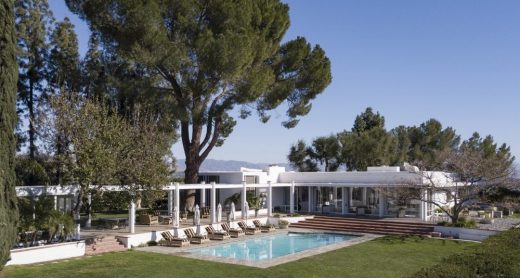 photography : Scott Everts/Fox/Agency
Byrdview, L.A. Mansion For Sale
Southern California's star-studded home, Farralone, was built for Chase Bank heiress-and-socialite Dora Hutchinson. It was a longtime home for Frank Sinatra and, according to legend, was the site of JFK's affair with Marilyn Monroe.
Sep 16, 2021
Historic Los Feliz
Design: Warren Techentin Architecture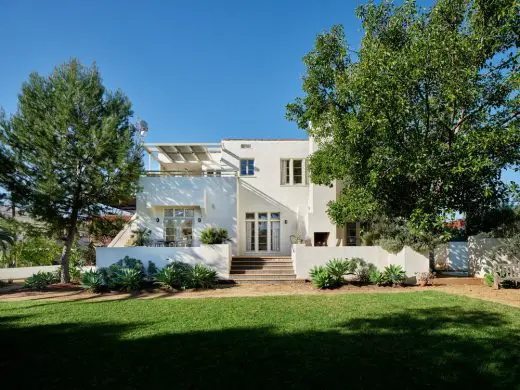 photo : Eric Staudenmaier
Historic Los Feliz House
The Historic Los Feliz is a 1912 home, previously used as a talent guest house for the movie studio across the street, features Mission and Moroccan elements which are also distinctly modern in their feel. Warren Techentin Architecture aimed to retain and restore these details, but also transitionally modernize them.
Sep 17 2021
Matt Damon's Mansion, Pacific Palisades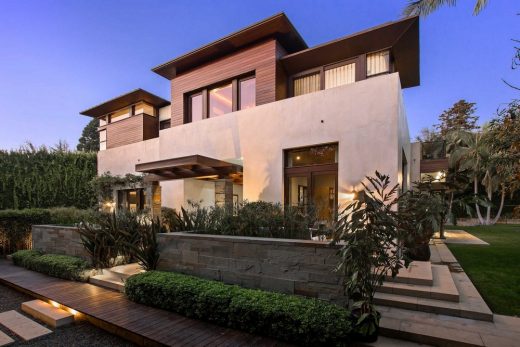 photo : Alexis Adams
Matt Damon's Pacific Palisades Mansion, LA
For the first time in decades, Matt Damon will be making a move without his best friend, Ben Affleck. They moved their families together to Los Angeles' Pacific Palisades – even on the same street – back in 2012.
Aug 30, 2021
Laura Kimpton's Venice House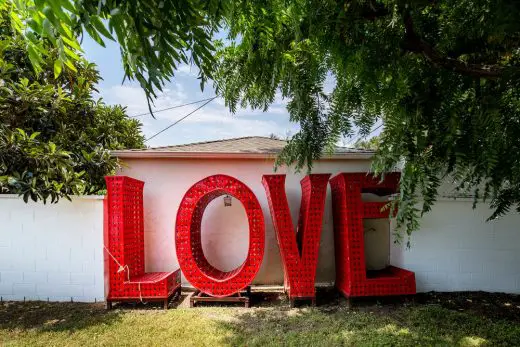 photo : Paul Barnaby
Laura Kimpton's Venice house for sale
Burning Man 2021 kicked off their first-ever virtual event on August 22nd and will run through Labor Day. Due to last year's Covid shutdown, Burning Man fans this year can't go in person but can tune-in to the virtual events.
Jun 14 2021
Modern Hollywood Hills House
Design: Mutuus Studio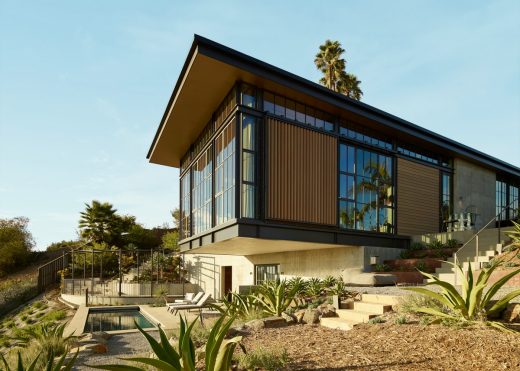 photography : Kevin Scott
Modern Hollywood Hills House
A bespoke home nestled and perched atop a hill in the oaks in Hollywood hills, the residence was born out of desire for highly considered design within a relatively modest footprint. In consideration of the environment and the desire to simplify, the clients yearned for a smaller footprint for their family residence, much like their New York City Penthouse loft.
May 20, 2021
Historical Pasadena Mansion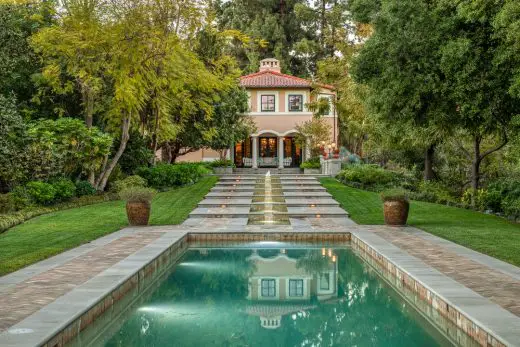 photography : Shawn Bishop
Historical Pasadena Mansion
The year 2006 was a good one for cable channel Bravo when it introduced The Real Housewives franchise, a reality television series depicting the real lives of wealthy housewives inside and outside of their glamorous mansions in cities such as Beverly Hills, New York and Dallas.
Apr 21, 2021
Bronze House
Design: SPF:architects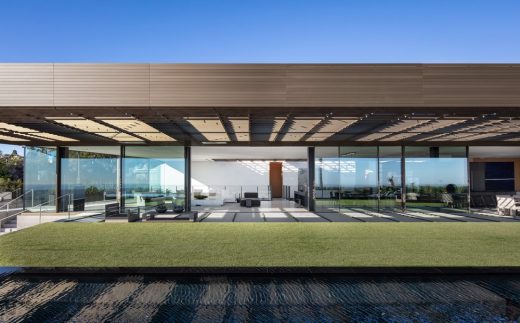 photo courtesy of architects office
Bronze House, Hollywood Hills, L.A.
Sited on a flat pad near the end of the street, the two-story, 13,000-square-foot Bronze House on Nightingale replaces a 3,000-square-foot single-family home originally constructed in the 1950s. To preserve existing views, the neighborhood follows a strict hillside ordinance that limits any new construction to no more than one story out of grade.
Apr 20, 2021
Tiny House, Lincoln Heights
Design: Spatial Affairs Bureau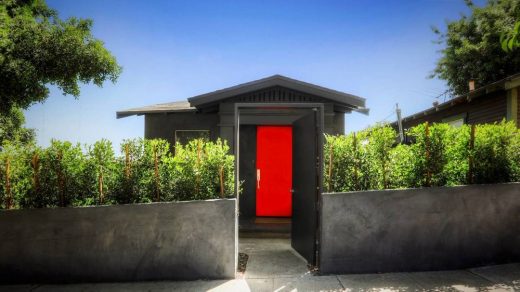 photography : Charmaine David
Tiny House, Lincoln Heights
This 1920's neglected cottage on a wonderfully long thin strip in Los Angeles' Lincoln Heights neighborhood was transformed in 2019 to be a plush pad with a gray water orchard.
Apr 19, 2021
Rhonda Fleming's Mansion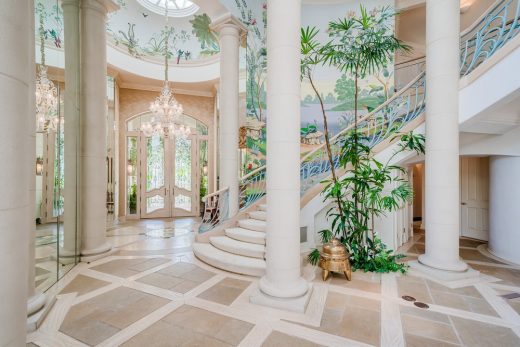 photography : Douglas Elliman
Rhonda Fleming's Mansion
One of Hollywood's busiest and most popular actresses from the 1940s to the 1970s, Rhonda Fleming was a fiery redhead with fair skin and green eyes. She was the perfect actress for the mid-20th-century advances in film colorization, so much in demand for the new technology that she earned the nickname Queen of Technicolor.
Apr 20, 2021
An Edgy Edge Property, Manhattan Beach
Apr 19, 2021
Bel Air Mansion
Feb 12, 2021
Healthy Living House, Pacific Palisades
Feb 1, 2021
Matt Damon's Pacific Palisades Mansion
Jan 19, 2021
Owlwood Mansion
More contemporary Los Angeles houses online here at e-architect soon
Los Angeles Residences 2020
Dec 15, 2020
House of Tomorrow – Elvis Presley's Honeymoon Home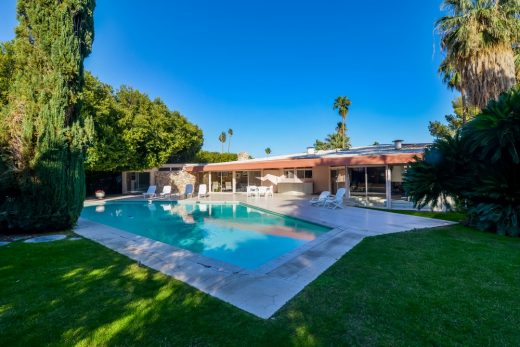 photo : Rodeo Realty
House of Tomorrow, Palm Springs
Dec 1, 2020
Oak Pass Residence, Beverly Hills, Southern California
Architects: Heusch Inc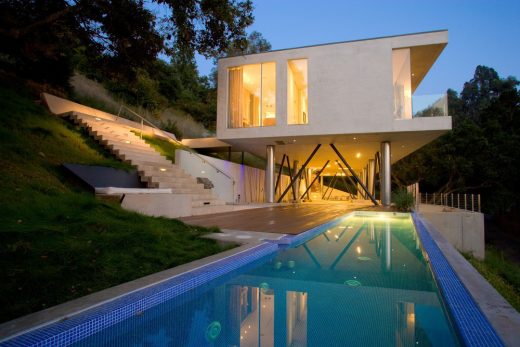 photo © Frederico Zignani
Oak Pass Residence Addition
This additional office space succeeds in integrating into its surroundings without disrupting the architectural balance between the fully-built house and the natural beauty of the land. The design follows in step with Heusch's overall vision for the property.
post updated Sep 19, 2020
Luxury House in Beverly Hills
Design: Whipple Russell Architects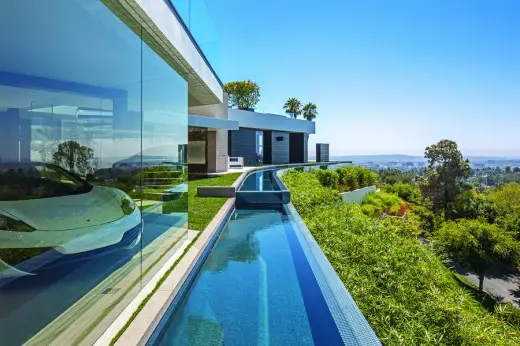 photographers : William MacCollum, Art Gray Photography
House in Beverly Hills: Laurel Way Residence
One aesthetic idea driving the creation of Laurel Way was that each room or space should be a jewel box, an individually conceived, precisely functional and dramatic sensory experience with its own depth of architecture.
Sep 6, 2020
Hillside Home in Los Angeles, CA
July 22, 2020
"'The Golden Girls' TV Home For Sale", Brentwood, Westside of Los Angeles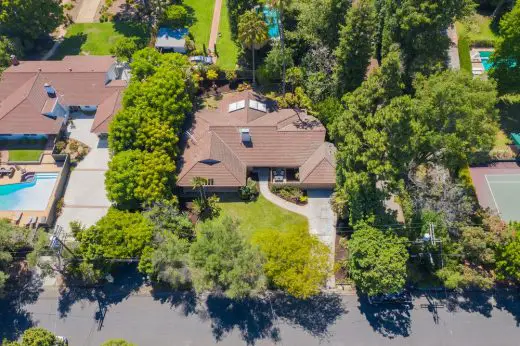 photo : Brandon Valente, Brandon V Photography
The Golden Girls TV Home
For the first time in 65 years, the TV home seen weekly in 'The Golden Girls' from 1985 to 1992 is for sale, at $2.9 million.
May 11, 2020
"Tommy Lee's Spectacular Home Doesn't Miss a Beat", Calabasas, Los Angeles County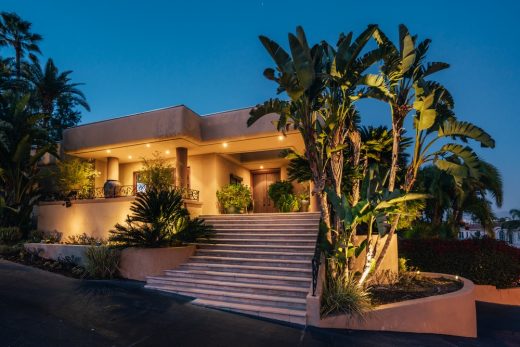 photo : The Agency ; Source: TopTenRealEstateDeals.com
Tommy Lee Home in Calabasas
Perched on a hill with city-light views, Tommy's 9,991-square-foot, six-bedroom, eight-bath home was built in 1987 as the personal residence of the developer of Vista Point in Calabasas, built with a sharp eye on quality of construction and materials.
May 1, 2020
Bruce Jenner's former Malibu Beach Residence, Broad Beach Rd, Lechuza Beach, Malibu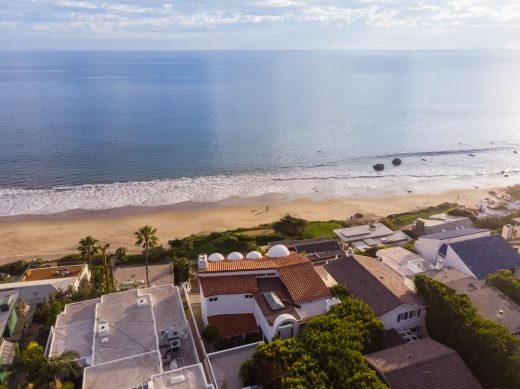 photo : Concierge Auctions ; Source: TopTenRealEstateDeals.com
Bruce Jenner's former Malibu beach house
In 2013 when Bruce Jenner started to feel like a canned sardine in the midst of the constant Kardashian chaos in their Calabasas home, Kris Jenner suggested he find himself a man cave where he could get away and chill.
Feb 29, 2020
Oak Pass House, Beverly Hills, Los Angeles County, California
Architects: Walker Workshop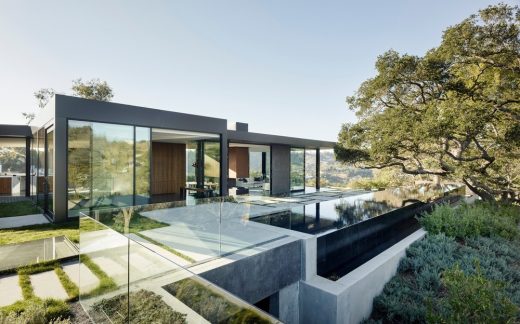 photograph : Joe Fletcher
Oak Pass House in Beverly Hills
The Oak Pass Main House sits atop a 3.5-acre ridge site with panoramic canyon views. The property's topography and landscape, which most notably include over 130 protected Coast Live Oak Trees, were the primary drivers for the house's design.
Feb 4, 2020
ADU – Garage Conversion, San Diego
Architects: Losada Garcia Architects / ModernGrannyFlat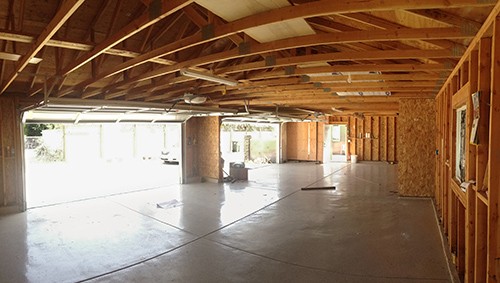 photo : Modern Granny Flat
San Diego ADU – Garage Conversion
Jan 30, 2020
The Butterfly and the Dodecagon Residence
Design: Scrafano Architects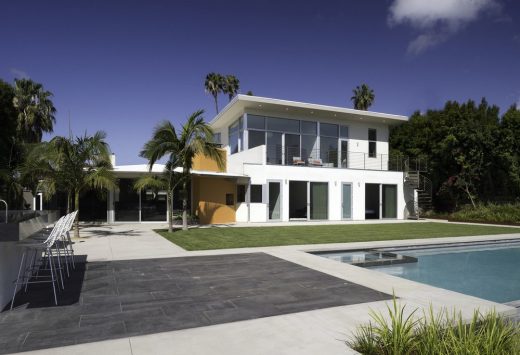 photograph : Catherine Tighe
The Butterfly and the Dodecagon Residence in L.A.
This is a mid-century modern residence, originally one-story and built in 1960, is located high in the hills overlooking the city of Los Angeles.
Jan 13, 2020
Los Tilos Residence, Outpost Estates area, Hollywood Hills
Design: Whipple Russell Architects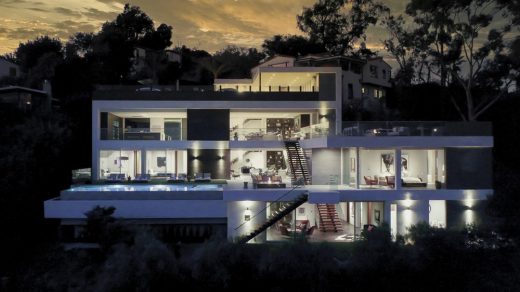 photography : Geoffery Franklin and William MacCollum
Los Tilos Residence
It is the architects' ambition for their clients to experience an emotional reaction upon entering a house of their design. "Ahh" and "Wow," means success!
More modern Los Angeles houses online here at e-architect soon
L.A. Residences 2019
Oct 24, 2019
Plús Hús flat-packed prefab home
Design: Minarc – L.A.-based architects (and parents) Erla Dogg and Tryggvi Thorsteinsson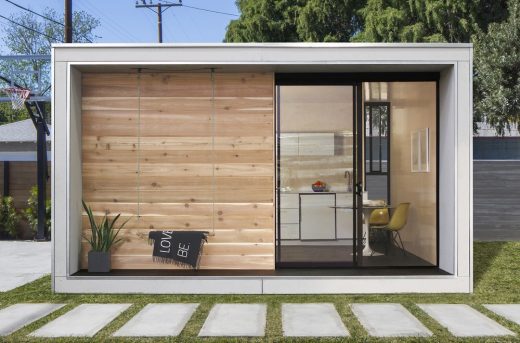 image courtesy of architects
Plús Hús flat-packed prefab home by Minarc
Minarc injects functional minimalism and Icelandic-inspired sustainability into Plús Hús, a flat-packed prefab home that cuts through red tape for a valuable income source.
Aug 1, 2019
Perugia Way Residence
Design: Quinn Architects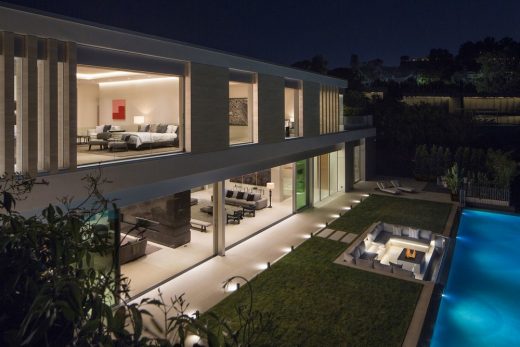 photo © The Agency
Perugia Way Residence in Los Angeles
This new property is situated within a quiet cul-de-sac in Hollywood Hills, an affluent Los Angeles neighbourhood in the foothills of the Santa Monica mountains.
Mar 12, 2019
Orum Residence, Bel-Air, Los Angeles, California, USA
Design: SPF:architects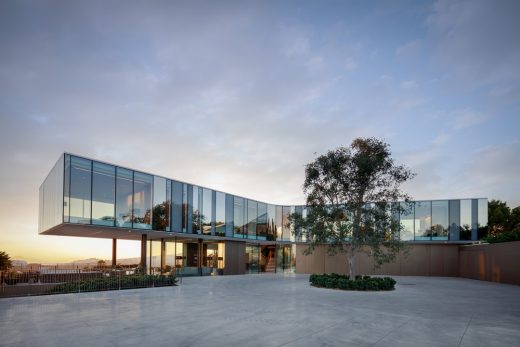 photo © Matthew Momberger
New Residence in Bel-Air
Given its prominent positioning above a relatively developed neighborhood, the motivation behind the design of the Orum Residence was to create a home that could meld into its surroundings while maximizing views.
More modern Los Angeles houses online here soon
Los Angeles Houses from 2018
Oct 23, 2018
Stack House
Design: FreelandBuck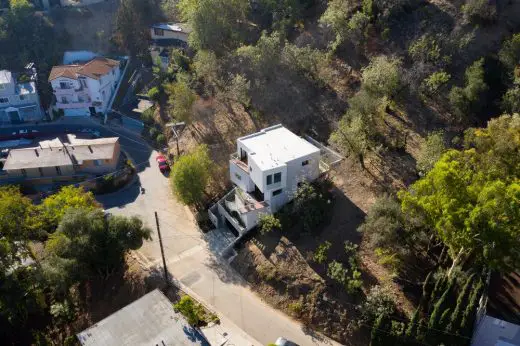 photograph : Eric Staudenmaier Photography
Stack House
A new 2,207-sqft residence designed and developed by this LA and NY-based architecture studio. The tall property stretches up four stories and uses gentle rotation of the rooms to gain unobstructed views of the San Gabriel mountains.
Oct 4, 2018
Benedict Canyon Residence, Beverly Hills, Los Angeles County
Design: Whipple Russell Architects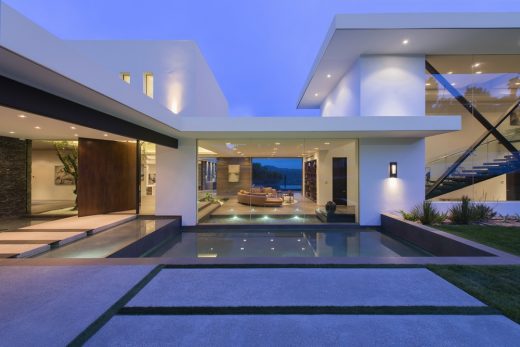 photograph : William MacCollum
Benedict Canyon Residence
A spiral driveway leads to the property, which then opens to the car park and entrance walkway. On the left, is the upstairs studio space, accessible via stairs that rise up over the first reflecting pool. Wide horizontal pavers guide the eye up to the house where water surrounds the entrance, flowing between the steps, and meeting a chiseled marble ledger stone wall.
Sep 10, 2018
Three Step House
Architects: CHA:COL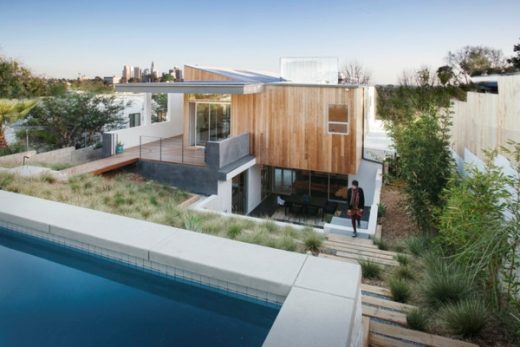 photograph : Edward Duarte
Three Step House
This contemporary LA house is an inventive solution to locating a single family residence along a steeply sloped lot. The property design both maximizes the topography and captures the spectacular urban views.
May 23, 2018
Stradella Residence, Bel-Air, LA
Design: SAOTA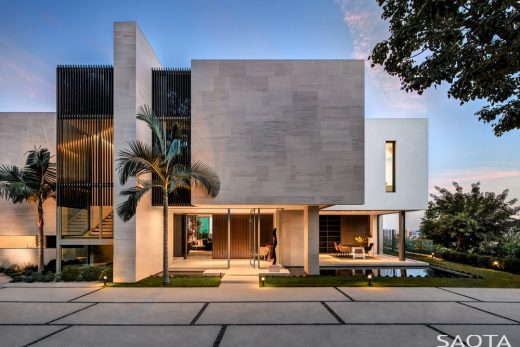 photograph : Adam Letch
Los Angeles Luxury Residence
SAOTA's first completed project in Los Angeles, a remodel of an existing 1970s house on a beautiful promontory in Bel Air, remove all traces of the original Spanish style architecture.
More current Los Angeles houses online soon
Los Angeles Houses from 2017
Apr 13, 2017
Mirror House in Beverly Hills
Architects: XTEN Architecture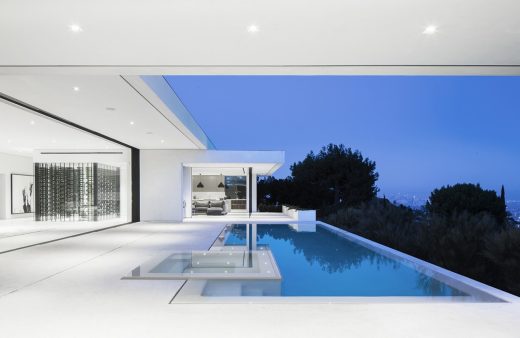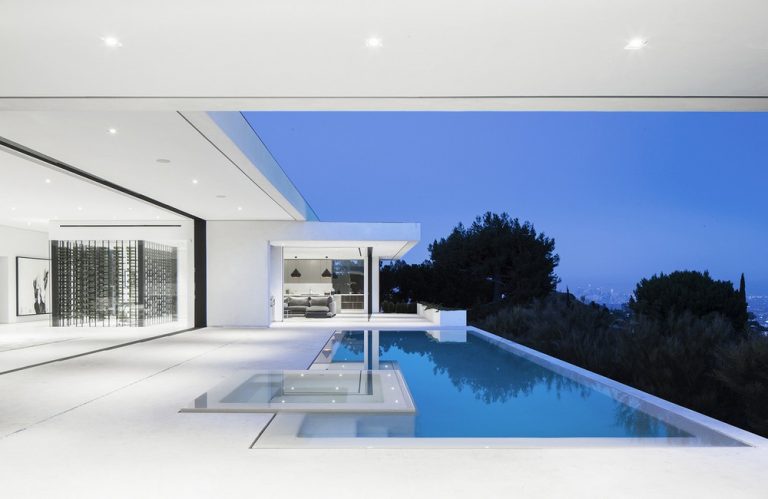 photos : Art Gray
Mirror House in Beverly Hills
May 1, 2017
The Wave House, Venice
Architect: Mario Romano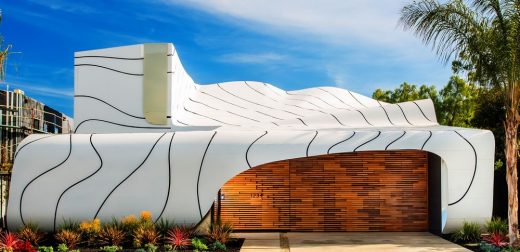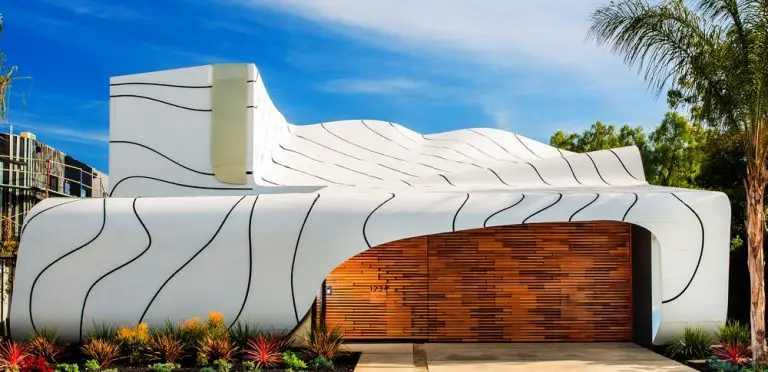 photograph : Brandon Arant
The Wave House, Venice, California
Jan 22, 2017
Car Park House
Design: Anonymous Architects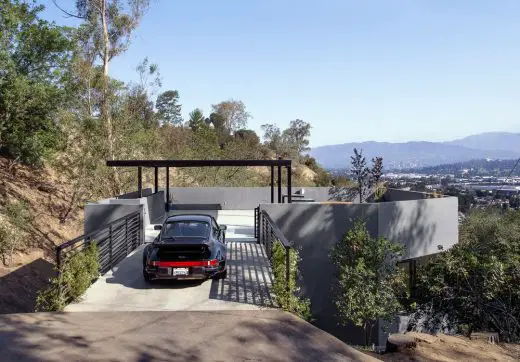 photograph : Steve King
Car Park House in Los Angeles
Jan 19, 2017
House in Trees
Design: Anonymous Architects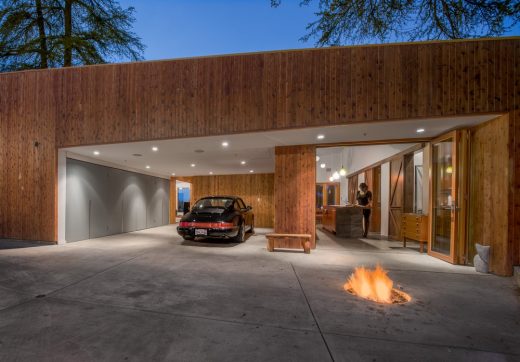 photographers : Steve King & Michael Wells
House in Trees, Echo Park
The site is characterized by its remote feeling and mature trees; this despite being surrounded by dense urban development. It is an unusual paradox to have such a natural setting that occurs in the middle of Los Angeles – a city known for its endless sprawl and crawling traffic.
More new Los Angeles houses online at e-architect soon
Los Angeles Houses up to 2016
Sep 22, 2016
Crossing Wall House Santa Barbara, California
Design: Mobile Office Architects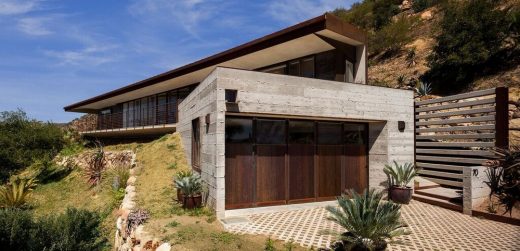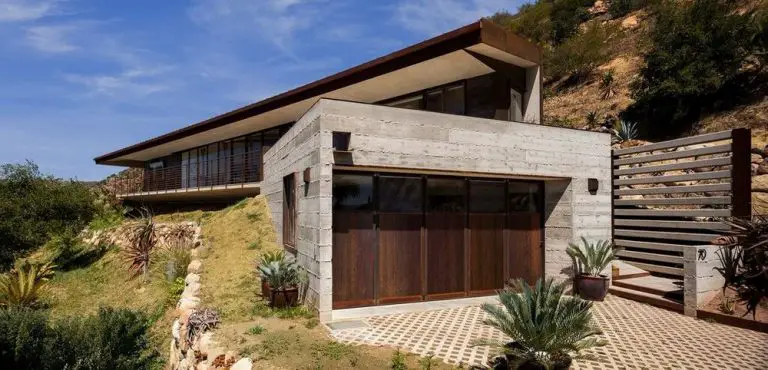 photograph : Tyson Ellis
House in Santa Barbara
The Crossing Wall House is sited where the Santa Ynez Mountains meet the Pacific Ocean, overlooking the City of Santa Barbara and Channel Islands.
Feb 23, 2016
James Goldstein House in Beverly Hills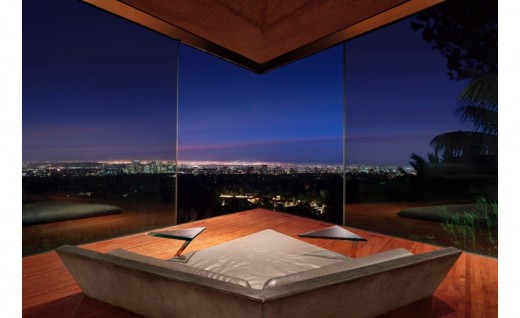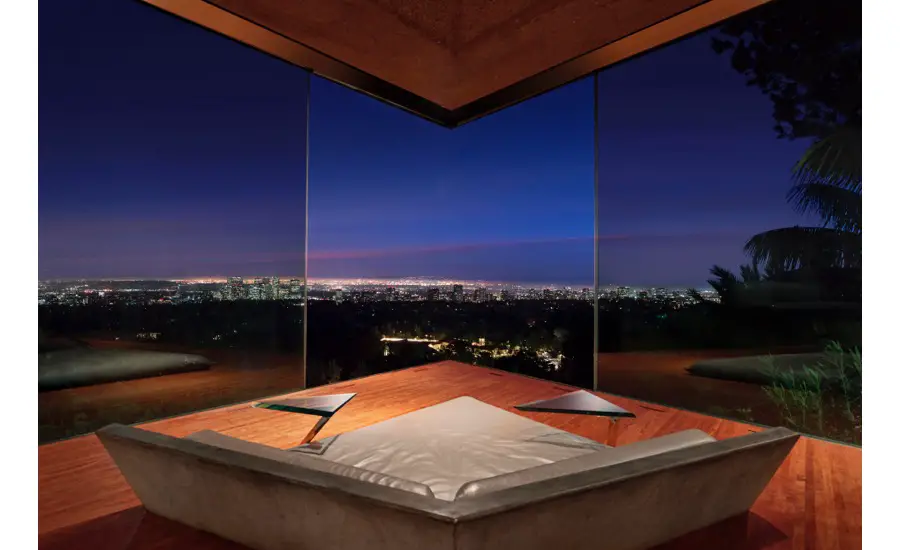 photo © Tom Ferguson Photography
James Goldstein House in Beverly Hills
Mar 27, 2014
New California Property
Design: Amit Apel Design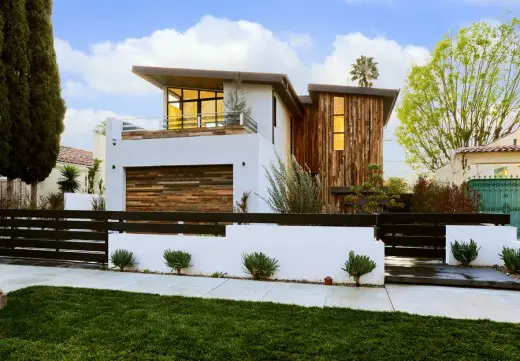 picture Courtesy architecture office
355 Mansfield
Bold colors and contrasting materials, with Japanese style plant separators, grid windows and landscaping.
Mar 27, 2014
Modern Californian Property
Design: Amit Apel Design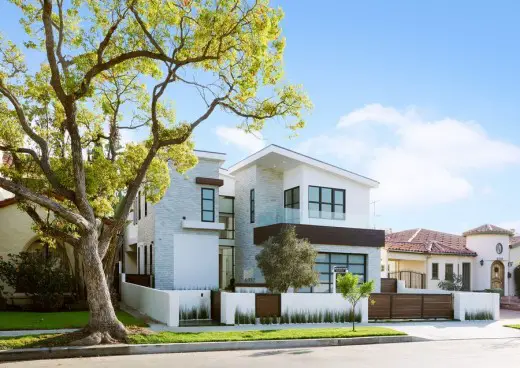 picture Courtesy architecture office
6352 Colgate Los Angeles Residence
May 27, 2014
Beverley Hills House
Design: Pablo Jendretzki Architect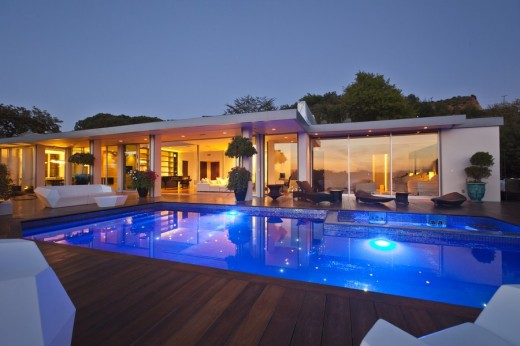 photograph : Alejandro Wirth
Beverly Hills House
Full reconfiguration of a Hal Levitt 50's house: this intervention's main premise was to open the house and connect as much as possible the exterior with the interior.
May 1, 2014
Black Desert House, Yucca Valley, Palm Springs, California
Design: Oller & Pejic Architecture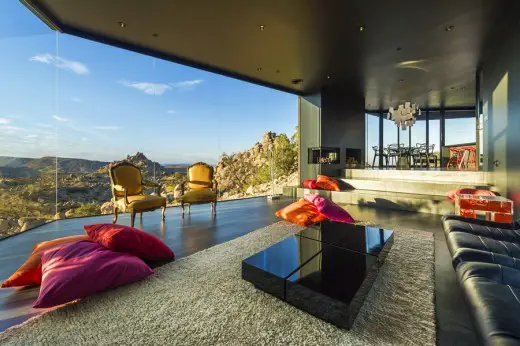 photograph : Marc Angeles
Black Desert House Los Angeles
This bold new property is located east of Los Angeles in the high desert near the Joshua Tree National Park.
Mar 3, 2014
Four Eyes House, Coachella Valley, Southern California
Design: Edward Ogosta Architecture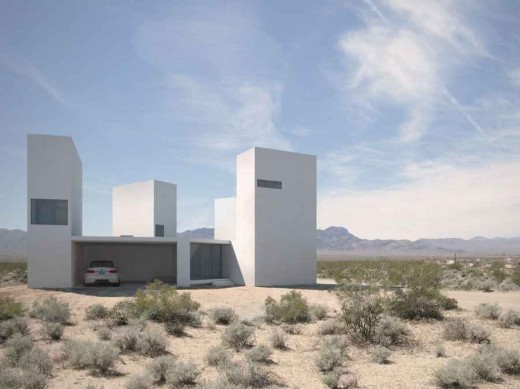 photo © Edward Ogosta Architecture
Coachella Valley House
A weekend desert residence for a family and their dog, this stylish Californian residence is an exercise in site-specific experiential programming.
Mojave Desert Houses, La Quinta, Mojave Desert, California
Design: Platform For Architecture + Research (PAR)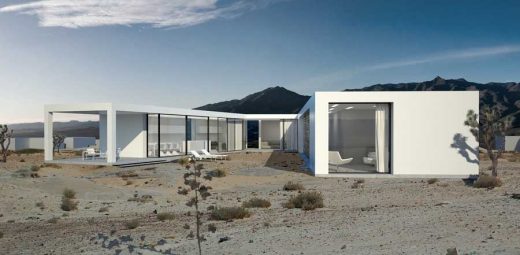 images : Platform For Architecture + Research
Desert Houses La Quinta
This residence is located on 15 acres of land several miles outside of Palm Springs, CA. The architects' approach was to minimize environmental and ecological impacts while still meeting the objectives of the client's brief.
DJ Avicii's Property in Los Angeles
SL11024 Residential Development in Los Angeles
Los Angeles Homes – recent L.A. residences added on e-architect
More Los Angeles real estate & modern Housing online soon
Location: Los Angeles, California, USA
New Architecture in California
Contemporary Californian Architectural Projects
Los Angeles Architecture Designs
Frank Gehry moved with his family in 1947 to Los Angeles
Photos for the Los Angeles Real Estate – L.A. Residential Architecture page welcome