Los Angeles Houses, Hollywood Real Estate, New LA Property, Buildings, Architects, Home Photos
Los Angeles Residences
Contemporary LA Real Estate News – Californian Houses + Property Developments, USA
post updated October 17, 2021
Los Angeles Houses – Latest Design
L.A. Houses – latest architecture additions to this page, arranged chronologically:
Oct 11, 2021
Orum House, Bel Air, L.A., Southern California, USA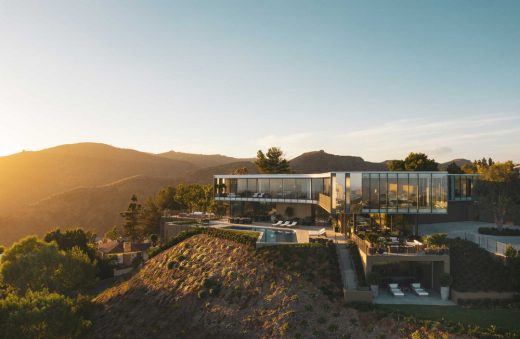 Source: TopTenRealEstateDeals
Orum House, Bel Air
Beyoncé is the face of a new Tiffany ad, which debuted during 2021's Emmy Awards broadcast, and has the Internet and Madison Avenue abuzz. A tribute to the Audrey Hepburn movie Breakfast at Tiffany's, the 90-second commercial showcases Beyoncé playing the piano.
Oct 1, 2021
Encino Mansion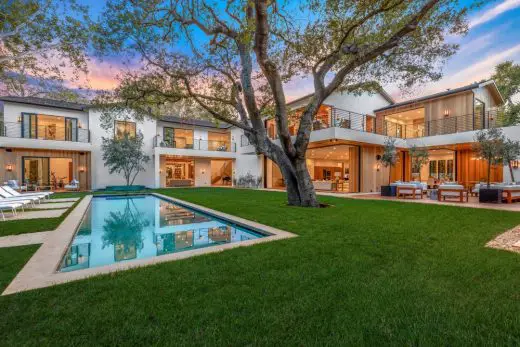 photo courtesy of TopTenRealEstateDeals
Encino Mansion, Royal Oaks
A-Listers Joe Jonas and wife, Sophie Turner, have sold their Encino, California estate, which they turned into one of Southern California's most glamorous contemporary homes. Taking two years and the magic of celebrity-designer Jae Omar, the couple purchased the Encino Mansion in 2019 for $14.1 million.
Oct 3, 2021
Byrdview, L.A. Mansion For Sale
Oct 2, 2021
Historic Los Feliz House
Sep 22, 2021
Electric Avenue Auto Shop, Silver Lake
Jun 14 2021
Modern Hollywood Hills House
Design: Mutuus Studio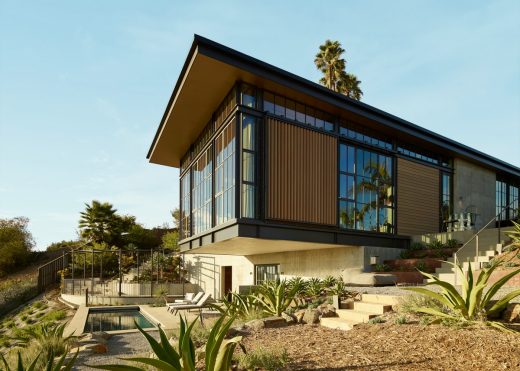 photography : Kevin Scott
Modern Hollywood Hills House
A bespoke home nestled and perched atop a hill in the oaks in Hollywood hills, the residence was born out of desire for highly considered design within a relatively modest footprint. In consideration of the environment and the desire to simplify, the clients yearned for a smaller footprint for their family residence, much like their New York City Penthouse loft.
May 20, 2021
Historical Pasadena Mansion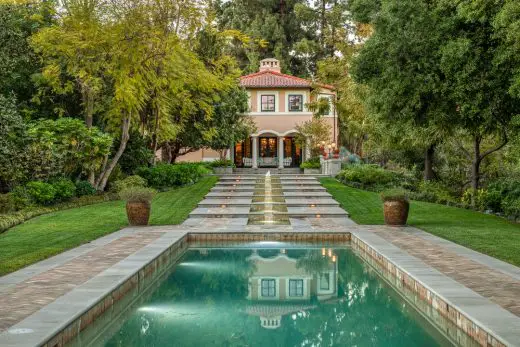 photography : Shawn Bishop
Historical Pasadena Mansion
The year 2006 was a good one for cable channel Bravo when it introduced The Real Housewives franchise, a reality television series depicting the real lives of wealthy housewives inside and outside of their glamorous mansions in cities such as Beverly Hills, New York and Dallas.
Apr 21, 2021
Bronze House
Design: SPF:architects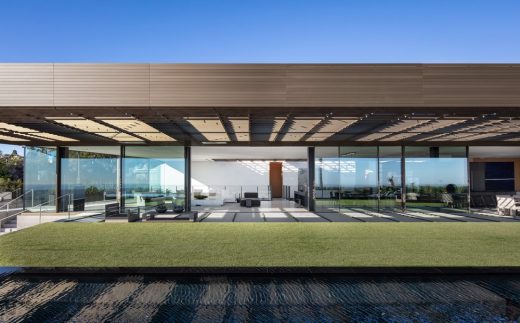 photo courtesy of architects office
Bronze House, Hollywood Hills, L.A.
Sited on a flat pad near the end of the street, the two-story, 13,000-square-foot Bronze House on Nightingale replaces a 3,000-square-foot single-family home originally constructed in the 1950s. To preserve existing views, the neighborhood follows a strict hillside ordinance that limits any new construction to no more than one story out of grade.
Apr 20, 2021
Tiny House, Lincoln Heights
Design: Spatial Affairs Bureau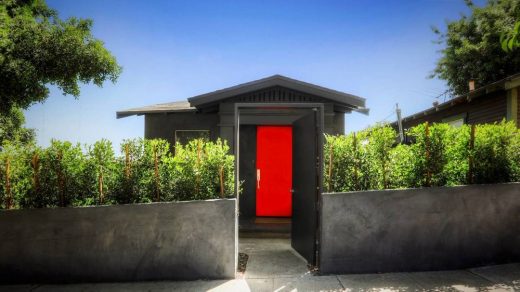 photography : Charmaine David
Tiny House, Lincoln Heights
This 1920's neglected cottage on a wonderfully long thin strip in Los Angeles' Lincoln Heights neighborhood was transformed in 2019 to be a plush pad with a gray water orchard.
Apr 19, 2021
Rhonda Fleming's Mansion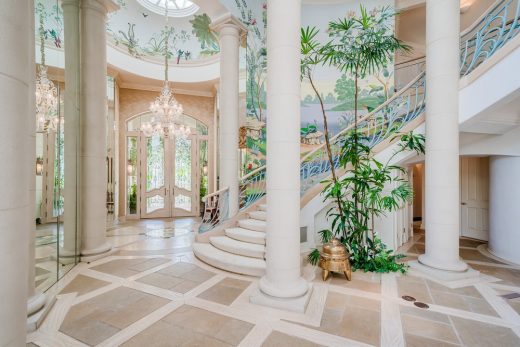 photography : Douglas Elliman
Rhonda Fleming's Mansion
One of Hollywood's busiest and most popular actresses from the 1940s to the 1970s, Rhonda Fleming was a fiery redhead with fair skin and green eyes. She was the perfect actress for the mid-20th-century advances in film colorization, so much in demand for the new technology that she earned the nickname Queen of Technicolor.
Apr 20, 2021
An Edgy Edge Property, Manhattan Beach
Apr 19, 2021
Bel Air Mansion
Feb 12, 2021
Healthy Living House, Pacific Palisades
Feb 1, 2021
Matt Damon's Pacific Palisades Mansion
Jan 19, 2021
Owlwood Mansion
Dec 15, 2020
House of Tomorrow – Elvis Presley's Honeymoon Home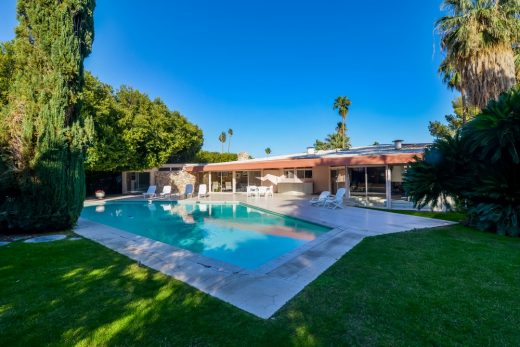 photo : Rodeo Realty
House of Tomorrow, Palm Springs
Dec 1, 2020
Oak Pass Residence, Beverly Hills, Southern California
Architects: Heusch Inc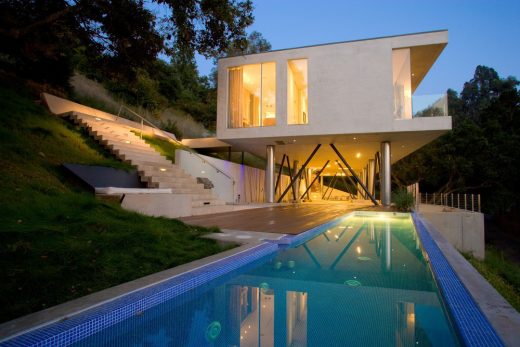 photo © Frederico Zignani
Oak Pass Residence Addition
This additional office space succeeds in integrating into its surroundings without disrupting the architectural balance between the fully-built house and the natural beauty of the land. The design follows in step with Heusch's overall vision for the property.
post updated Sep 19, 2020
Luxury House in Beverly Hills
Design: Whipple Russell Architects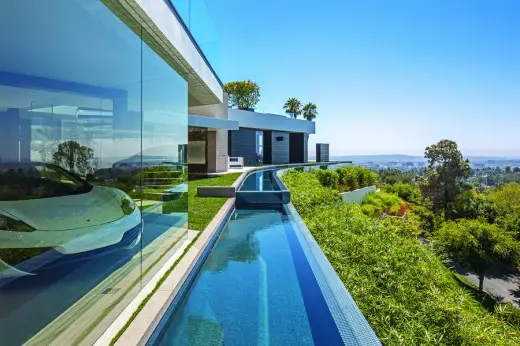 photographers : William MacCollum, Art Gray Photography
House in Beverly Hills: Laurel Way Residence
One aesthetic idea driving the creation of Laurel Way was that each room or space should be a jewel box, an individually conceived, precisely functional and dramatic sensory experience with its own depth of architecture.
Sep 6, 2020
Hillside Home in Los Angeles, CA
July 22, 2020
"'The Golden Girls' TV Home For Sale", Brentwood, Westside of Los Angeles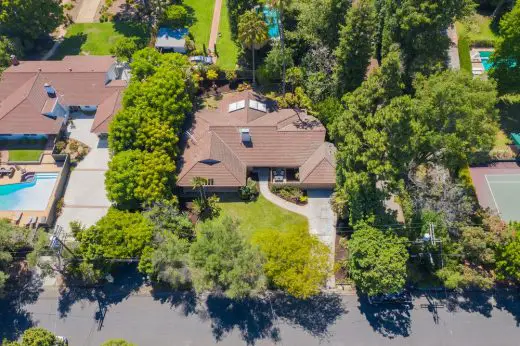 photo : Brandon Valente, Brandon V Photography
The Golden Girls TV Home
For the first time in 65 years, the TV home seen weekly in 'The Golden Girls' from 1985 to 1992 is for sale, at $2.9 million.
May 11, 2020
"Tommy Lee's Spectacular Home Doesn't Miss a Beat", Calabasas, Los Angeles County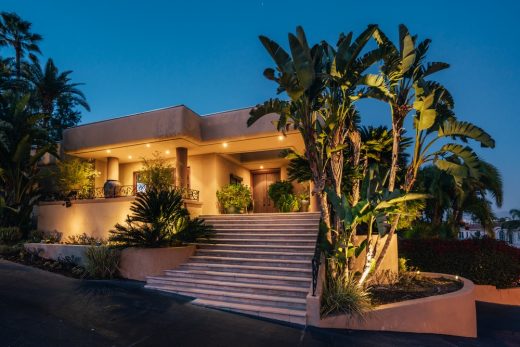 photo : The Agency ; Source: TopTenRealEstateDeals.com
Tommy Lee Home in Calabasas
Perched on a hill with city-light views, Tommy's 9,991-square-foot, six-bedroom, eight-bath home was built in 1987 as the personal residence of the developer of Vista Point in Calabasas, built with a sharp eye on quality of construction and materials.
May 1, 2020
Bruce Jenner's former Malibu Beach Residence, Broad Beach Rd, Lechuza Beach, Malibu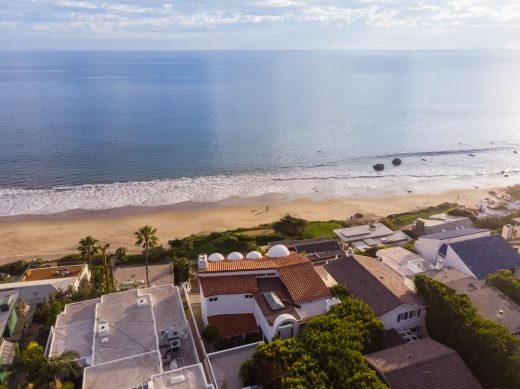 photo : Concierge Auctions ; Source: TopTenRealEstateDeals.com
Bruce Jenner's former Malibu beach house
In 2013 when Bruce Jenner started to feel like a canned sardine in the midst of the constant Kardashian chaos in their Calabasas home, Kris Jenner suggested he find himself a man cave where he could get away and chill.
Feb 29, 2020
Oak Pass House, Beverly Hills, Los Angeles County, California
Architects: Walker Workshop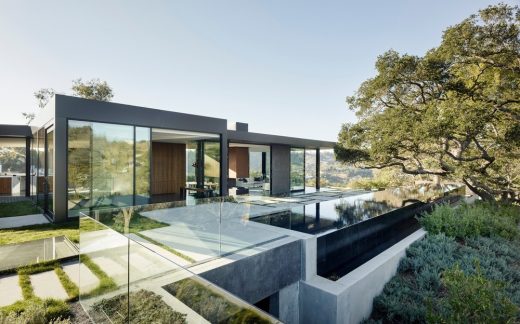 photograph : Joe Fletcher
Oak Pass House in Beverly Hills
The Oak Pass Main House sits atop a 3.5-acre ridge site with panoramic canyon views. The property's topography and landscape, which most notably include over 130 protected Coast Live Oak Trees, were the primary drivers for the house's design.
Feb 4, 2020
ADU – Garage Conversion, San Diego
Architects: Losada Garcia Architects / ModernGrannyFlat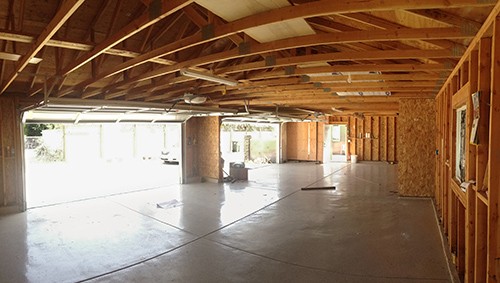 photo : Modern Granny Flat
San Diego ADU – Garage Conversion
Jan 30, 2020
The Butterfly and the Dodecagon Residence
Design: Scrafano Architects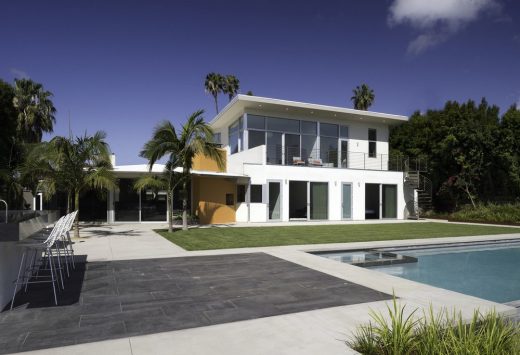 photograph : Catherine Tighe
The Butterfly and the Dodecagon Residence in L.A.
This is a mid-century modern residence, originally one-story and built in 1960, is located high in the hills overlooking the city of Los Angeles.
Jan 13, 2020
Los Tilos Residence, Outpost Estates area, Hollywood Hills
Design: Whipple Russell Architects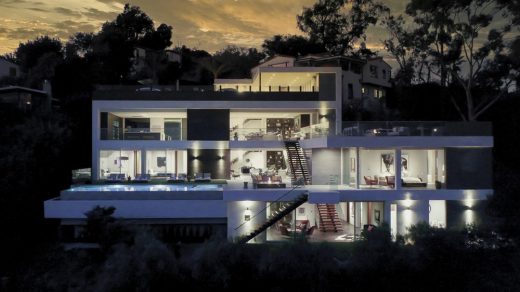 photography : Geoffery Franklin and William MacCollum
Los Tilos Residence
It is the architects' ambition for their clients to experience an emotional reaction upon entering a house of their design. "Ahh" and "Wow," means success!
Oct 24, 2019
Plús Hús flat-packed prefab home
Design: Minarc – L.A.-based architects (and parents) Erla Dogg and Tryggvi Thorsteinsson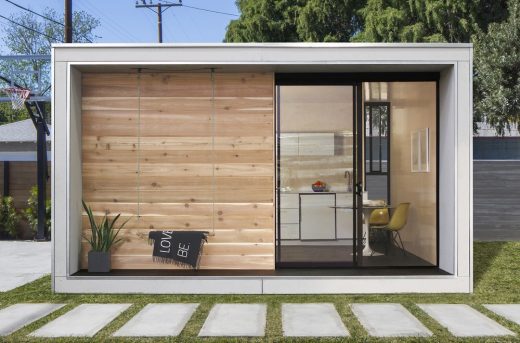 image courtesy of architects
Plús Hús flat-packed prefab home by Minarc
Minarc injects functional minimalism and Icelandic-inspired sustainability into Plús Hús, a flat-packed prefab home that cuts through red tape for a valuable income source.
Aug 1, 2019
Perugia Way Residence
Design: Quinn Architects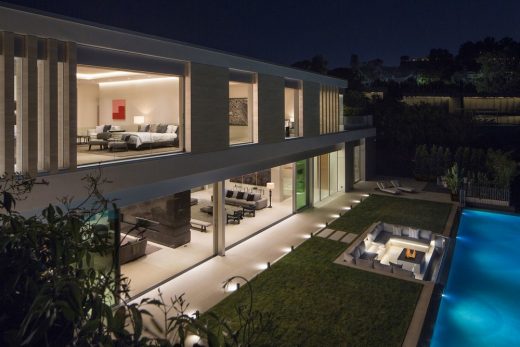 photo © The Agency
Perugia Way Residence in Los Angeles
This new property is situated within a quiet cul-de-sac in Hollywood Hills, an affluent Los Angeles neighbourhood in the foothills of the Santa Monica mountains.
Mar 12, 2019
Orum Residence, Bel-Air, Los Angeles, California, USA
Design: SPF:architects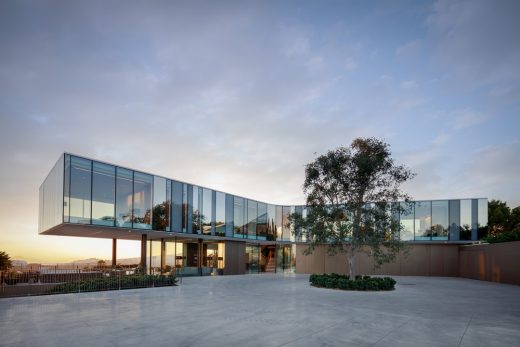 photo © Matthew Momberger
New Residence in Bel-Air
Given its prominent positioning above a relatively developed neighborhood, the motivation behind the design of the Orum Residence was to create a home that could meld into its surroundings while maximizing views.
Los Angeles Houses from 2018
Oct 23, 2018
Stack House
Design: FreelandBuck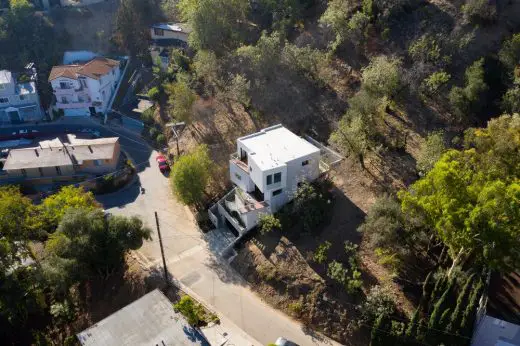 photograph : Eric Staudenmaier Photography
Stack House
A new 2,207-sqft residence designed and developed by this LA and NY-based architecture studio. The tall property stretches up four stories and uses gentle rotation of the rooms to gain unobstructed views of the San Gabriel mountains.
Oct 4, 2018
Benedict Canyon Residence, Beverly Hills, Los Angeles County
Design: Whipple Russell Architects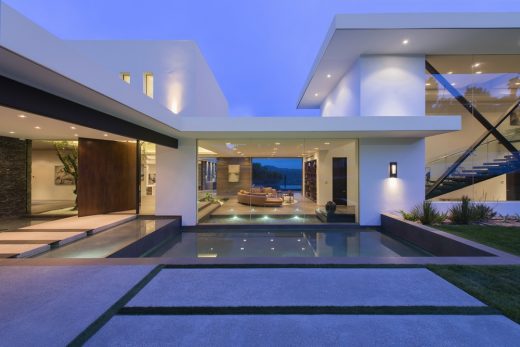 photograph : William MacCollum
Benedict Canyon Residence
A spiral driveway leads to the property, which then opens to the car park and entrance walkway. On the left, is the upstairs studio space, accessible via stairs that rise up over the first reflecting pool. Wide horizontal pavers guide the eye up to the house where water surrounds the entrance, flowing between the steps, and meeting a chiseled marble ledger stone wall.
Sep 10, 2018
Three Step House
Architects: CHA:COL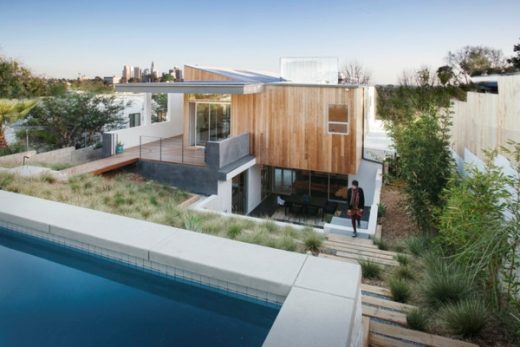 photograph : Edward Duarte
Three Step House
This contemporary LA house is an inventive solution to locating a single family residence along a steeply sloped lot. The property design both maximizes the topography and captures the spectacular urban views.
May 23, 2018
Stradella Residence, Bel-Air, LA
Design: SAOTA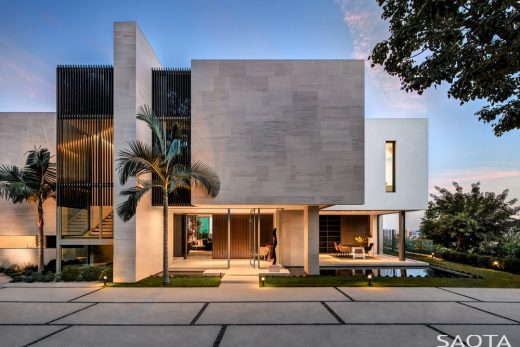 photograph : Adam Letch
Los Angeles Luxury Residence
SAOTA's first completed project in Los Angeles, a remodel of an existing 1970s house on a beautiful promontory in Bel Air, remove all traces of the original Spanish style architecture.
Los Angeles Houses from 2017
Apr 13, 2017
Mirror House in Beverly Hills
Architects: XTEN Architecture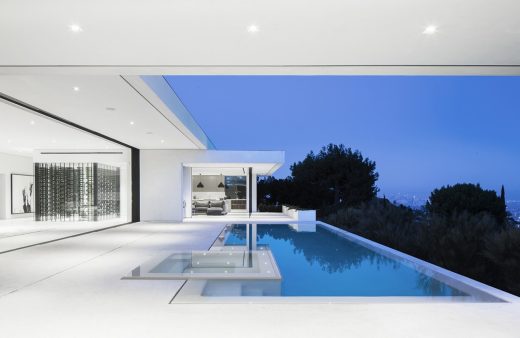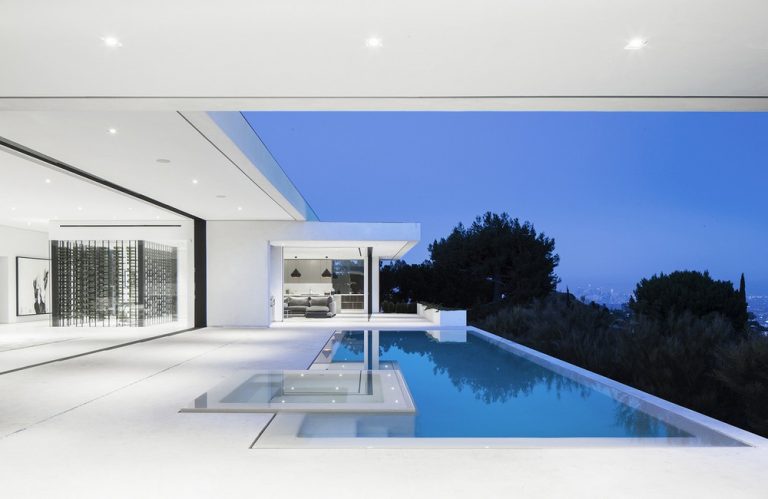 photos : Art Gray
Mirror House in Beverly Hills
May 1, 2017
The Wave House, Venice
Architect: Mario Romano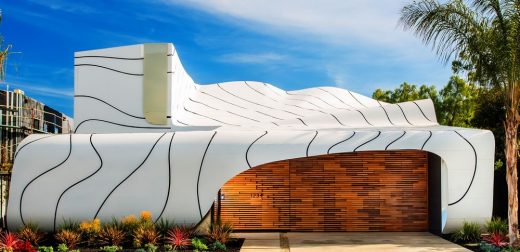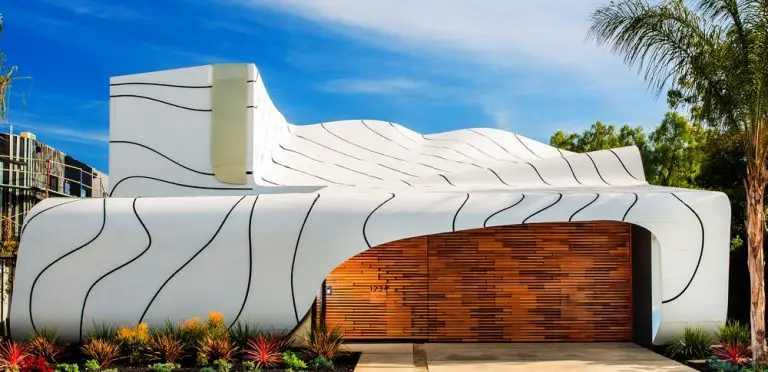 photograph : Brandon Arant
The Wave House, Venice, California
Jan 22, 2017
Car Park House
Design: Anonymous Architects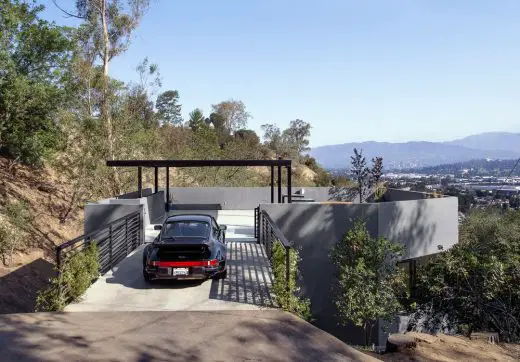 photograph : Steve King
Car Park House in Los Angeles
Jan 19, 2017
House in Trees
Design: Anonymous Architects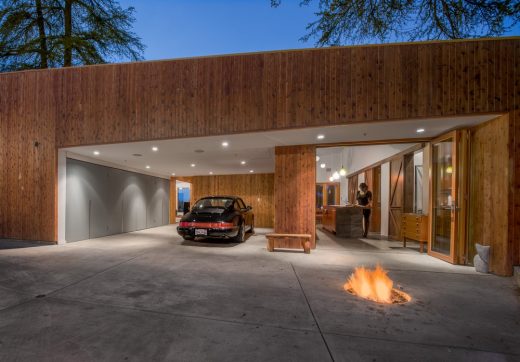 photographers : Steve King & Michael Wells
House in Trees, Echo Park
The site is characterized by its remote feeling and mature trees; this despite being surrounded by dense urban development. It is an unusual paradox to have such a natural setting that occurs in the middle of Los Angeles – a city known for its endless sprawl and crawling traffic.
Los Angeles Houses up to 2016
Sep 22, 2016
Crossing Wall House Santa Barbara, California
Design: Mobile Office Architects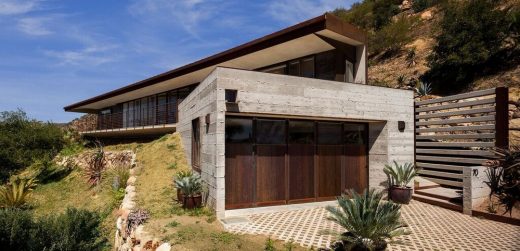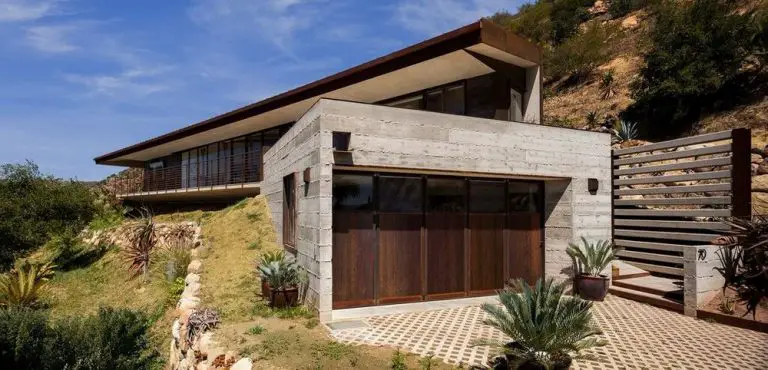 photograph : Tyson Ellis
House in Santa Barbara
The Crossing Wall House is sited where the Santa Ynez Mountains meet the Pacific Ocean, overlooking the City of Santa Barbara and Channel Islands.
Feb 23, 2016
James Goldstein House in Beverly Hills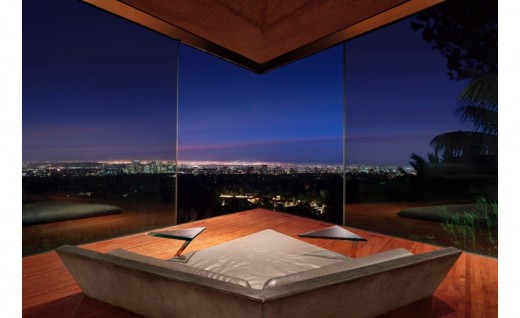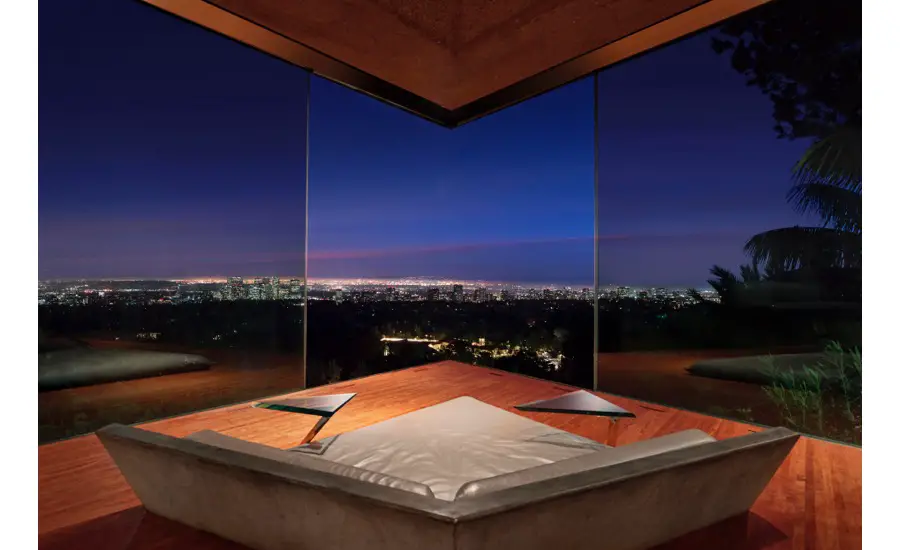 photo © Tom Ferguson Photography
James Goldstein House in Beverly Hills
Mar 27, 2014
New California Property
Design: Amit Apel Design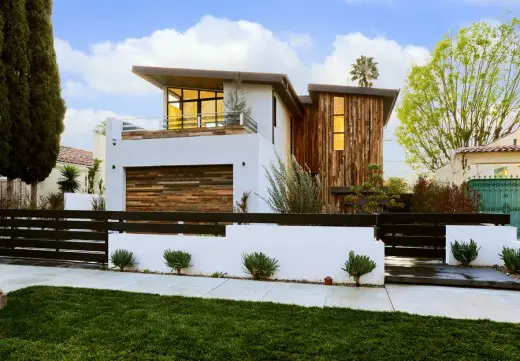 picture Courtesy architecture office
355 Mansfield
Bold colors and contrasting materials, with Japanese style plant separators, grid windows and landscaping.
Mar 27, 2014
Modern Californian Property
Design: Amit Apel Design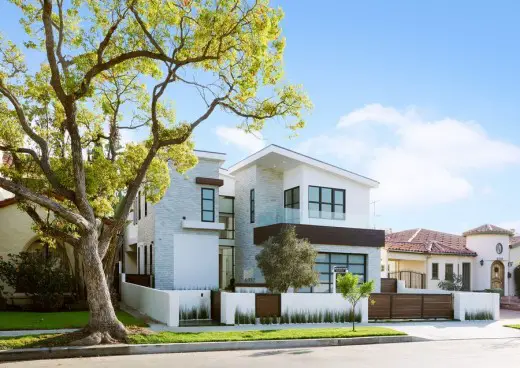 picture Courtesy architecture office
6352 Colgate Los Angeles Residence
May 27, 2014
Beverley Hills House
Design: Pablo Jendretzki Architect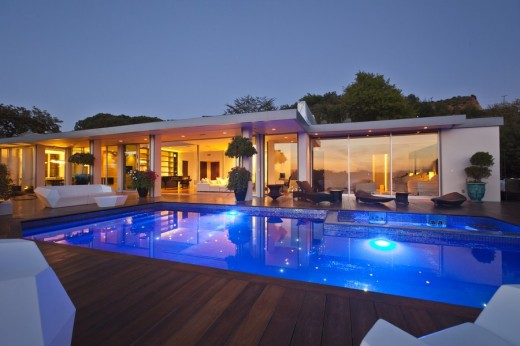 photograph : Alejandro Wirth
Beverly Hills House
Full reconfiguration of a Hal Levitt 50's house: this intervention's main premise was to open the house and connect as much as possible the exterior with the interior.
May 1, 2014
Black Desert House, Yucca Valley, Palm Springs, California
Design: Oller & Pejic Architecture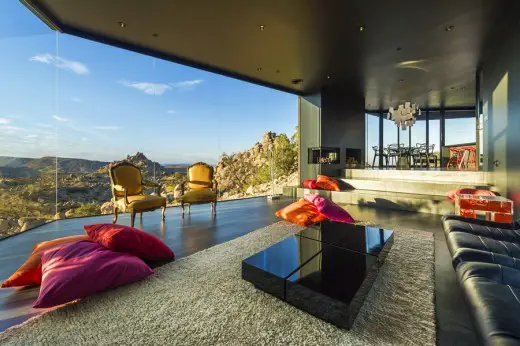 photograph : Marc Angeles
Black Desert House Los Angeles
This bold new property is located east of Los Angeles in the high desert near the Joshua Tree National Park.
Mar 3, 2014
Four Eyes House, Coachella Valley, Southern California
Design: Edward Ogosta Architecture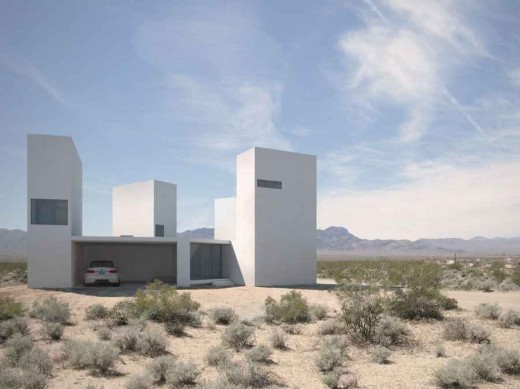 photo © Edward Ogosta Architecture
Coachella Valley House
A weekend desert residence for a family and their dog, this stylish Californian residence is an exercise in site-specific experiential programming.
Mojave Desert Houses, La Quinta, Mojave Desert, California
Design: Platform For Architecture + Research (PAR)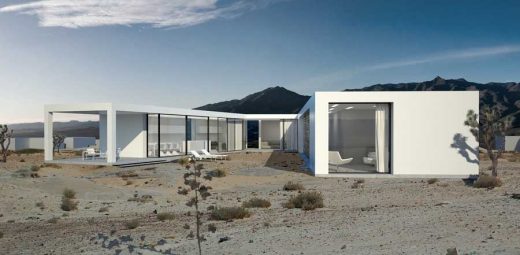 images : Platform For Architecture + Research
Desert Houses La Quinta
This residence is located on 15 acres of land several miles outside of Palm Springs, CA. The architects' approach was to minimize environmental and ecological impacts while still meeting the objectives of the client's brief.
DJ Avicii's Property in Los Angeles
SL11024 Residential Development in Los Angeles
Los Angeles Homes – recent L.A. residences added on e-architect
More Los Angeles real estate & modern Housing online soon
Location: Los Angeles, California, USA
New Architecture in California
Contemporary Californian Architectural Projects
Los Angeles Architecture Designs
Frank Gehry moved with his family in 1947 to Los Angeles
Photos for the Los Angeles Real Estate – L.A. Residential Architecture page welcome