Lucas Museum of Narrative Art in Los Angeles, Exposition Park Building Images, Site
Lucas Museum of Narrative Art Los Angeles
New Building in Exposition Park, L.A., California, USA – design by Ma Yansong of MAD Architects
May 7, 2017
New designs for the Lucas Museum of Narrative Art
Plans for Lucas Museum of Narrative Art in Los Angeles
The Lucas Museum of Narrative Art now has a site. After considering potential sites in Chicago and San Francisco the art collection and archives of superstar director George Lucas finally found a future home in Exposition Park.
New designs for the museum by Chinese architect Ma Yansong of MAD Architects have been revealed.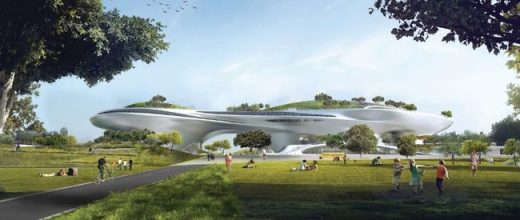 The new designs retain the sinewy look of the old ones, but present a more compact structure. The museum will comprise a four story, 115-ft tall building with 300,000 sqft of floor space. Split into two wings, it will include two theaters as well as archives, offices, classrooms, and a library.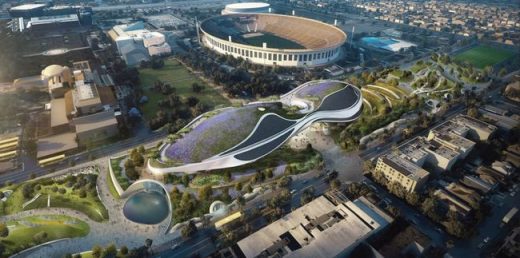 The wings will meet on the fourth floor, creating a large exhibition space. The fifth level will also feature exhibition space as well as a restaurant. A massive subterranean garage capable of housing 2,400 vehicles will be capped with 11 acres of parkland.
The project comes with a hefty price tag, an estimated $1 billion!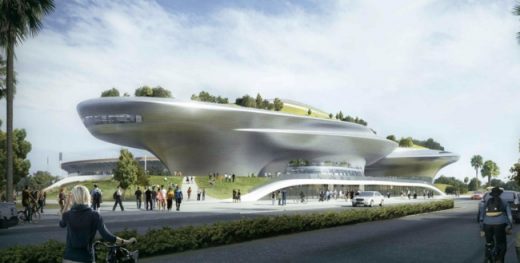 The Lucas Museum for Narrative Art is a non-profit museum to be built in Los Angeles' Exposition Park.
The Broad Museum cost around $140 m while the new, and controversial, Peter Zumthor-designed LACMA building is expected to cost $650 m. The Oscars Museum, situated adjacent to LACMA, is due to cost upwards of $388 m.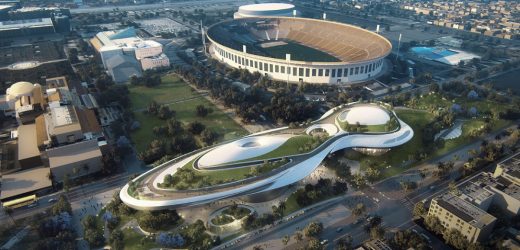 The Lucas Museum features a bold new architectural design, and will be a one-of-a-kind gathering place to experience collections, films and exhibitions dedicated to the power of visual storytelling and the evolution of art and moving images.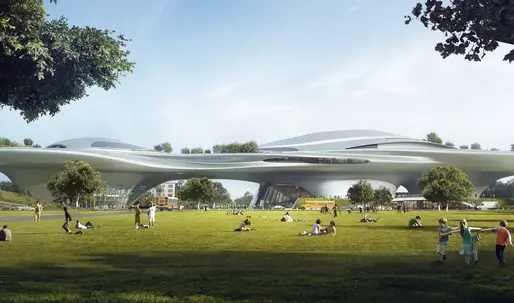 Former design: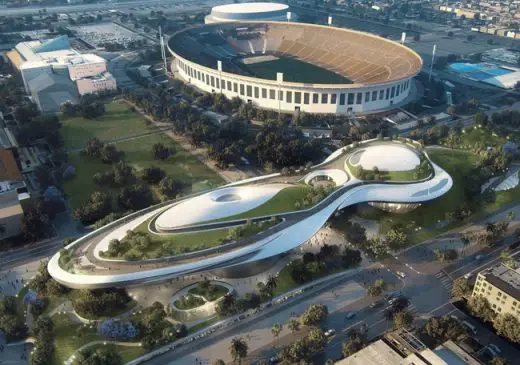 The museum will present original work by world renowned and emerging artists, cutting-edge digital technologies, and daily film screenings in state-of-the-art theaters, as well as extraordinary educational opportunities for students of all ages.
Previously on e-architect:
Lucas Museum of Narrative Art San Francisco
Official Website: Lucas Museum of Narrative Art in Los Angeles
Jul 8, 2016
Lucas Museum of Narrative Art in Chicago News
Plans to Build Lucas Museum of Narrative Art in Chicago Abandonded
On Friday George Lucas announced that he had abandoned plans to build his Lucas Museum of Narrative Art in Chicago.
The museum's director, Don Bacigalupi, says the Star Wars filmmaker is "engaged in due diligence on sites in San Francisco and Los Angeles", reports the Architectural Record.
San Francisco design: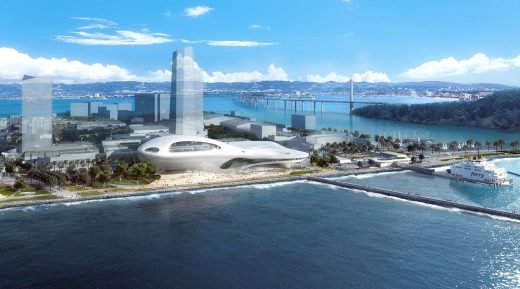 The decision to leave Chicago had been expected for weeks. George Lucas had hoped to build on a parking lot near Soldier Field, and in 2014 he released renderings of a mushroom-like building by Ma Yansong of Los Angeles- and Beijing-based MAD Architects (best known for a pair of sinuous condo towers near Toronto).
The structure was 400,000 sqft. But in late 2014 a group called Friends of the Parks filed suit, claiming the city had no right to convey waterfront land, held in a public trust, to the museum.
In September, the museum released a revised design, scaled down by about 25 percent. But the Friends of the Park group wasn't mollified. In February, a federal judge declined to dismiss its suit, meaning the litigation might have dragged on for years. And when the city offered another site —McCormick Place East, a convention center designed by Mies van der Rohe protégé Gene Summers — Friends of the Parks stated its intent to block construction at that location too.
George Lucas lost patience with the Friends group:
"No one benefits from continuing their seemingly unending litigation to protect a parking lot," he said in a statement Friday.
Whichever site is chosen, Ma Yansong of MAD Architects remains as the museum's architect, according to Don Bacigalupi. The architect has already visited the Treasure Island site in San Francisco suggesting Los Angeles is out of the running.
May 20, 2016
Lucas Museum in San Francisco
Chicago Design: Ma Yansong of MAD, Architects
Location: Treasure Island, San Francisco, California, USA
Lucas Museum may move to Treasure Island in San Francisco
A spokeswoman for San Francisco Supervisor Aaron Peskin confirmed that the city and museum representatives are in early discussions about a site on Treasure Island, a destination in San Francisco Bay famous for a naval base.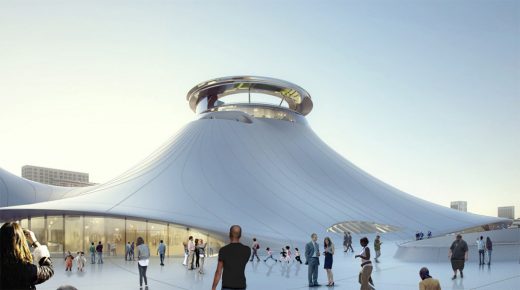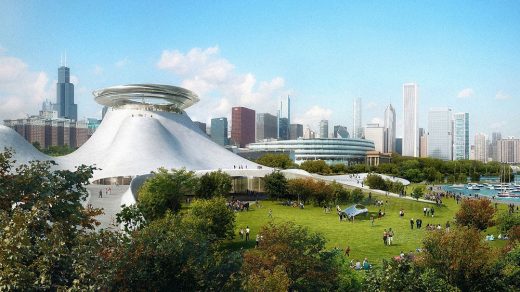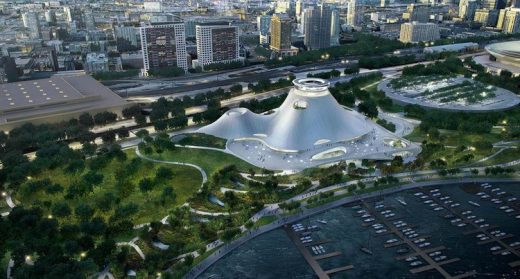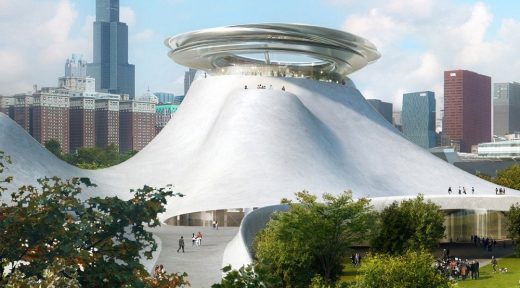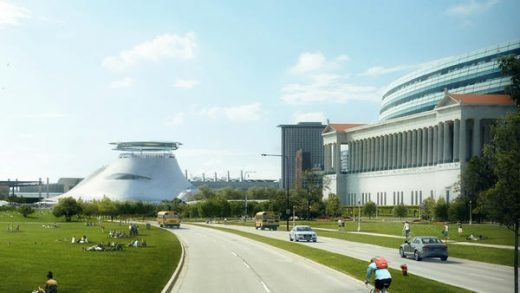 It is also unclear if Lucas is actively considering L.A. as a home for the museum. In 2014, Garcetti reached out to Lucas in a letter expressing interest in bringing the museum to Southern California. Garcetti tentatively proposed the Los Angeles Memorial Sports Arena, located near USC, where Lucas studied film in the 1960s.
The plan was to tear down the arena, which opened in 1959, and build the museum on the site. The location would have put the new venue close to Exposition Park, which contains the Natural History Museum and the California Science Center.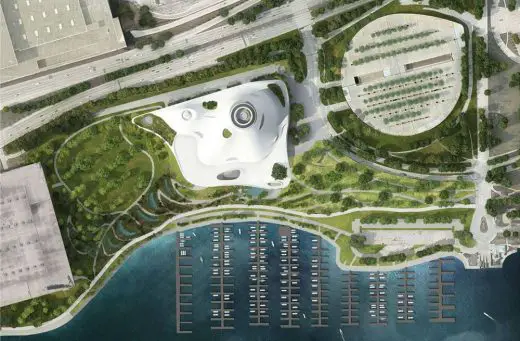 George Lucas, world-famous director of the Star Wars and Indiana Jones movies, had previously considered locating the museum in either San Francisco or Los Angeles, close to his California home and the base of his company LucasFilm.
George selected Chicago in June 2014 – the director has described the Windy City as his "second home". His wife is from Chicago and they married in the city.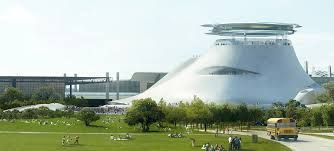 In March 2015, U.S. District Judge John Darrah ruled the land intended for the museum is held in public trust. Thus, the Illinois General Assembly is the only body with the power to allow construction to proceed, under certain limitations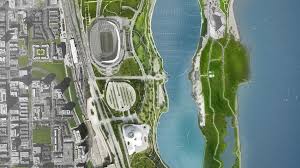 Website: Lucas Museum of Narrative Art in San Francisco – LA Times article
Website: Lucas Museum of Narrative Art
Website: Lucas Museum of Narrative Art – Dezeen article re Chicago design / site
"The Lucas Museum of Narrative Art is a museum project originally planned to be located in Chicago near Burnham Harbor and was slated to have been completed in 2019-20. Endowed and built by film creator and director, George Lucas, it will hold paintings, photography, illustration, cinematic art and digital art."
Website: Lucas Museum of Narrative Art – wikipedia
Location: Treasure Island, San Francisco, California, USA
Architecture in San Francisco
San Francisco Architecture Design – chronological list
San Francisco Architecture Walking Tours
Stanford University Medical Center Project Renewal
Design: Rafael Viñoly Architects
The New Stanford Hospital Building
Bing Concert Hall, Stanford, south of San Francisco
Design: Ennead Architects with Fisher Dachs Associates and Nagata Acoustics
Bing Concert Hall Building
Stanford University Law School Building, Palo Alto
Ennead Architects
Stanford University Building San Francisco
SFMOMA Expansion
Design: Snøhetta
SFMOMA Expansion
San Francisco Museum of Modern Art
Design: Mario Botta / HOK
San Francisco Museum of Modern Art
Comments / photos for the Lucas Museum of Narrative Art Los Angeles Architecture page welcome