University of California Santa Barbara Exhibitions, Los Angeles Architects News, Talks
University of California Santa Barbara Exhibitions
Architecture Shows at UCSB in Goleta, CA, USA: Events Programme
Jun 12 + 9, 2017
University of California Santa Barbara Exhibition News
Location: Isla Vista – campus of the UCSB in Goleta, California, United States of America
Clocks and Clouds: The Architecture of Escher GuneWardena
On view: July 8 – August 20, 2017 Opening Reception: July 7, 5:30-7:30pm
The Art, Design, & Architecture Museum presents Clocks and Clouds: The Architecture of Escher GuneWardena, a mid-career survey of the firm founded in Los Angeles by Frank Escher and Ravi GuneWardena in 1997.
Chemosphere Restoration/Remodel, 1998-2000: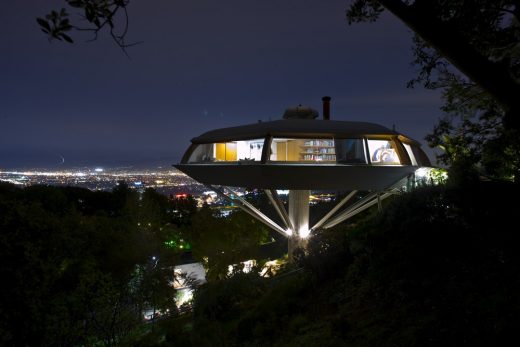 photo : Josh White
The work shown highlights Escher GuneWardena's generous and boundary-blurring engagement with art, craft, and architecture while presenting the full scope of their architectural practice, their collaborations with artists, and their explorations in architectural history.
House of Seven Screens: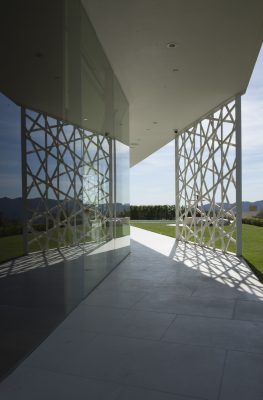 photo by Clarke Henry, 2016
The exhibition is designed as an assemblage of material from the studio, with shifts in themes and media as one moves through the space of the gallery.
House with Five Corners, 2009-2012: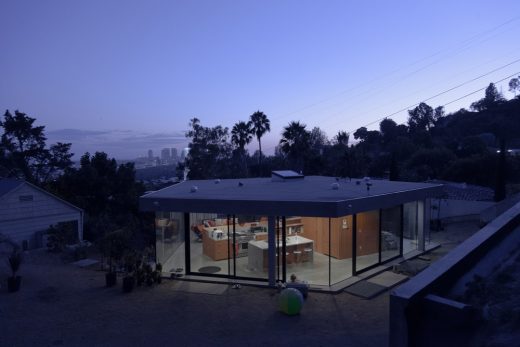 photo : Clarke Henry
Included are examples of Escher and GuneWardena's collaborations with artists, as well as their exploration into the realm of performance (Pauline: An Opera, 2013), and works that incorporate historical material from the Architecture and Design Collection at UC Santa Barbara. "Portraits" of Escher GuneWardena houses by Los Angeles artist Alex Slade convey a subtle narrative on the aging of the built environment.
Sola/Wright House, 2000-2008: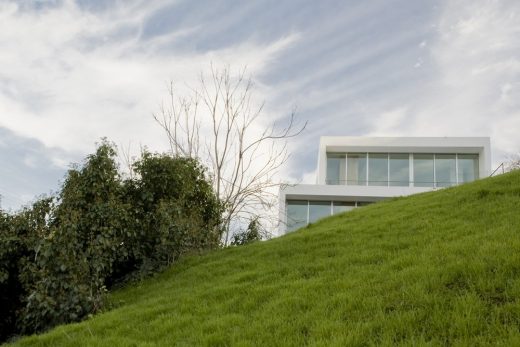 photo : Jonas Lara
The title for the exhibition comes from philosopher Karl Popper's essay on rationality and freedom, but also describes the process of investigation that leads to both the precise and the accidental in the materialization of Escher GuneWardena's work.
Electric Sun 1, 1997: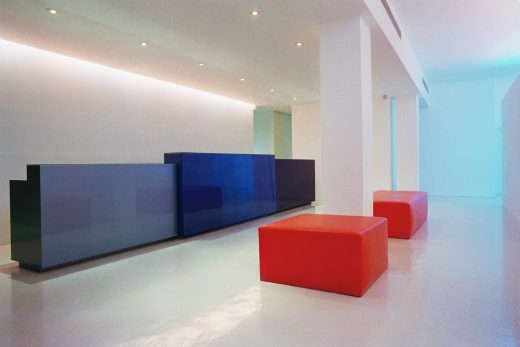 photo : Gene Ogami
This exhibition is supported by the Museum Council and Edward Cella Art + Architecture.
Nell Campbell: About Face
On view: July 8 – August 20, 2017
For over 40 years Nell Campbell has documented the people and places she encounters in the everyday, on her travels, and at the political gatherings she frequents. Consequently, she has assembled a significant archive of photographs, many of which are on view for the first time in About Face. This solo museum presentation, a first for the artist in California, will be focused on the individuals who caught her eye. As an inveterate observer, with an open, friendly nature, Campbell's photographic practice has always been rooted in people: their way of life, struggles, and merriment.
This museum presentation includes images from some of Campbell's well-known series including Cuba and New Orleans Mardi Gras. It also highlights early photographs of family, friends, and migrant workers from her time as a staff photographer with Cesar Chavez, hunters from Louisiana, and activists at the recent Women's March in Los Angeles. About Face is complemented by work by other photographers whose practices resonate with the artist's including Ansel Adams, Dorothea Lange, and Walker Evans.
Nell Campbell: About Face is presented concurrently with another exhibition of her work at the Channing Peake Gallery.
This exhibition is made possible by the Joe Melchione Photography Acquisitions and Exhibitions Fund, Joan Davidson and John Schnittker and the WT Family Fund.
Electric Sun 1, 1997: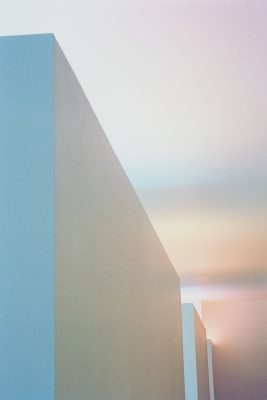 photograph : Gene Ogami
Body Matters: Contemporary Art from the Collection
On view: July 8 – August 20, 2017
Drawn primarily from the AD&A Museum Collections, Body Matters: Contemporary Art from the Collection brings together a selection of works by artists who have mined their own bodies in order to express some aspect of what it is like to be a human organism. Ranging from activist to introspective, these pieces use autobiography to show the systems of the body as they come into contact with socio-political institutions such as religion, politics, medicine, and practices of making art. Featured artists Emily Baker, Mamie Holst, Ilene Segalove, Katherine Sherwood, Kiki Smith and Edition Reese, and David Wojnarowicz work in diverse media, including video, printmaking, collage, latex tubing, crinkled paper, and paint on canvas. Taken together, their endeavors provide a body based view of human experience. This exhibition has been generously funded by the Museum Council.
The Art of Looking: Pattern and Texture
On view: July 8 – August 20, 2017
The Art of Looking includes ceramics, collages, baskets, textiles, drawings, masks, paintings, photographs, and prints from the Museum's holdings. With an emphasis on pattern and texture, this eclectic assortment of works, ranging in age from the 13th century to 2015, invites viewers to consider each object and the formal relationships between the works. To encourage close looking visitors are invited to sketch with the provided paper and pencils, or to simply sit a moment and contemplate the works on view.
Chemosphere Restoration/Remodel, 1998-2000: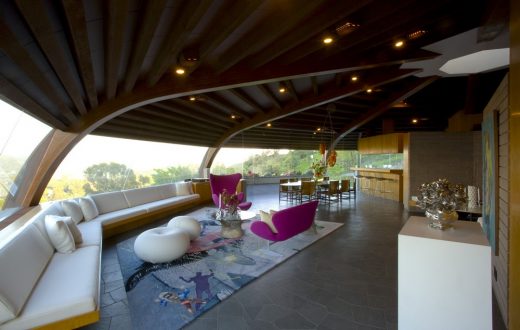 photograph : Josh White
Related Programming
Walk–Through and Lecture: Escher GuneWardena July 8; 2pm Join Frank Escher and Ravi GuneWardena for a gallery walk-through of their Clocks and Clouds exhibition and a lecture about their boundary-blurring work as architects, exhibition designers, and art collaborators.
Walk–Through: Nell Campbell July 13, 5:30pm Elyse Gonzales, Curator, and Campbell will host an informal walkthrough of the exhibition, About Face, highlighting themes and concepts inherent to the artist's work.
Talk: Prof. Harry Reese (MA 1971) July 20, 5:30pm Join us to learn about the making of RE, an innovative artwork—part book, part sculpture—that is a collaboration between artist Kiki Smith and the Isla Vista based book press, Edition Reese.
Reading: Nell Campbell and Friends July 23, 2pm The artist, friends, and supporters will read poems and excerpts from novels, travelogues or memoirs the artist has selected based on her interest in the open road, Louisiana, activism, and photography. Readers include Joan Davidson, Mary Heebner, and Kerry Tomlinson.
Lecture: Emily Baker (MFA 2016) July 27, 5:30pm Gymnastics is a sport of speed, risk, and physical exhilaration. Join us to learn about the artistic practice of a former gymnast whose work is included in Body Matters and investigates the reverberations—bodily and emotional—of this rigorous discipline.
Ikebana Demonstration July 29, 2pm Architect Ravi GuneWardena, a practitioner and teacher in the Sogetsu School of Ikebana, will demonstrate the making of three ikebana arrangements. Sogetsu, one of the most modern schools of ikebana, was established in 1927 in Japan by Sofu Teshigahara. Notable artists who have collaborated at the school include Niki de Saint Phalle, Sam Francis, John Cage, Robert Rauschenberg, and Isamu Noguchi.
Music/Museum: Andrew Tholl and Company August 17, 3:30 – 4:30pm Violinist, composer, and improviser Andrew Tholl joins up with a few friends for a set of improvised chamber music; some modern art for your ears.
Clouds, scenography for REDCAT, 2014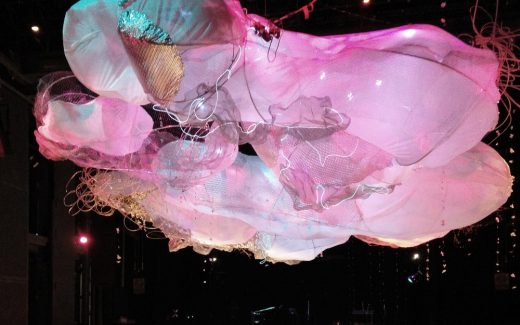 photo from University of California Santa Barbara
About the Art, Design & Architecture Museum, UC Santa Barbara
Because we believe that art can transform individuals and communities, our mission is to stimulate research, support artistic practice, and generate original programming through the Art, Design & Architecture Museum's collections. Open Wednesday – Sunday, 12 – 5 pm, Thursday evenings til 8pm! Always free!
University of California Santa Barbara Exhibitions information received 080617
L.A. Architecture Designs – chronological list
Website: University of California Santa Barbara Clocks and Clouds: The Architecture of Escher GuneWardena Exhibition
Location: Art, Design & Architecture Museum, UC Santa Barbara, USA
Los Angeles, Southern California, United States of America
Los Angeles Buildings
Contemporary Los Angeles Architecture
L.A. Architecture Designs – chronological list
Los Angeles Architecture Tours – architectural walks by e-architect
Los Angeles Architecture Designs
Los Angeles Construction Photographs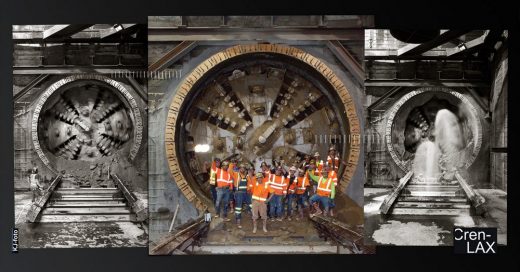 photo © Kenneth Johansson Photography
Los Angeles Construction Photos
New designs for the Lucas Museum of Narrative Art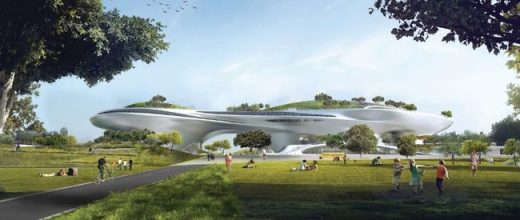 image courtesy of architects
Lucas Museum of Narrative Art Los Angeles
The Wave House Venice
Architect: Mario Romano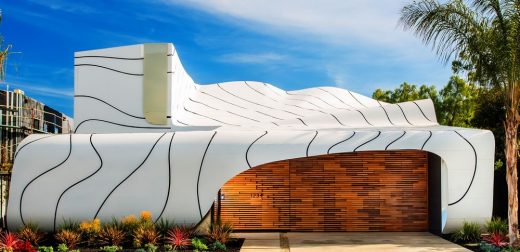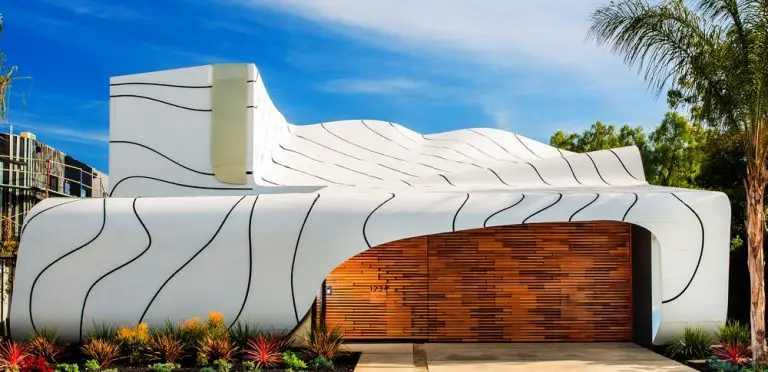 photograph : Brandon Arant
The Wave House, Venice, California
Mirror House in Beverly Hills
Architects: XTEN Architecture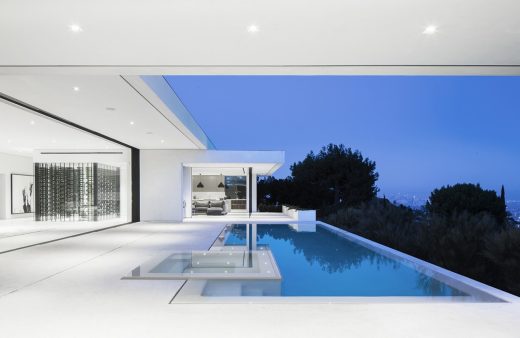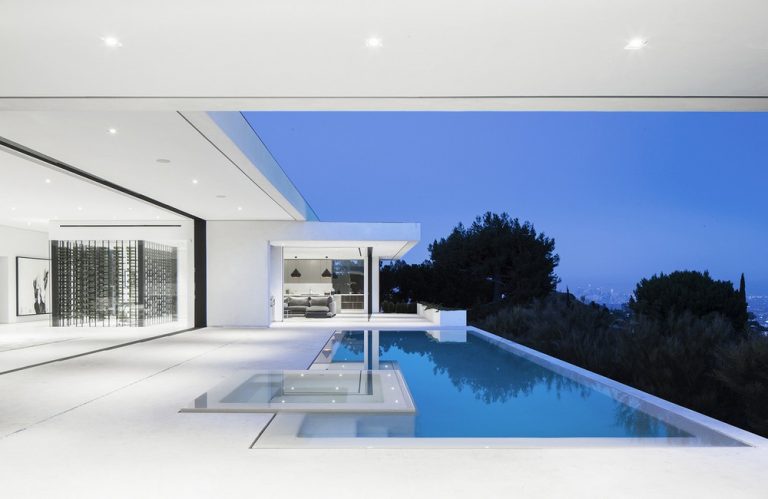 photos : Art Gray
Mirror House in Beverly Hills
Drawing Show Exhibition at A+D Museum Los Angeles
SCI-Arc Exhibition : L.A. in Wien / Wien in L.A.
Comments / photos for the Art, Design & Architecture Museum, UC Santa Barbara Exhibition – Los Angeles Event page welcome