Estonian Architecture News 2022, Building Development, Construction Design, Property Images
Estonia Architecture News
Contemporary Building Developments in the Baltic States – New Built Environment Updates
post updated 24 May 2022
Estonia Building News
Contemporary Estonia Architectural News
Estonia Architecture Designs – chronological list
24 May 2022
Kindergarten and Community Center in Tammiste, Tori Parish, Pärnu County, southwestern Estonia
Design: RMJM Milano Architects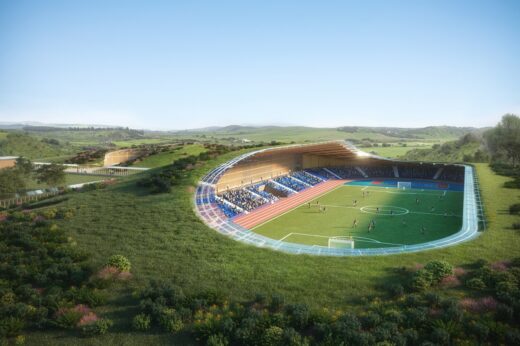 image courtesy of architects practice
Kindergarten and Community Center in Tammiste Building
The project is inspired by the naturally formed landmass called 'drumlin' and its widespread presence in Estonia. The site is located in Tammiste, a village in Tori Parish, Pärnu County in south-western Estonia and it was used to build a drumlin, which was subsequently covered in flora to fit in with the surrounding scenery.
12 Apr 2022
The Rural Municipal Building in Saue, north-western Estonia
Design: molumba, Architects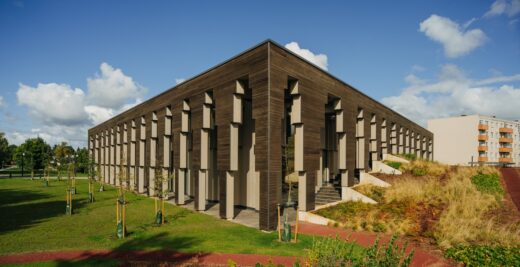 photo : Tõnu Tunnel
Rural Municipal Building in Saue
The rural municipal building is located in the southern part of the central park of Saue giving it a logical and dignified closure. Viewed from the outside, the office and administrative building seems like a pavilion in the public park.
18 Jan 2022
Port of Tallinn
Design: Salto Architects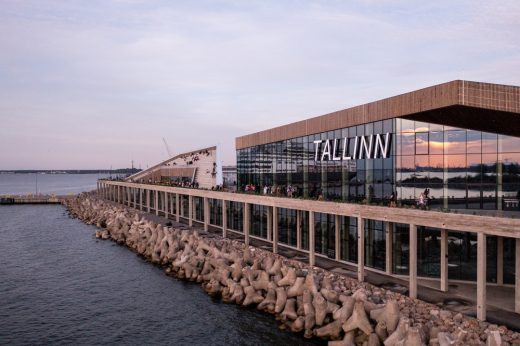 image courtesy of architects practice
Port of Tallinn Cruise Terminal
Located in the hustle and bustle of the biggest port authority in Estonia, the Port of Tallinn has opened the most modern and multifunctional terminal in the region. Beautifully designed to reduce its negative impact on the environment, the sustainable cruise terminal can operate outside of cruise season, making the capital more accessible whilst reducing its environmental footprint.
20 Oct 2021
Kärdla City Pavilion, Kärdla, Dagö Island
Design: Bornstein Lyckefors Arkitekter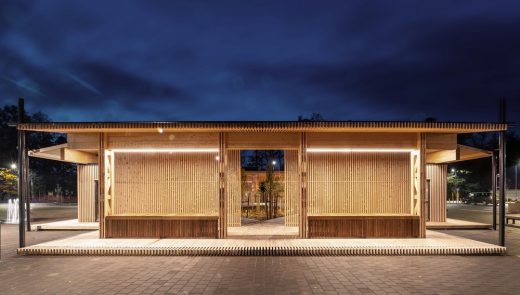 photo : Tiit Veermäe
Kärdla City Pavilion, Hiiumaa
The new Kärdla City Pavilion just off the west coast of Estonia is one several projects that was initiated to celebrate the nation's declaration of independence 100-year anniversary. Bornstein Lyckefors Arkitekter along with Mareld Landscape won an open international competition to renew the city's central square and create new life in the city center with a new market hall and cultural center. Part of the competition project now constructed is the new city pavilion.
15 Feb 2021
Maidla Nature Villa, Maidla village, Rapla county
Design: b210 architects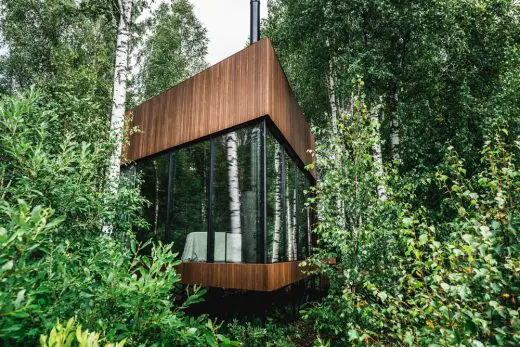 photo © Priidu Saart
Maidla Nature Villa
Inspired by wild nature, placed on the edge of a bog, the Maidla Nature Villa building is nothing like your regular hotel room. It is located among birch trees, with bogland flooding knee-deep during high water – making it possible to start a canoe trip straight from the terrace. A boardwalk leads to the terrace in front of the elevated house.
More contemporary Estonia Architecture News on e-architect soon
Estonia Architecture News 2018 – 2020
22 June 2020
Wood Works
Wood Works Estonian Contemporary Architecture
The project is an Estonian-Irish collaboration that supports an exchange of expertise and creativity among architects from the two countries and focuses on the use of wood in the architectural field. The competition seeks to find an individual curator or team of curators for the initiative, which includes an itinerant exhibition, two collaborative workshops and a dedicated publication.
8 Nov 2019
Ülemiste Terminal, Tallinn
Design: Zaha Hadid Architects (ZHA)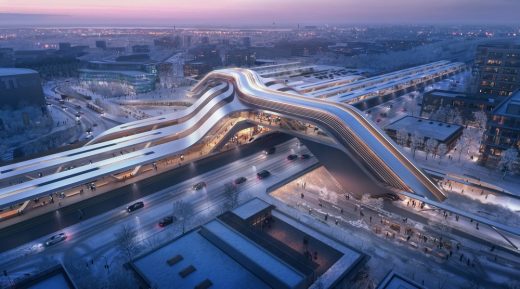 render : negative.com
Ülemiste Terminal in Tallinn
Zaha Hadid Architects (UK) working with Esplan (Estonia) have been have been awarded first place in the design competition for the new Ülemiste Terminal of the Rail Baltic railway in Tallinn.
26 Feb 2019
Viru Keskus Architecture Competition, Tallinn
Viru Keskus Architecture Competition, Tallinn
7 Sep 2018
Tallinn Architecture Biennale 2019 Vision Competition
TAB 2019
11 Sep – 3 Nov 2019
Opening Week: 11-15 Sep 2019
Dedicated to the theme "Beauty Matters: the Resurgence of Beauty" and it is curated by Israeli-born and London-based architect and researcher Dr. Yael Reisner
Tallinn Architecture Biennale 2019 Vision Competition
More modern Estonia Architecture News online here soon
Estonia Architecture News 2010 – 2017
22 Nov 2017
Soomaa Forests Floating Sauna
Design: students with Sami Rintala, Pavle Stamenovic & b210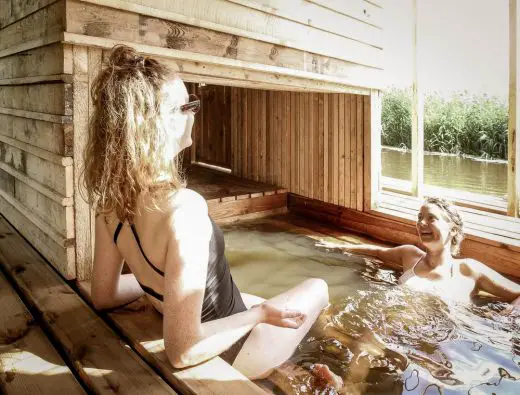 photo : Mari Hunt
Floating Sauna in Soomaa Forests
A floating wilderness sauna built by students in the middle of one the largest national parks in the country during an international summer school.
1 Sep 2017
Old City Harbour Masterplan 2030 competition, Kadriorg, Port of Tallinn
Design: Zaha Hadid Architects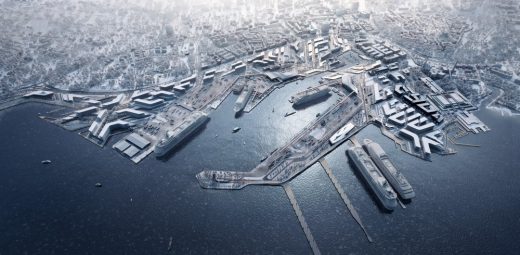 visual : VA-Render, image Courtesy architecture office
Old City Harbour Development in Tallinn
The Port of Tallinn launched the competition for ideas for the development plans of Masterplan 2030 for the Old City Harbour in 2016. With the aim of finding a comprehensive, long-term solution to connect the city and its public spaces with the functions of the port, Masterplan 2030 will form the basis for the redevelopment in the port area into an urban space that is both attractive and easy to traverse.
31 Aug 2017
TAB 2017 Installation, Estonian Museum of Architecture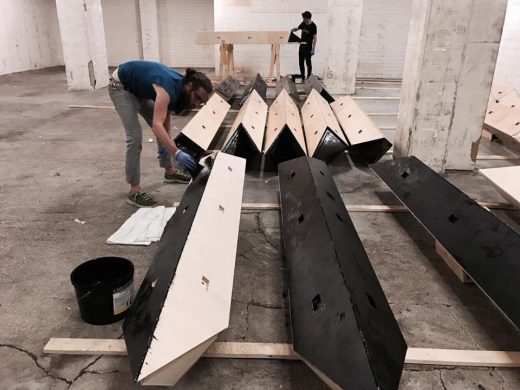 photo : Sille Pihlak
Tallinn Architecture Biennale TAB 2017 Installation
Digital Building Blocks (Gilles Retsin Architecture) timber installation installed with the help of skilled volunteers in front of the Museum of Estonian Architecture. The Installation Exhibition is curated by Sille Pihlak and Siim Tuksam /PART/.
5 Nov 2017
Nieto Sobejano Arquitectos: TABULA – The Arvo Pärt Centre in Estonia



image © Nieto Sobejano Arquitectos
Arvo Pärt Centre, Estonia
The exhibition TABULA presents the Arvo Pärt Centre created by Nieto Sobejano Arquitectos.
10 Oct 2016
A Path in the Forest, Kadriorg, Tallinn
Design: Tetsuo Kondo Architects


photo : Tetsuo Kondo Architects
A Path in the Forest
A delightful sweeping route that glides between the trees of an Estonian forest.
19 Sep 2016
Soomaa Forests Floating Structures
Design: students with Sami Rintala, Pavle Stamenovic & b210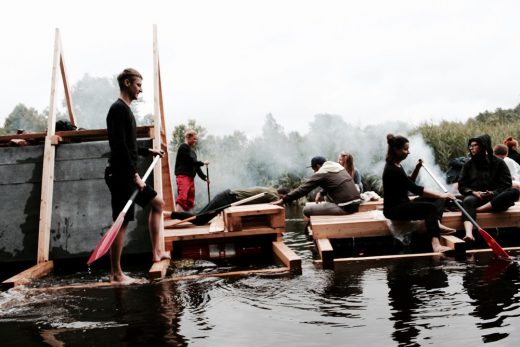 photos © Brigita Kasperaite
VEETEE Floating Structures in Soomaa Forests
Tutored by architect and artist Sami Rintala (Finland), architect Pavle Stamenovic (Serbia) and Estonian architecture office b210, students built three floating structures: a shelter, a fireplace and a sauna as a response to the changing and challenging environment of the area.
14 Jan 2015
Rail Baltic Parnu Passenger Terminal, Parnu
Design: SPARK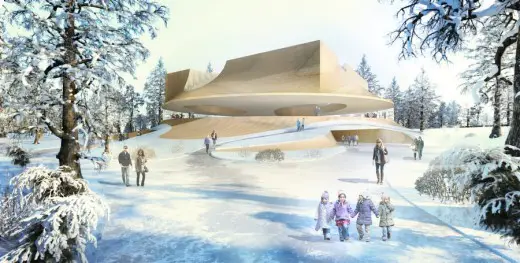 image Courtesy architecture office
Rail Baltic Parnu Passenger Terminal in Estonia
New Rail Baltic Parnu passenger terminal is located next to Parnu River, in the south part of Parnu town. The current site is considered to become a transportation hub for all public transports in the near future.
3 Apr 2013
Estonian Health Care College, Tartu
Design: KavaKava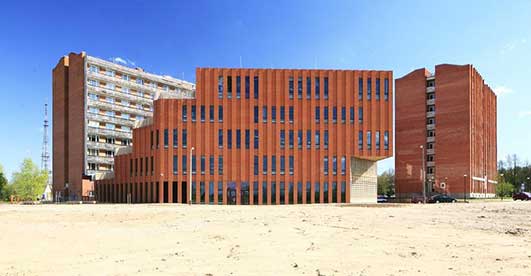 photo : Martin Siplane
Tartu Health Care College
The building defining a friendly co-existence between small scale private housing and large healthcare institutions in the park. The new collage building is located in between two dormitories to maintain the buffer zone between private houses and large buildings
23 Dec 2011
Tallinn Urban Development Competition
Design: e+i studio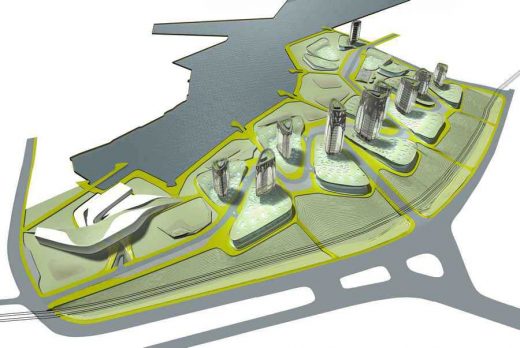 image Courtesy architecture office
Tallinn Urban Development
The proposal was born from identifying a continuous flow of undulating movement throughout the site. This movement, which ultimately defines the primary circulation artery, also create trapezoidal areas that are similar – yet different – to each other.
1 Sep 2011
Semi-autonomous sauna, western Estonia
Design: Architectural Bureau Pluss, Estonia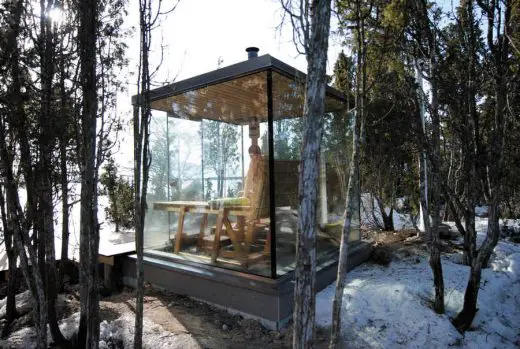 image from architect
Semi-autonomous sauna
The 'heart' of the sauna, hot room (also known as vapour bath or steam room), might also stand apart from the dwelling. The current hot room takes this to the extreme: from the inside, a maximum view of the sea, and from the outside, a minimal visual impact.
More Estonian Architecture News online soon
Location: Estonia, Baltic Coast, Eastern Europe
East European Building Designs
Contemporary Architectural Projects in Countries close to Estonia
Estonian Building News Archive
Architecture in Estonia
18 Aug 2011
Lasvstronga Water Tower
Design: logon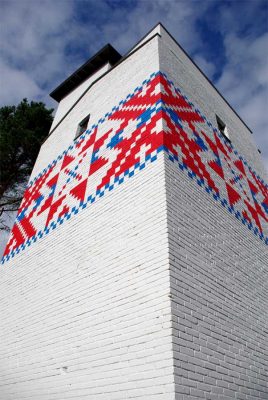 image Courtesy architecture office
Lasva Water Tower
This building is off the beaten track. The traditional route for young people born in the periphery on the outskirts of Europe would be to move to a nearby urban centre, onto the capital and maybe onto a wealthier city as part of how to survive.
Estonian Architecture Competition
Comments / photos for the Estonian Architecture News page welcome