Lasva Water Tower, Estonian Building, Project, Photo, News, Design, Property, Image
Lasva Water Tower Estonia
Estonian Architecture Development – design by logon, Architects, China
18 Aug 2011
Lasva Water Tower
Design: logon
Lasva Water Tower in Estonia
Lasva Water Tower is pretty much off the beaten track. The traditional route for young people born in the periphery on the outskirts of Europe would be to move to a nearby urban centre, onto the capital and maybe onto a wealthier city as part of how to survive.
Similarly, people who did not wish to follow that route, missed out on opportunities to present their talent, receive the same attention even in a national context, never mind internationally. So, Lasva Water Tower seeks to turn that upside down and to create a 'wormhole' from here to the rest of the world by the means of architectural design.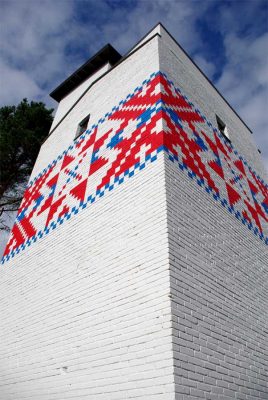 Lasva Water Tower conversion into a performance space, visitor centre and an art gallery in South Estonia has helped the historically desolate rural community next to Russian border to invigorate the whole Lasva Parish. Lasva has a population density of 10 people per sqkm, it has 37 villages, archeological findings from the 9th century and captivating vastness of magical virgin wilderness. Today, it also has its newly converted Water Tower which has become a landmark and an attractor of guests from across the county borders.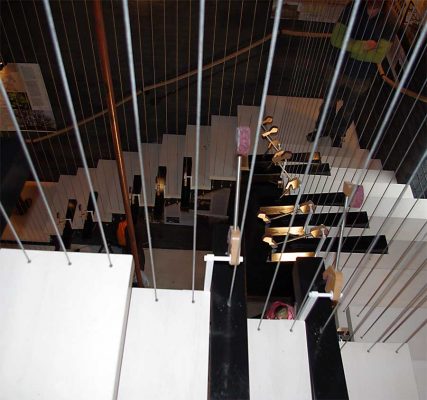 Estonia as a country in North-Eastern part of Europe is struggling ever harder with the emptying-out of the countryside, since the rural population is migrating to nearby urban centers. Lasva parish, "in-the-middle-of-nowhere", is no exception — the local municipality has realized, among other measures, the potential of design to reverse this negative demographic trend. To this date, Lasva Water Tower has received warm recognition on national level for its regional awareness raising capacity, minimalist outlook and brave inventive interior design where the Piano Stairs lead up to the roof which offers views of the surroundings.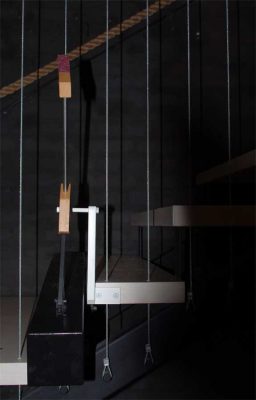 Lasva Water Tower performative piano stairs have brought national attention to this place — TV and radio programmes have been here to capture recordings of the stairs and to make interviews with the locals. The number of guests who are eager to see the tower is by far surpassing the parish's normal visitor numbers. This has triggered the locals to develop exhibitions and information panels on the tower's gallery walls, to turn their nearby roads dust-free, to hold classical concerts on an adjacent lake, to create guides to local wildlife and travel paths, and to enlarge broadcast area of cableless WiFi open-air connection throughout the municipality, to ensure that the foreigners feel at home and connected to the rest of the world at the same time.
The main attraction of the building is its stairs leading up to grass roof — stairs which can be played like piano. Barrier consists of steel trusses, varying in thickness and length, equipped with small wooden hammer set in motion by footstep, to give each step its own tone. In addition to analogue sound, the stairs use also electronics and prerecorded sound samples (of an opera singer, wild animals from local and exotic forest and so on), thus one can alter soundscape according to one's wishes. On the upper level, the existing water tank is converted into an acoustic space. Three oval doorways cut out from rusty steel tank found re-use as outdoor benches for summer performances.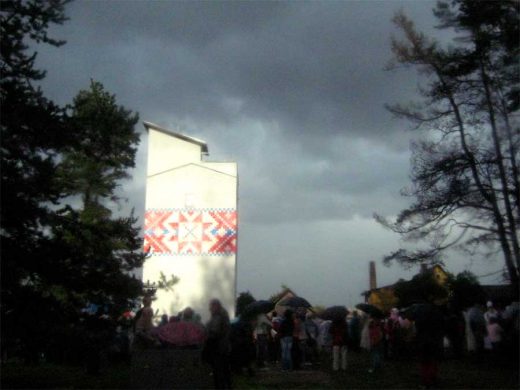 On ground floor, a mirror well shines with bright LED lighting, covered by glass plate — to extend the verticality of tower structure. White brick exterior wall with red-blue ethnic pattern is in acute contrast with the pitch black interior of the gallery. Black color renders the interior as if an endless space, helping the tower, exhibition and installation to overtake the visitor. One is embraced by the building's performative atmosphere as if in a theatre or cinema, to focus on art on the walls, a happening on the stairs or an ongoing musical performance, to build strengthened sensitivity to open views from upper level and roof. Beehive inhabiting the south wall survived construction and is now looking for a new happy keeper.
Although the tower is tiny in scale and in terms of footprint on land it occupies, although it was built with absolute minimum construction budget and has capacity for only 20 visitors at a time, it has opened some eyes for playful architecture, for the potential of multifunctional and performative design in rural context, for experiential approach in problem solving and for delightful ways to invite the artistic community to join forces to fight negative demographics. It has brought the locals to consider modern technologies as their best friends, to have greater trust in novel ideas and to feel dignified as "design guides" for the rest of Estonia, ever prouder of their home.
When looked upon as a prototype, it beholds the potential to make a difference for those who need it among the impoverished and struggling rural communities on the outskirts of Eastern Europe. This Water Tower has made a difference in the lives of locals, yielding a capacity to become a lighthouse for a certain courageous architectural design approach, turning the tables in terms of development perspectives for the periphery.
Although the idea was presented and the project documentation started in 2006, although that the construction started in 2008 with the majority of construction works finished in 2010, enabling to open the building to visitors, then it is still a little bit incomplete and awaiting additional funds for outdoor lighting, renewable energy system and a telescope to be installed on the rooftop platform. It is with great anticipation that we expect the first artist-inresidence to make full use of the performative qualities of the building, as well as to extend the artistic activities to the whole neighborhood, nature and travel paths. This project has started a larger process for the local community, to continuously and resiliently improve its living environment.
Lasva Water Tower images / information from FD
Location: Lasva, Estonia
Estonia Architecture
Contemporary Estonian Architectural Projects, chronological:
Estonia Architecture Designs – chronological list
Tallinn Architecture Biennale



photo : Paco Ulman
Tallinn Architecture Biennale : New international architecture forum – 2011
New Estonian Architecture Exhibition
'BOOM/ROOM', Moscow



photo : Kaido Haagen
New Estonian Architecture Exhibition – 2011
Academy of Arts, Tallinn
Mikou Design Studio



picture from architect
Tallinn New Academy of Arts
Tallinn City Hall
BIG



picture from architect
Tallinn City Hall
Estonian Architecture Competition
Developments in countries nearby
Comments / photos for the Lasva Water Tower Estonia page welcome
Website: Estonia