Sussex Architecture, Architects, English Projects, Property Development Proposals News
Sussex Buildings : Architecture
English Buildings in Sussex, Southeast England Properties, UK
post updated 29 June 2022
Sussex Building News
Sussex Architecture News – latest additions to this page, arranged chronologically:
29 June 2022
BMW Sculpture Goodwood Festival of Speed 2022, Goodwood House, West Sussex
Design: Gerry Judah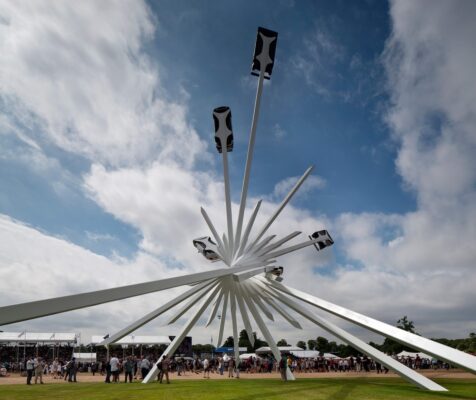 photo : David Barbour
BMW Sculpture Goodwood Festival of Speed 2022
The Central Feature for this year's Goodwood Festival of Speed marks the 50th anniversary of perhaps the most emotive single letter in automotive history – 'M'. Created in 1972, to spearhead the company's racing programme, BMW's Motorsport Division has become a colossus on both road and track.
17 Jun 2022
Lane End, South Downs, High Weald, East Sussex
Architecture: PAD Studio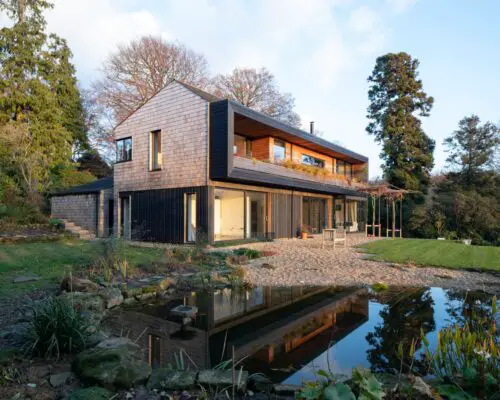 photograph : Richard Chivers
Lane End House South Downs
This contemporary East Sussex home sits within a rural idyll, located at the end of a private track in the heart of South Downs. The site is elevated and surrounded by mature woodland which offers stunning views over tranquil parkland beyond.
5 May 2022
Morlands Farm Dutch Barn
Design: Sandy Rendel Architects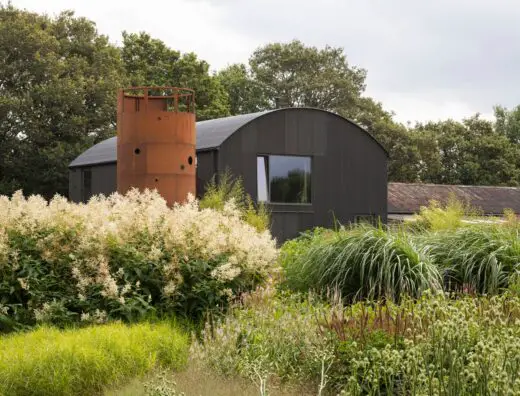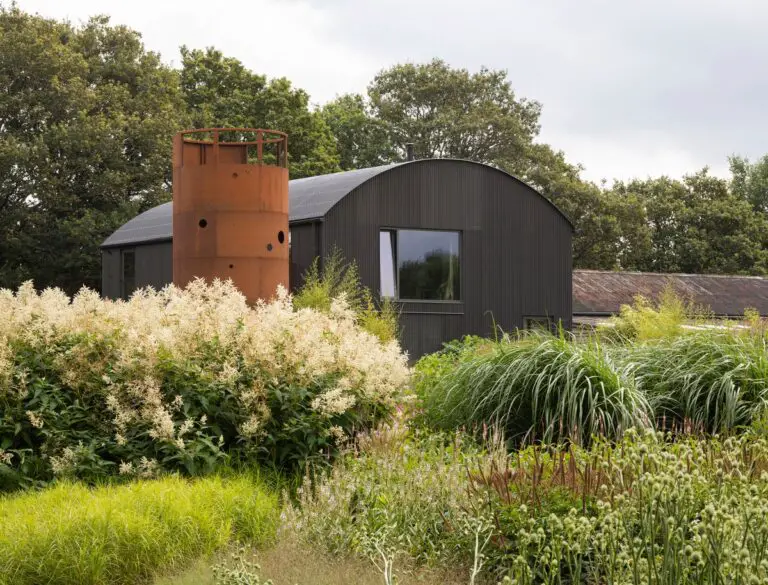 photograph : Richard Chivers
Morlands Farm Dutch Barn
Morlands Farm is a private house with a big difference: the clients have created a wonderful eight-acre public garden, wanting to live as well as work in the midst of this landscape. This means sharing their lives with the public who come to see their Sussex Prairie Gardens.
13 Apr 2022
Flimwell Park, Hawkhurst Rd, Flimwell, Ticehurst, Wadhurst, East Sussex
Design: The Architecture Ensemble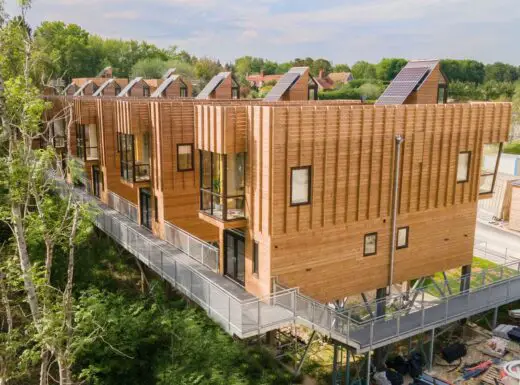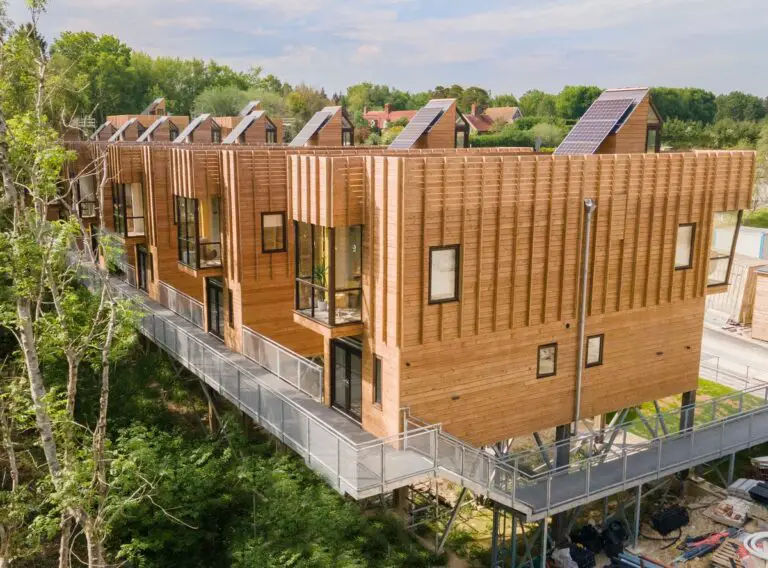 photo : The Shoot Lab
Flimwell Park
Flimwell Park, a pioneering mixed use sustainable woodland development in East Sussex, is nearing completion after a decade of consultation, planning and construction. Formerly Flimwell Bird Park, the site located in an AONB in the heart of Flimwell, is a collaboration between property developer Regalmain Limited and architect Steve Johnson of The Architecture Ensemble.
16 Feb 2022
Ghyll House
Design: Strom Architects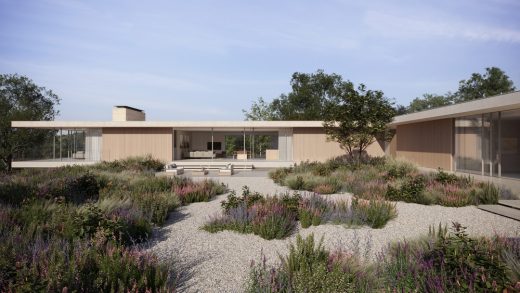 image : LB Visualisation
Ghyll House, East Sussex Property
The Ghyll House is conceived as a 3-sided walled garden. Upon entry to the site, all you can see is a discrete wall in rammed earth, with carefully positioned openings. The house is then backed up against the wall on the inside of the walled garden. The accommodation on this floor comprises the living spaces, the master bedroom, kitchen, garage and other back-of-house spaces.
15 Dec 2021
Sea Breeze, Camber Sands beach
Design: RX Architects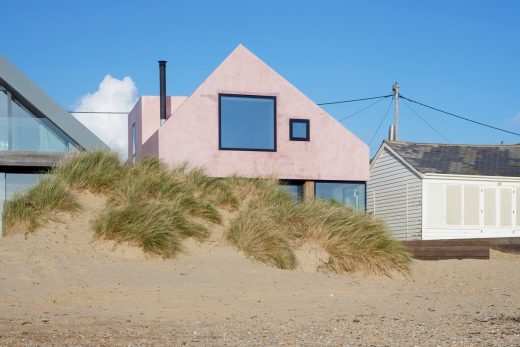 photo : Richard Chivers
Sea Breeze on Camber Sands beach, East Sussex
This new property on Camber Sands beach in East Sussex, directly backs on to the natural sand dunes behind and with outstanding views across the beach and English Channel to the south. The site is unique in that it is one of only a handful of properties in the region which are only accessed by driving along the beach making the construction extremely challenging.
15 July 2021
Sackville Road Regeneration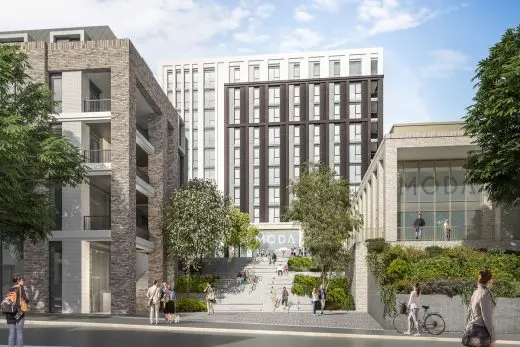 image courtesy of developer
Sackville Road Regeneration
Moda Living, the UK's leading family-owned operator of build-to-rent homes, has announced demolition will begin at its Sackville Road regeneration project in Hove on Monday 12 July as it prepares to create a landmark build to rent neighbourhood for the city.
24 Mar 2021
Circus Street Housing, Brighton, East Sussex
Architects: shedkm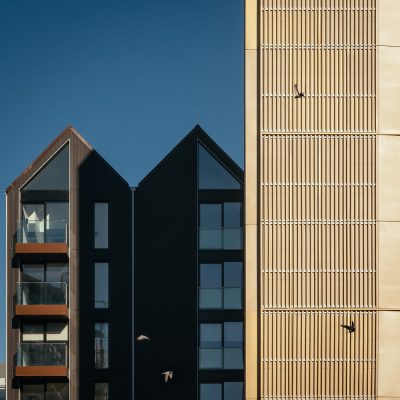 photo : Jim Stephenson
Ruskin Square Office Croydon
Green homes complete at U+I's Circus Street development in Brighton. Completion of BTR apartments and student accommodation designed by shedkm represents significant progress of wider masterplan.
More contemporary Sussex Buildings online soon
Sussex Buildings News 2020
21 Oct 2020
Bawa House, Hove
Architects: Alter & Company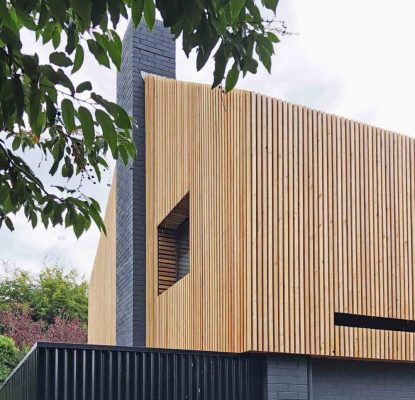 photograph : Alter & Company
New House in Hove
The design of this urban house reinvigorates a 1960's detached house situated in the hidden corner of an otherwise forgotten street. Inspired by Sri Lanka style architecture where the very essence of making architecture is about balancing building and landscape – living more in nature.
21 May 2020
Mayfield Passivhaus
Architects: Hazle McCormack Young LLP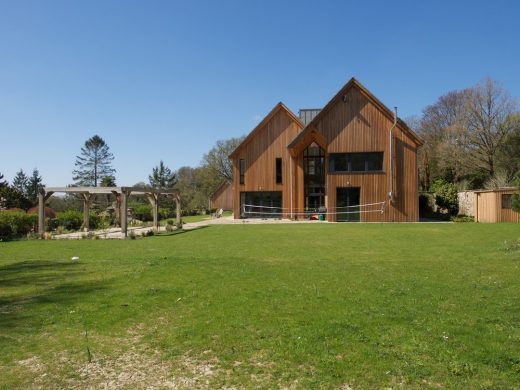 photograph : James Galpin
Mayfield Passivhaus
Lower Sharnden is a newly built 6 bedroom certified PassivHaus dwelling, built on an historic Percy Crane landscape garden. The new Mayfield Passivhaus replaces the bungalow formerly built for the estate gardener and enjoys a central location within the landscape masterplan.
20 May 2020
Ringmer Passivhaus, East Sussex
Architects: Hazle McCormack Young LLP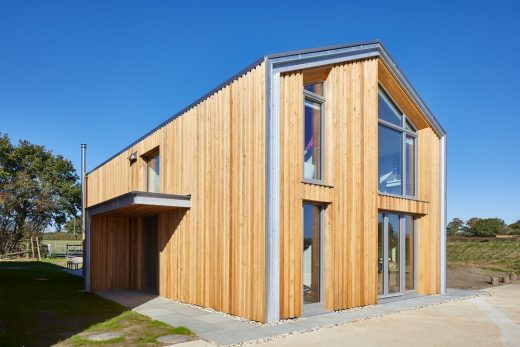 photograph : Andy Stagg
Ringmer Passivhaus
Planning approval for the certified Passivhaus scheme was achieved at Planning Committee following an unprecedented Class Q Permitted Development conversion to a larger new build dwelling design.
26 Feb 2020
Druim House, Winchelsea Beach, Rye Nature Reserve, East Sussex
Design: RX Architects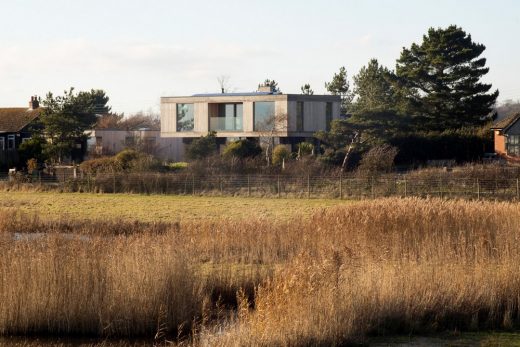 photograph : Richard Chivers
Druim House
The site for this new property sits within Rye Nature Reserve designated a Site of Special Scientific Interest (SSSI) and is surrounded by a shingle landscape.
12 Feb 2020
Plus X Brighton, Brighton, East Sussex
Architects: Studio Egret West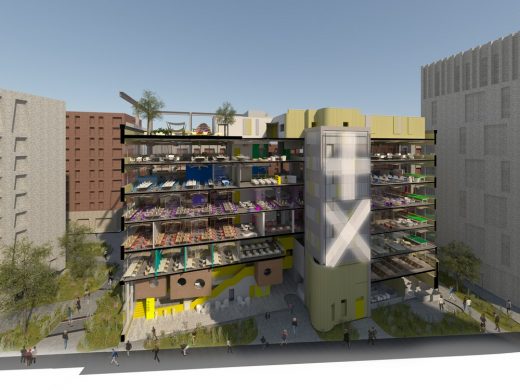 image courtesy of architects
Plus X Brighton in East Sussex
The new innovation hub opening in March at Preston Barracks, Brighton aims to be the first building in the city to be accredited Platinum standard by the WELL Building Institute, with its design and fit out focused solely on the health and wellness of its future occupants.
More recent Sussex Buildings on e-architect soon
Modern Sussex Architecture
De La Warr Pavilion, Bexhill-on-Sea, East Sussex
Date built: 1934-35
Architects: Mendelsohn and Chermayeff
Grade One listed in 1986
Architecture competition winner
De La Warr Pavilion Building
University of Sussex, Student Accommodation, Brighton, England
Date built: 1960s
Design: Basil Spence Architect
Various buildings including Falmer House, 1962, Grade I listed building
Sussex Buildings News 2019
22 Nov 2019
Goodwood Aerodrome Building, Cuckfield, West Sussex
Architects: Design Engine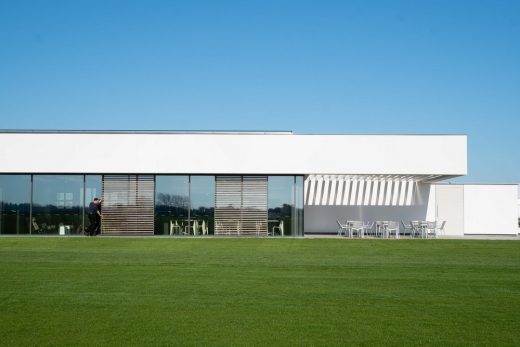 photograph courtesy of architects
Goodwood Aerodrome Building in Cuckfield
Extensive internal and external remodelling of the Goodwood Aerodrome Building after the practice was asked to carry out a technical and architectural assessment of the existing facility within the Goodwood Motor Circuit Estate.
2 Nov 2019
Watcombe Cottage, Flatropers Wood, East Sussex
Design: RX Architects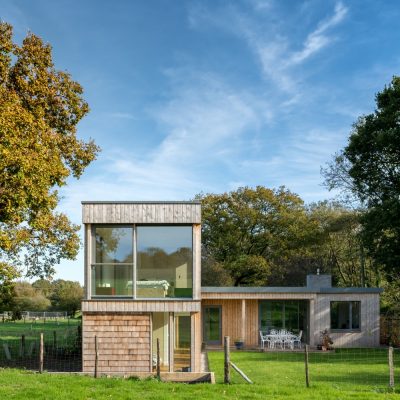 photo courtesy of architects
Cottage in East Sussex
Demolition of a small 1920s bungalow in a rural setting. The property was replaced with a new contemporary three-bedroom house, backing on to Flatropers Wood Nature reserve.
4 Sep 2019
The Brinell Building, Brighton, East Sussex
Design: TODD Architects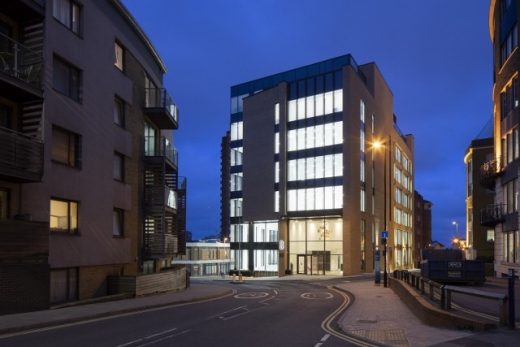 photo courtesy of architects
Brinell Building Brighton Office Development
A seven storey 80,000sqft newbuild Grade A standard office, with basement car parking and cycling facilities. The £15million workspace accommodates 700+ employees and is already fully let.
5 Jul 2019
Aston Martin Sculpture at Goodwood Festival of Speed 2019, Goodwood House, West Sussex
Design: Gerry Judah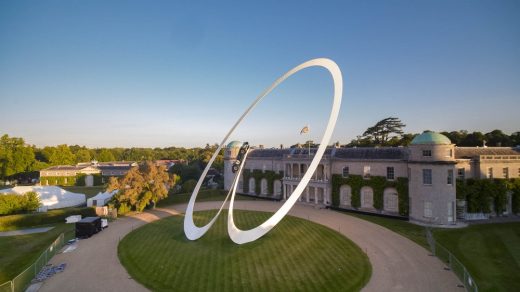 photography © Crate47
Aston Martin Sculpture Goodwood Festival of Speed 2019
18 Jun 2019
Rectory House, Elsted, Chichester, West Sussex
Architect: Rider Stirland Architects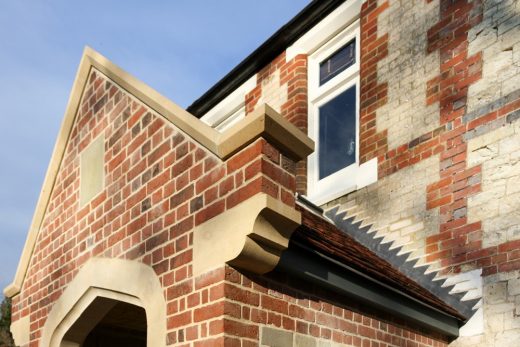 photography © Andy Scott
New Property in Elsted
Located in a small village within the South Downs National Park: the Client's aspiration was to improve the entrance experience to the property – this aspect never being satisfactorily resolved when the old school building was converted into a residential home.
20 May 2019
Five Elms, Bosham, West Sussex
Architects: AR Design Studio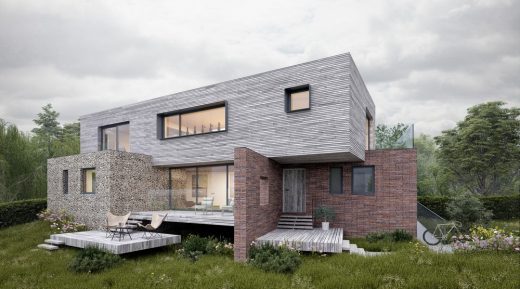 image courtesy of AR Design Studio
New Property in Bosham
AR Design Studio has received planning permission for Five Elms, a private bespoke new build house located in Bosham, West Sussex, set within the sensitive context of the Chichester Harbour Area of Outstanding Natural Beauty.
21 Jan 2019
Creek House in Bosham, West Sussex
Architects: AR Design Studio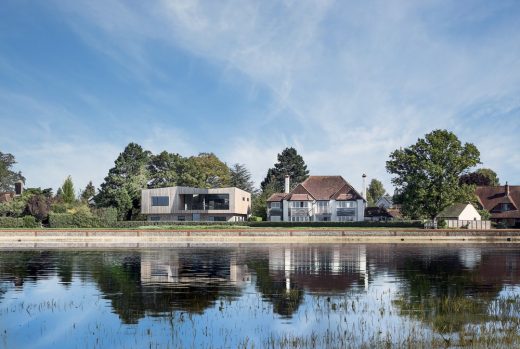 photographer : Martin Gardners
Creek House in Bosham
Creek House is a private bespoke new build house located in Bosham, West Sussex, completed in the summer of 2018 by Winchester based architects AR Design Studio.
7 Jan 2019
Affordable Housing in Fishbourne Road, Chichester
Design: Conran and Partners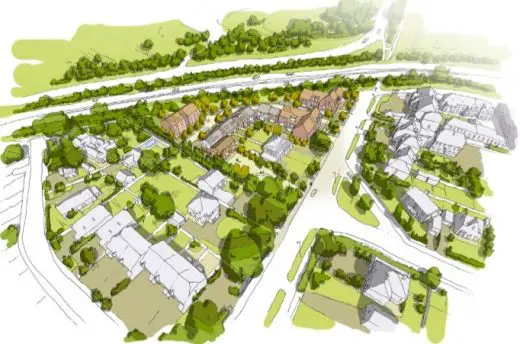 PICTURE © Conran and Partners
New Sussex Housing Design
Clarion Housing secures planning approval for 37 new affordable homes in Fishbourne Road, Chichester.
More recent Sussex Buildings on e-architect soon
Sussex Buildings News 2018
18 Oct 2018
Manor House in Cuckfield
Design: Alter & Company Architects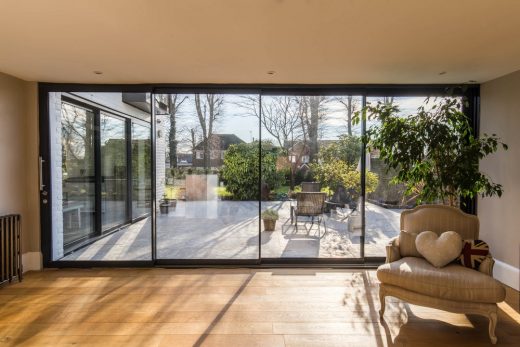 photo : Max Langran Photography
Manor House in Cuckfield
Unfortunately, years of neglect and weathering have left it dilapidated and unsuitable for the current occupants, despite their love for the property.
30 Sep 2018
Old Lydd Road Residences, Camber Sands, East Sussex, Southern England, UK
Design: RX Architects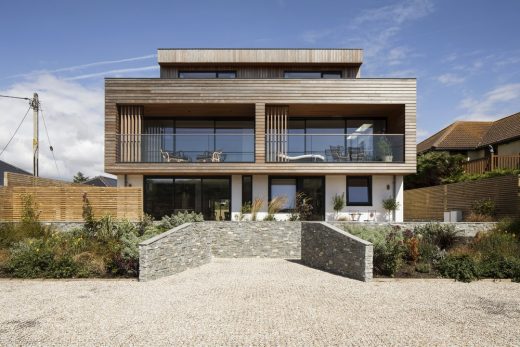 image Courtesy architecture office
Waterfront Residences in East Sussex
The property is located directly adjacent to the famous beach and sand dunes, designated as SSSI. The brief involved demolition the existing timber-framed bungalow on the site and redeveloping it to create two large family beach houses.
31 Jul 2018
Porsche Sculpture at Goodwood Festival of Speed, 2018, West Sussex
Design: Gerry Judah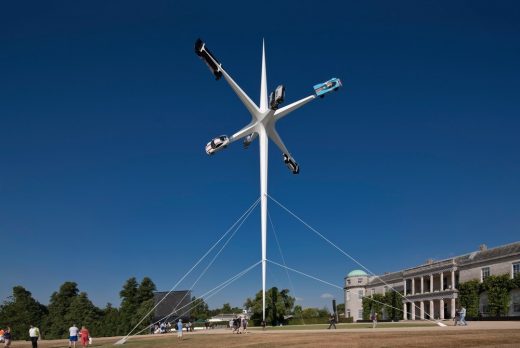 photo : David Barbour
Porsche Sculpture for Goodwood Festival of Speed 2018
The Festival of Speed is a major event in the world motorsport calendar, featuring the latest racers, championship drivers and incredible displays of classic cars.
14 Feb 2018
Chalfont House, East Sussex
Design: RX Architects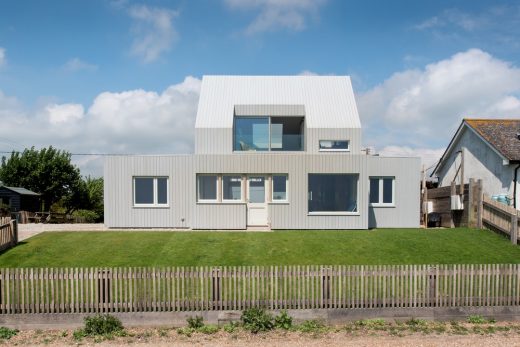 photograph : Ashley Gendek
Chalfont House
The property is directly adjacent to Rye Nature Reserve, one of the most important conservation sites in Britain. The site is formed of undulating shingle deposits formed as the sea receded over centuries.
6 Feb 2018
Merimac House
Design: Dyer Grimes Architecture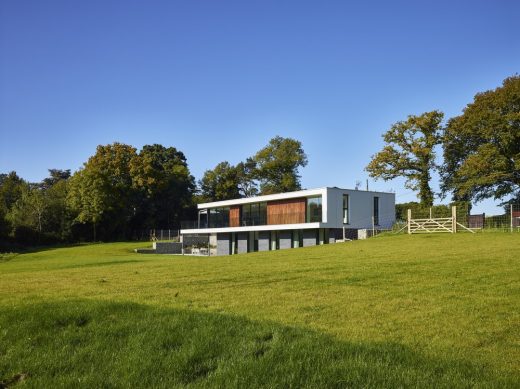 photography : Timothy Soar and Jack Hobhouse
Merimac House
To combine the homeowners varied vision, the architects required a site full of beauty and a cutting–edge design. The ideal site's greatest asset was also its greatest challenge: it was nestled in the middle of the High Weald Area of Outstanding Natural Beauty.
More new Sussex Buildings on e-architect soon
Property Updates 2006 to 2017
5 Dec 2017
The Grain House, Thakeham
Architects: Studio Bark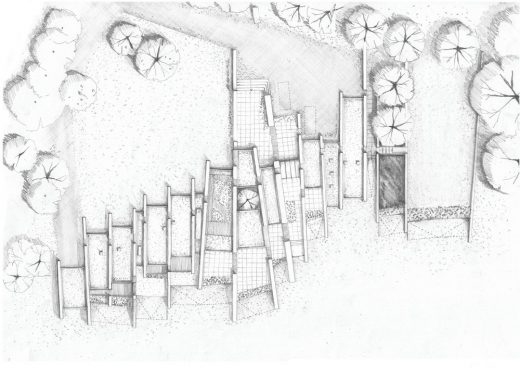 image Courtesy architecture office
The Grain House
Full planning approval gained for this innovative, eco-home in the Sussex countryside, the fifth Paragraph 55 success for the architecture practice.
7 Jul 2017
Central Sculpture for Goodwood Festival of Speed 2017, East Sussex
Design: Gerry Judah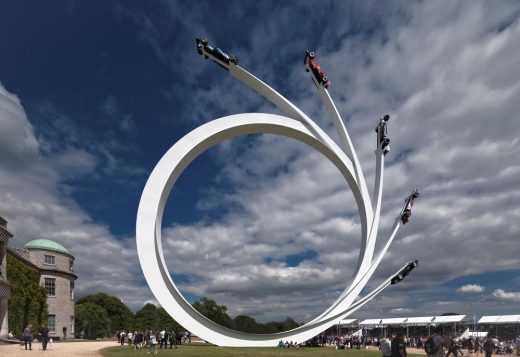 photograph : David Barbour
University of Sussex Life Sciences Building
This annual series of breathtaking sculptures is a highlight of the English architectural year alongside the openings of the Serpentine Pavilion and various Maggie's Centres. This is a beautifully designed concept displaying five Formula One cars celebrating Bernie Ecclestone's career and involvement in F1 racing.
15 Feb 2017
University of Sussex Life Sciences Building
Design: Hawkins\Brown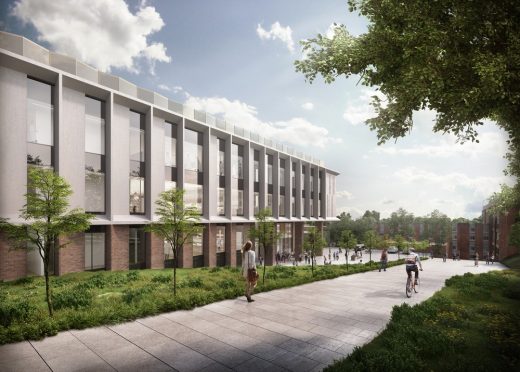 image from architects
University of Sussex Life Sciences Building
This new building remains true to the vision of the university's founding architect, Sir Basil Spence. Hawkins\Brown's saw the value of the material palette of existing listed buildings in the site's context, with the aim to combine this inspiration with modern construction techniques.
12 Feb 2016
Camber Beach Houses, Camber Sands, East Sussex
Design: Walker & Martin Architects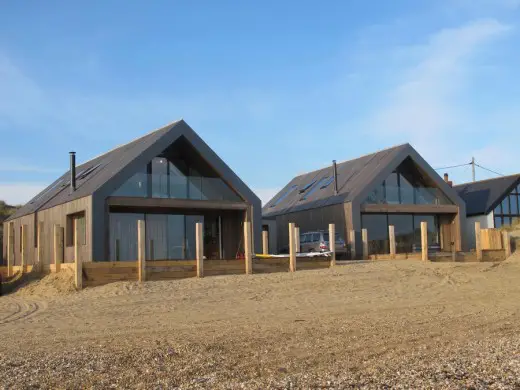 image from architects
Camber Beach Houses in East Sussex
WAM have just won the prestigious Surface Design Awards for the Sustainable Exterior Surface category for the cladding of its two contemporary beach houses on Camber Sands. Situated between the sea and the county's only sand dunes a designated SSSI site, the stunning beach houses offer spectacular views of the coast and unparalleled access to the beach.
26 Nov 2015
Contemporary Sussex House in the Countryside
Design: Wilkinson King Architects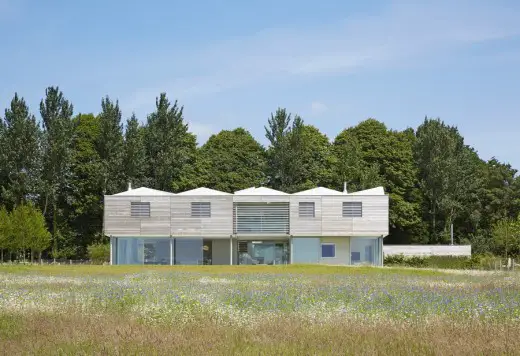 image from architects
Contemporary Sussex House in the Countryside
Shortlisted for the 2015 RIBA House of the Year award.
Brighton i360 Tower
Design: marks barfield architects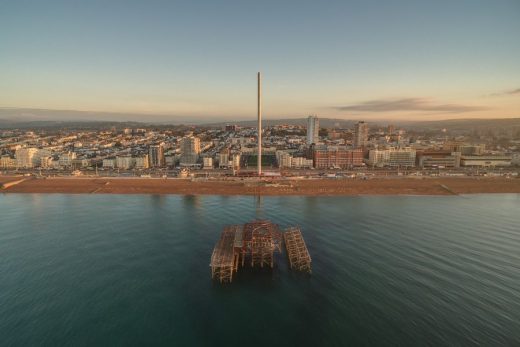 image from architects
Brighton i360 Tower
Moshimo Restaurant
Architects: studioSPOON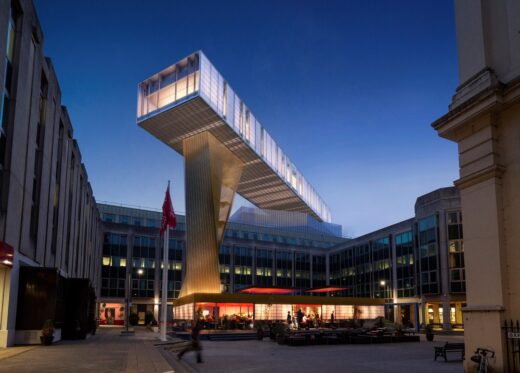 photo courtesy studioSPOON
Moshimo Restaurant Brighton
3 Sep 2015
Brighton Waste House
Architect: BBM Sustainable Design Ltd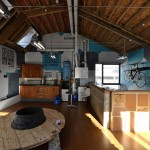 image courtesy of architects
Brighton Waste House
From a distance this looks like an ordinary contemporary town house. However when one gets nearer and sees carpet tiles used as wall cladding, it becomes clear this is a project with an interesting agenda.
3 Mar 2015
Kino, Rye, East Sussex
Design: Jonathan Dunn Architects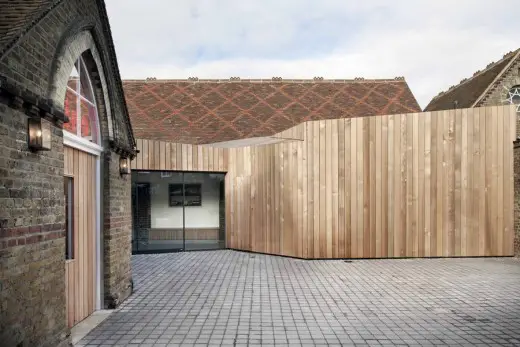 photograph : Oliver Perrott
Kino in Rye, East Sussex
The Kino project consists of a collection of Victorian school buildings which were left empty for several years and quickly fell into disrepair.
2 Jul 2014
Red Bridge House, Sweethaws Wood, Redbridge Lane, Crowborough, East Sussex
Design: Smerin Architects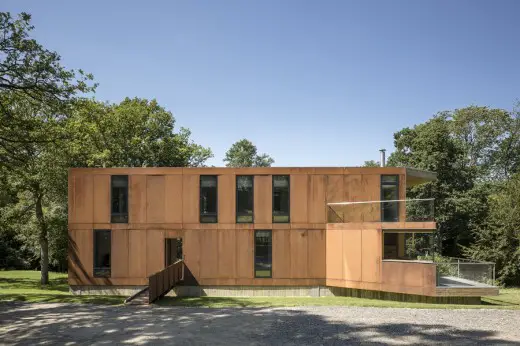 photo : Tim Crocker
Red Bridge House in East Sussex
The brief called for a new four bedroom house set in a pastoral glade. The procurement was a conventional contract – however the contractor fell into financial difficulties and the client self-managed the completion of the house.
22 May 2013
Splashpoint Leisure Centre, Worthing
Design: Wilkinson Eyre Architects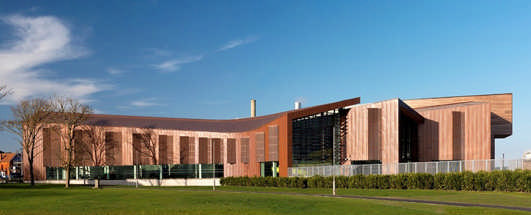 photo : Julian Abrams
Splashpoint Leisure Centre
Wilkinson Eyre Architects' recently completed Splashpoint Leisure Centre opens this month, creating an important new public facility in a distinctive copper-clad building that overlooks the coast on Worthing seafront in West Sussex.
16 Jan 2013
Boxwood, near Rye, East Sussex
Walker Bushe Architects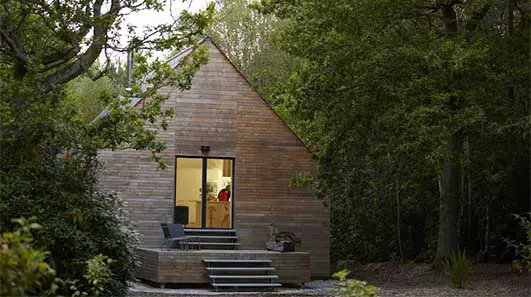 photo : Janie Airey
House in East Sussex
Boxwood is situated within ancient woodland approximately 5 miles inland from the Cinque Port town of Rye in East Sussex. The site is an acre of woodland clearing surrounded by mature trees and shrubs with no obvious artificial boundaries. Wild Boar, Muntjac deer, bats and a plethora of birdlife are to be found within the surrounding woods.
16 Jan 2013
Music and Drama Schools for Brighton College
Design: Eric Parry Architects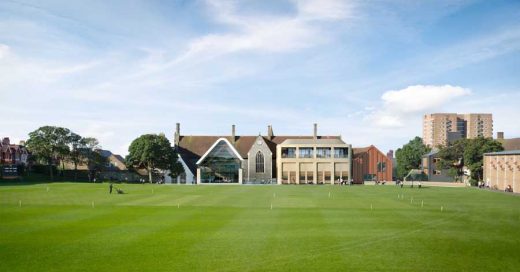 image from architect
Brighton College
Two new buildings housing the Schools of Music and Drama designed by Eric Parry Architects for Brighton College have been granted planning consent. Brighton College, an award-winning co-educational private school, was established in 1845. The college is on a campus to the east of Brighton City Centre, within the College Conservation Area.
25 Jun 2012
Durand Academy, West Sussex
Jestico + Whiles



image from architects practice
Durand Academy Upper School
A team led by Balfour Beatty, with Jestico + Whiles as architect, has won a design competition for the new Durand Academy Upper School. The project, a state secondary boarding school for 600 students, will create all through education at Durand Academy for students who begin their education on the school's existing South London site.
20 Mar 2012
Jerwood Gallery, Hastings
HAT Projects



photo : Ioana Marinescu
Jerwood Gallery
HAT Projects are the architects for a £4m new gallery for the Jerwood Foundation on the seafront in Hastings. The gallery will house Jerwood's collection of modern British art, with space for temporary exhibitions linked to the Jerwood Visual Arts programme.
31 Jan 2012
Royal Sussex County Hospital, Brighton
BDP



picture from architects
Royal Sussex County Hospital
Brighton and Hove City Council has announced that it is minded to grant planning permission for the redevelopment of the Royal Sussex County Hospital site. This has been the largest and most complex application that BDP's planning team, headed by Tessa O'Neill, has undertaken.
1 Nov 2011
Roedean School, East Sussex
Buckley Gray Yeoman



image from architects
Roedean School Sussex
Buckley Gray Yeoman (BGY) has been appointed to refurbish four boarding houses at Roedean School, one of the UK's leading independent girls' schools. The project will transform Roedean's accommodation, ensuring the quality of the interior spaces reflects the school's reputation for excellence.
19 May 2011
New Mission Hall, Plaistow, West Sussex
Adam Richards Architects



photo © Adam Richards
New Mission Hall : RIBA Award 2011
13 Apr 2011
House in east Brighton, East Sussex
a:b:i:r architects



image from architects
Brighton House
4 Apr 2011
Gatwick Airport Hotel
EPR Architects



picture from architect
Gatwick Airport Hotel
15 Sep 2010
Hastings Pier Regeneration
Hastings Pier Redevelopment – Architect required – relaunched 25 Oct 2010
15 Jun 2009
Beach Hut Competition, Boscombe seafront, Bournemouth
Beach Hut Design Competition
Sussex Buildings
Contemporary Sussex Architectural Designs, alphabetical:
AMEX Offices, Brighton
EPR Architects



picture from architect
AMEX Offices Brighton
Bexhill-on-Sea Shelter, East Sussex
Tite & Ebdon



picture from RIBA
Bexhill-on-Sea Shelter Competition
Charleston Museum Project, East Sussex
Jamie Fobert with Julian Harrap



image from architect
Charleston Museum Contest, Firle
Chichester Regional Museum
Keith Williams Architects


picture from architect
Chichester District Museum
Cover's Yard Housing, Brighton
a : b : i : r architects



image from architects
Cover's Yard Brighton
Crawley Library, West Sussex
Penoyre & Prasad



photograph © Tim Soar
Crawley Library
Eagle Rock House, nr Uckfield, East Sussex
Ian Ritchie Architects



photo © Jocelyne Van den Bossche
Sussex house
East Beach café, West Sussex
Heatherwick Studio


photo : Andy Stagg
Littlehampton Building
Eco-House, Hanover, Brighton
drp architects


photo © Richard Rowland
Eco-House Brighton
Peasmarsh House, East Sussex
Hut Architecture


image from architect
East Sussex house
Portslade Hostel Project, East Sussex
a : b : i : r architects


photograph : Richard Rowland
Portslade Hostel
Preston Road, Brighton, East Sussex
drp architects


image from architect
Preston Road Brighton
Royal Alexandra Hospital Building, Brighton
BDP


photo © David Barbour BDP
Sussex Hospital building
Towner Art Gallery, Eastbourne
Rick Mather Architects



photo : Richard Chivers
Towner Art Gallery collection
University of Sussex Building
ADP



image from architect
University of Sussex Building
Worthing Swimming Pool
Architecture Competition


image from RIBA
Worthing Swimming Pool
: Design Contest
Sussex Buildings – no images
Architecture Designs, alphabetical:
Bentley Wood, nr. Halland
1938
Serge Chermayeff
Private house: Modern building – Serge Chermayeff's own house
Bognor Regis Swimming Pool, West Sussex
1992
Stephen Hodder Architects
Brighton Dome & Museum
2003
Arts Team at RHWL
Brighton Marina, Brighton, East Sussex
–
CZWG Architects
Cass Sculpture Foundation, Sculpture Estate, Goodwood, Chichester, West Sussex
2007
Studio Downie Architects
Chichester College – dual campus redevelopment, Brindsbury & Chichester
2008-
lead architect : Hawkins Brown
£80m
City College, Brighton, East Sussex
2007
BDP
Crawley Library and Civic Offices, West Sussex
–
Keith Williams Architects
Elmswell Housing
2007-
Riches Hawley Mikhail Architects
RIBA Architecture Competition
£3m
Glyndebourne Opera House, Glyndebourne, Lewes, East Sussex
1989-94
Hopkins Architects
Goodwood Racecourse, Goodwood Estate
1997-2001
Hopkins Architects
Gridshell, Weald & Downland Museum, Singleton, nr Chichester, West Sussex
2003
Edward Cullinan Architects; Structural Engineer: Buro Happold
Downland Gridshell
Harbour Meadow – private house, Court Barn Lane, Birdham, West Sussex
2006
Avanti Architects Ltd
RIBA Awards 2006 – South
RIBA Awards
Hastings Station Plaza project
2005-
Hopkins Architects
Hove Railway Station – Victorian footbridge
2006
DO-Architecture
Hove Railway Station
Hove Sports Centre
2004
Shortlist: Frank Gehry, Righard Rogers Partnership, Wilkinson Eyre
Jubilee Library, Brighton
2005
Bennetts Associates with Lomax Cassidy & Edwards
PM's Award : Winner 2005
King Alfred site, Hove
2007-
Frank O. Gehry with Piers Gough
planning permission received Mar 2007
Frank Gehry
£290m
The Lodge, Whithurst Park, Kirdford, West Sussex
2003
James Gorst Architects Ltd
Pallant Gallery, Chichester, West Sussex
–
Design: Colin St John Wilson with Long & Kentish Architects
Gulbenkian Museum Prize : 2007
Royal Botanic Gardens – Visitor centre, Wakehurst Place
2004
Walters & Cohen
£1.5m
Royal Botanic Gardens – Millennium Seedbank, Wakehurst Place
–
Stanton Williams
Sussex Innovation Centre
–
Eric Parry Architects
Sussex Institute – University of Sussex
2005
John Pardey Architects
Towner Gallery : see Eastbourne Cultural Centre
Winter Gardens – Performing Arts Centre, Bournemouth
2007-10
Grimshaw
Public square + residential + café + bar + teaching/rehearsal spaces
Woodland Enterprise Centre, Flimwell, East Sussex
2003
Feilden Clegg Bradley Architects
More Sussex architecture online soon
Location: Sussex, England, UK
Sussex Building : Gridshell, Weald & Downland Museum – wins Wood Awards 2003
County Architecture adjacent to Sussex
Sussex Building architects, De La Warr Pavilion refurbishment : John McAslan
Buildings / photos for the Sussex Architecture page welcome