Central Sculpture for Goodwood Festival of Speed 2017, East Sussex Formula 1 Cars Project Images
Central Sculpture for Goodwood Festival of Speed 2017
Bernie Ecclestone Installation at East Sussex Car Event design by Gerry Judah, England
7 Jul 2017
Location: East Sussex, England, UK
Design: Gerry Judah
CENTRAL FEATURE, GOODWOOD FESTIVAL OF SPEED 2017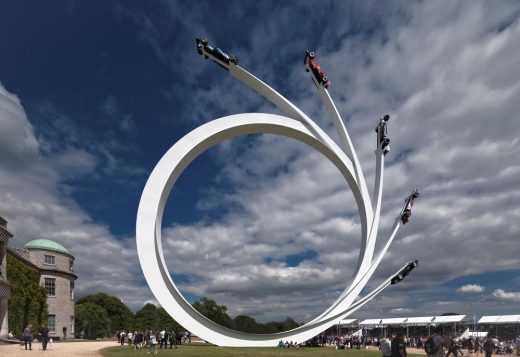 Photos by David Barbour
Central Sculpture for Goodwood Festival of Speed 2017, UK
This annual series of breathtaking sculptures is one of the highlights not just of the British automotive calendar but also of the English architectural year. Gerry Judah has succeeded in creating a beautifully designed concept that refreshes year after year. e-architect salute this design!
The latest sculpture by Gerry Judah for the Central Feature at Goodwood Festival of Speed 2017 displays five Formula One cars chosen to celebrate Bernie Ecclestone's career and involvement in Grand Prix racing.
Each car has a link to a different aspect of Bernie Ecclestone's career, such as the Connaught, for which he was entered as driver in two F1 races in the 1958 season, and the championship-winning Brabham, from the period when he was Brabham team owner.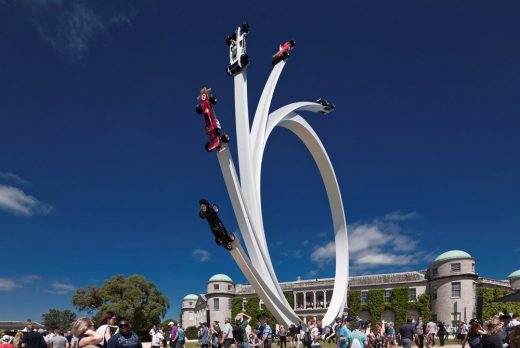 The other cars in this year's Central Feature are a Lotus, Ferrari and Mercedes, reflecting his time in Formula 1 management, which culminated as F1 chief executive.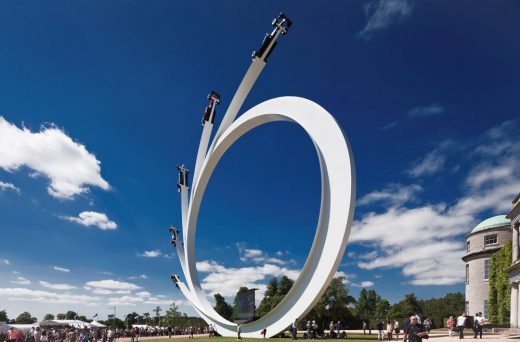 SCULPTURE DATA:
Thirty-five metres high
Four thousand man hours to fabricate
Five hundred bolts
Three hundred tonne capacity crane to put it up
Sixty-five tonnes total weight
Twenty people to fabricate
Sixteen tonnes heaviest base segment
Eight steel box sections
Eight people to erect on site
Six weeks to fabricate and install
Five Formula One cars
Three cranes needed for assembly
Two weeks to take down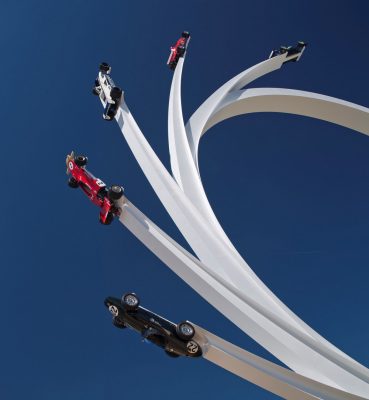 Client : GOODWOOD
Design & Production : GERRY JUDAH
Engineering : DIALES
Fabrication & Installation : LITTLEHAMPTON WELDING
Photography : DAVID BARBOUR
Gerry Judah FRBS
+44 (0)7831 464360
[email protected]
WWW.GERRYJUDAH.COM
Aston Martin Sculpture Goodwood Festival of Speed 2019
Porsche Sculpture for Goodwood Festival of Speed 2018
Mazda Sculpture for Goodwood Festival of Speed 2015
Location: East Sussex
Design: Gerry Judah
Gerry Judah's Centrepiece at the 2015 Goodwood Festival of Speed celebrates the Mazda Motor Corporation's unique motorsport heritage with a powerful fusion of sculptural innovation and engineering precision.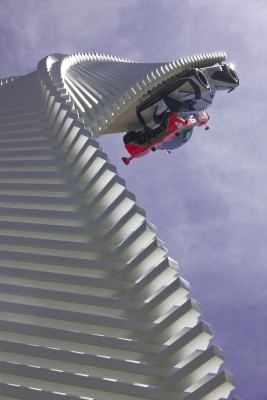 Mazda Sculpture for Goodwood Festival of Speed 2015
7 Dec 2015
Lotus Sculpture for Goodwood Festival of Speed 2012
Location: East Sussex, England, UK
Design: Gerry Judah
Six historic Lotus Formula 1 cars were incorporated in a spectacular sculpture by artist Gerry Judah that was the centrepiece of last weekend's Goodwood Festival of Speed, Britain's largest car culture event. The 28-metre tall sculpture was the 16th created by Gerry Judah for the Festival of Speed, an annual event held in the grounds of Goodwood House in West Sussex, the family seat of the Earl of March.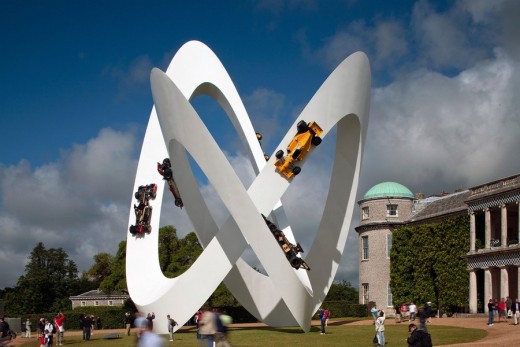 Each year, Goodwood has featured a marque, a carmaker that inspires disciples because of its style, success on the track, or both. In 2012, the featured marque was Lotus, the British car manufacturer that sponsored Gerry Judah's installation.
Lotus Sculpture for Goodwood Festival of Speed 2012
Gerry Judah
About Gerry Judah
Gerry Judah was born in 1951 in Calcutta and grew up in West Bengal before his family moved to London when he was 10 years old.
As a boy, the dramatic landscapes of India and the ornate architecture of its temples, mosques and synagogues with their theatrical rituals had a profound effect on Judah's developing psyche. These theatrical elements were to resurface in his later work.
Austere London, still in its post-war drab, was a shock to the young boy, and he chose to spend as much time as possible in his bedroom conjuring up with pencils and paper imaginary landscapes, architectural fantasies and futuristic cars. In short, he became an artist.
He left Whitefield Secondary Modern School, London in 1969 and, after working in a number of jobs from kitchen porter to architectural draughtsman, he went on to study Foundation Art and Design at Barnet College of Art (1970 to 1972) before obtaining a Double First-Class Honours degree in Fine Art at Goldsmiths College, University of London (1972–1975) and studying sculpture as a postgraduate at the Slade School of Fine Art, University College London (1975–1977).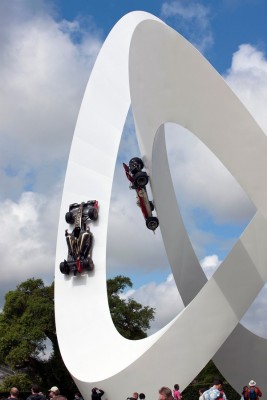 After college, Judah set up his studio in Shaftesbury Avenue, the theatre centre in the West End of London. There, he began to work on large sculptures. Needing still to earn his keep and finance his work, he took casual work round the corner in many theatres as a stagehand and scenic artist. This included work at the Royal Opera House, English National Opera, Royal Festival Ballet, London Contemporary Dance, Sadlers Wells Royal Ballet, Royal Shakespeare Company and the Royal National Theatre.
Judah was taken with the public nature of this work and decided to find settings for his own art in more public arenas than the rarefied spaces of conventional galleries. He began to build a reputation for innovative design, working in film, television, theatre, museums and public spaces.
He created spectacular settings for institutions such as BBC, British Museum, Natural History Museum, Imperial War Museum, Paul McCartney, Michael Jackson, Led Zeppelin, Robert Plant and Jimmy Page, The Who, David Bailey, Terence Donovan, Sting, Godley and Creme and Ridley Scott Associates. He has also created spectacular sculptures for Ferrari, Porsche, Audi, Jaguar, Mercedes Benz, Renault, Ford, Rolls-Royce, Honda, Toyota, Land Rover and Alfa Romeo at the annual Goodwood Festival of Speed and has designed bridges in London and Cambridge.
Photographs: David Barbour
Lotus Sculpture for Goodwood Festival of Speed 2017 images / information received 070717
Lanzante Pavilion Goodwood Festival of Speed 2023
Another sculpture by Gerry Judah – Jacob's Ladder, New Zealand
Location: Goodwood, West Sussex, UK
English Buildings
English Architecture Designs – chronological list
Swiss Re Building – 30 St Mary's Axe
Comments / photos for the Lotus Sculpture for Goodwood – England Architecture page welcome
Website: Gerry Judah