Kent architecture news 2023, Southeast English buildings, Architects designs images, New Property photos
Kent Buildings : Architecture
New Buildings in southeast England, UK Built Environment News
post updated 28 August 2023
Kent Building News
Kent Architecture News arranged chronologically:
28 Aug 2023
Applehurst
Architects: Ström Architects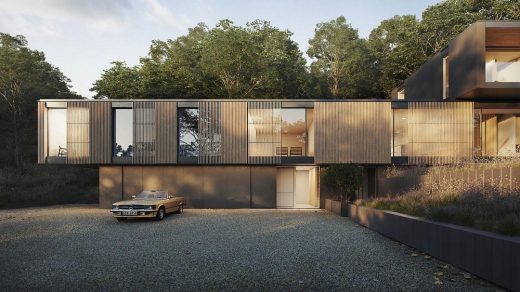 image : Numa
Applehurst House
This new-build family home replaces a dilapidated 1960s modernist house in Kent. The existing home has some architectural merit but fails to respond to the family's needs.
21 June 2023
Woven, Broadstairs
Architects: Giles Miller Studio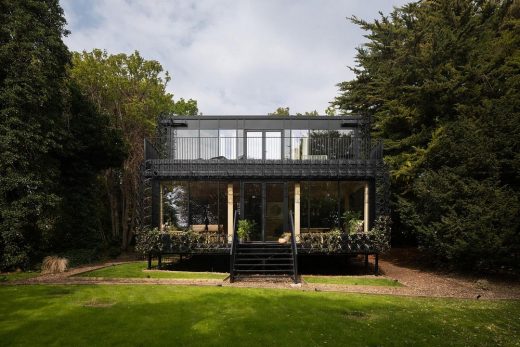 photos : Rachel Ferriman and Edvinas Bruzas
Woven House, Broadstairs
Giles Miller Studio's first completed residential property sits 100m from the cliffs and sandy beaches of Broadstairs. The house breaks down barriers between the building's internal spaces and the glade of natural planting and trees that surround it.
11 May 2023
Three Waves, Dover
Architects: Tonkin Liu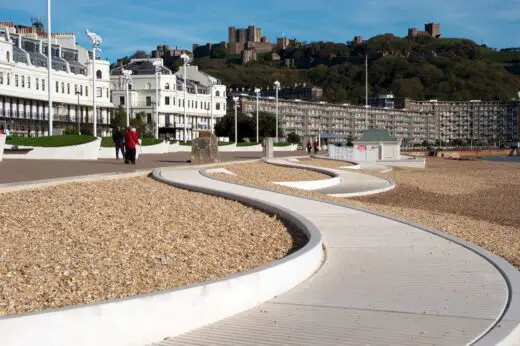 photo : Mike Tonkin
Three Waves Dover Esplanade
Dover's Esplanade has been given a radical overhaul by Tonkin Liu. The Three Waves project has been conceived as three artworks, Lifting Wave, Resting Wave, Lighting Wave, that have grown out of their social and environmental context and the way they are constructed.
28 June 2022
Catch Beach House, Seasalter
Architects: Stiff + Trevillion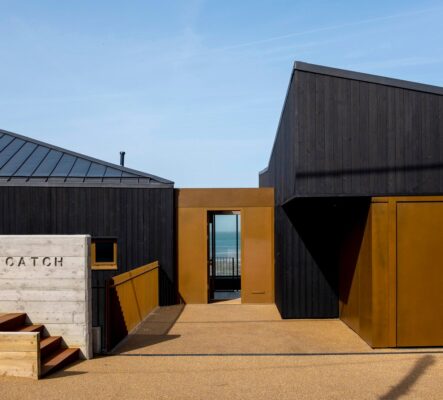 photo : Lukasz Bernacki
Catch Beach House, Seasalter
Situated outside Whitstable on the North Kent coastline, the Catch house takes its cues from the traditional fisherman's huts and boat sheds whilst making references to the indigenous materials and textures which inhabit this stretch of coastline.
14 Jun 2022
Appledore Development
Design: RX Architects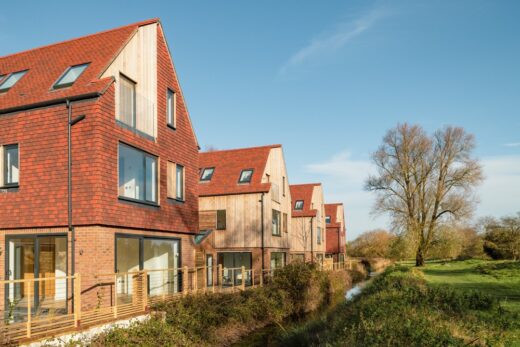 photo : Ashley Gendek
Appledore Development, Kent Houses
The Appledore Development site is located along the bank of the Royal Military Canal overlooking the canal and adjacent National Trust land with rural views beyond. The Canal runs for 28 miles along the south coast and was constructed as a defence against a potential Napoleonic invasion.
23 June 2022
RIBA Awards 2022 Winning Buildings and Architects
Aisher House, Sevenoaks School is one of the 29 winners of the 2022 RIBA National Awards for architecture.
Aisher House, Sevenoaks School – wins at RIBA Awards
4 May 2022
Cobham Dairy
Design: Purcell Architecture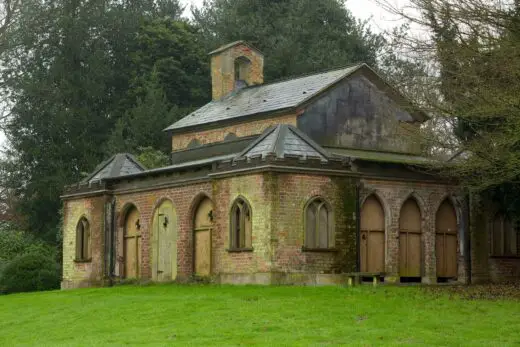 photo : John Miller
Cobham Dairy, Kent
James Wyatt's Cobham Dairy had sat derelict in Humphrey Repton's Cobham Park landscape for over a century before the Landmark Trust stepped in to save it. Their brief to transform this Georgian 'Gothick' building into a one-bedroom holiday let was straightforward, but the complexity lay in adapting a Grade II* listed building to provide modern levels of comfort whilst being sensitive to the original design; and complying with ecological, archaeological, and planning requirements.
4 May 2022
The Mitchell Building at Skinners' School
Design: Bell Phillips Architects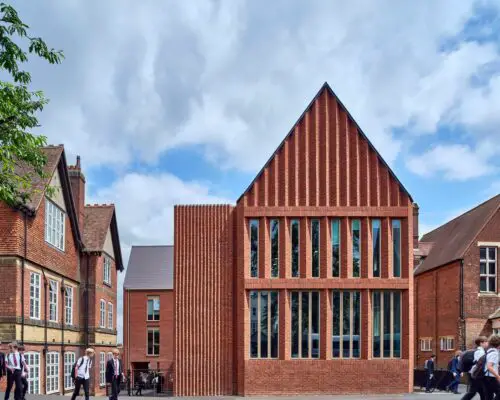 photo : Kilian O' Sullivan
The Mitchell Building at Skinners' School
Love it or hate it, the 'Gothic Revival' of the 19th century has left an architectural legacy in this country that is particularly marked in educational buildings. The Skinners' School is such a place, its core buildings forming a muscular and evocative red-brick backdrop to the main playground.
4 May 2022
Aisher House, Sevenoaks School
Design: Tim Ronalds Architects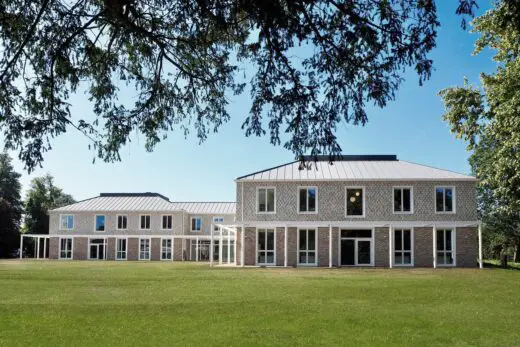 photograph : Tim Ronalds Architects
Aisher House, Sevenoaks School
The site for the new building is the front lawn of Park Grange, a listed Victorian villa at the southern end of Sevenoaks High Street. The architects have demonstrated a sophisticated and intuitive understanding of this setting.
29 Apr 2022
Trinity Theatre Building in Royal Tunbridge Wells, Church Road, Royal Tunbridge Wells
Original Design: Decimus Burton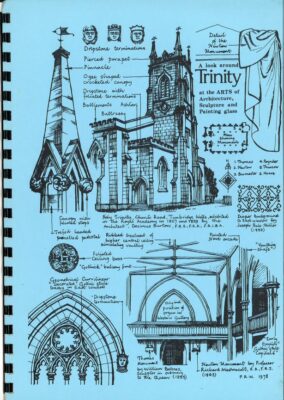 photo courtesy of Trinity Theatre
Trinity Theatre Royal Tunbridge Wells Building
Trinity Theatre, Church Road, Royal Tunbridge Wells, Kent, TN1 1JP The pigeons are being ousted and new bridges constructed as Trinity Theatre renovates its 200 year old clocktower. This architectural gem will open to the public for the very first time, just as Trinity Theatre approaches its 40th anniversary later this year.
12 Jan 2022
Court Lodge, Old Romney near Rye, Kent, Southeast England, UK
Design: RX Architects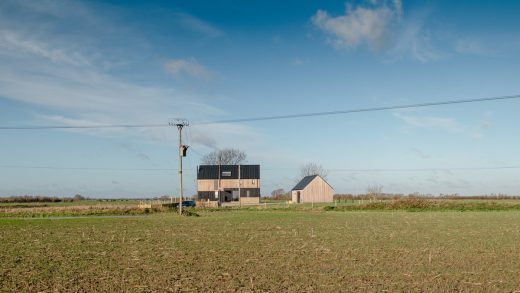 photo courtesy of architects office
New build farm house in Old Romney Marsh
Court Lodge is a new build contemporary take on a traditional farm house which replaces the existing 1950's workers cottage. The building has been designed for a local farmer in Old Romney near Rye, in Kent. The main building takes a vernacular agricultural barn form, with a seamed zinc roof and a combination of natural and black timber cladding.
More contemporary Kent Buildings on e-architect soon
Kent Buildings News in 2021
8 Nov 2021
The Cabins, 23 – 25 Tontine St, Folkestone
Design: Neat Architects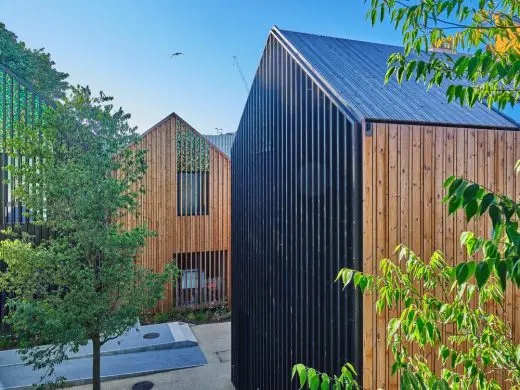 photo © Edmund Sumner
The Cabins Housing, Folkestone
The Cabins form a cluster of mixed-use timber framed buildings in the heart of Folkestone's Old Town. They are designed as part of an initiative to support creative industries, by providing affordable, innovative spaces for studios, workshops and homes.
14 Sep 2021
Walmer Castle and Gardens Learning Centre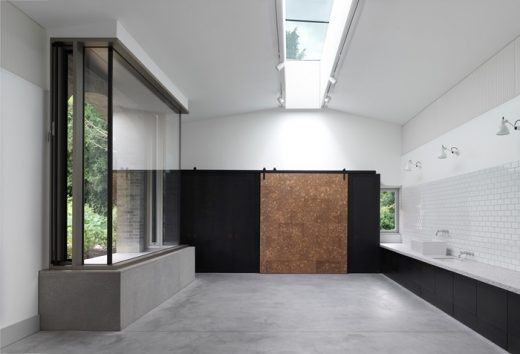 photo © Brotherton Lock
Walmer Castle and Gardens Learning Centre
6 Jan 2021
Kent & Medway Medical School, Canterbury
Architects: Hazle McCormack Young LLP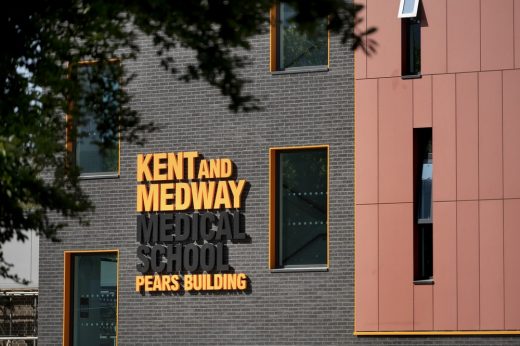 image courtesy of architects
Kent & Medway Medical School
The building provides teaching facilities and staff accommodation for 300 students. It will be Kent's first medical school, bringing together the existing centres of excellence in health and medical education provided by the two universities as well as local healthcare organisations, thereby offering a new model of patient-focused medical education.
More Kent Buildings online soon
Kent Buildings in 2020
27 May 2020
Split House, Sevenoaks
Architect: London Atelier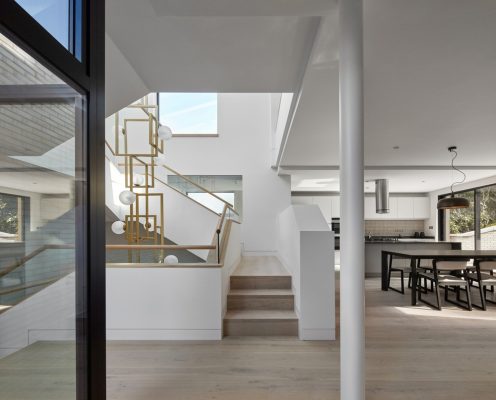 photography : Alan Williams
New House in Sevenoaks
A new-build three-storey family home set into a steep hill in Sevenoaks, Kent. The site is set between two detached houses on a hill sloping down towards the North. The mass is split into two halves connected via a central glazed link envisaged as an atrium housing the staircase.
More contemporary Kent buildings on e-architect soon
Kent Buildings in 2019
19 Dec 2019
Turner's Coachworks Brings Festive Cheer to Ashford
19th December 2019 – Coachworks, an urban design scheme in the heart of Ashford town centre opened, welcoming over 1,000 visitors during its first weekend, with a Christmas market helping to draw in the crowds.
Coachworks Ashford building renewal by Carl Turner architect: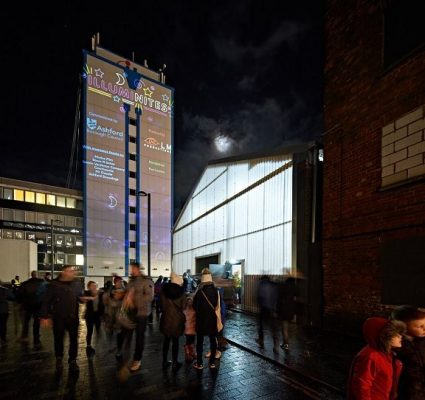 image courtesy of architects
The cluster of former industrial buildings owned by Ashford Borough Council have been transformed by architect Carl Turner.
The project breathes new life into disused buildings in Dover Place, close to the Kent town's international railway station. Three distinct spaces have now opened:
• The Hot House – the former Ashford Youth Theatre building, empty since 2016 and known to Ashfordians for its distinctive external artworks – have been re-developed into a home for food and drinks outlets, with event space added. An eye-catching mezzanine level bar provides seating overlooking the indoor events area;

• The Platform – the three-storey Corn Store is now a 'business incubator' with start-up workspaces and shared facilities to host up to 200 people;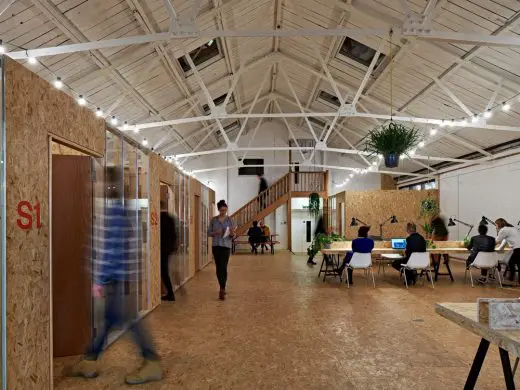 • The Event Yard and Yard Bar – an open-air space ideal for events such as theatre, cinema and live sports screenings.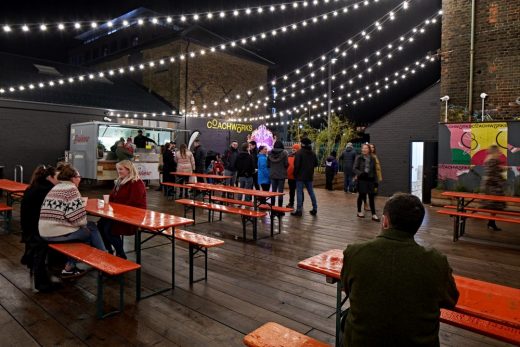 Opening hours for the Hot House until Christmas are:
Weds, Thurs and Fridays 5pm-10pm; Saturday 12 noon-10pm; Sunday 5pm -10pm.
Last day of trading is Sunday 22 December and tickets are available for a New Year's Eve party – visit www.coach-works.co.uk
11 & 10 Sep 2019
Swanley regeneration scheme designed by HLM Architects given the go-ahead
A major regeneration scheme designed by HLM Architects, aimed at revitalising Swanley Square Shopping Centre in Kent, with new retail, community and residential accommodation including Private Rented Sector homes, has been given the green light.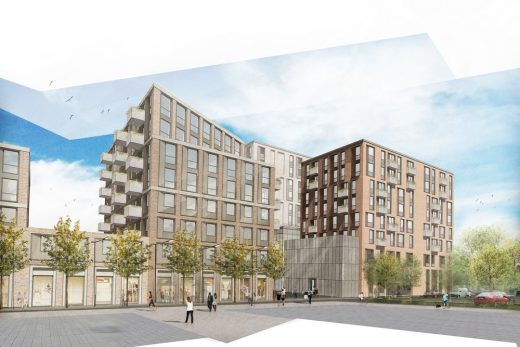 image courtesy of architects
The U+I project, which was approved following a Public Inquiry held locally, comprises 340 residential homes, 46,780 sq ft of mixed-use development including retail, restaurants, shops, new community multi-purpose space, and a new multi-storey car park. The scheme will also provide high quality, inclusive public realm and landscaping creating improved access to the recreation ground from the retail centre.
HLM's design, conceived around the horticultural heritage of Swanley and Kent will bring new life and vibrancy to the town with the introduction of seven new buildings varying in height from 3-11 storeys, replacing a large area of grade parking.
The scheme is one of four mixed-use regeneration projects led by U+I that will deliver over 1,000 new rental homes in the southeast across locations in Ashford, Maidstone, Swanley and Woking; each aimed at providing affordable retail and residential units to enhance local communities and celebrate the character and history of the local areas.
Matthew Weiner, CEO of U+I, commented: "We think that Swanley has huge potential. It's why we acquired the shopping centre for our investment portfolio originally. Here is a planning consent that is much overdue for an imaginative mixed-use development. Even though this consent took some time to achieve, the Inspector found strongly in favour of this excellent scheme, distinctively designed by HLM architects.
The scheme marks a huge step forward in the recognition of Swanley as an attractive, emerging commuter town. We are committed to delivering real social and economic change there. This is also an interesting project for us as it shows how we are able to feed our development pipeline from our existing investment portfolio and return a more valuable investment asset as a result, one of many such opportunities within our portfolio."
"This project has been carefully designed with the community at its heart and centre, and with the aim of revitalising the town centre, improving the retail offer and attracting more investment and leisure spend. We're confident that new high-quality residential and commercial areas, along with a sustainable public environment that fosters vibrancy and inspires the people who live and work there, will help usher in a new chapter for Swanley," said David Cafferty, Director at HLM Architects.
Detailed planning for the phased development of the scheme is now underway with construction expected to commence in 2020.
6 Aug 2019
South of Ashford Garden Community, Ashford, Kent, Southeast England, UK
A cluster of major developments in Ashford, Kent, have been included in a national government housing building initiative and allocated £150,000 funding to support their delivery.
The government has announced that 19 new garden villages will be built across England. The South of Ashford Garden Community will provide 7,250 homes for the scheme.
The community includes the Chilmington, Court Lodge and Kingsnorth Green developments, and will receive a share of the £3m fund to help with the next stage of their development.
South of Ashford Garden Community: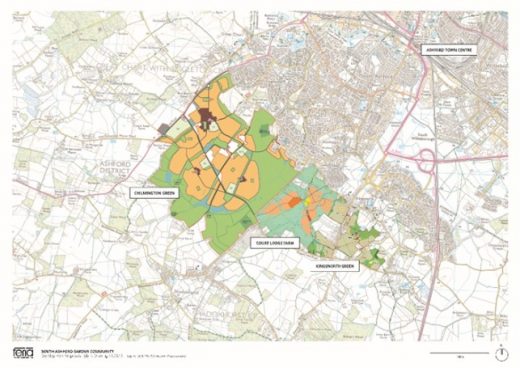 image courtesy of article provider
Construction at Chilmington is underway while sites at Court Lodge and Kingsnorth Green are allocated for development in the Local Plan to 2030, and planning applications for these sites are due to be considered by the planning committee in the coming months.
The creation of well-planned and designed, locally led garden communities makes a critical contribution to the government's ambitions both to build 300,000 homes a year by the mid-2020s, and to provide a stable pipeline of homes for the future.
These places are designed to become vibrant new communities where people can live and work, and to create a legacy that will be enjoyed and valued by future generations. The government believes they set a new standard for planning and delivering new settlements at scale that can support a local area's housing and economic growth ambitions and recognises that delivering them carries costs that go beyond the typical remit of local authorities.
Minister of State for Housing Kit Malthouse MP said: "Building the homes the country need is vital to the nation's success – but they need to be homes that will become part of thriving communities; places where the generations who come after us want to live.
"I am confident that South of Ashford Garden Community will do just that, and I congratulate Ashford Borough Council for stepping up to the mark, demonstrating real determination which helps deliver our ambition of 300,000 new homes a year from the mid-2020s."
Cllr Neil Shorter, portfolio holder for planning and development said: "We are pleased to receive this funding from the government, which will help us to make sure these developments are sustainable and complement each other as they come forward.
"As well as the funding support, we will receive advice from Homes England and cross-government brokerage to resolve strategic policy barriers to delivery. We look forward to discussing this in more detail with them in due course and considering how the funding can be put to best use."
To help meet the need for 300,000 new homes in England every year, garden communities create new housing, infrastructure, jobs and services in sustainable communities.
Since 2015, the Garden Communities programme has supported the development of 29 garden towns and villages across the country.
The main characteristics are:
• a purpose-built new settlement, or large extension to an existing town
• a community with a clear identity and attractive environment
• it provides a mix of homes, including affordable and self-build
• planned by local authorities or private sector in consultation with the local community
As well as building new homes, the communities develop:
• job opportunities
• attractive green space and public realm areas
• transport infrastructure, including roads, buses and cycle routes
• community infrastructure, schools, community and health centres
• a plan for long-term stewardship of community assets
For more information on the Garden Communities Programme visit https://www.gov.uk/government/publications/garden-communities
5 Aug 2019
£3 million National Lottery boost for Ashford's Victoria Park regeneration, Ashford, Kent, Southeast England, UK
5th of August 2019 – Kent's Ashford Borough Council have put plans in motion for regeneration after being awarded more than £3 million from the National Lottery Heritage Fund to revitalise Victoria Park.
The funding means the council can deliver its exciting plans to redevelop and restore one of Ashford's oldest and most-loved green spaces, working with the local community, volunteer groups and the Friends of Victoria Park, who are providing additional funds.
Grade II Listed Hubert Fountain in Victoria Park Ashford: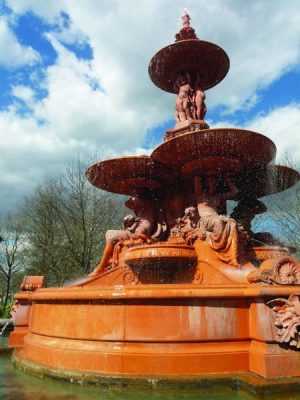 image courtesy of article provider
Work is underway to complete detailed designs for the various projects as contractors are looking to be approved and projects commenced in the coming months. Proposals include a new children's play area, improvements to the river, improved lighting across the park, and a new community hub building with café, and new toilets.
The iconic Grade II Listed Hubert Fountain and the surrounding piazza area will also be restored and repaired. A sensory garden will be incorporated into the project as well as a maze as a feature within a wild flower meadow that the design will be able to change yearly.
The council will be employing four new members of staff to manage the project, including a parks officer who will be based on site. There will also be opportunities for the community to get involved with volunteering roles as part of the project.
More than 1,000 people gave their feedback on park improvements as part of the council's consultation process in the preparation of the bid to the National Lottery Heritage Fund. The results showed the public wanted improved leisure facilities, more events and activities, and improved safety and security. Thanks to this funding the council will be able to make improvements, encouraging more people to enjoy Victoria Park for longer.
Victoria Park Ashford building design: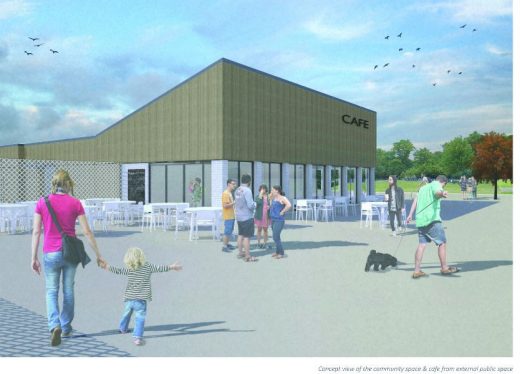 photo courtesy of article provider
Almost £1.9 million will be spent on repairs and conservation of the historical aspects of the park, and another £1 million has been earmarked for new building work including access paths, signage, bridges, and dipping platforms.
Cllr Peter Feacey, Portfolio Holder for Culture, Tourism and Leisure, said: "We are very pleased to have been awarded this money from the National Lottery Heritage Fund; this is a regeneration project that we can't wait to start. The funding means we can make these exciting improvements, reconnecting people with this historic park and its heritage. Events and activities focussed on children and young people and resources for schools will encourage our younger residents to visit."
For more information on the plans to revamp Victoria Park please visit www.ashford.gov.uk/victoria-park.
2 Jul 2019
The Coachworks, Ashford
The Coachworks, Ashford
29 May 2019
Curious Brewery, Ashford
Architect: Guy Hollaway Architects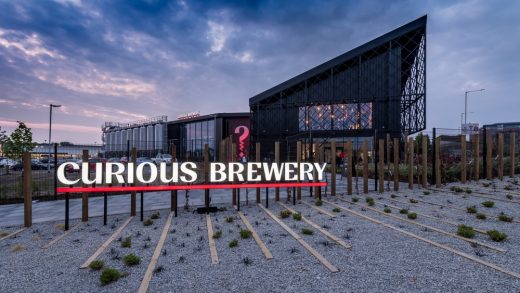 photo : Ashley Gendek Photography
Curious Brewery Ashford Building
Curious Brewery is the UK's newest brewery and will transform the brand's production operations, quadrupling its output, as well as creating a new visitor attraction in the Kent region, with guided tours, tastings, a shop, restaurant and bar.
11 Apr 2019
Templeman Library
Architects: Penoyre & Prasad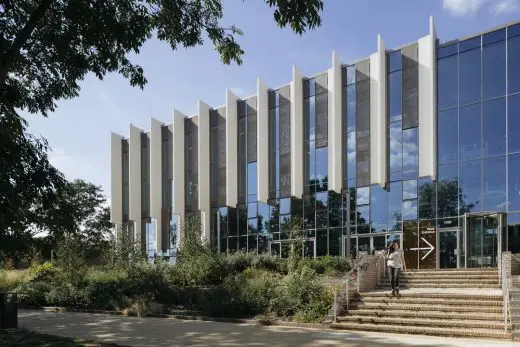 photo © Tim Crocker
Templeman Library in Canterbury
At the heart of the Canterbury campus the Templeman Library has been transformed to become a flagship 21st century learning environment comprising a new extension and extensive refurbishment of the existing building, together demonstrating new standards for renewal of 1960s university buildings.
15 March 2019
Plans for former Mecca Bingo hall in Ashford town centre
Design: Ash Sakula, Architects
Odeon Walk and Odeon Square in Ashford, Kent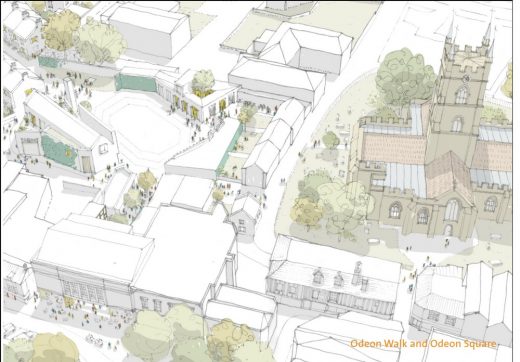 image courtesy architects
Bold and ambitious plans for the development of the site of the former Mecca Bingo hall in the High Street were approved by Ashford Borough Council's Cabinet, with the scheme heralded as a major part of a wider town centre regeneration strategy.
The proposals cover the old bingo hall site and also the council-owned Vicarage Lane car park. It will, subject to planning permission, deliver an exciting mix of high-quality residential and commercial uses together with improved public realm, indoor and outdoor performance and event spaces, and new community facilities.
Video Square and Odeon Walk in Ashford, Kent


image courtesy architects
After the Council acquired the site in March 2018, it appointed consultants Ash Sakula to prepare a concept design. The Ash Sakula vision involves the partial demolition of the rear of the existing Mecca building (the bulky rear auditorium) with the façade and first-floor rooms fronting the High Street (the old ballroom) being retained and converted to provide for a community event space. Development of former Mecca Bingo site in Ashford town centre
11 Feb 2019
Fort Burgoyne in Dover
Design: Lee Evans Partnership, Architects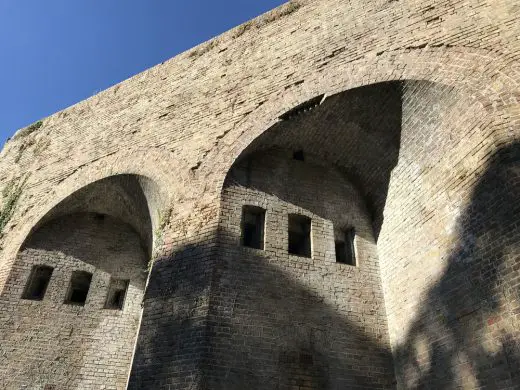 image from architects office
Fort Burgoyne in Dover
Lee Evans Partnership LLP has been appointed by The Land Trust to lead the redevelopment of Fort Burgoyne in Dover.
More new Kent buildings on e-architect soon
Kent Buildings in 2018
7 Nov 2018
The Western Village in Ebbsfleet Garden City
Design: PRP Architects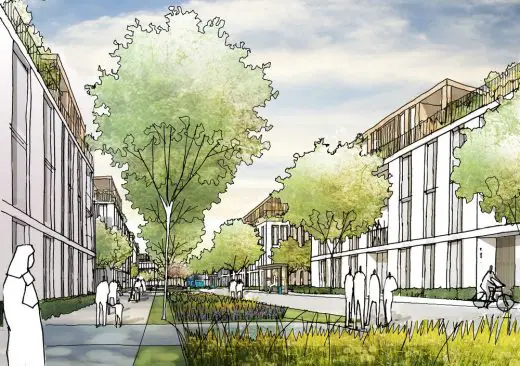 image from architects office
The Western Village in Ebbsfleet Garden City
Architecture firm PRP has been appointed as lead architect and masterplanner on The Western Village in North Kent, by joint venture development partners, Clarion Housing Group and Countryside. The development is set to deliver up to 2,600 new homes.
18 Jun 2018
Kent School of Architecture Summer Exhibition
'Architecture and More' shows work of University of Kent students
Kent School of Architecture's (KSA) annual summer exhibition of student work will be opened by renowned architect, teacher and writer Charles Holland on Friday 15 June 2018.
The show opens in the Marlowe building on the University's Canterbury campus at 18.00 with awards presented to students at 19.00. The exhibition is then open to the public from 09.00 to 17.00, Monday to Friday until Friday 29 June. Admission is free.
This year will be the 13th annual show and it explores the theme of 'Architecture and More' to demonstrate the diversity of research that students explore within the school. It celebrates the breadth of subjects that students interact with through their studies in architecture such as art, photography, music, literature and science.
Charles Holland is the founder of Charles Holland Architects (CHA), an international architecture and design studio. Before forming CHA, he was a founding director of Ordinary Architecture and a director of FAT Architecture. Whilst at FAT he was the director in charge of a number of key projects including A House For Essex, the practice's collaboration with artist Grayson Perry.
16 Nov 2017
University of Kent Economics Building, Canterbury Campus
Design: Bond Bryan Architects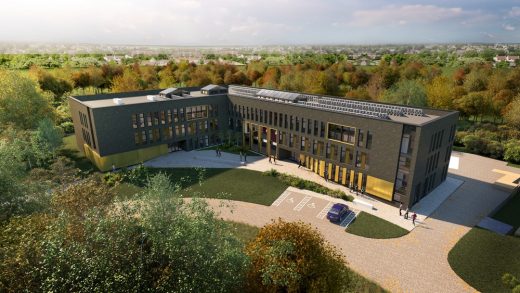 image from architects office
University of Kent Economics Building
The University of Kent (UoK) has commissioned a new School of Economics, designed by Bond Bryan Architects, which achieved planning consent in August 2017. This is part of UoK's continued investment into its Canterbury Campus Masterplan and part of a new Business Hub focusing on Economics, Business, Maths and Statistics & Actuarial Science.
18 May 2018 + 25 Jul 2017
Black House
Architect: AR Design Studio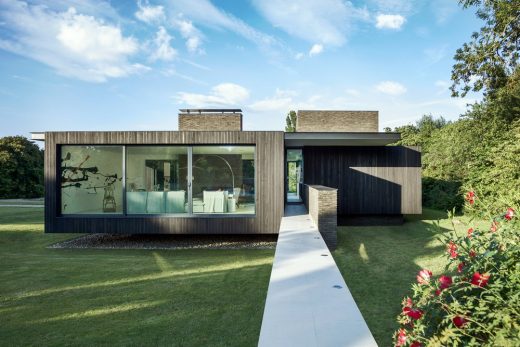 image courtesy of architects
Black House in Kent
Black House is a contemporary property drawing its influences from both the historic and modern buildings of Kent. A retired engineer and Conran interior designer chose to move from a 15th century Tudor house and build a contemporary dream home in their garden.
29 Nov 2017
Caring Wood – RIBA House of the Year 2017, Leeds, Maidstone, Kent, Southeast England
Design: Macdonald Wright Architects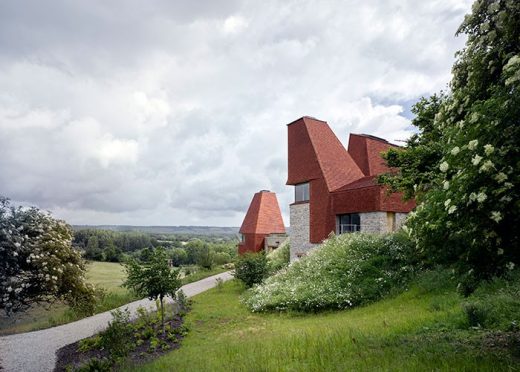 photo © James Morris
Caring Wood in Leeds
The Royal Institute of British Architects (RIBA) is pleased to announce today (Tuesday 28 November 2017) that Caring Wood by James Macdonald Wright and Niall Maxwell is the RIBA House of the Year 2017. The prestigious award is presented annually to the best new house or house extension designed by an architect in the UK.
27 Jul 2017
Command of the Oceans in Chatham – Wood Awards Shortlisting
Kent building nominated for the UK's Wood Awards 2017 shortlist, one of twenty outstanding structures:
Wood Award Shortlisting for Command of the Oceans, Chatham
21 Jul 2017
Command of the Oceans, Chatham Historic Dockyard
Design: Baynes and Mitchell Architects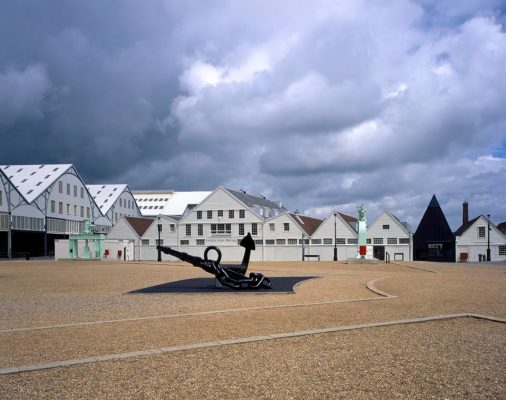 photos : Hélène Binet
Chatham Historic Dockyard Building
Awards: RIBA Southeast Award 2017, RIBA Southeast Conservation Award 2017 and RIBA Southeast Building of the Year 2017 and RIBA National Award 2017
17 Jan 2017 + 3 Sep 2015
Ancient Party Barn
Architect: Liddicoat & Goldhill LLP
Ancient Party Barn in Kent
16 Dec 2016
2016 Kent Design and Development Awards News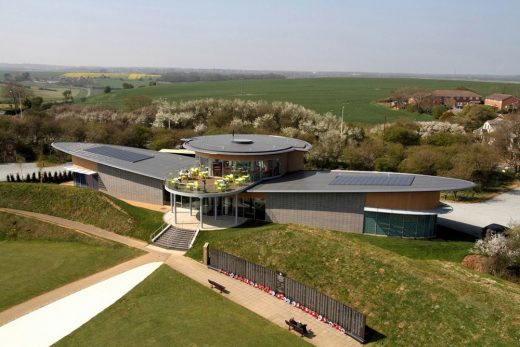 image from architects
Kent Design and Development Awards winners news.
Taking home the top prize, The Wing at Capel-le-Ferne was designed by Godden Allen Lawn in Folkestone. Owned by the Battle of Britain Memorial Trust, key consultants included Woodley Coles of Sandwich and Crofton-M&E/structural engineers of Hadlow.
16 Oct 2013
Sliding House Margate


photo of Sliding House
Sliding House Margate
When Thanet District Council gave artist, Alex Chinneck, permission to use an empty property in Margate, Kent to create a major new public artwork – "From the knees of my nose to the belly of toes" – little did they know quite how famous the project would become. Not only has the national media loved the work, key products have been highlighted as integral to the build; and none more than the ever-flexible Sterling OSB from Norbord.
17 Jun 2013
Colyer-Fergusson Building, University of Kent, Canterbury
Design: Tim Ronalds Architects



photo : Christian Richters
Colyer-Fergusson Building, University of Kent
The Colyer-Fergusson Building provides facilities for the University of Kent's thriving extra-curricular music programme, which involves students, staff and members of the community in music making of all kinds. The building contains a concert hall large enough for a full orchestra, choir and audience of 350, a generous foyer, practice rooms, offices, and storage and technical spaces.
Bird College, Sidcup
Bird College Building – design competition winner news
Gareth Hoskins Architects are announced today as the winners of the competition to work with Bird College to redevelop and rationalise their facilities onto a single site solution in Sidcup, Kent. Bird College is an internationally renowned provider of education and professional training in dance, music and theatre performance.
14 Feb 2012
Dreamland Margate – news
Assael Architecture



image from architects
Dreamland Margate
Assael Architecture has unveiled its vision for the Dreamland Margate site at a public enquiry into whether Thanet District Council will be allowed to compulsorily purchase the former fun park. Assael is the fifth architectural practice to be appointed and the only one to protect and reuse the Grade II* Cinema and Scenic Railway as part of a low-density housing scheme designed to attract inward investment.
18 Nov 2011
Capel Manor House Guest Pavilion, Horsmonden, Tonbridge
Ewan Cameron Architects



image from architects
Capel Manor House Guest Pavilion
The brief was to design a guest pavilion comprising 2-bedroom suites that would sit adjacent to an Italianate orangery from 1860, on the grounds of Capel Manor House, an iconic modernist pavilion designed by Michael Manser in the late 1960s.
Kent Building – Recent Designs
Rocksalt Restaurant, Folkestone
Guy Hollaway Architects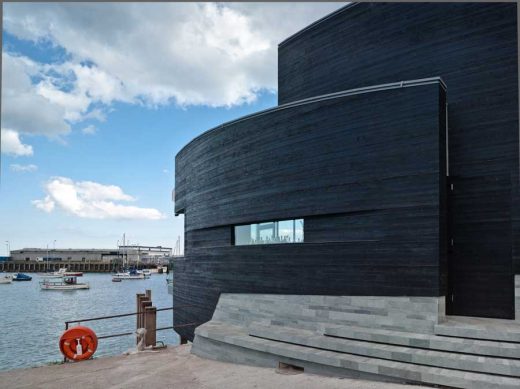 photo from Guy Hollaway Architects
Kent Restaurant
Guy Hollaway Architects' design for Folkestone's new high-profile restaurant- Rocksalt- has been completed. The architects' thoughtful and well-executed design elevates the harbour-side building on a pale green slate plinth and cantilevers it out over the water, creating 430 sqm of space and offering visitors stunning views.
Dover Esplanade, Dover
Tonkin Liu



photo © Robbie Polley
Dover Esplanade
No. 1 Smithery, Chatham
van Heyningen and Haward



photo © James Brittain
No. 1 Smithery,
Sevenoaks School Performing Arts Centre, Sevenoaks
Tim Ronalds Architects



photo © Christian Richters
Sevenoaks School Performing Arts Centre
Kent Buildings – Latest Photos
New photograph of Ashford Designer Outlet by Matt Chung exclusive to e-architect, 14 Apr 2011:


photo © mattchungphoto.com
New photograph of Eureka Park McDonalds Ashford Kent by Matt Chung exclusive to e-architect, 12 Apr 2011:


photo © mattchungphoto.com
Hythe Beach Front Development
Guy Hollaway Architects



image by architects
Hythe Beach Front
Kent Architecture
Key Kent Buildings, alphabetical:
Ashford Designer Outlet
2000
Richard Rogers Partnership
Ashford Discovery Centre, Ashford
–
Keith Williams Architects
Biggin Hill Airport Hotel
EPR Architects



image from architect
Biggin Hill Airport Hotel
Black Rubber Beach House, Dungeness
Simon Conder Associates



photo © Stephen Ambrose
Black Rubber Beach House
Bluewater Events Venue
Denton Corker Marshall



image from architect
Bluewater Events Venue
Bluewater shopping centre
–
Eric Kuhne
Café, Deal Pier
Niall McLaughlin Architects



image from architect
Deal Pier Cafe
Chatham University building, Chatham
2006
RMJM
Chiddingstone Orangery – new roof, Chiddingstone
2007
Peter Hulbert Architects
Clifton Wharf, north-west of Gravesend Town Centre
Kohn Pedersen Fox Associates (London)



image : KPF & Pure Render
Clifton Wharf
Cummins Engine Factory
1998
Bennetts Associates
Dungeness Beach House
2004
Simon Conder Associates
Kent house – Wood Awards 2004
Folkestone Performing Arts Centre : see Quarterhouse
Folkestone Regeneration Project
2007-
Foster & Partners
The Grange (house), Ramsgate
–
AWN Pugin
Gravesend Public Lavatory
Plastik Architects



photo : Robin Hayes
Kent building
Kent Library & History Centre, Maidstone
2008-
Astudio Architecture
£10m
Kent Messenger Millennium Bridge, Maidstone
2002
Studio Bednarski Architects
Labworth Café, Canvey Island
–
Christiani & Nielsen
Celebrated Modern building
Leigh Technology Academy, Dartford
BDP



photo © David Barbour/BDP
Leigh Technology Academy
Maidstone School Project
2006-
Will Alsop
Oldborough Manor School + Senacre School to be combined
The Marlowe Academy, Ramsgate
2007
Building Design Partnership
Kent building : RIBA National Award 2007
Marlowe theatre, Canterbury
2007-
Keith Williams Architects
Medway Building – University of Kent, Chatham
RMJM



image from architect
University of Kent building
Mixed use towers, Chatham
2007-
Wilkinson Eyre Architects
Quarterhouse Performing Arts and Business Centre, Folkestone
Alison Brooks Architects



photo : Dennis Gilbert
Quarterhouse Folkestone
Rochester Riverside – Masterplan
2007-
£100m : various phases for Medway Council & Seeda
7ha site, includes parks, shops, offices and cafés
Rochester Riverside Phase One Competition, Thames Gateway
2007-
Winner: HTA with Burd Haward Architects
for Crest Nicholson and Bioregional Quintain – 600 homes
Shorltisted teams:
Alison Brooks Architects + Feilden Clegg Bradley + Maccreanor Lavington
BTPW Architects + Buschow Henley + Spacecraft Architects
St Mark's Church, Biggin Hill
1957-59
Richard Gilbert Scott
Grade II listed
Saga Group Call Centre
Pringle Richards Sharratt



image © Edmund Sumner
Saga Call Centre
Saga Group HQ, Folkestone, Kent
1996-98
Hopkins Architects
Shingle House, Dungeness, Kent
Architect: NORD Architecture



photo Courtesy of Living Architecture
Shingle House
Sidcup : Mixed-use building – proposal, Sidcup
2007-
Studio Egret West
Trunch – house, Saltwood-in-Hythe
1923
MH Baillie Scott
Turner Contemporary Gallery, Margate
David Chipperfield Architects



image © David Chipperfield Architects
Kent gallery building
Controversial, previously designed by Snohetta. Approx. cost: £17.5m
Kent gallery architects : David Chipperfield
Wood House, Shipbourne
–
Walter Gropius
Celebrated Modern building
More Kent Buildings welcome
Location: Kent, Southeast England, UK
English Architecture
Kent Architecture – Project
Rochester Riverside
Glowacka Rennie Architects
County Architecture adjacent to Kent
Buildings / photos for the Kent Architecture – major new property developments page welcome