Prague walking tours, Czech building guides, CZ architectural walks, City architects visits
Prague Architecture Tours
Architecture Walking Guides – Exclusive Building Walks in the Czech Republic by e-architect.
post updated 1 October 2023
Contact for your architectural guide: isabelle(at)e-architect.com
Prague Architecture Tour: Exclusive Guided Walks
Our Prague guided tours are all tailored to suit each booking, we do not allow for bookings to be joined. Our guided tours in the Czech Republic are all exclusive to each client.
e-archietct can assist with sourcing architectural guides for your trip to the Czech Republic.
Masaryk Railway Station Regeneration design by Zaha Hadid Architects: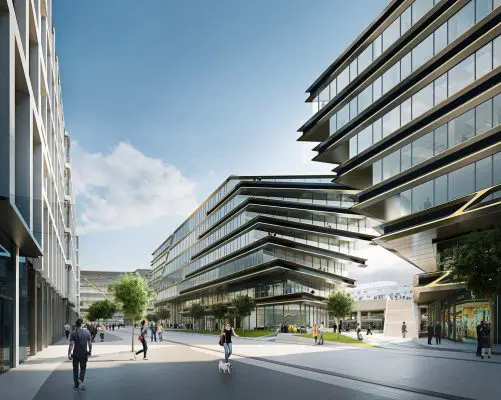 image courtesy of architects office
Prague Walking Tours
Prague Architecture – Introduction
Prague is a picturesque European city with a well preserved historic centre. There are buildings here by celebrated architects Adolf Loos, Steven Holl (design interior – a reconstruction), Eva Jiricna and Frank Gehry.
Prague Castle, founded in about 880:



photograph © Ivan Andera
Some 200 km to the south-east (in Brno) is a classic building by architect Mies van der Rohe, one of his best works – Villa Tugendhat. There are some intriguing Cubist buildings dotted around the city and an enclave of Modernist buildings to the west.
Dancing House Prague building design by Frank Gehry architect, based in Santa Monica, California, USA: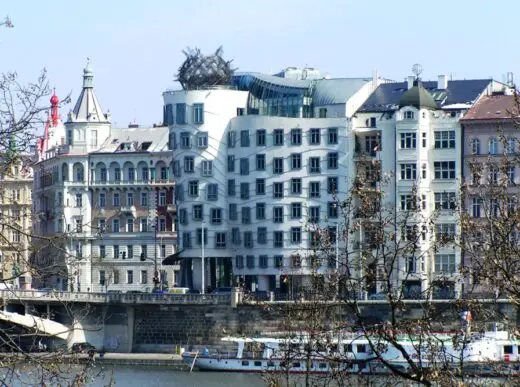 photograph © Ivan Andera
The most well known recent Prague architecture is definitely the Dancing House Prague aka 'Fred and Ginger' (above) designed by Frank Gehry with Vlado Milunic and completed in 1996. Typical of the architect's work it is exuberant and flowing, and challenging to the historic architectural context.
Another strong new building is Hotel Josef Prague (above) by Czech architect Eva Jiricna whose main office is in london. This central hotel building has a grogeous spiral stair in the lobby, well worth a visit.
Prague Architecture : key buildings to visit in the city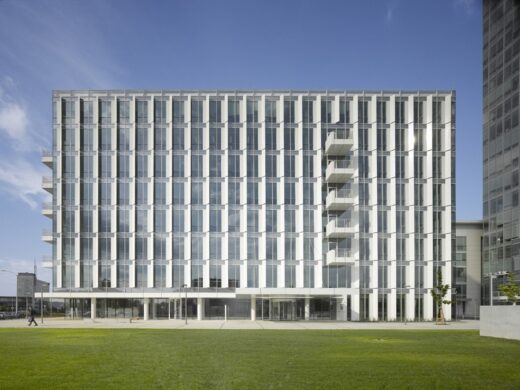 photograph © Roland Halbe
Key contemporary Prague architecture worth a visit include City Green Court, (below) in the Pankrác district designed by famous American architects Richard Meier & Partners and inspired by Czech Cubist architecture. This is the third of a cluster of buildings designed by Richard Meier & Partners (New York City) and it completes the corner of the Radio Plaza superblock. The building is smaller in scale than its predecessor, City Tower.
The recent Revitalisation of the Crucifix Bastion in Prague 2, by MCA atelier is located just east of the city centre: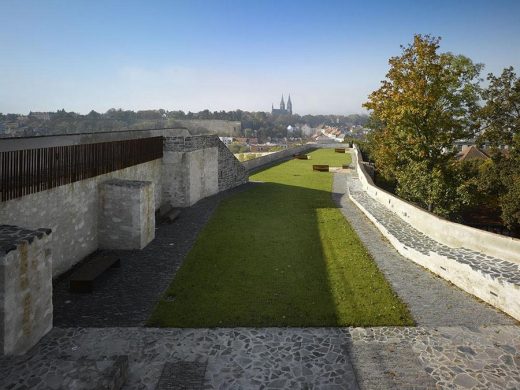 photograph : Filip Slapala
The Bastion is a part of the medieval fortifications of Prague. The goal of the architects in renewing the site was the landscaping of the public area, the addition of an open-air café and gallery on the site of a ruined 19th-century building and linking the spaces inside and outside the medieval fortification line.
Finally we also suggest a visit to the Prague National Gallery Entrance Hall by the well known Barcelona architecture studio of Mateo Arquitectura. they have redeveloped a number of spaces including the connecting hall, main entrance of the National Gallery and access between the palaces Salm and Schwarzenberg.
If you have more than one day then we also advise visits to Andels Hotel Prague by Jestico + Whiles (based in London).
Also of interest are the small-scale interiors of the Franz Kafka Society by American architect Steven Holl (based in New York City) and Marcela Steinbachová.
There are also Cubist buildings dotted around the city, mostly towards the south close to the river, and then over in the west across the river there is a small Modernist enclave a bit like a mini version of Stuttgart's Wesissenhofsiedlung – Modern Prague Buildings.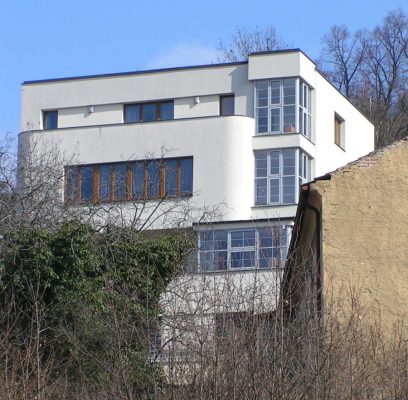 photograph © Ivan Andera
Here can be found some humble but delightful Modernist houses by architects such as Mart Stam.
Prague Architecture Walking Tours
Prague Architectural Tours can focus on traditional or contemporary buildings or both. The Prague Architecture Tour can be an introduction to the city's main buildings or can be tailored to your group's interests.
Prague Modernist building by architect Adolf Loos: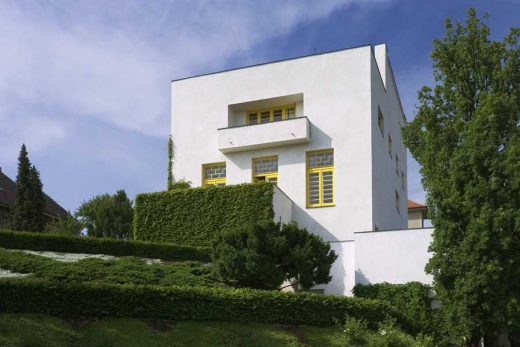 photo : Martin Polak
We at e-architect can provide information on building types and geographical areas ahead of your tour. For example a group who are interested in new Prague office buildings could be advised thus allowing a tour itinerary to be agreed ahead of their visit to Czech Republic.
Alongside the world-famous buildings by Loos and Gehry, the city also contains some unusual structures. There are some quirky designs that have been labelled 'Cubist', though they bear little resemblance to a painting by Braque or Picasso!
Prague Guided Tours – Options : Prague Architectural Walks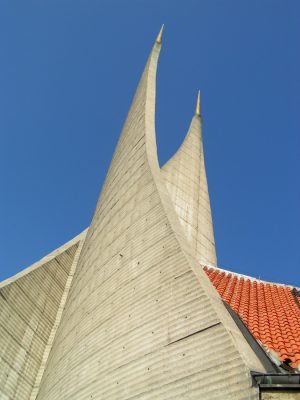 photograph © Ivan Andera
Prague Walking Tours
Contact us to arrange your Czech architectural tour on mob. +44 (0)7952 149814 / isabelle(at)e-architect.com
City Green Court building designed by famous New York architect Richard Meier:


City Green Court Pankrác image : vize.com
Architecture Tours
e-architect also organise architecture walking tours in other central European cities such as Vienna, Bratislava and Belgrade.
Gulliver architecture design by HAMR Huť Architektury Martin Rajniš: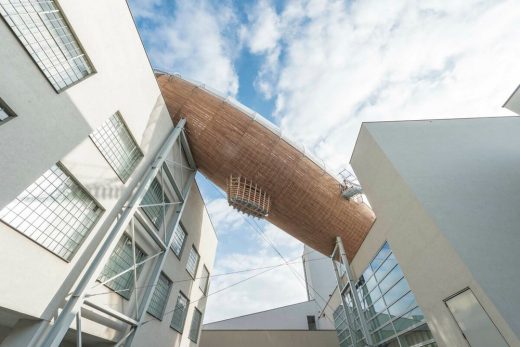 photos by Ales Jungmann, Petr Králík and Jan Slavík
Gulliver DOX Centre for Contemporary Art
In 2014, HAMR Huť Architektury Martin Rajniš were approached by the director and founder of the DOX Centre for Contemporary Art, Leoš Válka, who said he "needed something for the roof". They sketched out two variants of original wooden structures and he loved them.
Soon to be built?
Masaryčka building design by Zaha Hadid Architects, a world-famous architecture office based in London, England: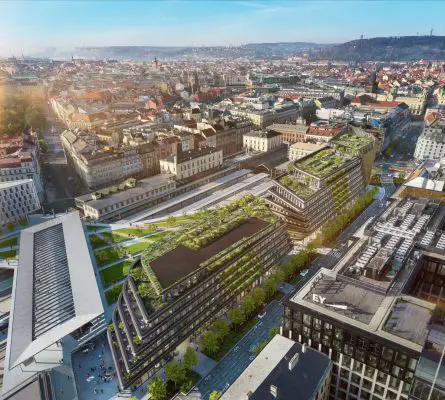 rendering : Studio Horak
Masaryčka building in Prague
Construction of the Masaryčka building in Prague continues with the structure of the retail levels on the ground and first floors now completed. Works have begun to construct the higher floors of cantilevered offices with terraced roof gardens.
Interested in a tailored city walk? Please get in touch! isabelle(at)e-architect.com for Prague Architecture Tours
Location: Prague, Czechia, central eastern Europe
Central European Building Tours
Vienna Architecture Walking Tours
Bratislava Architectural Walking Tours
Czech Republic Buildings
Prague Building – 20th century works
Tugendhat Villa Brno – Modern Czech architecture not far from Prague to the south:
Contemporary Prague Architecture
National Library Prague – unbuilt design by Future Systems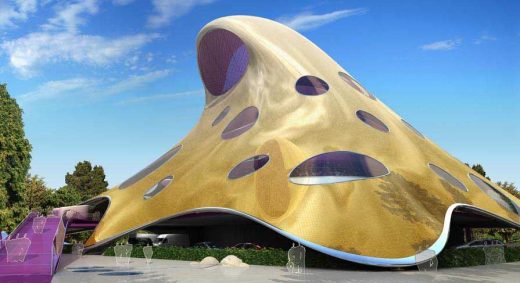 picture from architect studio
Prague Quadrennial Architecture
Photos for the Prague Building Tours – Czech Republic Architecture Guides by e-architect for groups page welcome.