Cambridge Central Mosque, Romsey Building Images, Islamic Architecture England, Stirling Prize News
Cambridge Mosque Building, UK
Cambridge Mosque Building, southeast England design by Marks Barfield Architects
14 Oct 2021
Cambridge Mosque Trust named RIBA Client of the Year 2021
Thursday 14 October 2021 – The Royal Institute of British Architects (RIBA) has named Cambridge Mosque Trust as the winner of the RIBA Client of the Year 2021. The annual RIBA award recognises exemplar clients who champion and commission outstanding architecture.
Previously on e-architect:
post updated 16 September 2021
Cambridge Central Mosque shortlisted for RIBA Stirling Prize 2021
Design: Marks Barfield Architects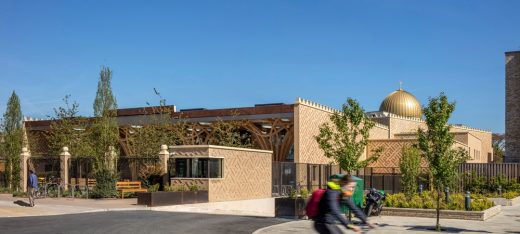 Photos by Morley von Sternberg
Jury Report
The urban intervention of inserting a mosque capable of welcoming 1000 worshipers within a low rise, residential neighbourhood, without dominating it, is masterful. Its presence is clear but modest, considering the size of the mosque relative to the two storey terrace houses around it.
This is achieved by setting it back from the street, progressing through the Islamic garden, then gradually increasing in scale to front portico, atrium with café to one side and study centre to the other, through to central ablution areas. The building then rises at the rear to the largest mass of the prayer hall, which shifts in geometry to face Mecca.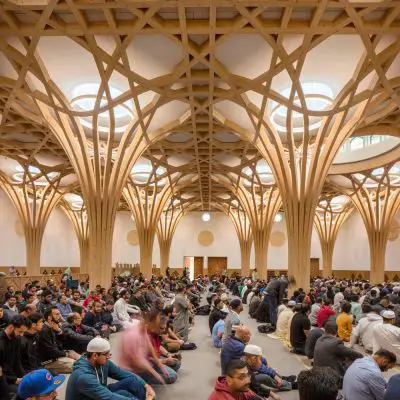 The defining internal characteristic of the mosque is the timber 'trees' which form the structural support for the roof and the rooflights. The geometry of the trees was developed through work with geometric artist, Keith Critchlow, creating the underlying geometry of the mosque. It combines an Islamic 'the Breath of the Compassionate' pattern into a structural grid that supports the roof and is then brought to a point at the columns. It is a simple device that combines the structural logic of supporting a large span with few columns and a celebration of the structural material and its decorative possibilities, bringing to mind both Fosters' Stansted Airport, and Kings College Chapel.
The external brick tiles that clad the CLT structure are from traditional Cambridge Gault and red brick colours. The protruding headers form a pattern of Arabic Kufic calligraphy that reads 'say he is God (the) one'.
Social and environmental sustainability were central to the competition-winning scheme and have been delivered. The intent was to produce a building that is in accord with the spiritual belief that humanity's role is as a responsible custodian of nature and should minimise its carbon footprint. The building has achieved Net Zero Carbon energy on site in use.
The competing elements of the demand for car parking to suit large events with elderly congregations, creating an underground car park and the environmental consequences of embodied carbon have been recognised. The passive and active sustainable measures incorporated within the building meet and exceed some elements of the RIBA 2030 targets and other elements of the design have future-proofed the building to allow for predicted climate change.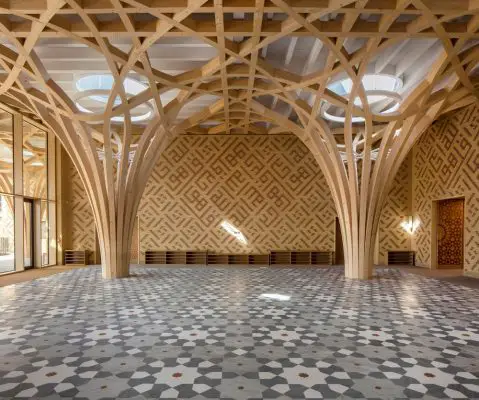 Material selection is exemplary, with the superstructure predominantly timber, low carbon concrete specified, and natural insulation resulting in minimal embodied carbon. The selection of Cradle to Cradle Certified products also demonstrates the conscious efforts to minimise the building's impact on the environment.
Water consumption is also low, meeting the RIBA 2030 Climate Challenge target and confirmed by meter readings – in the water stressed area of East Anglia this is particularly important. The transformation of an impermeable surface to a building with green roofs to assist with local surface water runoff.
Post occupancy evaluation data shows in use consumption are within 15% of the energy predictions, which suggests a narrowing of the performance gap.
Central Cambridge mosque is a demonstration of how architecture can embody religious and cultural philosophy and traditions while utilising sustainable and contemporary materials. It is a building of evident programmatic clarity and function, where one of those essential functions is religious contemplation and delight. It has created a new, 21st century, non-denominational British mosque that is both specific to its place and time and which resonates with wider Islamic and religious buildings. To have achieved this in Cambridge, with its world famous tradition of structural expression in religious architecture yet without contrivance is a remarkable achievement.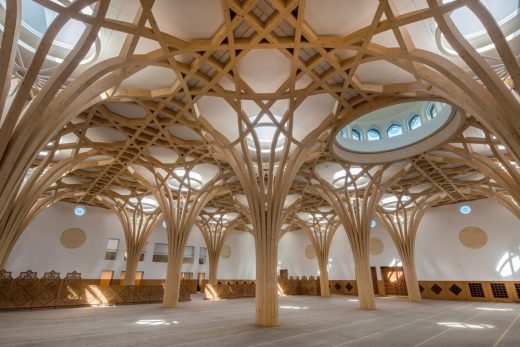 Project Architect of the Year
Matthew Wingrove is a passionate advocate for the building. The client, Iman Sejid Mekic, who operates the building every day, clearly respected his professional expertise and evidently liked him too. That he was able to bring to fruition a building that picks up the original competition winning design concept and deliver it to its full potential is a testament to his capabilities and his dedication.
Client of the year – Cambridge Mosque Trust
To launch an RIBA international competition and select a design and a design team and carry it through to successful completion over the following decade is testament to the commitment and dedication of the client to producing a contemporary mosque for the 21st century and an enduring piece of architecture. In particular, Dr Tim Winter, Shaykh Zayed Lecturer in Islamic Studies, Director of Studies, Wolfson College should be recognised both for the scale of the ambition, for pursuing a mosque that sets a new environmental and inclusive benchmark, and for the Trust's rigorous and steadfast approach to seeing it through to completion.
Cambridge Mosque Building, UK – Building Information
RIBA region: East
Architect practice: Marks Barfield Architects
Date of completion: April 2019
Client company name: Cambridge Mosque Trust
Project city/town: Cambridge
Contract value: £23,100,000.00
Internal area: 4,900.00 sqm
Cost per m²: £4,385.00 / sqm
Contractor company name: Gilbert Ash
Consultants
Structural Engineers: Price & Myers
Environmental / M&E Engineers: Skelly & Couch
Project Management: Bidwells
Quantity Surveyor / Cost Consultant: Faithful + Gould
Landscape Architects: Emma Clark with Urquhart & Hunt
Timber Engineer: Blumer Lehmann
Geometric Artist: Professor Keith Critchlow
Acoustic Engineers: Ramboll
Fire Engineer: Harris TPS
CDM Principal Designer: Faithful + Gould
Planning Consultant: Bidwells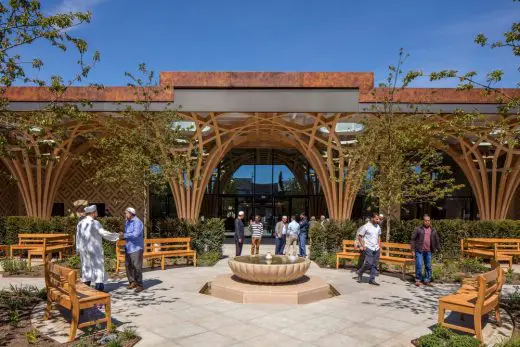 Awards
• RIBA Regional Award
• Regional Project Architect of the Year
• Regional Client of the Year
• Regional Building of the Year
2021 RIBA Client of the Year Shortlist
Brick Awards 2019
Cambridge Central Mosque award – shortlisted for Brick Awards 2019
28 Nov 2011
Cambridge Mosque Building
Europe's first eco-friendly mosque
Address: 309-313, Mill Rd, Cambridge CB1 3DF
Phone: 01223 654020
Design: Marks Barfield Architects
Ambitious Cambridge Mosque Project Submitted for Planning Permission
A planning application for the proposed new mosque in Cambridge has been submitted to Cambridge City Council.
Designed by a team led by Marks Barfield Architects and including Prof. Keith Critchlow (artist), Jacobs (structure), Skelley and Couch (services), Emma Clark (landscape), and Bidwells (project management and planning), the proposed mosque will allow the downsizing of the existing overcrowded facility, housed in a former chapel on Mawson Road, which is no longer physically capable of accommodating Cambridge's growing Muslim community.
Entrance View of the Proposed Mosque from Mill Road
Visitors will be able to experience a gradual transition, through a garden, a covered portico, and an atrium, into the main prayer hall which is oriented towards Mecca. The building will be naturally lit and create an overall impression of calm, stillness, stability, quiet and focus: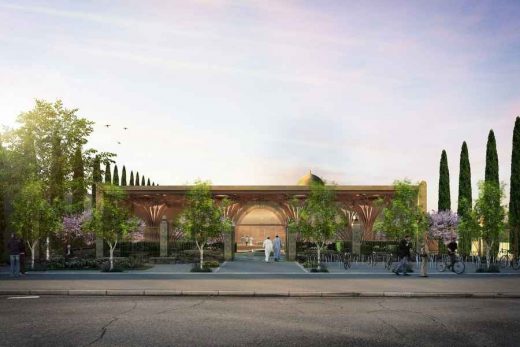 image © Marks Barfield Architects
Located a few hundred yards from the current mosque, the design of the new structure strives for an English idiom while drawing inspiration from the natural world, and acknowledging Islamic art as a living tradition – without resorting to clichéd English or Islamic references.
On entering from the street, visitors will experience a gradual transition through a garden, a covered portico, and an atrium, until they reach the main prayer hall which is oriented towards Mecca. Trees give way to a covered space around a fountain, and then to the mosque itself, a private, inner space which soars to a height of three stories.
The enclosing diaphragm walls are faced in local gault brick and step back from the building perimeter up to the central prayer hall. Sixteen interlaced glue-laminated timber columns, evocative of English fan vaulting or Islamic arabesque, support the geometrical roof of the inner sanctuary. Glass oculi above the columns bathe the interior in natural light. A golden dome rises above the mihrab and minbar. In hours of darkness, high-efficiency LCD lights provide a soft but effective luminescence.
Aerial View of the Proposed Mosque Looking West Towards the City Centre
Accommodating up to 1,000 men and women, the mosque will have green roofs and will be faced in local gault brick. It will step from the site perimeter up to the central prayer hall and its golden dome. The site also accommodates a community café, teaching rooms, two residential units, 120 bicycle parking spaces, and an underground car park for 80 vehicles: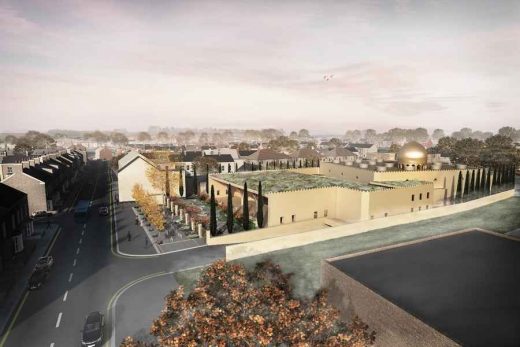 image © Marks Barfield Architects
The site also accommodates a community kitchen and café, teaching rooms, two residential units and an underground car park for 80 vehicles. As Britain's first 'eco-mosque', the structure is highly energy-efficient, with heat pumps, heat recovery systems, water recycling, and green roofs ensuring a minimal carbon footprint, emphasizing humanity's role as a responsible custodian of creation. The building will act as an oasis surrounded by cypress trees. The prayer hall will have a capacity of up to 1,000 people.
The design of the proposed Cambridge mosque celebrates the miracle of nature and subtly expresses the mathematical order which underlies it.
On behalf of the Trust, Chairman Tim Winter said:
'We have spent time consulting with the local community and local stakeholders to ensure this building will be truly inclusive, sustainable, safe, secure and respectful of its context. It will be easily accessible by public transport and on foot, and will have its own underground car park with 80 car parking spaces, supported by a travel plan which ensures that car parking does not become an issue for local neighbours. Our hope is that this will become a landmark building which will inject new life into the Romsey area of Cambridge, a monument of which the local and wider Cambridge community can be proud'
Cambridge Mosque Project – Background Information
Professor Keith Critchlow
Professor Critchlow founded the Visual Islamic and Traditional Arts programme (VITA) at the Royal College of Art. VITA now forms the core education programme of the Prince's School of Traditional Arts of which Professor Critchlow is Professor Emeritus. He has written extensively on Islamic art and architecture. His most recent book is entitled 'The Hidden Geometry of Flowers: Living Rhythms, Form and Number' (2011).
The Muslim Academic Trust (MAT)
Founded in 1996, the Muslim Academic Trust is a charity which sponsors and supports a wide range of projects in the service of the Muslim community.
Cambridge Mosque Building images / information from Marks Barfield Architects
Location: Mill Road, Cambridge, England, UK
Cambridge Architecture
Cambridge Architecture Design – chronological list
Cambridge Architecture Walking Tours : city walks by e-architect
Gonville & Caius Boathouse – Architecture Competition
Belsize Architects
Gonville & Caius Boathouse
Clare College – New Court
van Heyningen and Haward Architects
Clare College New Court
Cambridge University Department of Architecture Extension
Mole Architects
Cambridge School of Architecture
Comments / photos for the Cambridge Mosque Project – Islamic Architecture UK page welcome