Cambridge Walking Tours, English Building Guides, Architectural Walks England, UK Architects Visits
Cambridge Architecture Tours
English Architecture Guides – Exclusive City Walks tailor made for groups visiting Southeast England
post updated 2 June 2023
Book your city guide on isabelle(at)e-architect.com
Cambridge Architecture Tour: Exclusive Guided Walks
e-architect have architectural tour guides in most of the key cities across the continent.
Cambridge Walking Tours
Our Cambridge guided tours are all tailored to suit each booking we do not allow for bookings to be joined. Our guided tours in Cambridge are all exclusive to each client.
The recently-completed Magdalene College Library University of Cambridge design by Niall McLaughlin Architects: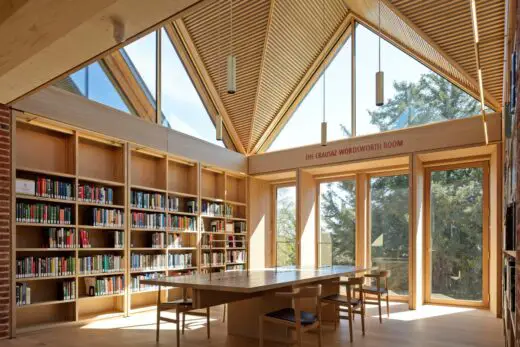 photo : Nick Kane
Should you be planning an office trip, a conference, or university trip in Cambridge please contact us and we would be happy to take your booking. This university city is an absolute delight to walk around, with plenty of car-free spaces.
Sainsbury Laboratory Building in Cambridge designed by Stanton Williams Architects – 2012 RIBA Stirling Prize Winner: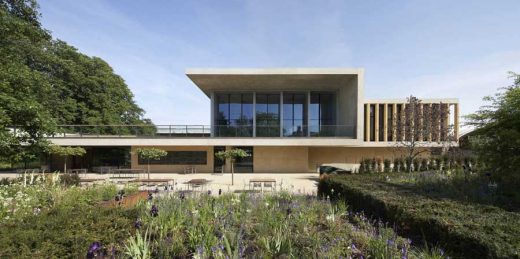 photograph © Hufton+Crow
Cambridge – Introduction
Cambridge is located in the south east of England, about an hour's drive north from London. We often combine tours to the city with a visit to Oxford, home to another famous English university.
Schlumberger Building Grade II* listied design Michael Hopkins Architects: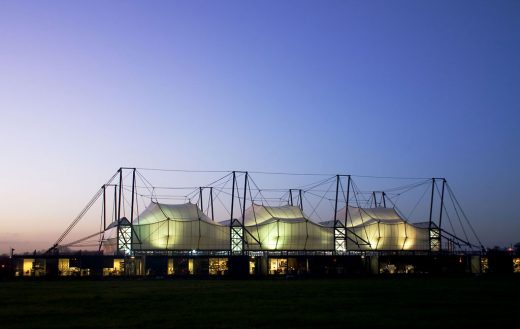 photograph © Andrew Dunn, 12 December 2005. Website: http://www.andrewdunnphoto.com/ ; photo courtesy wikimedia commons
Famous architects with buildings in the city include Sir Christopher Wren, James Stirling and Foster + Partners. Other key architects with work in the city include William Wilkins, George Basevi, Leslie Martin, Powell & Moya Architects, Gillespie Kidd & Coia and Edward Cullinan Architects. All these feature on our Cambridge Architecture Tours but note the Schlumberger Cambridge Research Center by Michael Hopkins and Partners is a fair walk west of the city.
Homerton College Cambridge Architecture, south of the city centre: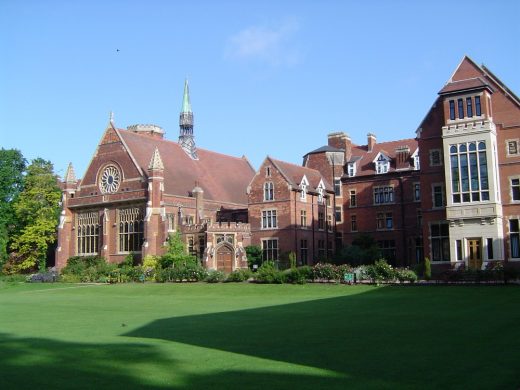 photo courtesy wikimedia commons
The city is famous for its old and distinguished University. Like its twin city Oxford it has much brilliant historic and contemporary architecture. Cambridge is set on the River Cam and many of the colleges back onto gardens along the river, called The Backs, giving Cambridge a lot of its charm. Each college competes against the other to attain better and more beautiful architecture.
Cambridge Central Mosque building design by Marks Barfield Architects: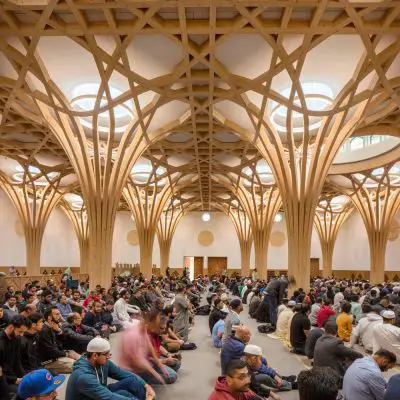 photo : Morley von Sternberg
The urban intervention of inserting a mosque capable of welcoming 1000 worshipers within a low rise, residential neighbourhood, without dominating it, is masterful. Its presence is clear but modest, considering the size of the mosque relative to the two storey terrace houses around it.
Eddington Housing design by Mecanoo from The Netherlands: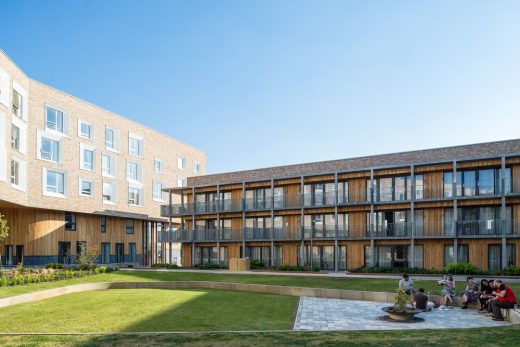 photography : Greg Holmes and Mecanoo
Cambridge Walking Tours – Traditional, Contemporary or Both
Cambridge Architecture Tours can focus on traditional or contemporary buildings or mix of the two. The Cambridge Architecture Tour is typically an introduction to the city's main buildings but it can be tailored to your group's interests if you provide information to us in good time.
We are usually able accommodate your group's specific needs and architectural interests on our Cambridge Architecture Tours. Visitors are generally met by the guide at the starting point of their architectural walking tour but it might be possible for your group to be collected from their hotel on request.
Anglia Ruskin University Building in Cambridge by Richard Murphy Architects: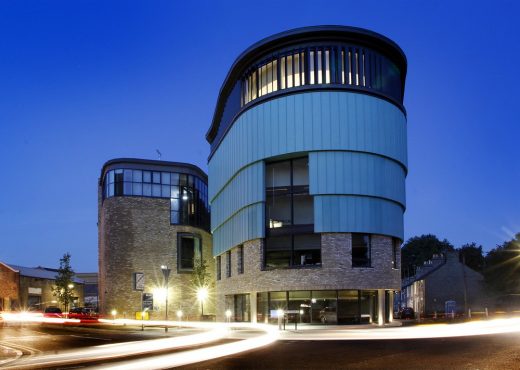 photographers : Stephen Leonard/James Mason – Richard Murphy Architects; In house – R G Carter
Contemporary Cambridge Architecture
Cambridge Walking Tours
Contact our office to arrange your Cambridge architectural tour on mob. +44 (0)7952 149814 or isabelle(at)e-architect.com
Some recent buildings in this traditional English university city:
University of Cambridge Primary School Building
Design: Marks Barfield Architects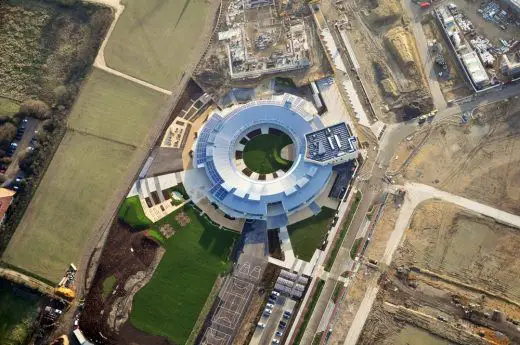 photo © Northwest Cambridge Development
The Welding Institute, Great Abington – A RIBA East Awards winner
Design: Eric Parry Architects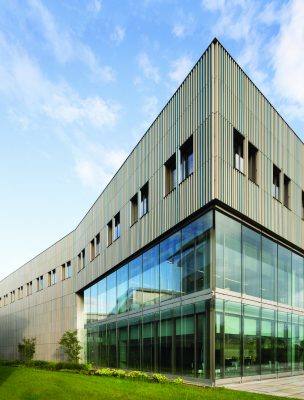 photo © Dirk Lindner
Cowan Court Cambridge Building design by 6a architects: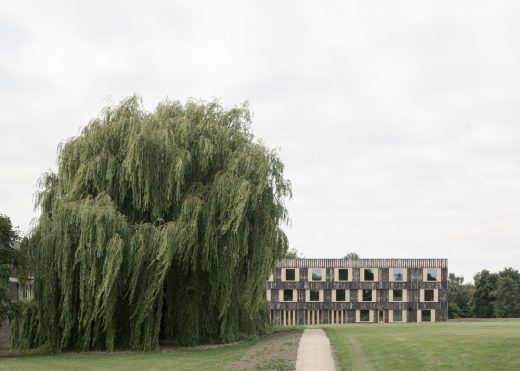 photograph © Johan Dehlin
Downing College Building – Heong Gallery designed by Caruso St John Architects: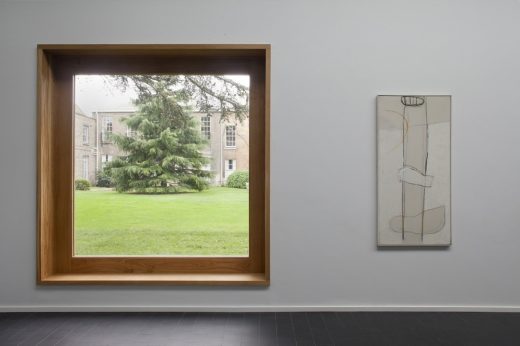 photo © Ioana Marinescu
Downing is unusual for the city in that its buildings are laid out in an austere Classical formation. William Wilkins, who designed the National Gallery facing Trafalagar Square in London, designed some of the original buildings, all in a Neoclassical style. Towards the end of the the twentieth century there was controversy when Quinlan Terry completed some small new buildings on the west side of the campus. They formed a vivid contrast to the predominant contemporary style typical in the work of fellow English architects like Norman Foster and the late Richard Rogers.
James Dyson Building, University of Cambridge
Combined Colleges Boathouse in Cambridge
Architecture Tours
e-architect also organise architecture walking tours in other English cities such as London, Liverpool, Oxford, Manchester and Birmingham. Oxford is the suggested pairing with this city tour, another world-famous English university town.
Location: Cambridge, England, United Kingdom
UK Architectural Tours
English Architectural Tours – Selection
London Architecture Walking Tours
Oxford Architecture Walking Tours
Recent Cambridge Buildings
Cambridge Buildings : A-D
Cambridge Building Developments : E-N
Cambridge Building Designs : O-Z
Cambridge Architecture – Key Buildings Selection
Faculty of History, University of Cambridge
Design: James Stirling Architect
History Faculty Cambridge
Robinson College Buildings
Design: Gillespie Kidd & Coia
Robinson College Building
This is a famous Modern work that is included in various key histories of international architecture. The architect practice were based in Glasgow, Scotland, and well known for bold church designs.
Their most celebrated work is the Seminary at Cardross, near Helensburgh, in western Scotland. Most of their designs used expressed concrete structure, but this large group of spaces is built in brick throughout.
In some of their Scottish buildings brick panels sit between concrete columns and pilasters, but here the forms are more homeogenous due to the total brick envelope. I had the fortune to sit on various architecture juries with GK&C architect Isi Metzstein and found him to be a very talented and knowledgeable architect.
Adrian Welch, founding Editor.
Cambridge School of Architecture
English Architecture
Edinburgh Walking Tours – visit buildings in the Scottish capital city
Comments / photos for the Cambridge Building Tours – English Architecture Guides by e-architect for pre-booked groups only page welcome