Best Buildings in 2020, World Architecture of the Year, Good Property Designs, Architects
Buildings of 2020: New Architecture
21 + 19 Dec 2020
Major Architecture of 2020
e-architect Selection of Key Contemporary Architectural Developments in the past year.
Our parameters for inclusion:
– architecture designs that stimulate
– buildings that ask significant questions
– designs that show creativity and innovation
We considered the year's international architectural highlights to pick out the key buildings of 2020.
Designs are listed by geographical region.
– Adrian Welch, e-architect editor / architect
A further selection of buildings around the world – these are all fascinating architectural designs, but did not meet our final cut
********************
AFRICA
Kingsway Tower, Ikoyi, Lagos, western Africa
Architects: SAOTA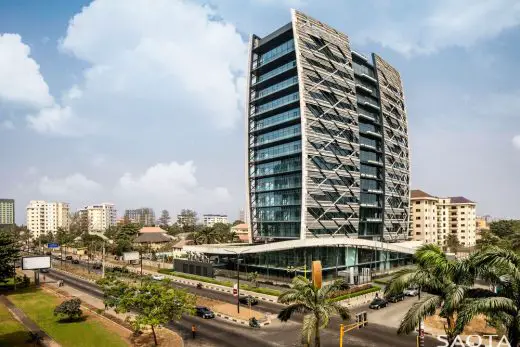 image courtesy of architects
Kingsway Tower, Ikoyi, Lagos
A landmark mixed-use building set on a prominent corner on Alfred Rewane Road, an arterial road that bisects the city leading north towards the airport and south to the Victoria Island. The building designed by South African architects SAOTA is 15 storeys high. It has a basement, a two-level retail podium, a parking podium and 12 office floor levels.
University of Bambey Building, Diourbel, Senegal, West Africa
Design: IDOM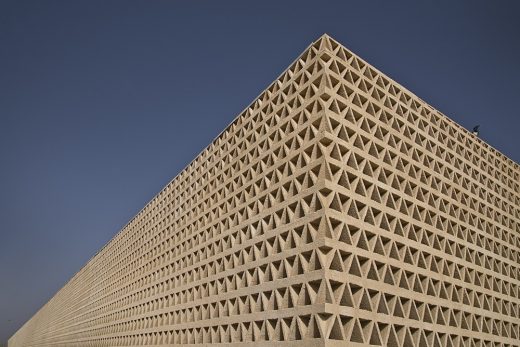 image from architects
University of Bambey Building
In Senegal, shade and water are everything. This lecture-room block project, a close relative of another in Gaston Berger, San Luis, which was commissioned by the Ministry of Education and the World Bank, is set in the city of Bambey, located 120 km west of Dakar.
AMERICA – USA
DRIFT, 2020, Dallas, Texas, USA
Design: sculpture by Gerry Judah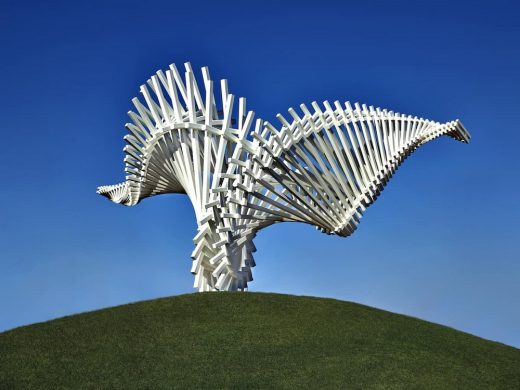 photo : Dan Sellers
DRIFT, Dallas, Texas sculpture by Gerry Judah
In Texas, the Belt Line Road stretches thirty miles in a straight line through the hills and valleys between Dallas and Fort Worth. If you pause at the Olympus crossroad to North Lake, you will find DRIFT, the latest sculpture by Gerry Judah, dazzling in the sun like the bleached bones of an ancient leviathan.
Nancy and Rich Kinder Building, Museum of Fine Arts Houston, Texas, USA
Design: Steven Holl Architects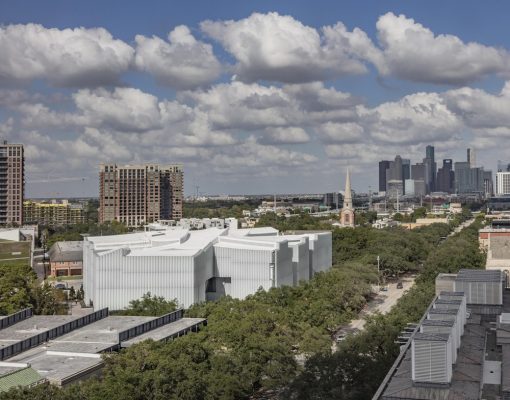 photograph © Richard Barnes, courtesy of the Museum of Fine Arts, Houston
Nancy and Rich Kinder Building Houston
The third gallery building of the MFAH, dedicated for the display of the Museum's outstanding and fast-growing international collections of modern and contemporary art, the 237,000-sqft Kinder Building has been designed by Steven Holl, who also designed the master plan for the Sarofim Campus. The landscape architects for the 14-acre Sarofim Campus are Deborah Nevins and Mario Benito of Deborah Nevins & Associates/ Nevins & Benito Landscape Architecture, D.P.C.
Columbia Building, Portland, Oregon, USA
Design: Skylab ; Partner Architect: Solarc Architecture and Engineering Inc.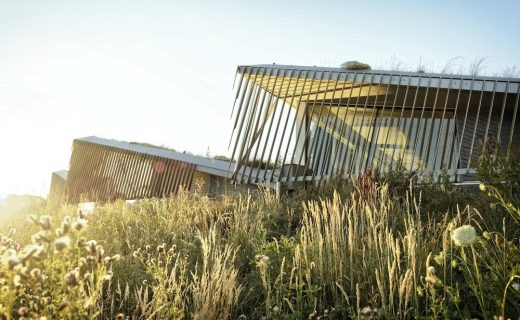 photograph : Jeremy Bittermann
Housing workspace, a visitor reception area, and public meeting spaces, the 11,640-square-foot building not only supports the engineering department of the wastewater treatment facility but also functions as an immersive educational experience, all integrated within a sustainable landscape.
Skyspace Residence, Las Vegas, Nevada, USA
Architect: Marmol Radziner ; Artist: James Turrell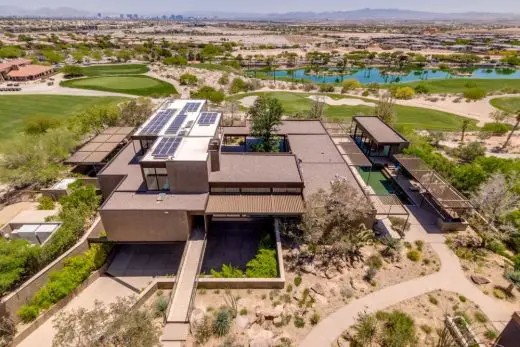 photo : The Ivan Sher Group
Skyspace Residence Nevada
Confluence Park, San Antonio, Texas, USA
Design: Lake|Flato Architects + Matsys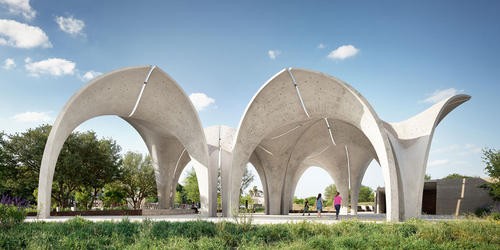 photo : Casey Dunn
Confluence Park San Antonio
The San Antonio River Foundation, is dedicated to enhancing the San Antonio River Basin as a vibrant cultural, educational, ecological, and recreational experience. The foundation tasked the design team with transforming a former industrial laydown yard into a one-of-a-kind outdoor educational center.
Filtered Frame Dock, Austin, Texas, USA
Design: Matt Fajkus Architecture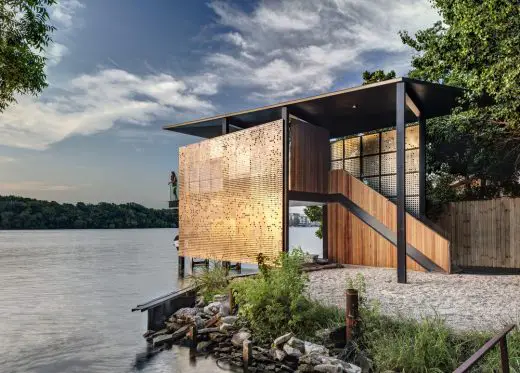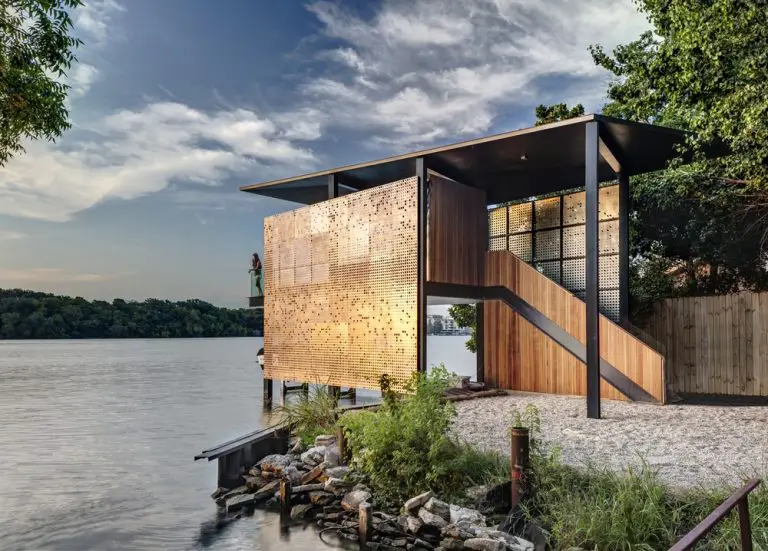 photography : Charles Davis Smith; MF Architecture
Filtered Frame Dock in Austin, TX
This single-slip boat dock of Filtered Frame Dock is a result of liberation through constraints balanced with sensory experience. Devised concurrently with the property's new residence, the boat dock creates both tangible and implied connections of experience and shelter.
Lutheran Church of Hope-Grimes, Grimes, Iowa , USA
Design: BNIM Architects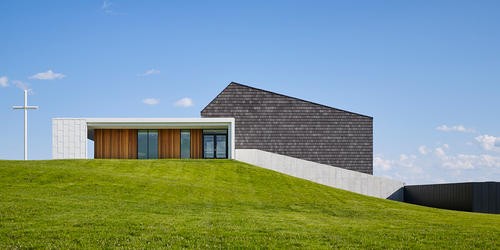 photo : Nick Merrick
Lutheran Church of Hope-Grimes Building
Lutheran Church of Hope-Grimes is a satellite facility of a large, multi-campus Evangelical Lutheran Church in the heart of Iowa. The 21,150 sqft building serves as a community and worship center for a fast-growing congregation within an expanding rural community.
Horizon Neighbourhood, Powder Mountain, Utah, USA
Design: MacKay-Lyons Sweetapple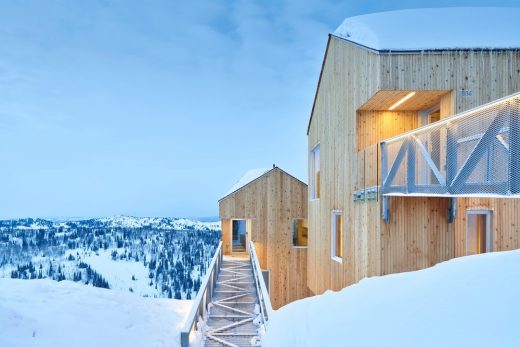 photograph : doublespace photography
Horizon Neighbourhood Resort
Horizon Neighbourhood was designed by the esteemed Canadian architecture firm MacKay-Lyons Sweetapple. It is the first pre-designed neighborhood to be built at 9,000 feet elevation on Powder Mountain, Utah. It consists of 30 cabins ranging in size from 1,000- 3,000 sqft.
Cheng Brier Residence, Tiburon, Marin County, California, USA
Design: Swatt | Miers Architects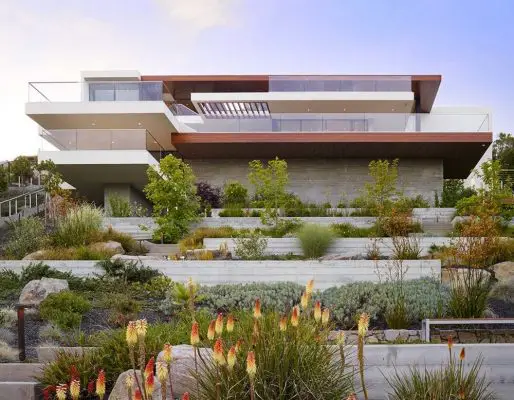 photography : Marion Brenner and Russell Abraham
Cheng Brier Residence in Tiburon, California
This contemporary US residence is a 6,000-sqft home terracing down a steep sloped lot in Tiburon with dramatic views of the bay. The material palette elegantly combines bright white stucco, teak and gray limestone.
CHINA
The Village Apartments, Guangzhou
Architects: TEAM_BLDG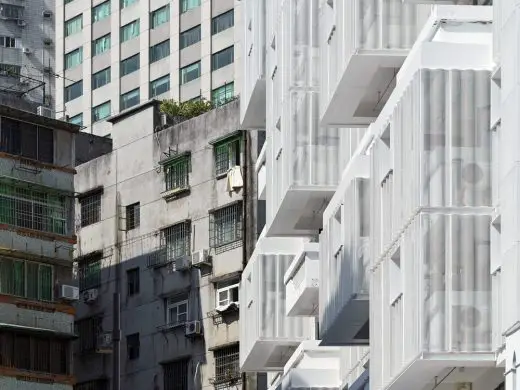 photograph : Jonathan Leijonhufvud
The Village Apartments in Guangzhou
In his book Arrival City: The Final Migration and Our Next World, Doug Saunders points out that the development of the arrival city (also known as urban village) is an important part in the urbanization process. It may be the birthplace of the next wave of economic and cultural development, or the explosive place of the next wave of violent conflicts, which needs to be properly handled.
One Sino Park Offices and Spa, Chongqing City, southwest China
Architects: aoe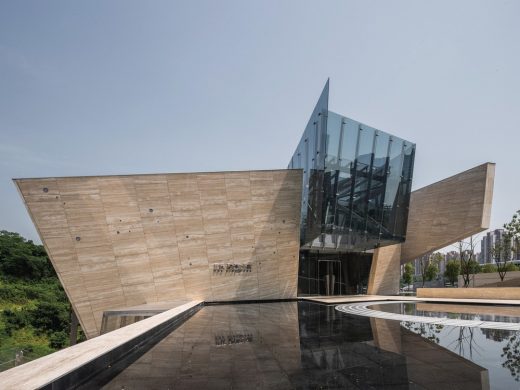 photography : Huang Ligang
One Sino Park Offices and Spa
The project consists of a cliffside building, designed and constructed into its surrounding mountain façade. The main structure has been completed, and designers have deconstructed and reconstructed its internal spaces with an infusion of architectural elements conducive to the topography, resulting in the creation of a rich architectural, urban space.
Da Ya Li Roast Duck Restaurant, Chengdu, China
Architects: IN • X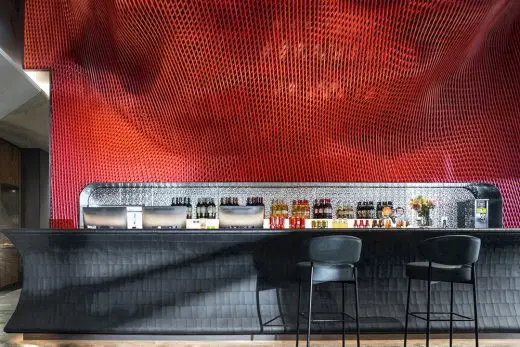 photograph : Shi Yunfeng
Da Ya Li Roast Duck Restaurant in Chengdu
Wu Wei: Discovering the New Vitality of Traditional Brand – Da Ya Li Roast Duck Restaurant Chengdu Vanke Tianhui Branch. Food is a good embodiment of civilization, as well as the past and the present of a city. Chinese people have been good at tasting food since ancient times.
COPENHAGEN
Arup and Cobe's new metro stations celebrate Copenhagen's redeveloped docklands
Design: Arup and Cobe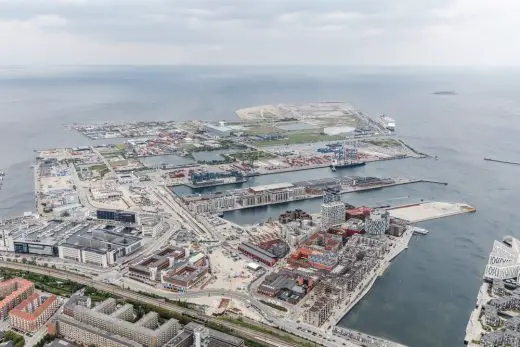 photo : Rasmus Hjortshøj – COAST
Nordhavn Station + Orientkaj Station Copenhagen
Part of the Nordhavn metro line extension connecting the docklands to Copenhagen's city center, Arup and Cobe have worked together to design two new metro stations, Orientkaj and Nordhavn, under the Nordhavn metro line extension. The recently opened public transport link unlocks the potential for the redevelopment of Copenhagen's northern docklands, one of the largest urban regeneration projects in northern Europe.
COSTA RICA
Atrium House, Nosara, Guanacaste
Architects: Studio Saxe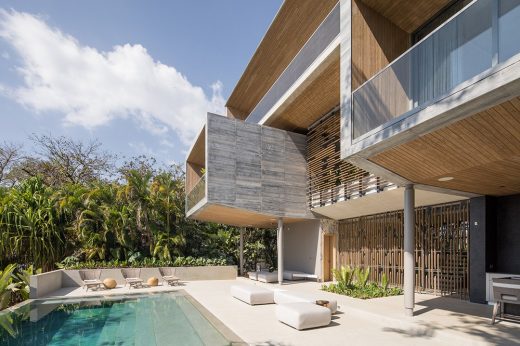 photograph : Roberto D'Ambrosio
Nosara Atrium House
Eco-conscious family business Andaluz commissioned Studio Saxe to create Atrium House, giving experiences around architectural designs that harness the power of the environment to create life changing experiences. The Andaluz brand is all about meaningful and real experiences that combine comfortable human habitation with a deep connection to the surrounding landscape.
Courtyard House, Nosara, Guanacaste
Architects: Studio Saxe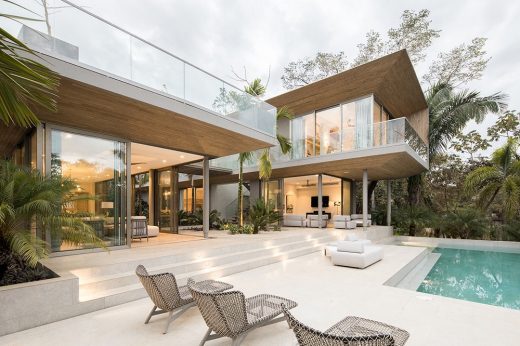 photograph : Roberto D'Ambrosio
Nosara Courtyard House
Eco-conscious family business Andaluz commissioned Studio Saxe to design Courtyard House creating experiences around architectural designs that harness the power of the environment to create life changing experiences. The Andaluz brand is all about meaningful and real experiences that combine comfortable human habitation with a deep connection to the surrounding landscape.
Tres Amores Residence, Nosara, Guanacaste
Architects: Studio Saxe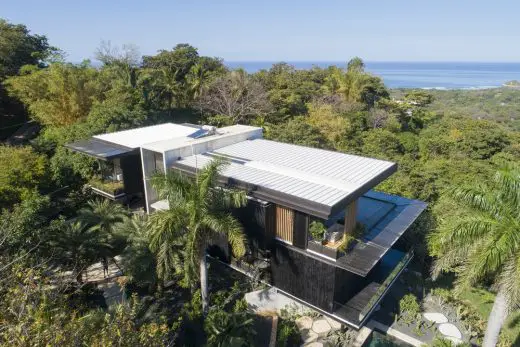 photograph : Andres Garcia Lachner
Tres Amores Residence in Nosara
Studio Saxe was commissioned to design a family home perched on the hilltops of the town of Nosara Costa Rica. The Tres Amores Residence would blend and hide within its natural surroundings whilst opening to the dramatic ocean and mountain views.
The Athletic Center, Nosara, Guanacaste
Architects: Studio Saxe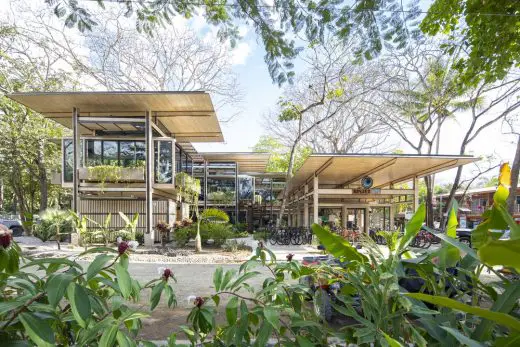 photo : Andres Garcia Lachner
Athletic Center at the Gilded Iguana in Guanacaste
As an extension to the Gilded Iguana Hotel in the town of Nosara, this building was designed as a small village amongst the trees that creates a public space which integrates locals with visitors with similar interests of pursuing an active lifestyle and wellbeing.
CROATIA
Grand Park Hotel Rovinj, Rovinj
Design: 3LHD architects, Zagreb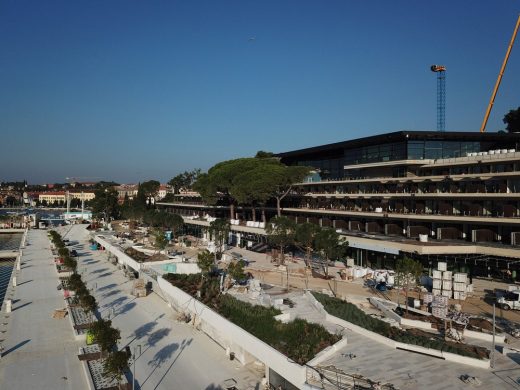 photos courtesy of architects
Grand Park Hotel Rovinj Building
Due to its importance, the project was given the status of a strategic investment project in Republic of Croatia. The building offers great views of the Adriatic Sea, located directly on the coast, near marina and promenade
CYPRUS
The Garden House in the City, Nicosia
Design: Christos Pavlou Architecture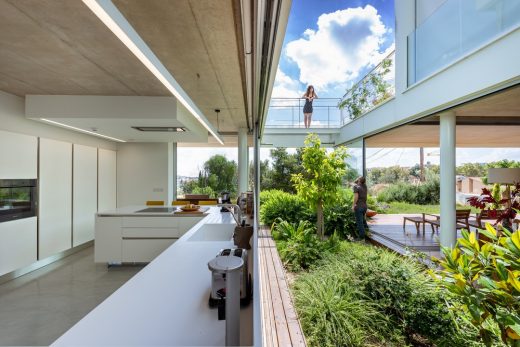 photo from architects
The Garden House in the City
Bringing nature back to the city although not a new idea it is a growing imperative especially for cities like Nicosia which has failed to make greenery and communal public areas a priority in its urban planning.
CZECH REPUBLIC
Helfštýn Castle, Helfštýn by Týn nad Bečvou, Czech Republic
Architects: atelier-r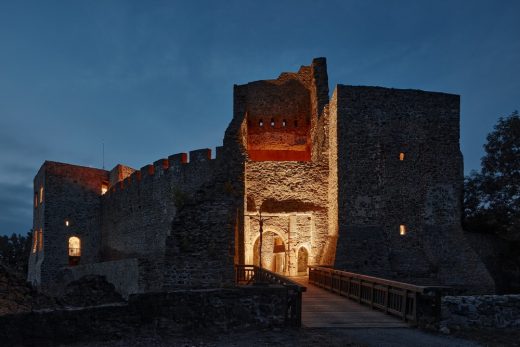 photograph : BoysPlayNice, www.boysplaynice.com
Helfštýn Castle Reconstruction
Rising high above the Moravian Gate valley, Helfštýn Castle is the second largest complex in the Czech Republic right after Prague Castle. Helfštýn was established in the 14th century. In 2014 the Renaissance palace ruins had to close down due to the severe safety hazards such as falling masonry and remains degradation.
DEN HAAG
Bicycle Parking Garage, under the Koningin Julianaplein
Design: Silo with Studio Marsman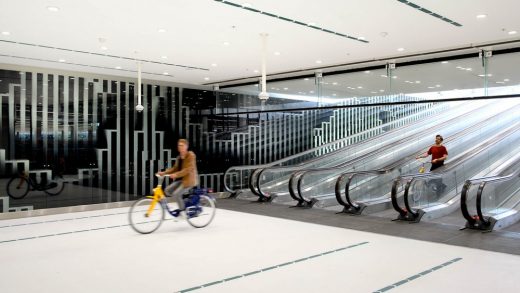 photo : Mike Bink
Den Haag Bicycle Parking Garage
As the COVID-19 crisis has spurred new initiatives to make cities more pedestrian and bike-friendly, the Netherlands continues to lead by example. In The Hague, the world's second-largest bicycle parking garage has been opened, featuring an all-encompassing back-lit mural of Escher-like tesselations that honor the city's eclectic architecture.
DENMARK
The Heart in Ikast, Vestergade, Ikast, Jutland, Denmark
Design: C.F. Møller Architects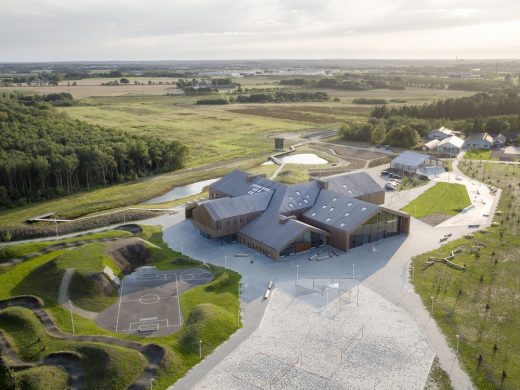 photograph : Adam Mørk
The Heart in Ikast
The Heart in Ikast, by C.F. Møller Architects is a new centre for culture and communication, which combines teaching activities, communal activities, physical training and play in various new ways. Designed to offer a cultural community focal point, the building is a powerful, accessible piece of architecture which exudes openness, warmth and welcome.
DUBAI, UAE
Coca-Cola Arena, City Walk
Architects: Populous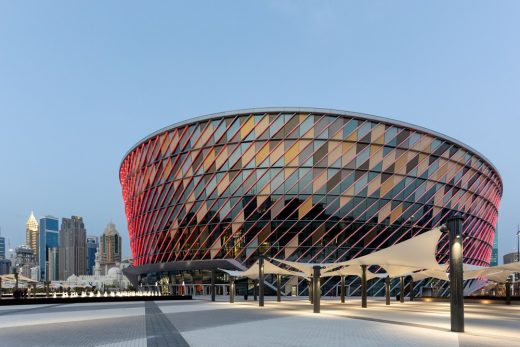 photo courtesy of architects
Coca-Cola Arena
Global architecture firm Populous celebrates its first arena concept design in the Middle East. With a capacity of 17,000, the arena becomes the largest multi-purpose indoor arena in the region and, by incorporating climate control throughout the building.
Expo Entry Portals
Architect: Asif Khan Studio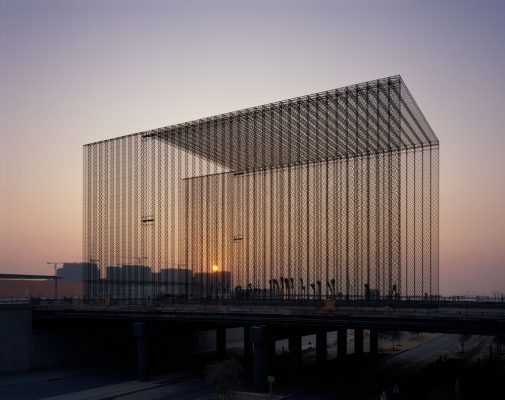 photograph : Hélène Binet
Dubai 2020 Expo Entry Portals in UAE
Asif Khan, renowned British architecture studio, has designed the Expo Entry Portals, three spectacular gateways to Expo 2020 Dubai that will grant entry to visitors from 20 October. The structures are the first works to be unveiled from the studio's design of more than six kilometres of Expo 2020 Public Realm.
ENGLAND
Island Rest, Isle of Wight, South of England
Design: Strom Architects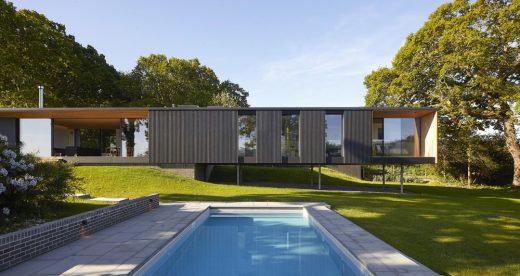 photos by Nick Hufton, Al Crow
Island Rest Isle of Wight Residence
'Island Rest' is a response to the client's brief for a contemporary family holiday home. Situated on a beautiful Isle of Wight creek, 'Island Rest' sits on a spacious site with direct access to the water and views of the Solent beyond.
The Lookout, Lepe Country Park, Exbury, Southampton, Hampshire
Design: Hampshire County Council Property Services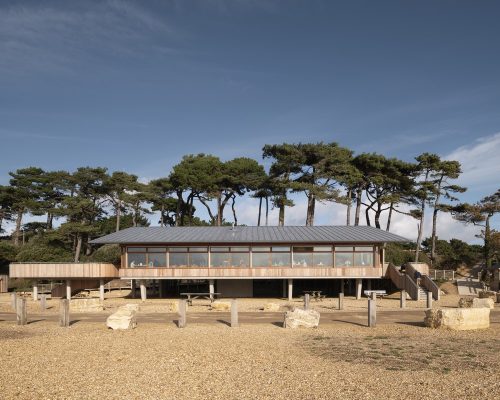 photograph : Jim Stephenson
The Lookout in Lepe Country Park
The project, which provides a restaurant, visitor information point, staff offices and supporting facilities forms part of an ongoing programme of work that seeks to transform and regenerate a number of country parks within Hampshire.
Windward House in Gloucestershire, Gloucestershire, Southwest England
Design: Alison Brooks Architects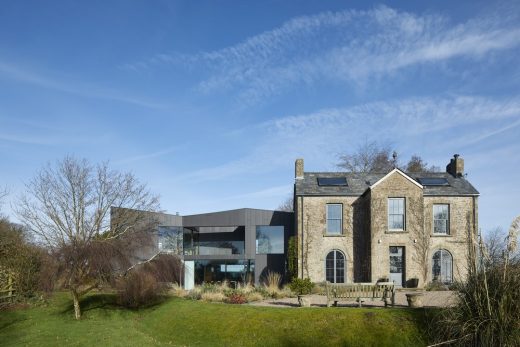 photo © Paul Riddle
Windward House, Gloucestershire
A monumental house and living art gallery high above the Wye Valley. The result of a ten-year collaboration, this new house and landscape project celebrates domestic living amongst an extraordinary collection of Indian and African Tribal Art.
Solar Gate, Kingston-upon-Hull, eastern England
Architect: Tonkin Liu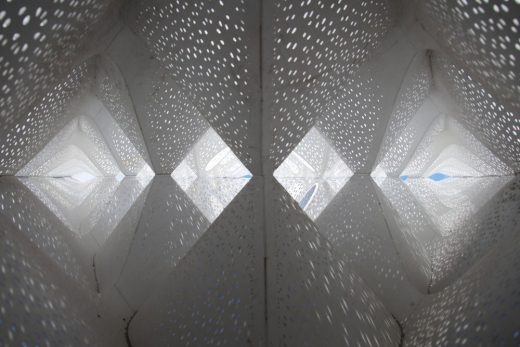 photograph : Alex Peacock and Mike Tonkin
Windward House, Gloucestershire
Solar Gate is a sundial that uses solar alignment to mark significant times and dates in Hull. The super-light innovative two-shell structure is place-specific, responding to pivotal historic events and to the cultural context of its location in Hull's Queens Gardens adjacent to the ancient site of Beverley Gate.
FINLAND
Shiver House, Korppoo, Finland
Design: NEON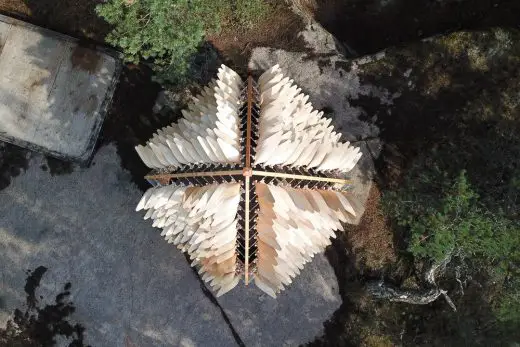 image courtesy of architects practice
Shiver House in Korppoo
Shiver House was previously installed in 2015 as part of the Barfotastigen exhibition in Korppoo, Finland. The project was intended to be in-situ for 4 months but due to its popularity it was kept on-site on a longer-term basis.
FRANCE
Théâtre "Legendre" in Evreux
Design: OPUS 5 architectes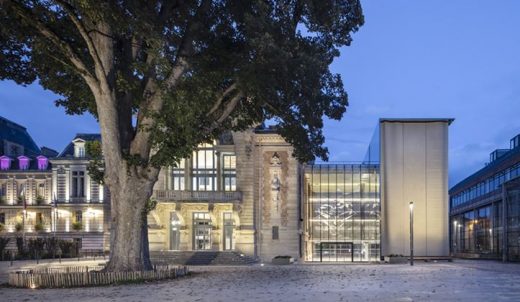 photo : Luc Boegly
Théâtre Legendre Evreux
The highly respectful project aimed to restore this theater dating from 1903 to its former glory, in its original architectural style and including the design of a new décor for the lobby.
100% wooden house, Château de la Bourdaisière, Montlouis-sur-Loire, France
Design: LOCAL and Suphasidh Studio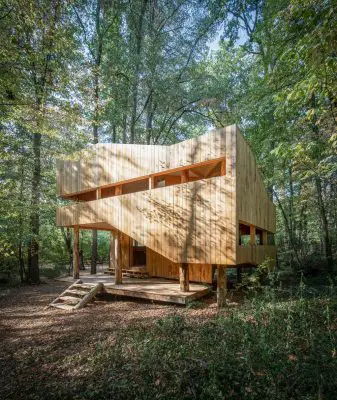 photo : Atelier Vincent Hecht
100% wooden house Montlouis-sur-Loire
LOCAL and Suphasidh Studio build a prototype of a 100% wooden house in the park of the Bourdaisière Castle. The project questions the flexibility and the usage of wood; it aims to modify the traditional codes of the individual housing.
Wicker Pavilion, Jardins de l'Europe, France
Design: DJA – Didzis Jaunzems, Ksenia Sapega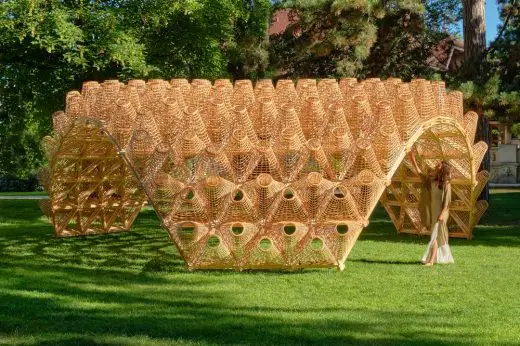 photo : Eriks Bozis
Wicker Pavilion Annecy
The pavilion blends in with the surrounding landscape and forms a shaded space for park visitors to shelter from the hot summer sun.
GERMANY
Carmen Würth Forum, Künzelsau, Baden-Württemberg, Germany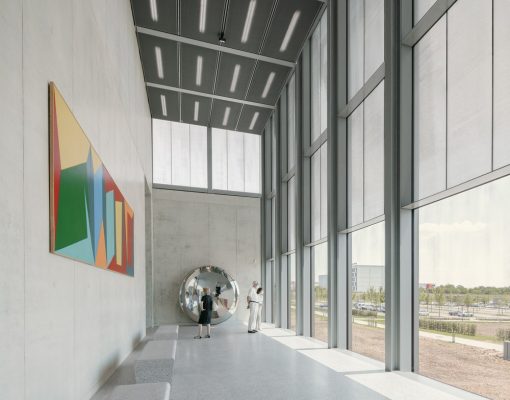 photo © Simon Menges
Carmen Würth Forum
A second construction phase completes the Carmen Würth Forum for the Adolf Würth GmbH & Co. KG situated in the town of Künzelsau in southern Germany. The diverse range of functions further establishes the complex's conceptual idea of a forum and allows the building to be open continuously, in particular due to its use as a museum.
HOLLAND – THE NETHERLANDS
Villa Fifty-Fifty, Strijp-R, Eindhoven
Architects: Studioninedots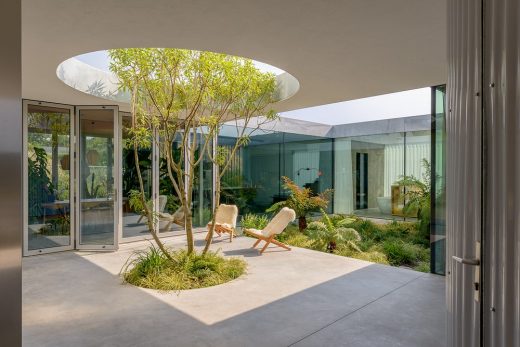 photo : Frans Parthesius
New Villa in Eindhoven
Located on the green edge of Strijp-R in Eindhoven, Studioninedots designed family home Villa Fifty-Fifty as a pavilion where volumes alternate between open and closed, and where life happens just as much outdoors as indoors: a new typology for maximising visual and family interaction.
KeenSystems HQ, Gemert
Architects: Denkkamer architectuur & onderzoek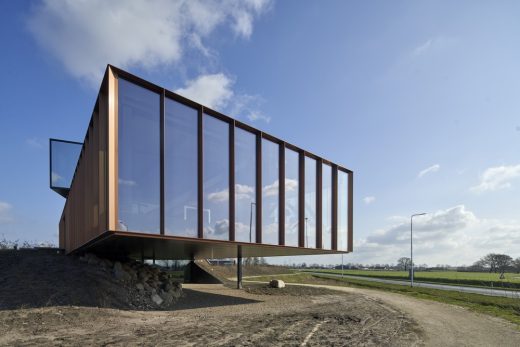 photograph : René de Wit
KeenSystems HQ
KeenSystems headquarters is situated along the ring road around the village of Gemert. The decision to not establish their new office building for the rapidly expanding telecom provider in the city of Eindhoven comes from the desire to operate from a very much green and inspiring environment.
Assen Station
Design: Powerhouse Company + De Zwarte Hond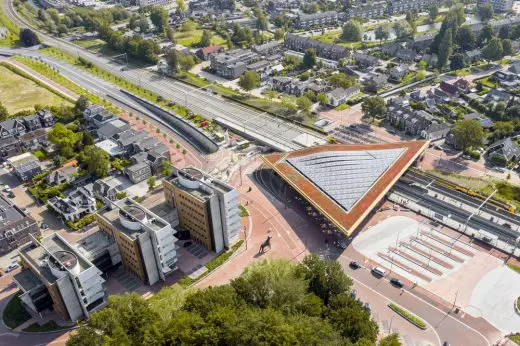 photo : Egbert de Boer
Assen Station Building
Assen Station has been completely transformed thanks to an extraordinary wooden structure. The new station is defined by a triangular wooden roof that appears to float above the several buildings below.
Villa Tonden, Tonden, Gelderland, the Netherlands
Architects: HofmanDujardin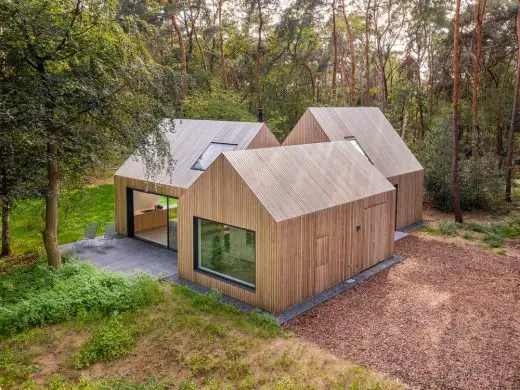 photography © HofmanDujardin, photographer Matthijs van Roon
Villa Tonden
The architecture practice carefully shaped its characteristic appearance to perfectly fit into the open spot in the pine woods. This wood clad home is equipped with amenities required to enjoy a laidback time. All rooms offer a good view of the surrounding nature.
INDIA
Maya Somaiya Library, Sharda School, Kopergaon, Maharashtra
Design: Sameep Padora & Associates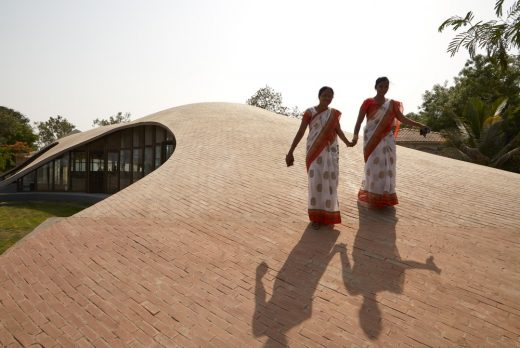 photograph : Edmund Sumner
Maya Somaiya Library Building
The site chosen for this small addition of a children's library within a school in rural Maharashtra, was a sliver between existing buildings and the school boundary, a site that almost implied a linear building footprint to adjust the program for the chosen site.
Sangini House, Surat, Gujarat
Design: Urbanscape Architects and Utopia Designs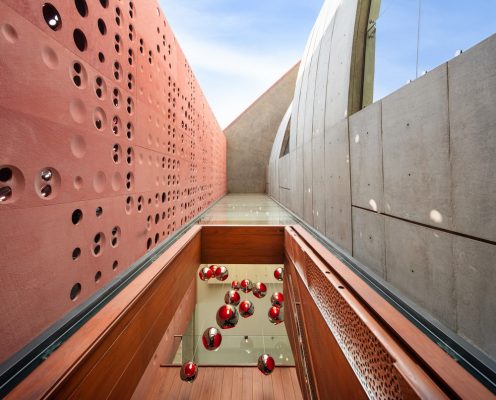 photograph : Noughts and Crosses LLP | Andre Fanthome
Sangini House, Gujarat Offices
The architecture and design of Sangini House explores ways in which it can respond to the context and spirit of the heritage in which it stands. This office building for the Sangini group characterizes new strategies for a flexible, column-free office space that creates a new urban venture in the city's dense business district.
Akshaya 27, Chennai
Design: Sanjay Puri Architects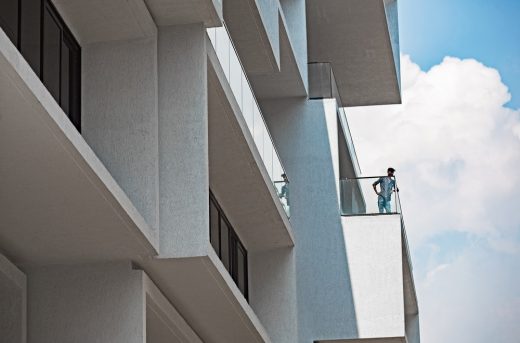 photos Courtesy BRS Sreenag, Sreenag Pictures
Akshaya 27 Chennai Office Building
Cantilevered cuboid volumes create a sculptural office building, Akshaya 27. Located in the old business district of Chennai in South India, the plot had multiple challenges to be overcome.
Aria Resort Hotel, Maharashtra, western India
Architecture: Sanjay Puri Architects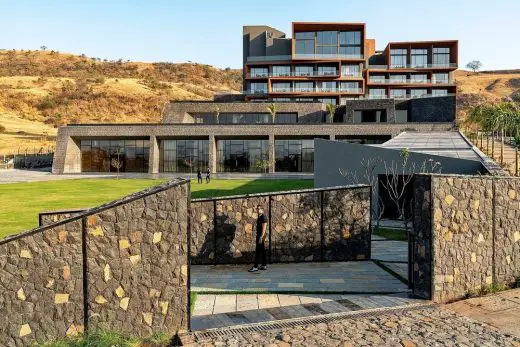 photo : Dinesh Mehta
Aria Resort Hotel in Nashik, Maharashtra
The site for the Aria Hotel is gently contoured rising up 9M towards the south with the entry at the lowest level in the north. Situated in the wine-growing region of India, the north faces a large river and a dam with hills beyond.
Rajasthan School, Nagaur, Rajasthan
Design: Sanjay Puri Architects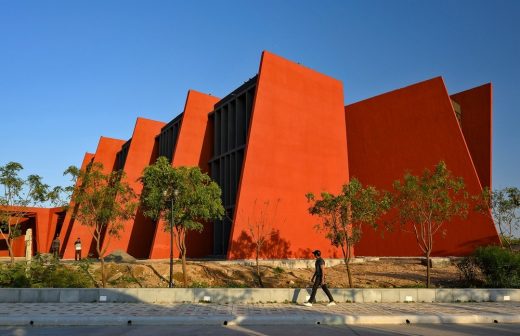 photograph : Dinesh Mehta
The Rajasthan School in Nagaur
Imbibing the organic character of Indian villages & old cities, this is a low-rise three-level Indian school building with open, enclosed and semi-enclosed spaces of various volumes. The architectural design is by award-winning practice Sanjay Puri Architects.
18 Screens House, Lucknow, Uttar Pradesh, India
Design: Sanjay Puri Architects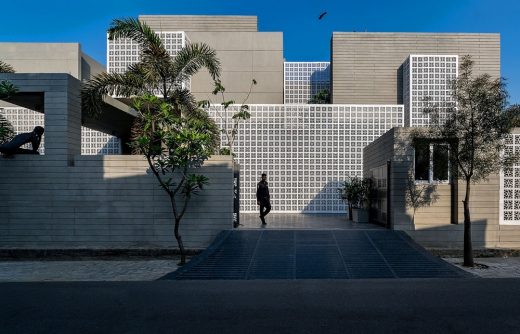 photo : Dinesh Mehta
The Rajasthan School in Nagaur
Lucknow city in India has a rich heritage with numerous buildings dating back to the 18th century. The site for this house lies along a busy arterial road and is on the peripheral edge of an extensive plotted development for private homes.
INDONESIA
Treetop Boutique Hotel, Penestanan, Ubud, Bali, Indonesia
Design: Alexis Dornier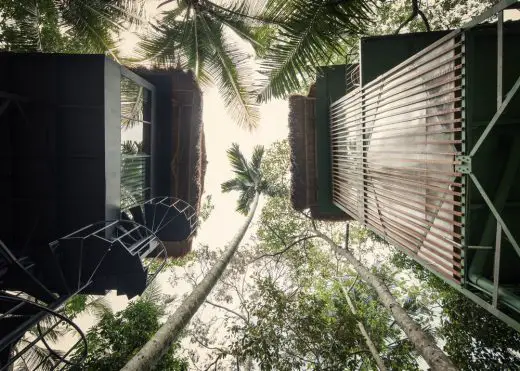 photography : kiearch
Treetop Boutique Hotel in Bali
Lift is a small experimental treetop boutique hotel located in a suburb of Ubud and Bali. Alexis Dornier's architecture studio is in close proximity to it, and the beginnings of the project were a testing ground for ideas on how to lift structures off the ground, to have a less invasive footprint and impact, more cost effective and faster to build.
IRAN
Cubes Warehouse Tehran, Shamsabad Industrial Park, Tehran
Design: Nazar Idea Paidar Company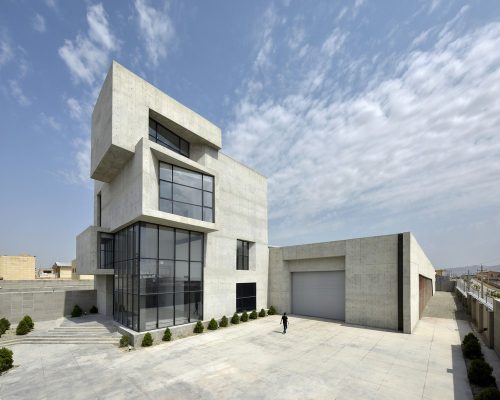 photo : Deed Studio
Cubes Warehouse Tehran
Cubes is located on a plot of land with an area of 5015 sqm in Shamsabad Industrial Park, near Imam Khomeini International Airport in the south of Tehran. The fair-faced concrete building with broken surfaces emerged as a bold way of breaking up visual uniformity at Shamsabad Industrial Park.
ISTANBUL
Arter Contemporary Art Museum, Istanbul, Western Turkey
Architects: Grimshaw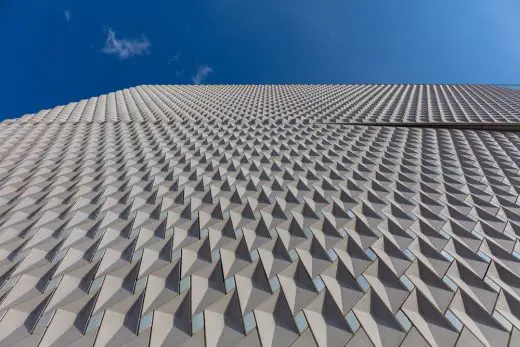 photograph : Quintin Lake
Arter Contemporary Art Museum
A subsidiary of Turkey's philanthropic Vehbi Koç Foundation, Arter Contemporary Art Museum is a vibrant cultural hub that brings together artists and audiences to celebrate contemporary art in all its forms and disciplines. Conceived as a dynamic multi-layered, interdisciplinary public building for showcasing artistic works, it offers a rich cultural programme to stimulate and challenge its audience.
ITALY
Powerbarn Building, Russi, Ravenna
Design: Giovanni Vaccarini Architetti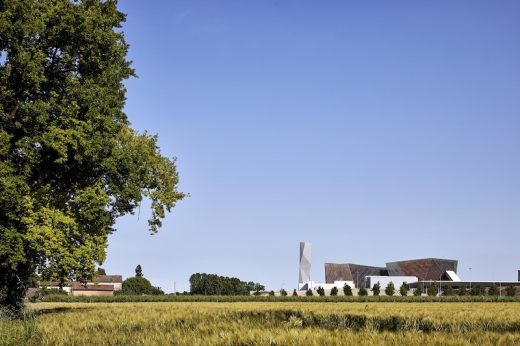 photograph : Massimo Crivellari
Powerbarn Building in Ravenna
A virtuous example of coexistence between the industrial and the agricultural world, Powerbarn by Giovanni Vaccarini Architetti in Russi interprets the conversion process of part of an industrial area, once property of the Eridania sugar company, into a bioenergy production plant.
KOREA, REPUBLIC OF
WAP Art Space, Seoul, South Korea
Architects: Davide Macullo Architects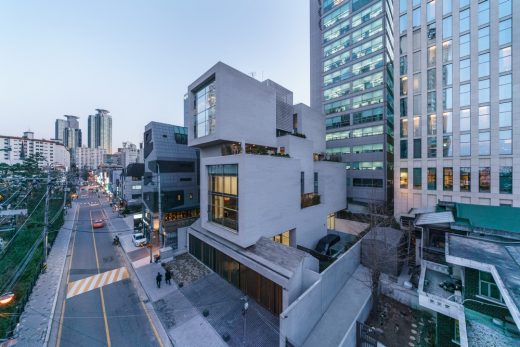 photo : Yousub Song – Studio Worlderful, Seoul, South Korea
WAP Art Space Seoul Building
This work results from a close collaboration between the architect and an enlightened client capable of assimilating and encouraging architectural choices motivated by reasons that generate forms. An extraordinary passion has bound us throughout the years of the project, reaching a synthesis expressed by the completed work.
Hanwha HQ Building, Seoul, South Korea
Architects: UNStudio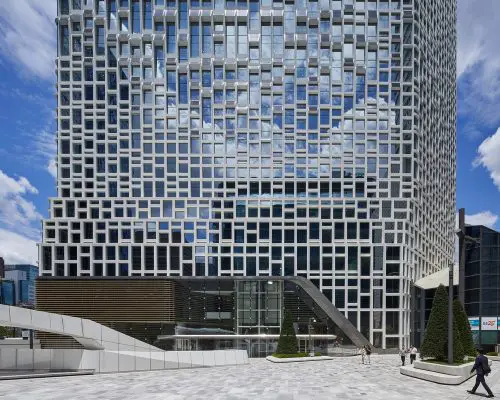 photograph © Rohspace
Hanwha HQ Building in Seoul
UNStudio's remodelling of the Hanwha HQ Building in Seoul has been completed. With this retrofit, the headquarters of the world's market leader in solar panels has been modernised to meet the most up to date sustainability requirements. Based on environmental considerations, a conscious decision was made to remodel the existing building, rather than for demolition and new build.
KUWAIT
Three Gardens House, Messila, Southeast Kuwait City
Design: AGi architects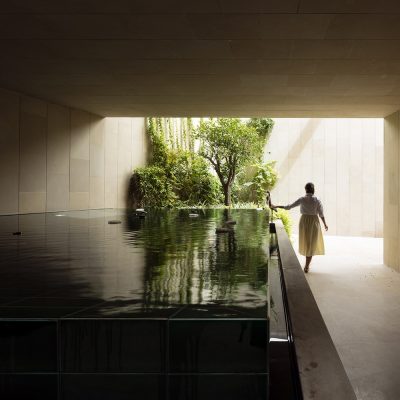 Photograph : Fernando Guerra FG+SG
Three Gardens House
It all started with a question: Are you able to design an outside space that can be used 365 days a year? For moderate climates such as the Spanish it seems quite simple, but in the case of an extreme weather like that of Kuwait it was necessary to think about new strategies.
LONDON
Chiswick House Extension, West London
Architects and Interior Designers: Found Associates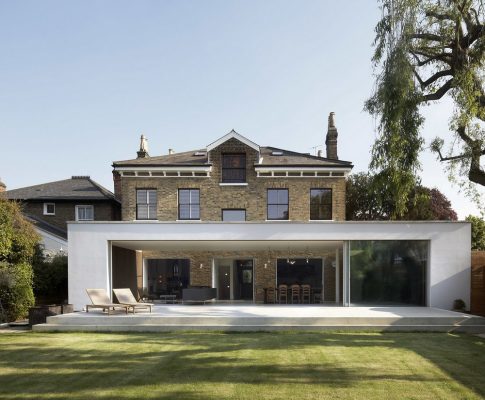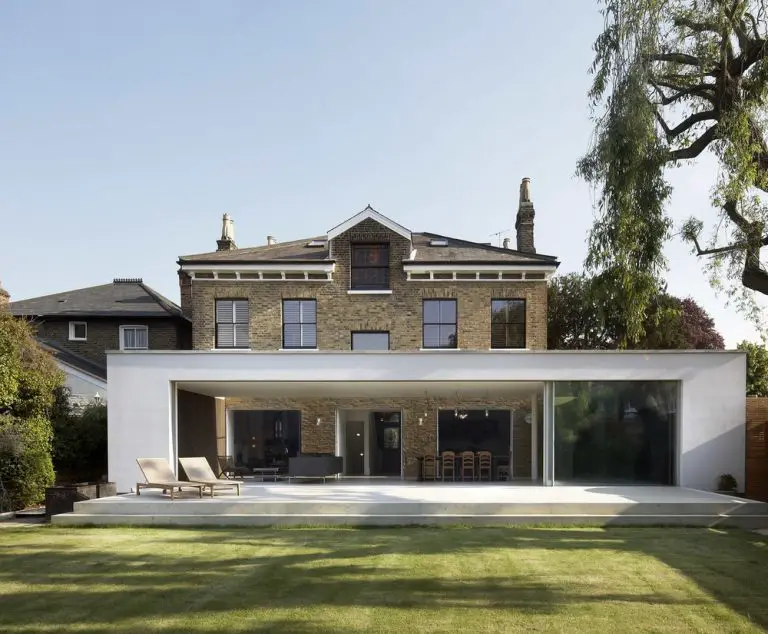 photograph : Nick Hufton, Al Crow
Chiswick House Extension
A double-fronted Edwardian house has been updated and extended in dramatic fashion for a television and radio presenter and his family. This four storey villa sits on a corner site with unusually large gardens to the rear. The renovation and reinvention of the villa reinforces the sense of connection between house and garden.
York House, Pentonville Road, King's Cross, North London
Design: de Metz Forbes Knight Architects (dMFK)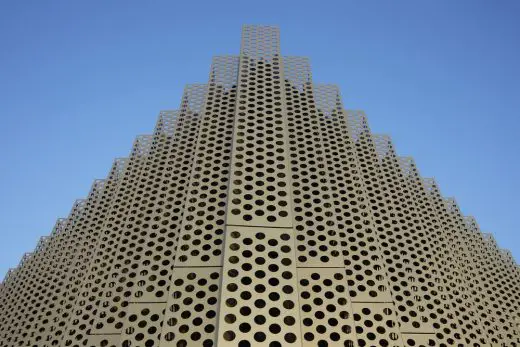 photograph © Jack Hobhouse
York House King's Cross Office Building
Perforated cladding panels have helped to transform a defunct 1980s structure in the heart of London into a visually striking, contemporary commercial office space.
Principal Tower, Shoreditch, Northeast London
Design: Foster + Partners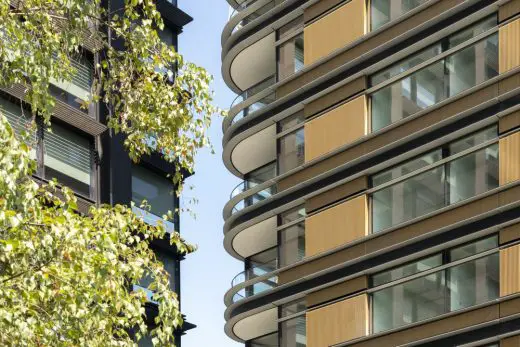 photo : Nigel Young / Foster + Partners
Principal Tower Building in Shoreditch
The completion of Principal Tower is the final piece of the Principal Place masterplan, a comprehensively planned mixed-use scheme on the border of Shoreditch and the City of London that creates a thriving new neighbourhood, drawing on the rich industrial heritage of the area.
MALAYSIA
YTL Corporation Berhad, Kuala Lumpur, Malaysia
Interior Design: MOD, Architects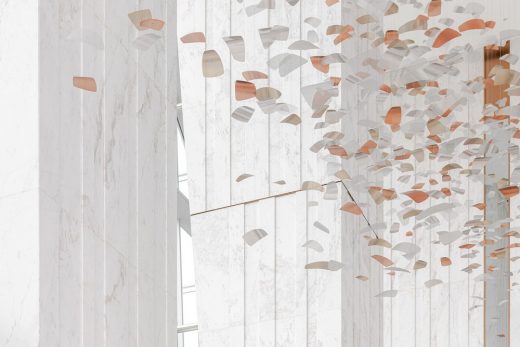 photo : David Yeow Photography
YTL Corporation Berhad
YTL Corporation Berhad, a large Malaysian infrastructure conglomerate founded in 1955, grew from a small construction firm into a global infrastructure company spanning oil & gas, cement, construction, property development and hotels.
MEXICO
Hyatt Regency Andares, Zapopan, Jalisco, Mexico
Architects: Sordo Madaleno Arquitectos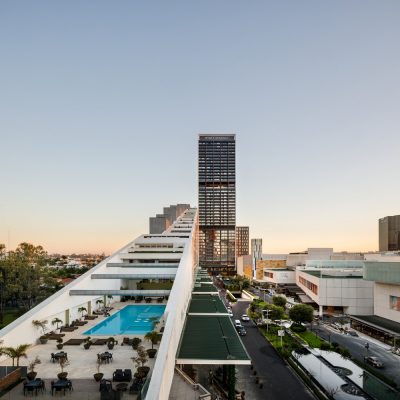 photograph : Rafael Gamo
Hyatt Regency Andares in Zapopan, Jalisco
The mixed-use Andares complex is the visionary urban complex that has positioned the Puerta de Hierro zone as a new center for the city of Zapopan. The Andares Master Plan formally commenced with the building of the shopping mall and the high-rise residential building, but an expansion was always planned.
MILAN
Residenze Carlo Erba
Design: Degli Esposti Architetti, Eisenman Architects, AZstudio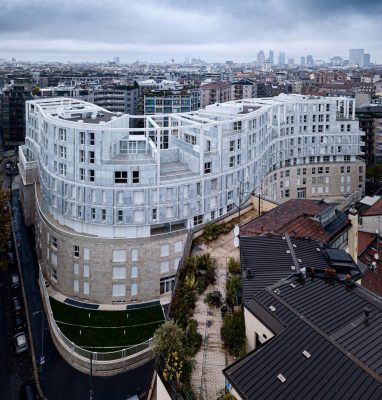 photo courtesy of architects
Residenze Carlo Erba Milano
For a triangular site included in the Piano Pavia-Masera, bounded by buildings built from the beginning of the 20th century to the Seventies, this project seeks to create a distinctly contemporary apartment building. The building solves the issue of the street relationship, without a construction along the boundaries of the block.
MONTREAL
Lightspeed offices – Phase 2, Montréal, Québec, Canada
Architects: ACDF Architecture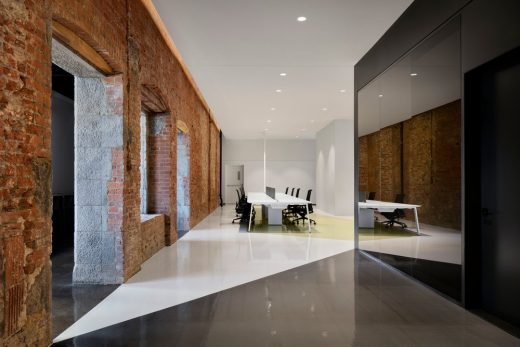 photo © Adrien Williams
Lightspeed offices Phase 2
Lightspeed commissioned ACDF Architecture – the designers for the first phase of the firm's headquarters – to create a new floor dedicated to product development. The workspace of the point-of-sale software company is located on the ground floor of a 19th-century railway hotel, the chateau-style Viger Railway Station.
NEW YORK
Hunter's Point South Waterfront Park, Long Island City, Queens
Design: SWA/BALSLEY and WEISS/MANFREDI, with ARUP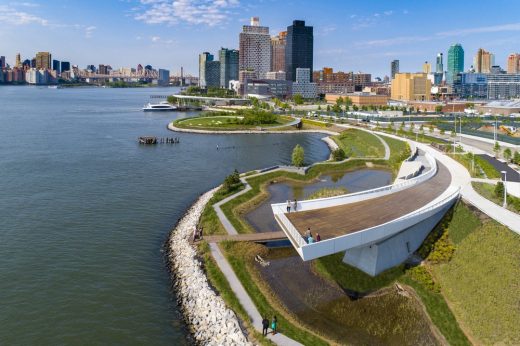 photo : Bill Tatham © Tatham/SWA, courtesy SWA/BALSLEY and WEISS/MANFREDI
Hunter's Point South Long Island City, NY
Designed by SWA/BALSLEY and WEISS/MANFREDI, the ambitious development was awarded a ULI New York Award in the "Excellence in Civic Development" category and a "Special Recognition" Award for Excellence in Design.
Cross House, Long Island, NY
Architecture and Interior Design: Messana O'Rorke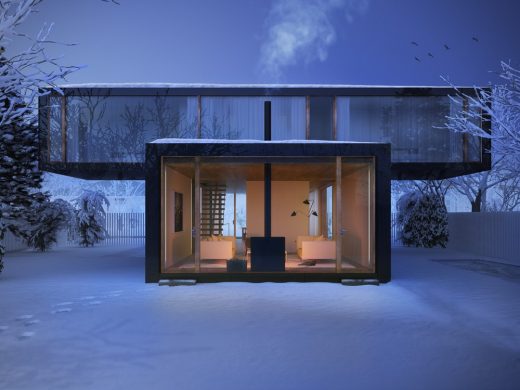 photo : Brian Messana
Cross House Long Island
The site for the Cross House project is located on a block in a 1950's suburb of Long Island, New York. The context was very exciting to Messana O'Rorke, it was the first opportunity for their office to confront the suburban environment, the density, and the constraints of the small site.
NEW ZEALAND
The Blyth Performing Arts Centre, Havelock North, Hastings, Hawkes Bay
Design: Stevens Lawson Architects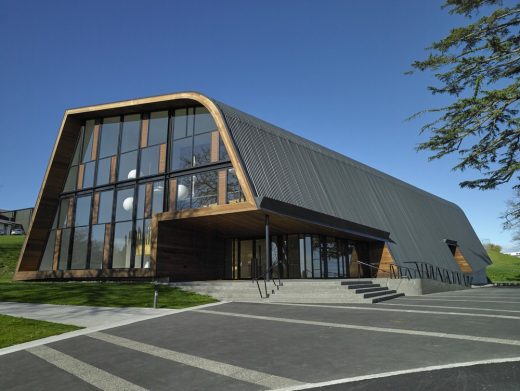 photograph © Mark Smith
Blyth Performing Arts Centre in Havelock North
This new building sits amidst the trees on a gentle slope near the entry to Iona College as a new symbol and public gesture of welcome. The strong sculptural language of sinuous curves and angled planes is drawn from the shapes of musical instruments and the folded landscape of Te Mata Peak.
The Chapel of St. Peter, Auckland, North Island
Design: Stevens Lawson Architects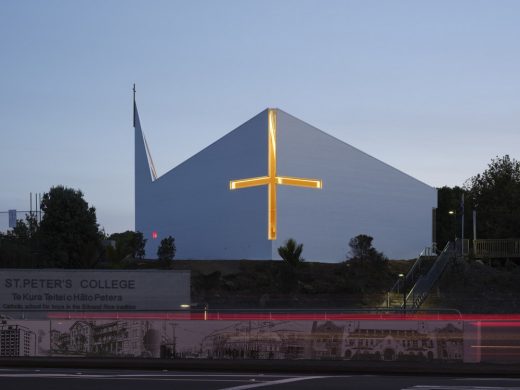 photograph : Mark Smith
The Chapel of St. Peter in Auckland
The most potent and recognised symbol of Christianity is the cross. A symbol of atonement, it provides hope and inspiration to the faithful. The Chapel of St. Peter presents a confident and identifiable cross to its most public face signifying the buildings purpose, while providing a public message of God's love and our salvation.
Christchurch Justice and Emergency Services Precinct, South Island
Design: Cox Architecture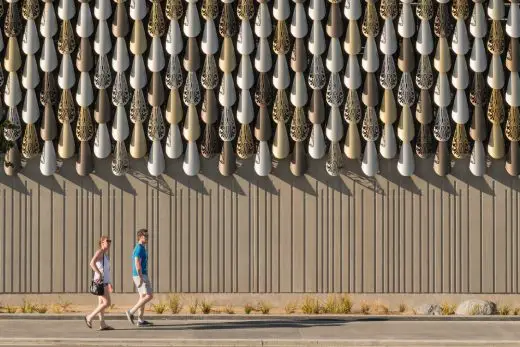 photograph : Dennis Radermacher
Christchurch Justice and Emergency Services Precinct, NZ
The CJESP is the largest combined facility of its kind in Australasia, and the first major public development built by the New Zealand Government following the devastating 2010 and 2011 earthquakes.
NORWAY
Domen Viewpoint, Northeast Norway
Design: Biotope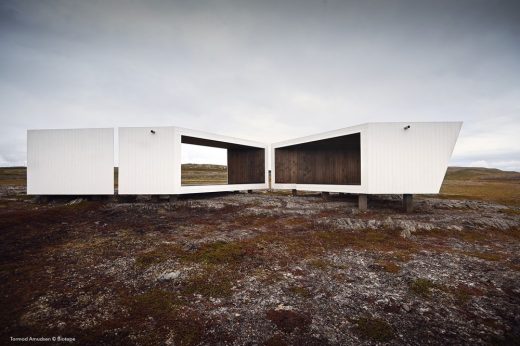 photograph : Tormod Amundsen / Biotope
Domen Viewpoint in Northeast Norway
Located overlooking the Barents Sea, this bold viewpoint has opened to tourists visiting the interesting destination. The sustainably designed building provides much-needed shelter from the harsh arctic climate.
Energy Positive Powerhouse, Telemark
Architects: Snøhetta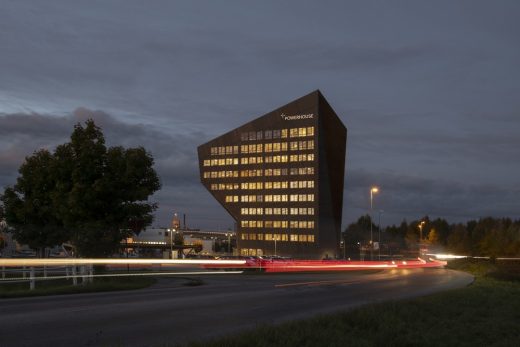 photo © Ivar Kvaal
Energy Positive Powerhouse Telemark
A sustainable model for the future of workspaces. The energy sector and building industry account for over 40% of global industry's heat-trapping emissions combined.
PARIS
28 Social Housing Units, Courbevoie, Paris, France
Architects: Koz architectes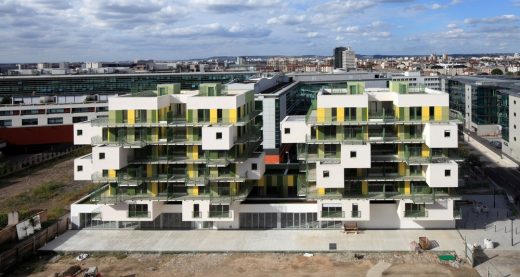 photography © Guillaume Grasset and Jean-Baptiste Pellerin
28 Social Housing Units in Courbevoie
In 2007, Groupe 3F and the Courbevoie Town Council launched a competition for a social housing project on the last remaining plot in the urban development zone of Les Fauvelles. The proposal was selected over those offered by SOA Architectes and LAN Architecture.
PERU
Ave House, erro Azul, Lima, Peru
Design: Arq. Martin Dulanto Sangalli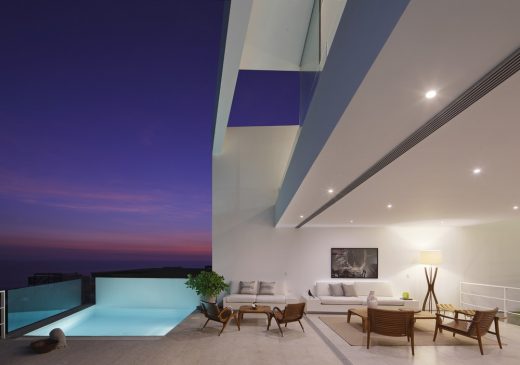 photo : Juan Solano
AVE House in Lima
A white box, a habitat platform and the space generated between both elements, composes this project. The box is separated from the base creating a large space open to the landscape.
POLAND
Slab House , Poznań, western Poland
Design: Mode: Lina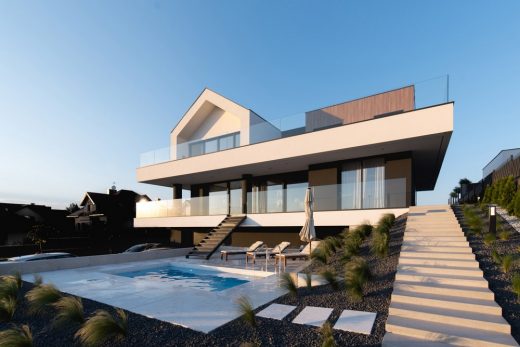 photograph : Patryk Lewińsk
Slab House, Poznań
This residential property project came into existence in the suburbs of Poznań on one of many hills surrounding the city. It was not an easy task – architects from mode:lina had to inscribe the building's form into all too steep hill's slope.
Revitalization of Powstańców & Sobieskiego streets in Rybnik, Rybnik, Silesian Voivodeship, southwestern Poland
Design: Toprojekt Architects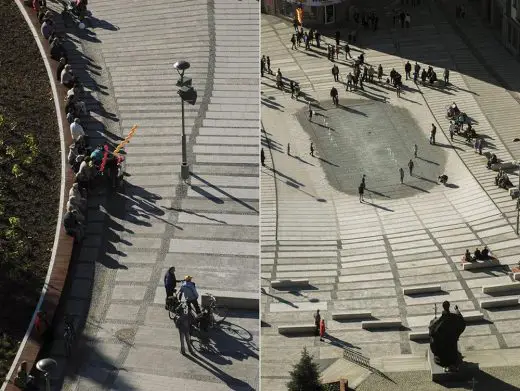 photo : Wacław Troszka
Revitalization of Streets in Rybnik
The section between the market and the fork of ul. Powstańców and Mikołowska were tightly encapsulated in the early stages of the city's development. This is where most of the shops and services were located that did not fit in the market.
PORTUGAL
1032 Foz Housing, Rua de Gondarém 1032/1040, Porto
Architects: dEMM arquitectura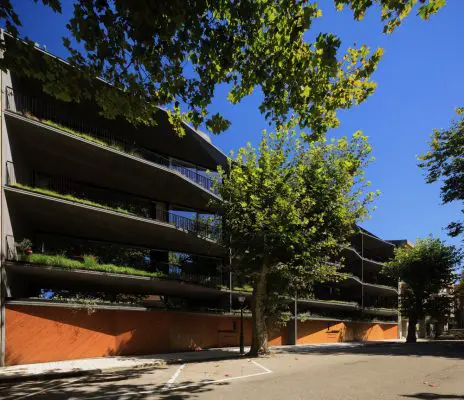 photography : FG+SG | architectural photography
1032 Foz Housing Porto
The accesses are made from the West by Rua de Gondarém where the social areas are located that are directed to the ocean, the rooms and the street are oriented to East.
Canine & Feline Hotel, Parada, Vila do Conde
Architect: Raulino Silva Arquitecto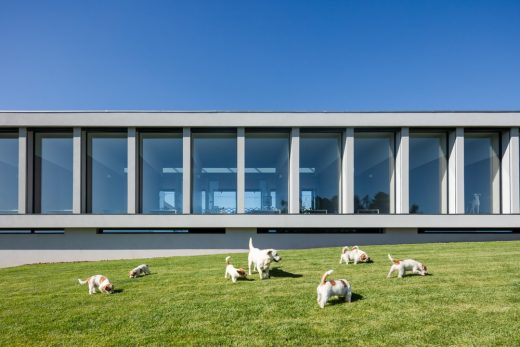 photo : João Morgado
Canine & Feline Hotel in Vila do Conde
The main program consists of temporary dog and cat accommodation, a hotel where the animals stay for a few days, during holidays or professional travel of their owners. The remaining program is a complement to the space's activity, with a veterinary office, a grooming room, outdoor training areas and a swimming pool for pets.
ROTTERDAM
SAWA, Lloydquarter
Design: Mei architects and planners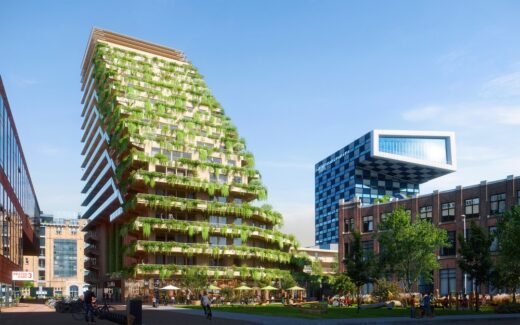 image © WAX
SAWA wooden building Lloydquarter
Commissioned by Nice Developers & Era Contour, Mei architects and planners is designing SAWA: a wooden residential building in the heart of the Lloydquarter. This new Dutch building will be built entirely in CLT (cross-laminated timber) and is therefore the first fully wooden residential building of 50 meters high in the city.
Converted Warehouse ZZ21, Vlaardingen
Design: Firm Architects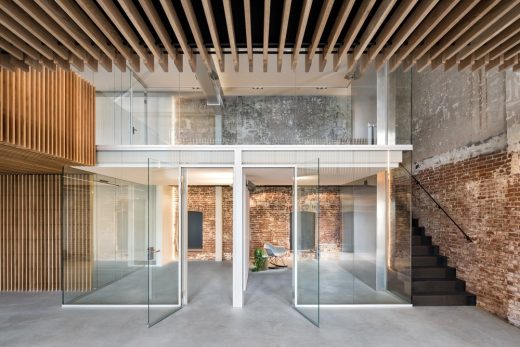 photograph : Studio de Nooyer
Koningin Wilhelminahaven Warehouse in Vlaardingen
For a private investor, Firm converted a 215 square meter part of this 120-year-old Warehouse on one of the busiest harbors in the Port of Rotterdam. The poorly lit space combined with a north-facing facade with just a few windows meant the owner needed to be visionary in order to perceive a bright and well usable office space.
SAN FRANCISCO
Saint Mary's College High School, Albany, east shore of San Francisco Bay, northwestern Alameda County, northern California, USA
Design: Mark Cavagnero Associates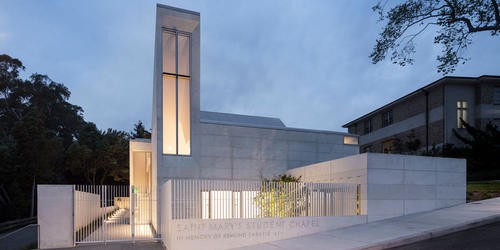 photo : Henrik Kam
Saint Mary's College High School Student Chapel
The Chapel experience begins with the approach. A walk along the length of the building, flanked by an articulated white concrete block wall, provides a transition. Noise from the adjacent streets fades as you approach a small courtyard at the rear of the building.
MIRA Condominiums San Francisco, 280 Spear Street, near the Embarcadero
Design: Studio Gang, Architects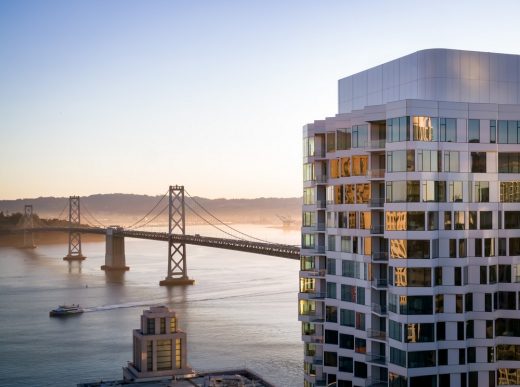 photo : Scott Hargis
MIRA San Francisco
MIRA has unveiled a number of luxurious models for interested buyers to tour privately by appointment. Located on the 23rd floor of the 40-story, 400-foot tower, the two-bedroom, two-bathroom models have been staged and fully furnished by Jeff Schlarb Design Studio. Virtual tours of all models are also available at MIRASF.com.
SÃO PAULO
Dois Trópicos, Pinheiros
Architects: MNMA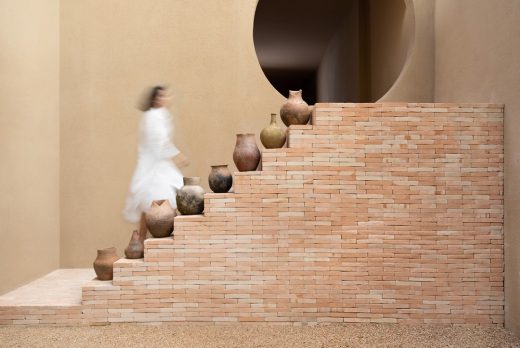 photo : Andre Klotz
Dois Trópicos São Paulo
"… the front door continues to appeal to our sense arrival. Call it the ceremony of coming home."
Akiko Busch
NASP – Head office of Natura São Paulo, Parque Anhanguera
Architects: Dal Pian Arquitetos Associados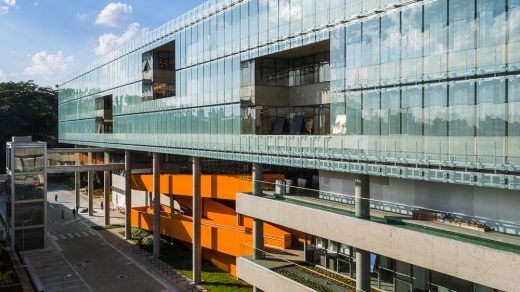 photos : Nelson Kon & Pedro Mascaro (drone photos)
NASP – Head office of Natura São Paulo
In 2011, Natura, a Brazilian multinational company of cosmetics and beauty products, promoted an architectural competition on invitation to its new administrative headquarters in São Paulo.
SAUDI ARABIA
Maraya AlUla concert venue, north west Saudi Arabia – 'The largest mirrored building in the world'
Design: Florian Boje of Gio Forma, Milan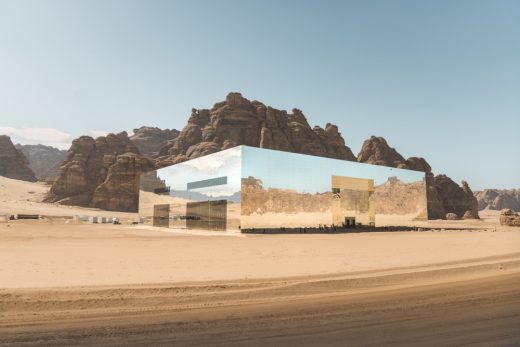 image courtesy of architects
Maraya AlUla concert venue
Maraya, a multi-purpose concert and entertainment venue in AlUla, Northwest Saudi Arabia, has been named a winner in one of the world's biggest architecture awards.
SHANGHAI
One Person's Gallery in the Gap
Architects: Wutopia Lab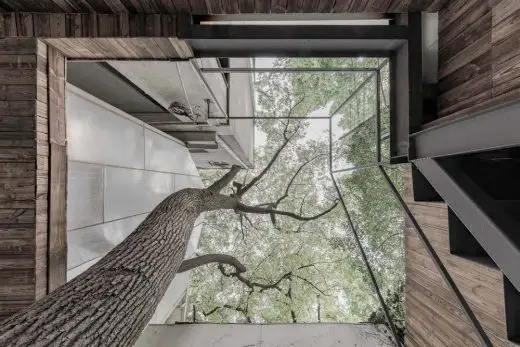 photographs : SHAO Feng, CreatAR Image (AI Qing)
Shanghai Kingboard Centre
One Person's Gallery used to be a storage structure which was filled with used materials (we called them 'old things') of a bankrupt company, that looked like disaster site. The architectural project started without any original blueprints.
SHENZHEN
C Future City Experience Center, Shangsha
Architects: CCD/ Cheng Chung Design (HK)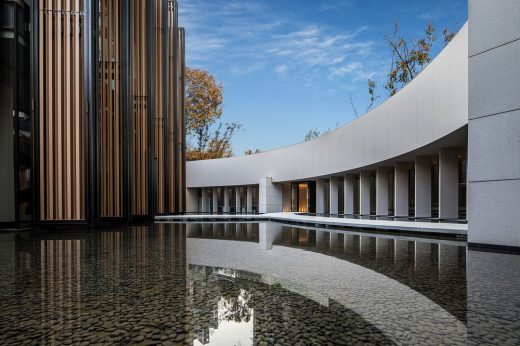 image courtesy of architects office
C Future City Experience Center
Shangsha used to be a coastal fishing village, which has developed along with the renewal of the city, while now it is witnessing the rising of C Future City. Through reflecting on the values that rooted in the village, CCD finally decided to take "marks of the fishing village" as the starting point for the design.
SINGAPORE
Raffles Hotel Singapore Restoration, 1 Beach Road
Design: Aedas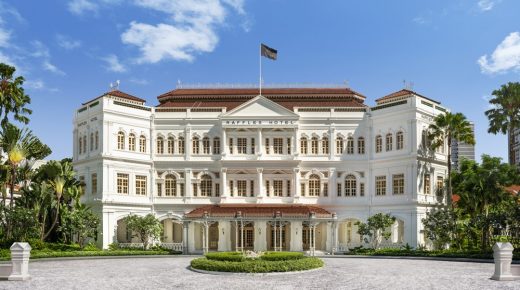 image courtesy of architecture office
Raffles Hotel
Restored and refurbished this classic hotel building officially reopened in August 2019. It first opened back in 1887.
SOUTH AFRICA
Ilkley Cape Town luxury apartments , Ilkley Crescent, Sea Point, Cape Town
Architecture: KLûK CGDT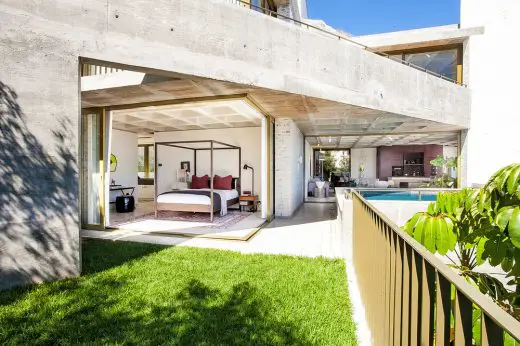 photo courtesy of KLûK CGDT
Ilkley Cape Town luxury apartments
'Ilkley' offers bespoke architecture and aesthetics from 3x African Designers of the Year KLûK CGDT, who have dressed Naomi Campbell, Kate Moss, Beyoncé, Shakira.
SPAIN
Villa K, Mijas, Malaga, southern Spain
Design: Marion Regitko Architects + Igloo Design



photo : Fernando Alda
Mijas Property
The design of Villa K has been a collaboration between Marion Regitko Architects and UK based designers Soo Wilkinson & John Grant of Igloo Design. Their holistic approach to the interior and exterior spaces of the villa, along with the continuity of materials and finishes has resulted in a seamless flow throughout.
Jané Winestore, Tarragona
Architects: Chu Uroz & Carmelo Zappulla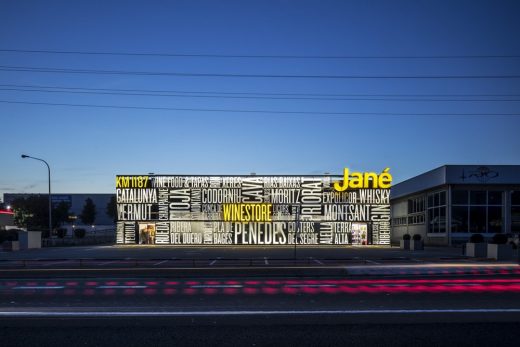 photograph © Adrià Goula
Jané Winestore in Tarragona, Costa Dorada
A pop operation that goes back to the iconic Las Vegas signage has inspired the new image of this liquor store that reaffirms its origins. The disposition of the internal elements with a cabinet character allows us to classify the wide variety of beverages that are housed inside.
SWITZERLAND
Ispace Installation, Rossa, Moesa Region, canton of Graubünden
Design: Davide Macullo Architects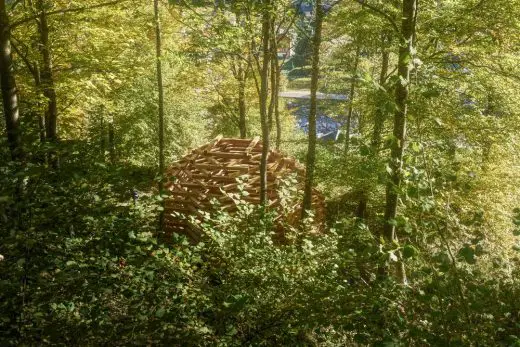 photo : Corrado Griggi
Ispace Installation Rossa
Ispace is a project born out of an idea combining art and architecture in the creation of environments that stimulate people to perceive the influence of a space on their moods. It is a re-evaluation of the territory, allowing us to rediscover our bond with nature.
Mount Gütsch Restaurants, Andermatt, canton of Uri
Design: Studio Seilern Architects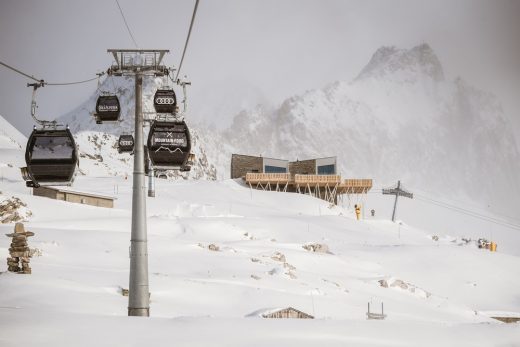 photo © Valentin Luthiger
Mount Gütsch Restaurant Complex Swiss Alps
Inspired by the carved stone sculpture 'Horta de Ebro' (2003) by Manolo Valdez and the atmosphere and awesomeness captured in Caspar David Friedrich's painting 'Wanderer above the sea of fog' (1818), Christina Seilern set out to create a landmark that is as robust as the dramatic setting of the landscape.
SYDNEY
Spring Farm Community Centre, Camden, south west Sydney, New South Wales, Australia
Design: NBRSARCHITECTURE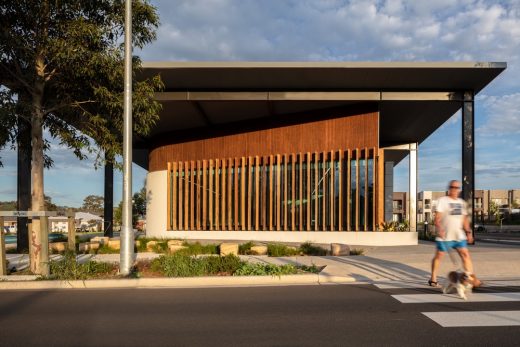 photograph : Alexander Mayes Photography
Spring Farm Community Centre
Spring Farm is an emerging community in Sydney's South-West. The architecture practice has designed and delivered a community centre that visually invites and draws in the local community through design elements that evoke intrigue and play.
Sydney Coliseum Theatre
Design: Cox Architecture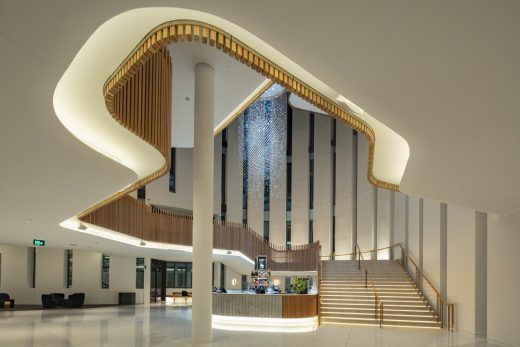 photograph : John Gollings
Coliseum Theatre in Western Sydney, NSW
This is a 2000-seat multi-mode performance venue located in burgeoning Western Sydney.
THAILAND
Naked House, Koh Samui, Thailand
Design: Marc Gerritsen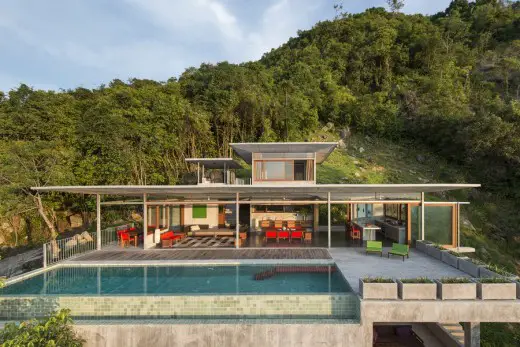 photo courtesy of architects office
Naked House
Naked House on the idyllic island of Koh Samui is rooted in nature, simplicity and a return to honest living – but not without a dose of playfulness and adventure. Photographer, architect and designer Marc Gerritsen wanted to build a house that offered an authentic living experience, a connection to the natural world and a retreat from city living.
TORONTO
Thermally Speaking
Design: LeuWebb Projects with Mulvey & Banani Lighting Inc.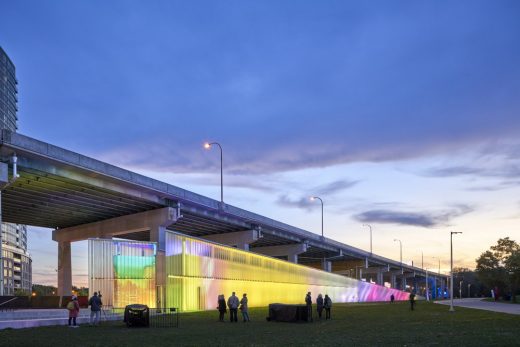 photo : Doublespace Photography
Thermally Speaking
This responsive installation transformed Toronto's Fort York Visitor Centre for Nuit Blanche 2019, providing a glimpse into a future of body temperature readings, creative data visualization and surveillance fields.
York University Student Centre
Architects: CannonDesign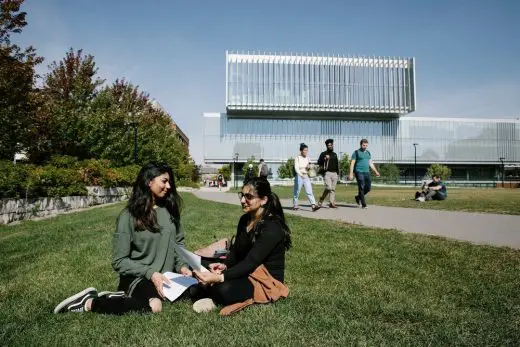 photograph © Connie Tsang
York University Student Centre
York University, Canada's third-largest university, opened a second student center on campus, designed to respond to the changing needs of York's large and diverse community.
TUNISIA
Dar Hi, Naftah
Architects: Matali Crasset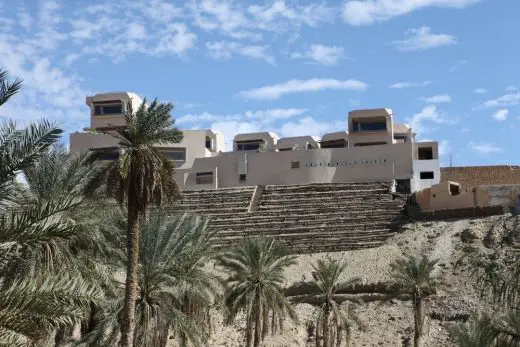 photograph : Jérôme Spriet
Dar Hi in Naftah, Tunisia Health and Wellness Hotel
"Dar Hi is not a hotel nor a classical SPA but more a place where you can experience withdrawal and benefit from a spiritual thalassotherapy a few hours away from Paris and in the middle of the desert", says Patrick Elouarghi.
After the experience of the HI hotel in Nice, now Dar HI in Nefta which is the fruit of the collaboration between matali crasset, Patrick Elouarghi and Philippe Chapelet with a new concept of eco-retreat. Matali literally rose a citadel, from the sand, dedicated to well being.
TURKEY
Studio Loft, İzmir
Design: Yerce Architecture & ZAAS, Istanbul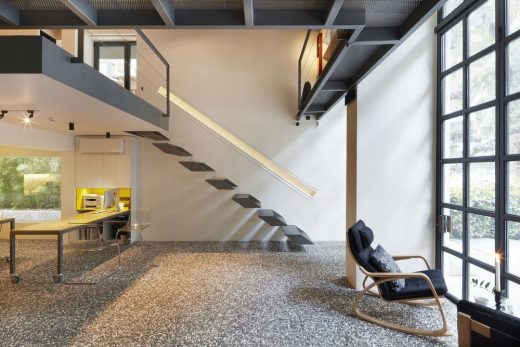 photograph : Yerce Art Photography – Emin Emrah Yerce
Studio Loft İzmir
'Studio Loft' is an example of the transformation of a double flat in an existing five storey building in a densely populated neighborhood of Izmir into a multifunctional duplex space. Above all it is simultaneously a work space, a'photographic studio' and a residential space, a 'loft' to live in.
UTRECHT
The Rock: A new residential tower
Design: LIAG architecten en bouwadviseurs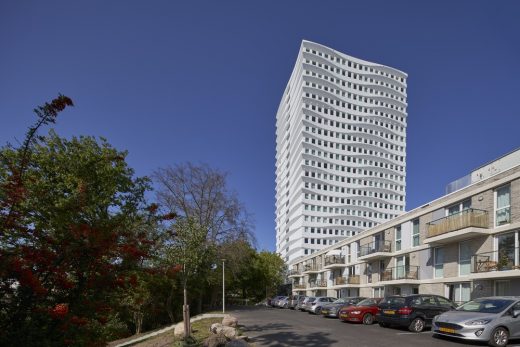 photograph © Ronald Tilleman
Rock Utrecht residential tower
Rock is the eye-catcher of the transformation of the former Oudenrijn hospital site from the 1960s. A lively youth campus has been built here.
Architecture of 2020 – post with the key buildings of the year
Architecture Awards
Contemporary Architectural Awards – selection:
Key Architectural Links
Buildings of the Year Archive
Architecture of 2013: Buildings of the Year
Architecture of 2012: Buildings of the Year
Comments / photos for the Buildings of 2020 page welcome