Architecture in 2013, Buildings of the Year, Architects, Major Property Designs, Photos
Architecture of 2013: New Buildings
e-architect Selection of Key Contemporary Architectural Developments
31 Dec 2013
Major Architecture of 2013
e-architect have selected some key buildings of 2013.
Our parameters? Architecture designs that stimulate, buildings that ask significant questions, designs that show creativity and innovation.
We asked a selection of international architecture critics at the end of December 2013 to once pick out the key buildings of the year but we're deliberately not considering the complex task of selecting 'winners'.
(Adrian Welch, e-architect editor)
We've divided up completed buildings and Building Designs of 2013 (ie proposals).
Buildings / designs are listed in chronological order, most recent first:
Major Buildings completed in 2013
Architecture in 2013 – latest additions to this page, arranged chronologically:
Part 1 – Buildings of 2013
Part 2:
Apelle : House in Karjaa, Finland
Design: Marco Casagrande / C-LAB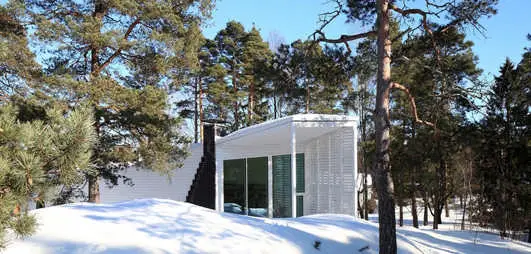 photo from C-LAB
House Apelle is part of nature. The surrounding forest has been architecturally articulated into a shelter for a family of contemporary natives. The house is in the forest as much as the forest is in the house – the architecture is a mediator between the modern man and nature.
H3 House, Athens, Greece – new photos
Design: 314 Architecture Studio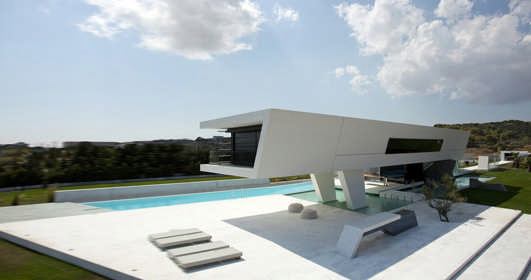 photo from architect
Located on a plot of 7000m2 the total area of the house is 1000m2. The house was designed to give a sense of balance of the water element and the owners love for yachts, which after all was the inspiration for this project. The contact of the house and the artificial ponds that surround it, create a cooling sensation.
Tucson Mountain Retreat, Arizona, USA
Design: DUST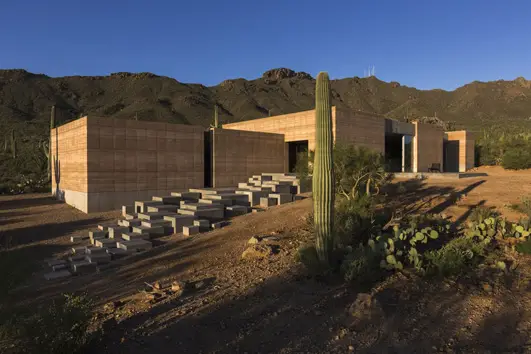 photo © Jeff Goldberg / Esto
Elegant rammed earth house for Karen and David Francis whose primary residence is in San Diego. David grew up in Arizona so the Tucson Mountain Retreat and living in the desert are like a homecoming for him.
Fishing Lodge in Batak, Bulgaria
Design: Simon Gill Architects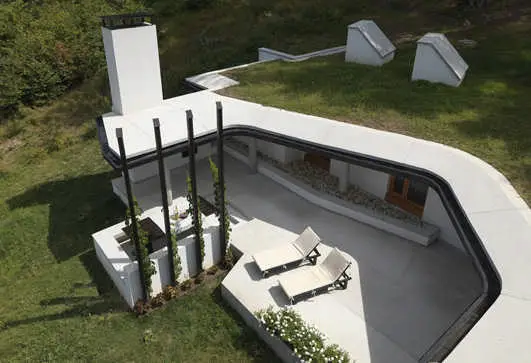 photo : Mike Daines
The architect says "Our aim was to create an enchanted place that would resonate with the great natural beauty and rich culture of its location. We felt it essential that the house created a presence that connected both to the landscape and Bulgarian traditions, rather than just creating a mute abstract object standing as something 'other' in the landscape. And this included reducing the impact of the house on the surrounding environment as far as possible."
Mariinsky Theatre, St. Petersburg, Russia – building news
Design: Diamond Schmitt Architects



image from architect
A major new Russian building, by Canadian architects. One of the largest performing arts facilities in the world to open on May 2nd in St. Petersburg, Russia. Mariinsky II designed by Diamond Schmitt Architects is the new home of the acclaimed Mariinsky opera, ballet and orchestra.
Parkroyal On Pickering, Singapore
Design: WOHA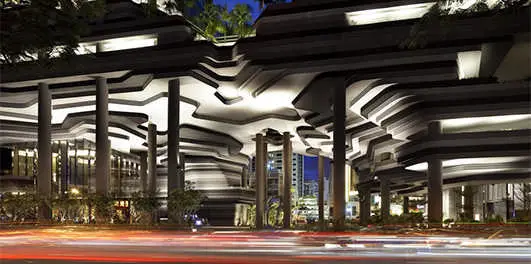 photo : Patrick Bingham-Hall
Innovative architecture united by its moulded styling with soffit elements like an upside down paddy field. Designed as a hotel and office in a garden, the project at Upper Pickering Street is a study of how we can not only conserve our greenery in a built-up high-rise city centre but multiply it in a manner that is architecturally striking, integrated and sustainable.
Apartment No. 1, Mahallat, Iran
Design: Architecture by Collective Terrain



photo : Omid Khodapanahi
This project turns the inefficiency to economic and environmental advantage by reusing leftover stones for both exterior and some interior walls, and has led to the increasing adoption of stone recycling by local builders.
Islamic Cemetery, Altach, Austria
Design: Bernado Bader Architects



photo : Marc Lins
The Cemetery serves Vorarlberg, the industrialised westernmost state of Austria, where over eight percent of the population is Muslim. It finds inspiration in the primordial garden, and is delineated by roseate concrete walls in an alpine setting, and consists of five staggered, rectangular grave-site enclosures, and a structure housing assembly and prayer rooms.
Casa Bunker, Buenos Aires, Argentina
Design: Botteri-Connell Office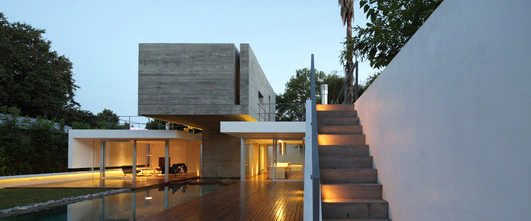 photo : Gustavo Sosa Pinilla
Many concepts arose from meetings with the client that requried architectonical answers:
"a house which can integrate social life in direct relation with the outside, having a space in it which hosts and protects intimacy. A space where one can stay while the rest of the house remains asleep."
The Infinity Centre, Melbourne, Australia
Design: McBride Charles Ryan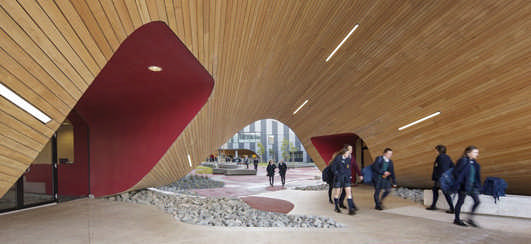 photo : John Gollings
The idea of infinite learning became the mantra. Radiating out from the library, along the length of the form, are specialist precincts and a variety of learning spaces. Each wing of the building then returns to link up, forming cloisters and the resulting plan of an infinity symbol.
The Shed National Theatre, London, England
Design: Haworth Tompkins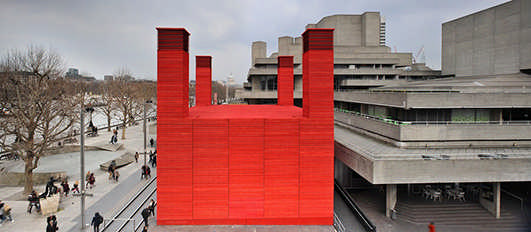 photo : Philip Vile
Haworth Tompkins announces the completion of The Shed, a temporary venue for the National Theatre on London's South Bank. The Shed will give the NT a third auditorium while the Cottesloe is closed for a year during the NT Future redevelopment, also designed by Haworth Tompkins.
Museum of Contemporary Art, Cleveland, USA – shortlisted for Design Museum Awards
Design: Farshid Moussavi Architects / FOA



photo : Foreign Office Architects
Crematorium Uitzicht, Kortrijk, Belgium
Design: SumProject + Souto Moura Arquitectos



photo : Luis Ferreira
It is a matter of searching for calm and make peace with the impressive landscape of Hoog-Kortrijk. The cemetery of Hoog-Kortrijk is a serene place that folds with the landscape, with plateaus that slip rhythmically over the slope.
Metropolitan Arts Centre, Belfast, Northern Ireland
Design: Hackett Hall McKnight



photo : Christian Richters
Bernardas Convent Reconversion, Tavira, Portugal
Design: Souto Moura Arquitectos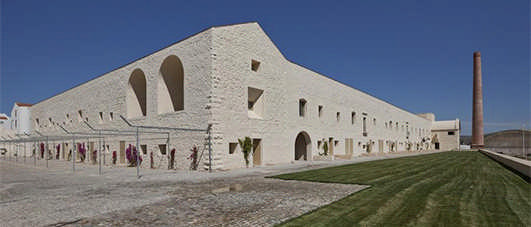 photograph : Luis Ferreira Alves
The new building is shaped in the form of an "L", along the Eastern stretch of land between the convent and the salt mines. Taking advantage of the 3-metre elevation between the two platforms, a line of single-family townhouses is built on one or two floors with terraces on what was once the convent's orchard.
Head Road 1815, Cape Town, South Africa
Design: SAOTA Architects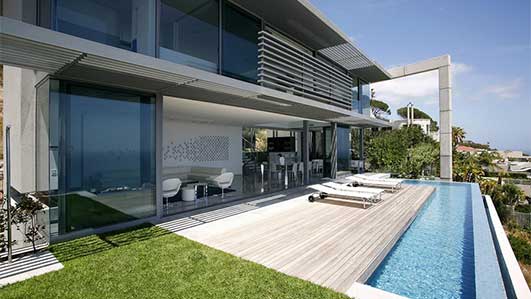 photo : SAOTA
The house includes three storeys accommodating three en-suite guest suites on the ground floor, with a plant area and a staff flatlet at the rear. The first floor is the main living level, with a large living room and dining room opening to a covered and uncovered pool terrace.
Hunt Library, North Carolina, USA
Design: Snøhetta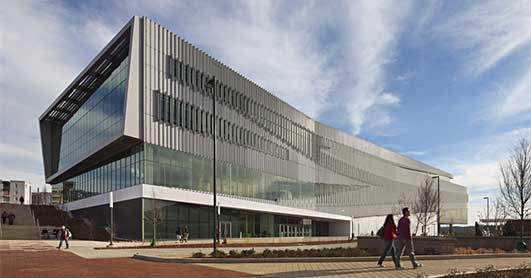 photo : Mark Herboth
Generous open spaces connect all floors of the building and open stairs emphasize an interactive and social environment alongside more focused study areas. A wide variety of study and learning environments, and technology-focused experimental labs break the now ubiquitous model of the learning commons.
Stopice Sports Hall, Slovenia
Design: Jereb In Budja Arhitekti



photograph : Blaz Budja
This building is located in a small village near the town of Novo Mesto, which is the capital of Dolenjska region. The Center extends to an area of 2,350 sqm. This project offers a new answer to the question as to how a contemporary public infrastructure is placed into a typical Slovenian countryside. The building serves as a sports hall for the existing local primary school and also doubles as a community sports centre.
Triangeln Station, Malmo, Sweden
Design: Sweco Architects AB + KHR Arkitekter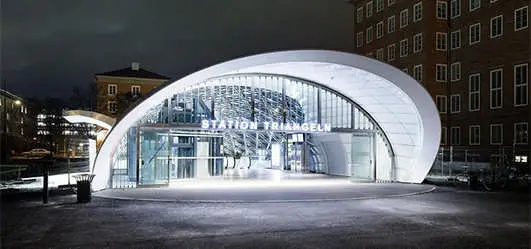 photo : Felix Gerlach
This new building has given Malmö a unique new regional and commuter train station in the heart of the city. The number of travellers per day has been estimated to 37,000, making it Sweden's third busiest railway station.
Alesia Museum and Archaeological Park, Alise Sainte Reine, France – added
Design: Bernard Tschumi Architects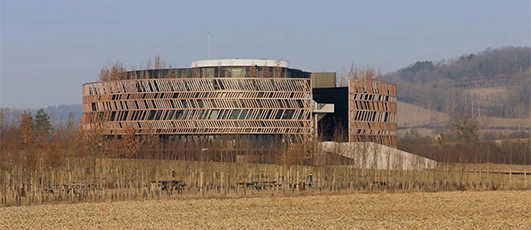 photo : Iwan Baan
This project marks an archeological site in central France and commemorates a historic battle between Julius Caesar and the Gauls in 52 B.C. The new museum recreates battlements and earthworks and provides historical interpretation for the area, which consists of several sites spread over a valley containing a small medieval town.
Cotacachi House, Imbabura, northern Ecuador
Design: arquitectura x



photo : Sebastian Crespo
Based on the architects' experience for their own house, they applied the same strategy: a universal scheme that can work for any site condition, a house whose spatial limits will be the two mountains that dominate the valley, the abstract glass house as a starting point. But they were also convinced that the universal and abstract need to become specific in order to work, specific to topography, weather, use, etc.
New Stuttgart Property, Germany
Design: J. MAYER H. Architects



photograph : David Franck
The new house is on a plot of land near Stuttgart, on a hillside with a generous view of the valley. The owners wanted a new home that would bring this view to life even inside of the building.
M House, Singera, Moldova
Design: Marcel Luchian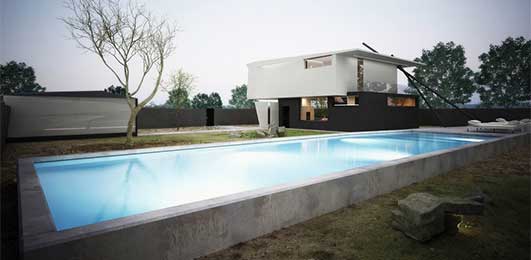 photo from architect
This contemporary house is situated east-west, with most living spaces enjoying maximum daylight via strategically placed ventilating windows to south, east and west. This provides a variety of exposures and views of the surrounding area.
Casa Varanda, Brazil
Design: Carla Juaçaba



photo : Fran Parente
A house made for the granddaughter of great architect Sergio Bernardes and a Colombian artist was a challenge. At first they wanted the house to have caracteristics of Casa Lota made by his grandfather in 1950, from which we kept some materials such as the ceiling.
INRA Research Laboratory, Nancy, France
Design: Tectoniques Architectes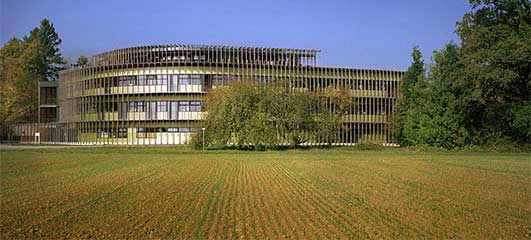 photo © Renaud Araud
The Champenoux site in the Lorraine region is one of the five sites of the Institut National de la Recherche Agronomique (National Agronomic Research Institute) in France. Located in the immense forest of Amance, it has added a new laboratories and offices building on the existing site.
Refuge du Goûter, Saint Gervais Les Bains, France
Design: Déca-Laage + Groupe-H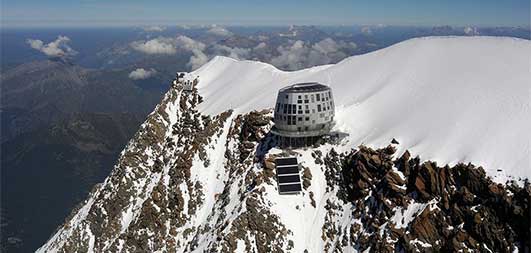 photo : Gudrun Bergdahl
To withstand the winds, we studied fluids mechanics and the aerodynamic properties of the exterior structure. Our research on convex structures lead us to decide on an el-lipse form, which, once projected into three dimensions, became a spheroid.
House in Muko, Kyoto, Japan
Design: Fujiwara Architects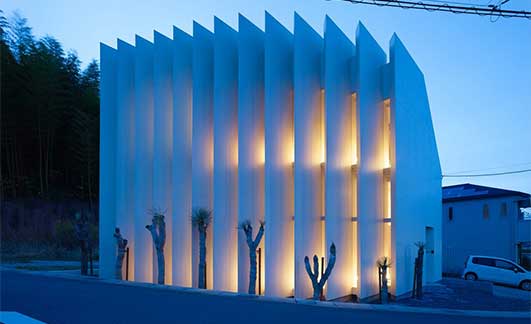 photo : Yano Toshiyuki
A mezzanine-floored residence consisting of a single-roomed space, located on a fan-shaped site. The movements of the sun can be felt inside the house all throughout the year. Light coming from the east strikes the louvered boards before entering the house and reaching deep into its interior.
House in Rio Bonito, Rio de Janeiro, Brazil
Design: Carla Juaçaba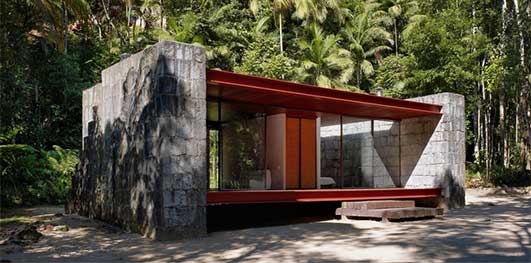 photo : Nelson Kon
This building is a weekend home in Brazil. Two voids puncture the roof at either end of the structure, washing the interior surface of the stone bearing walls with light and creating a stark contrast between the weight of the structure and lightness of the roof and floor which float above the rough ground.
New Maranello Library Building, Maranello, Italy
Design: Andrea Maffei Architects



photo : Alessandra Chemollo
MABIC, situated in 850 sqm area, is located inside a well-established residential context in Maranello and the library replaces an ex industrial warehouse maintaining the perimeter walls. The typical idea of the classic library is changed in an organic transparent shape put inside the original perimeter of the industrial building.
MVRDV Book Mountain – Spijkenisse Public Library, Rotterdam, The Netherlands
red dot design award news


photograph : scagliolabrakkee.nl
Spijkenisse Book Mountain has been announced winner of a red dot design award, one of the world's most acclaimed design awards. Book Mountain received a 'red dot' for high design quality in the 'Architecture and Urban Design' category, and was selected from 4,662 entries from 54 countries.
Queen Alia International Airport, Amman, Jordan
Design: Foster + Partners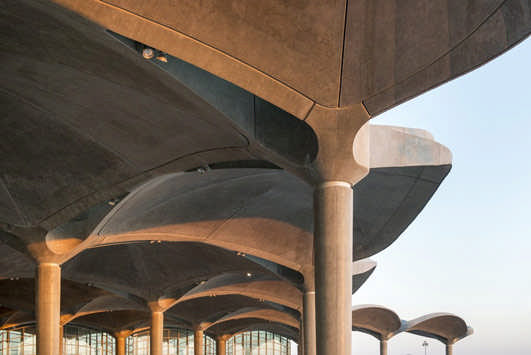 photo © Nigel Young – Foster + Partners
Queen Alia International Airport, the spectacular new gateway to Amman, now officially open. This new airport building has a highly efficient passive design, which has been inspired by local traditions, and is based on a flexible modular solution that allows for future expansion – the new building secures the city's position as the main hub for the Levant region and allows the airport to grow by 6 per cent per annum for the next twenty-five years.
Non Program Pavilion in Salobreña, southern Spain
Design: Jesús Torres García Arquitectes



photograph : Jesús Torres García
The structure of the building is developed itself as a flower, as a natural fact, subscribing to Oscar Niemeyer's approach. The whole project has been composed in the concept of "how to build in natural landscape?" and "what is the appropriate "weight" of a construction of this scale?"
The Blue Planet, Copenhagen, Denmark – building news
Architects: 3XN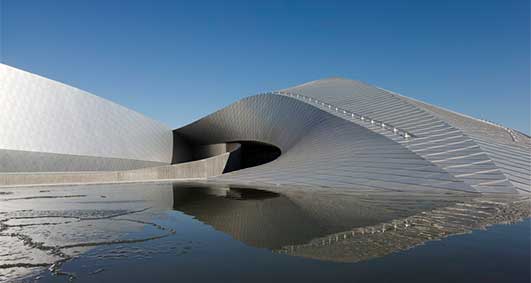 photo from architect
The Blue Planet is inaugurated – Denmark now has North Europe's largest and most modern aquarium. Furthermore, "Denmark has got an aquarium with a unique architecture, which is not to be seen anywhere else in the world".
Iceberg Aarhus, Denmark – MIPIM winner news
Best Residential Project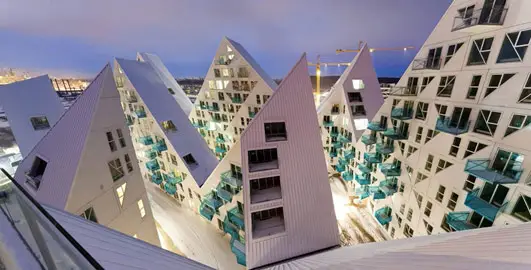 photo from architects
These buildings are in an area that is due to become a living city quarter and achieve a proper level of urban density, comprised of a multitude of cultural and social activities, generous amounts of workplaces, and of course, a highly mixed and diverse array of housing types.
New Residence in Buenos Aires, Argentina – 'Casa Agua'
Design: Barrionuevo Sierchuk Arquitectas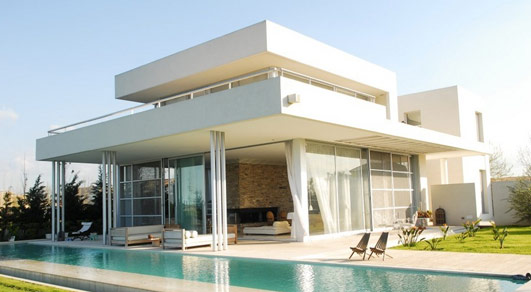 photo from architects
The site is 2,000 sqm, in the suburbs of Buenos Aires. It has 450 sqm and it is designed for a couple without kids, with, in the ground floor, a program of very large reception areas, that open and closes by very big wooden sliding doors that hide into the walls.
Il Milione Hong Kong
Architects: Design LSM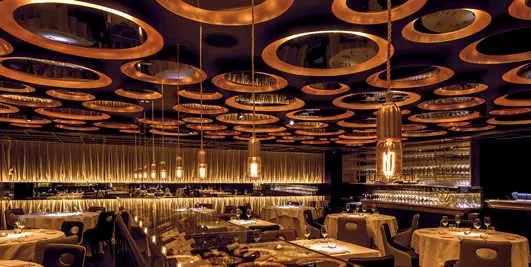 photograph courtesy of architects
elegant interior by English architects: "Il Milione was a challenging project, not least because of its location, relative to where the design was being developed. The building had limited natural light and a low, fixed ceiling height.
Maggie's Hong Kong – building news – new photo
Design: Frank Gehry Architect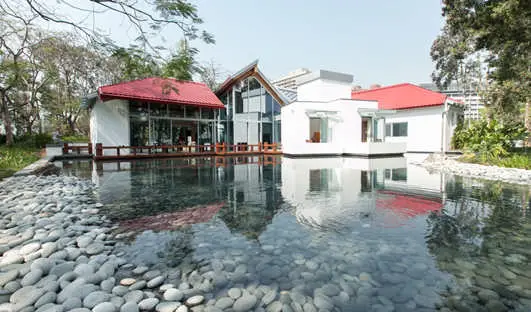 photograph : Pako Ko
Maggie's Hong Kong will open on Thursday, March 7, with Charles Jencks and Laura Lee attending. The official opening heralds a new era of cancer care and support for people with cancer across the region, bringing hope and solace to thousands.
Le Temps Machine, Joué-le-Tours, France
Design: Moussafir Architectes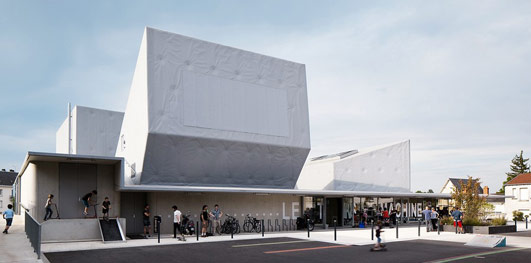 photo © Hervé Abbadie
An unusual conversion iof an existing building: the architects suggested maintaining the patio and some significant fragments of the structure, including that of the concert hall – an identity-shaping element of the old building. Highly prominent on the facade, this prow-like form once contained the audience seating.
Yapi Kredi ACCR Building, Gebze, Turkey
Architects: Teget Architectural Office



photo : Cemal Emden
The ACCR Building has been built to the campus of Yapi Kredi Bank Operational Center in Gebze. The building -named by its programs (Archive) on basement floor, (Call Center) ground floor and (Restaurant) first floor- is a prism of 75×30 meters.
Vieux Port Pavilion, Marseille, France – building news
Design: Foster + Partners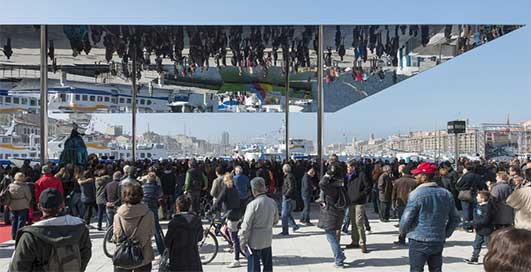 photo : Nigel Young
The transformation of Marseille's World Heritage-listed harbour was officially inaugurated on Saturday during a ceremony attended by Eugène Caselli, President of Marseille Provence Métropole and Jean-Claude Gaudin, the Mayor of Marseille.
Ecole Bobigny, Paris, France
Design: Mikou Design Studio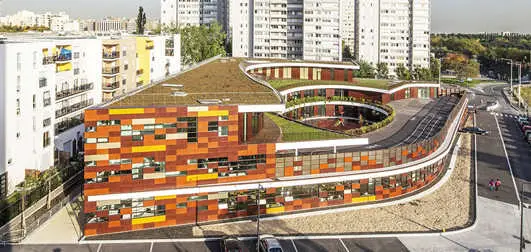 image from architect
The city centre school in Bobigny is in a strategic urban location, bounded by three large streets and by a pedestrian space on the north. It is in the middle of an urban complex mainly composed of housing, near the city hall.
Sliced Porosity Block, Chengdu, China – new photos
Design: Steven Holl Architects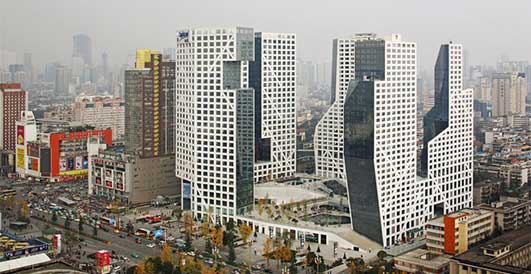 photo © Shu He
Clarion Hotel Trondheim, northern Norway
Architects: Space Group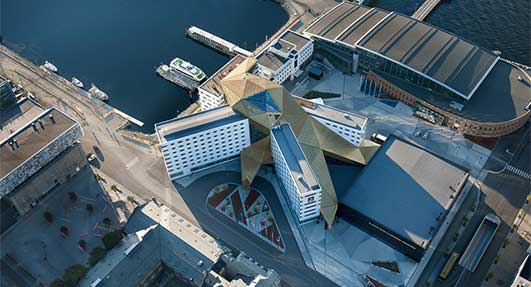 photo : Peter Hebeisen
The hotel room structure is 'dissolved' at ground level to increase the public accessibility. The openness secures good orientation from inside and out – and internally between reception, elevators, lobby bar restaurant, exhibition area and conference.
M Building in Paris, France
Design: Stephane Maupin & Partners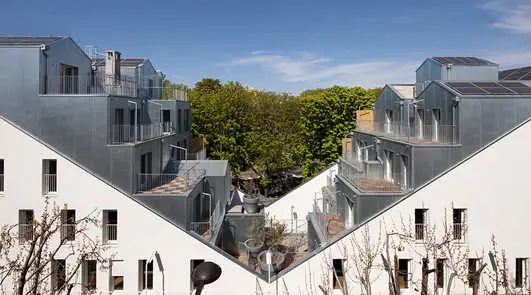 photo : Cécile Septet
The project takes place in the north Pierre Rebiere Street is a 600 meters long and 25 meters wide straight line. It is surrounded by the Batignoles' cemetery on one side and by the back entrance of the international high school Honoré de Balzac on the other.
Elqui Domos Astronomical Hotel, Pisco Elqui, Chile
Architects: RDM Arquitectura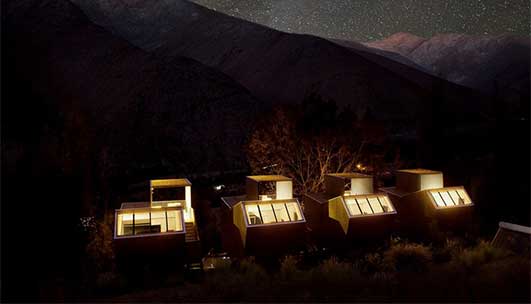 photo : James Florio
Time-lapse and stop motion project showcasing the architecture, design and the amazing skies of the Hotel Elqui Domos in Pisco Elqui, Chile – one of the worlds clearest skies.
Zero Energy House, Lokeren, Belgium
Design: BLAF Architecten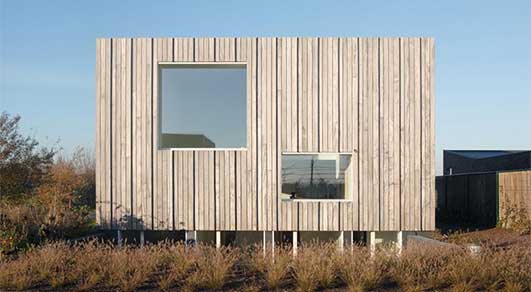 photo : Stijn Bollaert
The allotment creates a condition that is both generic and specific, context and non-text. The house deals with this condition in an apparently indifferent way, whilst in fact it is questioning the allotment: it is reformulating the concept of the front, side and back facade by addressing the surroundings in equivalent ways, and it is consciously leaving any kind of fencing behind.
Vilnius University Library, Lithuania
Architects: Paleko Arch Studija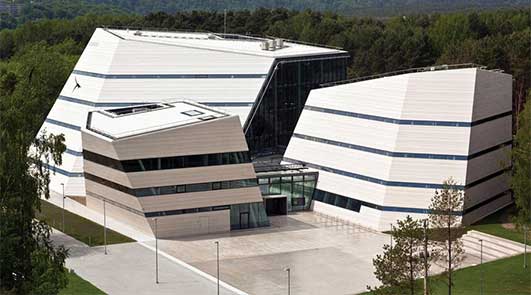 photo : R.Urbakavicius
This library building is on the outskirts of Vilnius. A relatively quiet and leafy location of the existing university campus is about to change significantly. In upcoming years, a new agglomeration of education facilities will emerge here.
Police Station of Safety and Proximity, Paris, France
Design: Fabienne Bulle Architecte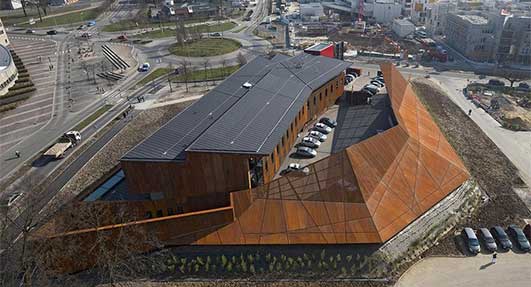 photo : Hervé Abbadie
This building – the centerpiece of the new urban community – provides a "contextual" response to its plural environment. Along the urban boulevard, it shows a 'front stage', a long wall of solid steel, enhanced by a layer of undulating blades.
Lycée Régional René Goscinny, Alpes-Maritimes, south east France
Design: José Morales architecte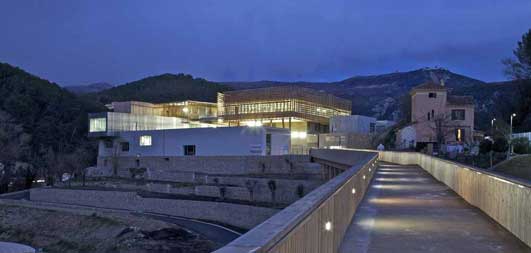 photo : Philippe Ruault
The project site is part of an already settled area where valleys have been deeply sculpted by water over time. The building has been designed to reflect the story of that environment and seeks to tie in with all of these interwoven rich territories.
Basket Apartments Paris, France
Design: Ofis Arhitekti



photograph : Tomaz Gregoric
Mariinsky Theatre, St Petersburg, Russia
Diamond Schmitt Architects



image from architects
Porsche Pavilion, Wolfsburg, Germany
Design: Henn Architekten



photo : HG Esch
Cluj Arena, Romania
Dico Si Tignans Birou De Proiectaire Srl



photo : Cosmin Dragomir
Lude House, Murcia, Spain
Architects: Grupo Aranea



photograph from architect
Inhabitable Space Wheel, Vitanje, Slovenia
Design: various architects



photo : Tomaz Gregoric
Three Residence Complex, Athens, Greece
Design: AKKM & Associates



photo : Sylvia Diamantopoulou
Volunteer Firefighters Barracks, Portugal
Architects: Álvaro Siza Vieira



photo : Joao Morgado
Bing Concert Hall Stanford, California, USA
Design: Richard Olcott of Ennead Architects



photograph © Jeff Goldberg
Orona IDeO, San Sebastian, north east Spain
Design: Xabier Barrutieta



photo © Xabier Barrutieta
Italcementi i.lab, Italy
Design: Richard Meier & Partners Architects



image courtesy of Scott Frances – OTTO
House in Abiko, Chiba Prefecture, Japan
Design: Shigeru Fuse Architects



photo from architect
MVRDV Glass Farm, Netherlands
MVRDV Architects



photo : Persbureau van Eijndhoven
Studio R São Paulo, Brasil
Architecture: studio mk27



photograph : Fernando Guerra
L´and Vineyards, Alentejo, Portugal
studio mk27 / Promontorio



photo : Fernando Guerra
Phuket Gateway building, Thailand – added
IDIN Architects



photo : Spaceshift Studio
H House, Seoul, South Korea
BANG by MIN emerging design group



photo : Joonhwan Yoon
Pavilion Siegen, north west Germany
Design: Ian Shaw Architekten



© felix krumbholz, courtesy of Ian Shaw Architekten
Major Building Designs from 2013
Architecture – latest additions to this page, arranged chronologically:
Key Architectural Links
Comments / photos for the Architecture of 2013 page welcome