YTL Headquarters Kuala Lumpur Building Design, Malaysia Office Development
YTL Headquarters Kuala Lumpur Building
25 Nov 2020
YTL Corporation Berhad Headquarters Kuala Lumpur News
Interior Design: MOD, Architects
Photography David Yeow Photography
Location: 205 Jalan Bukit Bintang, 55100 Kuala Lumpur, Malaysia
"UNIFYING PRESENCE"
Design brief: To unify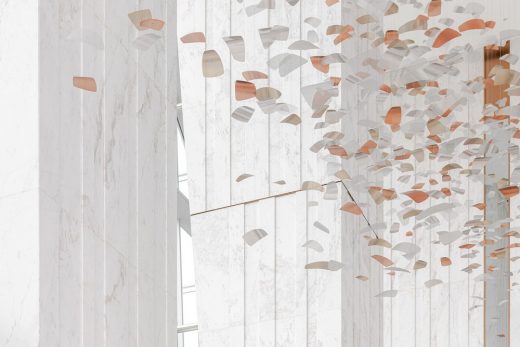 YTL Corporation Berhad, a large Malaysian infrastructure conglomerate founded in 1955, grew from a small construction firm into a global infrastructure company spanning oil & gas, cement, construction, property development and hotels.
Previously occupying various offices in different locations, this YTL Headquarters located in Central Kuala Lumper (along Jalan Bukit Bintang) brings together for the first time, the entire suite of YTL departments (numbering more than a dozen, comprising 1000 staff members), each of which have developed their own culture and operations.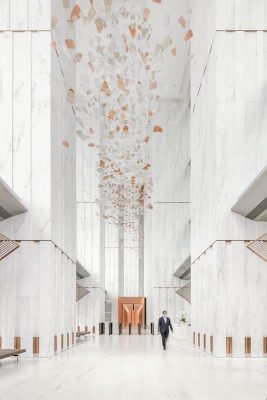 The brief for MOD (Ministry of Design)was to design the public areas shared by these departments, i.e. Ground Floor lobby and levels 8-10, and present a unified brand identity under one roof. As such, MOD sought to create a series of choreographed spatial experiences which aim to balance YTL's legacy of corporate professionalism with a future-forward attitude that embraces change.
Design concept: To respect legacy and infuse future-forwardness
There are 2 main public area zones, the Ground Floor lobby, and 3 upper floors (levels 8-10) which comprises a host of collective meeting zones, and a cafe.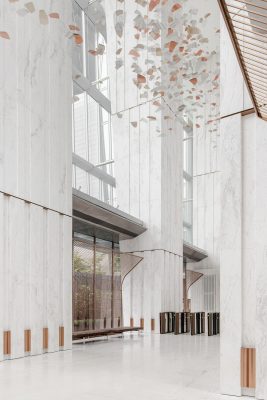 At the Ground Floor, visitors are greeted by a vertically cavernous lobby which spans more than 25-meters in height (7 floors). The design challenge for MOD, was how to enhance the majestic quality of the space, yet not dwarf the human scale and provide a welcoming entrance. As such, the lobby is a study in proportion, light control and a disciplined use of materials. The soaring space has been designed to capture the rays of light in the daytime, and glow like a lantern in the evening.
MOD designed the marble-clad columns such that its rhythm is denser and more grounded at the bottom, yet getting lighter towards the top, giving the impression of ascending lightness. MOD inserted horizontal striations and ridges using bronze accents, in the continuing pattern of white Bugatsa Marble, to provide visual relief rather than a continuous ascension to the top.
A glittering art installation hovers like a cloud over a series of pavilion niches, which provide a sense of human scale in this vast space. MOD designed the seating areas as architectural pavilion niches rather than mere decorative benches. These seating areas provide iconic Barcelona Couches for visitors to sit on and admire the lobby's majestic cavernous quality, and the pavilion niches are also designed in the same restrained material palette, featuring bronze bead blast metal trims for consistency.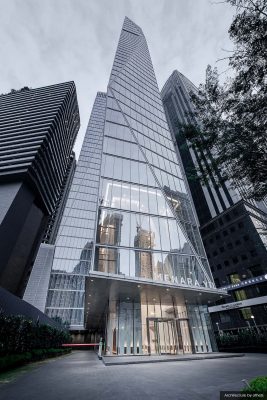 After a visitor signs in at the reception desk and proceeds past the turnstiles, they would indicate the destination floor number at the lift call button area before entering the lift lobby (incorporating a "destination-dispatching" elevator system). Design-wise, while MOD wanted to keep the entrance experience entirely symmetrical from the drop-off to the lift car, there was an existing stair core which prevents this symmetry; in response, MOD created a bronze-clad "portal" to anchor the lift portal and draw a visitor's eyes towards that lift lobby when he enters the main lobby. The lift lobby is accented with the same bronze metal as the main lobby for a consistently disciplined material palette.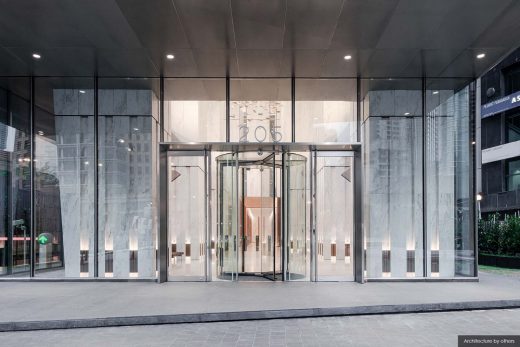 Levels 8 to 10 comprise a café, multiple types of open & closed meeting spaces and a 122-pax function room. This public zone is conceived to be an extension of the lobby area, and is conceptualized to be the point of interface between YTL staff and external visitors and consultants.
The "heart" of L8 is the handsome grey granite café counter with bronze shelves and oak timber ceilings and walls. Serving up freshly baked confectionary as well as aromatic espressos, this café counter is designed with a rough-edged split-face granite on its vertical surfaces and a smooth black sesame polished granite for the horizontal counter.
To introduce connectivity between Levels 8 and 9, MOD introduced a void and a feature spiral stair, designing an arresting and dynamic cage-like stair with vertical rods made of powdercoated bronze metal, sitting on a bed of black gravel. A visitor is meant to feel a sense of timeless elegance and beautifully crafted materiality whilst climbing the stair, with one hand on the elegant leather handrails.
On all three levels 8, 9, and 10, MOD has created a myriad of meeting space types to suit a variety of small to large gatherings, private to non-private. These spaces range from casual communal tables, open discussion areas, hot-desk / banquette seating / booth seating areas, to semi-enclosed meeting rooms, acoustically private rooms, a VIP room and a large multi-function meeting area that can seat 122 persons.
These spaces are designed with a warm and sophisticated palette, featuring warm oak timber for the walls and ceilings, silver mink marble flooring, and black powder-coated metal trims for lighting fixtures. The café, banquette and booth seating are upholstered in German-based innovative fabric from Saum & Viebahn whose "magic" range features high quality fabrics built for high-usage and easy maintenance.
The tables feature either striking black Nero Marquina marble or elegant white Calacatta marble. The enclosed meeting rooms feature handsome carpet flooring from the Net Effect Collection, elegant brown leather chairs and timber tables.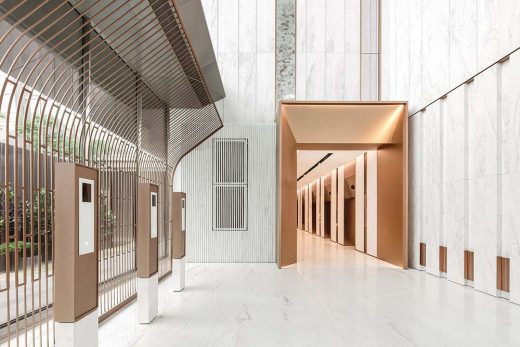 B.PROJECT CREDITS
Ministry of Design: Colin Seah, Joyce Low, Ruth Chong, Kevin Leong, Damien Saive, Namrata Mehta, Fai Suvisith, Justin Lu, Zhang Hang, Maggie Lek, Kaye Mojica, Richard Herman, Rais Rahman, Tasminah Ali, Azilawanti Wati
Built in GFA Ground Floor Lobby – 313sqm
L8 Cafe and Function Room – 910 sqm
L9 Meeting Facility – 835 sqm
L10 Meeting Facility – 987 sqm
Total GFA – 3045 sqm; Land Area – 2600 sqm
Facilities:
1. Ground Floor Lobby: Reception, Lift Lobbies
2. L8 Cafe and Function Room: Cafe, Multi-Function room (approx. 122 pax), VIP room
3. L9 Meeting Facility: Hot desks, Banquette seating, Booth seating, Open discussion area, Meeting rooms x 13, Pantry
4. L10 Meeting Facility: Open discussion areas x 2, Meeting rooms x 23, Pantry x 2
Address: 205 Jalan Bukit Bintang, 55100 Kuala Lumpur, Malaysia
Key Dates: Interior Construction duration : 24 months
Date of Completion: November 2020
Photography: David Yeow Photography
Owner: YTL Corporation Berhad
ID Contractor: Quantum One Sdn Bhd
Press Contact: Joy Chan Seah, Director
Architectural design
Concept: Kohn Pedersen Fox Associates
Design: Syarikat Pembenaan Yeoh Tiong Lay Sdn Bhd
Architect of Record: Veritas Design Group
Art at Ground Floor Hanging Art Sculpture titled "Leaves": Studio Sawada Design Co Ltd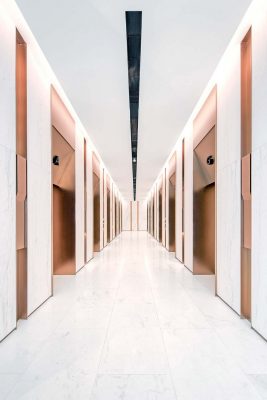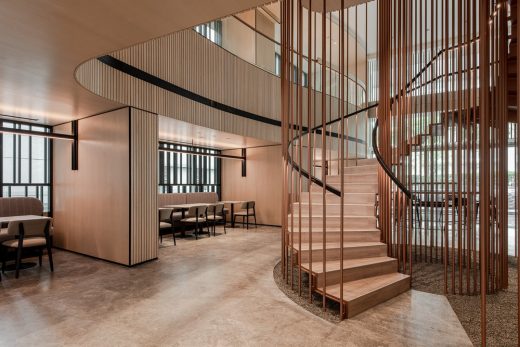 C.ABOUT MINISTRY OF DESIGN
Ministry of Design is an integrated architectural, interior design and branding firm that has won Singapore's President Design Award twice, New York's Gold Key Award thrice, and named "Designer of the Year" by International Design Awards (USA), and been featured in Wallpaper, Frame and Surface.
Headquartered in Singapore, with offices in Beijing and Kuala Lumpur, MOD was declared a "Rising Star of Architecture" by the Monocle Singapore Survey 2010 and "Designer of the Year" by the International Design Awards, USA 2010. Our recent portfolio includes VUE Hotel Houhai Beijing (Winner of 13 international awards including Best Emerging Concept, Gold Key NYC 2018), Race Robotics Laboratory (Winner of 12 international awards including IIDA USA Design of the Year 2018), COO Sociatel, Loke Thye Kee Residences, 100PP Office Building, Durasafe Gallery (Red Dot 2014 Winner) and Eco Layer Gallery.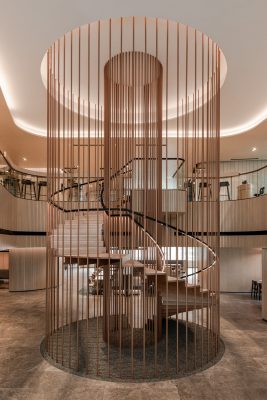 Created by Colin Seah to question convention and redefine the spaces, forms and experiences that surround us, MOD's explorations are created amidst a democratic studio-like' atmosphere and progress seamlessly between form, site, object and space. At MOD, we provide our clients services that transcend mere design skill sets or technical prowess.
We prefer to start far upstream and instead of merely designing solutions, we design holistic experiences. The resultant design thinking then translates into a wide variety of possible downstream design applications and media: be it architecture, product design, interior architecture, branding, graphics, landscape or even the weaving of diverse disciplines into a single project.
"We love to question where the inherent potential in contemporary design lies, and then to disturb the ways they are created or perceived, redefining the world around us in relevant and innovative ways, project by project. This, we declare, is real change, not change for the sake of novelty.
Fortified with these aspirations, we begin each distinct project anew by seeking to do 2 things: to draw deeply from the context surrounding each project, but also to dream freely so that we might transcend mere reality and convention. Each MOD project endeavours to be delightfully surprising but yet relevant, distinctly local but still globally appealing."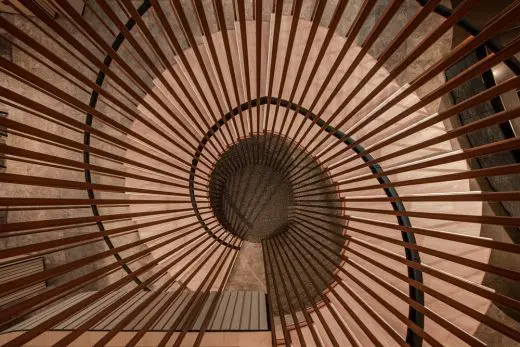 D. FF&E DETAILS
Area Material Supplier
A. Ground Floor: Lobby, Lift Lobby, VIP Lobby
1 Stone for wall & floor & reception counter
White Bugatsa Marble Axis Stone Sdn Bhd
2 Metal for wall lights & trims, pavilion niches, lift lobby portal, lift door
Bronze metal (bead blast) PVD Titanium Coating Sdn Bhd
3 Mirrors at Lobby One-Way Mirror & Clear Mirror DDG Glass Manufacturing Sdn Bhd
4 Seating at Pavilion Niche Barcelona Couch (Tan Leather) Space Furniture Pte Ltd
5 Hanging Art Sculpture Custom art featuring metal silver, white and bronze organic shapes hung with steel cables
Studio Sawada Design Co. Ltd
6 Lighting Architectural lights Brandston Partnership Inc.
B. Level 8: Function Room and Lift Lobby
7 Wall & Ceiling Oak Timber Veneer Quantum One Sdn Bhd
8 Fabric wall & Movable wall system
Grey fabric Quantum One Sdn Bhd
9 Roller blinds Blinds in grey colour sheer and blackout fabric
Quantum One Sdn Bhd
10 Flooring: Carpet Net Effect TM Collection Interface Singapore Pte Ltd
11 Furniture Black stackable chairs, Armchairs, sofa, coffee table, side table
R&C Creative Studios Sdn
Bhd
12 Lighting Wall scones from Dolma Kreon
C. Level 8: Café counter, Café Seating and toilets
13 Flooring for café, seating areas, Communal table & toilets
Lighter Grey Stone Flooring
(Silver Mink Marble)
Axis Stone Sdn Bhd
14 Flooring for café counter, seating areas
Darker Grey Granite Flooring
(Flamed black sesame granite)
Axis Stone Sdn Bhd
15 Café counter Split-face granite (vertical), polished black sesame granite (horizontal)
Axis Stone Sdn Bhd
16 Café shelves, wall, ceiling Oak Timber Veneer Quantum One Sdn Bhd
17 Café shelves metal accents
Bronze metal (bead blast) PVD Titanium Coating Sdn
Bhd
18 Spiral Stairs Powder-coated bronze metal,
Grey gravel flooring, Brown leather handrail
Quantum One Sdn Bhd
19 Spiral Stair Steps Timber effect vinyl floor
(Daybreak LV 5442 Coral)
Inovar Contracts Sdn Bhd
20 Fabric upholstery for banquette seats
Saum &Viebahn (MAGIC collection), designed for high usage and easy maintenance, with FibreGuard technology and
Oeko-Tex Standard 100
Roselle Mont Clair Pte Ltd
21 Loose dining chairs, bar stools & tables
Custom chairs, tables with white marble table top, bar stools
R&C Creative Studios Sdn Bhd
22 Communal table Black Nero Marquina marble Axis Stone Sdn Bhd
23 Toilets Partition walls (Formica), Sanitaryware (TOTO)
Besco Building Supplies
(Sea) Pte Ltd & YTL
24 Lighting: Wall lights Wall Marset (Aura collection) Neiviv Home
25 Lighting Architectural lights Brandston Partnership Inc.
26 Metal trims on wall & lights
Powder coated black metal Quantum One Sdn Bhd
D. Level 9-10: Meeting Facilities
27 Flooring: Vinyl (open meeting areas)
Timber-effect Vinyl Flooring
(Daybreak LV 5442 Coral)
Inovar Contracts Sdn Bhd
28 Flooring: Carpet (closed meeting rooms)
Net Effect TM Collection Interface Singapore Pte Ltd
29 Wall & Ceiling & Joinery Oak Timber Veneer Quantum One Sdn Bhd
32 Small round tables at Banquette seating
Black Nero Marquina marble Axis Stone Sdn Bhd
33 Pantry communal table White marble table top
(Compac Quartz, Unique Calacatta)
Axis Stone Sdn Bhd
34 Metal trims on furniture Bronze metal (bead blast) PVD Titanium Coating Sdn Bhd
35 Metal trims on wall & lights
Powder coated black metal Quantum One Sdn Bhd
36 Meeting rooms ceiling Beige paint Nippon paint
37 Meeting rooms mirrors Clear mirror in meeting rooms,
Bronze tinted mirror in pantry table area
Quantum One Sdn Bhd
38 Meeting room furniture Custom table with timber top and chair in brown leather
R&C Creative Studios Sdn
Bhd
39 Lighting Architectural lights Brandston Partnership Inc.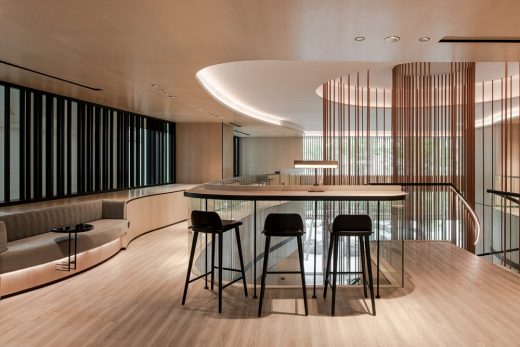 杨忠礼集团总部
室内设计
3045 平方米 | 吉隆坡,马来西亚 | 建成 2020
A. 设计撰写
"凝聚的力量"
YTL 总部位于吉隆坡市中心(沿着 Jalan Bukit Bintang),这是 YTL 集团首次将十二个部门回寄在一起的,
在同一个办公大楼下呈现出统一的品牌形象。容纳超过 1000 名员工,MOD 创造了一系列精心设计的空间
体验,旨在平衡 YTL 的企业专业精神价值和拥抱变化的未来态度。
共有 2 个主要的公共区域,位于一楼,和 3 个高层(8-10 层)。所有的访客都有一个垂直的洞穴般的接待大
堂,在上面的楼层,有一系列的集体会议区,包括一个咖啡厅和花园露台。
接待大堂是一个需要仔细推敲比例,以及光线控制和严格的使用材料的空间。这个高达 20 米的空间被设计
成可以在白天捕捉自然光线,而在晚上像灯笼一样发光。一个闪闪发光的艺术装置像云朵一样盘旋在一系
列展馆壁龛上,在这个巨大的空间中提供了一种人性化的尺度感。
高层会议区被定义为 YTL 员工和外部访客/顾问之间的接口点。跨越 3 层,其中 2 层通过一个中空的特色
螺旋楼梯垂直整合,MOD 创造了许多的会议空间。从休闲咖啡风格的桌子,半封闭的房间,私人隔音室
和大型多功能会议室,空间设计温暖搭配精致的色调。
B. 项目信息
Ministry of Design
设计团队
Colin Seah, Joyce Low, Ruth Chong, Kevin Leong , Damien Saive,
Namrata Mehta, Fai Suvisith, Justin Lu, Zhang Hang, Maggie Lek, Kaye
Mojica, Richard Herman, Rais Rahman, Tasminah Ali, Azilawanti Wati
总室内⾯积 一层体验中心 :313 平米
八层咖啡厅和多功能室 :910 平米
九层会议室 : 835 平米
十层会议室- 987 平米
总室内⾯积 – 3045 平米
配套设施 1. 一层体验中心: 接待处,电梯厅
SINGAPORE HQ: +65 6222 5780 | www.modonline.com | 20 Cross Street #03-01 Singapore 048422
MALAYSIA BRANCH: +603 2201 5222 | A-33-5 Menara UOA Bangsar, No. 5 Jalan Bangsar Utama 1, 59000 Kuala Lumpur P 07
2. 八层咖啡厅和多功能室 :咖啡厅,多功能室,贵宾室
3. 九层会议室 : 办公桌, 长椅, 沙发座椅, 开放式洽谈区,13 会
议室,备餐室
4. 十层会议室: 2 开放式洽谈区,23 会议室,备餐室
地址 205 Jalan Bukit Bintang, 55100 吉隆坡,马来西亚
施工阶段 24 月
施工完成 2020 年 11 月
摄影师 David Yeow Photography
业主 YTL Corporation Berhad
室内承包商 Quantum One Sdn Bhd
媒体联系⼈ Joy Chan Seah, Director
[email protected]; +65-98592650 ; www.modonline.com
一层大堂
悬挂雕塑艺术品
艺术家:Studio Sawada Design Co Ltd
C. MINISTRY OF DESIGN
Ministry of Design 是⼀家综合的设计公司,可以提供建筑,室内和品牌设计,曾两次
获 得新加坡总统奖,三次获得纽约⾦钥匙奖,并被国际设计奖(美国)评为"年度设计
师",并经常在 Wallpaper, Frame, Surface 的杂志上⾯发表作品。
MOD 是由 Colin Seah 先⽣创⽴。公司的理念在于质疑惯例,对围绕在我们⾝边的空间
进⾏重新的定义. MOD 的探索创造了拥有参与感很强的'⼯作室式'的⼯作氛围,并且
对于建筑的形式,场地,对象和空间密切的结合起来。在 MOD,我们为我们客户的服务
超越了简单的设计技能或者技术咨询。我们喜欢逆流⽽上⽽不只是设计解决办法,我们
为我们的项⺫提供全盘的构想和体验。由此⽽产⽣的设计思路被可以⾃然⽽然的转化为
各种设计⽅案和媒体传播⼿段:建筑,产品设计,室内设计,品牌策划,标识,景观,
甚⾄可以将不同专业的内容汇集⾄⼀个项⺫中。
"我们喜欢充分的激发现代建筑设计的潜⼒,质疑我们对习以为常的事务的知觉和看法,
为我们⾝边的世界建⽴新的联系,利⽤我们⼀个⼜⼀个项⺫来⽤另⼀种⽅式来感知世
SINGAPORE HQ: +65 6222 5780 | www.modonline.com | 20 Cross Street #03-01 Singapore 048422
MALAYSIA BRANCH: +603 2201 5222 | A-33-5 Menara UOA Bangsar, No. 5 Jalan Bangsar Utama 1, 59000 Kuala Lumpur P 08
界。 这对我们⽽⾔,才是真正的改变,这决不是单纯为了追求新奇⽽进⾏的改变。在这
个强 烈愿望的促使下,我们每⼀个不⽤的项⺫都在追寻这两个⺫标——从每个项⺫特殊
的场 地环境中寻求灵感,但同时⼜⼤胆的创新,我们就可以超越现实和传统。每⼀个
MOD 的项⺫都投⼊了⼗分的努⼒,每⼀个项⺫既⼤胆创新、赏⼼悦⺫,⼜与当地的⽂脉
和环 境恰如其当的结合在了⼀起."
MOD 的总部设在新加坡,并且在北京和吉隆坡设⽴了办公室。我们的设计精神得到了很
好的反响,在国际和国内的各个奖项中我们都荣获了殊荣并且得到了重要媒体的好评—
— 其中包括了 2010 年度新 加坡 MONOCLE 杂志评出的' RISING STAR OF
ARCHITECTURE'以及 2010 年度美国国际设计⼤奖评出的"Designer of the Year"。
最 近我们的项⺫有:VUE 后海北京酒店 (获得 13 个国际胜出,包括 2018 ⾦钥匙奖最佳
创 新新酒店概念),RACE 机器⼈试验室(获得 12 个国际胜出,包括 2018 年度美国国际
室 内设计协会 IIDA 全球⼤奖),COO 精品社交酒店,LOKE THYE KEE 住宅, 100PP 办
公⼤ 楼, Durasafe 零售展厅(2014 年度红点设计⼤奖), 及 ECOWORLD 层叠展厅。
YTL Headquarters Kuala Lumpur Development images / information from architects 251120
Address: 205 Jalan Bukit Bintang, 55100 Kuala Lumpur, Malaysia, Southeast Asia
Architecture in Malaysia
Malaysian Architecture Designs
Malaysian Architecture Designs – chronological list
Malaysian Architecture – Selection
BiodiverCity Masterplan, Penang South Islands, north west Malaysia
Architects: BIG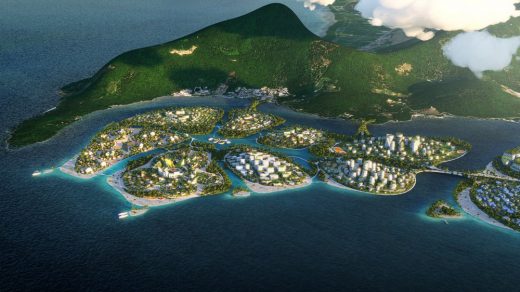 image from architecture practice
BiodiverCity Masterplan
Supermax Global Headquarters, Klang
Design: Szczepaniak Astridge, Architects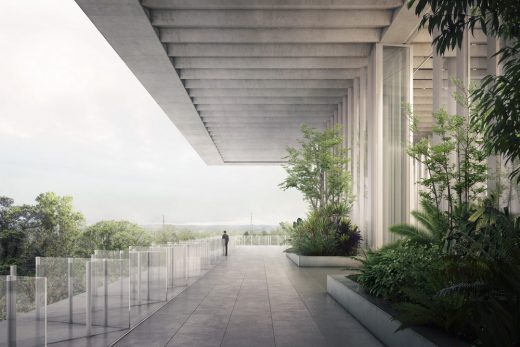 image from architecture office
Supermax Global Headquarters
Kiara Bay Masterplan
Design: Lead8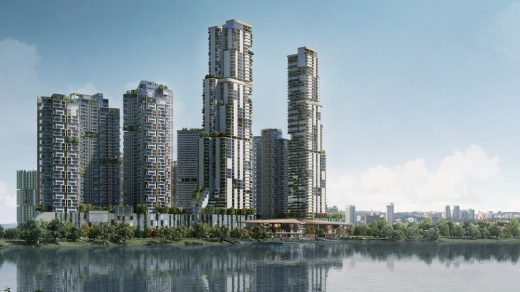 image from architecture office
Kiara Bay Masterplan near Kuala Lumpur
Arte S George Town in Penang
Design: SPARk Architects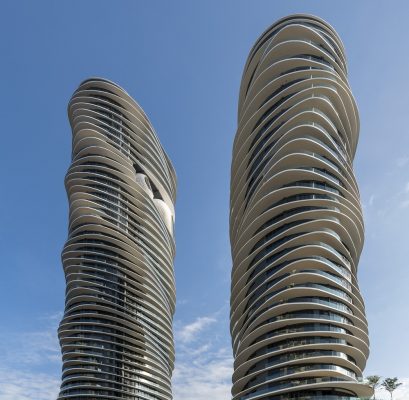 photograph : Lin Ho
Arte S George Town Penang
Bukit Jalil and Damansara Heights Pavilions, Kuala Lumpur
Design: Leonard Design Architects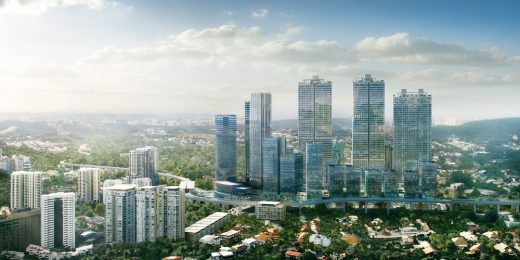 image from architecture firm
Bukit Jalil and Damansara Heights Pavilions
Singapore Architecture Designs
Comments / photos for YTL Headquarters Kuala Lumpur Development page welcome