Architecture in 2020, Buildings of the Year, Architects, Major Property Designs, Photos
Architecture of 2020: New Buildings
e-architect Selection of Key Contemporary Architectural Developments
post updated 13 May 2021 ; post updated 1 Jan 2021 ; 20 + 19 + 18 Dec 2020
Major Architecture of 2020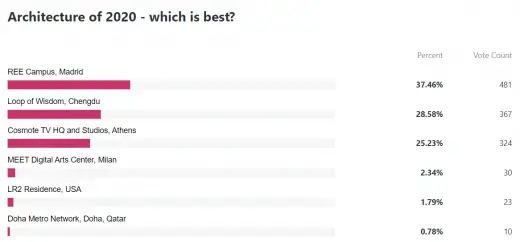 The winner is clearly REE Campus, Madrid, Spain, polling a massive 37.46%, with a total of 481 votes
REE Campus, Madrid, Spain
Architects: IDOM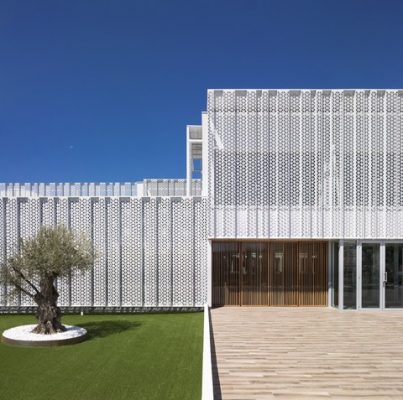 photo : Aitor Ortiz
REE Campus in Madrid
In second place is the Loop of Wisdom, Chengdu, China, with 28.58% of the total vote, and 367 votes
Loop of Wisdom, Chengdu, south west China
Architects: Powerhouse Company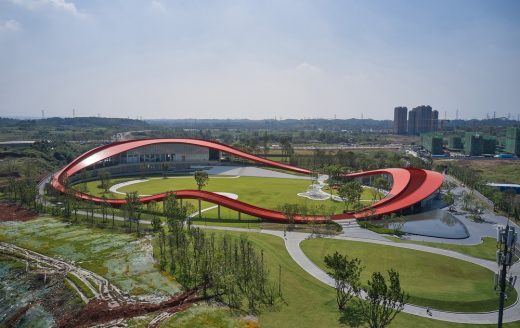 photo : Jonathan Leijonhufvud Architectural Photography
Loop of Wisdom Museum in Chengdu
In third place is Cosmote TV HQ and Studios, Athens, Greece, with 25.23% of the vote and 324 votes.
Cosmote TV HQ and Studios, Athens, Greece
Design: LC Architects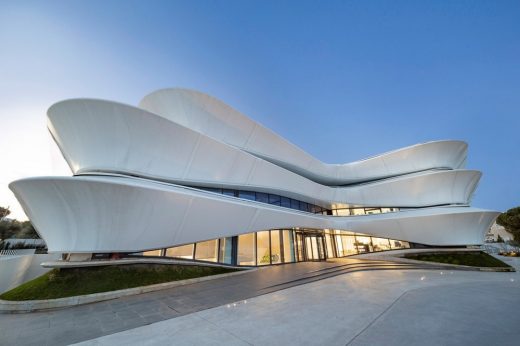 photo © Nikos Daniilidis
Cosmote TV HQ and Studios in Athens
Happy New Year to our readers!
e-architect have selected some key buildings of 2020.
Our parameters? Architecture designs that stimulate, buildings that ask significant questions, designs that show creativity and innovation.
We have considered the year's international architecture highlights to pick out the key buildings of the year. We are deliberately not considering the complex task of selecting 'winners'.
(Adrian Welch, e-architect editor)
We are focusing this year only on completed buildings, not building designs (ie unbuilt proposals).
Buildings / designs are listed in georgaphical order, per our folder structure.
We are still adding projects today, this list wll be finalised over the weekend!
********************
A further selection of buildings around the world – shortlisted but not in the final cut:
********************
Yes, you can now vote on your favourite project:
Major Buildings completed in 2020
Architecture in 2020 – latest additions to this page, arranged chronologically:
AMERICA – USA
False Bay Writer's Cabin, San Juan Islands, Washington
Architects: Olson Kundig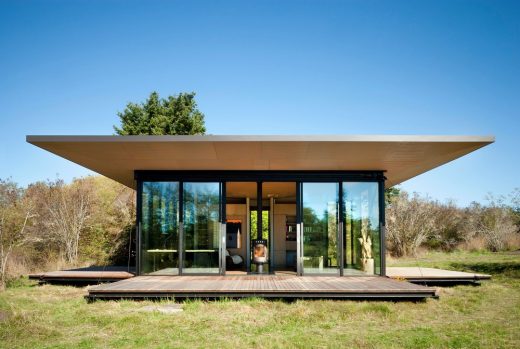 photo : Tim Bies / Olson Kundig
False Bay Writer's Cabin, San Juan Island
This five-hundred-square-foot cabin serves as a private writer's retreat and guest cottage. The owners of False Bay Writer's Cabin asked for a space that felt connected to its island setting—the mild climate, scenic views, and proximity to wildlife. At the same time, they needed a structure that could be easily secured when not in use.
Red Rocks Residence, Camelback Mountain, Phoenix, Arizona
Architect: The Ranch Mine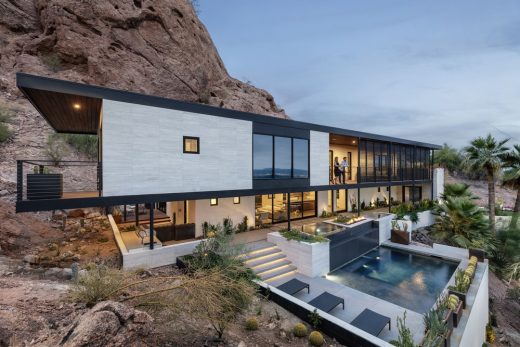 photograph : Roehner + Ryan
Red Rocks Residence in Phoenix, Arizona
Clinging to the side of Camelback Mountain in Phoenix, Arizona, a Spanish Colonial Revival style house has been transformed into a modern dwelling that creates and elevates a variety of experiences with both the natural and man-made environment.
LR2 Residence, Pasadena, California
Design: Montalba Architects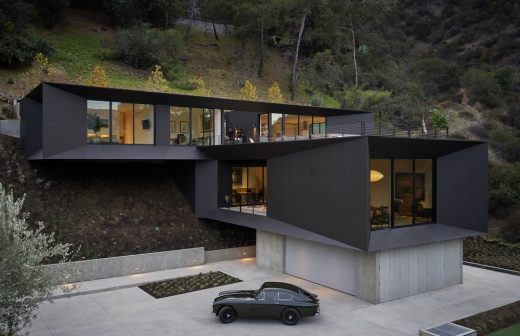 photography : Kevin Scott
LR2 Residence in Pasadena, California
The modern American esidence overlooks Pasadena and its adjacent mountains from its hillside perch. This new 4,200-sqft house is made up of several distinct living volumes and programs.
AMSTERDAM
Diamond Exchange, Amsterdam, The Netherlands
Design: ZJA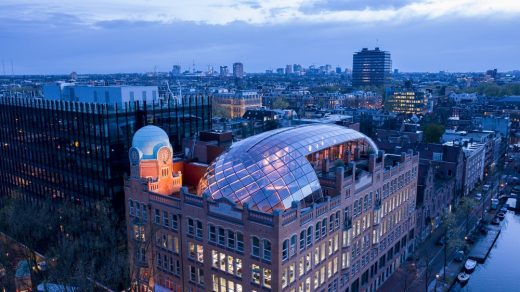 photo © Capital C Amsterdam
Diamond Exchange, Capital C Amsterdam
The Diamond Exchange, Capital C Amsterdam in Amsterdam, the Netherlands, has been awarded with a prestigious MIPIM Award 2020 for 'Best Refurbished Building' at the Paris Real Estate Week. The historical building, designated as  a national monument, has undergone a major renovation designed by the architectural office ZJA in collaboration with Heyligers design + projects.
ATHENS
Cosmote TV HQ and Studios, Athens, Greece
Design: LC Architects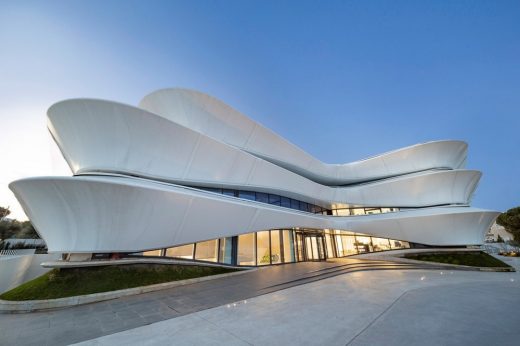 photo © Nikos Daniilidis
Cosmote TV HQ and Studios
Designed by London-based architecture and design practice LC Architects, Cosmote TV HQ and Studios is a new, innovative building inspired by contemporary media and the constant flow of information.
BANGKOK
Power Wing, Bangkok, Thailand
Design: Openbox Group and Openbox Architects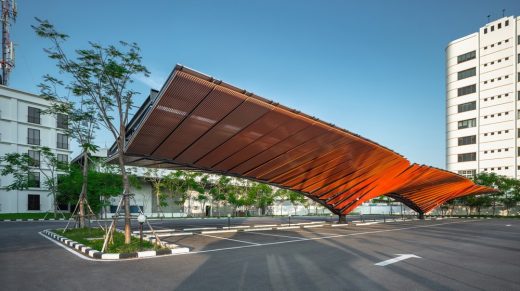 photo : Panoramic Studio
Car Parking Solar Roof Bangkok
After many success OPENBOX design interventions for large scale projects, B. Grimm Power send us a brief to help creating an awareness of the important of sustainable energy to public. The brief was to create an iconic piece of landmark at their Headquarters Office, that can send a strong message.
BEIJING
Courtyard Kindergarten, Beijing
Design: MAD Architects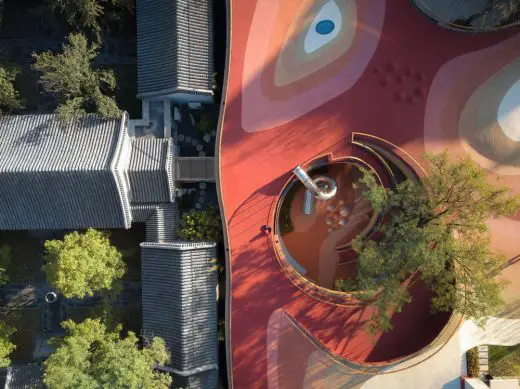 photo © ArchExist
Courtyard Kindergarten by MAD Architects
A kindergarten sited next to a senior citizens' apartment, reflecting the client's "intergenerational integration" ethos that blends pre-school education and elder care. The 9,275 sqm site consists of an 18th century Siheyuan courtyard, an adjacent replica courtyard built in the 1990s, and a four-story modern building.
Beijing Zhongshuge Lafayette store interior, Beijing
Architects: X+LIVING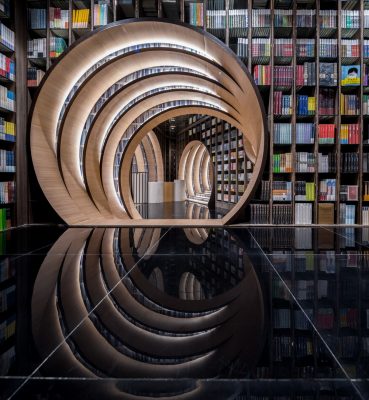 photo : Wu Qingshan
Beijing Zhongshuge Lafayette store design
It's the second time for Zhongshuge bookstore to land in Beijing. This time it joins Lafayette department store, where the classical gardens and the reading space collided from three different perspectives in the fashionable commercial area.
CANADA
New Central Library, Alberta
Architects: Snøhetta and DIALOG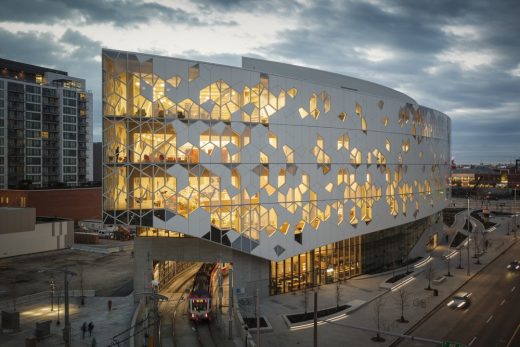 photography © Michael Grimm
New Central Library in Calgary
Calgary's New Central Library aims to welcome over twice as many as previously annual visitors to its 240,000 SF of expanded facilities, the library will fill a vital role for the rapidly expanding city. As Calgary's largest public investment since the 1988 Olympics, the library signals the beginning of a new chapter in the life of the city, one centered on the creation and innovation of knowledge and culture.
CHINA
Yabuli Entrepreneurs' Congress Center, North east China
Design: MAD Architects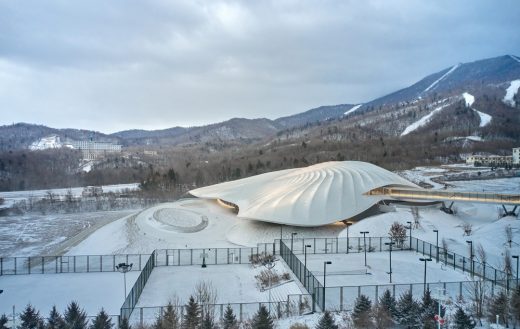 photo © ArchExist
Yabuli Entrepreneurs' Congress Center
Nestled in the snow-covered mountains of Northeastern China, the project was commissioned by the Yabuli China Entrepreneurs Forum (Yabuli CEF), one of China's most influential business organizations. November 18th to 20th saw the venue's opening ceremony and its first event, the Yabuli CEF's 20th annual conference, attended by over 600 entrepreneurs.
Regeneration – Free Spring Morning, Suzhou, China
Design: LACIME Architects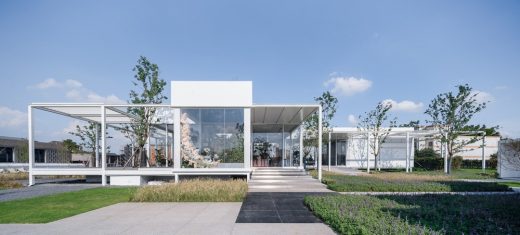 photo © SHANJIAN Photography Studio
Free Spring Morning, Suzhou Building
As rational consumerism prevails, the traditional real estate design model of spending a lot of money to build a luxury sales office is fading away. The sales office is one of the most important design elements in real estate design, and this element is now going to two extremes – permanent sales offices are paying more attention to the pursuit of high quality, and temporary sales offices are increasingly looking for rapid efficiency.
Yingliang Stone Natural History Museum, Fujian, Southeast China
Design: Atelier Alter Architects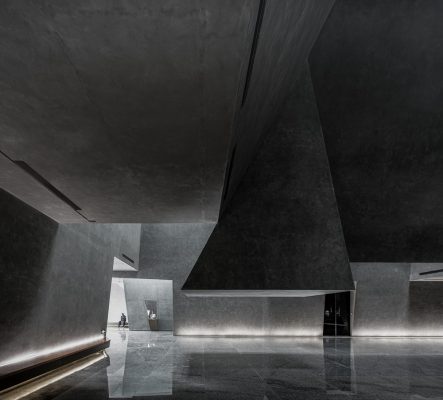 photograph : Atelier Alter Architects
Yingliang Stone Natural History Museum, Fujian
Over the years of stone mining, the manufacture has discovered numerous fossils. The manufacture decides to dedicate the headquarter building to a museum to tell the history of the fossils and the natural science of researching the fossil. There are two major challenges during the renovation process.
OCT Chuzhou Minghu Experience Center, Chuzhou, Anhui Province
Design: Lacime Architects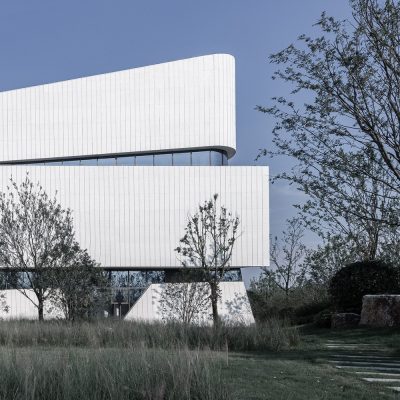 photograph : Schran Images
OCT Chuzhou Minghu Experience Center
The project site is located in the Minghu Lake area, the southeastern part of the planned new town of Chuzhou city, Anhui Province. It is adjacent to Chuzhou-Yangzhou Expressway and the Beijing-Shanghai High-speed Railway, surrounded with a favorable landscape environment.
Changzhou Culture Center
Architect: gmp · von Gerkan, Marg and Partners · Architects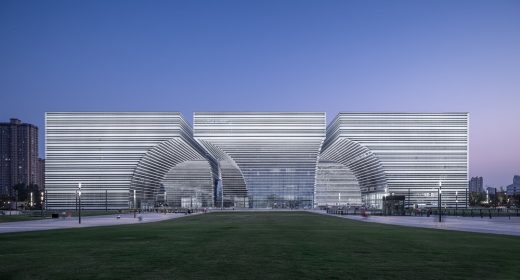 photography © Schran Images
Changzhou Culture Center Building
In the Chinese province of Jiangsu, within the catchment area of Shanghai, lies the city of Changzhou which, with its about 5 million inhabitants, has developed into an important industrial metropolis in the Yangtze Delta region. In the newly created city center of Changzhou, the architects von Gerkan, Marg and Partners (gmp) have created a cultural center with an art museum, library, hotel, offices, and retail areas.
SigMann Showroom, Guangzhou
Architects: Spring Design Office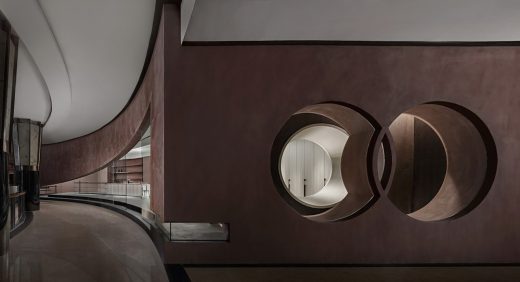 image : b+m studio/ Kelvin
SigMann Showroom Guangzhou
SigMann is a cabinet and home furnishings brand, the name of which is derived from "Sig" and "Manna". "Sig" is the abbreviation of "special interest group", which represents cultivated, decent and tasteful elites, while "Manna" comes from Bible and implies food for thought.
Longfu Life Experience Center, Puyang County, Henan Province, China
Design: LUO studio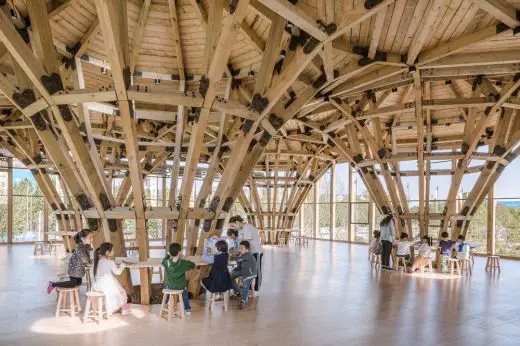 photo : Jin Weiqi
Longfu Life Experience Center
Real estate sales center is a kind of temporary architecture that can only last several months or few years at most, which is usually dismantled after houses are sold out. Even if it can be preserved in few cases, functions are completely transformed.
Loop of Wisdom, Chengdu, south west China
Architects: Powerhouse Company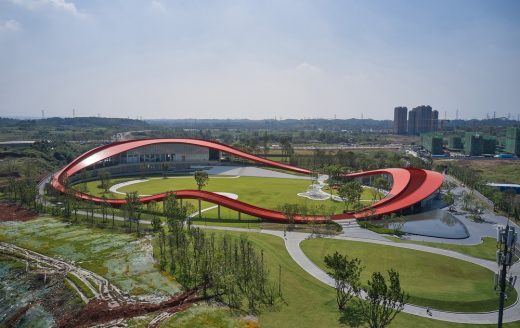 photo : Jonathan Leijonhufvud Architectural Photography
Loop of Wisdom Museum, Chengdu
Living up to the suggestiveness of its name, the Loop of Wisdom embodies a timeless architectural concept. Powerhouse Company's design for a technology museum and reception center for a new neighborhood in Chengdu, China, is much more than an exuberant landmark.
Imperial Kiln Museum, Jingdezhen, Jiangxi
Architects: Studio Zhu-Pei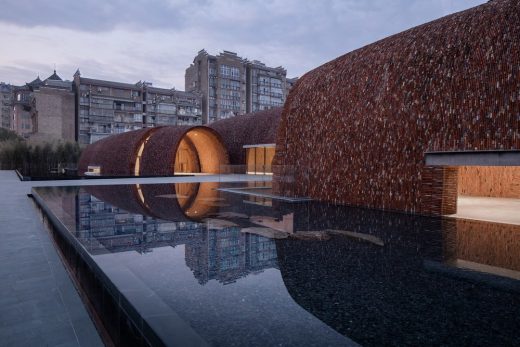 photography : schranimage, Tian Fangfang, Zhang Qinquan, courtesy of Studio Zhu-Pei
Jingdezhen Imperial Kiln Museum, Jiangxi
Located in the center of the historical area, the site of the Imperial Kiln Museum is adjacent to the Imperial Kiln ruins surrounding many ancient kiln complexes. Jingdezhen is known as the "Porcelain Capital" in the world because it has been producing pottery for 1,700 years.
Pingshan Performing Arts Center, Shenzhen, south east China
Design: OPEN Architecture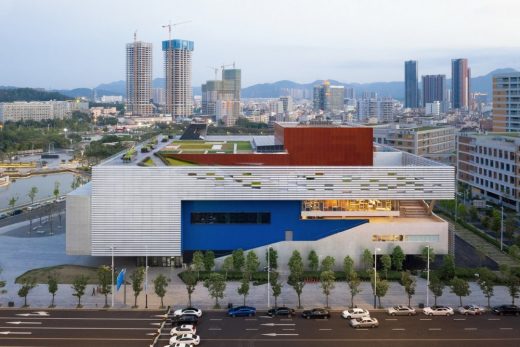 photo © Zeng Tianpei
Pingshan Performing Arts Center, Shenzhen
In tandem with China's economic boom and rapid urbanization, theaters have sprung up throughout the country in the past decade. Most have extravagant exteriors, but are often spatially monotonous and far detached from the general public and everyday urban life, greatly underutilizing the tremendous public resources invested in them.
Yifang Art Center, Chongqing, south west China
Design: YIHE Landscape Architecture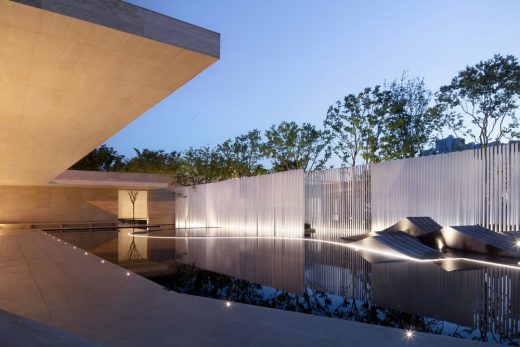 photo : Arch-Exist
Yifang Art Center in Yubei District, Chongqing
The Yifang Art Center project is in a newly developed Dazhulin district in the north of Chongqing downtown. When YIHE Landscape Architecture first visited the site, it had an unfinished concrete structure from previous development.
Kaihua County 1101 Project and Urban Archives, Kaihua County, Zhangzhou City, Zhejiang Province, China
Design: The Architectural Design & Research Institute of Zhejiang University Co., Ltd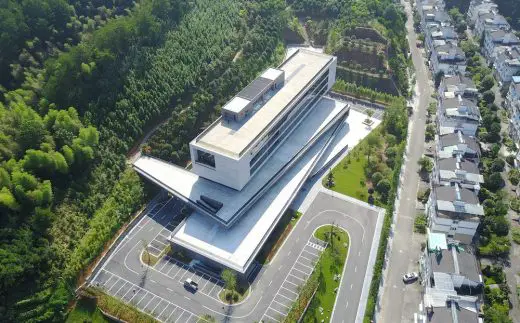 photo © Zhou Yifan
Kaihua County 1101 Project and Urban Archives
This bold Chinese architectural project was commissioned by Kaihua County Urban Construction and Development Co., Ltd. to design a comprehensive office building with three functional requirements: the Urban Archives and the Civil Defense Command Center and the Housing and Construction Bureau at the entrance of the scenic spot. The project has a superior geographical position.
Chinese University of Hong Kong, Shenzhen
Architects: Rocco Design Architects Associates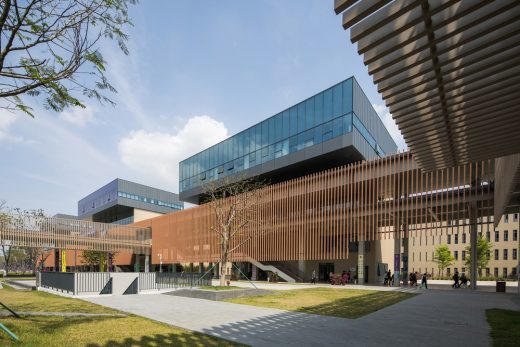 image courtesy of architects office
Chinese University of Hong Kong Campus Shenzhen
The CUHK SZ brings the global perspective and academic excellence to the city Shenzhen – China's rapidly-growing innovation and tech hub.
White Square, G54 exhibition center, Nanjing
Design: MINGGU DESIGN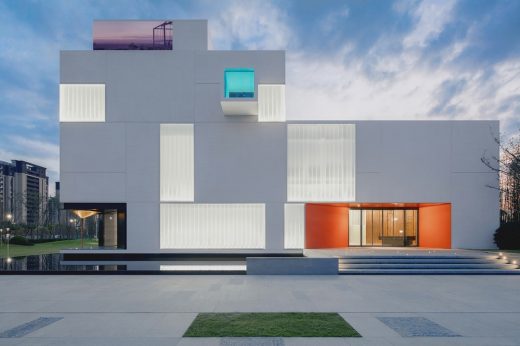 photograph : Xia Zhi
White Square, G54 exhibition center
White Square, located at No.99 Yunxi road, the central area of Nanjing airport city. With the construction development of new airport city, a vast comparative maturity residential area has been built.
Gongshu Intelligence Valley's Eye, Hangzhou, Zhejiang
Interior design: E+LAB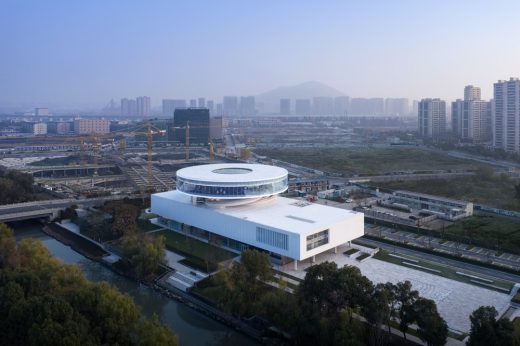 photograph : Schran Images – Su shengliang
Gongshu Intelligence Valley's Eye Hangzhou
The Eye of Intelligence Valley is the exhibition center in the intelligence valley town in Hangzhou. It is a multi-functional public building for culture display, investment attraction, office meeting, recreation and etc. The design philosophy starts with the geometric relation of 'round sky and square earth'.
Sunac · Grand Milestone Modern Art Center, Xi'an City
Interior design: Cheng Chung Design (HK)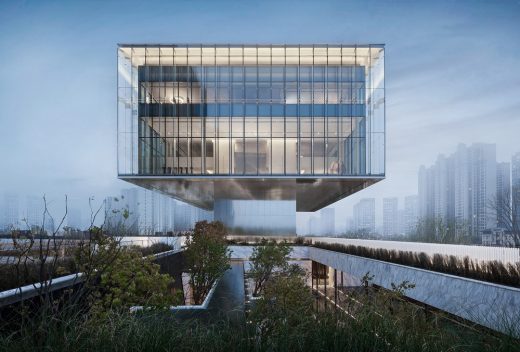 photo © Qilin Zhang
Sunac · Grand Milestone Modern Art Center in Xi'an
Erecting in the magnificent ancient capital Xi'an with a modern and stylish gesture, Sunac · Grand Milestone Modern Art Center appears like a large crystal "gift box", which brings amazing fashionable touches to the land featuring a long history and profound culture. It aims to become a city landmark, and to lead the trend of the era.
Shou County Culture and Art Center, Anhui
Architects: Studio Zhu-Pei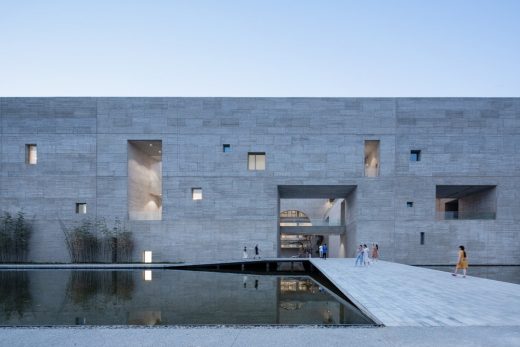 photograph : Schran Images
Shou County Culture and Art Center
Shou County is located in the center of Anhui Province, on the south bank of Huai River. In ancient times, it was the home of the Chu culture and where Liu An, King of Huainan, edited a compendium of ancient Chinese philosophy and composed poetry.
National Maritime Museum, Tianjin, north east China
Design: Cox Architecture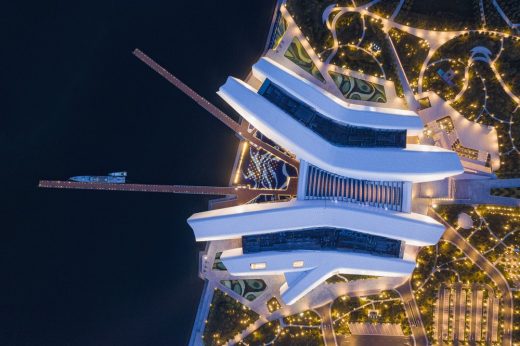 photograph : Terrence Zhang
National Maritime Museum of China in Tianjin
Major new cultural landmark for China takes its place on the Global stage China's first National Maritime Museum has now commenced formal operation, the culmination of a 6-year process which began with an international design competition, followed by an intensive design and construction process.
COSTA RICA
Santiago Hills Villa Santa Teresa, Costa Rica
Architects: Studio Saxe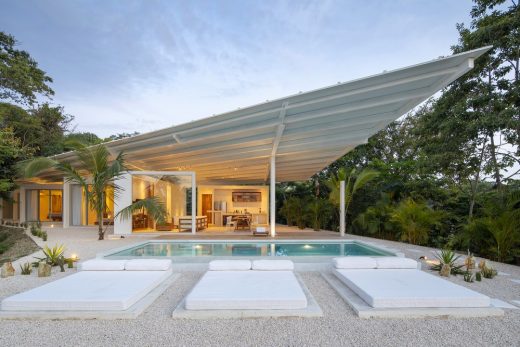 photograph : Andres Garcia Lachner
Santiago Hills Villa in Santa Teresa
This stunning wing-like roofline houses a dramatic white villa in the Costa Rica jungle.
DUBAI
The Opus, Dubai, UAE
Design: Zaha Hadid Architects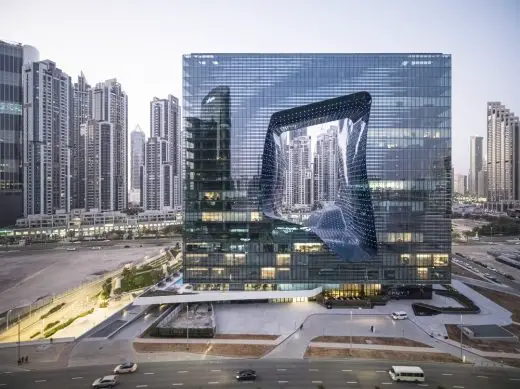 photograph : Laurian Ghinitoiu
The Opus Hotel in Dubai
Home to the new ME Dubai hotel, The Opus is located in the Burj Khalifa district adjacent to Downtown Dubai and Business Bay on the Dubai Water Canal.
FRANCE
Belaroia Hotel and Apartments, Montpellier, France
Design: Manuelle Gautrand Architecture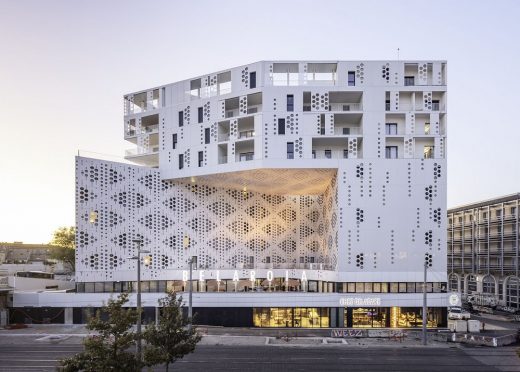 photo © Luc Boegly
Belaroia Hotel and Apartments in Montpellier
Belaroia Hotel and Apartments is an important project for the City of Montpellier and its development agency, the SERM, as it holds a strategic position between the city's hyper-centre, characterised by its escutcheon form in plan, and new surrounding districts that have appeared in succession.
MEETT Exhibition and Convention Centre, Toulouse, southern France
Design: OMA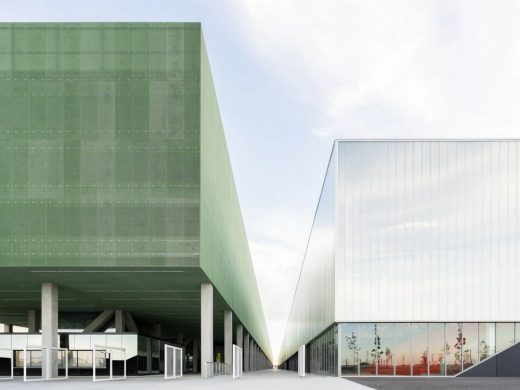 photograph : Marco Cappelletti, Courtesy of OMA
MEETT Exhibition and Convention Centre
MEETT, Toulouse's new Exhibition and Convention Centre designed by OMA / Chris van Duijn, has been completed, becoming the third largest parc des expositions in France outside of Paris.The 155,000 sqm project incorporates exhibition halls, a convention centre, a multi-function event hall, a car park silo for 3,000 cars and a transportation hub with a new tram station.
GREECE
Two Summer Houses in Andros, northern Greek Cyclades archipelago
Design: Praxitelis Kondylis Architects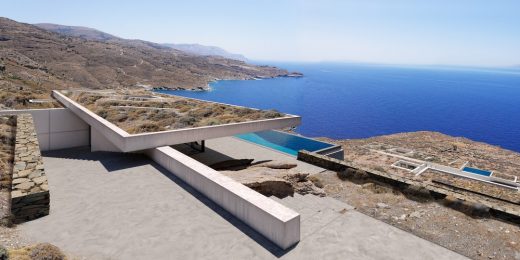 image from architecture office
Summer Houses in Andros
Nestled among Andros' wild mountains, fecund valleys and waterfalls, this complex consists of two detached houses covering around 600m2 in land of 9200m2. Modern and rigorous, the design bears clear lines and is organically linked to the natural landscape of Andros.
KOREA, REPUBLIC OF
Hankook Technoplex, Pangyo, outskirts of Seoul
Design: Foster + Partners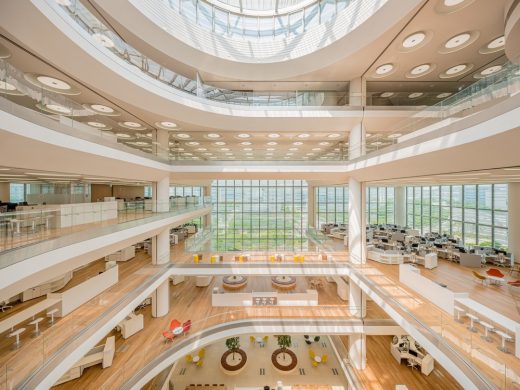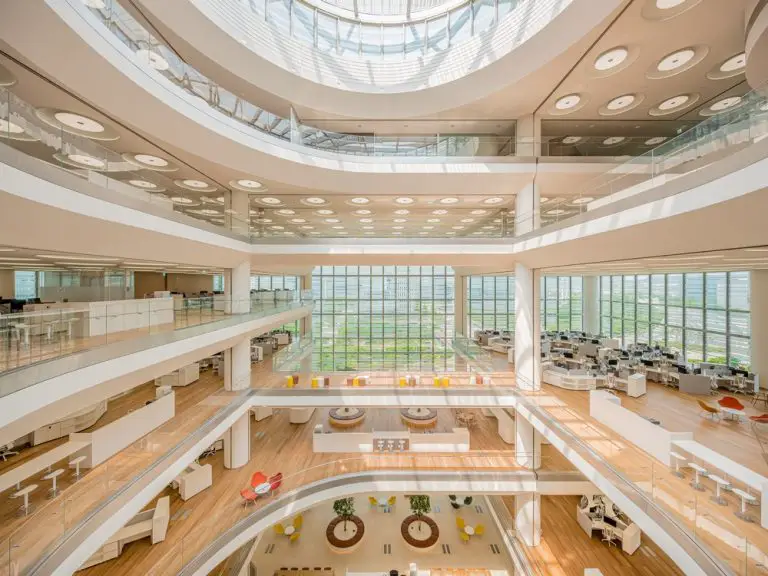 photo : TIME OF BLUE
Hankook Technoplex in Pangyo
The new building embraces several themes that are symbolic of Hankook's desire to create a dynamic office environment that supports flexible working styles, as the company looks towards the future.
Galleria Department Store, Gwanggyo
Design: OMA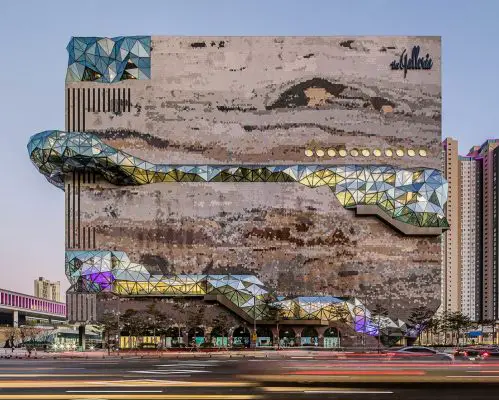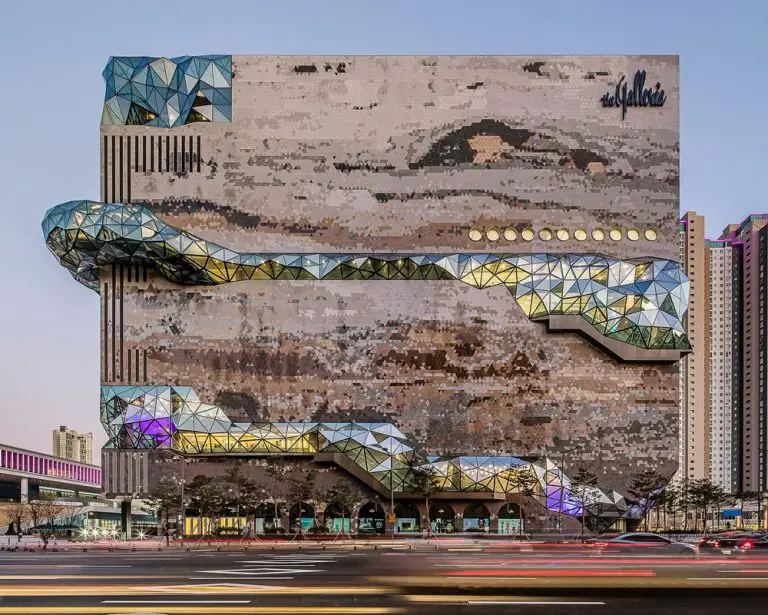 Photography by Hong Sung Jun, courtesy of OMA
Galleria Department Store in Gwanggyo
The Galleria is Korea's first and largest upscale department store franchise founded in the 1970s, and has remained at the forefront of the premium retail market in the country since then.
MADRID
REE Campus, Madrid, Spain
Architects: IDOM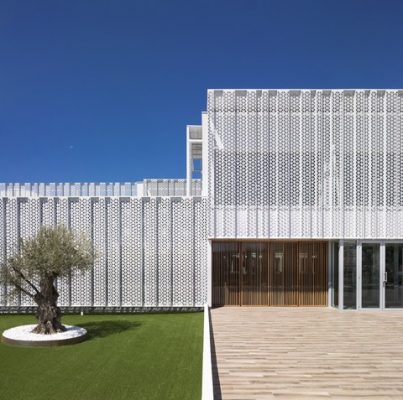 photo : Aitor Ortiz
REE Campus
Red Eléctrica de España has commissioned IDOM for the comprehensive rehabilitation of two buildings in the Tres Cantos Technology Park (Madrid). The action includes a comprehensive adaptation to the new training and technological needs of the company, modernizing the set of buildings through an envelope that enables compliance with energy efficiency requirements.
MANCHESTER
The Oglesby Centre, Manchester, England, UK
Architects: Stephenson Studio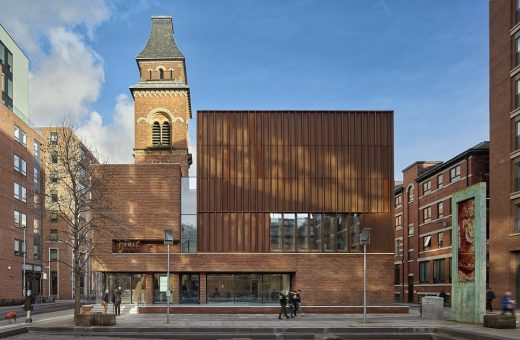 photos : Daniel Hopkinson Architectural Photography
Extension to Hallé St. Peter's, Ancoats
The new extension, The Oglesby Centre, is conceived as a classically proportioned modernist metaphor of the existing proportions of St Peter's massing.
MEXICO
Solaz Los Cabos Hotel, San José del Cabo, Baja California Sur, Mexico
Design: Sordo Madaleno Arquitectos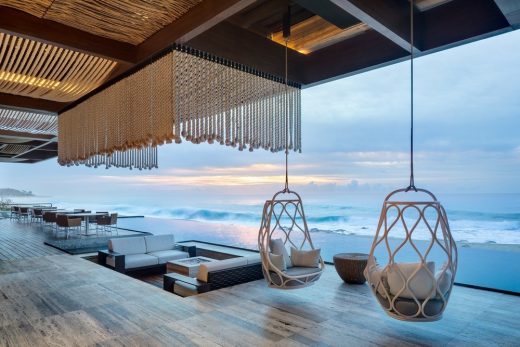 photograph : Rafael Gamo
Solaz Los Cabos Hotel in San José del Cabo
The extraordinary natural surroundings of the peninsula of Baja California with its semi-desert landscape provides an ideal selected context for the construction of a new landmark hotel for the country.
MILAN
MEET Digital Arts Center, Milan, Italy
Design: CRA-Carlo Ratti Associati and Italo Rota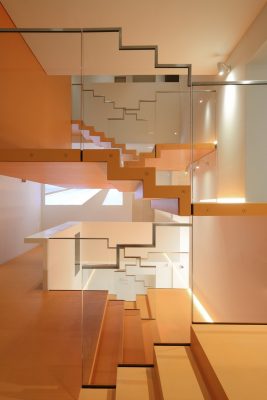 photograph : Michele Nastasi
MEET Digital Arts Center
CRA-Carlo Ratti Associati and Italo Rota unveil MEET – Milan's center for digital culture and creative technology. Occupying a newly renovated historic palazzo, the building revolves around a 15-meter-high vertical plaza. The design investigates how physical space can foster serendipity and unexpected connections between people in a digital world. MEET will open to the public on October 31st, 2020.
MONTREAL
Caffettiera Caffé Bar, Montréal, Québec, Canada
Design: Ménard Dworkind Architecture & Design – MRDK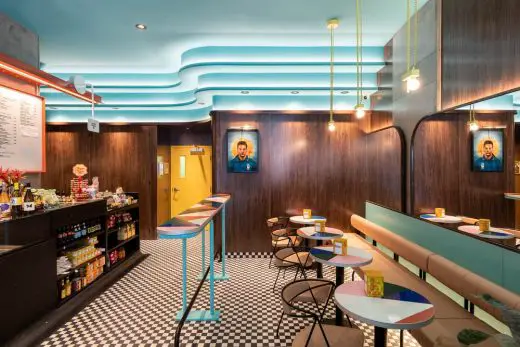 photo © David Dworkind
Caffettiera Montréal Caffé Bar
In Italy, going to the coffee bar is not just about the coffee. It's about taking a break from the day, meeting up with friends or taking the time to contemplate life. Caffettiera Caffé Bar aims to bring that culture to North America at its 745-square-foot commercial space in the heart of downtown Montreal.
MOSCOW
n.n. – Residence, beside the River Moskva near Moscow, Russia
Design: J. MAYER H. und Partner, Architekten mbB, with Alexander Erman architecture & design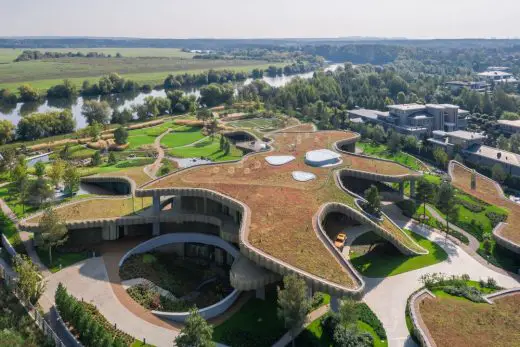 photo : Ilya Ivanov
n.n. – Residence near Moscow
n.n. represents a spatial exploration between concealment and exposure. This layered topography blurs the line separating landscape and construction. It is the private residence of a family in a rural area along the River Moskva.
NEW YORK
111 West 57th Street, Manhattan, NYC
Design: ShoP Architects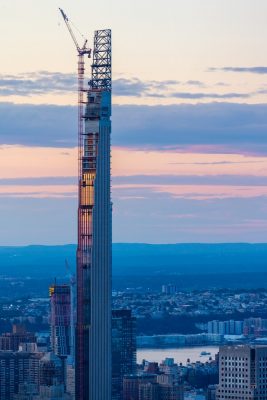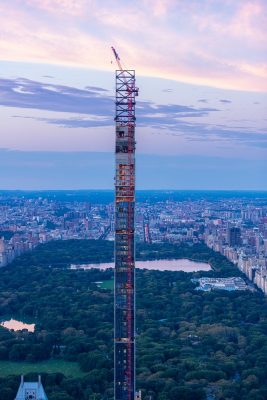 photograph courtesy of 111 West 57th Street
A design tour de force embraces the classic New York skyscraper and artisan tradition and thoughtfully restores the cultural landmark Steinway Hall. A bold yet graceful residential tower that soars perfectly centered over Central Park in Midtown Manhattan.
PARIS
Public Condenser, Ile-de-France, France
Design: Muoto Architects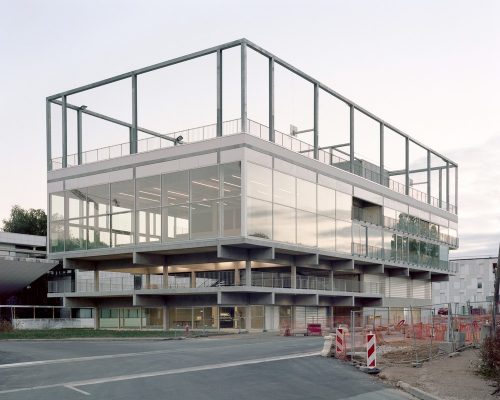 photograph : Maxime Delvaux
Public Condenser in Gif-sur-Yvette, Paris-Saclay
The project is a public facility, situated on the new campus of Paris-Saclay. The building hosts a mix of activities including indoor and outdoor sports facilities, a restaurant, cafeteria, and various public spaces: a pedestrian square, street terraces, park areas for deliveries, bikes and cars.
PERTH, AUSTRALIA
North Perth House, Perth, Western Australia
Design: Architect Nic Brunsdon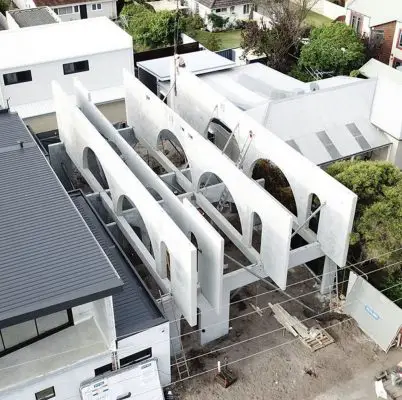 photo : Ben Hosking
North Perth House
The North Perth House is an urban-infill project in inner-city Perth. Located on a small block, the design responds by providing a variety of spaces, determined by a simple structural arrangement.
PRAGUE
Five, Smíchov, Prague, Czech Republic
Design: QARTA ARCHITEKTURA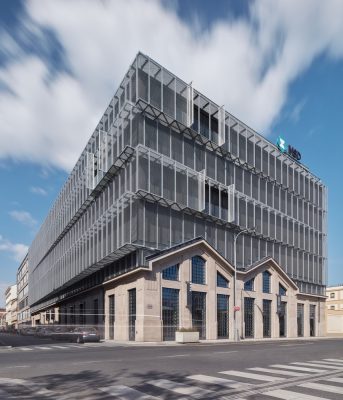 photo : BoysPlayNice
Five Smíchov
"History meets future", declares the fitting motto chosen for the project Five, located in Prague 5 – Smíchov. A tram depot building occupied the project site, but that could have been called a relic even when it was built. While forming an important endpoint in the city transport system, complicated access had been its disadvantage right from the beginning.
QATAR
Doha Metro Network, Doha, Qatar
Architects: UNStudio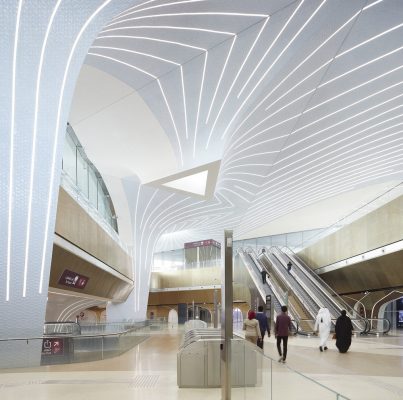 Interior Msheireb (interchange) Station. photo © Hufton+Crow
Doha Metro Network Stations
With the Doha Metro, Qatar Railways has created one of the most advanced and fastest driverless metro systems in the world. Phase one of the project involved the construction of three metro lines (Red, Green and Gold), with 37 stations currently having been completed.
ROTTERDAM
Depot Boijmans Van Beuningen, Rotterdam, The Netherlands
Design: MVRDV, architects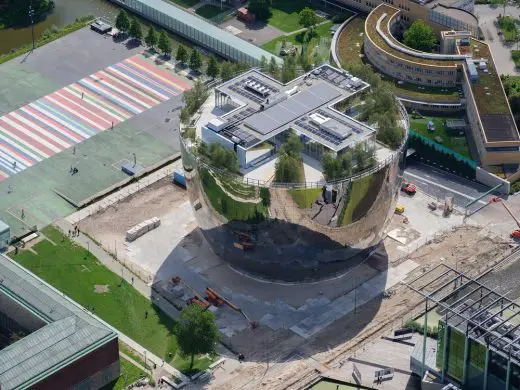 Aerial photograph of Depot Boijmans Van Beuningen © Ossip van Duivenbode
Museum Boijmans Van Beuningen
Depot Boijmans Van Beuningen, the first publicly accessible art depot in the world designed by MVRDV, has completed construction. Located in Rotterdam's Museumpark, the depot features a new type of experience for museum visitors: a sturdy engine room where the complete collection of 151,000 objects is made accessible to the public.
SAUDI ARABIA
KAPSARC, Riyadh, Saudi Arabia
Design: Zaha Hadid Architects – ZHA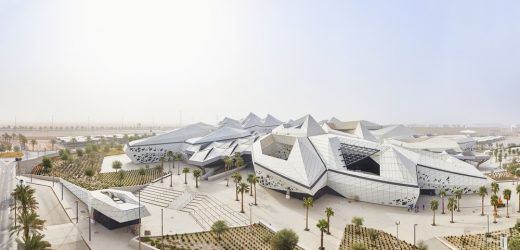 photo : Hufton+Crow
King Abdullah Petroleum Studies & Research Centre
King Abdullah Petroleum Studies and Research Centre is a non-profit institution for independent research into policies that contribute to the most effective use of energy to provide social wellbeing across the globe. The 70,000 sqm KAPSARC campus incorporates five buildings.
King Fahad National Library, Riyadh, Saudi Arabia
Design: Professor Eckhard Gerber – Gerber Architekten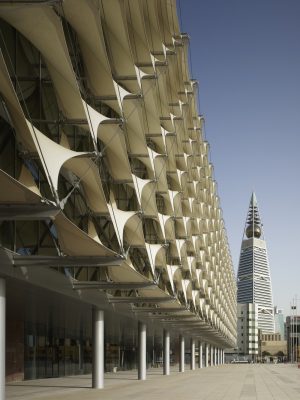 photograph : Christian Richter
King Fahad National Library Riyadh
The King Fahad National Library, one of the most important cultural buildings in the Kingdom of Saudi Arabia, was completed and went into use for its intended purpose in 2015. This project sees Professor Eckhard Gerber and his Gerber Architekten team accomplishing one of the most important urban development and cultural projects in the capital, Riyadh.
SHANGHAI
Suzhou Financial Center Exhibition Hall, Shanghai, China
Architects: Shanghai Riqing Architectural Design Co., Ltd.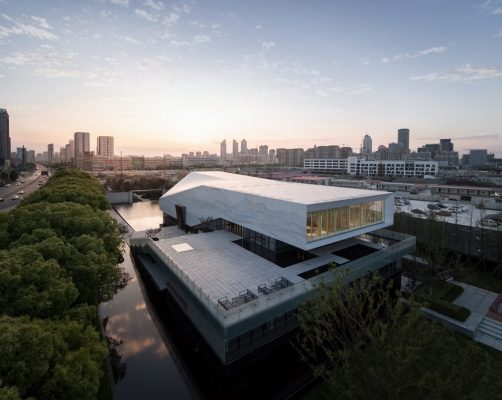 photograph : Schran Images
Suzhou Financial Center Exhibition Hall
This architectural project is located in the central section next to Suzhou Canal, where there is a grand canal view in the distance and urban trunk road in close proximity. The architects explore inherent logic of local cultural form and language and apply them to the design to stimulate the vitality of surrounding open space and make it the city parlor for residents.
Ports 1961, Shanghai, China
Architects: UUfie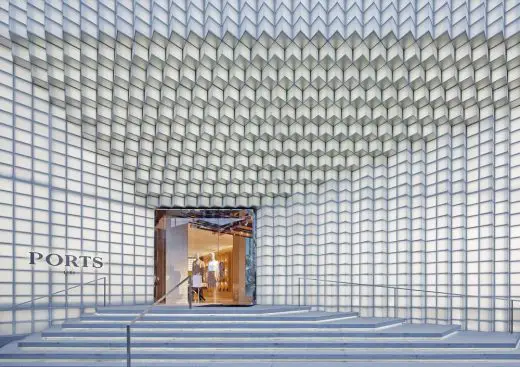 photo : Shengliang Su
Ports 1961 Flagship Store
Located at a major high-end commercial district at the intersection of Changde Road and Nanjing West Road, a new façade is created for the flagship store of fashion house Ports 1961.
SINGAPORE
Apple Marina Bay Sands, Singapore
Design: Foster + Partners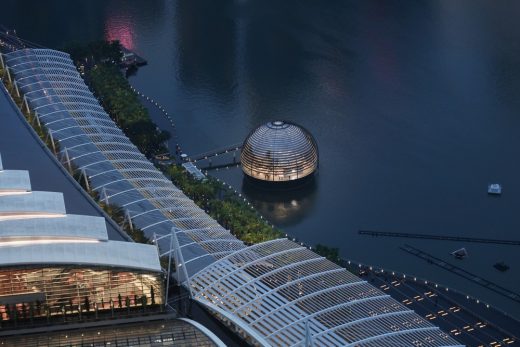 photo : Finbarr Fallon
Apple Marina Bay Sands
A new distinctive 30-metre-diameter structure is a fully glazed dome with a black glass base, complementing the sister pavilions through its scale and materiality.
SPAIN
House Of The Sun, Marbella, Costa del Sol, Andalucia, Southern Spain
Design: Fran Silvestre Arquitectos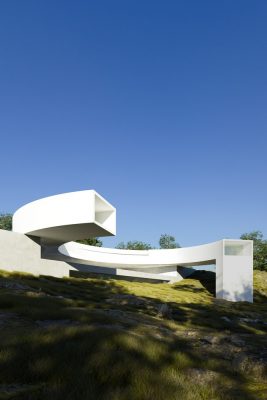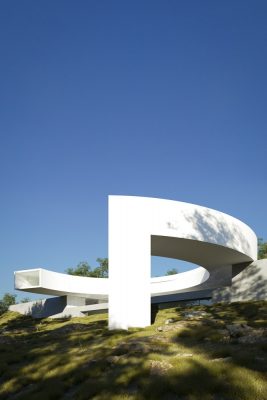 image from Fran Silvestre Arquitectos
House Of The Sun in Marbella
Fran Silvestre Arquitectos have always been fascinated by the work of Andreu Alfaro "The door of the Universe" made in 1983. A circle rotated and suspended over a square.
House Of The Silence, Valencia, eastern Spain
Design: Fran Silvestre Arquitectos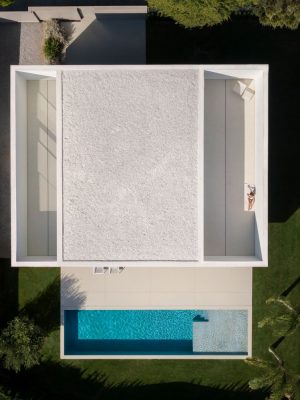 photo : Fernando Guerra, FG + SG
House Of The Silence, Valencia
The House Of The Silence project consists of making a musician's studio coexist with his home. It is located in a residential area near Valencia, where neighboring houses are very close to each other.
SWITZERLAND
Kunsthaus Zürich, Switzerland
Design: David Chipperfield Architects Berlin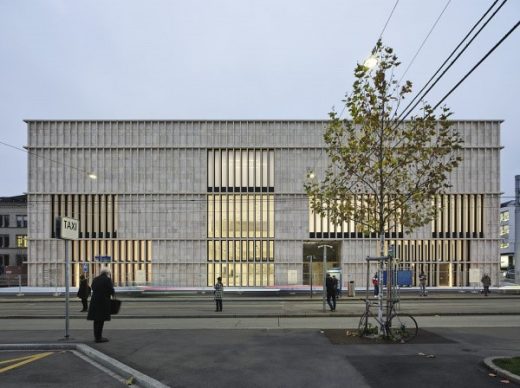 photograph : Noshe
Kunsthaus Zürich Building
After twelve years of planning and construction, the extension for the Kunsthaus Zürich is now complete. On 11 December 2020, the keys to the new building were handed over to its future user in an online ceremony. The house will open to the public in October 2021.
SYDNEY
The Waterfront Retreat, Newport, New South Wales, Australia
Architecture: Koichi Takada Architects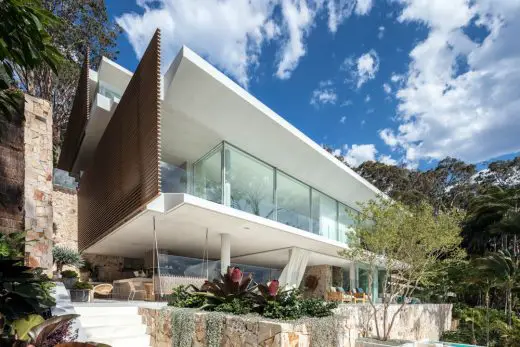 photo : Tom Ferguson Photography
The Waterfront Retreat Newport, NSW
The Waterfront Retreat is the epitome of an Australian dream home, adorned with a private beach, garden and open-plan living. Responding the clients' brief – a house offering sanctuary and entertainment, the Waterfront Retreat is designed to allow nature to lead, offering maximum seclusion and connection to its surrounds and outlook.
THAILAND
Apple Central World, Bangkok, Thailand
Design: Foster + Partners with Architects 49 Ltd.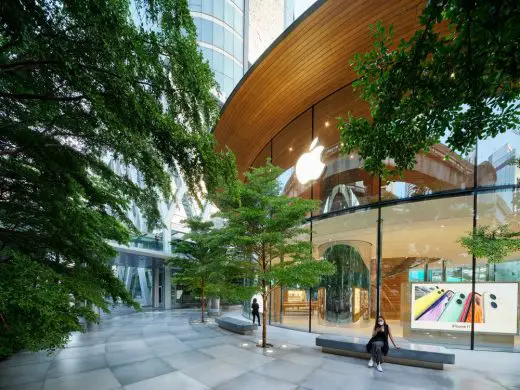 photograph © Apple
Apple Central World Bangkok
Apple Central World in Bangkok welcomed its first visitors. Located in one of the city's iconic urban centers, the new store establishes a quiet sculptural presence at the heart of the bustling Central World Square on the intersection of Rama I and Ratchadamri roads.
TAIWAN
Lè Architecture, Taipei, Taiwan
Architects: Aedas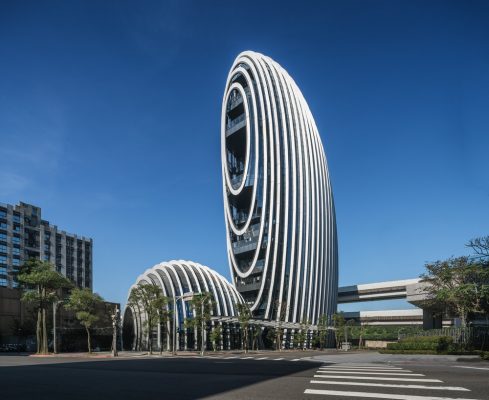 photo courtesy of architects
Lè Architecture in Taipei
Designed by Global Design Principal Dr Andy Wen, Lè Architecture in the Nangang district of Taipei redefines Taipei's rapidly developing skyline. Its design drew inspiration from the shape of the river pebbles along the Keelung River, developing a unique aesthetic concept that conveys the idea of roundness and elegance, as well as strength and character.
VIETNAM
EcoKid Kindergarten, Vinh, near Hanoi, Vietnam
Architects: LAVA with Module K and Viet Décor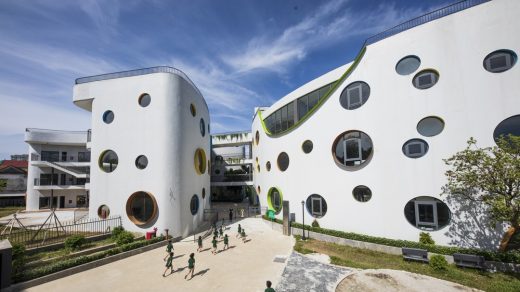 photo : Hiroyuki Oki
EcoKid Kindergarten Vinh, Vietnam
The design of a new eco-kindergarten by LAVA with Module K and Viet Décor features spaces encouraging curiosity, activity-based learning and interaction with nature for the next generation of Vietnamese children.
********************
Vote please! Vote
********************
A further selection of buildings around the world:
Architecture Awards
Contemporary Architectural Awards – selection:
Key Architects Links
Key Architectural Links
Buildings of the Year Archive
Architecture of 2013: Buildings of the Year
Architecture of 2012: Buildings of the Year
Comments / photos for the Architecture of 2020 page welcome