Architecture Designs in 2013, Buildings of the Year, Architects, Pictures
Building Designs of 2013 : Architecture of the Year
e-architect Selection of Key Architectural Developments
31 Dec 2013
Major Building Designs from 2013
e-architect have selected some key buildings and designs from 2013.
Our parameters? Architecture that stimulates, buildings that question, designs that show innovation.
We aren't saying these are the 'best' building designs of 2013, merely a selection of ones that have moved us.
We will ask a selection of architecture critics to once again pick out the key buildings of the year but we're deliberately not considering the complex task of selecting 'winners'.
(Adrian Welch, e-architect editor)
We've divided up completed Buildings of 2013 and building designs (this page).
Buildings / designs are listed in chronological order, most recent first
Major Architecture Designs from 2013
Key Building Designs of 2013 – latest additions to this page, arranged chronologically:
Cité du Corps Humain, Montpellier, Languedoc-Roussillon, France – architecture competition win
Design: BIG + A+Architecture + Egis + Base + L'Echo + Celsius Environnement + CCVH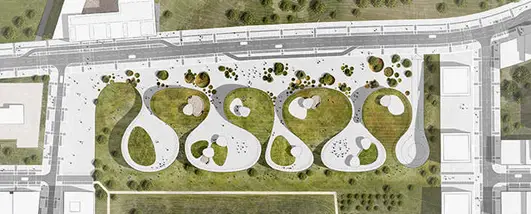 image © BIG
Museum of the Human Body Montpellier
Winners of the international design competition for the new Cité du Corps Humain (Museum of the Human Body) in Montpellier, France.
'Like the mixture of two incompatible substances – oil and vinegar – the urban pavement and the parks turf flow together in a mutual embrace forming terraced pockets overlooking the park and elevating islands of nature above the city. A series of seemingly singular pavilions that weave together to form a unified institution – like individual fingers united together in a mutual grip', explains Bjarke Ingels.
Jeju Stone Park Seolmundaehalmang Museum, Korea
Design: Samoo Architects & Engineers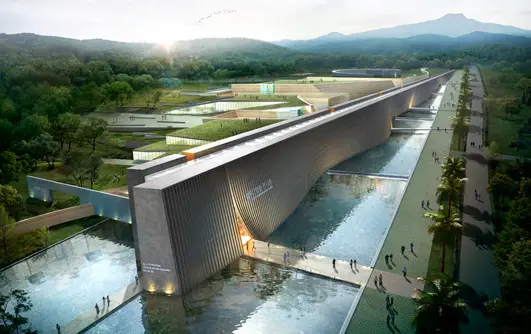 image by architects
Planned as the 2nd phase of Jeju Stone Park, the Seolmundaehalmang Museum is designed to incorporate the various history, culture, and myth of Jeju island. A major stone-wall that forms the axis for the museum is placed along the linear site to provide an entrance to the journey of Jeju's mythology.
Mirvish+Gehry Toronto, Ontario, Canada
Design: Gehry Partners LLP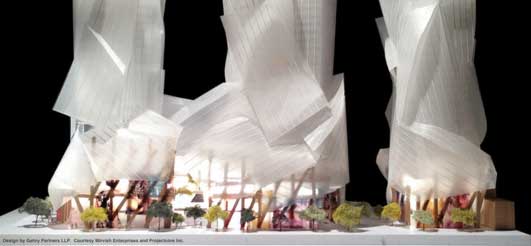 model photo : Gehry Partners LLP
The scale of this design for three new towers Toronto's downtown arts and entertainment district is far removed from the domestic scale of the architect's own house in Santa Monica back in 1978. Each tower is slightly different from the next, using a flowing drapery style similar to his recent 8 Spruce Street tower (New York City) and designs for Ocean Drive in Los Angeles.
Vinícola Cuna de Tierra, Guanajuato, México
Design: CCA Centro de Colaboración Arquitectónica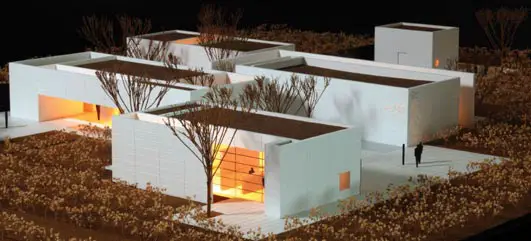 photo : Estudio Urquiza
Using the winery's name as a concept driver (Cuna de Tierra) and its connection to the context, the design process explores the relationship between wine development, the site, the user and the main material in use; poured soil, which indeed completes the necessities required in such program.
Petersen Automotive Museum, Los Angeles, California, USA
Design: Kohn Pedersen Fox Associates (KPF)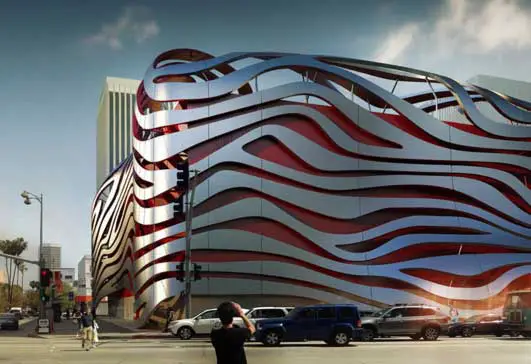 image from architects
International architecture firm Kohn Pedersen Fox Associates (KPF) is pleased to share its exciting design for the new Petersen Automotive Museum in Los Angeles. The museum will mark its 20th anniversary in 2014 by commencing a complete exterior transformation and a dynamic redesign of the interior, resulting in a world-class museum that will showcase the art, experience, culture, and heritage of the automobile.
Folding House, England
Design: AR Design Studio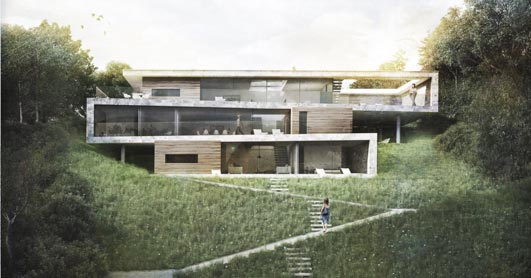 image : AR Design Studio
Hampshire based modern architects, AR Design Studio have designed a highly contemporary dream home for a retired client and his son. Showcasing stunning river views from all three levels, the folding design incorporates a blend of indoor and outdoor living spaces that extend out into the landscape and beyond. Inspired by the site context and defining character, the intention is to minimise the impact on the location and surrounding scenery by embedding the structure in its setting.
Shanghai ZhangDaQian Gallery, China – building news
Design: Sutherland Hussey Architects with GROSSMAX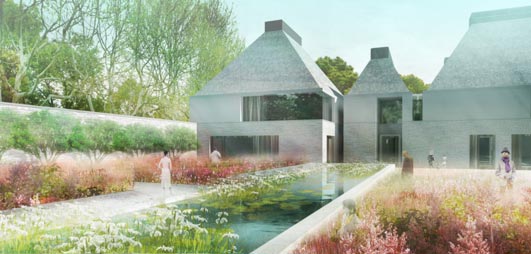 image from architects
The program, apart from the gallery itself, includes a 200 seat lecture hall, meeting rooms, book shop and cafe, restoration facilities, storage and archiving space all organised into small pitched roof cellular forms wrapping around courtyards of varying size containing neatly manicured gardens, carp ponds and bamboo forests. The gallery is also to include a Michelin star restaurant run by a top British chef, looking out over the park and a traditional Chinese garden. The gallery is designed to BREAM energy standards and is anticipated to start on site in 2014.
Dawang Mountain Resort Changsha – Ice World and Five Star Hotel, China
Design: COOP HIMMELB(L)AU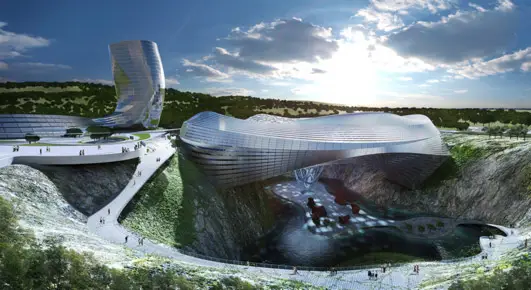 image © COOP HIMMELB(L)AU
In the design solution towards the South and East, the existing quarry pit is revealed and the sculpted shell of the Snow and Ice World spans 170 meters from cliff to cliff over a sunken and hanging garden creating a new functional leisure space of islands, water, cliffside pathways and ramps connecting the building to this natural heritage.
New National Stadium Tokyo, Japan – news
Design: Zaha Hadid Architects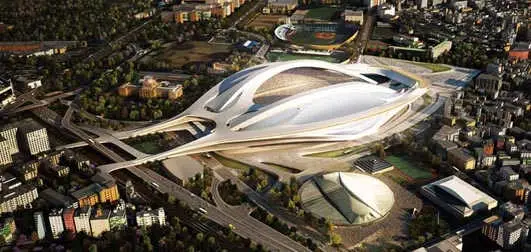 image © Courtesy of Zaha Hadid Architects
New National Stadium of Japan to be venue for Tokyo 2020 Olympic and Paralympic Games. The building near Shinjuku, Tokyo, includes seating for 80,000 spectators and a retractable roof.
Flinders St Station, Melbourne, Victoria, Australia
HASSELL, Herzog and De Meuron win Flinders Street Station Design Competition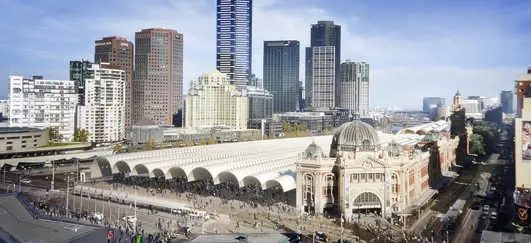 image by architects
The Australian/Swiss design team has won the Flinders Street Station Design Competition with the jury was unanimous in its decision.
520 West 28th Street, New York City, USA
Design: Zaha Hadid Architects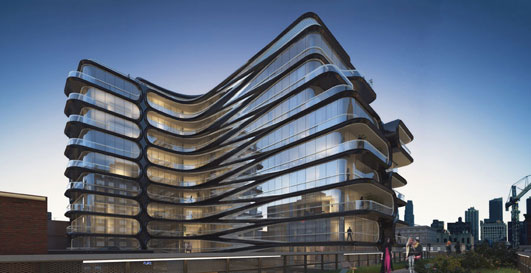 image from architects
Development Marks First Project in New York City for Internationally Acclaimed UK Architect. Related Companies, New York's premier residential developer, today announced that it has commissioned world renowned Zaha Hadid Architects to design a boutique condominium adjacent to the High Line in Chelsea just south of Hudson Yards. The 11-story residential development will mark Hadid's first commission in New York City.
London Britannia Airport, Thames Estuary, England – news
Design: Gensler



image : Vyonyx for Gensler
With the deadline for the Davies Commission today (19 Jul) for long term proposals for the UK's aviation capacity here is an update from the TESTRAD Consortium about their conroversial proposal. The world's largest floating airport would be faster and cheaper to build; London Britannia Airport could provide the UK with its first 24/7 airport within the next decade.
Jang Bogo Research Station, Antarctica
Design: Space Group + KOPRI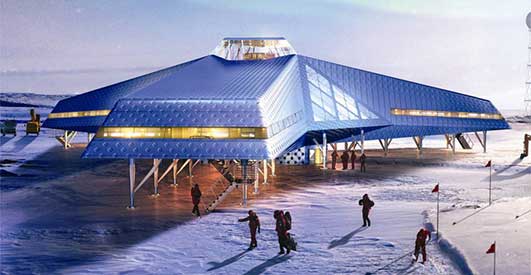 image from architects
Korea is becoming a significant player in Antarctic research and Jang Bogo, by Space Group (South Korea), will be one of the largest year-round bases on the continent when it opens in 2014. The station's aerodynamic triple-arm design will provide resistance to the elements and accommodate up to 60 personnel during the busy summer season.
University Center at The New School, NYC, USA – new images
Design: SOM Architects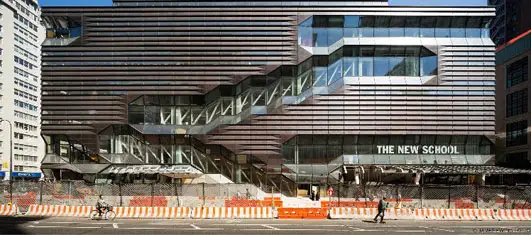 image from architect
The City of New York unveiled its active design initiative and chose the University Center at The New School as the backdrop. SOM's design for the new building focuses on stairs rather than elevators as the principal means of vertical transportation, and the program is organized to encourage walking between destinations. The University Center at The New School will open in January 2014.
Koç Contemporary – New Contemporary Art Museum Istanbul, Turkey
Design: Grimshaw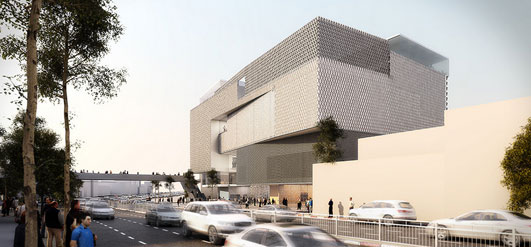 image from architect
This new project has been conceived to fulfil the Foundation's vision of showcasing the growing Koç collection to the broadest possible audience and to place these works in a national, regional and international context of contemporary artists. The Museum is due to be open to the public in 2016. Grimshaw's winning proposal was selected from a long-list of 20 world-renowned entries.
Pingtan Art Museum, China
Design: MAD architects



image from architect
Being the largest island in the Fujian province, Pingtan is also the Chinese island nearest to Taiwan. In 2010, the 'Comprehensive Experimental Zone' project in Pingtan was officially launched; the island is expected to become the primary location for trade and cultural communication between Taiwan and the mainland in the foreseeable future. The island, which is currently home to fisheries and a military base, will quickly be transformed into an large-scale urban development zone.
TELUS Sky Tower, Calgary, Canada
Design: BIG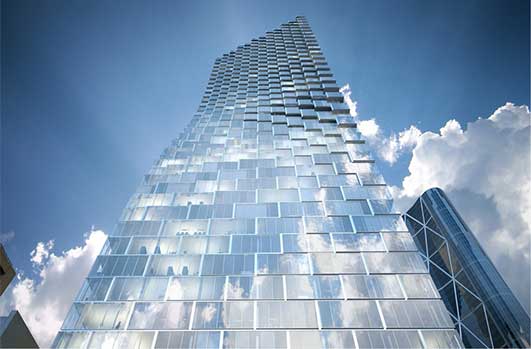 image from architect
Just in time for the Calgary Stampede, BIG presented its design for a new architectural landmark for one of Canada's leading telecommunication companies TELUS in Calgary's downtown core. The 750,000 square foot tower creates a dynamic community by blending urban living and working seamlessly.
Taichung City Cultural Center Competition Entry, Taiwan
Design: Sane Architecture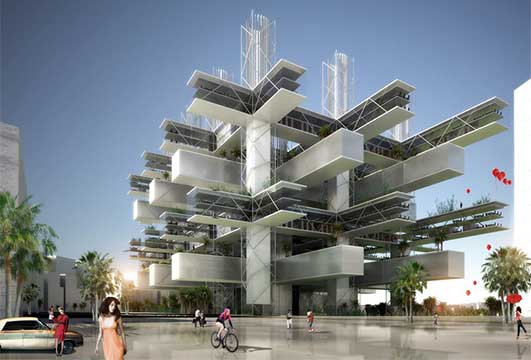 image from architect
Paris based experimental studio Sane Architecture proposed a strong structure and a courageous environemental approach for the new Taichung City Cultural Center. The chalenges of the project are strong: to imagine an architecture and an urban space unique to the climate and the culture of Taichung that combines a public library and municipal fine arts museum—the cultural flagships of a city—into one area, synergizing art, education and recreation.
Lan Kwai Fong Development, Wuxi, eastern China – ground breaking news
Design: Benoy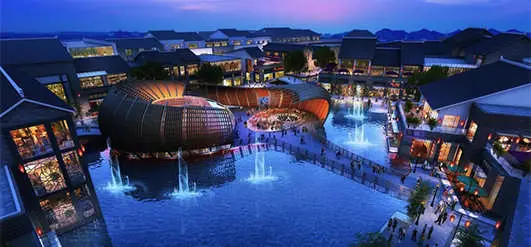 image from architect
Simon Blore, Global Managing Director of Benoy explained the design philosophy of the project, 'We have ensured unity and harmony in the overall architectural design of Lan Kwai Fong Wuxi and are confident that the development will be the iconic cultural and entertainment landmark of Taihu New City.'
DHWB University Building, Stuttgart, Germany
Design: 3XN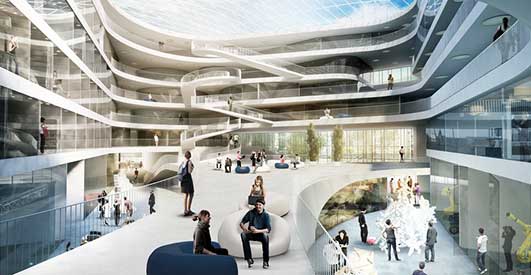 image from architect
3XN's vision to create an open, inspiring and social learning environment for a new technical faculty wins competition with 25 entries. It is the ambition that the new building for the technical faculty of the German university Duale Hochschule Baden-Württemberg (DHBW) is to be a lighthouse project for academic learning – an innovative and productive learning environment in which students, teachers and industry representatives can meet.
Bass and Flinders Gateway, Wollongong, Australia
Design: SPARK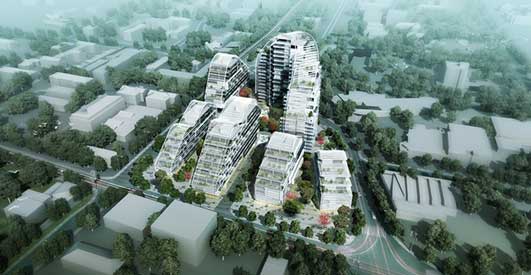 image from architect
The Bass and Flinders Gateway development is located in Wollongong, New South Wales, Australia and comprises 35,000 sqm of predominantly residential units supported by a modicum of commercial space. The site sits at the threshold of Wollongong and the greater Illawarra region and is bounded by Princes Highway, Campbell and Keira streets.
West Kowloon Design Competition, China – news
M+ Building Design Team Appointed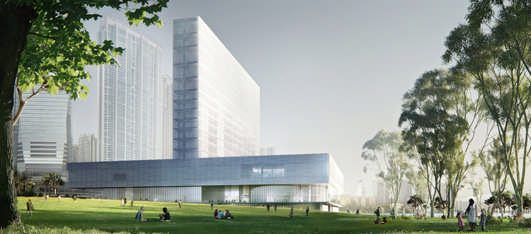 image by architects
The West Kowloon Cultural District Authority (WKCDA) announced today the appointment of Herzog & de Meuron + TFP Farrells, a partnership of two leading architectural practices in the world and in Hong Kong, to design the building of M+, the museum for visual culture, in the West Kowloon Cultural District (WKCD).
Taichung City Cultural Center Entry, Taiwan – architecture competition
Design: RMJM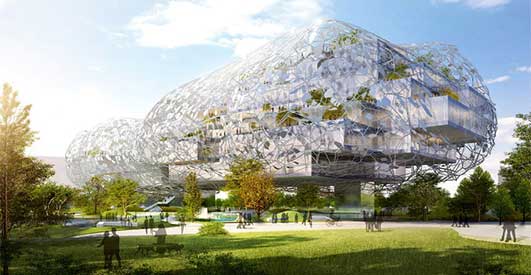 image from architect
With arts and culture at the core of Taichung's urban identity, and the vision to lead in innovation and technology, our design proposal seeks to bring together these significant attributes in a construct emblematic of Taichung's achievements and vision. We live in an archival era characterized by an impulse to collect, where all our experiences are supported by technological additions and digital information monitoring.
Taichung City Cultural Center Project, Taiwan
Design: AllesWirdGut Architektur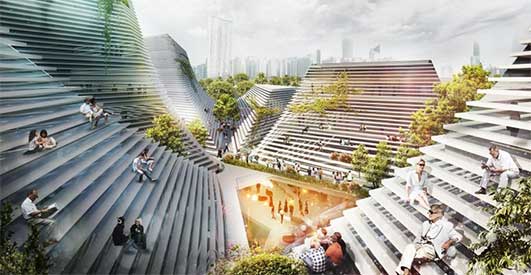 image from architect
The Austrian architects describe their design thus: "The inspiration for this landmark design is provided by nature itself: a mountain range that reflects on the surface of the sea. On the ground-floor level a pleasantly shaded, cave-like plaza opens up that affords captivating views of the building and the surrounding park. The lower section of the built volume is used as a museum, which presents itself as a sculpture park on the outside and as a varied sequence of spaces on the inside".
Confucianism and Culture Complex, Andong, South Korea
Design: SAMOO Architects & Engineers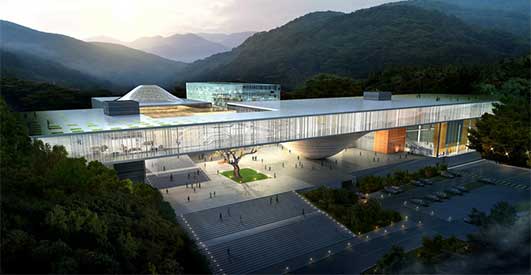 image from architect
The World Confucianism•Sunbi Culture Park & Korean Cultural Theme Park is a complex designed to become a hub for Confucianism and traditional culture in Korea. Located in Andong of Korea, a place well known for its preservation of traditional core values, the project aims to create a new center that will provide a unique experience for its global visitors. The whole complex consists of two major parks with distinct purposes.
Taichung City Cultural Center Design, Taiwan
Design: Santiago Parramón, RTA-Office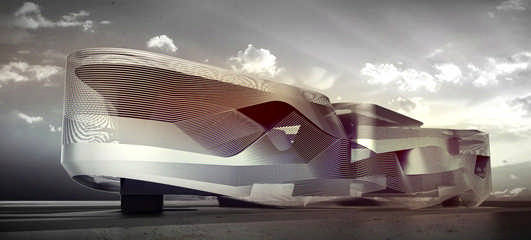 image from architect
This architecture competition proposal uses a unitary transparent skin that allows stolen glimpses of the complexity that lies inside. Thus this object becomes a contemporary interpretation of an ancient traditional art and culture. Comprised of thin lines of recycled ceramic elements, the skin gently filters the light that reaches the interior and enhances the shapes of the volume.
Bezalel Academy of Art and Design New Downtown Jerusalem Campus, Israel
Design: SANAA with Nir Kutz Architects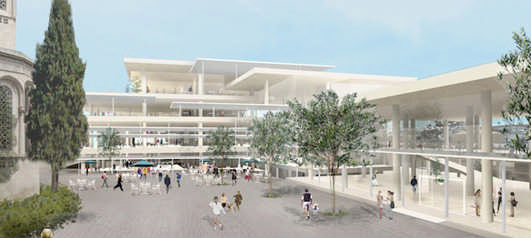 image © SANAA
Pritzker Prize-Winning SANAA Unveils Final Plans for Bezalel Academy of Arts and Design New Downtown Jerusalem Campus in Collaboration with Nir-Kutz Architects. Bezalel Academy of Art and Design announces a gift of $25 m. The lead gift, part of Bezalel Academy's $100-million capital campaign, will fund the construction of the school's new downtown campus, scheduled for completion in 2017. The 400,000-sqft building is designed by Japan's SANAA (Sejima & Nishizawa and Associates) architecture firm in collaboration with Israel's Nir -Kutz Architects, the team selected in an international competition.
Fifth Pavilion Competition, Montreal, Canada
Design: Saucier + Perrotte Architectes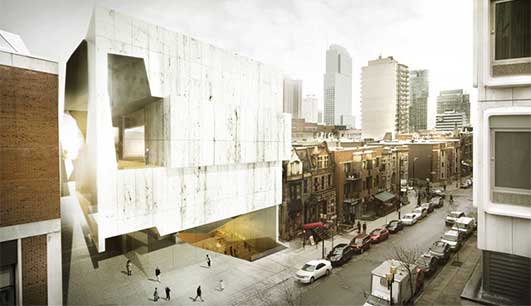 render : Saucier+Perrotte
Just as layers of history accumulate through time to offer varying perspectives on culture and environment, Saucier + Perrotte's design for the Fifth Pavilion of the Montreal Museum of Fine Arts is composed of a series of mineral strata that form a home for the Hornstein collection of art. Floating gently above street level, each marble stratum is superimposed to produce a sculpted volume containing the collection and defining a space dedicated to the next generation of Montreal art lovers.
432 Park Avenue Tower, New York, USA
Design: Rafael Viñoly
Building to Become the Tallest Residential Tower in the Western Hemisphere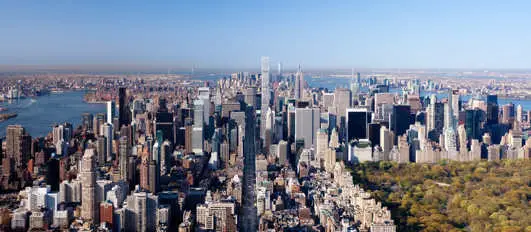 image © dbox for CIM Group & Macklowe Properties
The landmark 432 Park Avenue project has achieved nearly US$1 billion in sales. Buyers are predominantly from the US with others from South America, the Middle East, UK, China and Russia. With an expected completion in 2015 the 1,396-foot tower designed by Rafael Viñoly will become the tallest building in New York City and the tallest residential tower in the Western Hemisphere.
Bavarian Museum Design, Regensburg, Germany – architecture competition
Design: OODA with Guedes + DeCampos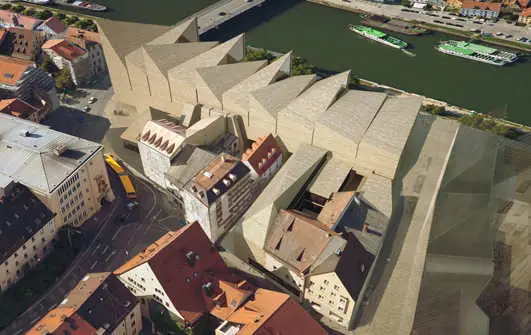 image from architect
Potent building design by two architect studios from Porto, Portugal. As a competition design this is convincing – the renders certainly make it look both boldy contextual and knitting into the texture of the city. This design "explores the ability of architecture and urban planning to spread a cultural event, so that the transformation…leads to optimism and a contrasting pleasure drive between the river, the museum, the city and the public in general".
Premier Campus Office, Istanbul, Turkey
Design: JDS Architects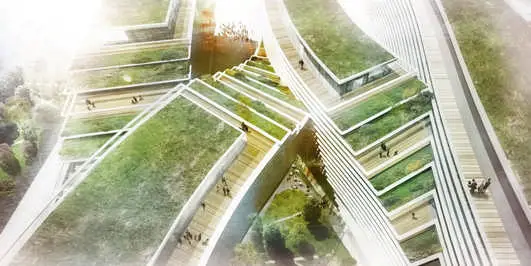 image from architect
The volume of the block is carved out to invite the surroundings in. The hilly landscape around the site is continued in the meandering of the volume both in plan and in section, weaving into a series of gentle curving slopes to create a finely layered architecture.
King Abdullah Financial District Metro Station, Riyadh, Saudi Arabia
Design: Zaha Hadid Architects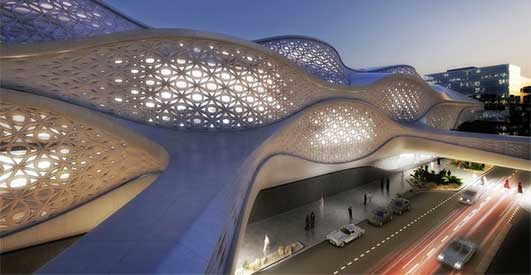 image from architect
The 20,434 sqm station building will serve as a key interchange and terminus. The local monorail can also be accessed from the station via a skybridge. With six platforms over four public floors and two levels of underground car parking, the KAFD Metro Station will be integrated within the urban context of the financial district. The project extends beyond the simple station typology to emphasize the building's importance as a dynamic, multi-functional public space.
One Yonge, Toronto, Canada
Design: Hariri Pontarini Architects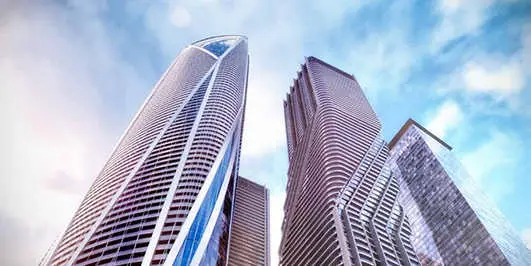 image from architect
Located where the longest street in North America, Yonge Street, meets Lake Ontario, One Yonge will be a truly mixed-use development, re-defining the typical ratio between residential, commercial and retail space within a single city block. This proposed landmark development will comprise six new buildings, and the re-cladding and addition of 10 storeys to the existing Toronto Star building.
Caen Masterplan – Presqu'ile de Caen Redevelopment, France
Design: MVRDV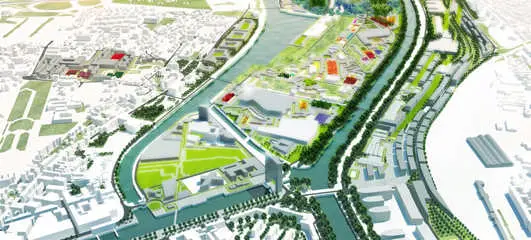 image from architects
This major Dutch architects studio has been selected to transform a 600ha former industry site in Caen, Normandy. MVRDV extended the scope by widening the transformation area beyond the geographic boundaries of the peninsula and sketching a vision also for the adjacent areas. The resulting plan titled 'La Grande Mosaique' is strongly based on respect for the existing structures and foresees in realistic, careful and friendly urbanism. A large number of small yet well coordinated interventions results in a gigantic mosaic which creates new qualities on an urban scale.
Aspire Tower, Parramatta, Sydney, New South Wales, Australia
Design: Grimshaw Architects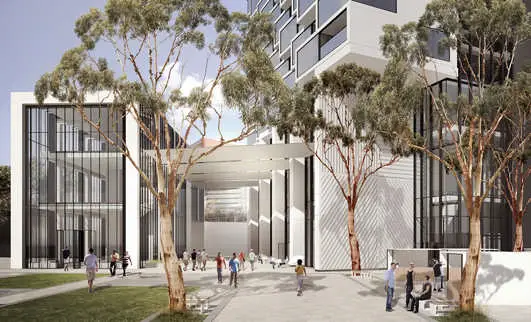 image from architects
As one of the tallest structures in Australia, the engineering of Aspire Tower consciously orientates itself to the wind and to sunlight. The highly adaptable facades accommodate all of the various planning arrangements of apartment type into a modular system. The tower's striking sculptural form twists upwards from its Church Street alignment to maximise the capture of the sun, the breeze and northern views for its residents.
Tbilisi Business Centre, Georgia – building news
Design: Robin Monotti Architects, London



picture from architects
This building is a new 16,000 sqm business centre for the government of Tbilisi. The design is a direct response to its neighbouring building, one of the most important examples of Soviet architecture. Robin Monotti's design proposes a glass building that contrasts with the solidity of its concrete neighbour, home to the Bank of Georgia, and adopts a circular plan that avoids competing with its box-like cantilevers. A reference to the neighbour's cantilevers is present in the overhanging circular discs that create each floor of the building.
Persian Factory, Iran
Design: Hooba Design Group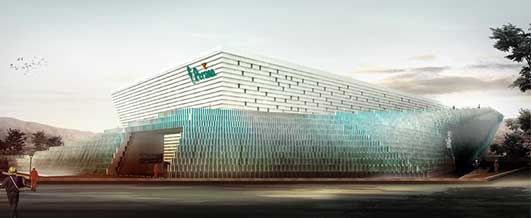 image from architect
One of the major aims for the architects in designing this building was coming to an integrated spatial pattern, which fits both the new part of the existing structure and the site plan of the factory.
General Department of the Information System, Kuwait – building news
Design: AGi architects + Bonyan Design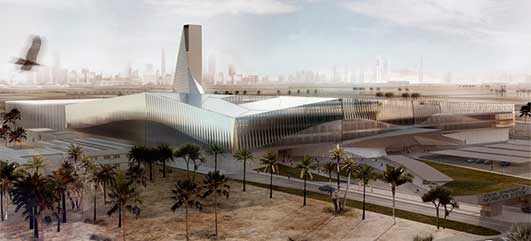 image from architects
The design proposal developed by the architecture firm led by Joaquin Perez-Goicoechea, Nasser Abulhasan and Salvador Cejudo, AGi architects, in collaboration with Bonyan Design, has won the competition for the design and building of the future General Department of the Information System (GDIS), in Kuwait.
Moscow Polytechnic Museum and Educational Centre, Russia – building news
Design: Massimiliano and Doriana Fuksas architects + Speech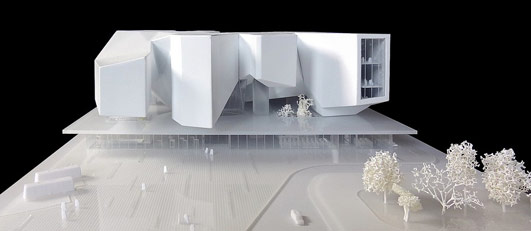 image from architects
The Moscow Polytechnic Museum and Educational Centre in Moscow (about 31,403 sqm) will be located in the Sparrow Hills, about 10 km from the Red Square, at a cost of $180m. The project is composed of four elements that make up a sculpture of irregular geometry, as cut by the wind, entirely covered by copper pre-oxidized that sends back streaks of green and blue. The elements are connected to each other through the internal levels. They develop across and lay on a transparent case that looks at the city.
The Queens Museum of Art Expansion Building, NY, USA
Design: Grimshaw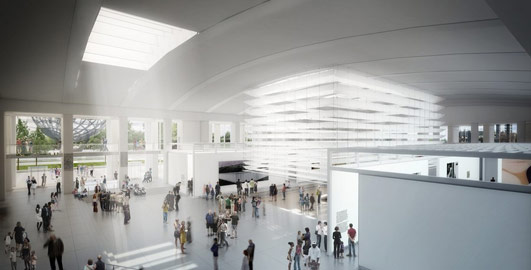 image : Courtesy of Grimshaw and the Queens Museum of Art
On April 11 2013 the Queens Museum will be hosting a first look at their $68 m architectural expansion, which will double the size of the museum. The expansion project, designed by Grimshaw, will further enhance the museum's ability to present high-quality art to the uniquely diverse communities of Queens through a broad variety of exhibitions and programs that reflect the richness and breadth of the cultural environment.
HIA Airport City, Doha, Qatar
Architects: OMA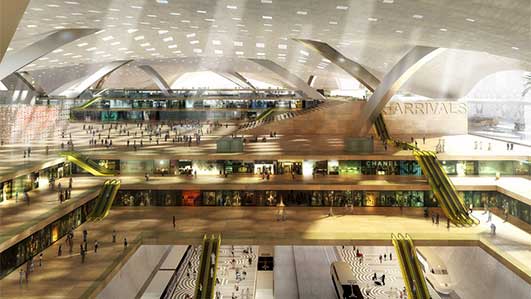 image from architect
Rem Koolhaas commented "We are delighted and honored to participate in the exciting growth of Doha, in a project that is perhaps the first serious effort anywhere in the world to interface between an international airport and the city it serves." Partner-in-charge Iyad Alsaka commented "Doha's Airport City is an important addition to the realization of OMA's work in urbanism and will incorporate unprecedented transport planning opportunities; we look forward to collaborating with the HIA to meet the objectives of this ambitious project."
Tianjin Exhibition Centre, China
Architect: gmp · Architekten von Gerkan, Marg und Partner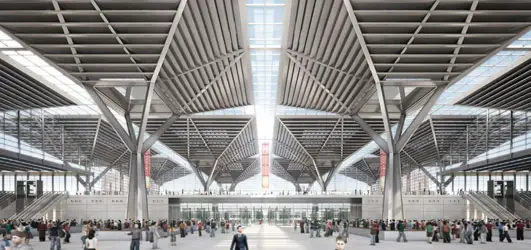 image from architects
The design concept proposes two almost identical construction phases. They both consist of a central entrance hall roofed over by filigree canopies, 8 exhibition halls on both sides and a main central thoroughfare that connects the entrance halls with the exhibition halls. The functions of the exhibition centre are rounded off with open-air exhibition space, a congress centre, hotels, offices and administration facilities.
Facebook Campus Expansion Menlo Park, San Francisco Bay Area, California, USA
Design: Gehry Partners, LLP


photo from facebook
The site is currently developed with nine buildings, which contain approximately 1,035,840 square feet. As part of the project approvals in May and June, Facebook has implemented a vehicular trip cap, which allows approximately 6,600 employees to occupy the East Campus. Council review and action on the East Campus entitlements is complete and subsequent project review will focus on the review and permit approvals required for the West Campus component of the Facebook Campus Project.
Datong City Library, China
Design: Preston Scott Cohen, Inc.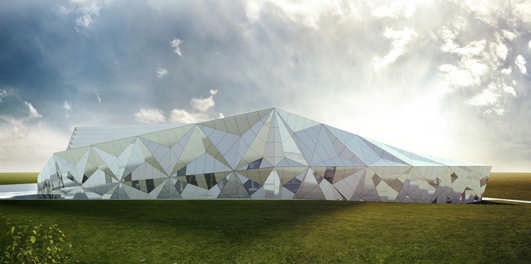 image : Preston Scott Cohen, Inc.
Datong Library aims to resolve the tension between the two major roles of a central library: as a place of community promenade and gathering and as an archive of knowledge and quite place of study. The form of the building embodies this tension, centering on a reflected pair of exceptional spaces. At the heart of the spaces of public promenade is a garden courtyard, around which classrooms, a gallery, informal reading rooms, and an auditorium are arrayed. The symmetrical pair of the courtyard, an expansive atrium, ties four floors of book stacks together.
The Square 3 Towers, Berlin, Germany
Architects: LAVA + Moritz Gruppe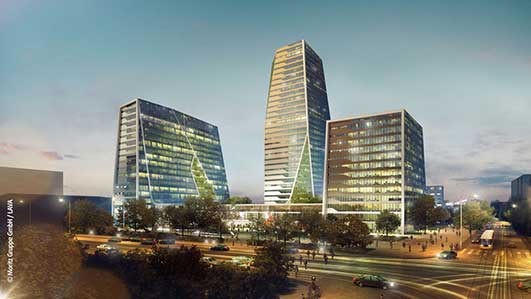 image from architects
Three towers of gold, silver, and bronze and three diagonally shaped city blocks make up THE:SQUARE³, a new mixed use development inspired by sport that revitalises a unique urban quarter in Berlin. The project is just nine minutes from Alexanderplatz, the very heart of the city, and located near Europe's largest urban nature reserve and a sports hot spot.
Ocean Avenue Project, Santa Monica, Los Angeles, California, USA
Design: Gehry Partners, LLP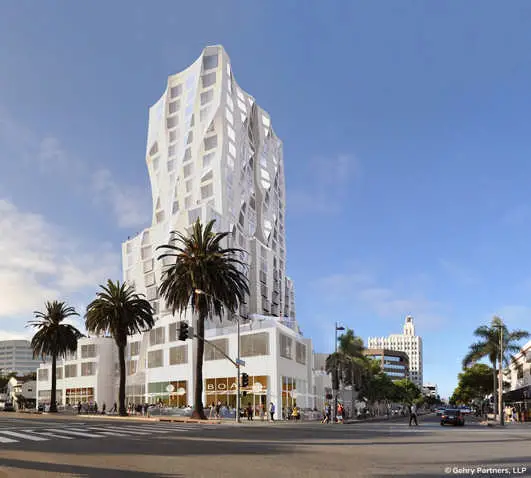 image © Gehry Partners, LLP
The 22-­story, 244-­foot mixed-­use building includes a 125-­room hotel, 22 condominiums, 19 replacement rent-­controlled units, affordable housing, a public rooftop observation deck and street-­level retail and restaurants. The project also includes a new 36,000 sqft museum campus that consists of two landmarked buildings that will be adaptively reused and preserved as well as a Gehry Partners designed cultural building with exhibition space and museum plaza.
Google Bay View Complex, Clara County, CA, USA
Design: NBBJ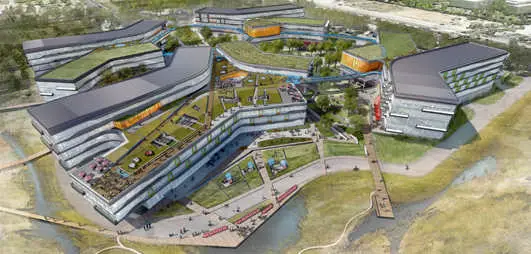 image from NBBJ
Google occupies some of the most famous offices in the world – think cafés everywhere you look, treadmills with laptops attached to them, pool tables and bowling alleys, green buildings, and vegetable gardens – but not one of the places in which the company's 35,000+ employees work has been built by the company.
Thames Hub Airport, London, England – news
Design: Foster + Partners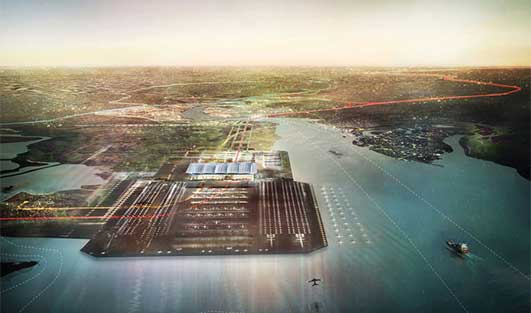 picture from architect
Foster + Partners has confirmed to the Airports Commission, the organisation investigating airport capacity in the UK led by Sir Howard Davies, that it intends to submit a proposal to the Commission in July for a new hub airport in the Thames Estuary.
Floatyard, Boston, USA
Design: Perkins + Will Architects



image from architects
The architects propose increasing the number of waterfront residences to meet the current demand for young professional housing by building on the water. Floatyard will be a floating complex – entirely on water – that will provide both housing and public programming.
Beukenhof Auditorium and Crematorium, Rotterdam, The Netherlands
Design: Asymptote Architecture, USA



image from Asymptote Architecture
Jurors cited Asymptote's design as "stunning," "gorgeous," and "spectacular"—while also praising its calming, contemplative nature. "I think it will be a profound and beautiful project," Joan Soranno said. And while, as a whole, the jury cited an aversion to work they characterized as purely formalist solutions, they were swept away by Asymptote's design. Reed Kroloff noted "it is an elegant, reserved building that resolves the rectilinear and non-rectilinear geometries in a way that seems perfectly natural and with out artifice."
European Spallation Source Building, Lund, Sweden – winners
Design: Henning Larsen Architects / COBE / SLA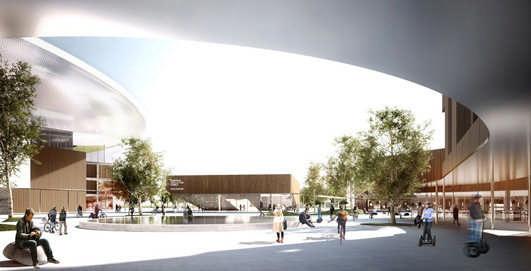 picture from architects
Researchers will travel to Lund from every corner of the world. At ESS, they will become part of a global research community. They will require space for concentrated work, but they will also need places where they can meet other researchers, says Jacob Kurek, Partner and Architect, Henning Larsen Architects. In the atriums found in the buildings, they will be able to meet each other informally, inspire each other, exchange ideas and share their knowledge.
Hal Fehr Resort, Malta – building news
Design: Make architects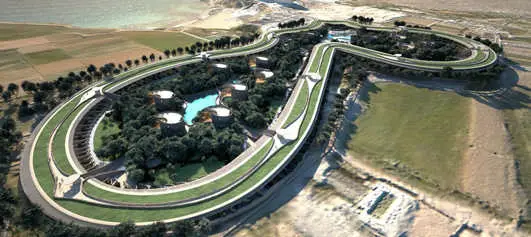 picture © Make architects
Make architects have received planning for a luxury resort in Hal Fehr, Malta near Golden Bay. A highly exclusive tourist destination designed for a private stretch of coastline in Malta is a step closer to fruition having been granted planning permission. Designed by Make for a private client, the high quality resort will be the most sustainable on the island with a low density footprint and a number of passive design features incorporated.
Beko Masterplan, Belgrade, Serbia
Design: Zaha Hadid Architects



image : Zaha Hadid Architects
New Iraqi Parliament Complex
Design: Assemblage, Architects



image from architects
Comments on e-architect's Building Designs of 2013 selection are welcome
Key Architectural Links
Key Architectural Links
Comments / photos for the Architecture Designs of 2013 page welcome