ATP architects engineers, Building Photos, Design Studio Austria, Office News, Projects
ATP architects engineers Architecture
post updated 30 June 2023
ATP architects engineers News
ATP architects engineers News
6 June 2023
Austro Tower, 3rd District, Vienna, Austria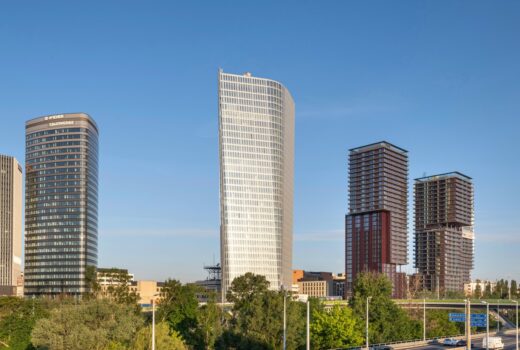 photo : SORAVIA
Austro Tower Vienna
15 Dec 2021
RINGANA campus, Sankt Johann in der Haide, Hartberg-Fürstenfeld, Styria, Austria
Integrated design: ATP architects engineers, Vienna, and ATP sustain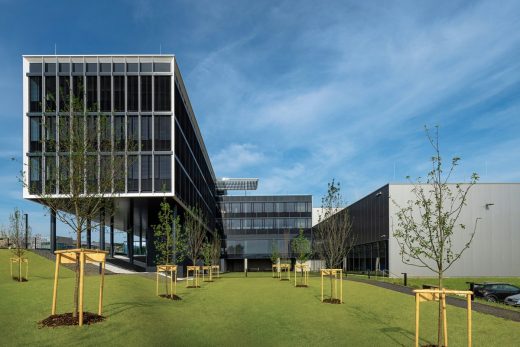 photo : AnnABlaU
RINGANA Campus Sankt Johann in der Haide
The natural cosmetics and life sciences company RINGANA is expanding successfully. As a result, ATP Vienna was commissioned with the integrated design of a large production plant that brings together three existing facilities.
14 Dec 2021
Castellmühle Krefeld, North Rhine-Westphalia, Germany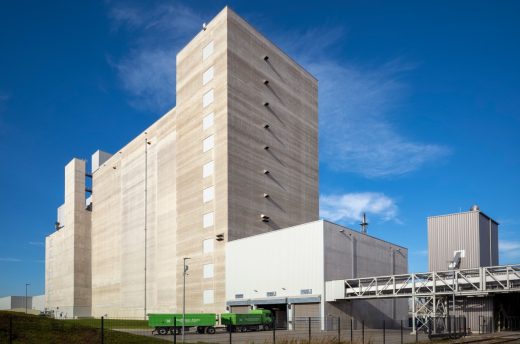 photo : Felix Friedmann
Castellmühle Krefeld Building
In order to optimally support the core processes of the complex – the milling of wheat and rye and the delivery and distribution of grain and flour – ATP's design team designed a simple, closed complex, whose form fully follows its function.
18 Nov 2021
Theurl office building, CLT production plant, Steinfeld, Carinthia, Austria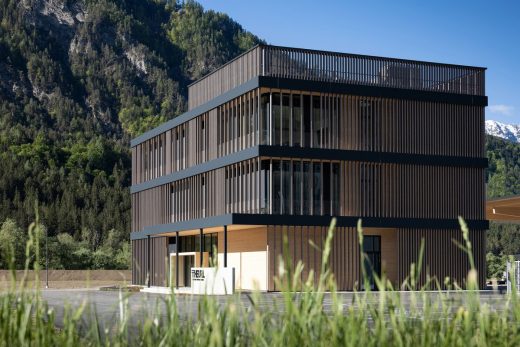 photograph © ATP/Bause
Theurl Steinfeld office building
A special feature of the project was that the buildings built in Phase 1 produced the timber elements used in the buildings built in Phase 2. This creates a true sense of identity for the employees working in the office building, because they are surrounded every day by the materials that they produce in-house.
28 Sep 2021
Handl Gastro Service Building, Pians, Landeck, Tyrol, Austria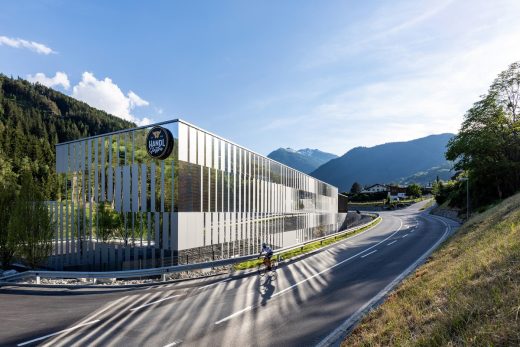 photo © ATP/Bause
Handl Gastro Service Tyrol Building
ATP Innsbruck designed a new operating facility with production in Pians, from which Markus Handl Beteiligungs GmbH will supply upscale restaurants and hotels across Tyrol and Vorarlberg. One highlight of the project is the innovative use of the material wood, which the design team has interpreted in both a traditional (façade) and a modern (timber slab) manner.
10 September 2021
This design office is delighted by the awards and prizes received by two outstanding buildings that they were able to successfully complete despite the difficulties caused by the lockdown:
The district and shopping center ALEJA in Ljubljana, which was completed in spring 2020, has won the ICONIC AWARD 2021 in the category "Innovative Architecture" and is also one of four projects worldwide nominated for the Global RLI Award in the category "International Shopping Center – New Build".
The innovative Viega seminar and distribution center in Attersee, which opened this summer, generates more energy than it consumes. The ecological flagship project has been recognized by the award of platinum certification by the DGNB (German Sustainable Building Council) and Gold certification by the Austrian government's "klimaaktiv" initiative.
Both projects were exclusively integrally and digitally designed with BIM (Building Information Modeling) by ATP architects engineers. BIM2FIM – which was used at Viega – is currently a major talking point in the sector.
27 August 2021
Viega Seminar Center Building in Attersee, Salzkammergut, Upper Austria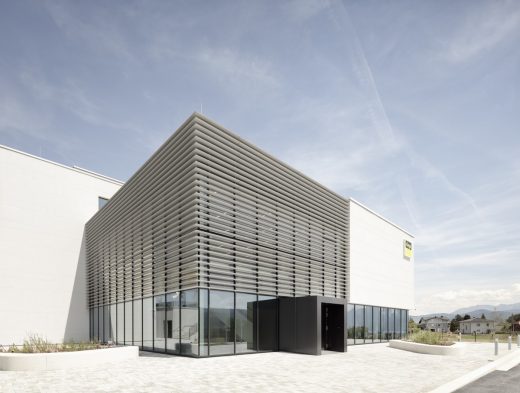 image : ATP/Kuball
Viega Seminar Center, Attersee, Upper Austria
16 Sep 2020
ALEJA shopping center, Ljubljana, Slovenia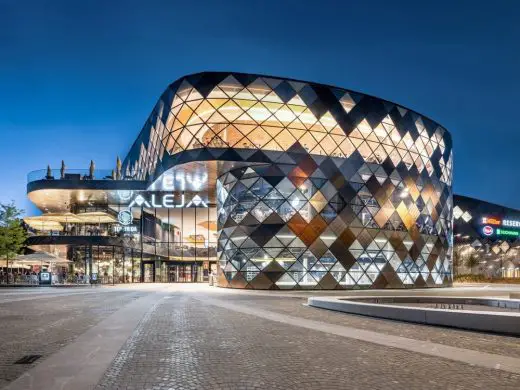 image : ATP/Pierer
ALEJA shopping center Ljubljana
The powerful and rigorously realized concept of ALEJA shopping center in the Slovenian capital of Ljubljana, which was integrally designed with BIM by ATP, has created the perfect platform for around 80 shops.
15 Sep 2020
Here is the latest news from the studios:
Prize for innovative architecture:
• ATP wins the ICONIC AWARD for the IWC Manufacturing Center in Switzerland.
Terminal at Berlin-Brandenburg Airport:
• T2 of BER was built in record time and is "ready for take-off".
ATP TLP Moscow:
•Kai-Uwe Reitmann joins the top management team.
• ATP plans for Sberbank in Moscow.
ATP architects engineers are based in Innsbruck, Vienna, Munich, Frankfurt, Hamburg, Berlin, Nuremberg, Zurich, Budapest, Zagreb and Moscow.
An Iconic Building
IWC Schaffhausen honored with the ICONIC AWARD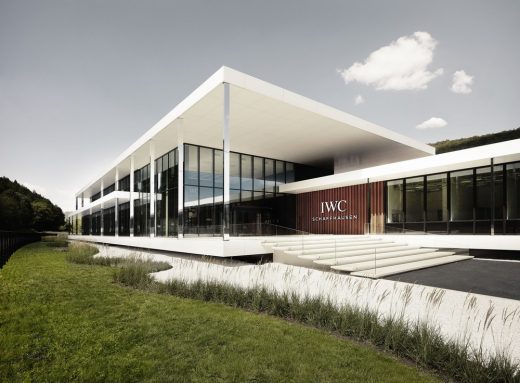 image : ATP/Becker
IWC Schaffhausen
As unpretentious, filigree, and contemporary as an IWC watch – ATP's design for the IWC Manufacturing Center precisely meets the corporate design guidelines and the other requirements of the Swiss manufacturer of luxury watches. The building, integrally designed with BIM, is a manufacturing facility that is convincing in terms of both design and technology and is just as high performing as it is sustainable. With spacious and extremely flexible production areas and a showroom in which visitors can reinforce their passion for IWC.
Far from being a normal production building, this is an exquisite manufacturing facility for IWC. Photo: ATP/Jantscher
The German Design Council has honored the IWC Manufacturing Center, which was integrally designed by ATP Zurich, with the ICONIC AWARD 2020 for innovative architecture. In the words of ATP partner and Managing Director of ATP Zurich, Matthias Wehrle: "Visionary architecture and sustainable innovation can stimulate each other perfectly."
T2 is designed to process six million passengers per year. Visualization: ATP
Coming soon …
Opening of Terminal 2 at Berlin Brandenburg Airport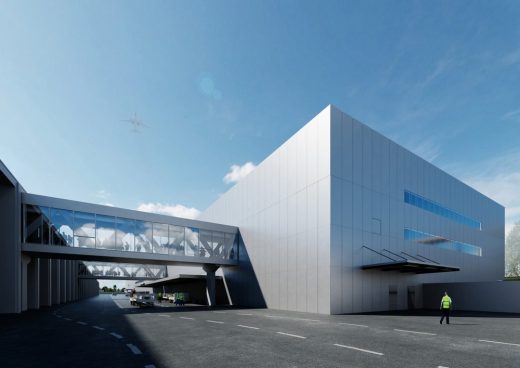 image : ATP
Terminal 2 at BER Airport is already "ready for take-off" and can open together with the main terminal T1 at the end of October. The additional terminal was conceived and planned in record time by the planner team ATP/amd.sigma strategic airport development.
Read more at:
News from Moscow
Kai-Uwe Reitmann
The architect and urban manager is the new Managing Director of ATP TLP Moscow.
Already based in Russia for many years, the German expert Kai-Uwe Reitmann moved in June from Drees & Sommer to ATP TLP Moscow. In line with ATP's successful dual management system he will lead the 90-strong team of the joint venture with TLP Tsimailo Lyashenko & Partners alongside the engineer Vladimir Horton. "My objective is to further develop the position of ATP TLP as one of the few international design offices in Russia and to build bridges with Europe," says the new Managing Director.
Reitmann replaces the Austrian industrial engineer Karl Pein who, after five years, has now returned to Styria, where he continues to be active for ATP.
More about the new Managing Director: news.
The new headquarters of Sberbank in Downtown Moscow. Visualization: ATP
A City for the Bank
ATP TLP Moscow is planning "Sberbank City"
ATP is planning a new, state-of-the-art headquarters in Moscow for Russia's most powerful financial institution. The futuristic giga-project brings together 40 office locations that are currently spread around Moscow and creates space for around 30,000 employees. ATP has designed Sberbank City as a dynamic office quarter with a full range of cultural, educational, leisure, and health facilities.
Integrally and digitally designed with BIM: Sberbank City in Moscow.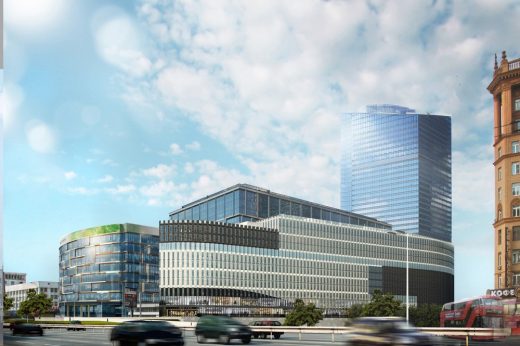 image courtesy of architects
News:
Learning with BIM: High school graduation project for Africa
Lisa Kogler and Hanna Draxl, pupils of HTL Imst, chose a graduation project that combines references to traditional African building culture with all the requirements of climate-friendly construction. The design for a ward at the "Jordan Medical Center" (JMC) in Ghana, which is funded by donations, has received a number of awards and was created as a "digital twin" using Building Information Modeling in cooperation with ATP's BIM manager Philipp Zimmermann.
BIM-QM: Learning from Mistakes
On this year's – virtual – Heinze ArchitekTOUR, Lars Oberwinter, Managing Director of the ATP subsidiary Plandata, is lecturing on "BIM Quality Management 2.0". As part of his lecture the BIM expert is presenting two tools developed by Plandata that will soon be available on the market and explained how one really can learn from mistakes (in BIM models).
Summer, Sun, ALEJA!
District center brings its own charm to the fore.
The skin of the Slovenian "dragon", which reacts to rising temperatures, is shimmering and the green activity roof is luring visitors. In the warmer seasons, the "urban" forecourt and the shady terraces of ALEJA Sky are powerful attractions. The new SES shopping and entertainment center in Ljubljana, which was integrally designed by ATP, has been open since May.
22 July 2020
Development of Former Tonhallen Site, Villingen-Schwenningen, Schwarzwald-Baar district, southern Baden-Württemberg, Germany
Design: ATP Munich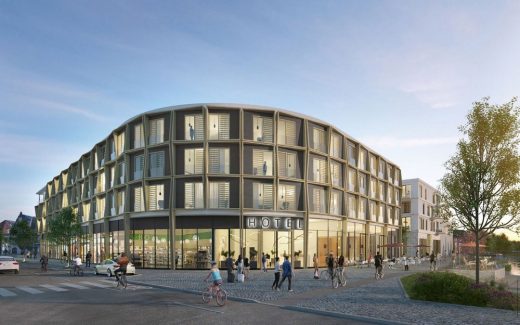 image courtesy of architects
Former Tonhallen Site, Villingen-Schwenningen
The authorities expect this new development to both revitalize the town center and create a significant architectural bridge between the old town and the banks of the River Brigach.
5 Feb 2020
IWC Manufacturing Center, Schaffhausen, northern Switzerland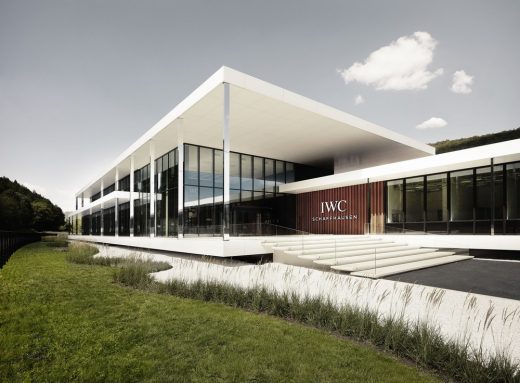 photography : ATP/Becker
IWC Manufacturing Center, Schaffhausen
The design of the IWC Manufacturing Center in Schaffhausen slips harmoniously into the landscape and recalls the pavilion-like buildings of the Modern Movement.
5 Feb 2020
Industrial Kitchen, 23rd district, Vienna, Austria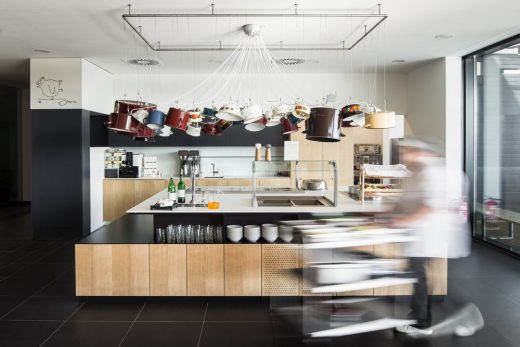 photograph : ATP/Becker
magdas Industrial Kitchen in Vienna
A new building for magdas Social Business, a subsidiary of Caritas in the Archdiocese of Vienna, is ATP's most unconventional industrial building.
30 Oct 2019
Markas Headquarters, Northwest Italy
Design: ATP Architects Engineers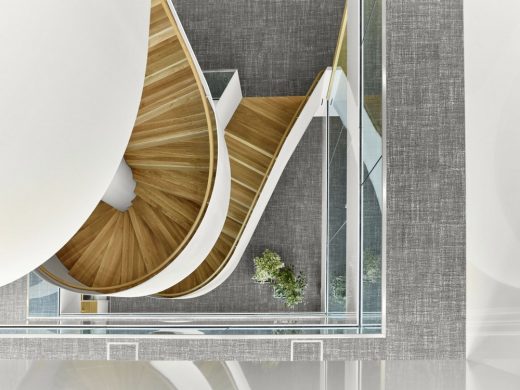 photo : ATP/Becker
Markas Headquarters in Bolzano
19 Feb 2019
ATP strengthens its experience-oriented interior expertise
ATP architects engineers acquired a majority shareholding in Mint Architecture at the beginning of the year.
ATP and Mint Architecture cement their partnership: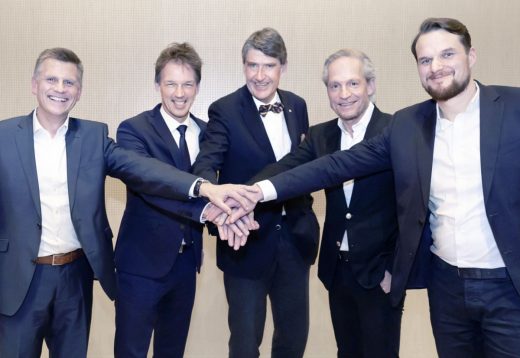 ATP has become the main shareholder in Switzerland's Mint Architecture AG. As Continental Europe's leading integrated design office the move strengthens the ATP group with specialist experience-oriented architectural and design know-how while opening the door to further growth for the younger partner office. Mint Architecture will remain an autonomous company and an independent brand.
Bank Cler, Zürich, CH: Pilot branch and 31 redesigned offices.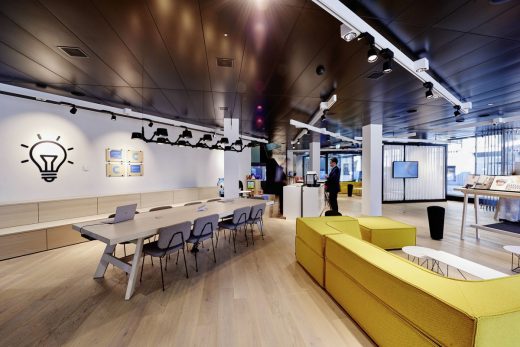 photos courtesy of architects
At the start of the year ATP acquired the majority share in the Swiss Mint Architecture AG. The shareholding represents a valuable boost for the ATP Group in the field of commercial interior design and reinforces the expertise of ATP's in-house Design and Research (D+R) groups in its individual offices.
Shopping Center INSIDE, Volketswil, CH: Popular venue for fashion, beauty and lifestyle.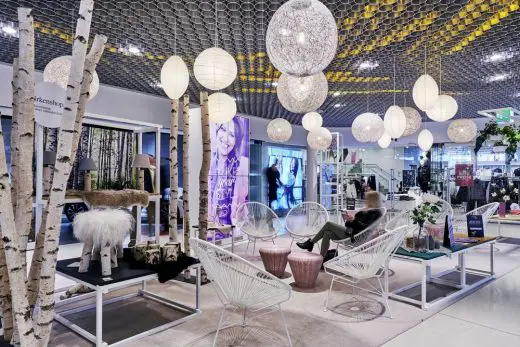 With its specialty of commercial and user-oriented architectural projects, Mint Architecture has developed a unique position on the Swiss market in just a few years. The Zurich office, which has around 50 employees, focusses on the retail, restaurant, financial, health, and hospitality sectors.
According to Thomas Stiefel, Founder and Partner of Mint Architecture: "We are delighted to have
Le Chef, Flughafen Genf, CH: Experience-oriented gastronomic concept and restaurant conversion.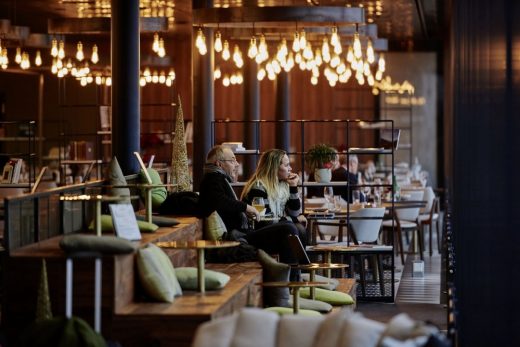 ATP architects engineers as a main shareholder – a strong, Europe-wide player with a professional network of over 800 experts, which will offer us the opportunity to apply our expertise to major international projects."
Bank Cler, Uraniastrasse in Zurich, CH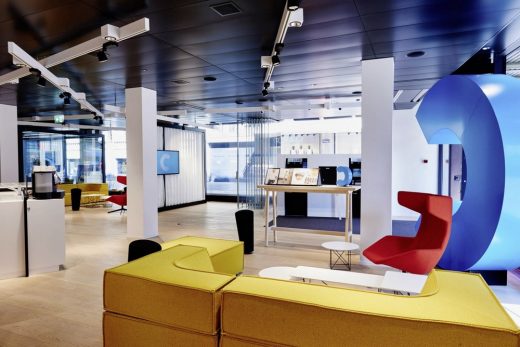 16 May 2018
ATP architects engineers News in 2018
ATP architects engineers News 2018
Urban design Projects
TrioLiving, AT
The three new residential buildings are based on the design by ATP Vienna that was awarded first prize in the realization competition. A comprehensive needs analysis carried out together with the client defined the objectives for the densely developed site – high quality design in the apartments and the open spaces together with functional floor plans which optimize the usable residential space.
Location: Vienna, AT
Completion: 09/2017
Integrated design: ATP Vienna
Competition 1st Prize (2013)
27 Sep 2017
ATP architects engineers News in 2017
ATP architects engineers News from 2017
Urban design Projects
Im Lenz, CH
A new urban district with more than 500 apartments as well as office, commercial and retail space has been created on a former industrial site in the Swiss town of Lenzburg. The guiding principle for the design of the "Im Lenz" district is sustainable urban development. ATP Zurich was commissioned to design four of the twelve buildings.
Location: Lenzburg, Switzerland
Completion: 07/2017
Integrated design: ATP Zurich
Competition 1st Prize (2015)
Weberzeile, Ried i. I., AT
ATP's Weberzeile is a newly built shopping center that has been extremely successfully integrated into the existing urban structure of a medium-sized town. The retail complex acts as an "anchor" between the old town and the commercial/industrial zone. The success of the strategy was recognized in Weberzeile's reception of the ICSC Regeneration Award 2017.
Location: Ried im Innkreis, Austria
Completion: 08/2015
Integrated design: ATP Innsbruck
Competition 1st Prize (2011)
Curtis Fluentis, CH
Despite the high levels of noise pollution from two main transport axes ATP Zurich succeeded in creating a housing and commercial complex with high residential quality. A continuous five-part building provides noise protection to the internal courtyards and loggias.
Location: Cham, Switzerland
Completion: 06/2016
Integrated design: ATP Zurich
Municipal Offices, Vomp, AT
A powerful and self-conscious ensemble of two separately accessed building volumes with a connecting wing cleverly exploits the height difference across the site. The roof and the façade play with the materiality of a Tyrolean village as a means of integrating the building complex into the surrounding urban structure.
Location: Vomp, Austria
Completion: 09/2017
Integrated design: ATP Innsbruck
Competition 1st Prize: (2015)
IN-Tower, DE
Ingolstadt's first high-rise building acts as a link between the new station building and the "Glacis" – the green belt surrounding the old town. The striking complex accentuates the entrance to the site of the North Station and will act as a powerful symbol for rail passengers arriving in the town in future.
Location: Ingolstadt, Germany
Completion: Summer 2018
Integrated design: ATP Munich
Competition 1st Prize: (2014)
Competition successes
Headquarter Markas, IT
The central requirement of the invited competition was to meet the needs of the growing company and create a link with the heart of Bolzano to the west. The concept by ATP Innsbruck envisages a flexible, column-free office tower that is well-proportioned from an urban design point of view and which, despite its central location, makes it possible to "work surrounded by greenery"
Location: Bolzano, Italy
Competition: 2016
ATP Innsbruck
Seestadt Aspern, DE
ATP Vienna was able to secure first place in this EU-wide, open realization competition in this urban development area in Vienna with a concept for a 'Plus Energie' building. The project is based on the concept of breaking down the traditional perimeter block.
Location: Vienna, AT
Competition: 2016
ATP Vienna
Wohnpark Gebersdorf, DE
The complex requirements of the realization competition demanded the development of a concept for the district which combined high-quality urban design with an innovative residential approach oriented to the needs of children and old people. ATP's design envisages a calm residential area protected from noise that will also act as a center for the district of Gebersdorf.
Location: Gebersdorf, Nuremberg, Germany
Competition: 2016
ATP Munich with Logo verde
Neue Mitte Thon, DE
The concept behind the winning project by ATP Munich includes a reorganization of the area in urban design terms which focuses on reinvigorating the entrance to the district and providing a high quality user experience on the planned district squares. At the same time it seeks to establish a connection with the hardly perceptible and yet still very much present historic center of Thon.
Location: Thon, Nuremberg, DE
Competition: 2016
ATP Munich with Logo verde
Bahnhofsareal Weßling, DE
ATP Munich and Logo verde convinced the jury in the ideas competition for the new center of Weßling with a high-quality overall concept that is in keeping with the existing townscape. The focus of the project was the retention of Weßling's structure and village-like charm.
Location: Weßling, DE
Competition: 2016
ATP Munich with Logo verde
2 Apr 2014
This practice has renamed their company to ATP architects engineers.
15 + 13 Aug 2012
ATP architects engineers News 2012
News from ATP architects engineers
– Completion of headquarters for Tönnies
– Nomination for the Austrian State Prize for the "Most family friendly company"
– Real Estate Brand Award 2012: ATP is number one in Austria again
Tönnies Headquartes, Germany
Completion of Administration and Social Building



photo © Stefan Schilling
Tönnies Headquartes
The new corporate headquarters of Tönnies, one of Germany's largest food companies, in Rheda-Wiedenbrück, Nordrhein-Westfalen, was integrally designed by ATP N+M Frankfurt.
The administration building is an example of successful Corporate Architecture for a food industry company. It speaks a clear architectural language and was designed using a sustainable design approach.
Shopping Centres
ATP architects engineers are specialists in the field of retail architecture with BD listing ATP amongst the TOP 10 retail designers worldwide in its 2012 Global Ranking.
Clients ask ATP studios to not only design new centres but refurbish existing ones. Competition wins and international awards such as the recognition by the ICSC of the ATRIO centre as the best sustainable centre and Shopping Centre of the Year 2009 or the nomination of VARENA in 2011 and BREEAM certification for G3 and Siska, etc, are confirmation of the innovative approach of our design teams as they create further successful sustainable centres: The following projects are currently being designed/built:
• "G3 Shopping Resort Gerasdorf", A, Shopping Centre, New construction (2012)
• "ZTC Rijeka", Croatia, Shopping Centre, New construction (2012)
• "Hasenbergl", Local Centre, Munich, DE, New construction (2012)
• "DOC Soltau", DE (Design Outlet Centre), New construction (2012)
• "Kitz Galleria", Retail Store, Kitzbühel, A, New construction (2013)
• "Kemmelpark", Retail Park, Murnau, DE, New construction (2013)
• "SCS Shopping City Süd", Vösendorf/Vienna, A, Refurbishment (2013)
• Maximarkt Flagship Store, Anif, Salzburg, A, New construction and remodelling, 1st Prize (2013)
• "SC Siska", SES Shopping and Local Centre, Ljubljana, SLO, New construction, 1st Prize (2014)
• Retail Store Kampstraße, Dortmund, DE, Refurbishment
• Retail Store Nürnbergerstraße, Erlangen, DE, Refurbishment, 1st Prize
• "Schwabinger Tor", Munich, DE
ATP architects engineers – Selected Projects
Building designs by ATP architects engineers on e-architect, chronological:
SISKA Shopping Centre, Slovenia
1st Prize, Invited Competition
2010-



image from architect
SISKA Shopping Centre Ljubljana
KOMM Kaufhaus Offenbach Main-Mitte Offenbach/Frankfurt, Germany
2010



photo : Jean-Luc Valentin
Kaufhaus Offenbach Main-Mitte
Alpine Resort Fieberbrunn, Tyrol, Austria
2010-



photo : www.engelhardt-sellin.de
Alpine Resort Fieberbrunn
The Peace Pentagon, New York, USA
2009-



image from ATP architects engineers
The Peace Pentagon design
West Gate – shopping centre, Croatia
2009



photo : Shopping City Zagreb
West Gate Zagreb Building
Hilti plant building, Thüringen, Austria
2009



photo © Thomas Jantscher
Hilti building
Buildings by ATP architects engineers
Projects by ATP architects engineers, alphabetical:
Atrio, Villach, Austria
2009



photo : Elke Visciotti
Atrio Villach Building
Crown Resort Montafon, Austria
2009-



building image from ATP architects engineers
Crown Resort Montafon
University of Innsbruck, Faculties of Architecture & Civil Engineering, Austria
2009



buildings image from ATP architects engineers
University of Innsbruck Building
More architecture / building projects online soon
Location: Heiliggeiststraße 16, 6010, Innsbruck, Austria, Europe
Architects Engineers Practice Information
ATP architects engineers are headquartered in Innsbruck, Austria.
COMPANY PROFILE ATP GROUP
Architects and engineers for better buildings
Vision: We want to change the world for the better with our buildings.
• Established: 1951
Pioneer of integrated design in Continental Europe since 1976
• Employees: 1,200+
• Partners (Shareholders):
– Christoph M. Achammer
– Michaela Hauser
– Gerald Hulka
– Werner Kahr
– Robert Kelca
– Horst Reiner
– Dario Travaš
– Matthias Wehrle
• 12 European integrated design offices:
– Innsbruck
– Vienna
– Munich
– Frankfurt
– Berlin
– Nuremberg
– Hamburg
– Zurich
– Zagreb
– Kraków
– Budapest
– Moscow
• Design sectors:
– Production and logistics
– Retail and entertainment
– Offices and administration
– Health
– Education and research
– Tourism
– Housing
– Interior design
– Multifunctional buildings
– Urban planning
– Infrastructure and transport
• Forschung & Sonderplanung:
– D&R Studios
– ATP health
– Mint Architecture
– Hochstrasser Glaus & Partner
– ATP sustain
– ATP zero
– ITA engineering
• Consultinggesellschaften:
– plandata
IT services
– redserve
real estate development services
– foodfab
food industry
(process and building design)
– FactoryXperts
food and drink industry (baked goods)
• Lehre:
ATP CEO Christoph M. Achammer was
Professor for Integrated Construction
Planning and Industrial Building at Vienna
University of Technology between 2002
and 2022.
The interdisciplinary cooperation between architecture and engineering and
modern knowledge management have enabled ATP to became Europe's leading
integrated design office.
1,200+ employees in twelve offices across the DACH+CEE Regions, supported by
in-house research, specialist design, and consulting companies, plan buildings for
clients from the research & industrial, retail, real estate, and health sectors.
Pioneer of integrated design with BIM (Building Information Modeling)
Today, integrated design is a prerequisite for high quality modeling and reducing
waste. It is the key to sustainable, resource-friendly, and energy-saving buildings. ATP
has been designing integrally for 45 years and BIM has been employed in all building
projects since 2012. ATP's cooperative integrated design culture is the result of many
years of interdisciplinary practice. In contrast with conventional, consecutive design
processes, integrated design enables all the advantages of BIM to be exploited in the
interests of sustainable design quality.
To this end, ATP makes full use of the "corporate structure" of the group by acting
as a learning organization that is permanently developing through the sharing of
knowledge between offices and specialist areas.
The future is green
Thanks to its in-house expertise, ATP is able to offer its clients the verticalization of its
range of services: In the spirit of the European Green Deal and in line with the need
for a CO2-neutral existence, expertise is pooled and employed both before and during
the construction process. As a result, the current considerable potential for waste in
the building industry can be minimized through lean processes and the careful use of
resources.
Consulting offices specializing in such areas as sustainability, process engineering,
and project development help clients to decide whether and which building measures
are necessary, well before the start of the design process. By focusing on the core
process that is due to take place within a building, the order quality is defined
with the help of a project strategy based on a feasibility study. This is followed by
the first phase of the integrated design process, which is oriented in line with a
sustainable use period. Throughout the entire design and construction process and
right up to the point at which the building is handed over to the facility management,
an interdisciplinary team of architects, structural and building services
engineers, and site supervisors is headed by a Lead Project Manager. Due to ATP's
standardization of key design processes, responsibility can be delegated within this
team without any loss of quality.
Career and partnership
A wide range of career paths and opportunities are open to ATP's architects and
engineers. Expertise is developed and passed on in both the offices and the ATP
Academy. The ATP partnership (since 1990) of 8 partners, 45 associate partners,
and 104 associates enables employees to demonstrate their share of corporate
responsibility and enjoy their share of corporate success.
Research and teaching
Due to its close cooperation with Vienna University of Technology and other
universities and universities of applied sciences, ATP permanently plays a leading role
in scientific research into integrated design and BIM. ATP is a founding member of the
DGNB, the ÖGNI, and IG Lebenszyklus Hochbau.
Competitions and Awards
2nd Prize TRON, Mainz, 2022
1st Prize Energie Kreuzlingen, 2022
2nd Prize Light Industrial Campus, Ludwigsburg, 2022
International Architecture & Design Collection Award, IWC Manufacturing Center, 2022
Austrian Green Planet Building Award, Designer Outlet Croatia, 2022
Deutscher TGA Award, Viega Seminar and Sales Center, 2022
PROESTATE & TOBY Award, 2022
BigSEE Wood Design Award, Theurl, 2022
Iconic Award, RINGANA campus, 2022
BigSEE Award, RINGANA campus, 2022
Green-BIM Award, 2022
Holzbaupreis Kärnten, Theurl, 2021
Iconic Award, Shopping Center ALEJA, 2021
Global RLI Award, Shopping Center ALEJA, 2021
German Design Award, IWC Manufaktur, 2021
BigSEE Award, magdas, 2020
Iconic Award, IWC Manufaktur, 2020
German Design Award, HOFER ALPHA Retail Network, 2020
More Competition Successes and Awards
Website : www.atp.ag
Images / information from ATP architects engineers
Austrian Architecture
Austrian Architecture Designs – architectural selection below:
Austrian Architecture Design – chronological list
Vienna Architecture Walking Tours by e-architect
Comments / photos for the ATP Architecture page welcome