Paris Housing, Residential Buildings France, Property Images, Architecture, Designers, Projects
Paris Housing Design
Residential Buildings in Northern France – New Homes: Property News + Architects
post updated 10 Mar 2020
Paris Residential Building News
Residential Architecture in Paris – latest additions to this page, arranged chronologically:
31 Oct 2019
AME-LOT Student Housing
Architect: Stephane Malka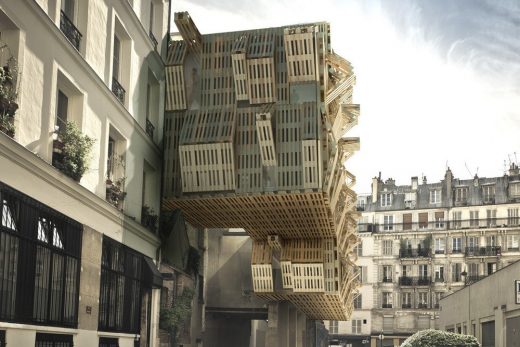 photo credit : Laurent Clément / Tristan Spella / MALKA ARCHITECTURE 2011
AME-LOT Housing
In reality, ecological strategies often generate an over-production of materials, becoming energy-vores and clients of factories, the polluters of the world.
24 Oct 2019
28 Social Housing Units, Courbevoie
Architects: Koz architectes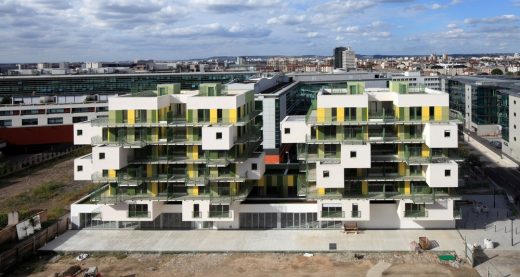 photographer © Guillaume Grasset and Jean-Baptiste Pellerin
Social Housing in Courbevoie
In 2007, Groupe 3F and the Courbevoie Town Council launched a competition for a social housing project on the last remaining plot in the urban development zone of Les Fauvelles. The project must present new approaches for social housing in densely occupied urban settings. This design proposal was selected over those offered by SOA Architectes and LAN Architecture.
24 July 2019
UNIC Residential Paris, Clichy-Batignolles, 17th arrondissement
Design: MAD Architects with Biecher Architectes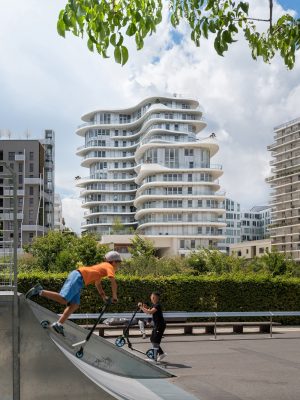 photo : Jared Chulski
UNIC Residential Paris
Part of the mixed-use masterplan envisioned adjacent to the Martin Luther King Park.
23 Oct 2018
Belleville Social Housing and Shop, 36 Belleville street
Architects: Atelier du Pont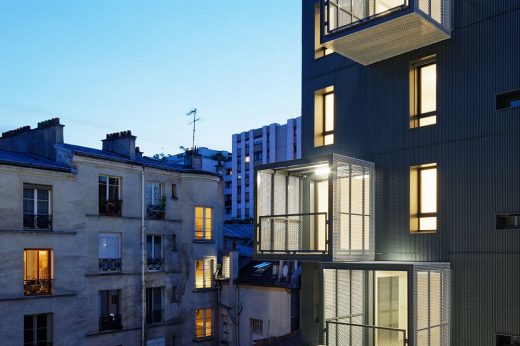 photo © Takuji Shimmura
Belleville Social Housing and Shop in Paris
The project does not constitute a break with the existing fabric, instead proposing a contemporary updating of the classic, simple morphology of this Parisian neighbourhood.
20 May 2016
UNIC Housing, Clichy-Batignolles, Paris, France
Design: MAD with Accueil-Biecher Architectes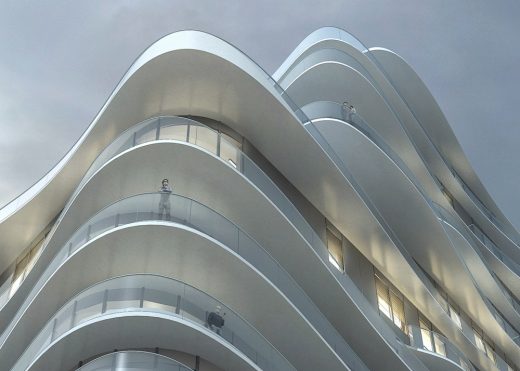 image courtesy MAD Architects
UNIC Housing in Paris
A dynamic new Parisian housing block surrounded by undulating balconies. The building will be the first residential project in Europe by this celebrated Chinese architecture studio.
15 Oct 2013
Housing + Chapel at Zac Seine Arche Nanterre, south west Paris
Design: ECDM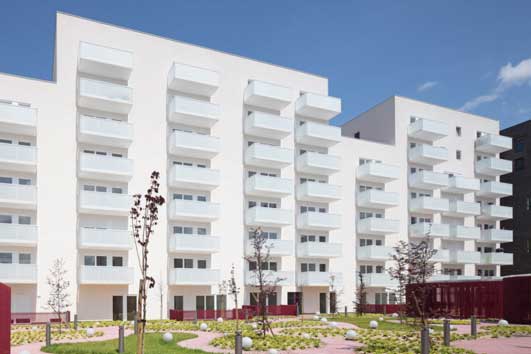 photo : Benoît Fougeirol
Text in French only
5 Sep 2013
Pink Flamingo Student Housing Paris
Design: Stephane Maupin & Partners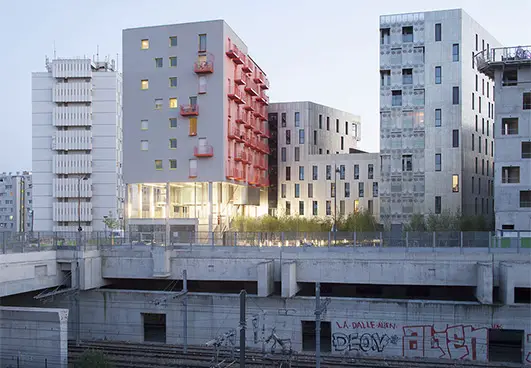 photo : Clement Guillaume
Pink Flamingo
The project is a dormitory for students in a multi layered spaces. The new building takes place on the east Side of Paris, a new area build over rail tracks. All the difficulty was to make a construction without any foundation.
19 Jul 2013
Paris Social Housing, Cavaignac
Design: h2o architectes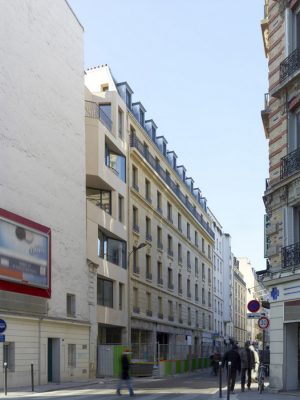 photo : Stéphane Chalmeau
The project of the rue Godefroy Cavaignac in Paris consisted in the rehabilitation of a building which did not meet hygiene and security standards into new social housing.
28 Feb 2013
Housing on Rue Rebière
Design: Stephane Maupin & Partners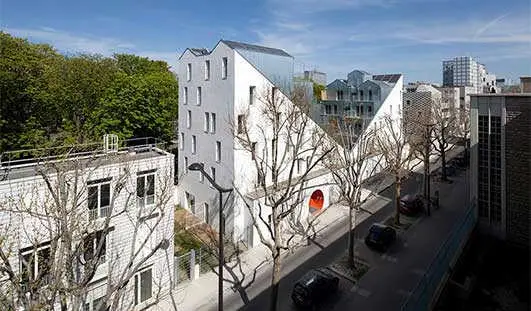 photo : Cécile Septet
M Building Housing
The project takes place in the north Pierre Rebiere Street is a 600 meters long and 25 meters wide straight line. It is surrounded by the Batignoles' cemetery on one side and by the back entrance of the international high school Honoré de Balzac on the other.
19 Feb 2013
'Basket Apartments'
Design: Ofis Arhitekti, Slovenia



photograph : Tomaz Gregoric
Paris Student Studios
The project is located on a long and very narrow site, on the edge of Parc La Vilette in Paris's 19th district, within an urban development done by Reichen & Robert architects. On the northeast, new Paris tram route is passing along the site.
13 Dec 2012
Nanterre Apartment Block, south west Paris
Design: X-TU Architects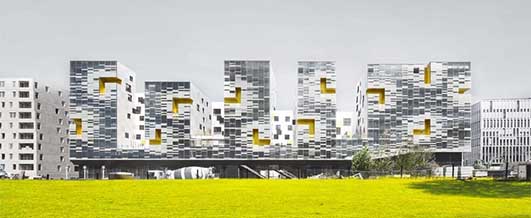 photo : Luc Boegly
Nanterre Apartments
A striking facade, grounded by a common base line just above street level, with a serrated roofline and randomised cladding punctuated with deep yellow L-shaped incisions.
3 Dec 2012
Massy Social Housing, Massy, south west Paris
Design: du Besset-Lyon Architectes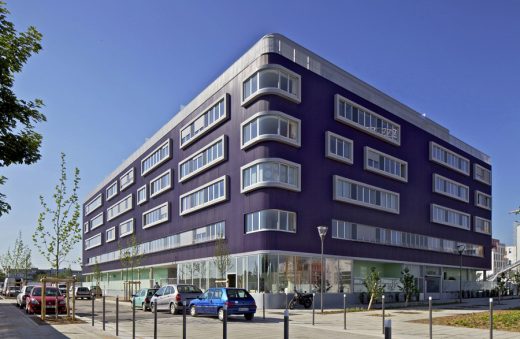 photo : Philippe Ruault
Paris Social Housing
In order to hold its place efficiently within the urban fabric its architecture is simple and takes advantage of the sheer size of a 60 apartment's construction. Size matters when it comes to achieve a dense city.
Paris Housing
Major Paris Residential Projects, alphabetical:
18th arrondissement Housing – Student Residences
Design: LAN Architecture



photo : Julien Lanoo
18th arrondissement Housing
The driving idea guiding our project stems from the challenge of responding to the necessity for urban integration and creating optimum comfort for the residence's occupants in a convivial and intimate environment.
70 Degrees SUDL, south west Paris, France
Design: LAN Architecture



images © Julien Lanoo
70 Degrees SUD Boulogne Billancourt
58 housing units located on the former site of the Renault factories in Boulogne-Billancourt, the concerned project is part of the Trapèze Ouest, one of the sector of the operation Ile Seguin-Rives de Seine, amongst the most important emerging centres in Ile-de-France.
108 rue de Picpus – Social housing
Design: ecdm



photo : Benoit Fougeirol
Social Housing Paris
Located at the intersection of the homogeneous and haussmannian landscape along Gossec Street, and of the disparate architecture made up through time on Picpus Street, the site on which this 63 social housing program is established is an element of a typical "collage-city" landscape, also characterized by a double movement of the natural soil.
Épinay Student Housing, Épinay-sur-Seine, commune in the northern suburbs of Paris
Design: ecdm



photo © Benoît Fougeirol
Épinay Student Housing
The Flower Tower, avenue de France, ZAC Massena, Paris 13
Maison d'architecture Edouard François



photo from architects
New Parisian Apartment Building
Herold Apartments
Design: Jakob+MacFarlane



photo Nicolla Borel © Jakob+MacFarlane
Herold Apartments Paris – 100 social apartments
The program is for a combination of different-sized apartments, the ground floor being designed for handicapped persons, and some shops at street level.
Irène Joliot Curie Housing
Design: BE Hauvette Paris with DATA Architects



photo from architect
Irène Joliot Curie Housing
The practise BE Hauvette Paris, youngest member of Baumschlager Eberle Group, has designed a building which fulfills the diverse needs of the inhabitants. The basic requirements for contemplation and communication are here complied.
Masséna District Urban Development
Design: Atelier Christian de Portzamparc



photo © Éric Sempé
Massena District Building
The buildings are independent and apart, allowing the street to open onto the internal side of the open blocks where gardens are planted. The wide variety of programs, volumes and materials is implemented along the entity of the street.
Massena Social Housing
Design: Beckmann-N'Thépé Agency



photo © Stefan Lucas
Massena Social Housing
The facades unfold like a large graphic composition, generous and scaleless. The notion of floor levels is concealed, the rhythms of the openings are systematic and surprising.
Montmartre Housing, 18th arrondissement
Atelier Kempe Thill



image © Atelier Kempe Thill
Montmartre Housing
A winning design for an invited competition: 55 apartments, a dentist's surgery, a mother child centre and a parking garage at the 18th arrondissement in Paris.
Residence Ladoumegue
Design: ecdm



image from architect
Paris Student Housing Design
The program is repetitive by nature: 190 student rooms, for 190 students of the same age, with the same education level. We do not try to confront this repetition but rather we create unity and identity, bringing together these 190 individualities.
Social Housing ZAC Claude Bernard, 19th arrondissment
Design: Dietmar Feichtinger Architectes



photograph : David Boureau
New Parisian Social Housing
ZAC Claude Bernard, 134-138 boulevard Macdonald
Atelier Zündel Cristea



photo © S.Chalmeau
ZAC Claude Bernard
Business space and the entrance to the retirement home are found on the ground floor, followed by five floors containing the main section of the retirement home, while the top four floors contain privately owned homes. The basement contains parking lots for the residents as well as supplementary annexes of the retirement home: its kitchen, maintenance and storage rooms.
Sustainable Dwellings, ZAC Seguin, southwest Paris
MCBAD Colomer Dumont



Stephane Chalmeau – Colomer Dumont MCBAD
ZAC Seguin Buildings Paris
More Paris Housings online soon
Location: Paris, France
Architecture in France
Contemporary Architecture in France
Maison at Bordeaux
Design: Rem Koolhaas / OMA
Comments / photos for the Paris Residential buildings page welcome