México Architecture News 2021, Buildings, Construction Design, New Property Images, Architects
Mexican Architecture News
Key Property Developments in Mexico: New Buildings – North American Built Environment Updates
post updated 7 December 2021
Mexican Building News
Mexico Architectural News, chronological:
Mexican Architecture Designs – chronological list
Visit e-architect to find regular updates for Mexican Architecture News. We post articles 7 days a week, 365 days a year, since 2000!
7 December 2021
Ling Ling by Hakkasan, Av. Paseo de la Reforma 509-Piso 56, Cuauhtémoc, Ciudad de México, CDMX
Interior design: Sordo Madaleno Architects ; Lighting Designer: Luz en arquitectura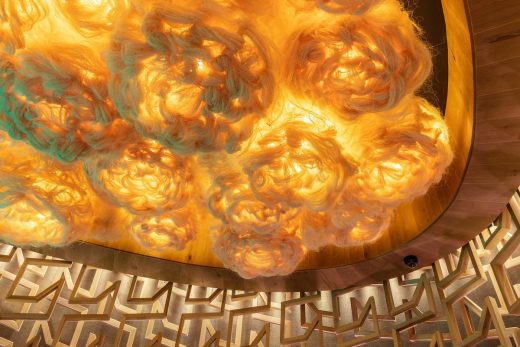 photo : Miguel Calanchini
Ling Ling Restaurant Decorative Luminaires
Iconic places continue to be established in Mexico City, and for these to gain recognition from the public, it is essential to create and offer unforgettable experiences or environments. This was the premise that led the client to choose one of the most important architecture firms in the country for this project.
11 Nov 2021
Entretelas Brinco HQ, State of Mexico
19 Oct 2021
Hill in Front of the Glen, El vaquerito, Morelia, Michoacán
Architects: HW STUDIO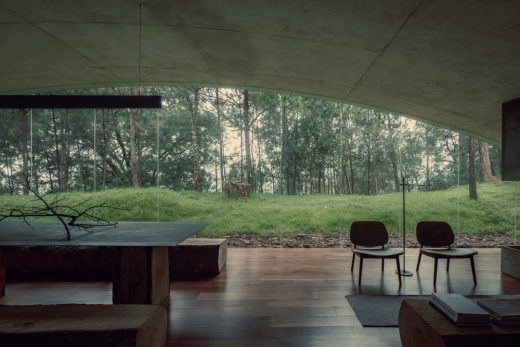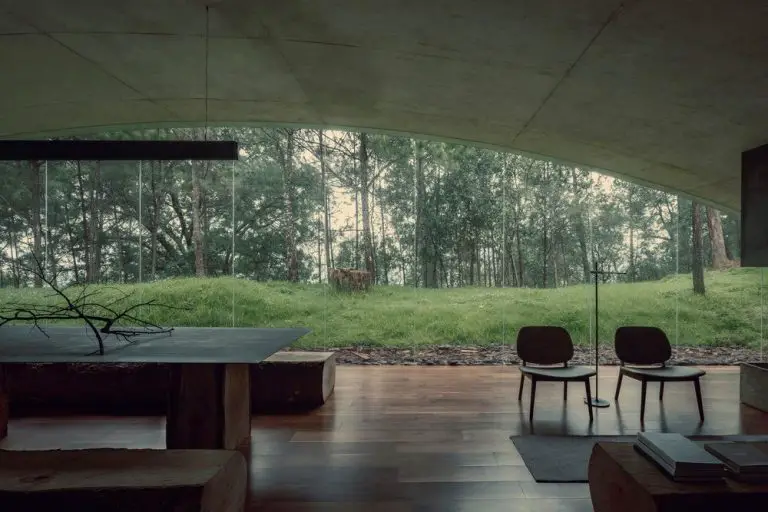 photo © Cesar Bejar
The Hill in Front of the Glen, Michoacán
The inspiration behind the Hill in Front of the Glen project is derived from carefully listening to the subtle murmurs and whispers of environments like this, as well as the client's search for protection and shelter. How can one feel protected?
1 Oct 2021
Vía 515, east Mexico City
Architects: Migdal Arquitectos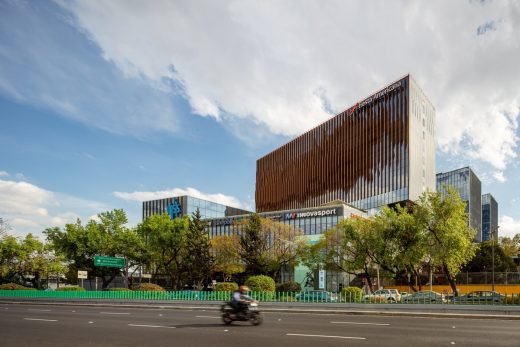 photos by Rafael Gamo and Jaime Navarro
Vía 515 Mexico City Building
Vía 515 is a mixed-use complex located in Mexico City's east end, between the airport and downtown. The 106,000 m2 project consists of three buildings: shopping center, hotel, and offices.
7 Sep 2021
Periférico 2008 Building, near to San Angel, south of Mexico City
Architects: BRAG. Arquitectos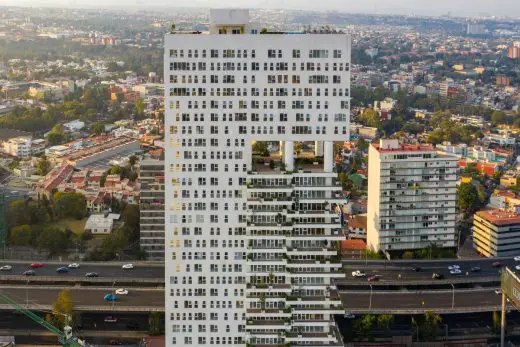 photo : Onnis Luque
Periférico 2008, San Angel
Periférico, is a multi-unit residential building, located to the south of Mexico City, very close to San Angel, known as "original town", characterized by its history, monuments and religious architecture, as well as its museums, squares, streets and traditional parties.
8 Sep 2021
Interprotección Offices, Polanco, Mexico City
Architects: spAce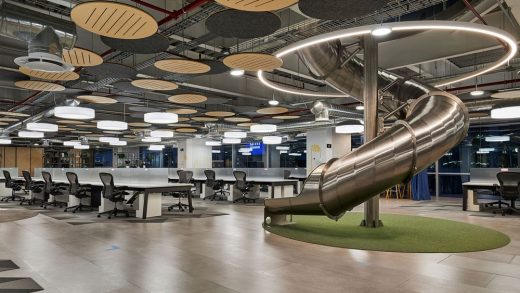 photo : Aldo Cárdenas Gracia
Interprotección Offices, Polanco Mexico City
Interprotección is a Mexican group of companies that are distinguished experts on insurance, bond and reinsurance brokerage. With more than 40 years of experience in integrated risk management and consulting, their business model is based on flexibility, decision making, responsiveness and creativity to solve risk problems.
19 Aug 2021
Interlomas Housing, State of Mexico
4 Aug 2021
El Terreno Community Garden, Mexico City
28 Jul 2021
Digital Media Library Monte Sinai School
28 Jun 2021
Tulum Train Station, Tulum, Riviera Maya, eastern Mexico
Architects: AIDIA STUDIO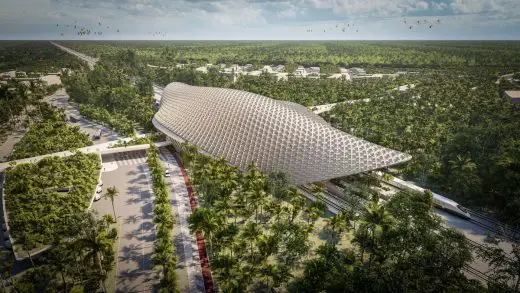 image courtesy architecture practice
Tulum Train Station Mexico Building
The station sits in the beach resort of Tulum, in the Mexican Caribbean, along the Riviera Maya. The primary goal in the design process was to push the sustainability agenda to the foreground and to find in that optimized performance a narrative which would speak about the qualities of pre-Hispanic Mayan Architecture through the use of light, shadows, patterns, materials and vegetation.
20 Apr 2021
Casa L&J, Zapopan Jalisco Property
26 Mar 2021
Altius Offices, Mexico City Commercial Building
22 Mar 2021
San José Station, Toluca de Lerdo
20 Mar 2021
Adamant Tijuana, Baja California Building
31 Jan 2021
Arena Mundo E, Mexico City
Mexican Architecture News 2020
31 Dec 2020
Casa Colorada, Valle de Bravo
Design: Once Once Arquitectura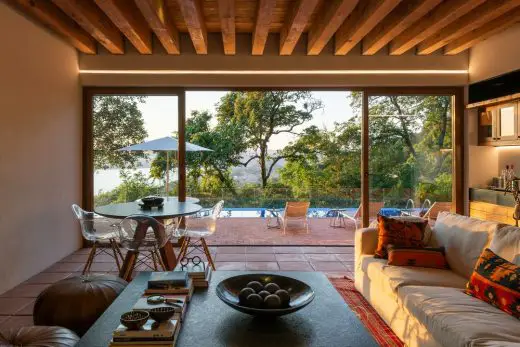 photograph : Camila Cossio
Casa Colorada, Valle de Bravo
Casa Colorada (CC) owes its name to the clay red soil color of the mountain where it is built. CC is a country house in the colonial and tourist town of Valle de Bravo, 140 km away from Mexico City. Valle de Bravo is located 1600 meters above sea level and has a privileged microclimate since temperatures slightly vary throughout the year, setting the average at 22 degrees centigrade.
1 Dec 2020
The Pit Golf Facilities
20 Nov 2020
Quin Commercial Complex, San Luis Potosí
6 Nov 2020
Camilo Apartment, Mexico City
14 Sep 2020
Solaz Los Cabos Hotel, San José del Cabo, Baja California Sur
Design: Sordo Madaleno Arquitectos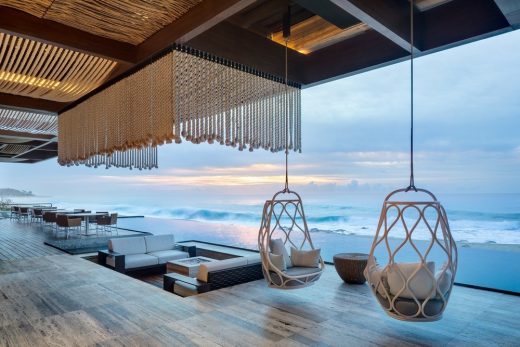 photograph : Rafael Gamo
Solaz Los Cabos Hotel in San José del Cabo
The extraordinary natural surroundings of the peninsula of Baja California with its semi-desert landscape provides an ideal selected context for the construction of a new landmark hotel for the country.
post updated 13 Sep 2020 ; 2 May 2020
Hyatt Regency Andares, Puerta de Hierro zone, Zapopan, Jalisco
Architects: Sordo Madaleno Arquitectos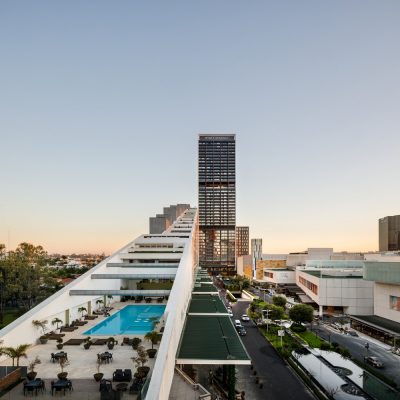 photograph : Rafael Gamo
Hyatt Regency Andares in Zapopan, Jalisco
The mixed-use Andares complex is the visionary urban complex that has positioned the Puerta de Hierro zone as a new center for the city of Zapopan. The Andares Master Plan formally commenced with the building of the shopping mall and the high-rise residential building, but an expansion was always planned.
31 August 2020
DR. ATL 285 Apartments in Ciudad de México
29 June 2020
Terraza / Rancho Sierra AllendeSan Miguel de Allende, Guanajuato
Architects: fabián m escalante h | arquitectos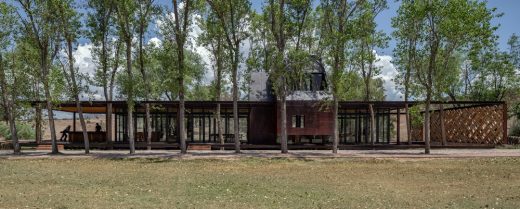 photograph : Jorge Succar
Terraza / Rancho Sierra Allende, Guanajuato
Terrace "Rancho Sierra Allende" is a multifunctional recreative space which purpose is to offer its users the ability to get involved in various activities.
10 June 2020
Mexico City New International Airport
5 May 2020
NIU Coliving in the Narvarte Neighborhood
2 May 2020
Hyatt Regency Andares in Zapopan, Jalisco
23 Apr 2020
Green Grass Condesa Restaurant, Mexico City
13 Mar 2020
Hogsons Smoke House in Mérida, Yucatán
13 Feb 2020
Antigua High-Rise Apartment, Antigua Santa Fe, Mexico City
Architect: Alejandro de la Vega Zulueta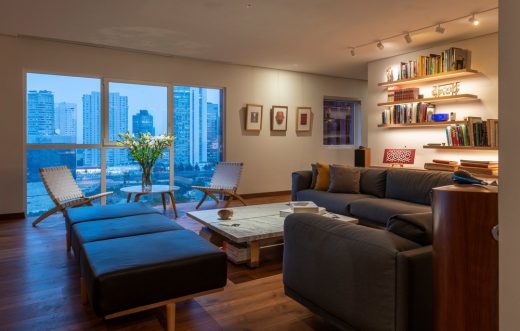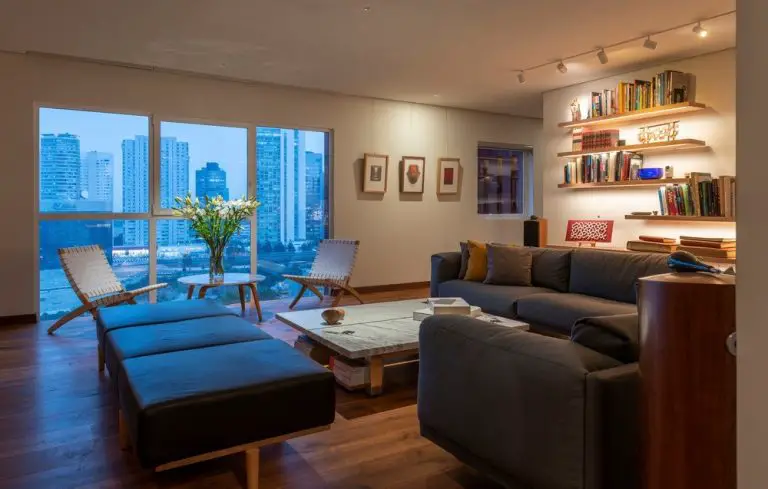 photograph : Jaime Navarro
Antigua High-Rise Apartment Interior in Mexico City
New interior design of a Mexican high-rise apartment.
11 Feb 2020
Quinta Everest, Apodaca, Nuevo León
Design: Deruiz Arquitectos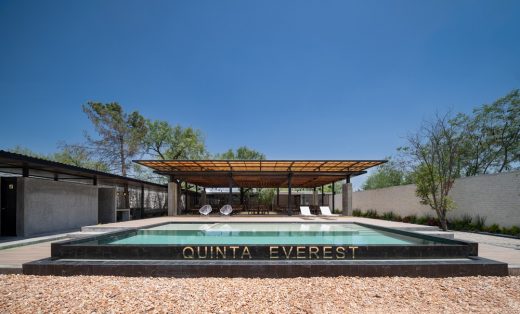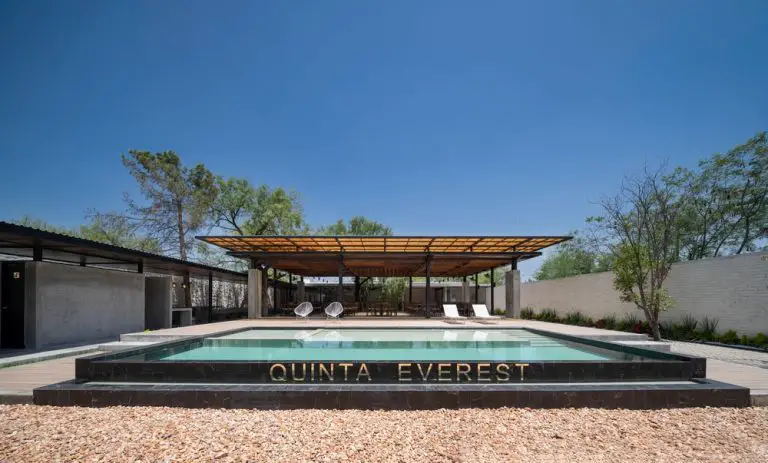 photography : The Raws / Francisco Álvarez
Quinta Everest in Nuevo León, Mexico Party Pavilion
This new architectural design relies on the transition of volumes to create a sense of mystery and discovery regardless of its open areas, all this to achieve a greater dynamic interaction between the different stages of the project and the user interaction with them.
7 Feb 2020
Quintana Apartment, Lomas de Vista Hermosa, Cuajimalpa de Morelos, Mexico City
Architect: Taller David Dana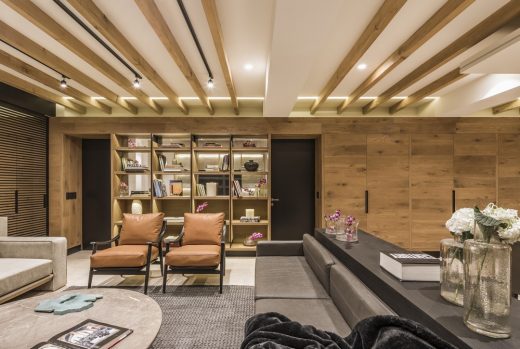 photograph : Cesar Béjar
Quintana Apartment in Cuajimalpa de Morelos, Mexico City
Structuring the spaces by reasonable groups detonate the distribution: the moderated space of this flat accompanies the living area that studies perspectives from its entrance and practices auctions full of materiality.
25 Jan 2020
Vineyard El Pedregal, San Miguel de Allende, Mexico
Architect: ASP Arquitectura Sergio Portillo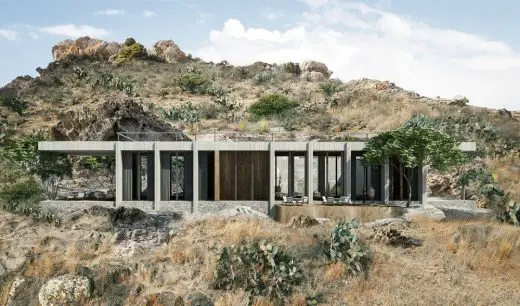 image courtesy of architects office
Vineyard and Hotel El Pedregal in San Miguel de Allende
San Miguel de Allende is one of Mexico's premier tourist sites, with wine activity throughout the region that has enabled significant tourism and economic growth.
Jan 7, 2020
Citica, Monterrey, México
Design: Miró Rivera Architects (MRA) and Ibarra Aragón Arquitectura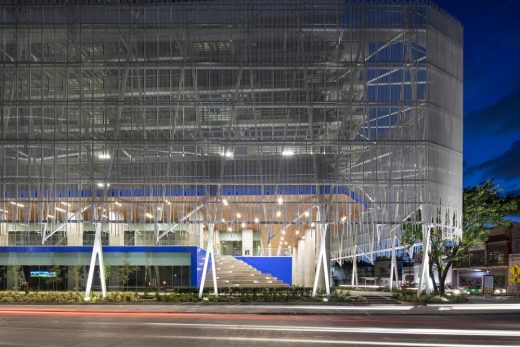 photography : Adrián Llaguno and Miró Rivera Architects
Citica Mixed-Use Building Development Monterrey
A 25-story mixed-use development that has transformed an abandoned lot into a vibrant center for living and working in the heart of Monterrey, Mexico.
More contemporary Mexican Architecture News online soon on e-architect
Mexican Architecture News 2019
8 Nov 2019
Puerta la Victoria – Lifestyle Center, Queretaro, Mexico
Architect: ARCHETONIC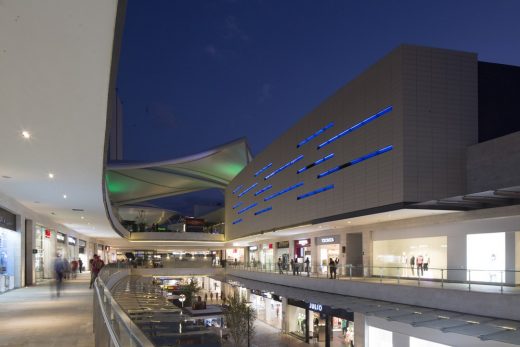 image courtesy of architects office
Puerta la Victoria: Lifestyle Center Queretaro
Puerta la Victoria – Lifestyle Center in Queretaro is located in one of the most important avenues in the city of Querétaro, Mexico and is an integral part of Latitud Victoria mixed-use complex.
27 Oct 2019
Pedegal House in Mérida, Yucatán
26 Mar 2019
Casa Cozumel in Quintana Roo
Design: Belzberg Architects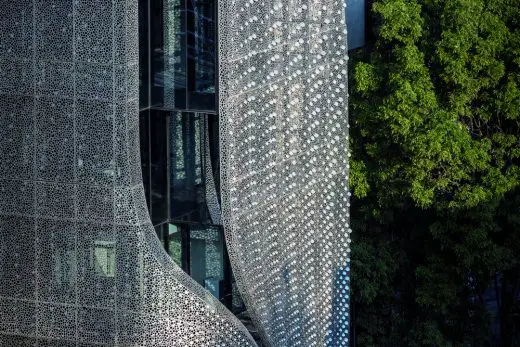 photograph : LGM Studio
Profiles House
This architecture office believe the design potential of mid-block buildings far exceeds that which is often afforded them. In the dense urban context of Mexico City, they noticed many sides of buildings are left blank with the expectation that they will be blocked or covered by taller, more dense development next door in the near future.
23 Mar 2019
Sidral House
Sidral House in Mexico City
17 Mar 2019
Timberland Terrace in Mexico City
Timberland Terrace in Mexico City
16 Mar 2019
Casa Cozumel in Quintana Roo
Casa Cozumel in Quintana Roo
10 Mar 2019
Playa del Carmen Grand Hyatt
Playa del Carmen Grand Hyatt Hotel
8 Feb 2019
Hotel Matilda, San Miguel de Allende
Hotel Matilda in San Miguel de Allende
More new Mexican Architecture News welcome for consideration
Mexico Building Updates 2018
15 Sep 2018
LafargeHolcim Next Generation Awards Lab, Universidad Iberoamericana, Mexico City
Architecture Workshops at Universidad Iberoamericana in Mexico City
Aug 17, 2018
T&N Villa, Puerto Cancún, Q.ROO
Architects: sanzpont [arquitectura]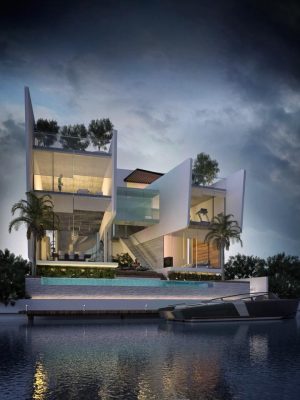 image from architecture firm
Puerto Cancún Villa Property
The project is located within the subdivision 'La Laguna 1' in Puerto Cancun, on a 317.201 sqm (3,414 sqft) property intended for single family housing.
Aug 17, 2018
Entre Pinos in Valle de bravo
Jun 9, 2018
Housing Expansion Prototype, Temixco, Morelos
Architects: ANTNA – Diego Rivero Borrell, Santiago Arroyo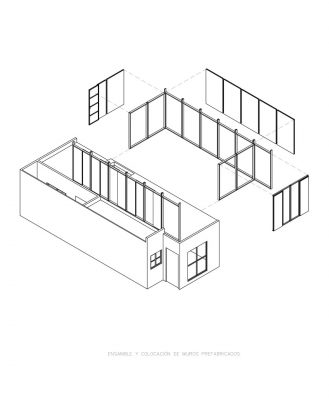 photograph : Jaime Navarro
Housing Expansion Prototype in Temixco
As this is a construction proposed in wood, it seeks to explore this material from its structural aspect, insulation, light, and a logical building system.
10 May 2018
Award for BBVA Bancomer Mexico City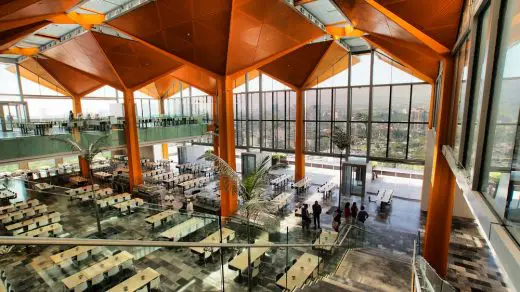 photo © Dolores Robles-Martinez
BBVA Bancomer Tower
The 20 new buildings have been selected from entries to the world's most prestigious award for architecture, the RIBA International Prize 2018. The winner of the second RIBA International Prize will be announced in November 2018.
BBVA Bancomer Tower by LegoRogers (Rogers Stirk Harbour + Partners and Legorreta + Legorreta), UK and Mexico in Mexico City, is one of the twenty buildings.
5 Apr 2018
U-125 Office Building
Architects: ARCHETONIC – Jacobo Micha + Jaime Micha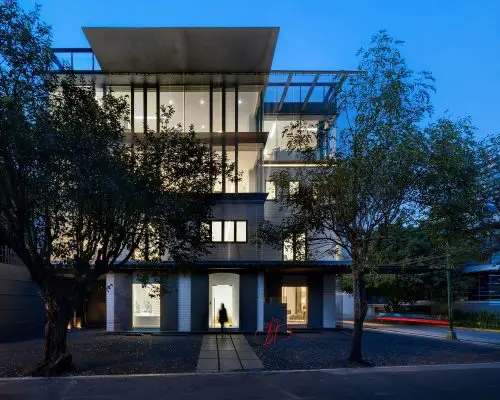 photo © Rafael Gamo
U-125 Office Building
As architects, ARCHETONIC are inspired to make the most of the pre-existing infrastructure of Mexico city. This led them to design U125, which recycles a house located in Lomas de Chapultepec and was originally built in the '50s.
23 Feb 2018
Amsterdam 75 House, Hipódromo, México D.F.
Design: Jorge Hernández de la Garza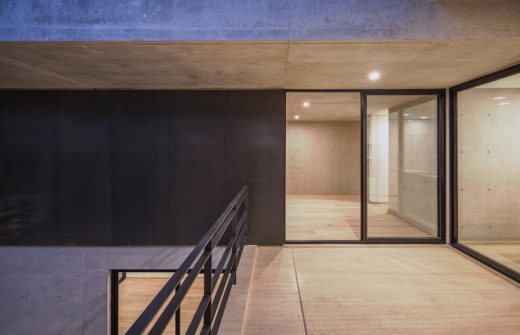 photo : Jorge Hernández de la Garza
House in Hipódromo
Amsterdam 75 is located in the neighborhood Hipodromo of Mexico City in a rectangular area where the intervention consisted of solving 5 departments of different types and an additional dwelling which is inside an old house catalogued by the Institute National of Fine Arts.
22 Feb 2018
Cocoon Hotel, Tulum, Quintana Roo
Architects: DNA Barcelona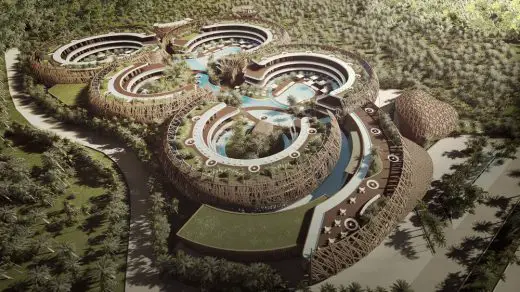 image from architects
Cocoon Hotel
Tulum is a city in the Mexican state of Quintana Roo, situated in the southernmost part of the Riviera Maya, one of the main international tourist destinations. It is located next to archaeological ruins of the Mayan city of Tulum, from which it receives its name.
15 Feb 2018
The Sail Towers Hotel, Puerto Cancún, Quintana Roo
Architects: DNA Barcelona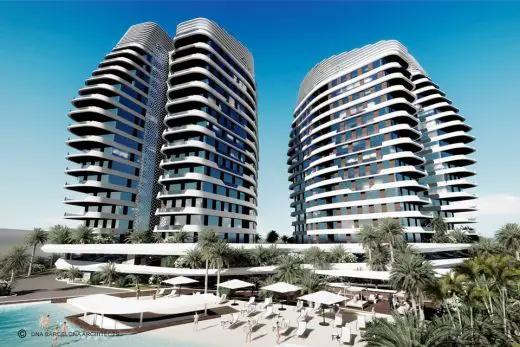 image from architects
The Sail Towers Hotel
The project is located in Puerto Cancún, a marina planned to include a golf course, hotels, condominiums, shopping mall, time shares and spaces for retail business. From the building we can enjoy the wonderful view of the Caribbean Sea, of the Nichupte Lagoon or of the city of Cancún.
8 Feb 2018
Foro Boca, Boca Del Rio, Veracruz
Design: Rojkind Arquitectos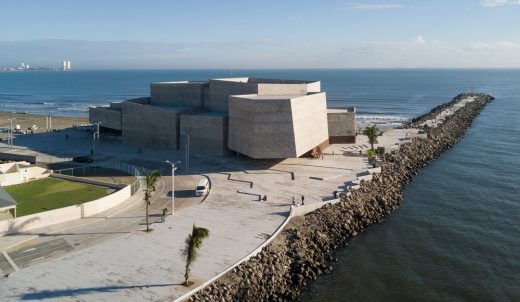 photograph : Jaime Navarro Courtesy of Rojkind Arquitectos
Foro Boca
During recent years there has been a clear enrichment of the musical and cultural life of Boca del Rio, Veracruz. In 2014, the Boca del Rio Philharmonic Orchestra was formed, and through its performances it has attracted diverse musical expressions, local and foreign musicians, making it the heart of the cultural life of the city.
Mexican Architectural News Archive
Mexican Architecture News up to and including 2017
Dec 22, 2017
Casa Ithualli, Monterrey, Ciudad de México
Design: Miró Rivera Architects (MRA)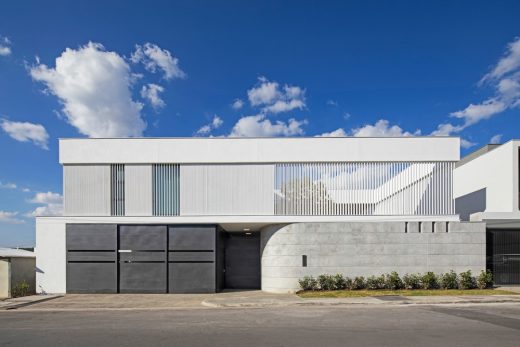 photograph : Adrián Llaguno | Documentación Arquitectónica
Casa Ithualli, Monterrey
This is a modern residence that will be raffled off on Friday, December 22 in a nationwide lottery to raise money for college scholarships.
19 Nov 2017
Vía Vallejo, Ciudad de México
Design: Grow Arquitectos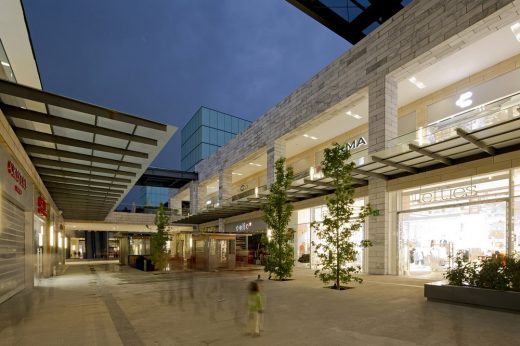 photograph : Marcos Betanzos
Vía Vallejo in Ciudad de México
This mixed-use project has as integration axis the following areas: commercial, residential, health services and a hotel. The architects decided to make the 3 levels out of plumb and complement it with an important area of public space, an outdoor park surrounded by terraces and restaurants with different specialties.
18 Nov 2017
Villa Jardín, Huixquilucan, Estado de Mexico
Design: ASP Arquitectura Sergio Portillo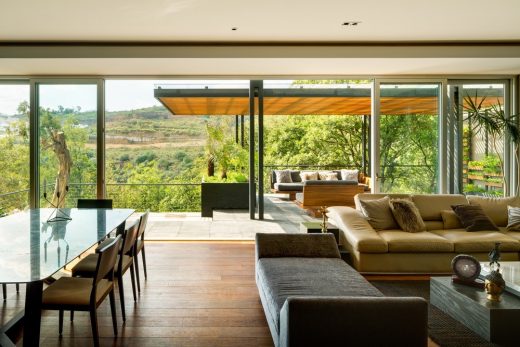 photograph : Rafael Gamo
Villa Jardín in Ciudad de México
This apartment project occupies the lower level of a building on Mexico City's west side. The design process inserted targeted elements that produced a series of specific, outdoor spaces whose function is directly related to the apartment's indoor activity.
10 Nov 2017
Bora Residential Tower, Santa Fe
Design: Zaha Hadid Architects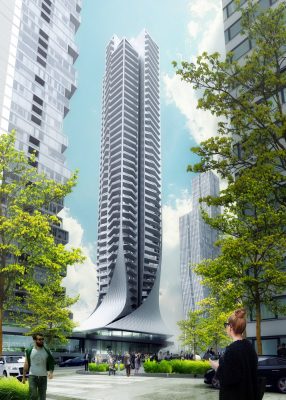 visualization (Concept): LabTop
Bora Residential Tower in Mexico City
Construction works have begun on the Bora Residential Tower in Mexico City. Commissioned in 2015 by Nemesis Capital, a Mexican company committed to building new communities of the highest standards, the tower is within Santa Fe, an important business district in the west of Mexico City with a rapidly growing community that includes 3 universities and the regional offices of Microsoft, Apple, Sony, Roche and Amazon.
Ágata Tower in San Pedro Cholula
As Offices Building in Mérida, Yucatán
Niop Hacienda Hotel, Champotón
Social Housing for Rural Mexico
More México Architecture News online soon
Contemporary Mexican Homes – properties featured earlier on e-architect
Location: México D.F., Mexico, North America
Mexican Buildings
Mexico Architecture Walking Tours by e-architect
Casa AA, Ciudad de México
Design: Parque Humano
Contemporary Mexican House
Mexican Residential Architecture
Casa LH, Jalisco, western Mexico
Design: Di Vece Arquitectos
New Mexican House
Arango Residence, Acapulco
Design: John Lautner, architect
Acapulco House
Mexican Architecture Competition
Comments / photos for the Mexican Architecture News page welcome