Heart of St Kilda in Melbourne, Australian Landscape Development, Competition Submission, Images
Heart of St Kilda in Melbourne
Triangle Site Landscape Development in Victoria, Australia – design by Perversi-Brooks Architects
21 Sep 2018
Heart of St Kilda
Mix of Community & Public programme for the revitalisation & redevelopment of Triangle Site
Design: Perversi-Brooks Architects
Location: St Kilda, Melbourne, Victoria, Australia
Heart of St Kilda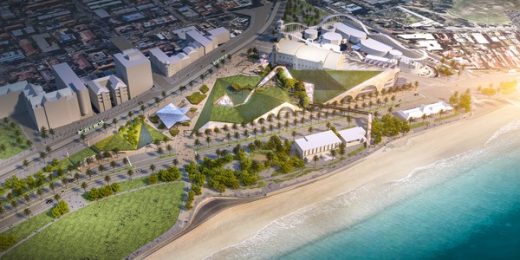 'Heart of St Kilda' is a competition submission to the LAGI 2018 Melbourne Competition which asked competitors to 'design a clean energy landscape for a post-carbon world – a public artwork that will help to power the city and inspire the future' for St Kilda's Triangle Site.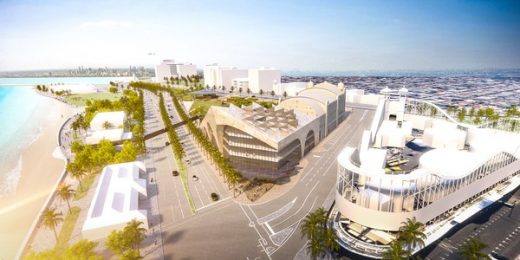 'Heart of St Kilda' proposes a rich mix of community & public uses for the Triangle Site in order to enrich the life of the community, creating an entertainment, amusement, leisure and recreation precinct of community and public uses. A public open space of approximately 15,000sqm and a combined building area of around 20,000sqm is proposed in response to the City of Port Phillip's 'St Kilda Triangle Masterplan, 2016'.
A strategic mix of Community & Public programme for the revitalisation and redevelopment of St Kilda's Triangle Site is proposed: Art gallery/Rock'n'Roll museum and informal outdoor recreation space, along with appropriate commercial uses to offset the projected cost of development: 200 space car park, cafes/bars and a boutique hotel.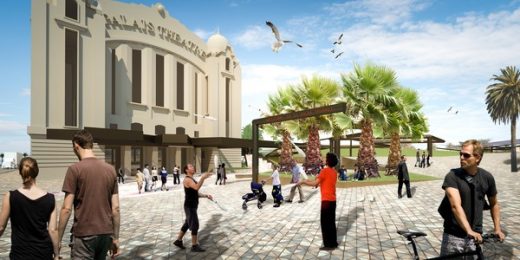 Our project explores architecture as a public action – the scheme attempts to engage with the community and political conflict surrounding the recent history of the site by asking ourselves; Who should our proposal serve, and why? What should the site offer the community and what should it offer visitors?
What has shaped St Kilda historically, and what's important to protect and expand? Thus, what should shape our response on this important publicly owned site? And finally, what role does energy production have in public space, and should it be overly explicit in order to educate and inspire? (i.e. does sustainable technology have to look 'sustainable'.)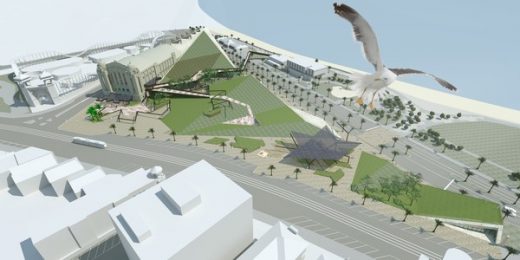 The proposal explores context as a rich mix of social, cultural, historical, political, environmental and economic concerns. The design is a landscape driven response which Perversi-Brooks Architects feel best addresses the community concern surrounding a large public/private development of this nature. A green roof covers the majority of the site, offering a traffic-able landscaped space, a new parkland adjacent the foreshore.
The subtle folding and pleating of the landscape, and the massing of the site maintains key views across to Port Phillip Bay from the Esplanade and the surrounding built environment. 'Heart of St Kilda' proposes a new type of civic space, relaxed and flexible, whilst providing a strong civic gesture, and addressing the complex real limitations and community desires for the site.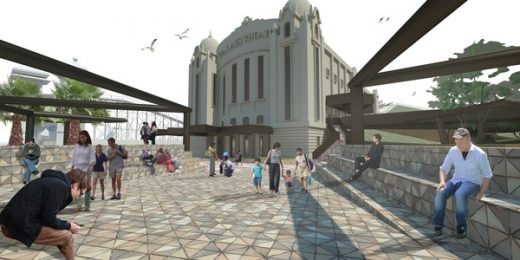 Perversi-Brooks Architects believe their proposal is a confident and articulate response to these difficult questions. Political about what it offers, without being overly didactic.
ENVIRONMENTAL IMPACT STATEMENT
The public open space is designed as a 'clean energy landscape' that aims to significantly contribute to powering the immediate Triangle Site, as well as the broader surrounding community. The project aspires to be an exemplar that helps inspire the making of future public spaces.

Instead of simply proposing a 'public artwork' that celebrates energy production, our design response aims to integrate sustainable technology in every element of the scheme: Piezoelectric pathways, bridge link and plaza spaces, solar panels integrated into roof forms, grass-paved solar hillsides, rainwater collection, storage, treatment and irrigation systems, OPV (Organic Solar Cell) canopies, and energy harvesting clear glazing.
Perversi-Brooks Architects have attempted to do this in a manner that strikes the right balance between 'wearing your heart on your sleeve' and integrating these systems in a seamless manner that simply creates a beautiful, striking public space. It is estimated that the annual capacity of the combined system is approximately 2,100MWh.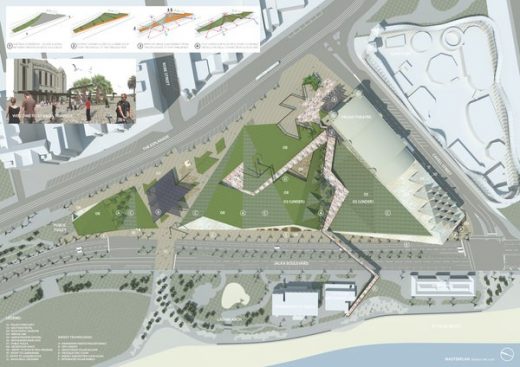 ENERGY TECHNOLOGIES:
Piezoelectric floors: Kinetic pathways, bridge link and plaza spaces are covered in colourful piezoelectic tiles can generate approximately 100kWh/m2, obviously dependent on volume of traffic over the floor surface. (Area approx. 2,500 sqm)
Grass Paved Solar Hillsides: All north-facing slopes of the landscape are covered in solar-grass pavers. These are envisioned as similar to a concrete-grass paver, except the latticework of the concrete is replaced with a traffic-able solar technology, creating an integrated woven surface of highly efficient technology and the 'natural'. It's estimated that these would operate at approximately 10% efficiency, generating approximately 180kWh/m2 (Area approx. 7,200 sqm)
OPV (Organic Photo-voltaic) Canopies: OPV's operate at approximately 10% efficiency and can generate approximately 180kWh/m2 (Area approx. 1,400 sqm)
Energy harvesting clear glazing: Energy harvesting clear glass, such as Perth-based company ClearVue Technologies, which generates between 30-50w per square meter with an efficiency of 3-5%. It's estimated that the solar cell glazing would generate approximately 90kWh/m2 (Area approx. 1,400 sqm)
Solar Panels: Solar panels are integrated into the roof forms of the Rock'n'Roll museum & hotel, along with a number of other smaller features across the site. Typical solar panels are 15% efficient and can generate approximately 270kWh/m2 (Area approx. 350 sqm)
Rainwater Collection: Water is captured off all landscape surfaces and facades, and run through a series of bioswales which help filter the stormwater before it is stored on site adjacent the underground car park and treated. Stormwater and treated Grey water is re-used for irrigation and toilet flushing on site. (Approximate yearly rain water harvest of 9,750,000 litres.)
It is estimated that the annual capacity of the system is 2,100MWh.
The LAGI 2018 Melbourne Competition asked competitors to 'design a clean energy landscape for a post-carbon world—a public artwork that will help to power the city and inspire the future' for St Kilda's Triangle Site.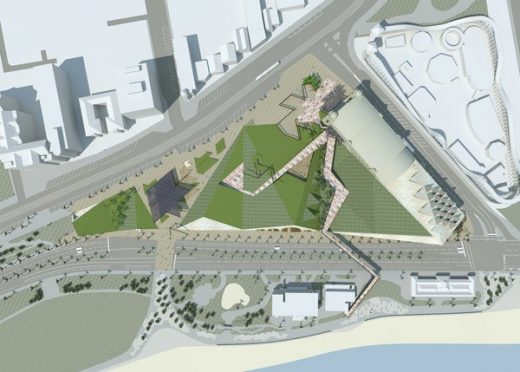 Who are the clients and what's interesting about them?
Land Art Generator Initiative (LAGI).
LAGI hold a biannual international ideas competition – The goal of the Land Art Generator is to accelerate the transition to post-carbon economies by providing models of renewable energy infrastructure that add value to public space, inspire, and educate—while providing equitable power to thousands of homes around the world.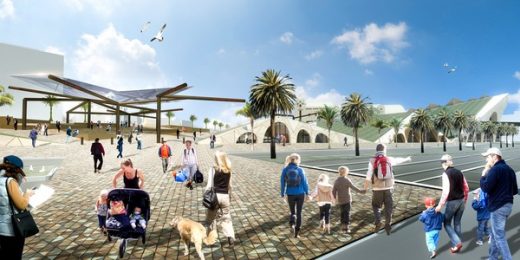 Heart of St Kilda, Melbourne – Building Information
Project and Site size: 20000 sqm
Completion date: 2018
Building levels: 6
Design: Perversi-Brooks Architects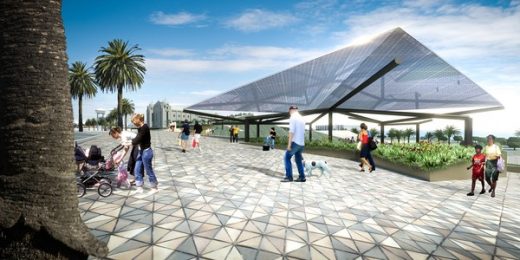 Images: Sam Perversi-Brooks
Heart of St Kilda in Melbourne images / information received 210918
Location: Triangle Site, St Kilda, Melbourne, Victoria, Australia
Architecture in Melbourne
Melbourne Architecture Designs – chronological list
Melbourne Architect – design studio listings
Upper House
Design: Jackson Clements Burrows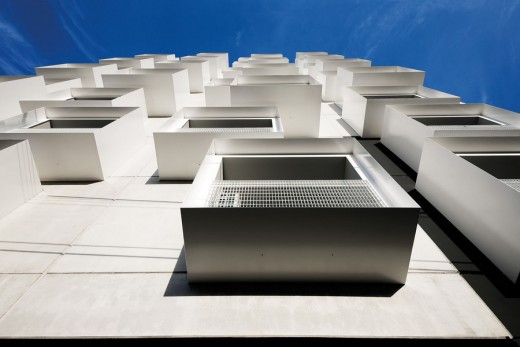 photograph : Shannon McGrath
Melbourne Housing
The Geoff Handbury Science and Technology Hub, Domain Street
Architect: Denton Corker Marshall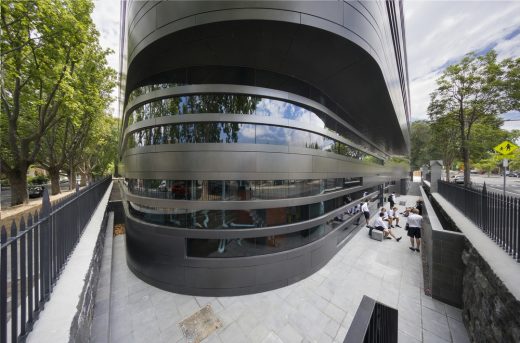 photograph : John Gollings
The Geoff Handbury Science and Technology Hub
The Uber Shed, Mornington Peninsula, Victoria
Design: Jost Architects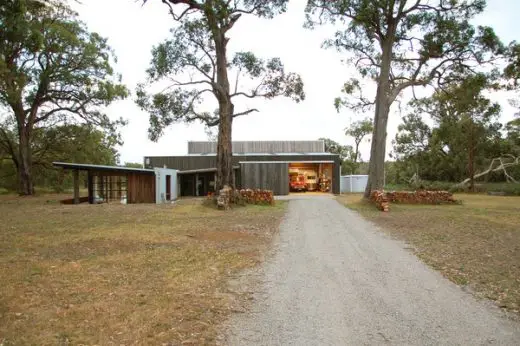 photograph : Patrick Jost
The Uber Shed
Comments / photos for Heart of St Kilda in Melbourne page welcome