MPavilion 2018 by Estudio Carme Pinós, Naomi Milgrom Foundation Victoria Building
MPavilion 2018 by Estudio Carme Pinós
Contemporary Building for Naomi Milgrom Foundation in Victoria, Australia Design News
14 Feb 2018
MPavilion 2018 by Carme Pinós Architect
Design: Estudio Carme Pinós
Location: Queen Victoria Gardens, Melbourne, Victoria, Australia
MPavilion 2018 Building
English text (scroll down for Spanish):
2018 Melbourne MPavilion will be designed by ESTUDIO CARME PINÓS
The Naomi Milgrom Foundation has announced that the architect Carme Pinós will be responsible for designing the 2018 MPavilion whose opening is scheduled for October 8, 2018.
Since its first edition in 2014, the MPavilion has received more than 351,000 visitors and It has positioned itself as one of the landmarks of Australian avant-garde architecture. It is foreseen that during the four months that this temporary pavilion remains open host more than 400 cultural events.
With this assignment, the Carme Pinós Studio succeeds the architects Rem Koolhaas and David Gianotten who designed the 2017 MPavilion. On the choice of the architect, the Australian foundation Naomi Milgrom highlights "the work of Carme Pinós honors the responsibility of architecture in serving the community that welcomes it, creating spaces that place human experience and the environment at the center of their designs.
His approach to architecture, social housing and the community reflects MPavilion's will to stimulate debate about the role of design and architecture in contributing to create more egalitarian and creative cities and communities. "
Spanish text:
2018 MPavilion de Melbourne
2018 MPavilion de Melbourne
será diseñado por ESTUDIO CARME PINÓS
La Naomi Milgrom Foundation ha anunciado que la arquitecta Carme Pinós será la encargada de diseñar el 2018 MPavilion cuya inauguración está prevista para el 8 de Octubre de 2018. Desde su primera edición en el año 2014, el MPavilion ha recibido más de 351.000 visitantes y se ha posicionado como uno de los hitos de la arquitectura de vanguardia australiana. Está previsto que durante los cuatro meses que este pabellón temporal permanezca abierto acoja más de 400 eventos culturales.
Con este encargo, el Estudio Carme Pinós sucede a los arquitectos Rem Koolhaas y David Gianotten que diseñaron el 2017 MPavilion. Sobre la elección del arquitecto, la fundación australiana Naomi Milgrom destaca "el trabajo de Carme Pinós honra la responsabilidad de la arquitectura en servir a la comunidad que la acoge, creando espacios que sitúan la experiencia humana i el medio ambiente en el centro de sus diseños. Su acercamiento a la arquitectura, la vivienda social y la comunidad refleja la voluntad del MPavilion en estimular el debate sobre el rol del diseño y la arquitectura en contribuir en crear ciudades y comunidades más igualitarias y creativas."
Estudio Carme Pinos · Avda. Diagonal 490 · Barcelona, Barcelona 08006 · Spain
20 Jun 2017
MPavilion 2017 OMA Rem Koolhaas + David Gianotten
Design: OMA Rem Koolhaas + David Gianotten
Location: Queen Victoria Gardens, Melbourne, Victoria, Australia
MPavilion 2017 Building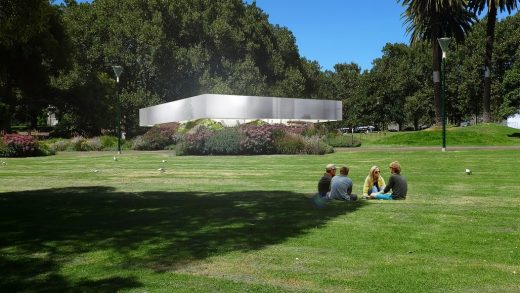 MPavilion 2017 Building Design by OMAwas be the first building designed and constructed by OMA in Australia.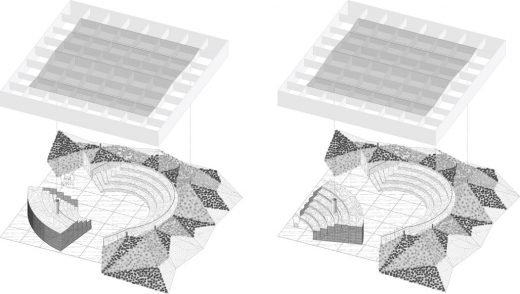 This year's structure is inspired by ancient amphitheaters.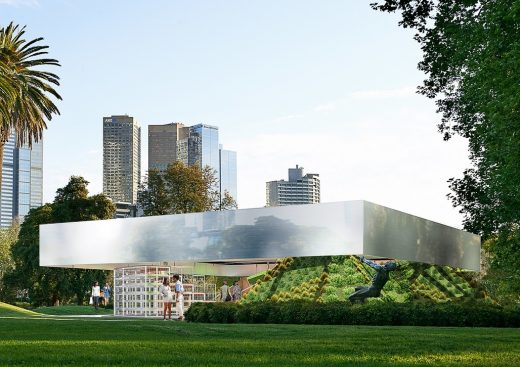 Construction of MPavilion begins in August. It is due to open to the public from October through to February 2018.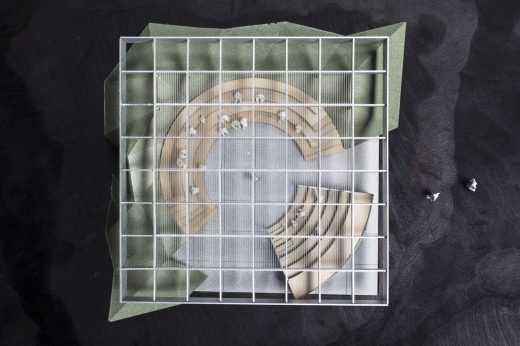 Of the MPavilion 2017 design, Rem Koolhaas and David Gianotten add: "MPavilion is a project that hopes to provoke discussion around what architecture can do both globally and in an Australian context. We're interested in treating this pavilion not just as an architectural object, but as something that injects intensity into a city and contributes to an ever-evolving culture."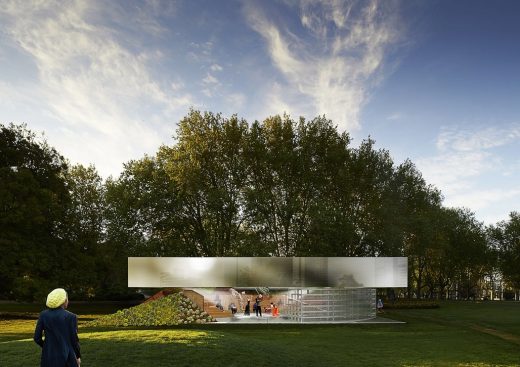 The main infrastructure of the pavilion, such as lighting and hanging points is placed in the floating roof, a 2-meter-high mechanical grid structure made of aluminum-clad steel. The mechanics in the canopy can be activated per the type of event taking place; an open-air venue for performances, entertainment and sports.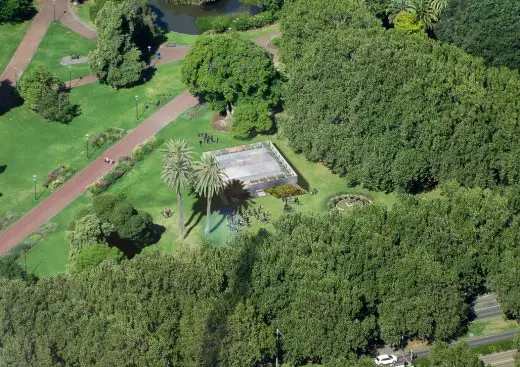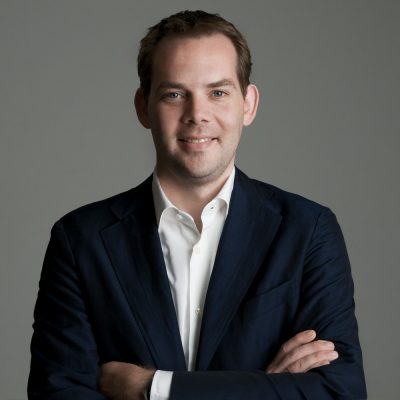 photo Andrew Tang, courtesy OMA
Naomi Milgrom AO, Chair of the Naomi Milgrom Foundation who commissioned OMA to design MPavilion 2017 commented: "Rem Koolhaas is one of the world's most provocative and influential architects. His contribution to the cultural landscape as an urban thinker together with OMA's multi-disciplinary approach to architecture reflects MPavilion's desire to inspire debate about the role of design in building equitable and creative cities."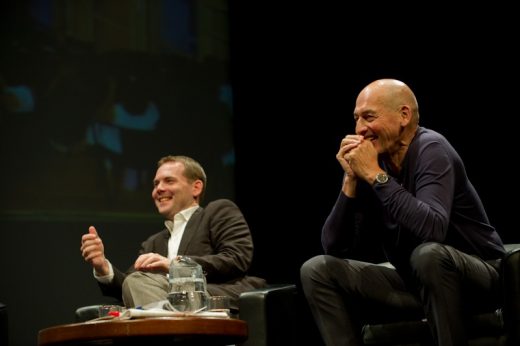 photo : Jane Hobson, courtesy Barbican Art Gallery
Commenting on their commission for MPavilion 2017, Rem Koolhaas, Founder and David Gianotten, Managing Partner of OMA said: "The Naomi Milgrom Foundation's MPavilion is now a project of international significance and we look forward to contributing to the architectural legacy it has engendered. We are excited by the brief of designing a cultural heart for the city – a space of public engagement that will spark creativity and discussion, and that will act as a theatre for ideas.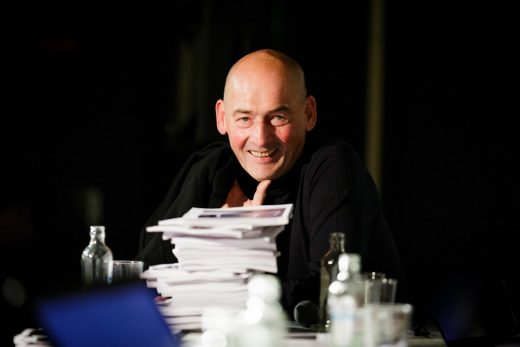 photo : Fred Ernst, courtesy OMA
MPavilion continues OMA's history of successful cultural projects – Fondazione Prada in Milan, the Garage Museum in Moscow's Gorky Park, Casa da Musica in Porto, the Seattle Public Library – all which have become important civic centers and independent spaces for the public."
Axel Springer Campus building by OMA in Berlin: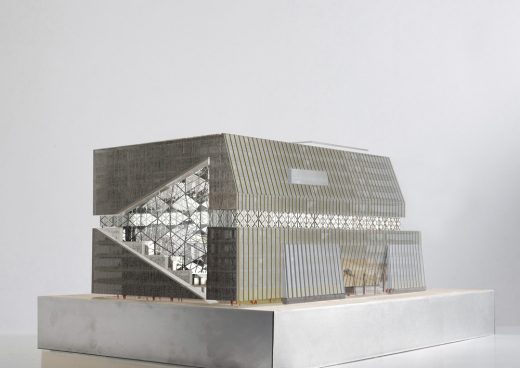 picture : Frans Parthesius
New Museum – Museum Street entrance: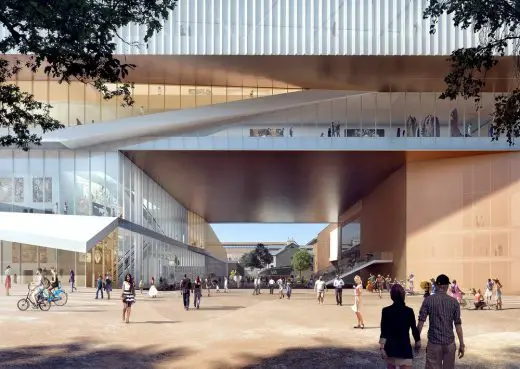 image courtesy HASSELL + OMA
MPavilion receives the generous support from the City of Melbourne and the Victorian State Government and has received over 224,000 visitors since it's inception in 2014.
MPavilion 2017 will open free to the public on 3 October 2017. For further details please visit www.mpavilion.org
About MPavilion
MPavilion is Australia's leading architectural commission and design event conceived and created by the Naomi Milgrom Foundation in 2014. Every year, one new temporary pavilion designed by a leading international architect, is erected in Melbourne's historic Queen Victoria Gardens. From October through February, the MPavilion becomes a design and cultural laboratory and home to a series of talks, workshops, performances and installations. Australian architect Sean Godsell designed MPavilion 2014 and in 2015 designed by British architect Amanda Levete of AL_A. Indian architect Bijoy Jain of Studio Mumbai designed MPavilion 2016.
Australian philanthropist Naomi Milgrom AO initiated MPavilion. She is also the Commissioner for the Australian representation at the 57th International Art Exhibition Venice Biennale, Tracey Moffatt exhibition 2017.
• MPavilion will open free to the public on 3 October 2017
• For further information please visit www.mpavilion.org
MPavilion 2016
Design: Bijoy Jain of Studio Mumbai
MPavilion 2016 Building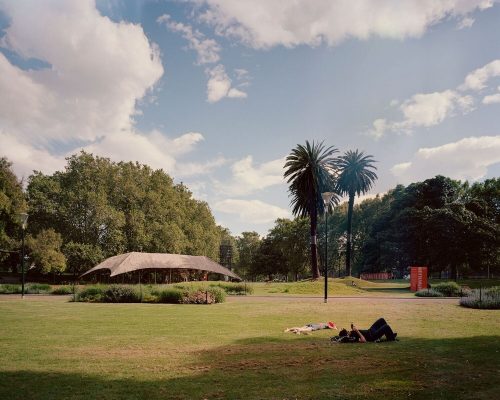 MPavilion releases a new series of photographs of MPavilion 2016 by Bijoy Jain.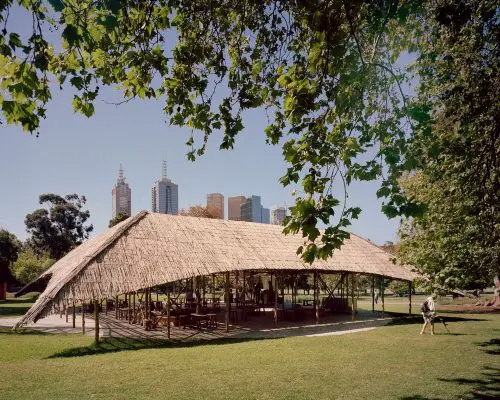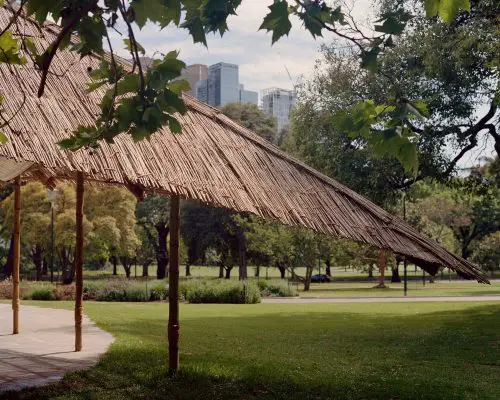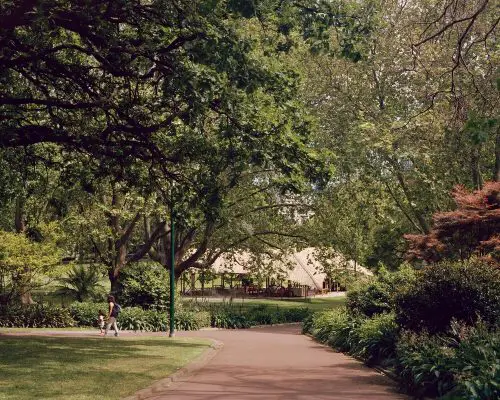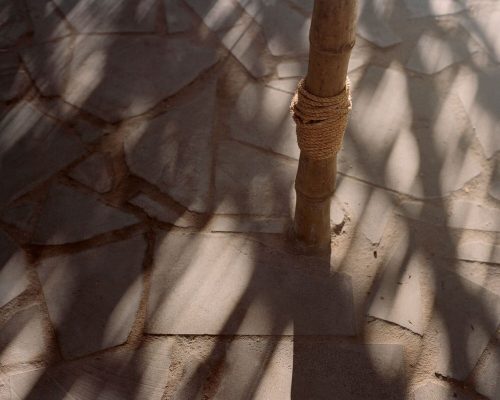 Celebrated London based architectural photographer Rory Gardiner reveals an intimate response to the handmade structure capturing Melbourne's much-loved summer pavilion in the Queen Victoria Gardens.
Naomi Milgrom: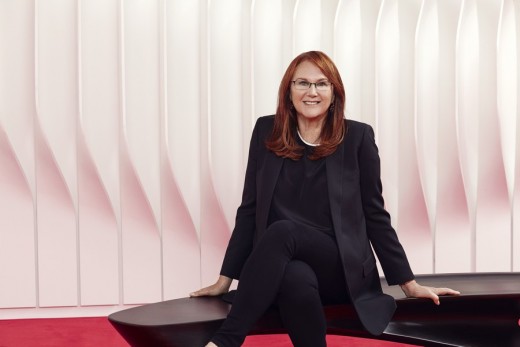 AL & NM photo © Peter Guenzel
More info + images at:
MPavilion 2016 Pavilion by Bijoy Jain
Naomi Milgrom and Bijoy Jain at MPavilion 2016: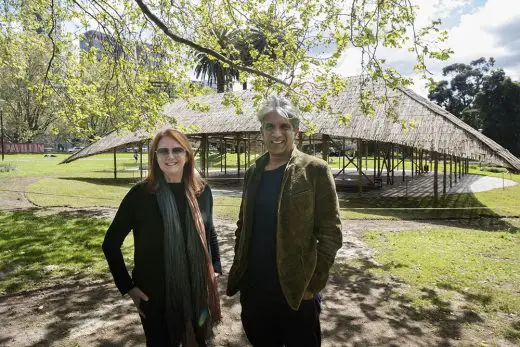 MPavilion 2016 Melbourne by Bijoy Jain
MPavilion by Bijoy Jain of Studio Mumbai
Photographs: Nicholas Watt
MPavilion 2016 architect Bijoy Jain and Naomi Milgrom speak about MPavilion's third foray into Melbourne's Queen Victoria Gardens:
Architect Bijoy Jain and Naomi Migrom AO: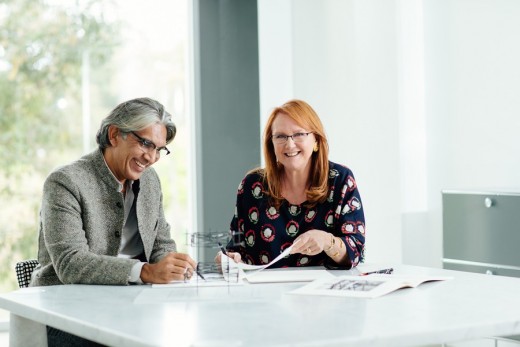 photo : Timothy Burgess
MPavilion 2015, Amanda Levete of AL_A: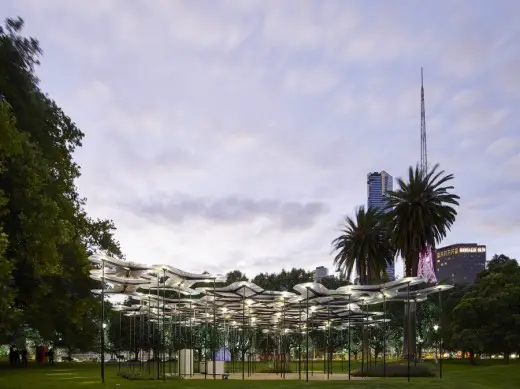 photo : Richard Powers
MPavilion Melbourne by Amanda Levete
MPavilion 2015 Melbourne by Amanda Levete – 3 Mar 2016 relocation news update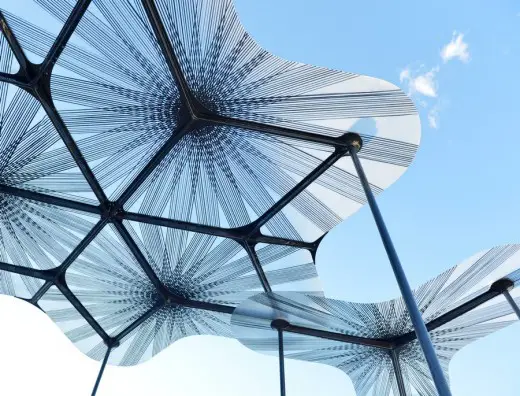 MPavilion 2015 prototype photo © Kane Jarrod
Amanda Levete + Naomi Milgrom: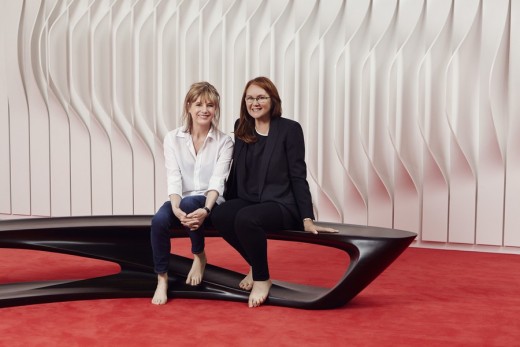 AL & NM photo © Peter Guenzel
Website: www.ala.uk.com
MPavilion 2015 videos on YouTube:
Naomi Milgrom:

18 Feb 2019
MPavilion 2019 by Glenn Murcutt Architect
MPavilion 2019 by Glenn Murcutt Architect
Location: Queen Victoria Gardens, Melbourne, Victoria, Australia
Architecture in Melbourne
Melbourne Architecture Designs – chronological list
Melbourne Architect – design studio listings
Website: Naomi Milgrom Foundation Melbourne
Architecture in Australia
Heart of St Kilda
Design: Perversi-Brooks Architects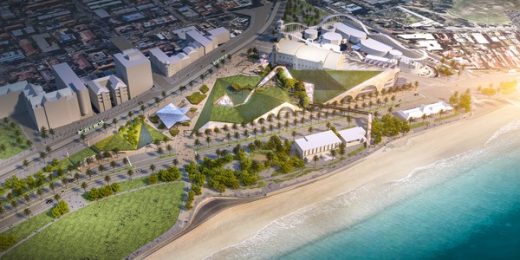 image : Sam Perversi-Brooks
Heart of St Kilda
Website: Queen Victoria Gardens Melbourne
Comments / photos for MPavilion 2018 by Estudio Carme Pinós Architects, Spain page welcome