Indian homes photos, Contemporary properties, New residences, Architecture images, Modern real estate pictures
Indian Houses : New Properties
Best Houses Photos: Contemporary Residences – Architects, Images and Design Information
Post updated 22 November 2023
India Architecture Designs – chronological list
New Indian Houses
Best Contemporary Residences in India, chronological list
20 November 2023
Zen Spaces, Jaipur, Rajasthan, western India
Architect: Sanjay Puri Architects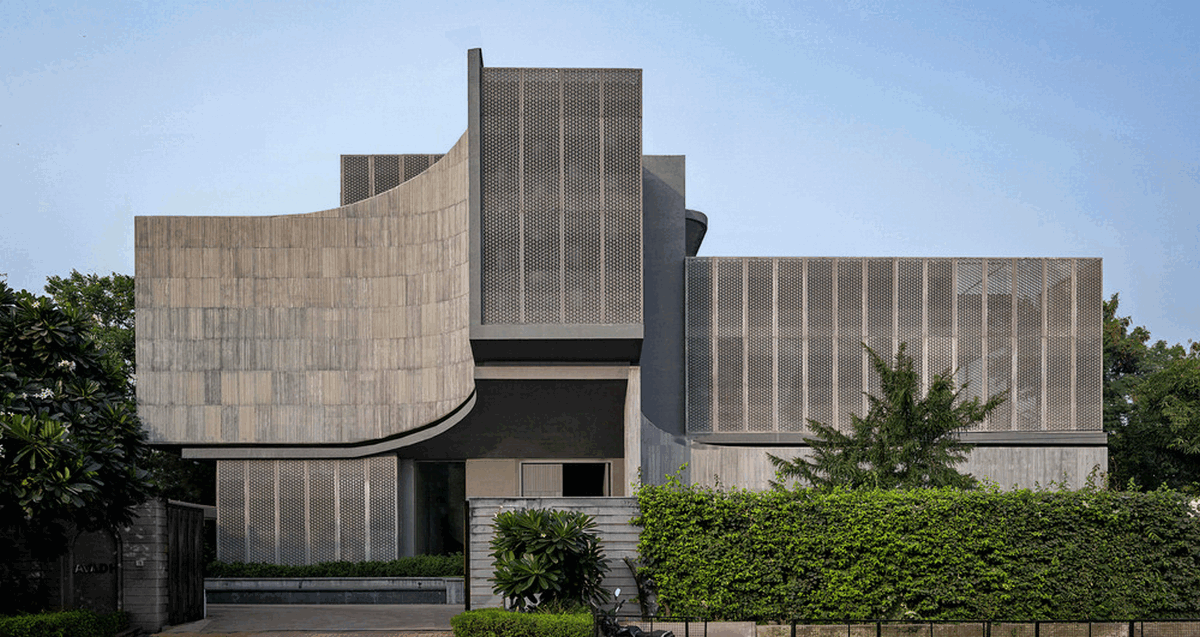 photo : Dinesh Mehta
Zen Spaces House, Jaipur, Rajasthan
Sanjay Puri Architects presents Zen Spaces, a 4-level, 27,000 sqft home located in Jaipur, Rajasthan, India. Blurring the lines between the inside and the outside, Zen Spaces integrates with the existing landscape, screening and allowing filtered light in different ways within each space, infusing volumes with light and shadows to transform differently at different times.
31 October 2023
Silhouette, Nawanshar, Punjab
Architecture: 23DC Architects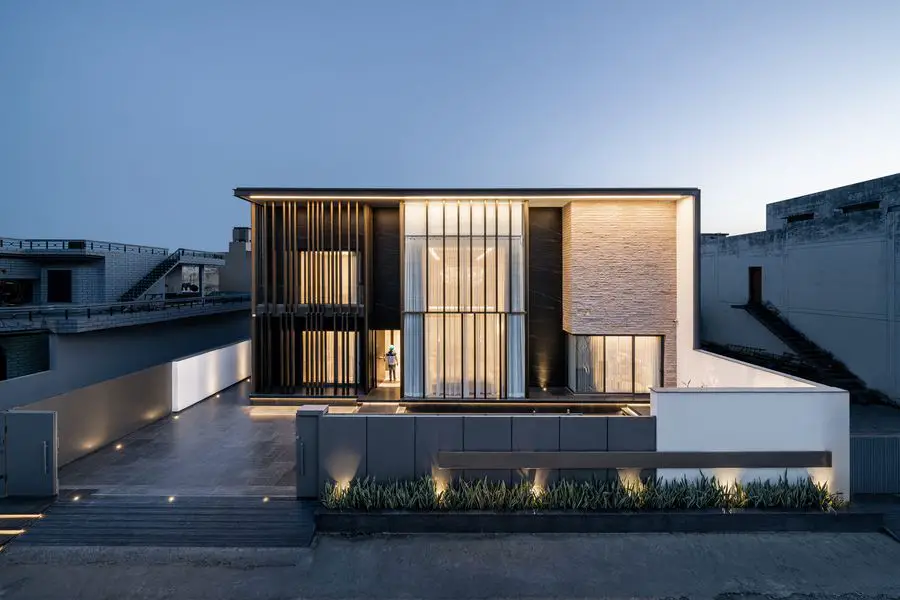 photo : Nakul Jain
Silhouette, Nawanshahr, Punjab luxury home
In the midst of Nawanshahr, Punjab, this modern Indian property emerges as a testament to modern architecture, bearing the distinctive mark of 23DC Architects. This grand architectural achievement, spread over an expansive 10,000 sqft, is a tranquil oasis in an otherwise shabby and congested neighborhood, where the fusion of aesthetics and functionality reigns supreme.
16 June 2023
Ribbon House, sector 82, Mohali, Punjab, India
Architecture: Studio Ardete Architects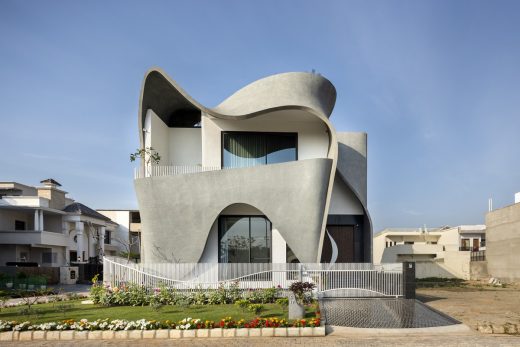 photo : architect Purnesh Dev Nikhanj
Ribbon House in Mohali
Located in a residential area in sector 82, Mohali, Punjab, the Ribbon House is an exemplary illustration of how design can alter the lexicon of an area. This contemporary Indian luxury home has a plot area of 3712 sqft.
10 Feb 2023
House of Totem, Bangalore
Design: Studio Bomb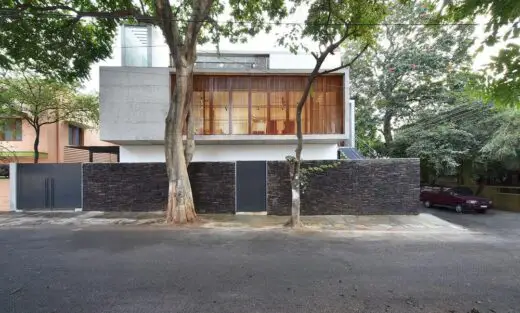 photo : Amit Kumar
Totem House Bangalore
The House of Totem incorporates the experience of design and construction in exposed concrete. The materials are used in a radical manner throughout the upper volume and as such the house comprises of two concrete volumes which appear to be stacked on top of one another.
More contemporary Indian Houses on e-architect soon
Indian Homes News in 2022
31 Oct 2022
Dawar House, Agra, Uttar Pradesh
Architecture: Studio Archohm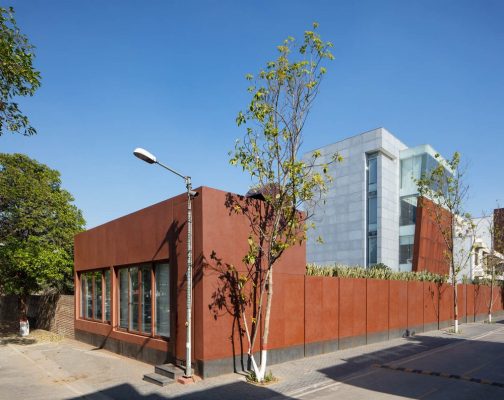 photo © Andre Fanthome
Dawar House
The definition of 'luxury' has come a long way from the times of antiquity to modernity. Additionally, the interpretations of 'urban contemporary' have been constantly evolving as consequential phenomena of iterations in engineering, materials, technology, processes and need.
17 Oct 2022
Ladhani House, Noida, Uttar Pradesh, northern India
Architecture: Studio Archohm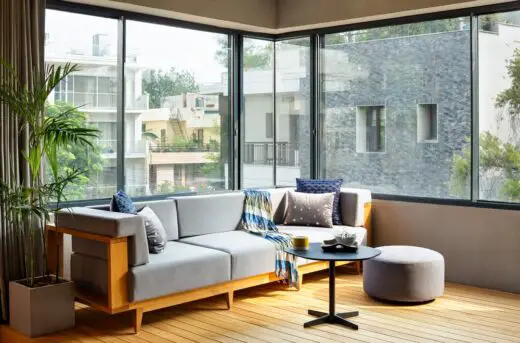 photo © André J. Fanthome
Hanging House, Noida, Uttar Pradesh
The Ladhani House (Hanging House) is a thoughtful approach towards designing residential spaces for new age clients. The design of the spaces departs from the ideas which focused on the past characteristics of vernacular Indian households and follows rather a contemporary theme.
9 Sep 2022
Residence 145, Chandigarh, north western India
Design: Charged Voids – led by Architect Aman Aggarwal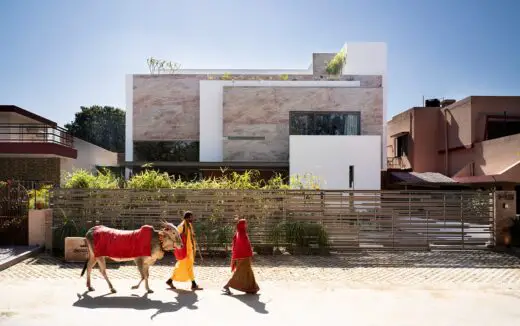 photo : Javier Callejas
Residence 145, southern Chandigarh property
Sited on a plot with challenging zoning and height restrictions in southern Chandigarh, Residence 145 is a play on the fundamentals of urban residential design. Conceptualised by Charged Voids for three generations of a family, the layout of the house is centred on the idea of connected living. A strong connection with the outdoors is established through internal courtyards, with the interior spaces framing sunny views of the landscape.
22 July 2022
Mehra Residence, New Rajender Nagar, New Delhi
Architects: team3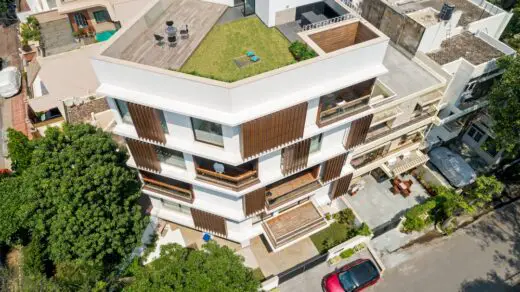 photo : Noughts and Crosses
Mehra Residence, New Delhi
Urban residences today are often characterized by cramped living spaces amidst urban jungles with little to no connection to the outdoors. The design of the Mehra Residence seeks to redefine this stereotype using a series of strategies to take advantage of its location.
5 July 2022
Mirai, Bhilwara, Rajasthan, western India
Architecture: Sanjay Puri Architects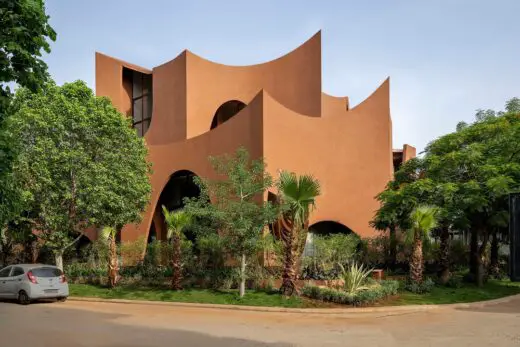 photo : Dinesh Mehta
Mirai House of Arches, Rajasthan
Designed on a small 622sqm corner plot of a residential villa layout, Mirai is a contextual house in response to the hot desert climate of Rajasthan, India. Based on the location, the southern & eastern sides have minimum open space, with adjacent villas on those sides planned for development in the future. The northern and western sides front a road junction and have more open spaces, including garden areas and existing trees.
1 June 2022
The Terracotta House, Agra, northern India
Design: Archohm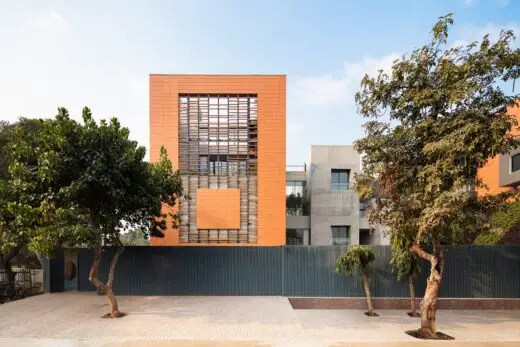 photo © Noughts and Crosses
The Terracotta House Agra
The modern Indian home exemplifies a relationship between neutral grey concrete and earthy terracotta. Terracotta tiles wrap the façade to mystify the lives within, and create a harmonious world outside with a walkway and lush greens. The residents of this new property are a family of five across three generations.
1 Apr 2022
91/4, Panchkula, Haryana, northern India
Design: Studio Ardete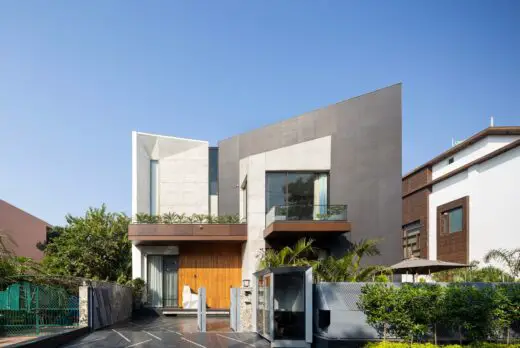 image courtesy of architects practice
House 91/4 in Panchkula, Haryana
The project is on a corner plot in an urban row house measuring 550 square yards. The Client being a hotelier wanted a house to be built for a small family of four, a couple, two teenage children, occasionally visiting parents.
1 Apr 2022
Stacked Dwelling, Maharashtra, Mumbai, northwestern India
Architecture: DIG Architects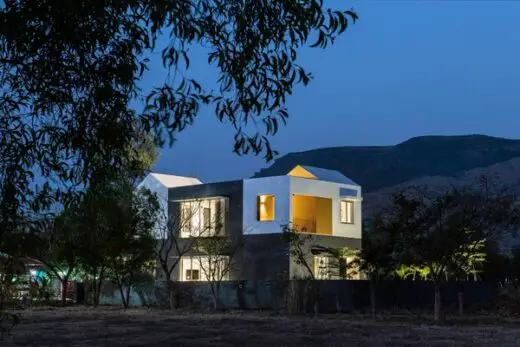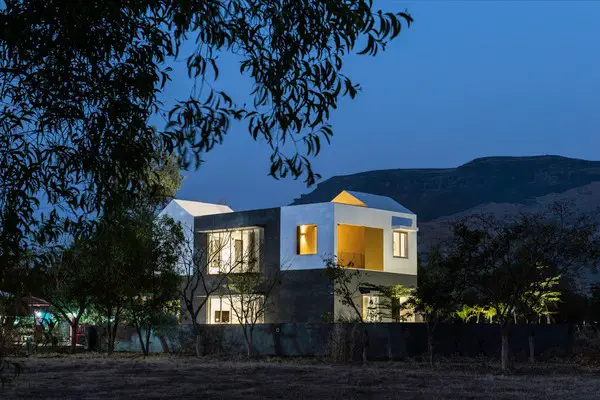 photo : Phxindia
Stacked Dwelling, Maharashtra Mumbai
Stacked Dwelling is a weekend house in Igatpuri, standing on a compact 360 sq m linear plot. The narrative unfolds against the majestic backdrop of the Sahyadris.
9 Feb 2022
Ladhani House, 153 Sector-15a Noida, New Delhi
Design: Archohm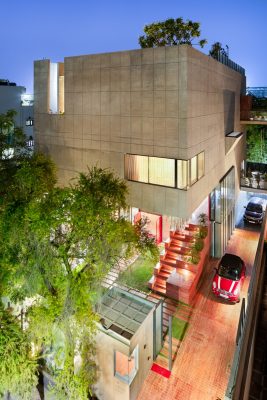 photos by Fantham © Noughts And Crosses
Ladhani House Noida
The design approach of the architects has been to create optimized floor plates with efficient programmatic functioning to achieve maximised height spaces for the small family. The effort to reduce the built environment has been achieved by designing a cantilever system with concrete which enhances the opportunity to design open and spill over spaces.
23 Nov 2021
A 39, New Delhi
Architects: Architecture Discipline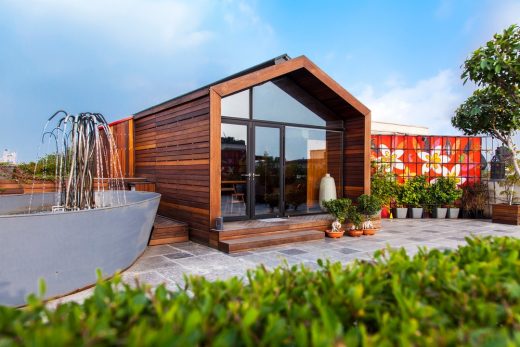 photo : Architecture Discipline
A 39 House, New Delhi
Set in New Delh, A 39 is a contemporary dwelling, reflecting on the family legacy. The third-floor apartment is renovated, extended and punctured to connect with a timber cabin on the rooftop.
2 July 2021
The Infinite Frames, Surat, India
Design: interior WORKSHOP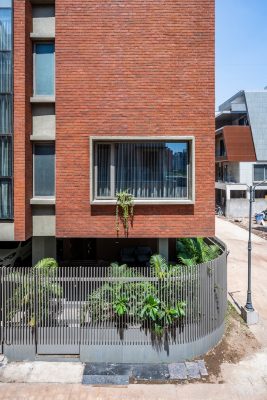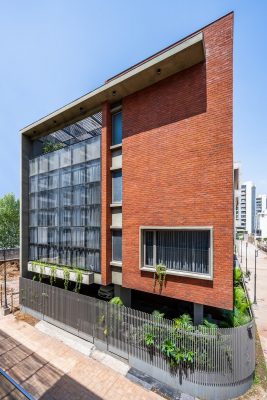 photo : Nilkanth Bharucha
The Infinite Frames Surat
This recent residential project in the city of the rising sun, Surat was a delightful experience where we challenged our potential to a new level. Sticking to the area constraints with plot dimensions of 50' X 48', a lot of thought went into creating the best out of the space.
16 June 2021
An Idyllic Escape in Manjeri, Malappuram district, Kerala, south west India
Design: Simone de Gale with Arshak Architects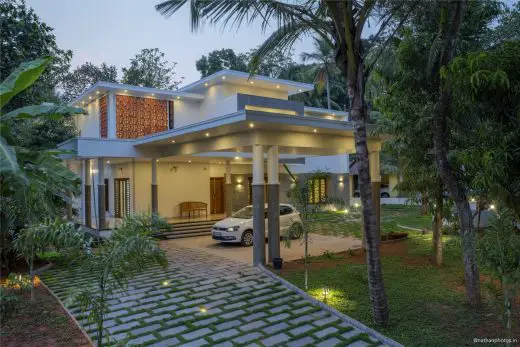 photo : nathanphotos.in
House in Manjeri
Simone de Gale and Arshak Architects announce their collaboration on a beautiful residence in Manjeri, which was completed in early 2021. This collaboration brings together the principles of Indian architecture with the contemporary design of a London home.
14 June 2021
Residence 1, Ansal Sushant, city of Panipat, Haryana, northern India
Design: 23DC Architects, Jalandhar, Punjab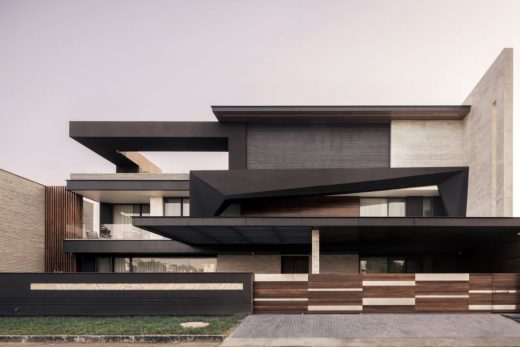 photo : Purnesh Dev Nikhanj
House in Ansal Sushant
Residence 1 is the first project in the 23DC's Carbonado Series which is inspired by "Carbonado", commonly known as the Black Diamond, the rare gem. The house stands in a recently and exclusively developed area of Ansal Sushant city of Panipat, Haryana. The prospect of the client is to explore the expression of architects who could read the surroundings and design unrepeated and unique.
9 Apr 2021
The Cantilever House, Ghaziabad, Uttar Pradesh, northern India
Design: ZED Lab Architects, Delhi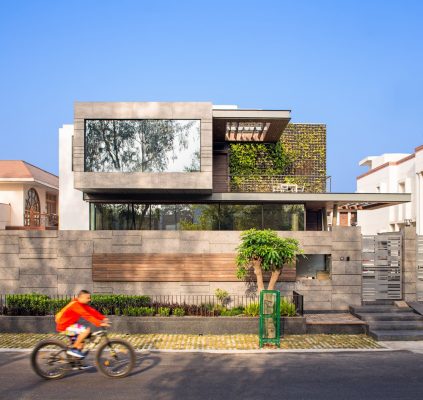 photo Courtesy architecture office
The Cantilever House, Ghaziabad
The Cantilever House draws from the regional vernacular and finds expression through a contemporary lens to become a home for a family of four. Located in the Raj Nagar locality of Ghaziabad, part of the National Capital Region of Delhi, the house is designed in response to the clients' love for the outdoors.
Why not check out 7 Wonders City in Islamabad, located next to the M-14 Hakla D.I. Khan Motorway.
Find more contemporary Indian houses online soon
Indian Houses 2020
6 Nov 2020
Fusion Villa, Jalandhar, Punjab, north west India
Design: Space Race Architects, Jalandhar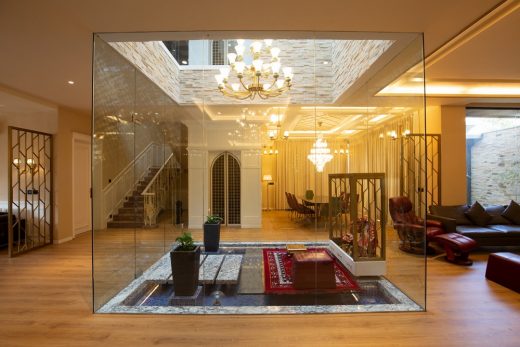 photo : Purnesh Dev Nikhanj
Fusion Villa Jalandhar, Punjab
Fusion Villa by Space Race Architects in India has won the WA Award, 35th Cycle for the realized category. This article shall dive into a stunning visual experience of a Fusion Villa designed for Mr. Gupta from Jalandhar, Punjab.
14 Jan 2020
Bavlu Weekend House, Ahmedabad, Gujarat
Architecture: UJJVAL FADIA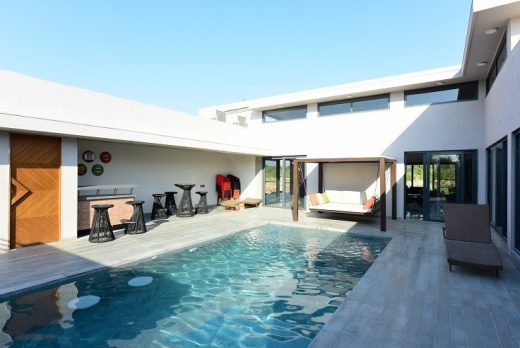 photograph : Subhash Patil
Bavlu Weekend House in Ahmedabad, Gujarat
It was always UJJVAL FADIA's client's ambition to build their farmhouse. The modern farmhouse is an oasis of calm surrounded by landscaped gardens.
62 Jorbagh Apartments Building New Delhi
7 Nov 2019
Amaltas House, Vadodara, Gujarat, India
Architecture: SquareWorks LLP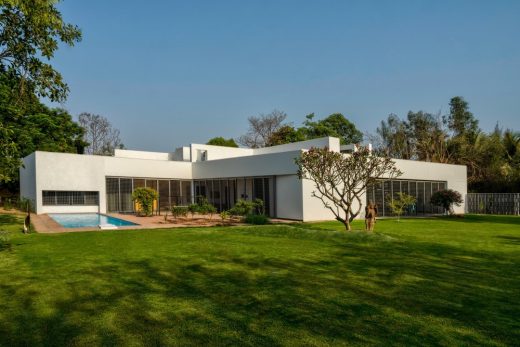 photograph : Fabien Charuau
Amaltas House in Vadodara, Gujarat Real Estate
21 Oct 2019
18 Screens House
Design: Sanjay Puri Architects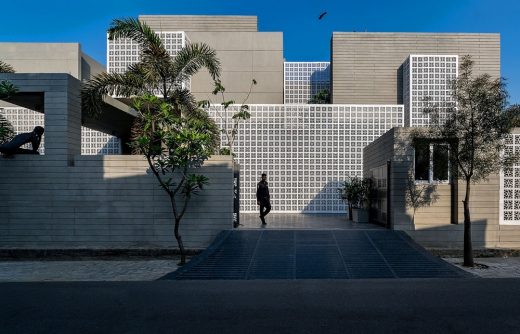 photograph : Dinesh Mehta
18 Screens House in Lucknow
19 July 2019
Verandah House in Ranchodpura, outskirts of Ahmedabad
Architects: Arpan Shah Architect, Modo Design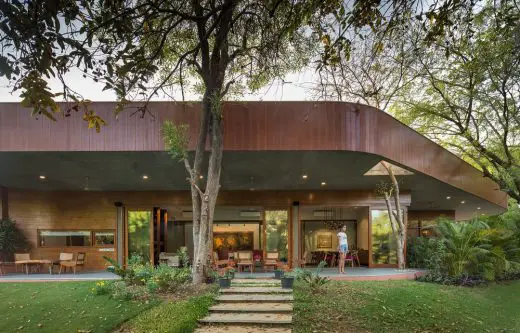 photo : Bharat Aggarwal
Verandah House in Ranchodpura, Ahmedabad
This house is on the outskirts of Ahmedabad designed by Arpan Shah, India on a 4 acre plot with dense flora, a lily pond and an subsisting outhouse having a vernacular typology.
More contemporary Indian houses on e-architect soon
New Homes in India 2015 – 2018
6 Apr 2018
The Infinity House, Khandala, Western Ghats, Maharashtra, western India
Architects: GA design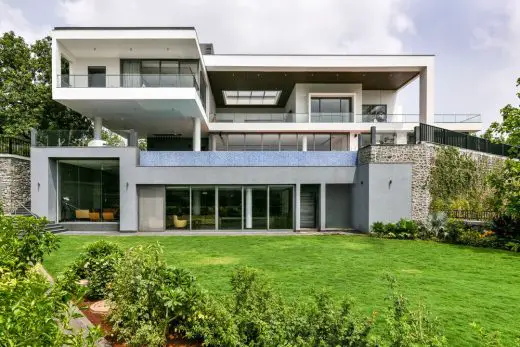 photograph : Prasant Bhat
The Infinity House in Khandala
Planned with a brief of maximizing views of the valley and enabling a nexus with the environment, the villa for a family of four has been conceived on a plot of land that is deeply contoured with a steep slope towards the valley.
7 Apr 2018
Dhananjay Pathade Residence, Kolhapur, Maharashtra, western India
Architecture: Sunil Patil & Associates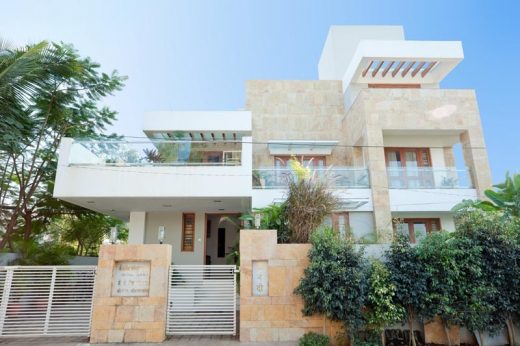 photography : Sunil Patil & Associates
Contemporary Residence in Kolhapur
The creation of a home, where a person can feel free to unwind after a day full of cares, is not achieved by default. It entails thoughtful and meticulous designing, not to mention sensitivity towards man and nature. It was for this reason that the Pathades' approached Architect Sunil Patil of SPA, whose penchant for nature sensitive designs along with aesthetically appealing compositions is well known.
13 Feb 2018
Wanzare Bungalow, Pune, Maharashtra, western India
Architecture: Sunil Patil & Associates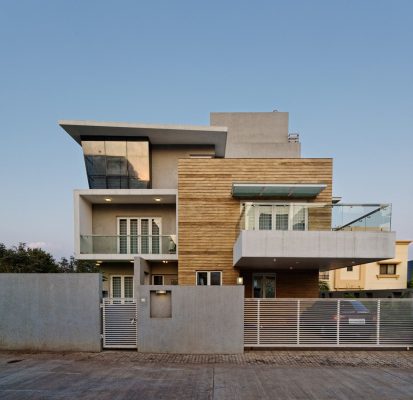 photo : Hemant Patil
Wanzare Bungalow in Pune
This new property consists of 5 bedroom, kitchen, lobby, dining, walkout into the garden from the dining and living and a courtyard. The exterior design is a geometric interplay of simple lines with sidings on wall and grey reflective glass used as part of the façade. The glass used on the second floor is UV proof that protects the interiors against radiation.
26 Jan 2018
Week End House in Pune, Maharashtra, western India
Architecture: Sunil Patil & Associates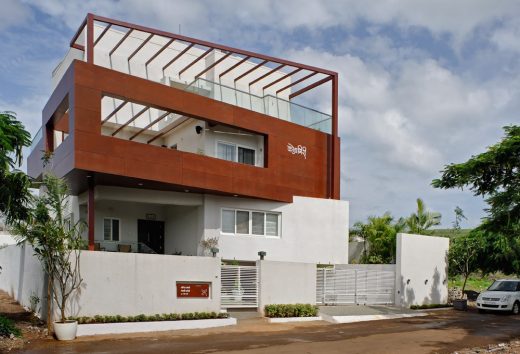 photo : Hemant Patil
New House in Pune
30 Aug 2017
Centre Court Villa, Chattarpur Farms, New Delhi
Architects: Pomegranate Design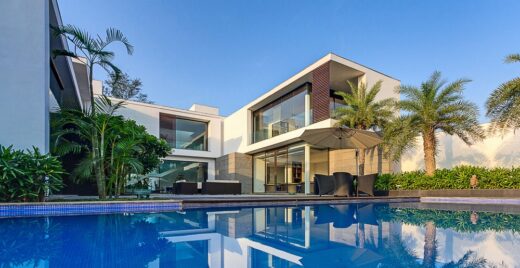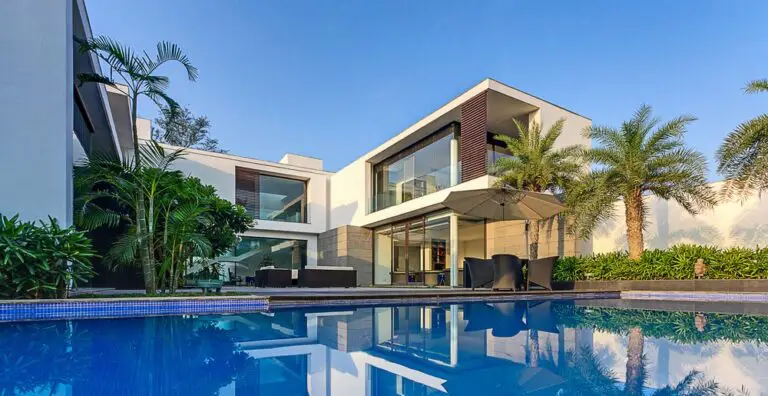 photography : Pomegranate Design
Centre Court Villa in New Delhi
In the era of concrete mass and boxed structures, this gripping residence sits amidst a completely occupied posh colony of farms in the heart of New Delhi.
30 Jan 2017
Verma Residence, Gurgaon
Architects: Untitled Design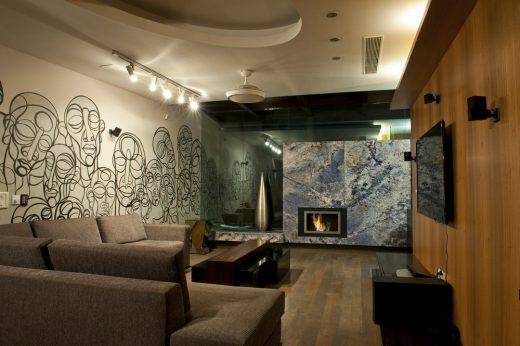 photograph : Pranav Purushotham
Verma Residence in Gurgaon
The house in question Is a 6,200 sqft, 4 level residence in Gurgaon, belonging to Mr. Vinod Verma and his family. It has been designed by Amrita Gulta and Joya Nandurdikar of "Untitled Design and has recently won the zonal IIID – Anchor Award 2011. for excellence in Interior design.
18 Dec 2016
Luxury House Traditional Interior Design, Kerala, south west India
Design: Comelite Architecture & Structure – CAS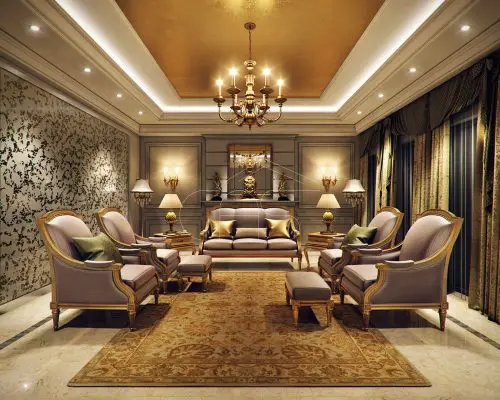 image Courtesy architecture office
Luxury Kerala House Traditional Interior Design
A grand private residence in Kerala, needed interior design for its dining room, living room and courtyard. The task was granted to CAS designers.
5 Dec 2016
The Haven House, Shrinagar, Bangalore
Design: Ashwin Architects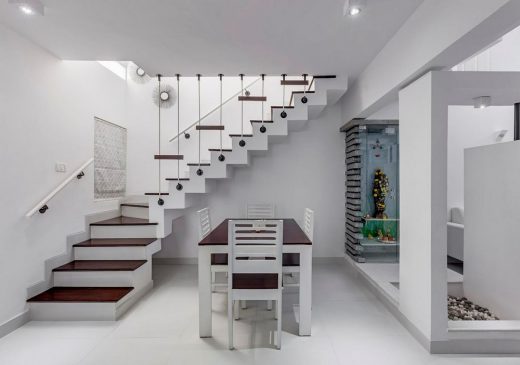 photograph : Shamanth Patil
The Haven House in Bangalore
The unique aspect of this project is the plot size is just 21' x 27'. To give a perspective to the size, it would be about the size of a twin car garage.
12 Feb 2016
11 K Vaks Weekend House, Pune, Maharashtra, Western India
Design: Ketan Jawdekar, Studio K-7



photograph : Sameer Chawda
11 K Vaks Week End House Pune
3 Feb 2016
Mood House, Faridabad, New Delhi
Design: Studio Archohm, architects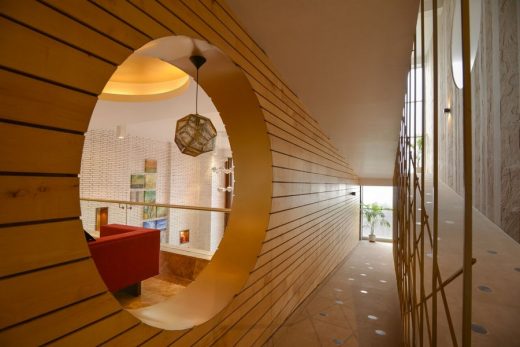 photograph : Bharat Aggarwal
Mood House in Faridabad
9 Oct 2015
Kings House, Bangalore, Karnataka
Design: The Purple Ink Studio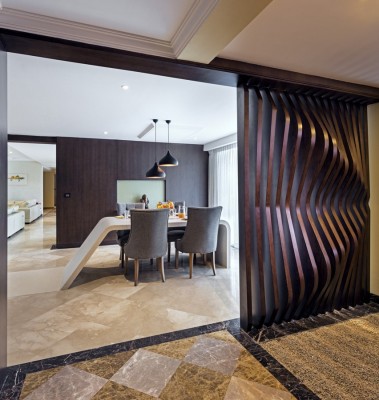 photograph Courtesy: RAYS & GREYS : SHAMANTH J PATIL
New Property in Bangalore
21 May 2015
Three Trees House in New Delhi, Chattarpur Farms, New Delhi
Design: DADA & Partners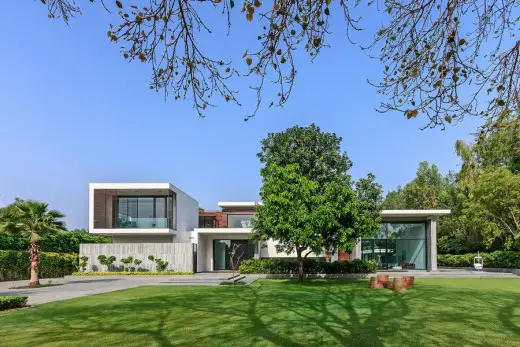 photograph : Ranjan Sharma / Lightzone India
Three Trees House in New Delhi
17 Feb 2015
Courtyard house Bangalore, Karnataka
Design: The Purple Ink Studio, Architects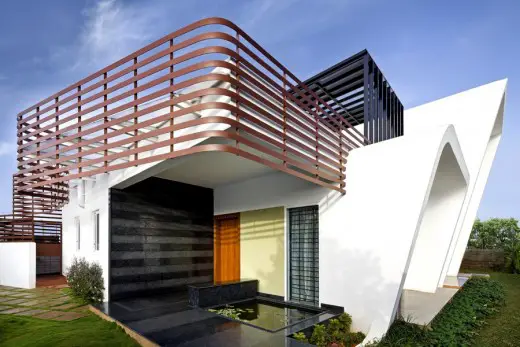 photograph : Ranjan Sharma / Lightzone India
Courtyard house Bangalore
More current Indian houses welcome for consideration
Indian Houses 2013 – 2014
22 Oct 2014
Jaunapur Farmhouse in New Delhi
Design: SPACES ARCHITECTS@ka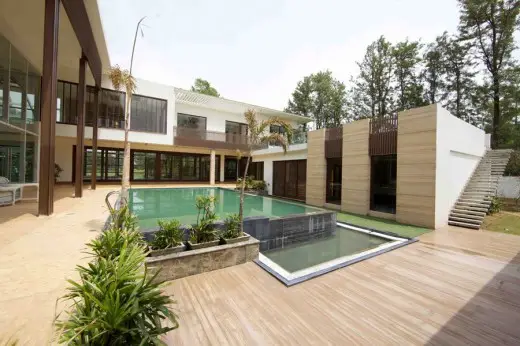 image from architect
Jaunapur Farmhouse
26 Sep 2014
Wadu Brick Residence, Wada, near Mumbai
Design: iStudio Architecture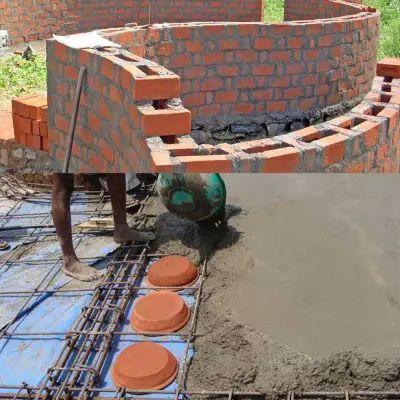 image from architect
Brick House India
29 Apr 2014
The Library House, Bangalore
Design: Khosla Associates, Architects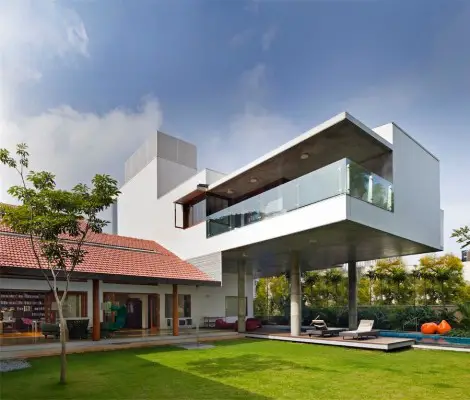 photograph : Shamanth Patil J.
The Library House
26 Feb 2014
LongPool House, outskirts of Mumbai
Design: SHROFFLEoN, Architects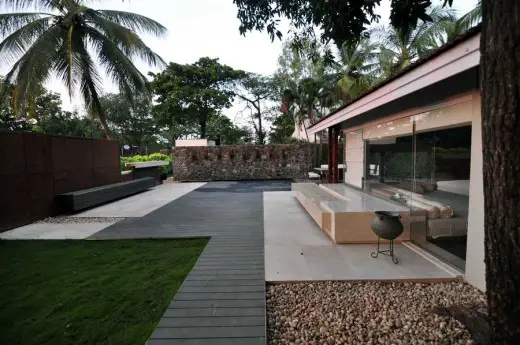 image from architect
LongPool House
16 Jan 2014
Hare Krishna Villa, Gurgaon
Design: Horizon Design Studio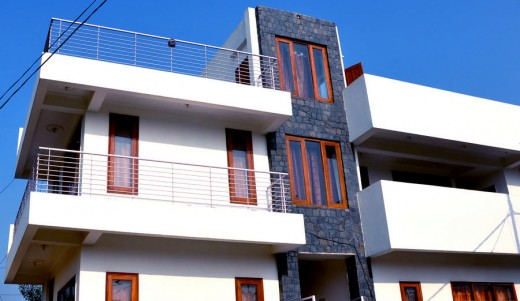 photo : Horizon Design Studio Pvt. Ltd
Hare Krishna Villa
24 Jun 2013
Mehrauli Residence, Mehrauli, Delhi
Design: Horizon Design Studio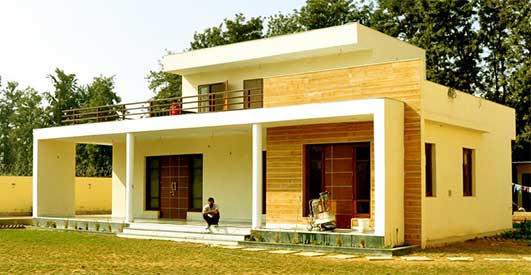 photo from architect
Chattarpur Farm House
23 Jan 2013
New Residence in Chennai
Design: ABIBOO Architecture



images from architect
New Residence in Chennai
More new Indian houses welcome for submission
Indian Houses 2009 – 2012
23 Jun 2012
Agra House
Design: Archohm, Architects



photograph : Humayun Khan
New House in Agra
21 Jan 2013
House in Chennai, Bay of Bengal, eastern India
Design: ABIBOO Architecture



image from architect
Kelly House
17 Apr 2009
Shah Orchid Villas, Navi Mumbai, Maharashtra
Design: THE FIRM, Architects



image from architect
Shah Orchid Villas Mumbai
17 Apr 2009
Shemaroo House, Mumbai, western India
Design: THE FIRM, Architects



picture from architect
Shemaroo House Mumbai
27 Oct 2010
House with Balls, Ahmedabad, Gujarat, western India
Design: Matharoo Associates



photo from architects
House with Balls
3 Aug 2011
The Gairola House, Gurgaon, Haryana, Northern India
Design: Anagram Architects



image from architect
Gairola House Gurgaon
23 Sep 2012
The Courtyard House in Rajasthan
Design: Sanjay Puri Architects



pictures from architect
Courtyard House Rajasthan
29 Oct 2012
Cuboid House, New Friends Colony, New Delhi, northern India
Design: Amit Khanna Design Associates



pictures : Akshat Jain / Amit Khanna
Cuboid House New Delhi
30 Apr 2009
The Kumar Residence, New Delhi
Design: Morphogenesis



image from architect
Kumar Residence
9 Aug 2010
Haj House Complex, Lucknow
Architects: AGi Architects SL



picture from architects
Haj House Complex
29 Apr 2010
India House, Balewadi, Pune
Architects: CCBA



image from CCBA Architects
India House Balewadi
Location: India, South Asia
Indian Architecture
New Delhi Architecture Walking Tours
Indian Mass Housing
Tata Housing, Gurgaon, North India
Design: Kohn Pedersen Fox Associates



image from architect
Tata Housing
Victory Valley, Gurgaon, North India
Design: WOW Architects



image from TM
Victory Valley Housing
Comments / photos for the New Indian Houses – Best Contemporary Residences page welcome