Indian Architecture News 2020, New Buildings, Construction Design Property images
Indian Architecture News
Contemporary Architecture Developments: South Asian Built Environment Updates 2019
post updated 27 Oct 2020
Indian Building News
Indian Architectural News
New Delhi Architecture Walking Tours
New Delhi Architecture Walking Tours by e-architect
India Architecture Designs – chronological list
25 Oct 2020
Maya Somaiya Library, Sharda School, Kopergaon, Maharashtra
Design: Sameep Padora & Associates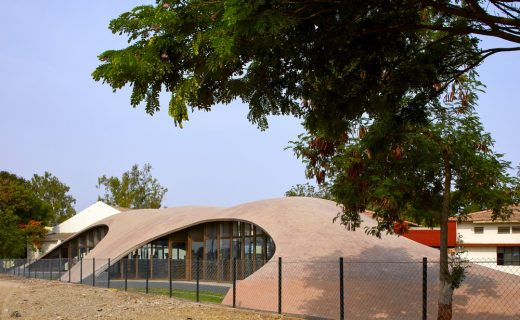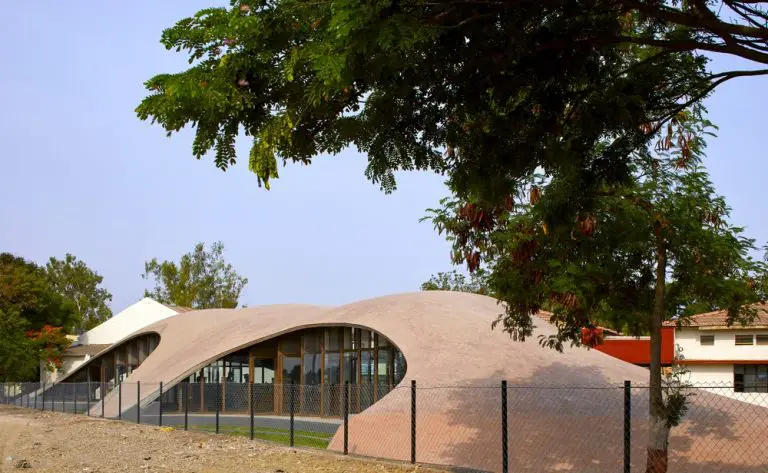 photograph : Edmund Sumner
Maya Somaiya Library Building
23 Oct 2020
Sangini House, Gujarat Offices
6 Oct 2020
SIS Primary School, Gurugram, New Delhi
Design: Urbanscape Architects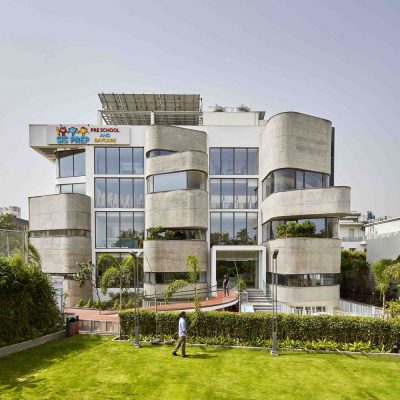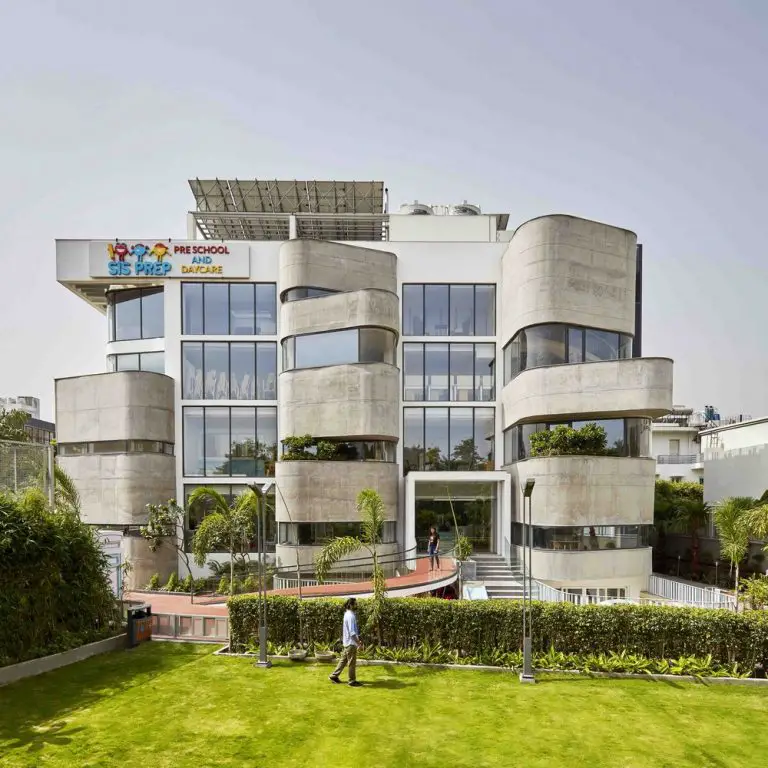 photo courtesy of architects
SIS Primary School, Gurugram
SIS Primary School was designed as a primary institution that aims to promote the overall development of a child, the school seeks to immerse children in a creative milieu, building new relationships and ways of engaging with the external environment.
22 Sep 2020
Taj Rishikesh Spa Resort Complex, Rishikesh, Uttarakhand, Northern India
Design: yh2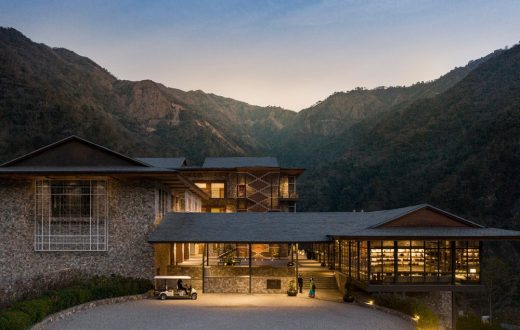 photograph : Maxime Brouillet
Taj Rishikesh Spa Resort Complex
The Indian Himalayas, a steep mountain landscape through which the sacred Ganges River meanders, is a nature that supersedes all human construction.
10 Sep 2020
Akshaya 27, Chennai
Design: Sanjay Puri Architects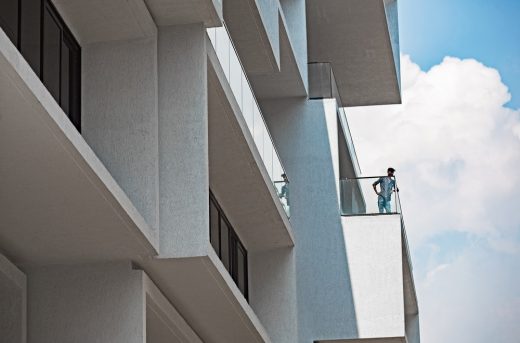 photos Courtesy BRS Sreenag, Sreenag Pictures
Akshaya 27 Chennai Office Building
Cantilevered cuboid volumes create a sculptural office building, Akshaya 27. Located in the old business district of Chennai in South India, the plot had multiple challenges to be overcome. The design is by Sanjay Puri.
3 Sep 2020
18 Screens House in Lucknow, Uttar Pradesh
31 Aug 2020
Life CMF Primary Healthcare Building
6 Aug 2020
Garden Bay Township in Lucknow, Uttar Pradesh
4 Aug 2020
B23 House in New Delhi
17 July 2020
The Discovery Centre in Bangalore, Karnataka
5 July 2020
Barrier Free Abode in Jalandhar
2 July 2020
Excellenseaa 126 Apartments in Surat, Gujarat
9 June 2020
Hive House in Surat, Gujarat
28 May 2020
Office for Urbanscape in New Delhi
7 May 2020
Hotel Devi Ratn in Jaipur, Rajasthan
7 Apr 2020
Aarya Club Resort in Rajkot, Gujarat
31 Mar 2020
The Screen House New Delhi Residence
30 Mar 2020
Overlapping Volumes Apartment Hyderabad
27 Mar 2020
Swarna House in Vijayawada
25 Mar 2020
Aria Resort Hotel in Nashik, Maharashtra
21 Mar 2020
Kolkata Building News – West Bengal Architecture
18 Mar 2020
The Rajasthan School, Nagaur, Rajasthan, India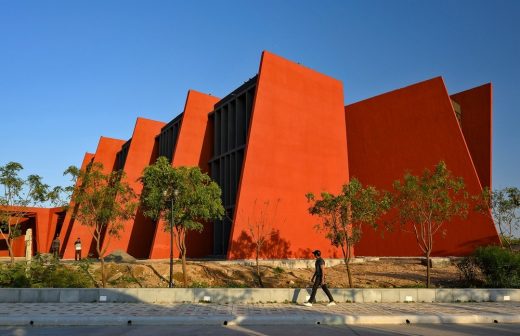 photo : Dinesh Mehta
The Rajasthan School in Nagaur
Imbibing the organic character of Indian villages & old cities, this is a low-rise three-level school building with open, enclosed and semi-enclosed spaces of various volumes.
22 Jan 2020
#7, Southlands, Mumbai
Design: SquareWorks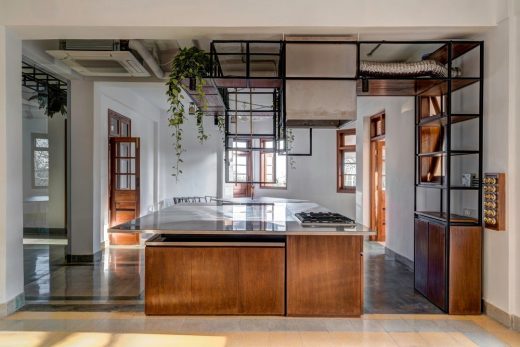 photo Courtesy Fabien Charuau
Retrofitting an Art-Deco Apartment in Mumbai
Southlands is an integrative endeavor aiming to rejuvenate an old 1930 Art-Deco Apartment in Mumbai, to accommodate the postulated requirements of a modern-day multiuser collective. The project intends to celebrate the inherent quintessence of a sangfroid 'Bombay-ish' precedent with distinct incorporation of consciously designed alterations.
23 Jan 2020
Office @ 63, Navi Mumbai
Design: Sanjay Puri Architects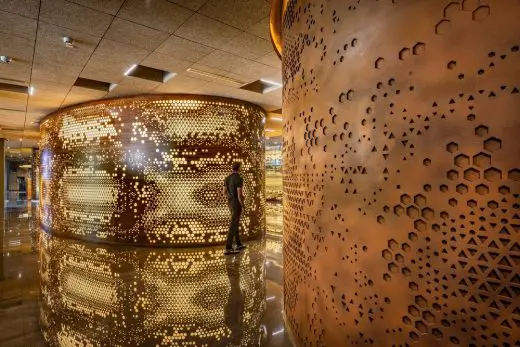 photo Courtesy Vinesh Gandhi
Office in Navi Mumbai
21 Jan 2020
The Orient Restaurants reflecting Feng Shui & Taoism
Architects: Salient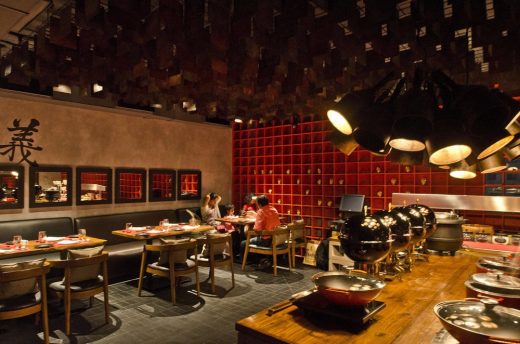 image courtesy of architects
The Orient – Chain of Restaurants in Kolkata
16 Jan 2020
Stellar, Bavlu, Ahmedabad, Gujarat
Architecture: Sanjay Puri Architects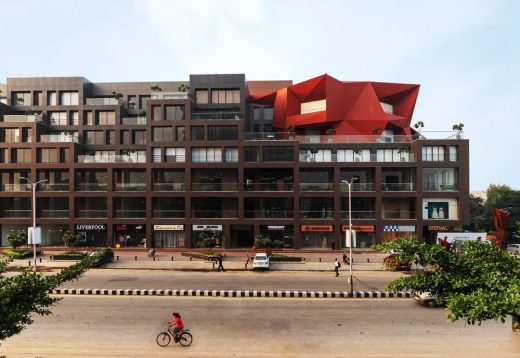 photo : Abhishek Shah Abhishek Shah
Stellar Mixed-Use Building in Ahmedabad, Gujarat
15 Jan 2020
Bavlu Weekend House, Ahmedabad, Gujarat
Architecture: UJJVAL FADIA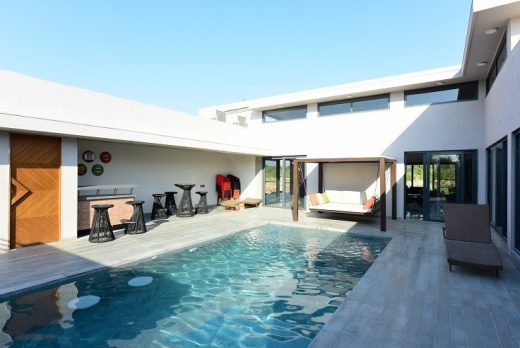 photograph : Subhash Patil
Bavlu Weekend House in Ahmedabad, Gujarat
13 Jan 2020
Corporate Headquarters for East India Hotels in Gurugram
4 Jan 2020
Sapovilla 116 in Rajnagar, Ghaziabad House
More contemporary Indian Architecture News on e-architect soon
Indian Architecture News 2019
19 Nov 2019
Greenwood Sonata, Rajarhat, Kolkata
Architects: Maniramka & Associates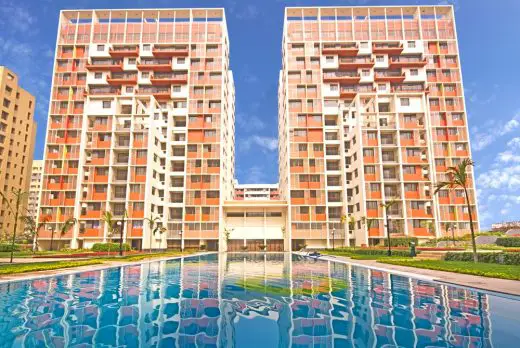 photograph : Mr. Biswanath Dasgupta
Greenwood Sonata Towers in Rajarhat, Kolkata
14 Nov 2019
62 Jorbagh Apartments Building New Delhi
7 Nov 2019
Amaltas House, Vadodara, Gujarat, India
Architecture: SquareWorks LLP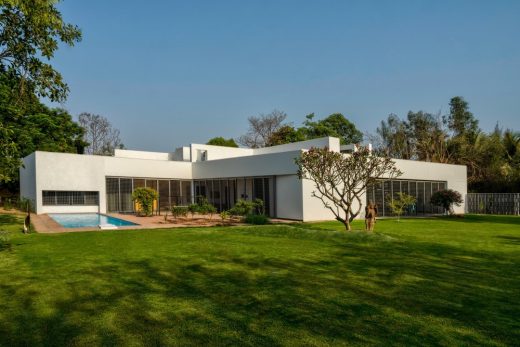 photograph : Fabien Charuau
Amaltas House in Vadodara, Gujarat Real Estate
21 Oct 2019
18 Screens House
Design: Sanjay Puri Architects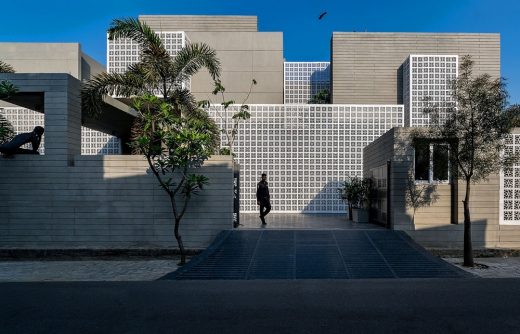 photograph : Dinesh Mehta
18 Screens House in Lucknow
15 Oct 2019
The White Haven in Mumbai, Indian Home
18 Sep 2019
Queensline Sea Yah – Floating Restaurant Mumbai
SDM Architects, Mumbai, complete the project Queensline Sea Yah, images below, architectural info online soon: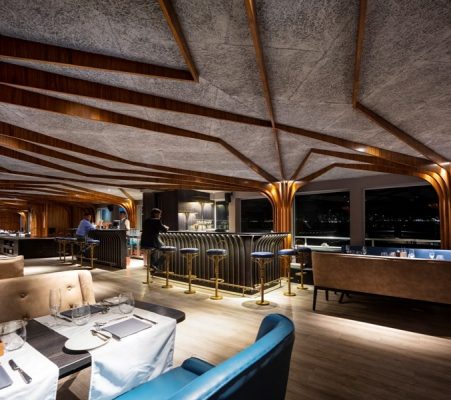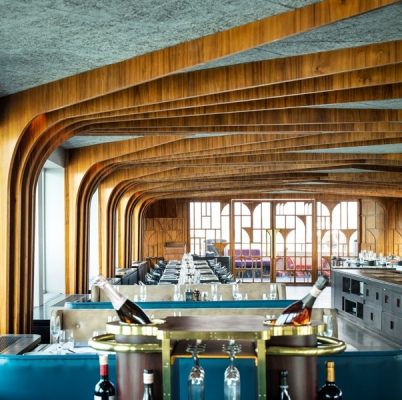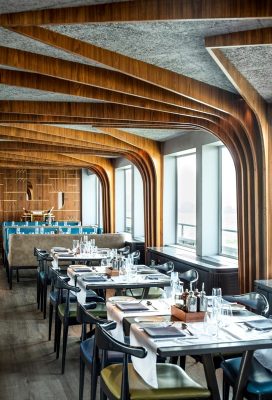 photos courtesy of architects
2 Aug 2019
British Council in New Delhi Building Renewal, New Delhi
Architects: Morphogenesis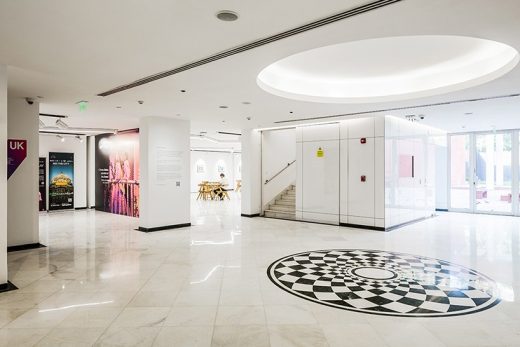 photo © Randhir Singh
British Council New Delhi Building Renewal
The British Council located in the heart of New Delhi, is a design collaboration of grandmasters, Howard Hodgkin, Charles Correa and Mahendra Raj.
19 July 2019
Verandah House in Ranchodpura, outskirts of Ahmedabad
Architects: Arpan Shah Architect, Modo Design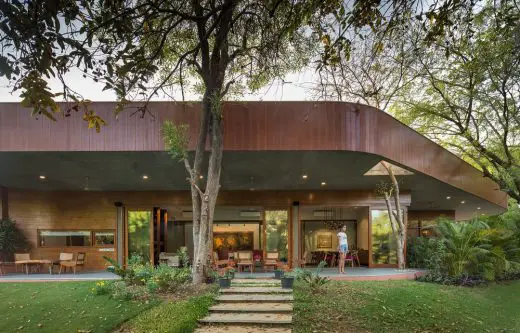 photo : Bharat Aggarwal
Verandah House in Ranchodpura, Ahmedabad
21 June 2019
Mehrangarh Fort Visitor and Knowledge Centre in Jodhpur
16 June 2019
Flor-do-Mar Restaurant in Goa
12 June 2019
ITO – Skywalk in New Delhi
27 May 2019
Karle Town Centre Bangalore Masterplan
India Architecture News 2018
4 Nov 2018
The Verandah House, Ranchodpura, Ahmedabad
Architecture: Modo Designs
New Property in Ahmedabad
8 Oct 2018
Hexalace, Mohali, Punjab, North West India
Architects: Studio Ardete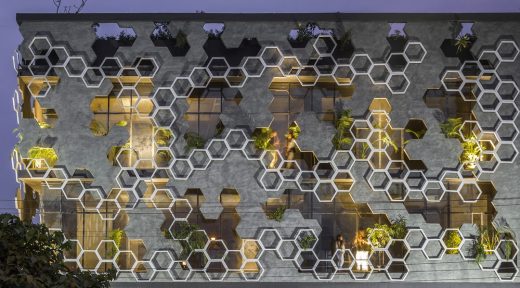 photograph : Ar.Purnesh Dev Nikhanj
New Building in Punjab
Hexalace is an open-plan commercial building made primarily for leasing purposes. In a tight commercial plot with challenging building norms, it became perceptible from the beginning that the concept would have to be manifested from the facade.
14 Sep 2018
The Street in Mathura is a Winner at International Architecture Awards
International Architecture Awards 2018
3 Jul 2018
Taksila Roots Primary School, Akbarpur, Ambedkar Nagar, Uttar Pradesh
Architects: SGA-STUDIO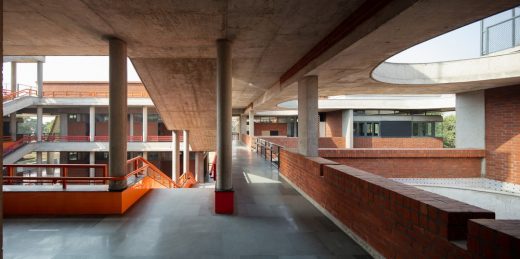 photograph : Andre J. Fanthome
Primary School in Akbarpur
This new Indian building is designed as a set of cluster blocks connected by a large flying roof and circulation around a courtyard. It is a G +2 storey structure in exposed brick & concrete, with an organizational rule to the project.
4 May 2018
Intersekt Tile Showroom, New Delhi, North India
Architects: Spaces Architects@ka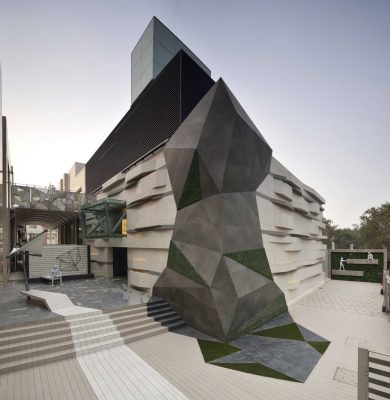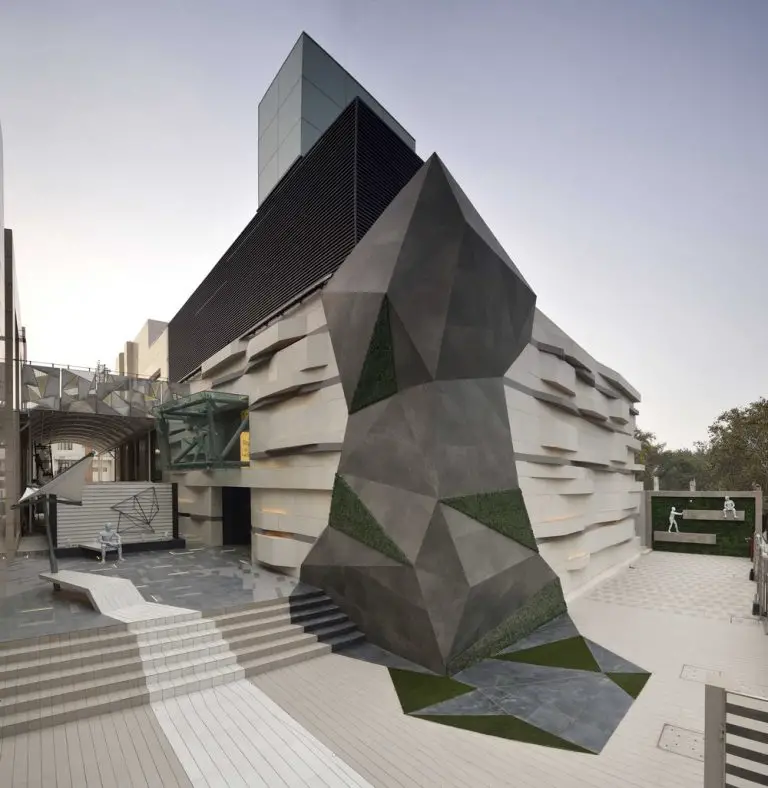 photograph : Bharat Aggarwal
New Delhi Tile Showroom & Offices
This dynamic project came along from a client who had passion for their work over three generations in the tile industry.
6 Apr 2018
The Infinity House, Khandala, Western Ghats, Maharashtra, western India
Architects: GA design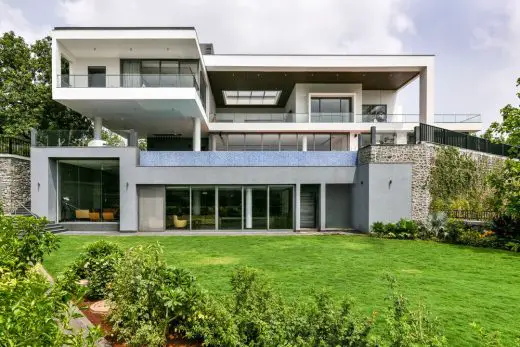 photograph : Prasant Bhat
The Infinity House in Khandala
7 Apr 2018
Dhananjay Pathade Residence, Kolhapur, Maharashtra, western India
Architecture: Sunil Patil & Associates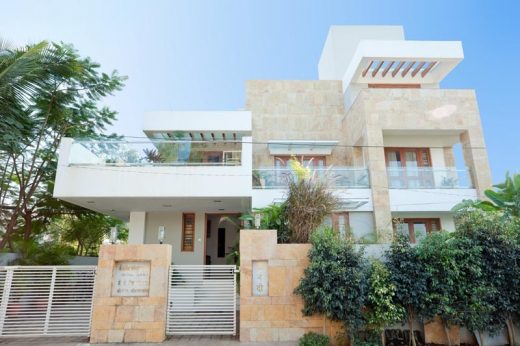 photography : Sunil Patil & Associates
Contemporary Residence in Kolhapur
14 Mar 2018
Trump Towers, Kalyani Nagar, Pune, Maharashtra, western India
Interior Design: Matteo Nunziati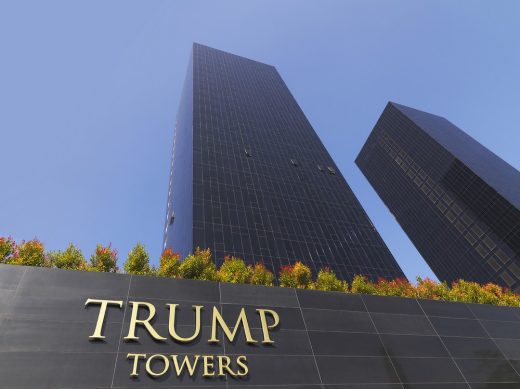 photo : Max Zambelli
Trump Towers in Pune
Recently Donald Trump junior has been to India to promote the investments of the Trump Organization, one of the major American Real Estate companies.
8 Mar 2018
Guwahati International Airport, Assam, Northeast India
Design: Design Forum International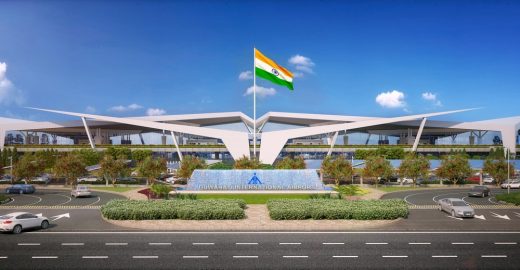 image Courtesy architecture office
Guwahati International Airport in Assam
The Guwahati International Airport is conceptualized to creating memorable experiences for the users, triggering moments of discovery and togetherness, enhancing user engagement. DFI also believes that it is important to be contextually reverent. The design, therefore, is infused with the flavors of Assam, the land which is asam (undulating).
10 Jan 2018
Fratelli Wines Industrial project, Akluj, Solapur-Maharastra
Design: Sunil Patil and Associates, Architects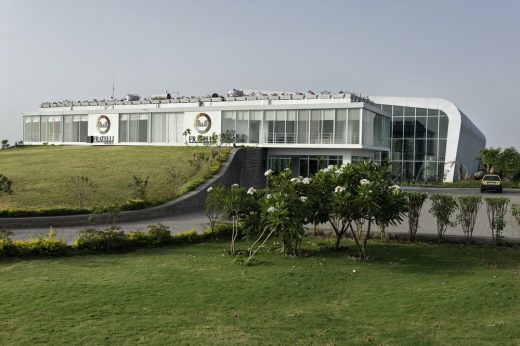 image Courtesy architecture office
Fratelli Wines Industrial project in Akluj
Wine making has been around for thousands of years. Nature provides everything that is needed to make wine, it is up to humans to embellish and improve it. The Client – from Italy – and his counterpart in India wanted to have wine making unit at Akluj, Solapur so that they could produce one of the finest wines.
India Building Updates 2017
29 Dec 2017
VVIP Circuit House, Pune, Maharashtra, Western India
Design: Sunil Patil and Associates, Architects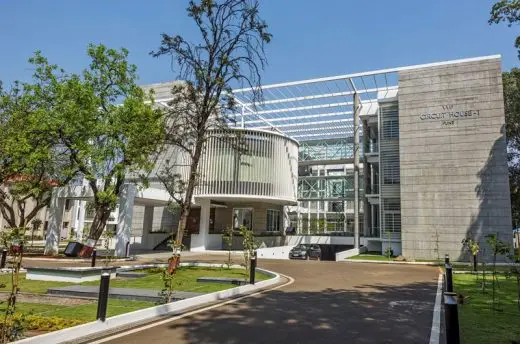 image Courtesy architecture office
VVIP Circuit House Pune Building
VVIP Circuit house is government guest house which accommodates VIP, VVIP officials, ministers and a large number of visitors. Though Circuit house is primarily a guest house, it also acts as a node for political meetings, government authorities' discussions and conferences.
15 Nov 2017
The Street, Mathura, Uttar Pradesh, North India
Design: Sanjay Puri Architects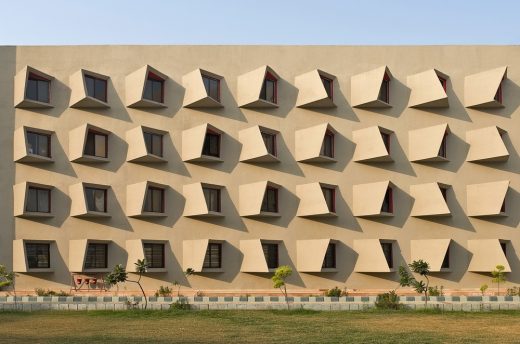 photo : Dinesh Mehta
The Street in Mathura
Taking a cue from the old city streets of Mathura city in India where this project is located, this 800 room students' hostel creates organic spaces. Designed in 4 level high, 5 linear blocks, the built spaces snake across a wedge shaped site twisting and turning along their length.
20 Sep 2017
Jade Blue: A Premium Ensemble, Ahmedabad, Gujarat, Western India
Design: Group DCA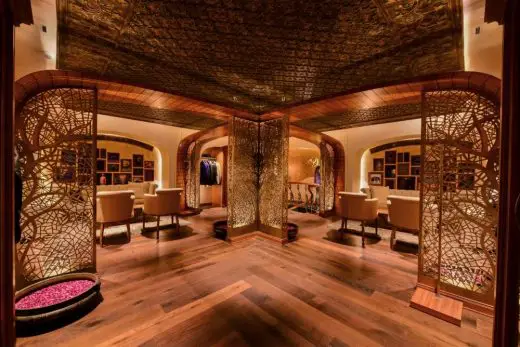 image Courtesy architecture office
The Jade Blue Lounge in Ahmedabad
Jade Blue is a multi-brand outlet within which an exclusive lounge has been fabricated essentially to provide service to the high-end customers. Jade Blue is conceived as a lounge for the discerning client looking for a personal and bespoke experience.
4 Sep 2017
Punjab Kesari Headquarters Office Building, Chattarpur Farms, New Delhi, Northern India
Architects: Amit Gupta & Britta Knobel Gupta, Studio Symbiosis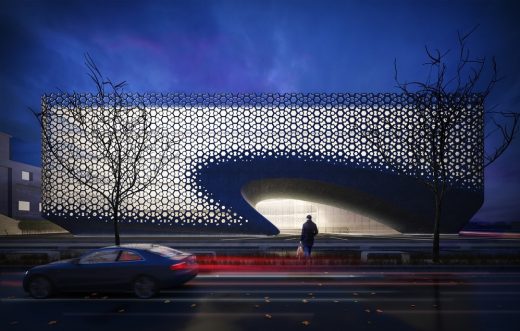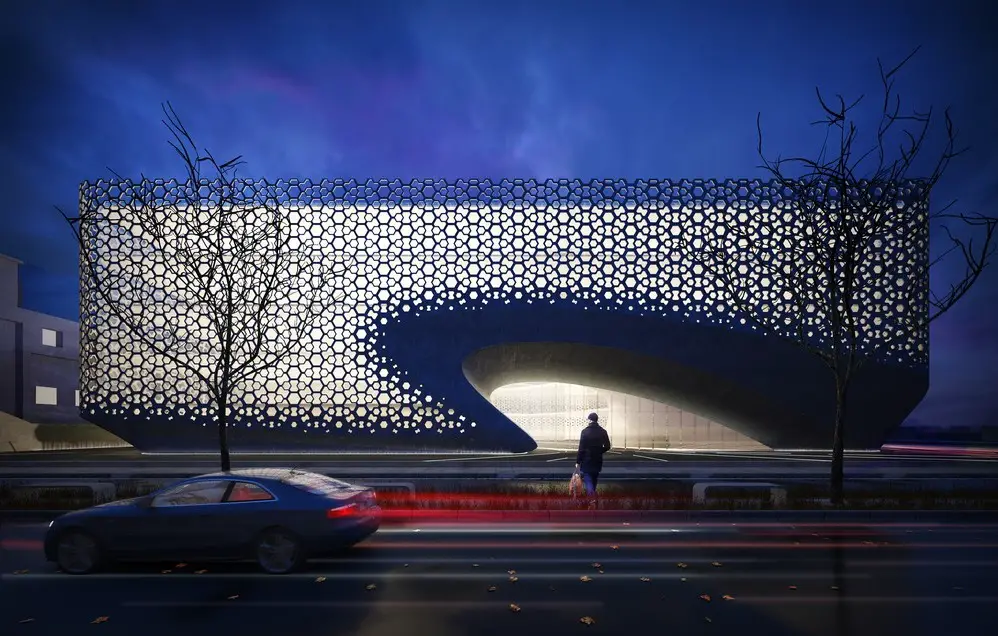 photo : Studio Symbiosis
Punjab Kesari Headquarters Office Building, Delhi NCR
The inspiration was to translate a traditional Indian facade pattern by using digital simulations into an iterative processes to create a responsive built form. This traditional "Jali" screen creates culturally a sense of belonging.
1 Aug 2017
Government Museum and Art Gallery Chandigarh – One of Twelve Recipients of Getty Foundation's Keeping It Modern Grants
Design: Le Corbusier (Charles-Édouard Jeanneret) architect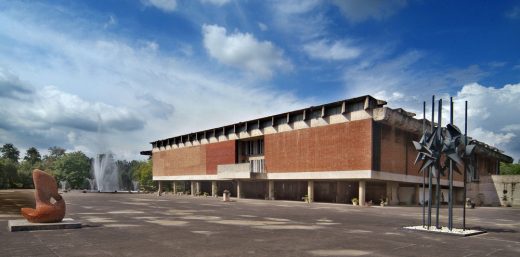 photo © SM Dhami
The Government Museum and Art Gallery in Chandigarh is a pivotal work by Le Corbusier, representing the culmination of the concept he developed with Pierre Jeanneret of a museum of the future. Their 1931 idea for a "Museum of Unlimited Growth" employed the design principle of a nautilus, radiating outward from the center to create a sense of unrestricted expansion.
30 May 2017
Axis Pramiti – School Building, Bangalore, Karnataka, southern India
Design: The Purple Ink Studio, architects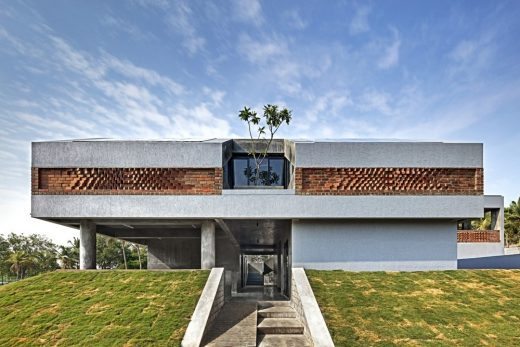 picture : Shamanth Patil J
Kanakpura School Building in Bengaluru
The programmatic values of the school believe in breaking away from the standard scholastic teaching system. The design embraces the creative enterprise of 'flexible learning' to cater to the needs of a heterogeneous group of learners. The site is a land with a steep slope and several existing trees.
17 May 2017
Mumbai Railway Stations Renewal, Maharashtra, western India
Design: JDAP Design-Architecture-Planning, Architects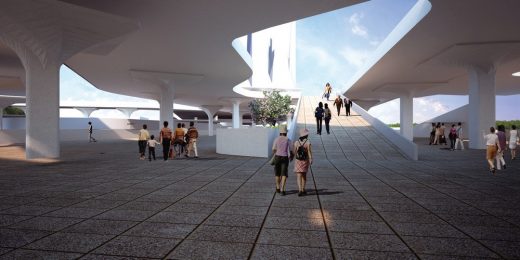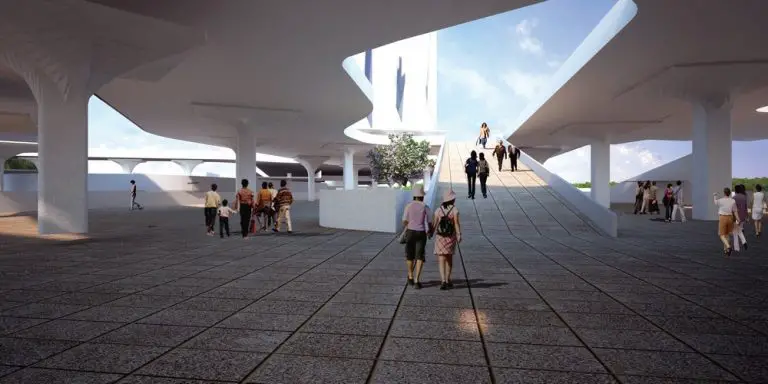 image courtesy of architects
Mumbai Railway Stations Renewal
Mumbai's suburban railway system carries over seven million passengers daily and is one of the busiest commuter rail networks in the world. The overground railway lines that cut through the city, form quite literally the framework upon which the city has been built over the years.
27 Feb 2017
Central Library of IIT Bombay, IIT Campus, Powai Road Mumbai, Powai
Design: Sanjay Udamale Architects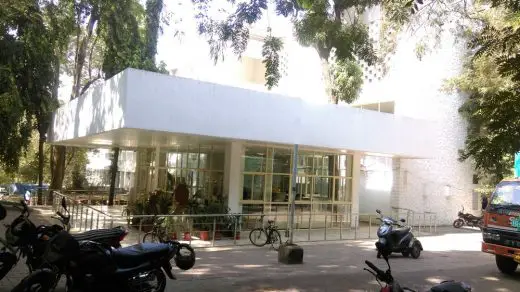 image courtesy of architects
Central Library of IIT Bombay
India Building Updates 2016
2 Dec 2016
Cyberwalk Building, Gurgaon
Design: Design Forum International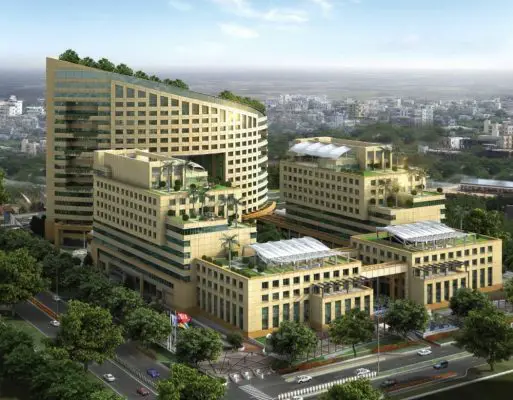 image Courtesy architecture office
Cyberwalk Building Gurgaon
This new Indian building design was conceived to bring man and nature together, within an office environment that would enable better Ideation, creative thinking that would lead to innovation in a relaxed working environment.
28 Aug 2016
AD Boutique fabric/drapery retail store in Bengaluru
Design: The Purple Ink Studio, architects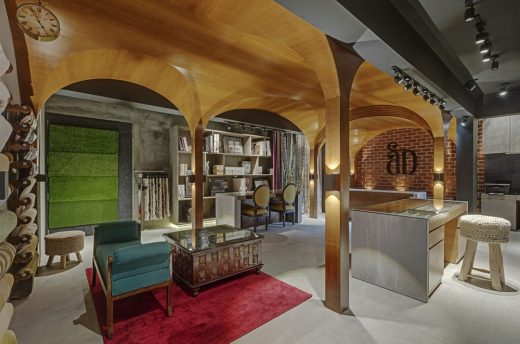 photo : Rays & Greys Studios
AD Boutique Bengaluru
3 Aug 2016
Disha Electrical and Lighting Store, Chandigarh
Design: Studio Ardete, architects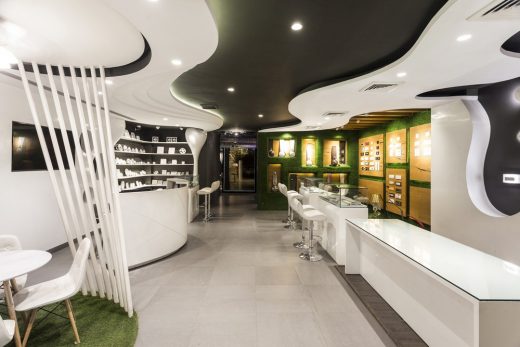 photo : Purnesh Dev Nikhanj
Disha Electrical and Lighting Store in Chandigarh
25 Mar 2016
Film City Tower – Bollywood ReImagined – Winning design – First prize: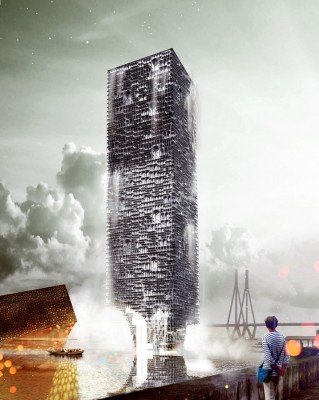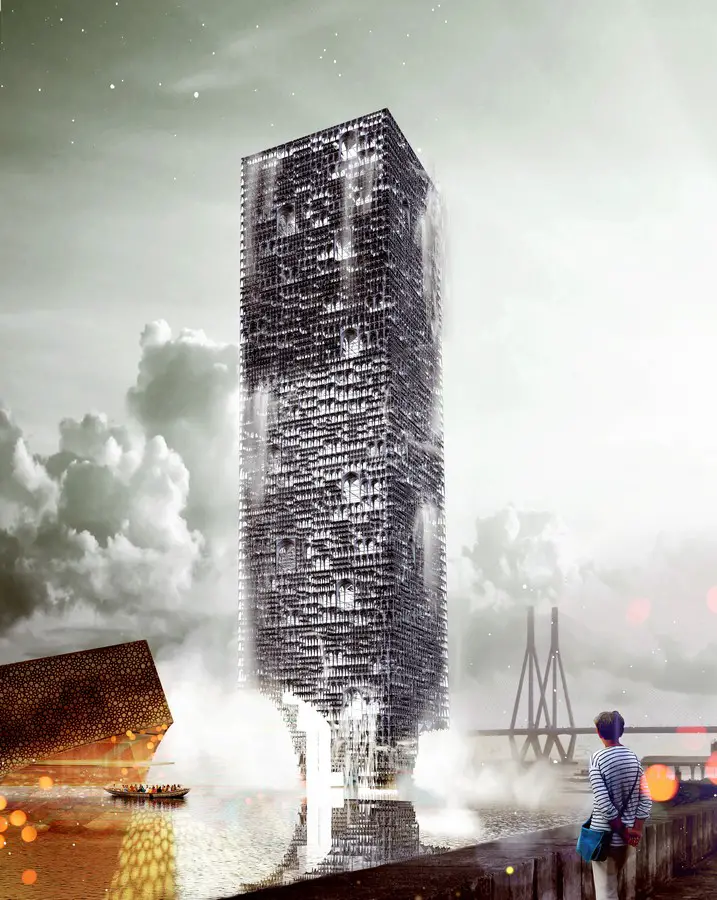 image courtesy of architects
Film City Tower Mumbai
India Building Updates 2014 – 2015
31 Dec 2015
Chhatrapti Shivaji International Airport Terminal 2 Building
Architects: Skimore, Owings & Merrill LLP – SOM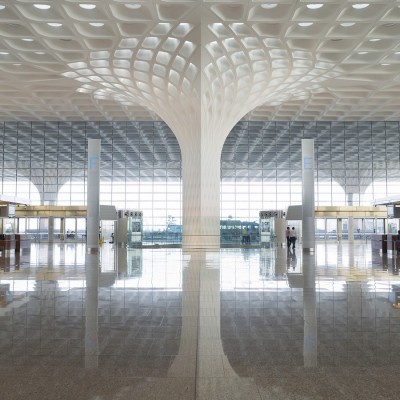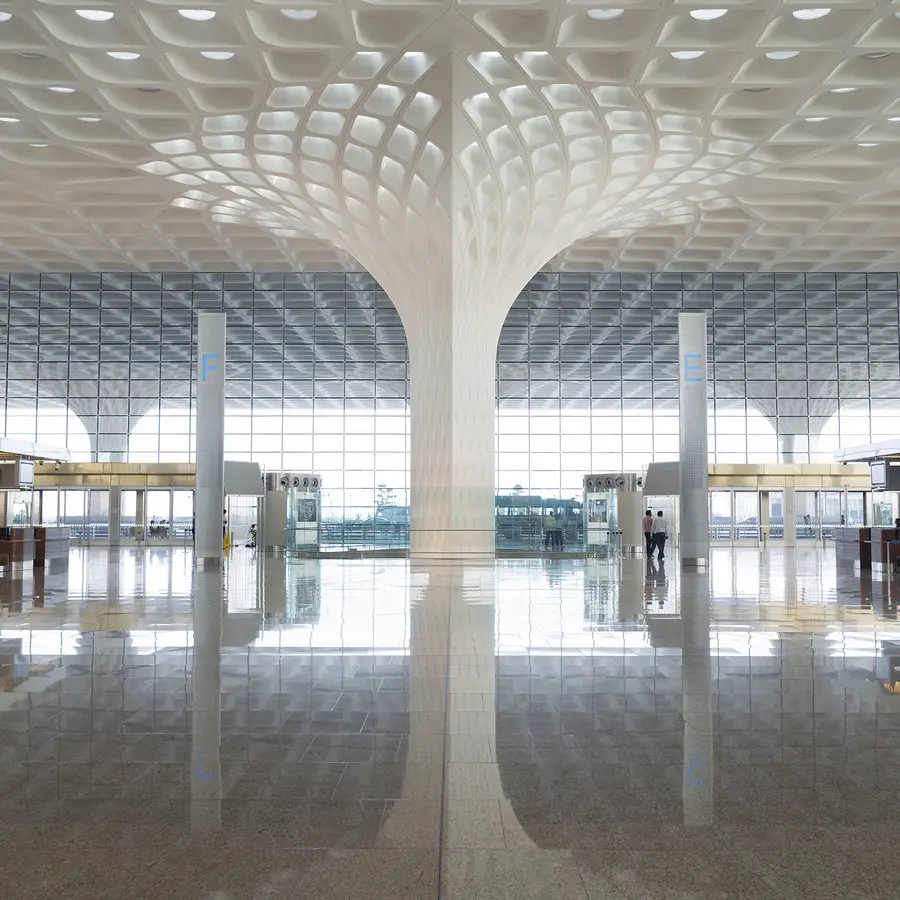 photograph © Robert Polidori
Chhatrapti Shivaji Airport Building in Mumbai
10 Aug 2015
Chandigarh Unbuilt Competition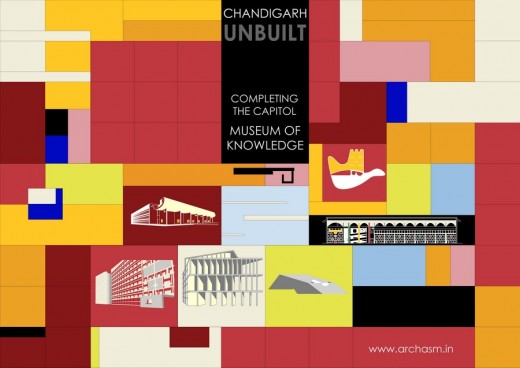 image courtesy of architects
Chandigarh Unbuilt Competition
15 Apr 2014
R. World Big Cinemas, Rajkot, Gujarat
Design: The Purple Ink Studio, architects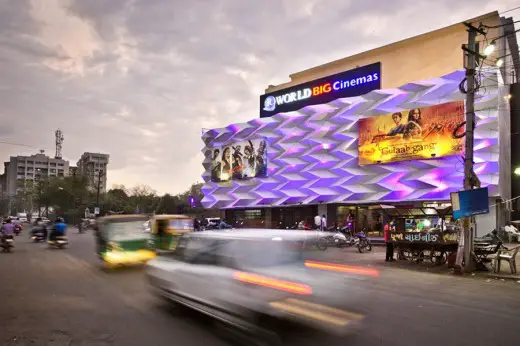 image from architect
R. World Big Cinemas in Gujarat
More Indian Architecture News online soon
Location: India, South Asia
India Architectural Designs
Indian Architecture Designs – chronological list
Indian Architect – design firm listings on e-architect
4 Dec 2016
Dusai Resort & Spa, Sreemangal, Bangladesh
Architects: VITTI Sthapati Brindo Ltd.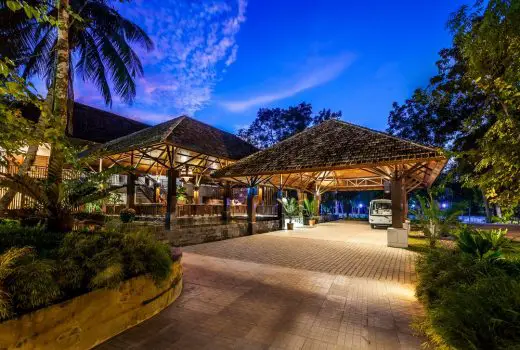 image : Hasan Saifuddin Chandan
Dusai Resort & Spa in Sreemangal
Harbored in serene green hillocks of the tea plantation area in northeast Bangladesh, Moulvi Bazar, "Dusai Resort & Spa" is the first of its kind destination resort in the country.
Indian Buildings – no images
Buildings / photos for the Indian Building News page welcome
Website: Architecture