Building Events 2023, Architecture Exhibitions, Architectural Talks, Workshops, Projects
Building Events – Architecture News
Architectural Exhibitions + Lectures + Awards + Debates in 2021 from around the World
Current Building Events
Architecture Events – coming soon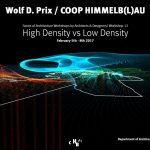 Architectural Events – rolling events diary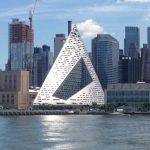 photo © Adrian Welch
Building Events
Recent Architectural Events in 2022, chronological:
10th edition Architecture Biennale Rotterdam, The Netherlands
22 September – 13 November 2022
IT'S ABOUT TIME
The Architecture of Change
The exhibition shows the work of more than 50 spatial designers and researchers – both young talents and well-known professionals. They are working in an inspiring way on the future of our planet, using their designs to combat the effects of climate change.
Fifty years ago, the Club of Rome predicted the situation we currently find ourselves in: melting ice caps, forest fires, floods, and droughts. Today, the Architecture Biennale is taking stock with historical research (from 1972), inspiring practical examples (in the year 2022) and future scenarios (towards 2072) in the fields of architecture, urban design and landscape architecture. The exhibition showcases both the worrying conditions of the world and hopeful perspectives.
The 10th edition of the Architecture Biennale Rotterdam will take place from 22 September to 13 November 2022 in the port area of Rotterdam. The exhibition IT'S ABOUT TIME, curated by Derk Loorbach, Véronique Patteeuw, Léa-Catherine Szacka, and Peter Veenstra, and in collaboration with Theodora Gelali, will be presented in the Ferro, an imposing former natural gas holder in Rotterdam's western harbor area.
In the nearby Keilepand, the exhibition FUTURE GENERATION will take place. Under the artistic direction of curators Hanna Prinssen and Lindsey van de Wetering and in cooperation with Maria Christopoulou, a selection of graduation projects by students from the Netherlands and Belgium will be on display.
The two exhibitions make room for dialogue, knowledge acquisition, and experimentation and offer an extensive program of guided tours, lectures, and debates, as well as workshops for children and young people. Work sessions will be held in a transition arena. These will include designers involved in ongoing research into the transformation of cities such as Amsterdam and Rotterdam. Various visions of the future of the Netherlands will converge here and be discussed.
Title
The title IT'S ABOUT TIME alludes to the increasing pressure of time: in order to counteract the consequences of climate change, action must be taken quickly. The title also focuses on time and speed as crucial factors in the design process of architecture and spatial design. In this way, the Architecture Biennale Rotterdam draws attention to social themes: IT'S ABOUT TIME calls on professionala to work effectively on urgent socioecological issues.
Participants
The exhibition features work by 2001, 2050+, 51N4E, AgwA, Anastasia Egger, Andrés Jaque / Office for Political Innovation + Miguel Mesa del Castillo, Anupama Kundoo Architects, AREP, Beka & Lemoine, College of Government Advisors, Encore Heureux, EPFL – Habitat Research Center, Ester van de Wiel, Philippe Rizzotti Architecte with ETH Zurich Chair of Sustainable Construction and Pavillon de l'Arsenal, FAST – Malkit Shoshan, FLUX, H+N+S, INCURSIONES, Irene Feria Prados – Frieder Vogler – Rik de Brouwer, gens, Jan Rothuizen, Janna Bystrykh, Joep van Lieshout, Lukasz Stanek & Michael, Dziwornu, McHarg Center – Richard Weller, MLA+, Monadnock, MVRDV, noAarchitecten, OOZE, Openfabric, Planbureau voor de Leefomgeving, Space and Matter, Studio Joost Grootens, Studio Marco Vermeulen, Studio Ossidiana, Embassy of the North Sea, Superuse Studios, Ten Studio, TU Delft – Delta Urbanism, Sarah Calitz & Isabel Recubenis Sanchis, Turenscape – Kongjian Yu, Université du Luxembourg, Weronika Uyar, and many others.
ABOUT THE CURATORS
– Prof. Derk Loorbach, professor of Socioeconomic Transitions, director of DRIFT, and principal investigator of the Design, Impact, Transition (DIT) platform at Erasmus University Rotterdam
– Peter Veenstra, co-founder of LOLA Landscape Architects (with Cees van der Veeken and Eric-Jan Pleijster)
– PASZA Platform for Architectural Research, co-founded by Dr. Léa-Catherine Szacka, senior lecturer in Architectural Studies at the University of Manchester and visiting lecturer at the Berlage, Delft University of Technology and ETH Zurich, and Dr. Ir. Véronique Patteeuw, lecturer at the
– École Nationale Supérieure d'Architecture et du Paysage Lille, visiting lecturer at KU Leuven and EPFL Lausanne and scientific editor of OASE.
Website: www.architecturebiennalerotterdam2022.nl/nl
ABOUT THE IABR
The design power of architecture is essential for tackling the major challenges of our time, such as the energy transition, water management, and climate adaptation.
The Architecture Biennale Rotterdam aims to contribute to the transition to a sustainable future by connecting parties to the agenda of transition in spatial design, positioning the discipline of spatial design, bringing together design strengths and parties around spatial challenges, and by inspiring and offering action perspectives by imagining promising solutions.
Internationale Architectuur Biënnale Rotterdam
Keilestraat 9 K1
3029BP Rotterdam
Nederland
+++
The Future is a Journey to the Past: Stories about Sustainability, AA Gallery, London, UK
23 September – 29 October 2022
The Future is a Journey to the Past: Stories about Sustainability, an exhibition at the Architectural Association curated by Italy's leading practice, Mario Cucinella Architects.
The exhibition explores past and present notions of sustainability in order to develop the ecological thinking necessary to bridge the divide between the natural world and human activity – including, of course, architecture.
AA Gallery Architectural Association, 36 Bedford Square, London, WC1B 3ES, UK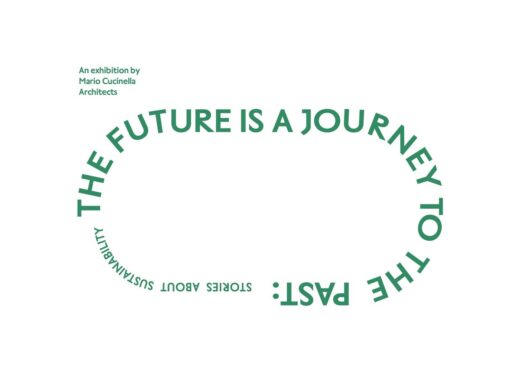 Exhibition dates: Friday 23 September – Saturday 29 October
Opening hours: Monday – Saturday: 10am – 7pm
Entry: Free
'Where does our ability to survive come from? Plants and animals have the same instinct. Nature has created a system, an ecosystem, with marvellous shapes and colours and incredible biodiversity. We have, in part, lost all of this, generating an irreversible change in our planet. The question is whether we can continue to live this way, or whether we should just take what's good and throw the rest away, so that we can enter a new era.'
– Mario Cucinella
From Friday 23 September 2022, the Architectural Association School of Architecture in London will host The Future is a Journey to the Past: Stories about Sustainability, an exhibition curated by Mario Cucinella Architects. The exhibition explores past and present notions of sustainability in order to develop the ecological thinking necessary to bridge the divide between the natural world and human activity – including, of course, architecture.
Held in the AA Gallery on the ground floor of 36 Bedford Square, the exhibition comprises three key elements: a timeline tracing the evolution of environmental awareness and activism from prehistory to the present, and speculating on the future; a selection of projects designed by Mario Cucinella Architects that explore these themes through scale models and booklets; and a map highlighting the locations of key sites and projects explored in Cucinella's book The Future is a Journey to the Past (Quodlibet, 2022).
New solutions through planning and innovation often require expensive and complex stratagems. However, a journey into the past reveals how, in eras when sustainable thinking was a necessity, humans created ingenious practical solutions that we still have much to learn from. While nature has offered us the sustainable environments of the termite nest and beehive, of forests and the very structure of trees and plants, human ingenuity once shaped the stepwells of India, the ice houses of the Iranian desert and the city of Hyderabad in Pakistan that catches the wind to naturally ventilate its buildings. These projects, and many others, have much to teach us beyond their intrigue and beauty.
In the exhibition, these journeys through the past are projected into the future, suggesting a synthesis of traditional and modern thinking in how we approach architecture and the environment. Architectural history, in all its global richness, becomes a relevant source of inspiration to educate us about our sustainable past while providing us with tools to become future guardians of the global environment.
The exhibition is open to the public from Friday 23 September; read more on the AA website
Mario Cucinella Architects
Mario Cucinella Architects is an architectural firm with offices in Bologna and Milan and an international team of one hundred professionals including architects, engineers, graphic designers, model makers and researchers. The firm was established in Paris in 1992 and opened its offices in Bologna in 1999. MC A has extensive experience in architectural design that combines environmental and energy efficiency strategies and relies on an R&D department that carries out research on sustainability with a holistic approach.
About the AA
The Architectural Association (AA) is the oldest independent school of architecture in the UK. The school was founded in 1847 as a student-centred collective that aspired to radically transform architectural education. The school offers a broad range of flexible, self-directed programmes, courses and curricula that empower students and staff to challenge the accepted methods within contemporary architectural education and professional practice.
The school offers a Foundation Certificate, a BA(Hons)/RIBA Part 1 and MArch/RIBA Part 2 (and AA Diploma) throughout its five-year course within the Intermediate and Diploma Programmes, and nine Taught Postgraduate programmes leading to MA, MSc, PG MArch, MFA and MPhil awards as well as the PhD Programme, a RIBA-accredited Part 3 course, a Summer School and Visiting Schools based around the world. The AA curriculum is enhanced by the Public Programme, which focuses on the unique opportunities and challenges of the present through a series of lectures, exhibitions, studio visits, symposia and book launches, and by the Communications Studio, a media, publishing and graphic design studio.
General Contact Information:
AA School of Architecture
36 Bedford Square
London WC1B 3ES
www.aaschool.ac.uk
+++
Architecture Exhibition Guenther Domenig: DIMENSIONAL, Austria, central Europe
12 June – 16 October 2022 ; Tues – Sun, 10 am – 6pm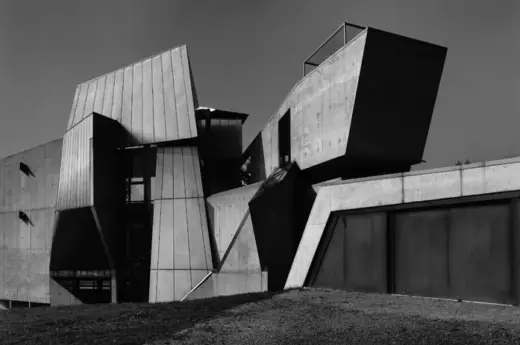 photo © Gerald Zugmann
The MMKK (Museum of Modern Art Carinthia) explores the relationship between art and architecture, while the Architektur Haus Kärnten (Archictecture House Carinthia) focuses on Günther Domenig's impact on contemporary architectural production.
Recent Building Events Archive
Alison Brooks Architects – Cultural Formations, Clare Hall, Cambridge, England, UK
Displayed in Ralph Erskine's seminal 1969 building for Clare Hall, Cambridge University, Cultural Formations brings together a selection of our practice's most significant cultural and urban projects from the last twenty years. Each of these works translates specific social histories, urban archetypes and iconographies into contemporary space and form while at the same time celebrating architectural craft.
18 February – 7 April 2022
10am-5pm Every Day
Clare Hall, Herschel Road
Cambridge
CB3 9AL
+44 (0)1223 332360
11th International Space Design Award – Idea-Tops Exhibition, Shenzhen Library, China
Dates: 1 – 21 November 2021
The 11th International Space Design Award – Idea-Tops, an award which identifies outstanding talents in architecture and interior designs, found its best designs in 18 award categories during the Awarding Ceremony that took place on the 13th of October 2021 in Shenzhen, China, and was hosted by the Idea-Tops Organizing Committee, Council for the Promotion of Guangdong-Hong Kong-Macao Cooperation and Shenzhen Association for Science and Technology.
11th International Space Design Award – Idea-Tops
Moving Architecture exhibition in Galerie d'Architecture, Paris, France
from 4 November 2021 to 15 January 2022
Galerie d'Architecture is a place which has already exhibited the work of the most significant contemporary architects such as Shigeru Ban, Rem Koolhaas, Renzo Piano, Bernard Tschumi and many others. KWK Promes is the first studio from East-Central Europe invited to present its work there.
The exhibition will stay in France until the 15th of January 2022 and will be officially ended by a finissage.
Inauguration evening – Tuesday, the 9th of November 2021
Moving Architecture exhibition in Galerie d'Architecture, Paris
ZHA Close Up – Work & Research Exhibition
MAM Shanghai, China
26 June – 15 September 2021
ZHA Close Up – Work & Research Exhibition
Two Exhibitions in M4H Rotterdam, The Netherlands
Down To Earth Reopens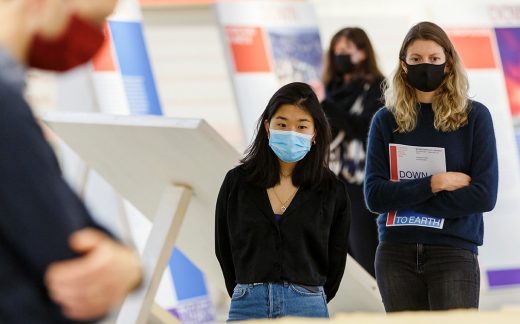 picture : Aad Hoogendoorn
After months of lockdown, DOWN TO EARTH reopened on 9 June 2021 with two exhibitions: RECLAIMING THE COMMONS and WATERSCHOOL M4H+.
While there is no denying the seriousness of the current pandemic, the climate and biodiversity crisis is increasingly and urgently confronting us with the fact that we have pretty much ruined our relationship with the planet.
Science warns us: we're almost at the tipping point. This puts us on high alert and forces us to radically change how we think and act, to create design solutions that will concretely and sustainably allow us to land.
Presenting the exhibitions RECLAIMING THE COMMONS and WATERSCHOOL M4H+, the IABR is once again on top of current affairs: climate crisis, mass extinction, global warming, and rapidly growing inequality. It is here that the IABR believes its key challenges lie.
Miralles. Perpetuum Mobile, Barcelona
26 May until 29 August 2021
Disseny Hub. Plaça de les Glòries, 37 Barcelona, Catalunya, Spain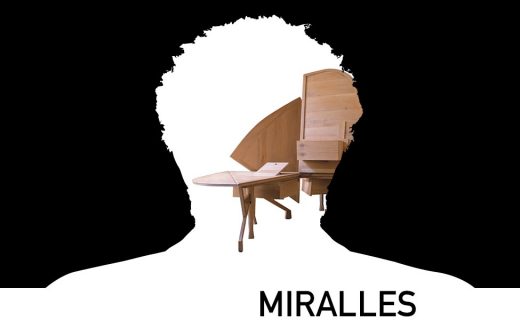 Following the launch of the first three exhibitionts of the Miralles homage, Perpetuum Mobile opens at Disseny Hub on Wednesday 26th May, promoted by the Fundació Enric Miralles with the support of the Barcelona City Council and the Generalitat de Catalunya, to celebrate the work of Catalan architect Enric Miralles in his many facets as a creator, to mark the occasion of the 20th anniversary of his death.
Chronicling the pandemic
A research project that the Equilibrium Network is instigating:
They are inviting anyone and everyone who is working within the built environment to send a short video of themselves, filmed on their phones, talking about the impact that the pandemic has had on their lives, and the long-term changes that they envisage as a result, both personally and professionally.
Further information can be found here: Chronicling the Pandemic
Crash Course
Architecture Centre Amsterdam, The Netherlands
Every Friday, a Crash Course on Amsterdam architecture and urbanism.
Date & time: every Friday, from 1.30 to 2.15 pm
Location: Arcam
Language: English
Price: € 7,50 p.p
www.arcam.nl/en/crash-course/
Le Corbusier's early drawings. 1902-1916
Curated by Danièle Pauly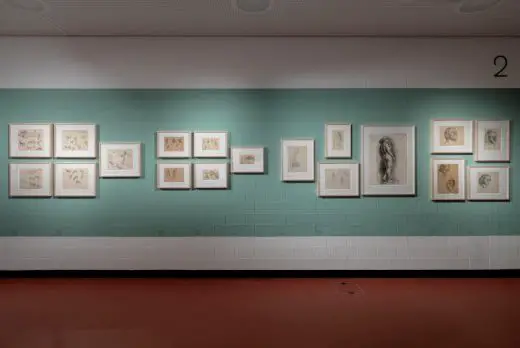 "Le Corbusier's early drawings. 1902-1916" | © Enrico Cano Teatro dell'architettura Mendrisio, interno, Università della Svizzera italiana | Architect: Mario Botta
Le Corbusier's early drawings. 1902-1916
"It Begins With One Word. Choose Your Own", Mies van der Rohe Pavilion, Barcelona, Catalunya, Spain
by artist Katarzyna Krakowiak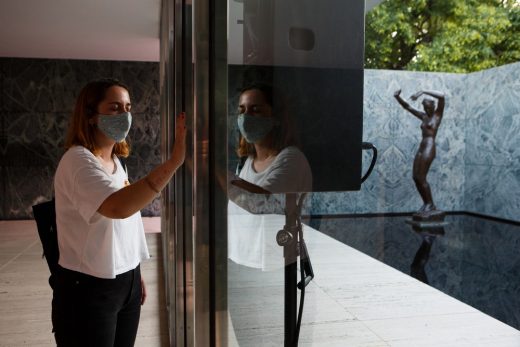 photo : Anna Mas
Sound Intervention at the Mies van der Rohe Pavilion
Sea Change: Flood Resilient Architecture for the 21st Century
Location: Roca London Gallery, Station Court, Townmead Road, London, SW6 2PY, England, UK
Exhibition Curator: Eva Woode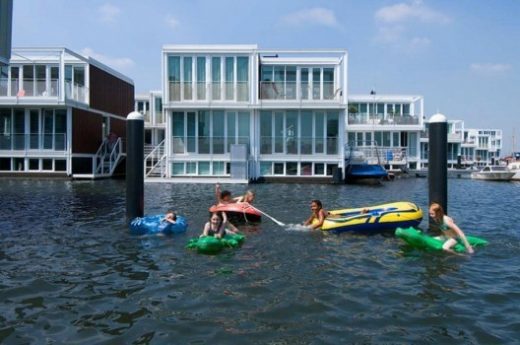 image courtesy of Roca
Roca London Gallery Spring Exhibition
Álvaro Siza. Viagem sem Programa
Curators: Raul Betti and Greta Ruffino
Location: Santa Maria della Scala – Piazza Duomo, Siena, Italy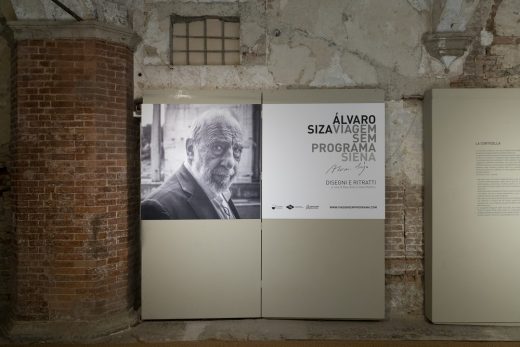 image courtesy of organisers
Travel Without Program Álvaro Siza Exhibition in Sienna
"shaping everyday life! bauhaus modernism in the GDR", Germany
Bauhaus Centenary in 2019
Flat Lands & Massive Things – From NL to NYC & Beyond, Berlin, Germany
Exhibiton by Archi-Tectonics – Winka Dubbeldam & Justin Korhammer, New York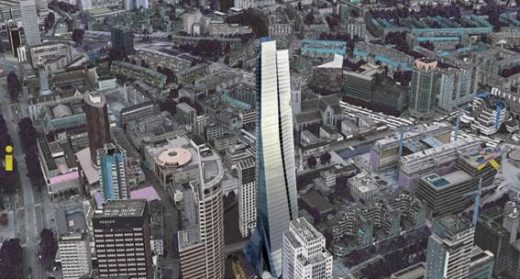 image © Archi-Tectonics
Archi-Tectonics Architecture Event
Architecture Events Archive – past architectural event information
Architecture Events 2016 Archive
More Building Events welcome!
Architecture Event Archive
Key Building Events, recently finished, listed by country:
UK
London Festival of Architecture Events
RIBA Architecture Exhibition, London
AA School Architecture Events, London
V&A Events, London
Pitzhanger Manor architecture exhibition, PM Gallery, Ealing, west London
USA
SCI-Arc Architecture Events, SCI-Arc Gallery, Los Angeles, CA
Contemporary Art Museum St. Louis, Missouri
Guggenheim Exhibition, New York City
Center for Architecture in New York Building Events, New York City
Los Angeles Forum for Architecture and Urban Design, CA
Architecture and the City Festival San Francisco Events, CA
Cooper Union Building Events, NYC
Gagosian Gallery Exhibition, New York City
Heinz Architectural Center Events, Carnegie Museum of Art, Pittsburgh, PA
Kansas City Design Week Architecture Events
NETHERLANDS
FRANCE
Carré d'Art-Nîmes Architecture Exhibition
ITALY
Mediterranean Academy Architecture Event, Italy
AUSTRALIA
Faculty of Architecture, Building and Planning, University of Melbourne Events
Glenn Murcutt International Architecture Event, Australia
Gold Coast City Gallery Architecture Events, Queensland, Australia
CUSP Architecture Event, Sydney, NSW, Australia
GERMANY
Aedes Gallery Architecture Exhibition, Berlin, Germany
UKRAINE
DENMARK
Danish Architecture Centre Events, Copenhagen, Denmark
PORTUGAL
Lisbon Architecture Triennale, Portugal
ISRAEL
Ermanno Tedeschi Gallery in Tel Aviv Exhibition, Tel Aviv, Israel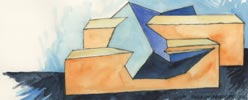 image by architect
Exhibition of Daniel Libeskind's Architectural Drawings
FINLAND
Museum of Finnish Architecture Events, Helsinki
ROMANIA
GIS Architecture Expo Event, Bucharest
INGLASS Architecture Conference, Romania
Events for the World Building Events 2021 page welcome