Underhill House, New Cotswolds Property, Gloucestershire Home, Building, Architect, Residence Design
Underhill House : New Cotswolds Home
New Gloucestershire Building design by Seymour-Smith Architects, England, UK
post updated with new photos 12 June 2020 ; 10 Nov 2010
Cotswolds House – Hill Barn
Design: Seymour-Smith Architects
Underhill House
Development by Seymour-Smith Architects, Gloucestershire, England, UK
Located in the heart of the English Cotswolds, Hill Barn was a derelict 300-year old barn situated in a prominent and beautiful location on a hillside in an Area of Outstanding Natural Beauty (AONB).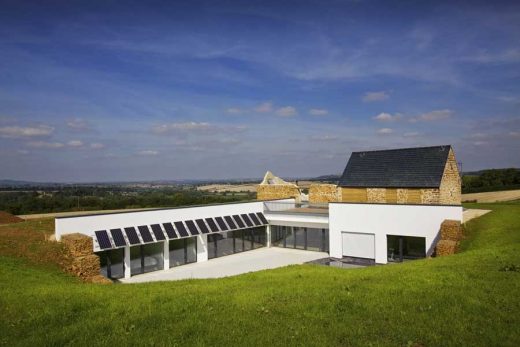 images from architect
Designed to safeguard an important local environment, the AONB designation made the prospect of obtaining planning permission for any development of the barn a daunting prospect.
To address this challenge, architect Helen Seymour-Smith developed a bold and ambitious proposal which involved a breakthrough building – called Underhill House – being constructed underneath and adjacent to the barn, which has now been carefully restored and will be used as an office for Helen's architectural practice.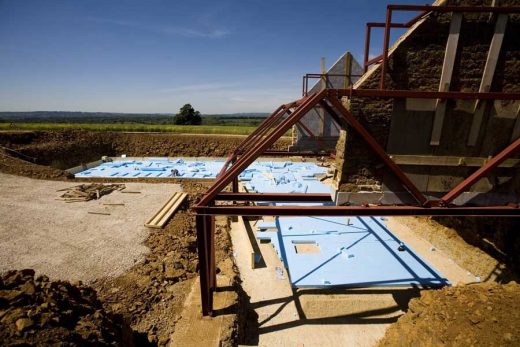 In contrast, the house – home for Helen, her husband and young son – is strikingly modern and designed to achieve Passivhaus standards. Dug into the hill and invisible from the surrounding countryside, the development has been designed to have minimal visual and environmental impact.
Despite a housing moratorium in the district of Stratford-upon-Avon, the local planning authority was impressed with the project's eco-credentials and its sensitivity to the local surroundings and voted to approve the proposals. However, because the development would go against local planning policy, final approval could not be achieved until the plans had been submitted to the Government Office for the West Midlands for its review.
Final planning approval was eventually achieved on 14 November 2007 and granted under paragraph 11 of PPS7, a policy which gives special dispensation for new houses in open countryside which are considered to be 'truly outstanding and ground-breaking' and reflect 'the highest standards in contemporary architecture'.
Underhill House was only the 10th in England to be granted planning under PPS7. Building work could get underway, with the first ground being turned in January 2009.
Underhill House subsequently became the first certified, quality-approved Passivhaus in England in January 2010.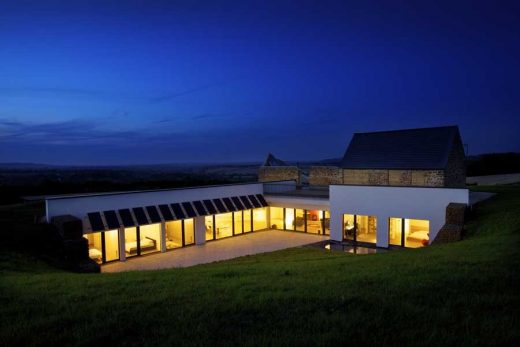 Designing for energy efficiency
Not only is the external form of Underhill House designed to minimise environmental impact, the interior form and construction materials were carefully chosen to make the building as environmentally sustainable as realistically possible.
Two sides of the L-shaped Underhill House face south and are glazed throughout with high-performance triple glazing, maximising solar gain and minimising heat loss. The rest of the structure is earth-sheltered and highly-insulated, creating the perfect passive solar design.
In addition, the structure of the underground house is constructed entirely from concrete, much of which has been left exposed internally to exploit the benefits of the thermal mass of the material. The basement walls, floors, and roof are all insulated with STYROFOAM-A materials from Dow Building Solutions and waterproofed externally for the same reason.
Chosen for its high moisture-resistance and compressive strength, STYROFOAM-A product FLOORMATE 300-A was installed below the vast concrete floor slab, helping to avoid thermal bridges at floor and wall junctions and achieving a U-value of 0.1 W/m2K.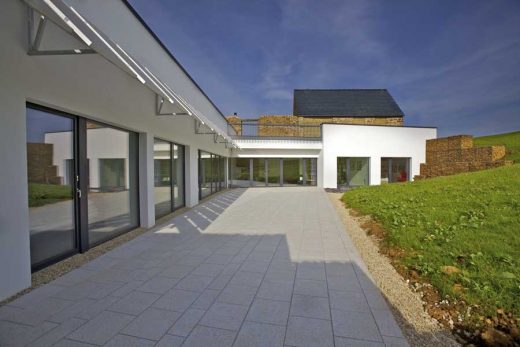 Whilst more weight was given to reducing the carbon emissions from the building's performance than to the embodied energy in the materials used, consideration has also been given to materials with recycled content. The concrete used contains PFA and GGBS as cement replacements. External paving uses the by product of the china clay industry, the screed is made of crushed glass bottles, and internal blockwork uses recycled sawdust.
Pholtovoltaics installed on the south facing wall generate most of the home's electricity, whilst a mechanical ventilation system with heat recovery connects to the hot water store. One side of the barn roof is covered in a glass slate system with solar hot water collectors beneath, and there is a small back-up wood stove also connected to the hot water store. There is no boiler.
As a result of this carefully thought-through design, no manufactured energy is required to heat the building. Air tightness tests on the building – a key requirement for a structure to qualify for Passivhaus certification – gave impressive results, with Underhill
House achieving an n50 result of 0.22 air changes an hour at 50 pascals. The already stringent Passivhaus requirement is 0.6 air changes an hour at 50 pascals.
Interior design and layout
The interior design is functional, stylish, industrial minimalism. The concrete structure is exposed and the galvanised steel ventilation ductwork and wiring conduits are celebrated rather than hidden.
There are dropped ceiling panels for acoustics and to define different areas within the large open plan main living space. Internal block walls have a thin spray applied plaster finish, and are mostly white to bounce light to the back of the plan, further aided by an innovative fibre optic lighting system.
The result according to the architect is like 'loft living underground' – and proof that Passivhaus construction standards and contemporary, striking design really can go hand in hand.
To find out more visit the website and architect's blog for Underhill House at www.aipassivhaus.com. Contact Dow Building Solutions by email on [email protected] or visit www.styrofoam.co.uk.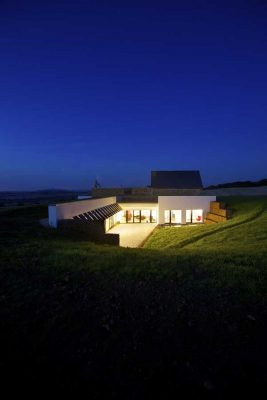 STYROFOAM-A products are manufactured in the UK using technology that takes CO2 from industry and uses it as a blowing agent in order to create blue extruded polystyrene foam with a Global Warming Potential (GWP) of less than five. They offer lightweight yet robust performance, high strength and excellent moisture resistance, making it ideal for below-ground and exposed roof-top insulation demands.
Dow Building Solutions, a division of The Dow Chemical Company, is dedicated to supplying the construction industry with innovative and effective solutions. The product range includes STYROFOAMTM-A extruded foamed polystyrene insulation, GREAT-STUFF™ polyurethane foam sealant, FROTH-PAK™ polyurethane foam spray systems, INSTA-STIK™ polyurethane adhesives and a range of accessories.STYROFOAMTM and FLOORMATETM are trademarks of The Dow Chemical Company ("Dow") or an affiliated company.
Underhill House images / information from KDPR
Location: Gloucestershire, western England, UK
Gloucestershire Property
Gloucestershire Properties – Selection
Glass Villa on the lake, Lechlade
Design: Mecanoo architecten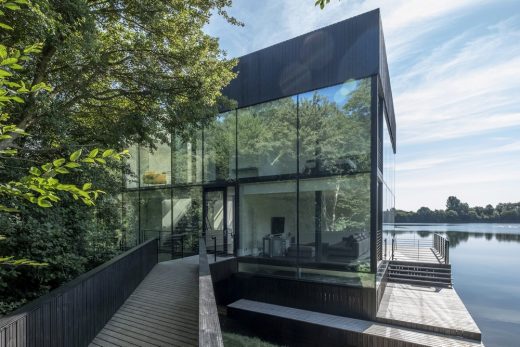 photo : Blue Sky Images
Glass Villa on the lake, Lechlade
Outhouse, Brockweir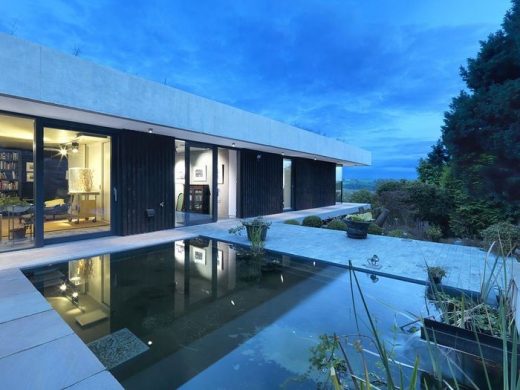 photograph : Charles Hosea
Gloucestershire Luxury House
Private House
Design: Found Associates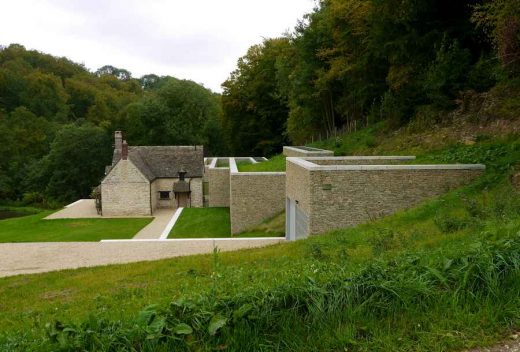 photo © David Russell
House in Gloucestershire
English Architecture
Contemporary Architecture in England
English Architecture Design – chronological list
Gloucestershire Properties
Gloucestershire Buildings – Selection
Maggies Cotswolds
MacCormac Jamieson Prichard
Maggies Cotswolds
Cheltenham's Art Gallery & Museum
Berman Guedes Stretton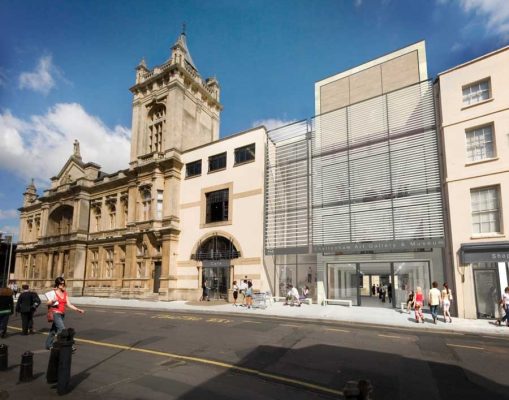 image from Berman Guedes Stretton Architects
Gloucestershire museum building
Gloucester Language Immersion Centre
Feilden Clegg Bradley Studios
Gloucester Language Immersion Centre
The Parabola Arts Centre
Foster Wilson Architects
Cheltenham Ladies' College Building
County Architecture near to Gloucestershire
Comments / photos for the Underhill House page welcome