Architectural Walking Tours References, City Guides, Building Walks, Trips
Architecture Walking Tours : References
Architectural Guides – Building Walks
Architecture Walking Tour References
Architecture Walking Tours FAQ
Architecture Walking Tour References:
Feedback from recent architectural tours by e-architect:
Manchester Architecture Tour – Reference
from Susanna Conte, Comunicare l'architettura, 10 Dec 2019
ref Manchester Architecture Walking Tour
Since my children are adults and one daughter is architect, when we travel as a family, we always try to organize a guided tour of the architecture of the cities.
We went to Manchester for a sporting event and we spent one full day visiting.
Kirill, our guide, a young architect graduated from Cambridge, showed us with great passion the conversion of old cotton factories and the new creative vocation of the city.
We have learned that today Manchester is a cosmopolitan, multi-ethnic city, with a strong commercial and tourist bent. The mix of ancient and modern makes Manchester welcoming, also thanks to the redevelopment of previously cramped areas such as the old workers' quarters.
Kirill was able to interest the whole group, declaiming passages from the Capital of Marx and capturing the attention even of non-architects.
Oxford Architecture Tour – Reference
from Helen Bromfield, Quattro Design, 8 Apr 2019
ref Oxford Architecture Walking Tour
I just wanted to drop you a line to say many thanks for the RIBA walking tour of Oxford on Friday and providing us with two interesting, knowledgeable and friendly guides.
We all enjoyed the tour and it was great to be shown parts of Oxford that we normally wouldn't have access to. Also the background to the buildings' design and their context was explained which made Oxford's post-war development more interesting and relevant to our designers.
Hope to use your company again in the future, many thanks again.
Porto Architecture Tour – Reference
On behalf of MSMR I'd like to thank you for giving us such a wonderful tour. The both of you were fountains of knowledge and my colleagues had nothing but positive things to say! I really enjoyed myself too so thank you again!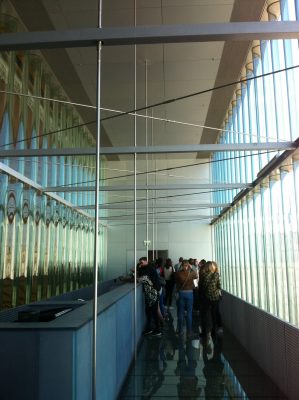 Obrigada,
Danielle Mittee, for MSMR Architects, 23 October 2017
ref Porto Architecture Walking Tour
Copenhagen Architecture Tour – Reference
from Matt Golds, Hunters South Architects, 5 June 2017
Hi Isabelle,
Just a quick email to let you know that we had a great time in Copenhagen and our tour was unanimously voted the highlight of the trip. Our guide managed to successfully navigate 18 of us around the city on bikes whilst giving us a great flavour of some of the amazing architecture, I can only applaud her for that!!
I am already starting to plan a trip for next year and will definitely be in touch once we have decided on a destination. Thanks for all of your help setting it up.
ref Copenhagen Architecture Walking Tour
London Architecture Tour – Reference
from Sara Simpson, maber, 22 May 2017
I would just like to say that we very much enjoyed having the opportunity to meet with yourself and your colleagues John and Katie for our tour of London. Maber would like to thank you for taking the time to show us around the capital and answer any questions we may have had. Our employees commented on how they enjoyed the tours given and found them to be insightful and interesting.
The visit to London will have given our employees a fresh insight into the capitals ever changing architectural structures that are currently and also have been, recently built.
ref London Architecture Walking Tour
Rotterdam Architecture Tour – Reference
from Danielle Mittee, for MSMR Architects, 28 Oct 2016
ref Rotterdam Architectural Walking Tours
I just wanted to say thank you for being such great guides. The two of you were very knowledgeable and were able to answer all the architects taxing questions. Again, many thanks.
Hamburg Architecture Tour – Reference
from Anette Rudshaug, hk arkitekter mnal, 2 Nov 2015
ref Hamburg Architecture Walking Tour
Hi, We had a great time, and I have received feedback from the others that they liked both the historical and new development areas of the tour! The group picture is attached, I am sorry about the blurriness.
Paris Architecture Tour – Reference
from Catherine Clarke, MSMR Architects, 31 Oct 2013
ref Paris Architecture Tours
We had a great time in Paris and the tour on Friday afternoon was very enjoyable. Fortunately the weather held for us which was a great relief! We all agree that both guides were very knowledgeable; I was in Rebecca's group and found her to be eloquent, articulate and very well-informed – her insights made for a really fascinating tour. Many thanks for arranging.
Glasgow Architecture Tour – Reference
from Gayle Hodge, In Conference Ltd, 16 Jul 2013
ref Glasgow Architecture Walking Tour
The tours (for around 150 people) went really well and I am sure all my delegates really enjoyed it. Thank you again for all your help.
Budapest Architecture Tour – Reference
from Henrik Stjernholm, TF Vejle Kommune, Denmark, 11 Jul 2013
ref Budapest Architecture Tour
This client booked a tour with us in Edinburgh in 2012 and enjoyed the service, hence this latest booking.
We would like to say thank you very much for a very fine study tour in Budapest. We all think that you have done a great job with your very professional attitude. You were very fast to understand and feel our "wishes and speed" and you did it in a very flexible way just as we liked. And you a have a big knowledge concerning the planning and architecture in Budapest, so it was very useful for us.



photo © Tamás Bujnovszky
So a very well organized study tour and also because you have sent a lot of useful suggestions and information in advance, so we could make a perfect program.
And of course it was also interesting to discuss the way of living and traditions in Hungary, and there you have a big knowledge about the society too.
Budapest is a very nice city and we were all very impressed of the city and the architectural quality in both the old quarters and the new buildings and squares etc. and we think that we can use something as an inspiration in our city.
Istanbul Architecture Walking Tour Reference
from Adrian Fini, Australia, 18 Mar 2013:
"The service was very professional and our guide Bilge made our visit to Istanbul even more interesting, enjoyable and a fantastic experience all round. Thank you. We will have no hesitation in recommending you".
Barcelona Architecture Tour – Reference
from Gale Tucker and Peter Newlin, FAIA, 8 Jan 2013
– excerpt, see Barcelona Walking Tours
Peter and I continue to talk about the trip…our trip was better than we could have ever expected.



photograph © Adrian Welch
London Architecture Walking & Bus Tour Reference
from Ragnhild Jordtveit Kristiansen, ARCASA arkitekter AS, 8 Nov 2012:
ref London Architecture Walking Tour
I have nothing but good things to say about our guide. We were all very satisfied, and very impressed about his skills and knowledge.



image © Nick Weall
We can truly recommend both e-architect and the guide!
Istanbul Architecture Tour Reference
from Tor Tvedten, Arkitektkontoret JoB AS Hafrsfjord, 6 Nov 2012:
ref Istanbul Architectural Walking Tours
The guide "met us at the hotel at the time we agreed with the minibus as requested. She gave us a very interesting tour of different sights and projects. She had good knowledge of the projects and the city in general, and gave us extensive and interesting information.



photo from architects
She has a very pleasant personality and she joined us for lunch and a drink after the tour. She also offered that we could call her anytime if we had any other questions. I have nothing negative to say, and can recommend her to anyone."
Architecture Tour


image by e-architect
Booking with e-architect at isabelle@e-architect.com
Architectural Tours by Continent
Architectural Tours by e-architect:
Architectural Tours in America
Architectural Designs
Architectural Tours
e-architect are expanding our architectural tour coverage: aspiring architectural guides are welcome to contact us.
For anyone interested in arranging a city tour please call or email Isabelle.
Photos for the Building Tours – City Tour Guide page welcome