Building Events 2016 Archive, Architecture Talks, Built Environment Exhibitions
Architecture Event 2016 Archive
Global Architectural Exhibition + Lecture + Award + Debate + Seminar + Show Information
Architecture Events – current information
This page is an archive for Architecture Events 2016.
Building Events – now on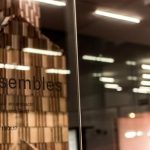 Architectural Events – rolling events diary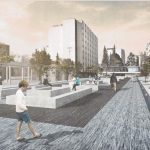 Architecture Events Links : links
Architecture Events 2016 Archive
Events in the latter part of 2016 are located on the Architecture Event page.
The Earth Architecture Workshop 2016, Ghana, Africa
July 13 – October 14, 2016
Project Title: The eARThouse Project for the Arts | Building a Creative Platform of Hands-on Knowledge for Sustainable Development of Rural Villages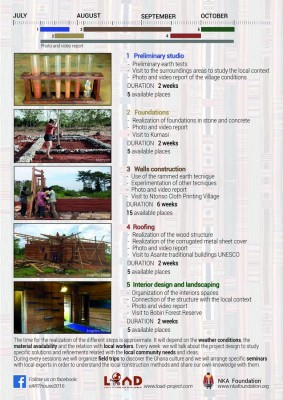 Contact: [email protected]
Project community page: eARThouse2016 on facebook
Address: The Designing Team: LOAD, Local Actions for Development, Bologna, Italy
[email protected], www.load-project.com
In partnership with NKA Foundation, www.nkafoundation.org
All submissions will be reviewed until available space is filled
LOAD, the eARThouse2016 Designing Team is pleased to announce the Earth Architecture Workshop 2016! We look for volunteers, experts, professionals, students of architecture and landscape to locate the completed unit and blend it with the rural surrounding, interior design to organize the interior spaces, product the furniture and fittings, photography/video arts for a documentary and artists to create works of art to adorn the various spaces. African students are welcome to do their part in the building project. Students can use the opportunity for internship, personal research or thesis.
Follow the project updates on eARThouse2016
If interested in participating in the project, send an introductory material on you, and a statement of interest to [email protected]
When and Where:
The workshop runs from the 13 of July to the 14th of October. The site is Abetenim Village, in the middle rural territories of the ancient Ashanti region of Ghana.
The Purposes:
The aspiration is to help develop a contemporary earth architecture tradition for the region
and along the way, create arts villages to promote arts and design education. The basic idea is to generate user-centered design for low-tech construction to create durable and scalable house types by exploring the accumulated knowledge about ways of building in a tropical climate.
A Platform of Hands-on Knowledge:
It is a reinterpretation of schools in terms of tradition and in the way communities hand down theirs culture. Life-long education is woven into the political, economic, spiritual and physical life. In other words, it envisions the total development of everyone. In an art village the two processes, creation and learning by doing, are very close. The house for artist acquires sensory values and a special sharing spot within the village, as an open learning system. The design aims to integrate locals and guests artist, both interested in enhancing their skills. This full cultural immersion triggers a virtuous circle which improves the unrecognised local resources. The goal is to create an active network of artists and locals, offer a platform for the presentation art, and to develop a critical forum for the promotion of Ghana culture.
The site:
The site of eARThouse project will be Abetenim, located in the Ejisu-Juaben District of the Ashanti Region, 40km from Kumasi. The village is dotted by mud house types and within a population of 1000 inhabitants, the people of the village are essentially farmers. As a local and widely available resource, earth and mud construction can serve as a natural building technology for durable future homes without the high cost and negative impacts of imported concrete and other foreign construction methods, to overcome the stigma of constructions made by earth usually referred to poor farmer's house and the mobilization of existing unrecognised local resources and cultural artistic heritage.
The Project:
Rammed earth method gives us the ability to self-build a wall with local resources and less waste of materials. The project emphasizes the use of available resources and employment to local artisans. The design is simple, practical and economical.
The Build-design Workshop:
The main goal is to bring together local builders, craftspeople and enthusiastic volunteers to share the knowledge and expertise of everyone involved to create a built environment in order to strengthen the earth construction in Ghana's long tradition of sustainable housing. On top of providing a community in need with new housing solutions, volunteers will learn how to build a earth house using a site-specific approach, traditional practices and encountering local materials, construction and community. They will immerse in the rich Ashanti's culture to explore and learn by collaborating on the building process and they will have the chance to visit local attractions participating in field trips.
Design, site-specific issues, and construction strategy are all debated in an effort to create useful structures that are environmentally sustainable and meet local needs. The project culminates in a public celebration of the completed project by way of open house exhibition, or public performance and foods. By engaging in field trips to observe local architecture and working on the building project with local builders, the international participants are exposed to Non-Western ways of thinking and doing in earth architecture.
The Costs:
The Earth Architecture Workshop 2016 is funded through participation donations from the project participants and private donations. These costs cover all fees associated with joining the workshop. The participation fee (300€) is used for the purchasing of material and supplies to complete the construction of the home for artists and a small percentage to cover the workshop organisation. Raising more contributions we will try to reduce them as much as possible. So, please help us to promote our workshop with your interested contacts and ensure the successful completion of the project.
EARTH ARCHITECTURE WORKSHOP 2016, ABETENIM VILLAGE, GHANA
JULY 13 – OCTOBER 14, 2016
Participation fee: 300€ (regardless your period of stay)
Weekly accommodation fee: 70€; Weekly food fee: 70€
Contact: earthouse.ghana2016(at)gmail.com
Natural Building Techniques inspired from Traditional Constructions, Athens, Greece
17 – 25 Sep 2016
The Greek Architects Association (SADAS-PEA) 8-day international workshop "Natural Building Techniques inspired from Traditional Constructions" that will take place between September 17th and 25th 2016.
Workshop Identity:
The workshop is organized by SADAS-PEA (Greek Architects Association) in order to promote the principle of environmentally friendly architecture. It is addressed to young architects and students of architecture. It will take place at the Stamos Stournas guesthouse near the city of Volos, Greece between September 17th and September 25th 2016.
The language of the workshop is English.
More information: http://www.sadas-pea.gr/international-workshop-2016/
Workshop Objectives:
The main objectives of the workshop are:
– Rediscovery of environmentally friendly construction techniques that were implemented by many generations of artisans in the past
– Understanding of the sustainable building principles of traditional constructions, and the way those principles determined buildings' form and function.
Workshop Structure:
The objectives of the workshop will be implemented through:
– Guided field trips to prehistoric settlements and traditional settlements of the Pilion peninsula and to a modern structure built with natural materials.
– Lectures from distinguished professionals
– Field practice in building stone foundations and unbaked clay brick walls
Communication:
SADAS-PEA (Greek Architects Association)
Telephone: +30 2103215146
Fax: +30 2103215147
E-mail: [email protected]
URL: www.sadas-pea.gr
Address
Vrysakiou 15
Postal Code: 10555
Athens
Greece
Website: Athens Architecture Event
Curatorial Project in Sydney, Tin Sheds Gallery, Darlington, NSW, Australia
28 Jul – 16 Sep 2016
A multiplicity of voices is the defining feature of architecture today. Never before have there been so many distinctive and original visions. The time is ripe to raise the inevitable questions:
– How many architectures do we need?
– Can we remain critical by simply accepting such a diverse and contradictory contemporary panoply of ideas?
– Do we let go of all unifying principles?
– Can we operate without authorities? Should the present diversity be encouraged?
– Should the most distinctive voices be amplified?
– Should we continue celebrating 'starchitects' who haul architecture in many different directions?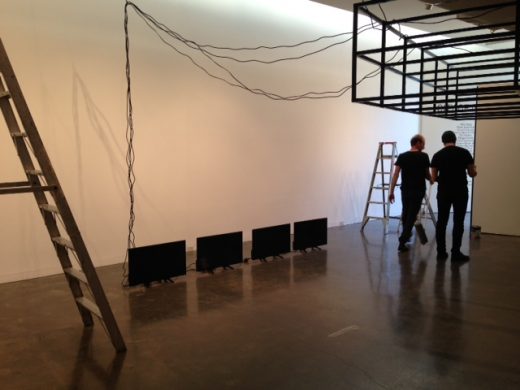 City of Ideas: Architects' Voices and Visions, curated by Vladimir Belogolovsky, is a stage for 13 such voices to be heard, juxtaposed and interpreted.
Presented through audio recordings, interview transcripts, quotes and images, this exhibition portrays today's leading architects and society in general. Listen to these voices as they help us challenge one fundamental question: what is architecture, here and now?
Featured architects' voices:
Will Alsop, Peter Eisenman, YonaFriedman, Anton Garcia Abril & Debora Mesa (Ensamble Studio), Zvi Hecker, Kengo Kuma, Daniel Libeskind, Juergen Mayer H., Glenn Murcutt, Wolf Prix (Coop Himmelb(l)au), Thom Mayne (Morphosis), Hani Rashid & Lise Anne Couture (Asymptote Architecture) and James Wines (SITE).
Vladimir Belogolovsky is the founder of the New York-based Intercontinental Curatorial Project, which focuses on organizing, curating, and designing architectural exhibitions worldwide. Trained as an architect at Cooper Union in New York, he has written over two hundred articles, as well as five books, Conversations with Architects (DOM, 2015), Harry Seidler: LIFEWORK (Rizzoli, 2014), Felix Novikov (TATLIN, 2009; DOM, 2013), Soviet Modernism: 1955-1985 (TATLIN, 2010), and Green House (TATLIN, 2009).
He has curated extensive international exhibitions including Harry Seidler: Painting Toward Architecture which has travelled the world since 2012; it was shown in over a dozen museums and universities across Europe, North and South America, and Australia.
EXHIBITION DATES
28 July – 16 September 2016
Tuesday to Friday, 11am – 5pm
Opening:
WHEN: Thursday, 28 July 2016 from 6:00 PM to 8:00 PM (AEST)
WHERE: Tin Sheds Gallery – 148 City Road, Darlington, NSW 2008, Australia
Link: http://curatorialproject.com/exhibitions/cityofideassydney.html
Design + Build Workshop, Sierra Leone 2016, Africa
20 Aug – 3 Sep 2016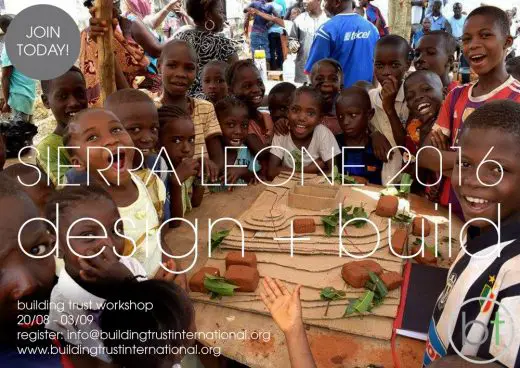 What will workshop participants learn?
Building Trust are happy to announce that we will be working alongside We Yone Child Foundation to design and build a new hall space for a school that we have been working on for the last 2 years. Building Trust have a number of sustainable design and build projects around the World in 2016, ranging from schools and housing to wildlife conservation and healthcare.
We are offering a hands on participatory workshop where you will gain experience in sustainable building techniques and understand more about humanitarian design while building worthwhile projects that will have a huge benefit to the local community. You will gain an insight into a number of building techniques and architectural styles.
This is a hands on course and will result in a new building for the school and community, you will learn on-site skills such as:
• Cinva Ram brick making (compressed stabilized earth bricks.)
• Wall building and brick laying with natural mortars
• Soil testing and stabilization
• Rammed earth form work and compacting
• Lime plastering
When: The fun bit with hands on lessons in the techniques mentioned above Sat 20th August – Sat 3rd Sept 2016
Website: Design + Build Workshop Sierra Leone
Constructing Communities Installations at RIBA HQ, London, UK
RIBA's summer showcase at Art Deco HQ and Peckham Levels
2016 London Festival of Architecture Event
The three installations at 66 Portland Place have been designed by teams from Feilden Clegg Bradley Studios, Erect Architecture, and MARGIN, a group of former students from Liverpool.
Exhibitions
21 Jun – 4 Aug 2016: 'Constructing Communities', three installations at RIBA's Art Deco HQ
Public launch event
Tuesday 21 Jun, 6-10pm, RIBA – Late Tuesday launch of the Constructing Communities installations, with a series of talks and debates on the theme of Community
London Festival of Architecture Event 2016
At Home in Britain: Designing the House of Tomorrow, London, UK
18 May – 29 Aug 2016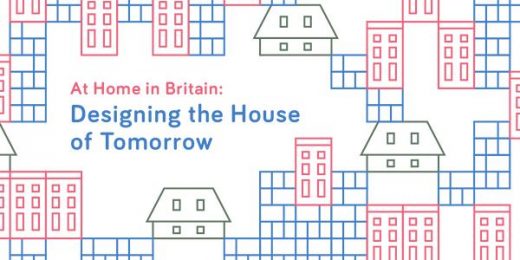 At Home in Britain re-examines how we live and speculates on the future of housing in Britain. Taking the cottage, the terraced house and the flat as a starting point and using RIBA Collections as stimulus, six newly commissioned works from contemporary architecture practices Jamie Fobert Architects, Mae, Maison Edouard François, Mecanoo, Studio Weave and vPPR transform these three familiar housing types to reflect the way we live and work in the 21st century.
A BBC and RIBA partnership
The season will be accompanied by a three-part BBC4 television series, presented by Dan Cruickshank, looking at the history of the cottage, terrace and flat.
RIBA London Architecture Event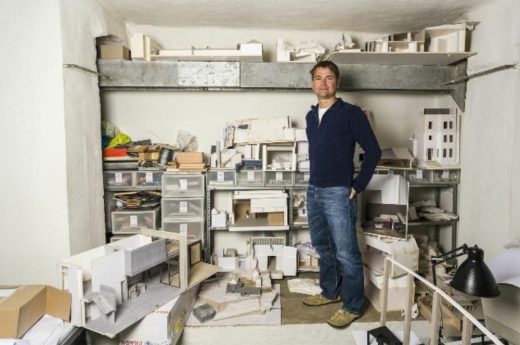 FREE ENTRY
18 May to 29 August 2016
Monday – Sunday 10am to 5pm
Tuesdays 10am to 8pm
The Architecture Gallery, RIBA, 66 Portland Place, London, W1B 1AD
http://www.architecture.com/Explore/ExhibitionsandEvents/AtHomeInBritain/AtHomeInBritain.aspx
Architectural Association Haiti Visiting School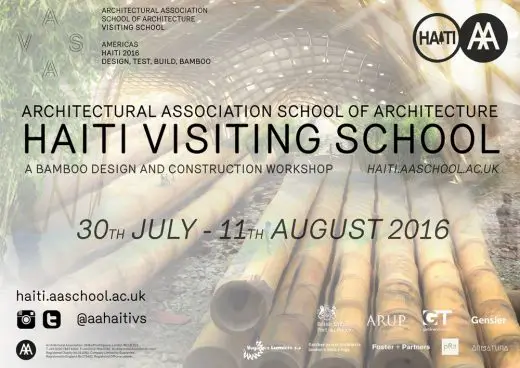 Dates: 30th July – 11th August 2016
Website and Applications: Haiti.aaschool.ac.uk
Architectural Association Haiti Visiting School 2016
SCI-Arc Event, Southern California Institute of Architecture, California, USA
Joe Day/deegen-day design
ARRAYS
June 3 – July 24, 2016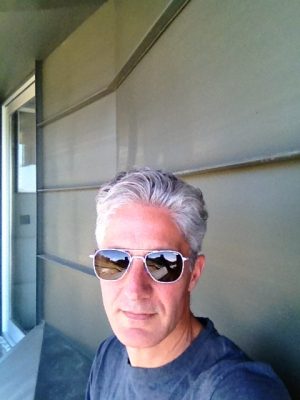 SCI-Arc is pleased to present Joe Day/deegen-day design: ARRAYS, opening June 3 in the SCI-Arc Library. ARRAYS collects over three dozen maps and diagrams developed by Joe Day and his practice deegan-day design over the last two decades. Many chart a domain within the field – contemporary architecture in Los Angeles, digital vanguard possibilities, the interests of his SCI-Arc colleagues. Others explore the neighboring disciplines of fine art, urbanism and cinema. Some imagine cross-pollinations between those worlds.
Southern California Institute of Architecture Event
LSE 'Urban Age' Conference at Venice Architecture Biennale, Venice, Italy
14 – 15 July 2016
LA BIENNALE DI VENEZIA PROVIDES A FITTING STAGE FOR
THE URBAN AGE 'SHAPING CITIES' CONFERENCE
Over 40 speakers from 25 cities in Asia, Africa, Europe, South and North America will gather in Venice at the Urban Age 'Shaping Cities' conference to debate one of the most pressing problems of the 21st century: How are cities shaped? By whom and for whom? How are the conflicts of our increasingly urban age – inequality, climate change, urban growth and expansion, informality, democratic representation and urban stewardship – experienced and lived by the majority of urban dwellers? And, what can we do to make cities more tolerant, adaptable and sustainable?
Mayors and urban leaders of Barcelona (Spain), Bogotá (Colombia), Kampala (Uganda), Venice (Italy), Paris (France) and Safed (Israel) will debate these questions with the key players in international and national organisations including the United Nations, UN Habitat, the Cities Alliance, India's National Institute of Urban Affairs and the Chicago Council on Global Affairs.
Urban decision-makers, researchers and commentators will join leading architects, planners and designers whose creative work and practical ideas feature in the world's largest and most respected architecture exhibition organised by La Biennale di Venezia.
The Bartlett School of Architecture Summer Show 2016, UCL, London, UK
One of the world's biggest architecture degree shows.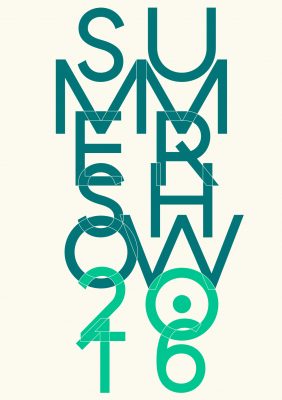 – Exhibition open to the public
Saturday 25 June – Saturday 9 July – at 140 Hampstead Road, London NW1 2BX
ARU School of Architecture Summer Exhibition, UK
7 – 23 June 2016
Anglia Ruskin's School of Architecture opens its doors to showcase 2016 projects
Anglia Ruskin University's School of Architecture will be opening its doors to the public tomorrow night [Tuesday, 7 June] for the launch of its annual Summer Exhibition.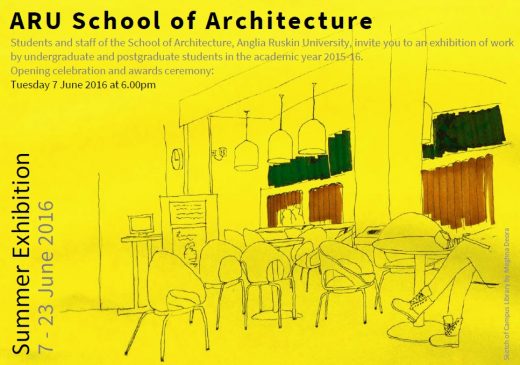 The exhibition, at Anglia Ruskin's Chelmsford campus, will showcase projects from students on a range of courses within the School of Architecture, such as the BA (Hons) Architecture, BSc (Hons) Architectural Technology, MSc Urban Design, MSc Town Planning and MSc Conservation of Buildings.
Architect Africa Film Festival 2016, The Bioscope in Maboneng, Johannesburg
23-26 June 2016
Fuelled by the magic of film and fired by the desire to celebrate architecture, the Architect Africa Film Festival was created in 2006 to acknowledge and embrace the astounding reality of urban living.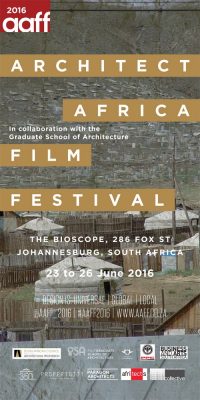 In 2016, the Architect Africa Film Festival (#AAFF2016) will partner with our valued sponsors – the SA Council for the Architectural Profession, the Graduate School of Architecture (GSA) at the University of Johannesburg, PPC Cement, Business & Arts South Africa, Saint-Gobain, Propertuity, the Paragon Group and Afritects – to bring audiences exciting and thought-provoking content on our dynamic and multi-layered built environment.
Visit www.aaff.co.za, follow us @AAFF_2016, and tweet #AAFF2016.
MANIERA 05 & 06 – architecten de vylder vinck taillieu & Bijoy Jain I Studio Mumbai, Brussels, Belgium
16 April – 21 May 2016
Opening on Saturday, 16 April
4 to 8 pm
New location
27 – 28, Place de la Justice
1000 Brussels
MANIERA 05 & 06
Limited edition furniture by
ARCHITECTEN DE VYLDER VINCK TAILLIEU (be)
BIJOY JAIN I STUDIO MUMBAI (in)
MANIERA 05 architecten de vylder vinck taillieu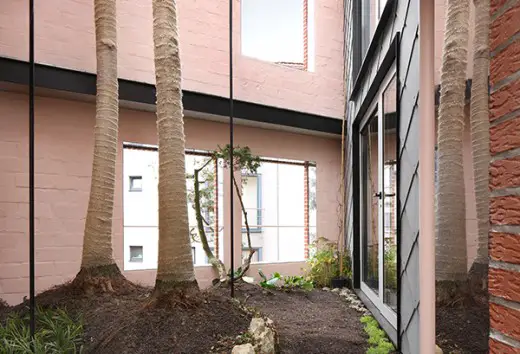 photo from Maniera © Filip Dujardin
H U I K
2015
MANIERA 06 Bijoy Jain I Studio Mumbai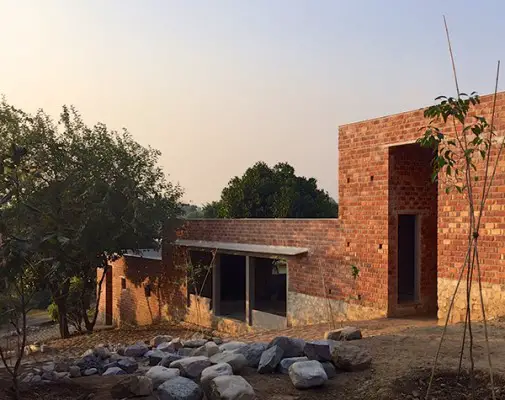 photo from Maniera
G A N G A M A K I S T U D I O
2016
The poetic and playful work of architecten de vylder vinck taillieu (Jan De Vylder, Inge Vinck and Jo Taillieu) combines a respect for what already exists with a lyrical and often humorous understanding of architecture as bricolage, as a construction within constructions like nesting matryoshka dolls. In their projects, they create curious plays of transparency, irony, optical illusions, duplications and copies of existing buildings. All this results in an extremely personal, 'sub-real' architectural world where reality and illusion magically blend, often compared to the surreal, pictorial world of René Magritte.
Indian architectural practice Studio Mumbai, founded by Bijoy Jain in 2005, has developed a body of work that continues to reference aspects of both Indian and Western cultures. What sets the studio apart is a brilliant combination of tradition and modernity. Local resources and Indian craftsmanship form the basis for highly contemporary architectural designs. Thoughtful and uncompromising to the last detail, the architecture of Studio Mumbai cares deeply about the relationship between man and nature and insists on the importance of the genius loci.
MANIERA
Limited Edition Furniture by Architects & Artists
27 – 28, Place de la Justice, 1000 Brussels
www.maniera.be [email protected] T +32 (0)494 787 290
Living in the city: New architecture from Brisbane and the Asia-Pacific, Asia Pacific Architecture Forum, Brisbane
19 Feb – 22 May 2016
Museum of Brisbane
Exhibition including the following projects and practices:
 Java Supermall Apartment and Hotel Tower, DAY Architecture Studio, Semerang, Indonesia
 Saadiyat Island Resort, DBI Design, Abu Dhabi, United Arab Emirates
 Shenzhen Affordable Housing Design, HASSELL, Shenzhen, China
 Jubilee Hills Residence, Research Design Office, Hyderabad, India
 National Kaohsiung Center for the Arts, Mecanoo, Kaohsiung, Taiwan
 House in Suwayama, Tato Architects, Kobe, Japan
 Chongqing IFC Tower, Woods Bagot, Chongqing, China
 Cheon-dong Apartment Complex, Easy Do-Si Architecture Office, Daejeon, South Korea
 The University of Auckland Science Centre, Architectus, Auckland, New Zealand
Architecture, Urbanism, Innovation Exhibition, Tokyo, Japan
The exhibition will be open at the Mori Art Museum in Tokyo until 14th February 2016, with a showcase of more than 50 projects completed by the architecture firm over the years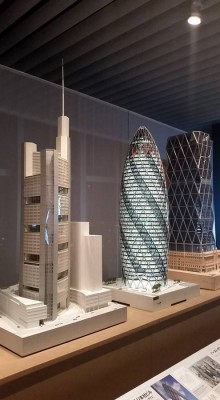 Tokyo, 18th January 2016 – The large-scale exhibition "Architecture, Urbanism, Innovation", currently running in Japan at the Mori Art Museum in Tokyo, is sponsored and partnered by Permasteelisa. It is organized in three sections with the aim of showcasing the most significant projects among over 300 carried out by Foster + Partners architecture firm throughout its history.
The exhibited projects are organized into the following 3 sections:
– The Architectural Philosophy behind Foster+ Partners;
– From Space to Environment: the Foster + Partners Design Process;
– Architecture, Urbanism, Innovation: Ideas for Future Lifestyles.
The exhibition is a detailed showcase of 50 projects selected among all projects of the architecture firm completed or currently under construction, through models, videos, drawings, sketches and computer graphics.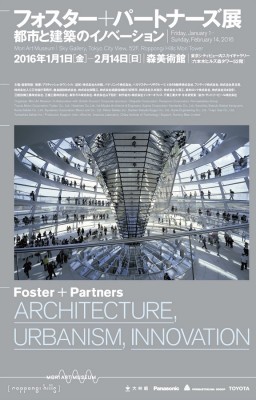 Permasteelisa Group sponsors and partners the exhibition, and cooperated with Foster + Partners in the engineering, construction and installation of cladding for 7 exhibited buildings, among which some of the historical projects of the studio as The Robert and Arlene Kogod Courtyard at the Smithsonian Institution in Washington DC, the Hearst Tower in New York City, and the Commerzbank Tower in Frankfurt.
The exhibition recounts the variety and complexity of projects developed over the years that marked the outstanding activity of the architecture firm based in London, from the construction of infrastructures to urban design projects, as well as several iconic skyscrapers that changed the urban landscape and the skyline of the major cities in the world.
Zaha Hadid Architects Exhibition, London, UK
DATES: Feb 2 – Mar 6 2016 9.00am – 5.00pm
VENUE: RIBA, 66 Portland Place, London, W1B 1AD
In honour of Dame Zaha Hadid receiving the 2016 Royal Gold Medal, RIBA is exhibiting the work of Zaha Hadid Architects (ZHA) until the end of February.
Being the first woman to be awarded the prestigious honour in her own right, the Royal Gold Medal is given by the RIBA in recognition of a lifetime's work. This exhibition therefore spans the breadth of Hadid's career.
A selection of models from some of ZHA's most notable built projects including The MAXXI Museum of 21st Century Arts in Rome (2010), the London Aquatics Centre for the 2012 Olympic Games and the Rosenthal Centre for Contemporary Art in Cincinnati (2003). Also showcased in the exhibition are models of the Bergisel Ski Jump in Innsbruck (2002), Beijing's New Airport (now under construction) and the 1000 Museum residential tower in Miami (also under construction).
Photographs capturing the diversity of ZHA's architecture will be shown in the Bistro at 66 until August; including those of Zaha Hadid's long-time collaborator Helene Binet, Iwan Baan's images of the Heydar Aliyev Centre in Baku, Azerbaijan and the MAXXI Museum, and Luke Hayes, who depicts two of ZHA's London projects: the Evelyn Grace Academy (2010) and London Aquatics Centre (2011).
Website: Zaha Hadid Architects Exhibition
distância(s) distance(s), Lisbon, Portugal
5 – 26 Feb 2016
Exposição individual de Escultura / Solo Sculpture exhibition
Autor / Author: Pedro Léger Pereira
Data / Date 5 – 26 Fevereiro February 2016
Monday to Friday 11-19 h
Inauguração / Opening reception: 4 de Fevereiro 2016. 19 h – 21 h
Local / location:
Galeria da Faculdade de Belas Artes da Universidade de Lisboa
Largo da Academia Nacional
de Belas-Artes, 1249-058 Lisboa, Portugal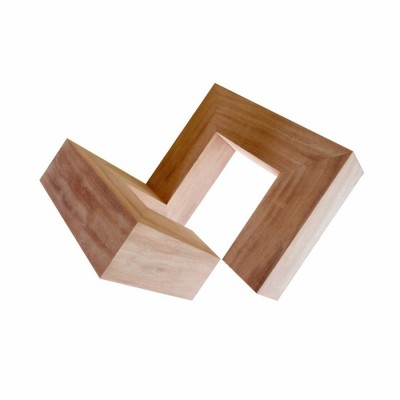 Curadoria / Curators: Jørgen Blitzner, Artista e Curador (NO) . José Esteves, Escultor (PT)
Música Original Original soundtrack (vídeo)
Sonja Otto (DE)
Informações for further information
Pedro Léger Pereira . (+47) 45693601 . www.pedrolegerpereira.pt . [email protected]
F.B.A.U.L. (+351) 213 252 100. www.belasartes.ulisboa.pt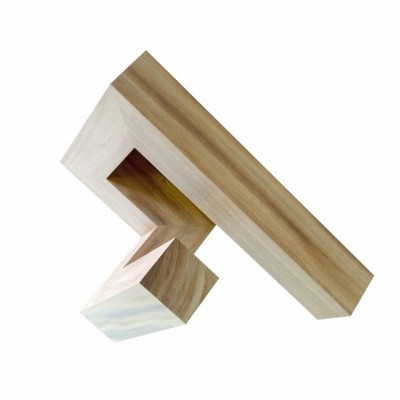 Pedro Léger Pereira is an architect and sculptor currently working with Todd Saunders in Saunders Architecture, Norway.
A new Sculpture exhibition opens in February, where he develops some Architectural/Sculptural forms in wood.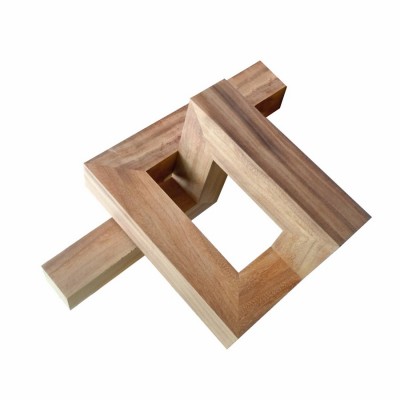 It's a series of seven sculptures/forms with varies dimensions (between 40 cm to 1 m) and this new exhibition will take place in a old convent in Lisbon city center (nowadays the Beaux Arts University). www.pedrolegerpereira.pt.
Architecture Events 2015 Archive
RIBA President's Medals Exhibition, London, England, UK
Exhibition showcasing award winning projects by architectural students from around the world in 2015.
DATE: December 3 2015 • 9.00am to January 30 2016 • 5.26pm
CONTACT: Public Programmes (020) 7307 3699 [email protected]
VENUE: RIBA, London
The RIBA President's Medals Student Awards are aimed at promoting excellence in the study of architecture, rewarding talent, and encouraging architectural debate worldwide.
First awarded in 1836, they are among the most prestigious and long-lasting awards in architectural education anywhere in the world, preceding the Royal Gold Medal (for living architects) established in 1848. The awards categories include the Bronze Medal for Part 1, the Silver Medal for Part 2 and the Dissertation Medal.
In 2015, the RIBA invited 340 schools of architecture in 65 countries to submit entries that were then judged over three days by independent panels of international experts, including architects, academics, designers and artists. This exhibition features selected student work from these nominations and will be on display in the RIBA in London for two months before touring the UK and internationally in 2016.
All nominated projects can be viewed online at www.presidentsmedals.com.
http://www.architecture.com/WhatsOn/December2015/RIBAPresidentsMedalsExhibition.aspx
Fall 2015 Glass House Exhibitions + Programs, New Canaan, CT, USA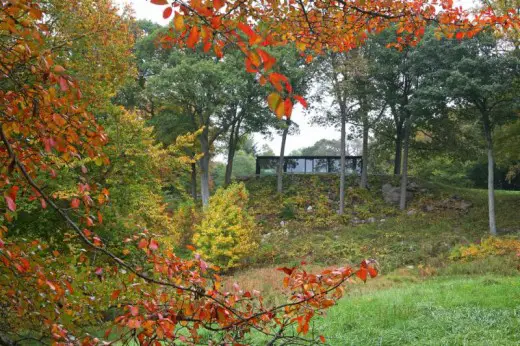 photo : Robin Hill
Night (1947 – 2015): Isa Genzken
On view Sep 1 – Nov 30
Isa Genzken, among the most significant artists working today, will present a new World Receiver sculpture to mark the final installment of Night (1947-2015), an unfolding exhibition in the Glass House where Alberto Giacometti's Night (1947) once stood. Genzken's practice has long engaged in celebration and critique of modern architecture, including an unrealized proposal for Johnson's AT&T building in 2000.
Enoc Perez: Lipstick
On view Oct 25 – Nov 30
This exhibition will present a new body of work by the artist that refers to the Lipstick Building (1986), an elliptical office tower in Manhattan designed by Philip Johnson and John Burgee. In each work, Perez uses his characteristic style to explore the formal qualities of the Lipstick Building in a variety of palettes.
The Glass House | 199 Elm Street | New Canaan | CT | 06840
November Lectures in London, UK
Nov 2015 – dates/times on the poster below: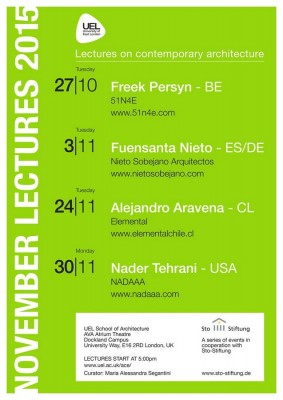 The event yearly organized by the Sto Foundation in four different European cities: Stuttgart, in Germany, Milan, in Italy, Graz, Paris, in France, Prague in Hungary, is, this year, including London for the first time.
All events are hosted by some major European Schools of Architecture, among them The University of Stuttgart, in Germany, the Politecnico of Milan, in Italy, the TU Graz, in Austria, the École Nationale Supérieure d'Architecture de Paris-Belleville in Paris, in France and the TU Prague in Hungary.
In London, the Sto Foundation has chosen, among others, the School of Architecture at the University of East London, for its outstanding positions on civic engagement and for its interest in manipulating materiality and new technologies.
Sto appointed a curator, Architect Maria Alessandra Segantini, Director of C+S Architects, (web.cipiuesse.it) to choose a topic of discussion and invite four outstanding architects to expand on it, through a lecture and a dialogue with her.
As the curator of the 2015 November Lectures in London, Segantini would like to address and discuss the question of public space in our complex information age.
Lecturers have been chosen for their capacity of tacking the nodes of a profession, that of the architect, which is presently undergoing a series of radical changes and where all the different stakeholder involved in the processes of design, construction and final users are asked to sit together around a table and discuss about the future of the piece of the city they are going to transform.
Invited speakers are Freek Persyn, 51N4E, Belgium, Fuensanta Nieto, Nieto Sobejano Architects, Spain, Germany, Alejandro Aravena, Elemental, Chile and Nader Tehrani, NADAAA, USA.
All of them have worked successfully in very specific but different ways to make the process of design an open-ended source.
Exposure: Coffey Architects, London, UK
Date: 15 Oct 15 – 24 Nov 2015 ; 10.00am – 5.00pm
Contact: RIBA Public Programmes – 020 7307 3699 [email protected]
Venue: The Practice Space, 66 Portland Place London W1B 1AD, London
Coffey Architects celebrate ten years in practice with an exhibition at the Practice Space exploring the relationship between photography, architecture, light and the thresholds created between spaces and experiences.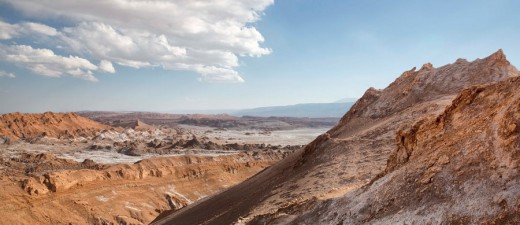 Atacama (c) Phil Coffey
HJEM, Copenhagen, Denmark
By Johna Hansen
25 Sep – 23 Oct 2015
The exhibition HJEM [home] begins with the consideration that places as well as objects hold traces of their inhabitants or owners. That codes can be found in the way things are used, constructed or structured around, which tell stories that reach beyond their functionality. If the inhabitant/owner is also the maker of the place/object, these two entities can coalesce. In this crossover, one can discover more than that which is immediately apparent.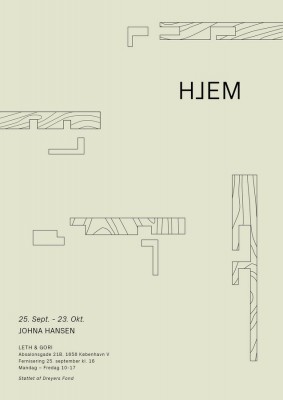 The Structural Timber Awards, England, UK
6 Oct 2015
THE STRUCTURAL TIMBER AWARDS
NEC, Birmingham
Evening of Tuesday 6th October
Link: http://www.structuraltimber.co.uk/events/view?eventid=98
Off-site Construction Show, ExCel London, England, UK
14 – 15 Oct 2015
Off-site Construction Show – a national exhibition held at ExCel London.
Wednesday 14th – Thursday 15th October
Link to Event: http://www.off-siteshow.co.uk/
This new and very important event for the offsite sector, the first major exhibition of offsite construction technologies.
Timber Expo, England, UK
6 – 8 Oct 2015
TIMBER EXPO – CONSTRUCTION WEEK
NEC, Birmingham
Timber Expo, 6th to 8th October, Construction Week 6th to 11th October
Link: http://www.ukconstructionweek.com/timber-expo
Blind Date, Chamber of Architects, Milan, Italy
Wonderland Architecture Events
Wonderland – platform for european architecture working with architects
5th IABR : Making City Istanbul, Turkey – Architecture exhibition



image from architects
5th IABR Building Events
IABR exhibition and seminar on the platform of the first Istanbul Design Biennale. Making City Istanbul is the last exhibition of the 5th IABR: Making City. The exhibition is part of Musibet, the main exhibition of the first Istanbul Design Biennial that opens on 10 October at the Istanbul Modern Museum.
Herwig Baumgartner and SCI-Arc Director Eric Owen Moss discuss the exhibition
Apertures4 is part of an ongoing topic in the work of Herwig Baumgartner and Scott Uriu that challenges the notion of apertures as flat glazed openings and redefines it as three dimensional objects creating thresholds between interior and exterior.
Living Laboratory: Richard Pare on Le Corbusier and Konstantin Melnikov
PM Gallery & House, Pitzhanger Manor, Ealing, west London, England, UK



photograph © Richard Pare, 2011
PM Gallery Architecture Exhibition
The works of two great architects and one exceptional British photographer will be celebrated in a new exhibition opening in London in March 2014. The buildings of two of the most influential modernist architects – Le Corbusier and Konstantin Melnikov – will be examined in a show devoted to the photography of Richard Pare.
META modernism Exhibition, Grenfell-Baines School of architecture, UCLAN, Preston, north west England, UK
from Nov 15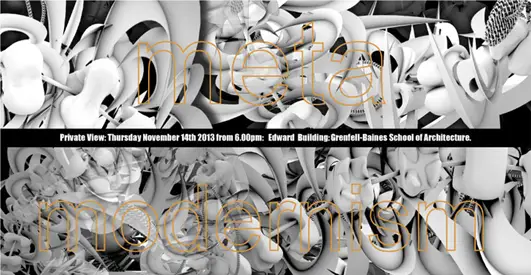 picture from organiser
This architecture event will take place in the Edward Building, which can be accessed from the front entrance of the architecture building at UCLAN opposite Granthams printers on Corporation street.
The title of the show is META modernism.
"The Modernist project is a disaster.
The abhorrence of the modern world, expressed most explicitly in a comprehensive popular rejection of the Modernist city, stands testament to the abject failure of the Modernist project to deliver its promised utopia. Mounting a Post-Modern critique of this failure, as irony and as dejection, was itself equally fruitless and ultimately facile, offering far less, in terms of substance, than the Modernist project itself.
If the terms Modernism and Post-Modernism are now somewhat lifeless, they retain between them, at least some prospect of a new order of re-engagement."
Living Cities Event, New York, NYC, USA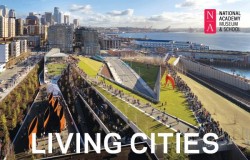 photo : Benjamin Benschneider
Wednesday, December 2, 2015 6:30 – 8 p.m.
National Academy Museum & School, Assembly Hall, 5 East 89th Street, New York, NY 10128
With a reception to follow in the Stone Room
Challenging the City Scale 2014-2018, London, England, UK
RECODE THE CITY FESTIVAL
London 21-23 Sep 2015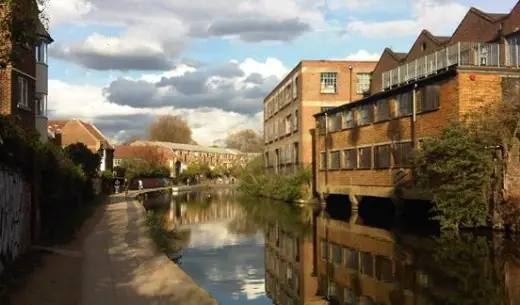 image from Human Cities
The Recode the City festival takes the Human Cities programme to London. Organised by Clear Village in collaboration with the Machines Room and Lime Wharf, and curated by Thomas Ermacora, founder/ creative & strategic director of Lime Wharf, Machines Room and Clear Village. Recode the City will bring together representatives from the Human Cities partner network for an action-packed programme of events during the London Design Festival.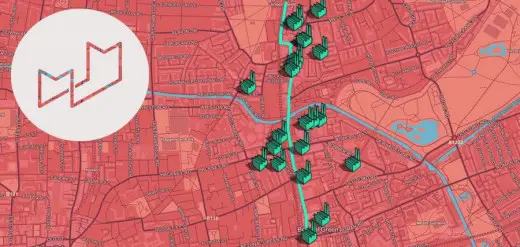 image from Human Cities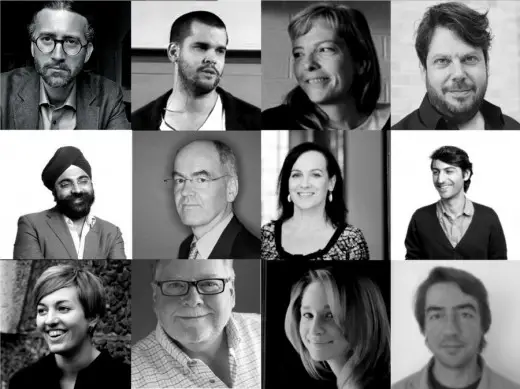 image from Human Cities
Co-Creation Briefing Session 1 – Ljubljana / 18.6.2015 – 19.6.2015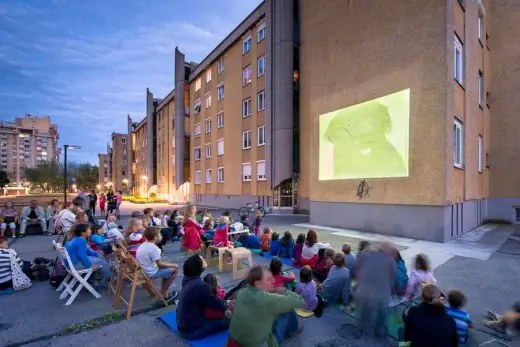 image from Human Cities
Co-Creation Briefing Session 2 – Saint-Etienne / 8.7.2015 – 9.7.2015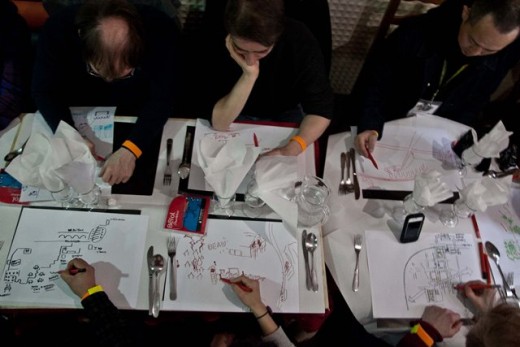 image from Human Cities
Co-Creation Briefing Session 3 – Helsinki / 27.8.2015 – 28.8.2015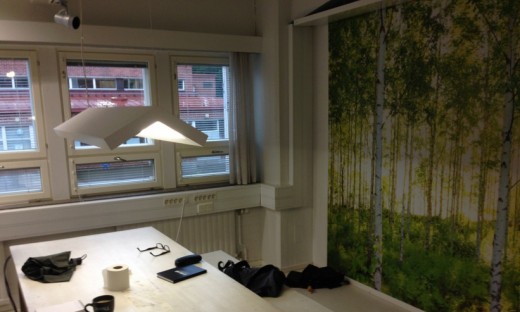 image from Human Cities
Architecture Events 2014 Archive
14th Glenn Murcutt International Architecture Master Class, Australia
6 – 20 Jul 2014



photo from Lindsay Johnston
Glenn Murcutt Masterclass
The fourteenth annual Glenn Murcutt Architecture Master Class will take place in Australia next July at 'Riversdale', the Boyd Education Centre on the shores of the Shoalhaven River south of Sydney. The now famous event has attracted practising architects, academics, postgraduates and some senior students from 70 nations around the world since its inception in 2001.
An exhibition by OBR Architects, London
8 Jul 2014. 6pm – 9:00pm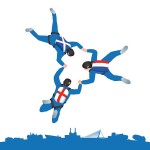 Location: Buro Happold, 17 Newman Street, London, W1T 1PD
Buro Happold's Emerging Architects series presents the work of OBR Open Building Research. OBR was established in 2000 by Paolo Brescia and Tommaso Principi to investigate new ways of contemporary living, creating a design network between Genoa, Milan, London and New York, further extended to Mumbai and Accra. OBR and Buro Happold cooperate on international projects to promote – through architecture – a sense of community and individual identities. The exhibition explores their design approach through completed projects and projects under construction in Italy, UK, India and Ghana.
RSVP: [email protected]
Mid-Atlantic Sustainability Conference, James Madison University, Virginia, USA
4 Sep 2014 04:30 GMT-7
The Mid-Atlantic Sustainability Conference in Harrisonburg, Virginia brings together thoughtful leaders in the residential and commercial building industry and aims to inspire building for the future.
Organised by The Gaines Group, PLC Architecture and Design
Architecture Event – Call for Exhibits
CELA (Council of Educators in Landscape Architecture) 2014
Call for Exhibits Deadline – 30 Oct
http://www.thecela.org/pdfs/cela_2014_abstracts_call.pdf
To celebrate the creative work within landscape architecture realm, CELA 2014 calls for exhibits: paintings, sketches, poetry, textiles, prints, outdoor sculptures, digital art, collage, photomontage, that have found the truth of their being, in addressing the conference theme. The exhibition will run from the evening of opening reception until the eve of closing day of the conference.
Artwork to be submitted should have been undertaken outside the academic class work as an original creative pursuit. The call is open to all students, faculty, practitioners, land artists and creative professionals who are interested in understanding, revealing, questioning, challenging, and contributing to landscape architecture.
Submit images of your artwork to the e-mail: [email protected] along with a description of exhibit type including title, medium, dimensions, date completed and space + time requirements for installation. Submissions should be accompanied by an Artist's Statement in poetry or prose of up to 300 words. A panel of Artists and Critics will review the artwork and some of the best work will be recognized.
Exhibition spaces available includes walls, indoor and outdoor floor space, digital screens and display pedestals with sizes of 15" X 15", 26" X 32" and 30" X 46". Sculptural works should be less than 8' X 8' and fit through 46" doors. Selected work would be eligible for limited honoraria to offset transportation costs.
San Francisco Architecture Events, California, USA
Sonoma Living: Home Tours Headquarters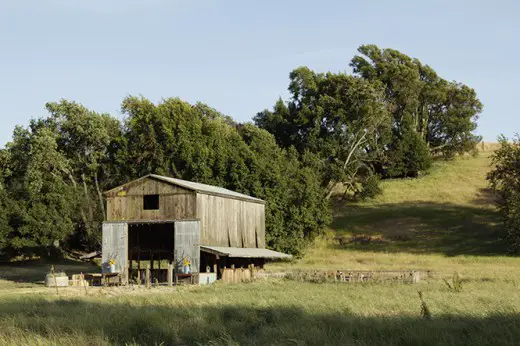 San Francisco Architecture Events
Rice Design Alliance Events, Texas, USA
UB School of Architecture & Planning Buffalo Events, NY, USA
Architectural Association Architecture Events, England, UK



photo from The Architectural Association School of Architecture
AA School Architecture Events
ArchiLab Architecture Symposiums, Orléans, France – two events



image © Xuberance
The Turbulences FRAC Centre Event
Architecture Whispers Event, Paris, France



photo : Quentin Dubret
Architecture Centre Bristol, England



photo © Jonathan Leijonhufvud
Faculty of Architecture University Hong Kong Events, China



picture from architect
Bartlett School of Architecture Event, London, England
Bartlett School of Architecture Alumni Social
Wates House, 22 Gordon St, London
Join fellow alumni for an informal social event to celebrate the New Year. 2014 is an exciting year for The Bartlett as the long-awaited refurbishment of Wates House begins. Get an update on the Wates House project from Professor Alan Penn, Dean of the Bartlett Faculty of the Built Environment, and hear about our new plans for future alumni activities.
V&A Architecture Events, London, UK
University of Melbourne School of Design Architecture Event, Melbourne, Australia



image from University of Melbourne
AIA Kansas City Architecture Event
University of Westminster Events, London, UK : Building Lectures
Deutsches Architektur Museum – Building Exhibitions, Germany
Columbia University Architecture Event – GSAPP : NYC, USA
Events for the World Architecture Events 2016 page welcome