San Francisco Architecture Event, AIA Seminar, Building, USA, Bay Area Architects News
AIA San Francisco Events
Bay Area Buildings + Architectural Developments in California, United States of America
updated May 19, 2018
AIA San Francisco News
AIA San Francisco Small Firms, Great Projects
CALL FOR ENTRIES: SMALL FIRMS, GREAT PROJECTS
Early Entry Deadline May 25
Open to architecture, landscape architecture, interior architecture, and architectural lighting firms with 19 or fewer employees, Small Firms, Great Projects provides a platform for small firms to feature their best work in print, online, and in a companion exhibition. Take advantage of this special opportunity to showcase your creative work to a target market of potential clients!
Complete your submission by Friday, May 25, to save on entry fees. The early entry deadline is only one week away!
Through engagement with allied professionals, Small Firms, Great Projects further amplifies the collaborative nature of great design in this resource directory. AIASF is excited to partner with American Society of Landscape Architects Northern California Chapter, International Interior Design Association Northern California Chapter, and Illuminating Engineering Society San Francisco Section on the 14th edition of Small Firms, Great Projects.
SMALL FIRMS, GREAT PROJECTS EXHIBIT OPENS SOON!
The Small Firms, Great Projects exhibition is opening soon in the AIASF Gallery! View featured projects from the program's 12th and 13th editions. The Gallery is open to the public Monday through Friday, 9 AM to 5 PM. For more information, please contact the AIASF reception at [email protected].
EVENTS
NEXT
May 31 – Jun 1, 2018
NEXT is AIASF's premier conferencing event organized for stakeholders of the built environment to learn, share, and grow. The 2018 NEXT Conference theme seeks to expand dialogue and engagement around the United Nation's New Urban Agenda—a bold roadmap to promote sustainable, regenerative, and equitable growth in our cities. The conference will concentrate on taking a proactive stance to prepare a blueprint to achieve a happier and healthier world by 2030.
For the goals to be reached, we look to the local design community to submit proposals that show how you'll create inspiring and empowering experiences; feature interactive and engaging learning; and showcase emerging trends and innovations as part of the local effort towards a sustainable future.
http://www.aiasf.org/page/NEXT
AIASF NEXT/EVOLUTION on May 31 + June 1, 2018
Spend two days learning and networking with the AEC industry's best and brightest to form the roadmap that will help us evolve as professionals.
2018 Design Awards Call for Submissions
Early Deadline: February 1, 1:00 PM (PST)
Final Deadline: February 15, 1:00 PM (PST)
In existence for nearly half a century, AIA San Francisco's Design Awards program recognizes the outstanding achievements in architecture and design of Bay Area individuals and organizations as well as celebrates the distinguished work of architects and related professionals from afar who contribute to the framework of our local built environment. The program serves to inform the public of the breadth and value of architectural practice.
Center for Jewish Life, Drexel University by Stanley Saitowitz + Natoma Architects, Inc. | AIASF 2017 Design Awards, Honor Award in Architecture:


photo : Richard Barnes
The Design Awards submission is structured into main categories and optional concentrations. In addition to the design awards given in each main category—Architecture, Interior Architecture, and Unbuilt Design—the jury based in Boston, Massachusetts may also choose to recognize projects that exhibit special achievements in three concentrations, giving special acknowledgement to projects that further encompass the values of good design within the context of historic preservation, urban design, and social responsibility.
ARE Pact Enrollment is Open
AIASF's ARE Pact program offers the perfect incentive to get licensed: take all exams required by NCARB for licensing within 12 months and you will receive a full refund of your $1,000 enrollment deposit. Enrollment in the program includes a peer study group organized by AIASF, a team leader and coach assigned to your group, free admission to year-long class lectures, and much more.
Recent Events:
Jan 6, 2018
California Courthouses: The New San Diego Courthouse + Upcoming Solicitation (1 LU/HSW)
Thursday, January 11, 2018 | 5:30 – 7:30 pm
Skidmore, Owings & Merrill, One Front Street, Suite 2400, San Francisco, CA, USA
Join AIASF's evening presentation and information session for interested firms to gain an understanding of current project objectives, the portfolio, and solicitation process in preparation for the upcoming architectural service solicitations.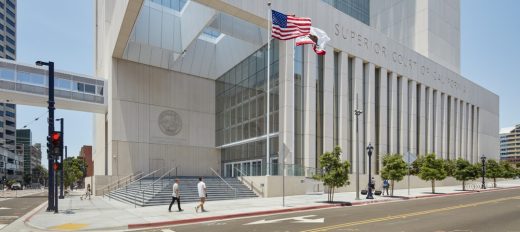 photo : Bruce Damonte
The New San Diego Courthouse
The new downtown 71-courtroom, 23-story, 704,000-gsf Superior Courthouse consolidates the interdisciplinary programs of the existing Criminal, Civil, Family and Probate court departments into a single facility.
Judicial Council of California As-Needed Architectural Services Solicitation
The Judicial Council seeks to identify a number of firms qualified to provide a wide range of Architectural Services for various projects to be initiated between April of 2018 through April of 2021 with possible extensions to April 2023.
Speakers:
Steven Sobel, FAIA, Managing Director, Skidmore, Owings & Merrill
Clifford Ham, Principal Architect, Judicial Council of California
Tim O'Connor, Project Manager, Real Estate and Facilities Management, Judicial Council of California
Brianna Darlington, Contract Analyst, Branch Accounting and Procurement Office, Judicial Council of California
California Courthouses: The New San Diego Courthouse + Upcoming Solicitation (1 LU/HSW)
POSTPONED
Health + Science Committee presents: 15 Minutes of Fame
In the heart of a leading hub of biotechnology research and health-focused communities, the AIASF Health & Science Committee is dedicated to advancing knowledge and improving practice of Bay Area professionals engaged in the design, construction, and operations of healthcare facilities, healthy communities, and research facilities that drive innovation and discovery.
Oct 31, 2017
2017 AIASF Events for Fall 2017
Tatiana Bilbao Lecture + After Party
This took place on Monday, October 30, 7:00 – 10:30 PM
Lecture: California College of the Arts' Timken Lecture Hall, 1111 Eighth Street
After Party: Consentino City Showroom, 101 Henry Adams Street, #130
Tatiana Bilbao building design: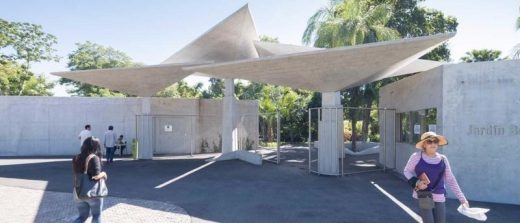 Join LiA (Latinos in Architecture) for an evening with award-winning Mexican Architect Tatiana Bilbao. Through a multicultural and multidisciplinary office, the work of Bilbao tries to understand the place that surrounds us in order to translate its rigid codes into architecture. It tries to regenerate spaces in order to humanize them as a reaction to global capitalism, opening up niches for cultural and economic development.
Integrated Design Process and Skills
A series of sessions offered by PG&E's Energy Training Centers and AIASF
Good design often grows out of a clear, simple concept. However, delivering a well-designed building can be complex!
To assist building professionals in this changing environment, this series of sessions is focused on integrated design and skills that can make the process more effective. While participation in the entire series is encouraged, each session stands on its own and can be attended separate from the series.
Registration is through PG&E's Energy Training Centers or via the links below for the individual programs. All programs qualify for AIA CES learning units with HSW.
Integrated Design Process: Project Goals and Metrics
Wednesday, November 1, 9:00 – 11:00 AM
Integrated Design for Projects of All Sizes and All Delivery Methods
Wednesday, November 8, 9:00 – 11:00 AM
Building Enclosures: Continuous Exterior Insulation, Thermal Continuity, and High R-Value Walls
Tuesday, November 14, 1:00 – 4:30 PM
ABAA + AIASF Air Barrier Symposium (6 HSWs)
Thursday, November 2, 9:00 AM – 4:15 PM
Join the Air Barrier Association of America for a day of Air Barrier Learning. ABAA is the National voice of the air barrier industry. Come join us for industry leading education and discussions on topics such as:
• Achieving High Performance
• Design Considerations
• Quality Assurance
• Flashings and Transitions
• Building Science
Industry Experts + Leaders ─ Nationally Recognized Speakers ─ Lunch Provided
2016 Accessibility Code Update, Privately Funded Housing + Universal Design Training (5 MCEs)
Friday, November 3, 9:00 AM – 3:00 PM
Complete all five hours of Mandatory Continuing Education required for your Architectural license renewal in one day. Seminar topics include: Recent 2016 CBC Code Changes, enforceable as of January 1, 2017 Universal Design Case Studies, Privately Funded Housing, Apartments, Condominiums, and Swimming Pools Private Residence Adaptation Case Study.
Steven B. Tipping Walking + Riding Tour
Tuesday, November 7 | 2:45 PM [MEET]; 3:00 PM [DEPART] SFPUC Headquarters, 525 Golden Gate Avenue
Over the arc of his long career, Steve Tipping became synonymous with "audacious, practical creativity" in the world of San Francisco Bay Area seismic engineering. His unique way of seeing and thinking about building projects won his firm, Tipping Structural Engineers, 41 national, regional, and local awards for excellence in engineering in 34 years of practice.
AIASF and SEAONC partner for this walking tour, which celebrates Stephen B. Tipping and his design philosophy – the full integration of project goals, the embrace of contradiction, and the courage to ask "what if" and "what else could be possible." His philosophy is founded on a sophisticated and deep understanding of structural behavior, and leads to new learning and continual innovation.
Mar 18, 2017
AIA San Francisco News in 2017
2017 AIASF Call for Presentations: NEXT/EVOLUTION
Deadline: Wednesday, March 29, 2017 at 5:00 pm PST
The American Institute of Architects, San Francisco Chapter (AIASF) is seeking experts to present at NEXT/EVOLUTION, a two-day educational and networking event in San Francisco June 1 + 2, 2017.
Day one (Thursday, June 1) will be an in-depth discussion focused on Homelessness, presented by the Small Firms Committee. Day two (Friday, June 2) will follow a three-track system highlighting the latest in design, business, and technology. It will be an unparalleled experience for presenters and attendees to share creative innovations in design, technological innovations for the next generation, as well as best practices for growing and managing your firm.
Presentations will be accepted online through March 29, 2017 at 5:00 PM PST.
What is NEXT/EVOLUTION?
Hosted in San Francisco, a city recognized as a leading hub for innovative design leaders and thinkers, AIASF NEXT/EVOLUTION is a great opportunity to showcase your cutting-edge ideas, projects, and practices that will impact the next generation of the architecture and design profession as well as the future of the built environment. Gathering the best and brightest in AEC for information sharing, conversation, and networking, AIASF NEXT/EVOLUTION will be the platform to help you generate new clients, relationships, and business.
Partnering with AIA San Francisco as a conference sponsor will be a great marketing and networking opportunity for you.
Partnering with AIASF as a NEXT/EVOLUTION sponsor will be a great marketing and networking opportunity for you! For more information about these opportunities and associated benefits, please email Kendra Adams at [email protected].
Mar 17, 2017
Town Hall with 2017 AIA National President, Thomas Vonier, FAIA
Monday, March 20th, 6:00 – 8:00 pm
At the last AIASF Town Hall Meeting on, December 2, 2016, members made clear their strong desire for connection, conversation, and coordination with our staff and volunteer leaders at AIA National.
To best serve members and continue this important conversation, 2017 AIA National President, Thomas Vonier, FAIA, has responded to an invitation to join the next Town Hall Meeting, from 6-8pm on March 20th at the AIASF headquarters office. Attend if you wish to contribute to the discussion and learn how AIA National is supporting the AIA's core values and mission.
Since the last AIASF Town Hall, the AIA National Board has invested time and effort to better clarify, represent and act on the organization's core values. To date, AIA National has released the following statements and information on advocacy:
● AIA – Where we Stand – A Statement of Values
● AIA – Advocacy 2017 Federal Agenda and Issues
● AIA – Where we Stand on Immigration
We encourage your participation in the upcoming Town Hall to discuss ways that we can move forward in our strategic goals as an organization of Architects and Allied Professionals. There is much to be done in our local, state and national community of professionals, and your continued involvement and feedback are important – we need you to stay involved.
While not everyone will have the same views, it is important that we come together on common values that affirm our relevance to the communities we serve. Together we are more impactful than we are as individuals.
Email [email protected] and advise what topics you would like to see addressed at the Town Hall on March 20th.
Mar 9, 2017
2017 AIASF Design Awards Gala
Winning projects will be announced at the Design Awards Ceremony and Gala on Tuesday, April 18, 2017 at the Herbst Theatre of the San Francisco War Memorial and Performing Arts Center.
Website: 2017 AIASF Design Awards Ceremony + Gala
2017 AIASF Design Awards Jury
Brian Cavanaugh, AIA, is a Principal and Co-Founder of Architecture Building Culture (ABC). With over 20 years of experience, Brian has demonstrated a unique commitment to the practice of architecture and played a critical leadership role in his community. His record of design excellence, his contributions to academic and non-profit institutions, and his positions on municipal boards, all speak to a career built on a deeply held belief in the value of the architecture profession and its potential to serve the public good.
Brian is the current President of both AIA Portland and the Center for Architecture.
Amy Donohue, AIA, a principal with Bora Architects, has over 20 years of experience designing spaces for education, performance and collaborative work. Her recent projects include the Shanahan Center for Teaching and Learning at Harvey Mudd College, the Learning Innovation Center at Oregon State University, the Earlham College Center for Visual and Performing Arts, and the McHenry Library renovation and addition at University of California, Santa Cruz. In addition to her work in higher education, Amy has led a number of projects for Google and Microsoft. Amy holds a Bachelor of Design in Architecture from the University of Florida and a Master of Architecture degree from Princeton University.
Joann Le, AIA, was born and raised in Vietnam and immigrated to Wisconsin in 1972. She earned her bachelor's degree at the University of Wisconsin, Milwaukee, and subsequently acquired her master's degree at the University of California, Berkeley. She has practiced architecture in the California Bay Area and in Portland, Oregon, prior to founding DAO Architecture in 2004.
Ms. Le has more than 22 years of architectural experience; she has worked on a wide variety of educational, cultural, and recreational facilities, including art museums, classroom buildings, and theaters, while employed by the offices of Polshek and Partners, TVA Architects, and Thomas Hacker Architects. As principal at DAO, she has directed work on multipurpose, educational, and arts facilities in Portland, Hillsboro, Forest Grove, Canby, and other communities in the Portland-metropolitan area.
Thomas Robinson, AIA, founded LEVER Architecture, a progressive Portland-based practice, in 2009. His work explores how the innovative application of materials and building technology can create powerful spatial experiences for people. Thinking at the level of construction from the outset allows Robinson to quickly align concept with reality and bring greater quality to a wide range of built work. His 16-person practice is pioneering the use of cross-laminated timber (CLT) in the US with Framework, slated to be the first timber high-rise in the US and recipient of the US Tall Wood Building Prize. Prior to founding LEVER, Robinson led cultural and institutional projects for Allied Works and Herzog & de Meuron.
Carrie Strickland, AIA, earned a Bachelor of Architecture from the College of Design, Architecture, Art + Planning at the University of Cincinnati and is a registered architect in Oregon, Washington, California, Montana, Colorado and Ohio. She has built an extensive background in adaptive re-use and speculative development while advocating for design as the basis for urban interventions. Carrie has served as visiting professor at Portland State University and the University of Oregon. She regularly serves on forums and lecture panels discussing design in the Pacific Northwest; has served on the board of directors for the AIA Portland chapter; was chair of the City of Portland's Development Review Advisory Committee; and is a co-founder of Project Cityscope, a non-profit.
Website: 2016 AIASF Design Awards
updated Dec 17, 2019
AIA San Francisco Architecture Events up to 2014 – archive page
Address:
AIA San Francisco, 130 Sutter Street, Suite 600, San Francisco, CA 94104
Contact AIA San Francisco
AIA San Francisco t: 415.362.7397 f: 415.362.4802 [email protected] www.aiasf.org
Location: San Fransisco, Northern California, USA
San Francisco Architecture
Recent San Francisco Building Designs
Stanford University Law School Building, Palo Alto
Ennead Architects
Stanford University Building
San Francisco International Airport Terminal 2 Renovation
Gensler, Architects
San Francisco International Airport
American Architecture : major developments + designs
California Architecture : building images
San Francisco Buildings : A-Z list, no images
Center for Architecture in New York Events
Architecture and the City Festival San Francisco 2010
Comments / photos for the San Francisco Architecture Events page welcome