Building Events 2018 Archive, Architecture Talks across the Globe, Information
Architecture Events 2018 Archive
Architectural Exhibition + Lecture + Award + Debate + Seminar + Show Info
Architecture Events – current information
Building Events – now on
Architectural Events – rolling events diary
Architecture Events Links : links
Architecture Events 2018 Archive
Architecture Events Archive 2018, chronological:
Moscone Convention Center Expansion + Improvement Building Tour, San Francisco, California, USA
Wednesday, December 12, 2018, 10:00 – 11:30 AM
Moscone Convention Center, 747 Howard Street, San Francisco, California
$10 (AIASF Members); $15 (General)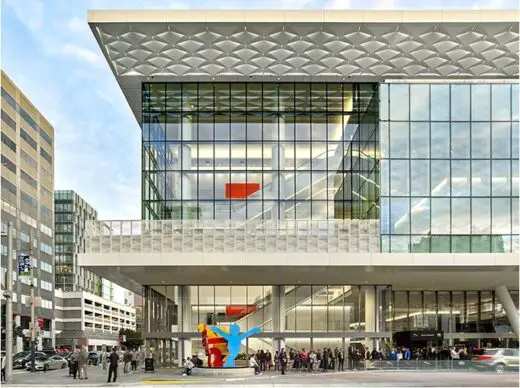 photo © Cesar Rubio Photography
Final opportunity to tour the Moscone Convention Center Expansion before the grand opening in January 2019.
Led by Mark Schwettmann, AIA, Skidmore, Owings & Merrill, this tour will take you through the expanded and improved Moscone Center's footprint of the existing site where the building reinvents the relationship between the convention center and the city.
The building's elegant horizontal profile meets the sky with a luminous and sculptural roof element while circulation is arranged at the public edges of the building and exposed through transparent and translucent materials, bringing natural light into interior public spaces.
Beyond the building itself, there are significant improvements to adjacent open spaces, the introduction of new retail opportunities, and a new mid-block connection from Third Street into the children's playground.
AIA San Francisco Architecture Event
Scenography of Space, Venice, Italy
This is a two-year interdisciplinary research initiative. It explores the architecture of sound and performance. Five films on show at the Time Space Existence exhibition in Venice each highlight key themes for concert hall design. The films feature contemporary practitioners and researchers in architecture, acoustics, scenography and culture.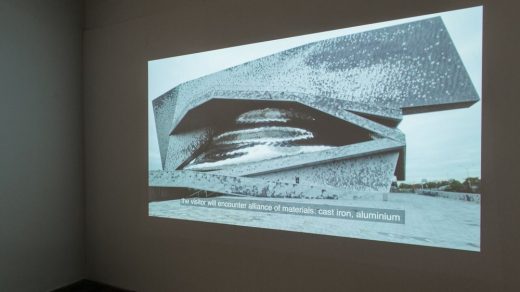 image courtesy of PLANE—SITE.
Three major European concert halls form the basis for this multidisciplinary conversation. Harpa in Reykjavik, Wroclaw's National Forum of Music and the Philharmonie de Paris redefine the architecture of performance and the musical experience.
SCENOGRAPHY OF SPACE is a self-initiated research project authored and produced by PLANE—SITE.
Watch the Scenography of Space videos on PLANE—SITE Vimeo channel:
Scenography of Space: Introduction from PLANE—SITE on Vimeo.
OPENING HOURS
May 26 – November 25, 2018 10am–6pm daily, except Tuesday
LOCATION
Palazzo Mora, Strada Nova, 3659, 30121 Venezia
MORE DETAILS
For more details about Scenography of Space visit the project page:
Flanders Architecture Institute Events, Belgium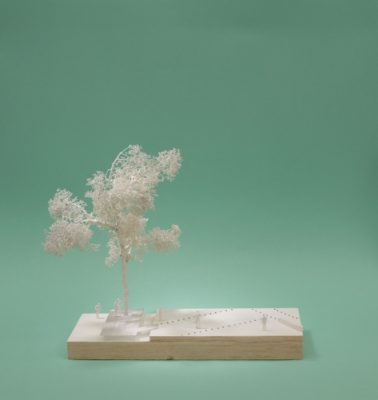 image courtesy of Flanders Architecture Institute
The ACROSS lecture series provides a forum for young Belgian architects on both sides of the language border.
ACROSS Antwerp
Thu 15 Nov – CENTRAL
Flanders Architecture Institute Events
Superstructures: The New Architecture 1960-1990, England, UK
24 March – 2 September 2018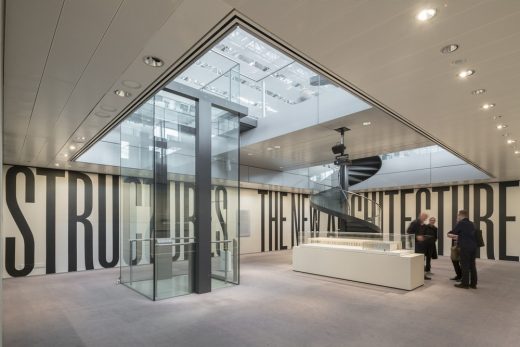 photograph ® Nigel Young – Foster + Partners
Sainsbury Centre for Visual Arts Building Exhibition
To mark the occasion the centre is hosting a major exhibition to shine a light on developments in architecture from the 1960s to the 1990s. It tells the story of architecture's fascination in the post-World War Two decades with new technology, lightweight structures, pioneering building techniques and innovative engineering solutions.
Exhibition of The Athens Architecture Club, Athens, Greece
11 Jul – 12 Aug 2018 ; Wednesday-Sunday, 2.00-9.00 pm
Contemporary Space: Athens 74, Mitropoleos str., Plaka, Greece
The exhibition is presented by The European Centre for Architecture, Art, Design and Urban Studies in collaboration with the Chicago Athenaeum Museum for Architecture and Design.
The First Annual Exhibition of The Athens Architecture Club will take place at Contemporary Space Athens. Twenty-five architects will present their artworks including architecture renderings, drawings, sketches, travel sketches, paintings, sculptures, and poetry.
Entry: free
More info at Tabanlioğlu Architects
The Royal Academy Inaugural Architecture Awards Day, London, England, UK
Wednesday 4 July 2018
Announcement of the winner of the Royal Academy Dorfman Award + Royal Academy Architecture Prize Lecture: Itsuko Hasegawa
By invitation
During the afternoon, 2.30 – 6.00 pm, the five finalists for the Royal Academy Dorfman Award will present in front of the jury. This will conclude with the announcement of the winner of the Royal Academy Dorfman Award and the presentation of the £10,000 prize and a celebratory drinks reception.
At 7.00 pm, the inaugural Royal Academy Architecture Prize winner Itsuko Hasegawa will present her work and influences in a special lecture before being presented with the prize medal.
Royal Academy of Arts Architecture Awards Week
1st European Conference on Architecture & the Media, Mies van der Rohe Pavilion, Barcelona
14-15 May 2018
The 1st European Conference on Architecture & the Media is conceived as an event to meet and exchange experiences on the dissemination of architecture.
It is addressed to journalists, cultural institutions and organisations, communication professionals, architects and architecture lovers.
The event will take place during the Barcelona Architecture Week 2018.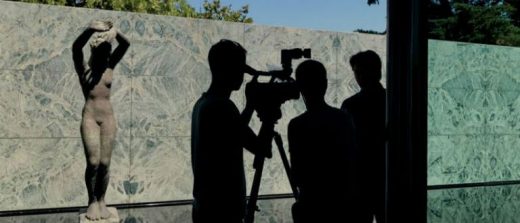 European Conference on Architecture & the Media in Barcelona
55th International Making Cities Livable Conference on Healthy, 10-Minute Neighborhoods, Canada
May 14-18, 2018
The Shaw Center, Ottawa, Canada
Join us in Ottawa to share your achievements and learn from others how we can best promote healthy, sustainable, equitable 10-minute neighborhoods. We shall discuss the best neighborhood models for encouraging walking, biking and public transit, high-density human scale mixed use, places to foster daily social life and community, opportunities for daily contact with nature, and equitable neighborhood planning.

Paper proposals are invited from elected officials, scholars and practitioners concerned with issues such as the following:
Planning 10-Minute neighborhoods
Land-use planning for new neighborhoods
Re-shaping suburbia into healthy 10-minute neighborhoods Essential elements of 10-minute neighborhoods
Generating Community in 10-Minute Neighborhoods Neighborhood plazas, sociable squares Reclaiming streets for people
Child- and elder-friendly lifetime community Form based coding to generate "Eyes on the Street" Combatting loneliness, depression, strengthening the "Social immune system"
Social networks in vertical and horizontal sprawl v. human scale density
The Healthy 10-Minute Neighborhood
Active mobility, walkable, bikable streets, complete streets, etc How the built and natural environment affects health Integrating public health and planning Health impact assessment Health effects of nature – parks, gardens, rivers, incidental green Health impact of air pollution, urban noise, light pollution; and mitigation strategies Fighting crime and anti-social behavior through urban design
The Ecologically Sustainable 10-Minute Neighborhood Fighting climate change by healthy urban design Transit-oriented, mixed-use development Restructuring suburbs: malls, multi-functional schools, mixed-use infill Sustainability of high-rise and sprawl v. human scale density Green architecture, green urban design Combatting food deserts, urban agriculture Healthy green and blue urban ecosystems
The Equitable 10-Minute Neighborhood
Health equity planning
Inclusive and equitable communities, healing social segregation Mixed-income/affordable family housing Stabilizing low-income home ownership, Shared equity housing, etc Community participation/ Children and youth involvement Prioritizing improvements in poor neighborhoods, barrios and favelas Housing the homeless/preventing homelessness Integrating immigrants and asylum seekers.
For more details and to submit a proposal, please see: www.livablecities.org/call-papers
5th International Iconic Houses Conference, Connecticut, USA
15 – 18 May 2018
Conference Theme: Modernism on the East Coast – Philip Johnson and the Harvard Five
Location: Dolce Norwalk, 32 Weed Avenue, Norwalk, CT 06850, USA. Tours will be held offsite.
Website: www.iconichouses.org
Hashtag: #IHC_2018
Conference Chair: Natascha Drabbe, Iconic Houses Founding Director / Director Van Schijndel House Utrecht, The Netherlands
Curated LIT Exhibition, ICA Gallery Space, Tokyo, Japan
13 – 16 May 2018
In January, 2018, the winners of the 1st annual LIT Design Awards were announced, celebrating international lighting product design and lighting implementation.
On May 13th, an exhibition featuring 30 of the winners, curated by Hossein Farmani, will be held at the ICA Gallery Space in Tokyo; the address is ICA3 Bldg E 2F. 3 Chome-4-6 Higashinihonbashi, Chūō, Tokyo, 103-0004 Japan. Founded by the Farmani Group, both LIT and TIFA are global awards competitions that bring recognition to established lighting designers and photographers, respectively.
The media and artists' reception will be held at this venue on Sunday, May 13th, between 3pm and 7pm. The exhibition will also be open on the 14th, 15th, and 16th from 12pm to 7pm for visitors to come view and learn about the inspiring projects. The LIT winners exhibited in this curated Tokyo Exhibition include lighting projects by Studio Roosegaarde, Arup, CBBLD, Baroncelli, Design Blitz, and many more. In total, 30 incredible products and projects will be on display, and the 2017 LIT Design Awards Catalogue of our winners and partners will be available for attendees.
In addition to the LIT Trophy, we will also exhibit three winning product designs: the Aerelight A1 OLED Lamp by Aerelight, HENYX by Anna Tomschik (Student Lighting Product Design of the Year), and Flyte: The Levitating Light by Simon Morris (Professional Lighting Product Design of the Year). Join us for the reception! Please email us at [email protected] if you are a designer, media person, or enthusiast interested in attending this curation of award-winning lighting designs.
About the Farmani Group: Farmani Group assembled the LIT Design Awards to bring attention to achievements in lighting product design and to promote the winning designers and implementers to the prominent audience worldwide. Farmani Group, established in 1985, is the organizer of the International Design Awards (IDA), London International Creative Awards, and The Lucie Awards for Photography, which has emerged as one of the world's most prestigious annual photography awards.
www.litwawards.com www.farmanigroup.com
Paperworld 2018 – Future Office, Frankfurt am Main, Germany
January 29 to 30
Lectures by:
Stefan Behnisch, Christine Kohlert, Werner Frosch, Michael Reiß, Jórunn Ragnarsdóttir, Malte Just, Martin Haller and Martina Bauer.
Lectures are held in German – Simultaneous translation into English
Paperworld: International trade fair for stationery, office supplies and writing instruments
Messe Frankfurt GmbH
Ludwig-Erhard-Anlage 1
DE-60327 Frankfurt am Main
Paperworld 2018 – Future Office
Tu casa es mi casa, Neutra VDL Research House, 2300 Silver Lake Boulevard, Los Angeles, CA, USA
Sep 23, 2017 – Jan 17, 2018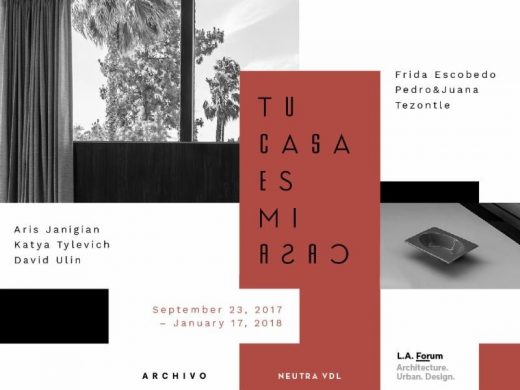 image courtesy of Richard and Dion Neutra VDL Studio/residences
Join the Los Angeles Forum for Architecture and Urban Design, Archivo Diseño y Arquitectura, and the Neutra VDL Studio and Residences, for the opening of Tu casa es mi casa, an exhibition that connects two modernist houses in Los Angeles and Mexico City via the exchange of texts, objects, and installations by contemporary writers and architects/artists.
Ensembles: Architecture and Craft, Antwerp, Belgium
Exhibition Ensembles highlights unique bond between craftsmanship and architecture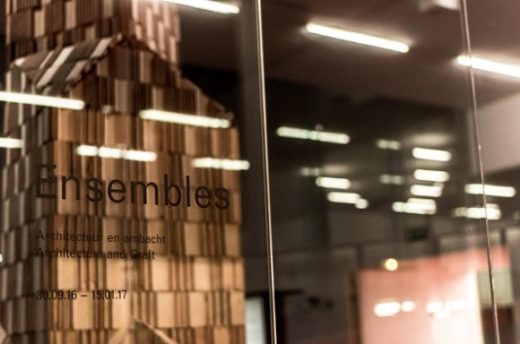 The exhibition Ensembles: Architecture and Craft can be seen in the Expo Hall of deSingel International Arts Campus in Antwerp until mid-January. The Flanders Architecture Institute presents a unique perspective on what craftsmanship means for the designers of yesterday and today. Bart Tritsmans, co-curator of Ensembles: "craftsmanship, traditional knowledge and historic skills lead to innovation in architecture through new forms of collaboration."
Video clip of Ensembles:

International Architecture and Construction Forum, Nice, France
"Larantino-Expo Nice Côte d'Azur 2018"
26 – 29 Apr 2018
Venue of the Forum: the biggest exhibition centre at the French Riviera in Nice, France.
The exhibition area will cover 40 000 sq.m. More than 2 500 exhibitors and 150 000 specialists and visitors from over 120 counties in the world will take part in the exhibition.
The exhibition covers:
-the whole spectrum of the latest developments in the field of house-building: construction of all types of luxury real estate, "smart houses", urban multi-storey buildings, boat-houses, wooden, frame, stone, marble, glass, seismic resistant, glued and rounded beam houses, etc.
– 3-D construction;
– baths, saunas, pools, fountains construction;
– furniture, interior design items, home textiles;
– the latest inventions of household appliances, home robotics;
– fence and parking systems, design and decoration of living area, interior art;
– heating systems, fireplaces, furnaces, chimneys, solar batteries, ventilation systems, conditioning, wind power stations;
– elevators, escalators, stairs, window systems, accessories, chimneys;
– building and decoration materials, construction equipment, building outfit and uniform;
– exclusive design of yachts, night clubs, objects of elite individual construction, airplanes;
– public amenity objects, churches, mosques;
– road construction.
The high number of financially wealthy visitors of the Forum from the richest European countries will provide you an opportunity to realize you product on quite favourable terms. Organizing the Forum at the French Riviera during the most popular time for tourist attraction (More than 10 million people visit the resort annually) will also become an advantage of this event.
Among the participants of the Forum are world leading French, Swiss, and other European banks and insurance companies. Representatives of the financial companies will offer favorable mortgage lending conditions for acquiring the presented at the Forum estate and other products. The visitors, who require financial funds, will not have to look for a bank to submit a set of necessary documents and wait unknown amount of time for review of the application. It will be possible to resolve all lending issues within the framework of the event, which significantly shortens the time of making order of the house construction presented at the exposition.
Within the framework of the event there will be tenders for the most quickly constructed and solid construction of residential buildings, multi-storey buildings, public amenity objects as well road construction and restoration projects of cultural and historical heritage monuments. Winners will be awarded construction and contracting works contracts to restore territories of Syria, Iraq, Libya, Donbass destroyed by military actions and suffered from natural disasters (flood, wood fire, earthquake).
The project will be financed by the relevant structures, the UN (UNESKO), the EU, international charities, states involved in the military conflict and well-known commercial structures from around the world. The estimated investment fund is more than 10 000 000 000 euro. Participation in the Forum will provide you with a unique opportunity to become a winner of the contest which will help you, in case of victory, guaranteed profit for a long time.
At the end of the event, near the roadway, within 10 km from the venue of the Forum, in an area of 2,000 square meters, will be created a permanent show room where, for the exhibitors' request, will be assembled houses represented at the Forum for the further work in promoting their products. That will allow you to reduce logistic costs significantly. Advantageous location on the territory of one of the wealthiest countries in Europe as well as high tourist activity during the year could bring you a sustainable income.
Participation: [email protected] +7 (495) 114 54 89 +7 (495) 114 54 85
More information: www.l-no.com / www.larantino.com
Milan Design Week 2018, Milan, Italy
17 – 22 April 2018
Contemporary Furniture Event in Italy – Salone del Mobile di Milano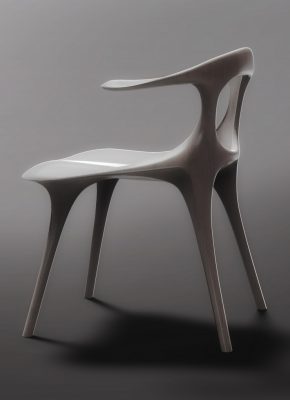 photo © MAD Architects
Buildtech Expo 2018 in Mandi, India
12 – 15 Apr 2018
5th A2Z Expo Present Buildtech Expo 2018 in MANDI, HIMACHAL PRADESH, INDIA
Buildtech Expo 2018 an Interior Exterior & Building Material Exhibition 2018 which is scheduled to be held from 12th to 15th APRIL 2018 at PADDLE SPORTS STADIUM MANDI, Himachal Pradesh Target Largest Hotel Industry Sector.
Architectural Workshop by the German architect Prof. Tobias Wallisser (LAVA), UAE
Series of Architecture Workshops by Architects & Designers
Workshop 12
"Ajman Iconic – Parametric Architecture"
by Tobias Wallisser of LAVA
15 – 18 April 2018
Ajman University (AU), UAE
College of Engineering
Department of Architectural Engineering
Program
Day 1 (Sunday 15 April 2018):
Public lecture and introduction: 10:00 – 12:00
Workshop: 13:00 – 16:00.
Day 2 (Monday 16 April 2018):
Workshop: 9:00 – 12:00 and 13:00 – 16:00.
Day 3 (Tuesday 17 April 2018):
Workshop: 9:00 – 12:00 and 13:00 – 16:00.
Day 4 (Wednesday 18 April 2018):
Workshop: 9:00 – 12:00
Final presentations and certificates: 13:00 – 16:00 pm.
WT Award 2018 – Cerimonia di Premiazione Milano Design Week, Italy
17 – 22 Apr 2018
Premio all'innovazione tecnologica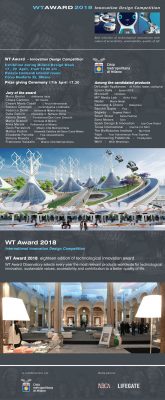 ORGANIZZATO DA WT Studio in collaborazione con Città metropolitana di Milano
LUOGO Palazzo Isimbardi – Sale interne C.so Monforte 35, Milano (MM 1 San Babila – Palestro / Bus 54 – 61 – 94 / tram 9 – 23 – 29 – 30)
DATE E ORARI 17 – 22 Aprile ore 10.00 – 18.30 20, 21 e 22 Aprile – estensione orario fino alle 20.00 Esposizione di una rassegna delle tecnologie candidate al premio. Entrata gratuita e aperta al pubblico con orario continuato.
CERIMONIA DI 17 Aprile – ore 17.30 PREMIAZIONE Cerimonia di premiazione WT Award 2018 in Sala del Consiglio Il Comitato d'Onore consegnerà i premi e le menzioni speciali ai vincitori Interviste e Press Conference
International Architecture Festival CANactions 2018, Kiev
20 – 21 Apr 2018
The CANactions International Architecture Festival is the largest architectural event in Ukraine.
On April 20-21, 2018 they will be hold the 11th CANactions Festival. Since 2008 it has become the biggest educational event in the sphere of Architecture and Urbanism in Ukraine and neighboring countries.
International Architecture Festival CANactions
Milan Design Week, Italy
Exhibition-event curated by Stefano Boeri Architetti
17 – 21 April 2018
The Milan Design Week exhibition-event "The future of living and the planet of the future" will be held at The Mall. Curated by Stefano Boeri Architetti for space&interiors 2018, the exhibition interprets the future, focussing on our living on the red planet, Mars, that has always been considered one of the possible future destinations of mankind.
Compensation: What you need to know, London, England
19 April 2018 6.30-8.30pm
Venue: Build Studios, 203 Westminster Bridge Road, SE1 7FP London
Price: £75 + VAT, £45 + VAT
Lecturer: Rowley Mossop, Innovia Partners
Compensation is more than salaries and annual bonuses. Compensation can shape behaviours and motivate talent to achieve individual and team goals. Participants of this presentation will learn a set of compensation tools that can be applied to align employees' performance and actions with the strategic needs of the firm, while also remaining competitive to attract and retain top talent.
This program is highly interactive and aims to provide participants with actionable insights to improve their compensation practices. It is suitable for practice leaders and those charged with related responsibilities.
Book tickets at Compensation: What you need to know
UNStudio & Royal Ahrend Presentation at the Architect's Breakfast, Milan, Italy
19 Apr 2018
This year UNStudio & Royal Ahrend will be giving a presentation about the future of work environments at the special yearly Salone event 'The Architect's Breakfast', which takes place on Thursday 19th April.
The Architects' Breakfast is an initiative by Masterly and Royal Ahrend.
UNStudio Architecture Event News
Garden City Mega City exhibition 2018, Austin, Texas, USA
Feb 27 – Apr 14, 2018
This architectural exhibition highlights sixteen of the architectural studio's built and unbuilt projects which embody their vision of how cities should evolve in the 21 st Century toward a more sustainable future.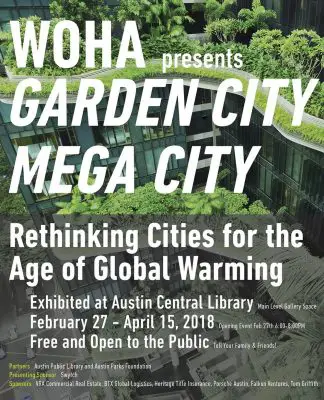 image courtesy of architects
Garden City | Mega City Exhibition in Austin, TX
An Idea for a Future London – City Now City Future, Museum of London, England, UK
Display 16 Feb – 15 Apr 2018
Part of City Now City Future
#CityNowCityFuture
An Idea for a Future London Event in 2018
• Project chosen following open call for 'An Idea for a Future London'
• VoiceOver Finsbury Park unites residents to share the future of London
• Hyper-local broadcasts crisscross and connect neighbours in Finsbury Park
Sean Scully – San Cristobal, Mexico City
7 Feb – 24 Mar 2018
Works by one of the world's leading abstract artists, Sean Scully will go on show at Luis Barragán's iconic modernist landmark, Cuadra San Cristóbal in Mexico City
Curated by Oscar Humphries, Sean Scully – San Cristobal is the first exhibition to be presented at Cuadra San Cristóbal and it is first time the artist's sculptures will be shown in Latin America.
Luis Barragán Exhibition in Mexico City
The Architects Series – A documentary on: Grimshaw, Milan, Italy
16 Apr 2018
On the occasion of the Fuorisalone, SpazioFMG per l'Architettura hosts the second event of The Architects Series, an exhibition format screening videos where famous Italian and international design studios tell us all about themselves and their approach to architecture.
Its next event, on Monday 16 April at 6.30 p.m., on the opening day of the Milan Design Week, will present the Grimshaw studio of New York.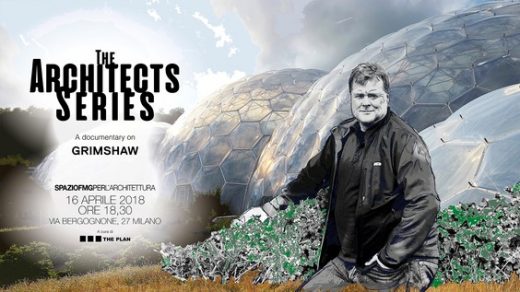 The screening will be followed by a conversation with Andrew Whalley, Deputy Chairman of the studio, entitled "Equation" in which he will analyse the case history of the Sustainability Pavilion for Expo 2020 Dubai.
Opening: Monday 16 April 2018
6.30 p.m. / Screening:The Architects Series – A documentary on: Grimshaw
7 p.m. / Conference: Andrew Whalley – "Equation"
Register: The Architects Series Event in Milan.
Speculative Science: Future and Change in Architecture, London, England
16 April 2018 6.30-8.30pm
Venue: Future Cities Catapult, 1 Sekforde Street, EC1R 0BE London
Architecture is often accused of being reluctant to embrace change. As other industries around it continue to evolve, what new approaches can prove to be disruptive for architecture? What does the future of the built environment look like? This talk will look outside the discipline and examine trends in science and technology that can help us think differently about the current state of architecture. From futures studies to microbiology, it will outline how speculative approaches across different disciplines can reshape the way we live today.
Book tickets at Future and Change in Architecture
Green Island, Milan, Italy
16 + 17 April 2018
MILANO DESIGN WEEK
OPENING + BIO appetizers in the GARDENS
MONDAY APRIL 16th, 6-8 pm
co/ RivaViva ecodesign Space
via Porro Lambertenghi 18, Isola District Milan
TUESDAY APRIL 17th, 6-8 pm
co/ MOMO Space, Isola District Milan
www.amaze.it
Eighteenth edition of GREEN ISLAND
Important anniversary for a pioneering project dedicated to urban and social ecologies. After the success of Urban Bee HIves (awarded with special mention to EXPO in CITY and with the Timberland International Price), this edition presents great news: an urban itinerary that promises to turn the area between Garibaldi Train Station and the Isola District into an urban garden, with artist's installations, eco-design, handicrafts, botany. The project will create an itinerary marked by 'green indications' drawn on the sidewalk, and special projcet dedicated to designers of Sarajevo, supported by images by Cinzia Castagna.
A project by Claudia Zanfi/Atelier del Paesaggio. Tasting of craft beers flavored with the flowers of Agribirrificio Argenteum (Trento).
Noncompliant Bodies: Social Equity and Public Space, Yale School of Architecture, CT, USA
6-7 Apr 2018
Featuring presentations by Barbara Penner, Sheila Cavanagh, Susan Stryker, Joel Sanders, Terry Kogan, Quemuel Arroyo, Jennifer Tyburczy, Mabel Wilson, Mario Gooden, Charles Renfro, Stuart Corner, Jos Boys, Clare Sears, Elijah Anderson, Keller Easterling, Rashad Shabazz, and Alison Kafer.
Non-Compliant Bodies: Social Equity and Public Space
Friday and Saturday, April 6-7, 2018
Hastings Hall (basement of Paul Rudolph Hall)
180 York Street
New Haven, CT 06511, USA
Yale School of Architecture Event
INDEX 2018, Dubai, UAE
26-29 March 2018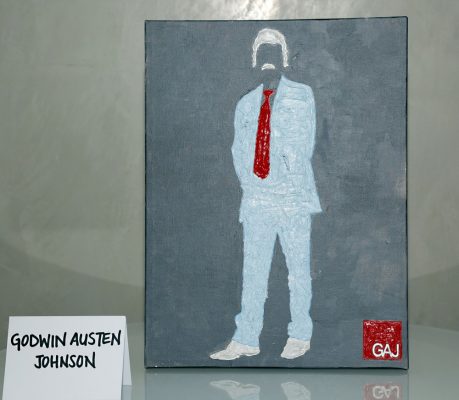 image courtesy of architects
INDEX 2018
Many of Dubai's leading interior designers gathered for a unique celebration of selfexpression last week, presenting one-off canvases styled to directly reflect the individual design ethos of their firms.
– conference schedule featuring the pinnacle of local and international design minds
– live demonstrations and experiences
– stands by wide range of furniture, furnishing and décor suppliers
The exhibition runs alongside WORKSPACE, the MENA region's premium office fitout event, and SURFACE Design Middle East, where the focus is design solutions for floors, walls and ceilings.
The National Homebuilding & Renovating Show, NEC, Birmingham, England, UK
22-25 Mar 2018
The National Homebuilding & Renovating Show takes place over four days, visitors will benefit from more than 500 exhibitors and 16 free daily seminars and masterclasses in the extended venue.
Figures released by the National Custom & Self Build Association reveal that 33,000 people have already signed up to the Right to Build register since October 2017, which means that at least half of the demand for serviced plots will have to be authorised by October 2019.
To support more people in their desire to build homes in the region and inspire remodelling projects, The National Homebuilding & Renovating Show is returning to the NEC, Birmingham from 22-25 March 2018.
Vsitors will benefit from more than 500 exhibitors and 16 free daily seminars and masterclasses in the extended venue.
Standard tickets are £12 in advance or £18 on the door (children under 16 go free). For further information visit www.homebuildingshow.co.uk/national or call the ticket hotline on 0844 854 0503 (calls cost 7p per minute plus network extras).
Australia's 3rd Asia Pacific Architecture Forum, Brisbane, Australia
10 – 23 Mar 2018
An initiative of State Library of Queensland and Architecture Media, the 2018 Asia Pacific Architecture Forum will return to Brisbane from 10 to 23 March, 2018.
The program will feature a range of free and ticketed events, including exhibitions, installations, symposia, lectures and workshops, which will engage architecture and design professionals, educators, enthusiasts, children and young people.
The Architecture Symposium (formerly the ArchitectureAP Symposium), a one-day, headline event on Friday 16 March, will once again be held at State Library of Queensland. Influential architects from throughout the region will gather in South Bank's Cultural Precinct to be inspired by keynote speakers from Japan, Korea, China, Thailand, New Zealand and Australia.
State Librarian and CEO, Vicki McDonald said the two-week program will showcase architecture's pivotal role in the culture, sustainability, and economy of the Asia Pacific region.
"State Library of Queensland, through the Asia Pacific Design Library, is pleased to continue our partnership with Architecture Media to deliver this vibrant program of exhibitions and events, which shines the spotlight on the importance of architecture in our region.
"We are delighted that the Forum has become a vehicle for attracting high calibre international architects and designers to State Library. We are excited to again host this world-class event and facilitate the critical discussions occurring in contemporary architecture," Ms McDonald said.
Architecture Media's Editorial Director Cameron Bruhn observes that the global market for built environment expertise is creating new opportunities for Australian architects, designers and planners.
"Australian practitioners have been living and working internationally since the 1960s and an increasing number of practices are active participants in the globalised market for professional services. The Asia Pacific Architecture Forum celebrates the best work of Australian architects, designers and planners and the economic success of the nation's professional services exports, " Mr Bruhn said.
Highlights of the 2018 Forum include: The Architecture Symposium 2018, a conference featuring internationally renowned speakers; a Design Minds workshop; a free Little Designers architecture workshop; a QAGOMA tour; the UQ Architecture lecture series, featuring leading local, national and international architects; a Brisbane Open House tour and many more.
The full program of events will be announced in the coming months. Visit aparchitectureforum.com for more information.
Light Theaters, Varese, Italy
10 Feb – 25 Mar
· Venue address, including cross streets and nearest public transportation
Villa e Collezione Panza, Piazza Litta 1, Varese, Italy
· Event dates and times
Exhibition runs 10 February 2018—25 March 2018, 11:00—18:00
Light carves out the world around us. It separates night from day, and its particles are always in motion. Recognizing these peculiarly architectural qualities of light, MADWORKSHOP, the Accademia di Architettura di Mendrisio and the Fondo Ambiente Italiano (FAI) are launching Light Theaters, a new exhibition opening at Villa Panza in Varese, Italy on 10 February 2018.
MADWORKSOP x Riccardo Blumer x FAI x Villa Panza: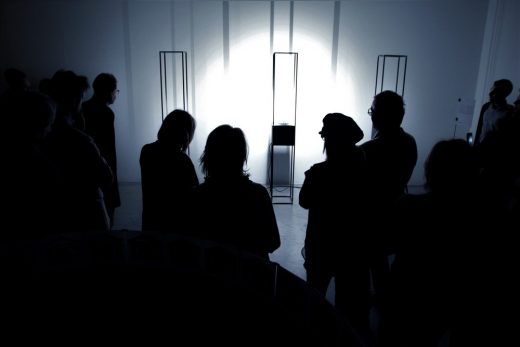 photo © MADWORKSHOP
Director of the Accademia di Architettura di Mendrisio, Riccardo Blumer has spent the last six months working closely with the Academy's students, studying the dynamics of light in space. This exploration is now culminating in an exhibition of ten elaborate new pieces that intrigue the eye and play with perception, illuminating and refracting the ocular experience. Inspired by everything from VR and sci-fi to the luminescent grandeur of high baroque, these visually stimulating installations are unified in their use of artificial light as a sculptural medium.
The exhibition was also inspired by the nearby Sacro Monte di Varese complex, recognised as a World Heritage Site by UNESCO. Several of the artworks also consider the history and scenography of this historic place, tracing ancient lines of pilgrimage through the surrounding mountains with light beams and immersive experiences.
View the video teaser for the project:

MADWORKSHOP x RICCARDO BLUMER x Villa Panza x FAI Trailer #2 from MADWORKSHOP on Vimeo.
New York Build 2018, NYC, USA
19 – 20 Mar 2018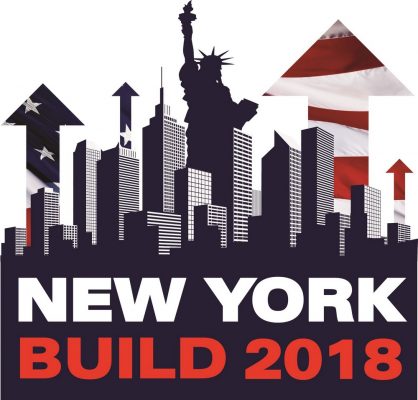 Register for free today: www.newyorkbuildexpo.com
The Leading Construction & Design Expo to Focus on NYC and the Tri-State Area
March 19 & 20
Javits Center, New York City
MIPIM 2018, Cannes, France
13 – 16 Mar
Located at Palais des Festivals, Cannes in Southern France.
MIPIM, the premier real estate event, gathers the most influential players from all sectors of the international property industry for four days of networking, learning and transaction through premium events, conferences and dedicated exhibition zones.
No-Thing, New York City, NY, USA
An exploration into aporetic architectural furniture
Jan 18 – Feb 17, 2018
Friedman Benda Project Space
Address: 515 W 26th St, New York, NY 10001, USA
Phone: +1 212-239-8700
architecten de vylder vinck taillieu, Kamer Frank (2017)
Friedman Benda presents No-Thing, an exhibition curated by Juan Garcia Mosqueda, with newly commissioned works from nine emerging architectural practices. No-Thing runs from January 18 to February 17, 2018, in Friedman Benda's project space.
No-Thing examines the prevalence of authoritative domestic practices embedded in our collective unconscious that guides behavior towards our personal possessions. Some of these works are composed of a seemingly ordinary construction that relies on the user's autonomous self for meaning through postulated use. The title alludes to a state of egalitarian "in-betweenness," a term defined by R.D. Laing in The Politics of Experience—a reference to their makers' non-dogmatic approach to object creation.
"It is through objects like the ones in the exhibition that the space necessary for the construction of a new self in society can emerge. Not a utopian, idealized self, but an ambiguous figure, uncertain of its destiny; as uncertain as these aporetic furniture works. Within this framework, where the objects truly emerge through affect, one is urged to take not solely a passive but an active role," says Juan Garcia Mosqueda.
Presented in tandem with Friedman Benda's ground floor gallery exhibition, Inside the Walls: Architects Design, a survey of important examples of architect designed furniture spanning the 20th century, curated by Mark McDonald. Featuring works by Frank Lloyd Wright and Marcel Breuer that strive for rationalization and demonstrate attempt to assert control over one's creations, "Inside the Walls" serves as a corollary to the subjective user experience theme of No-Thing.
No-Thing will feature new works by Andy and Dave (Brooklyn, NY), Ania Jaworska (Chicago, IL), architecten de vylder vinck taillieu (Gent, Belgium), Leong Leong (New York, NY), Milliøns (Los Angeles, CA), MOS (New York, NY), Norman Kelley (New York, NY, Chicago, IL), SO – IL (New York, NY), and Pezo von Ellrichshausen (Concepcion, Chile).
About Juan Garcia Mosqueda
Juan Garcia Mosqueda is an independent curator and former founder of Chamber, NYC. Chamber operated as a celebrated experimental design gallery in Chelsea from the year 2014 until 2017, providing a unique platform for artists, designers and architects from all over the world.
To read Juan Garcia Mosqueda's curatorial statement, please click here.
About Friedman Benda
Friedman Benda is dedicated to presenting established and emerging designers who create historically significant work and are at the forefront of their practice. Founded in 2007, the gallery's exhibitions and publications have played a vital role in the rise of the design market and education, and take a comprehensive approach to work that intersects the fields of design, craft and art. Friedman Benda represents an international roster of designers spanning five continents and multiple generations.
For further information please visit www.friedmanbenda.com
Inside the Walls: Architects Design, New York City, NY, USA
January 18 – February 17, 2018
Opening Reception: January 18, 2018, 6-8pm
Address: Friedman Benda Gallery, 515 W 26th St, New York, NY 10001, USA
Phone: +1 212-239-8700
Friedman Benda presents its annual guest-curated exhibition Inside the Walls:
Architects Design, a survey of seminal architect-designed furniture curated by Mark
McDonald. With representations spanning over a century, the exhibition will present a
broad range of pivotal architects from the US, Latin America, Europe, and Asia—such as
Luis Barragán, Lina Bo Bardi, Marcel Breuer, Charles and Ray Eames, Frank Gehry, Philip
Johnson, Oscar Niemeyer, Charlotte Perriand, Warren Platner, Gio Ponti, Ettore
Sottsass, Kenzō Tange, and Mies van der Rohe—with a focus on three groundbreaking
figures—Gerrit Thomas Rietveld, Rudolph Schindler, and Frank Lloyd Wright, whose
global reach continues today.
Drawing on archival photographs of interiors and historical ephemera, this exhibition
charts revolutionary developments in architecture and design across the 20th century.
Testaments to the innovative use of new technologies born out of post-war scarcity,
works such as Charles and Ray Eames Eames's Storage Unit (ESU) 400 (1950) and
Charlotte Period's Bibliotheque 'Maison du mexique' (1953) epitomize the ingenious use
of materials like the lighter weight Fiberglas, Masonite, bent plywood and tubular steel.
This presentation will be a unique opportunity to analyze the relationship between
architectural aesthetic and design ethos on a smaller, more intimate scale and
investigate various approaches to reconciling interior and exterior spaces, the
commercial versus the residential and the private versus the public sphere.
Examples of furniture originally designed for specific commissions will be juxtaposed
with furniture and fittings unrelated to a particular project. At the centerpiece of the
exhibition will be the cantilevered exterior light fixtures from Frank Lloyd Wright's 1914
Francis W. Little House in Wayzata, Minnesota. Exemplary of Wright's 'organic
architecture' approach to interior/exterior cohesion, a reproduction of Francis W. Little
House's living room and exterior facades is on permanent display at the Metropolitan
Museum of Art.
About Mark McDonald
For the past four decades, Mark McDonald has been a preeminent dealer of 20th
Century modernist design. In 1983, McDonald opened the legendary Fifty/50 Gallery
with Mark Isaacson and Ralph Cutler in Greenwich Village with the first-ever Eames
retrospective. An avid expert and collector of furniture designed by architects,
McDonald has organized landmark exhibitions on furniture design, mid-century studio
jewelry, ceramics and lighting as well as served as an advisor for numerous prestigious
collectors, artists estates, and museums, including the Vitra Design Museum, Los
Angeles County Museum of Art, Montreal Museum of Decorative Arts, The Daphne
Farago Jewelry Collection, The Metropolitan Museum of Art and The Brooklyn Museum.
After recently closing his eponymous gallery in Hudson, NY McDonald currently serves
as a private advisor to clients and museums, and maintains an online gallery:
www.markmcdonald.biz
Follow Friedman Benda on Instagram: @Friedman_Benda #FriedmanBenda
Thomas Hope: Drawings of Ottoman Istanbul, Dubai, UAE
8 Nov 2017 – 10 Feb 2018
The Exhibition showcases a collection of rare and uniquely intricate drawings showing what life was like in the Ottoman city of Istanbul.
This architecture exhibition is being held in collaboration with Benaki Museum in Athens, Greece.
It is held at The Sharjah Museum of Islamic Civilization, located by Sharjah Creek, on Corniche street, adjacent to Arabian Gulf Street.
Opening hours are: 8am to 8pm Saturday to Thursday, and 4pm to 8pm on Fridays. The Exhibition opened on November 8th and will run until February 10, 2018.
http://www.sharjahmuseums.ae/News/Wonderful-sketches-of-Ottoman-era-Istanbul-unveile.aspx
5th International Green Roof Congress, Al Shaheed Park, Kuwait City, Kuwait
17th and 18th February 2018
This event will focus on successful solutions for sustainable urban development.
The fifth edition of IGRA´s prestigious congress series deals with the special challenges of Green Roofs in dry climates. More than one-third of the world population already lives in these expanding regions, without considering the global metropolitan areas which often are grappling with the same problems and referred to as "city deserts". The performance of Green Roofs in these special environments is strongly connected with the availability and scarcity of water and the limited types of plants, which are able to tolerate these harsh weather conditions – therefore the water & plantation issue is a common thread of the congress presentations and discussions.
Al Shaheed Park Kuwait: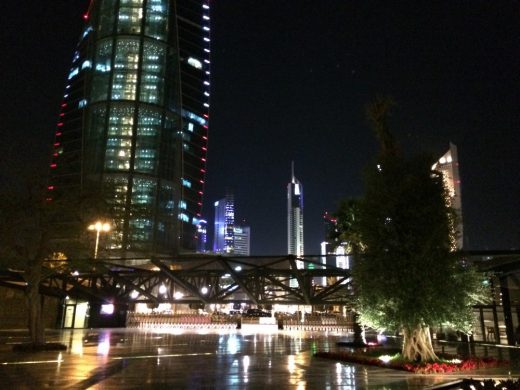 photo © Adrian Welch
Congress Venue
The congress venue Al Shaheed Park in Kuwait City (http://alshaheedpark.com/) consists of 310,000 m² of greenery, featuring a modern conference center, beautiful botanical gardens, museums, a miniature of old Kuwait, walkways, jogging tracks, lakes, river landscapes and an amazing musical fountain. With almost 80,000 m² of Green Roofs the largest urban park in Kuwait represents at the same time a prime example of how to meet the challenges of hot and dry climate by using appropriate Green Roof systems.
Delegates
This congress is for everyone whose profession brings them into contact with Green Roofs and who wishes to learn about the latest technology related to this field. This includes architects, installers, landscape architects, planners, representatives of local authorities and environmental agencies, investors and manufacturers.
Website: www.greenroofworld.com
CompIC ME 2018, UAE
14-15 Feb 2018
CompIC ME 2018, a leading construction event in the UAE, sponsored by Scott Bader Middle East is just one week away. A must for those who are looking to learn more about the beauty of designing with advanced composites compared to conventional structural materials such as steel and concrete.
In its second running, CompIC ME attracts prominent architects, composite manufacturers, material suppliers, engineers, designers and contractors from all over the globe.
This year, a selection of the region's leading composites manufacturers will present their latest builds and experiences, whilst some of the most innovative composite material suppliers will exhibit.
Highlights of the two-day programme include:
• Ben Piper, Killa Design, will speak about 'The Office of the Future' – the most advanced 3D printed building in the world. This is also the first fully functional, inhabited 3D printed building ever, and Ben will be discussing the lessons learned from design to build.
• Dr Mark Hobbs, Premier Composites Technologies (PCT), in his presentation 'Large Span and Self-Supportive Advanced Composite Structures' will take delegates on a journey from PCT's early self-supporting dome structures through to the latest carbon fibre free standing roof structures, including the roof of the Steve Jobs Theatre, the largest self-supporting CFRP roof ever built.
• Dr Amer Affan, CEO, Affan Innovative Structures will deliver a keynote speech on a wide range of structural composite projects in the UAE, Europe and KSA, including the iconic Museum of the Future in Dubai that is currently under construction.
• Neil Gray, Scott Bader, will present on how composites have combined Ground-Breaking Design with the Highest Levels of Fire, Smoke & Toxic Fume Performance.
CompIC ME offers a full and varied programme as well as a range of exhibitors including composite engineers and suppliers of composite materials that are specifically formulated and optimised to address fire retardancy and sustainable construction practices. This is your must-attend event of the year for all things composites in construction.
Register Now using code COMPIC20 to save £170 / 870 AED
Building Britain's Ideal, RIBA, 66 Portland Place, London, UK
Tuesday 6 February 2018, 7-8.30pm
In this discussion, architects, developers, planners and heritage consultants will consider the enduring value of building in historic styles: is the pseudo-Georgian style an homage, a pastiche, or a real crowd-pleaser?
Risky business? Historic England & U+I breakfast event, London, England, UK
When: 6th February 2018, 8-10am
Where: U+I PLC, 7 Howick Place, London, SW1P 1DZ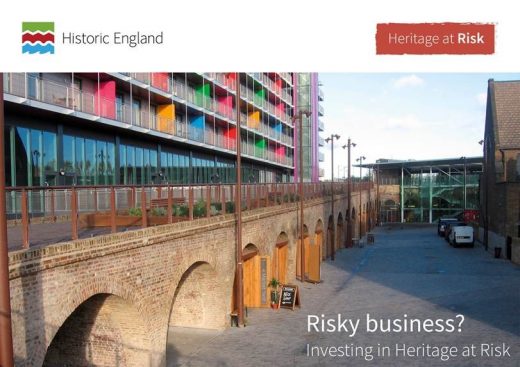 picture courtesy of Historic England
Join Historic England and U+I over breakfast to discover how investing in Heritage at Risk sites can deliver an unrivalled richness of regeneration outcomes. This event will launch a report by Lichfields, commissioned by Historic England, which uses a range of case studies that show the benefits of investing in heritage assets, through repairing them and bringing them back into use. This is Good Growth – both in terms of economic and employment outputs, but also in terms of community education and engagement.
Richard Upton, of hosts U+I PLC, developed the award-winning Railway Ramp at Deptford (pictured) and will also speak about his experience of the challenges and rewards of dealing with such diamonds in the dust.
Chaired by Emily Gee, Historic England's London Planning Director, a lively panel will then answer questions and discuss the risks and rewards of investing in heritage buildings. Panellists include:
• Richard Upton, Deputy Chief Executive, U+I Group
• Fiona Fletcher Smith, Executive Director of Development, Enterprise and Environment, GLA
• Nick Bishop, Senior Heritage Consultant, Lichfields
• Rebecca Barrett, London Heritage at Risk Principal, Historic England
• Ian Morrison, Director of Planning, Historic England
Royal Gold Medal 2018 – Neave Brown: Building a Legacy, RIBA, 66 Portland Place, London, UK
Thursday 1 February 2018, 7-9.30pm, RIBA
Pioneering architect Neave Brown very sadly passed away earlier this month. He was awarded the RIBA Gold Medal Architects 2017 Winner in 2017, the UK's highest honour in architecture, in recognition of his unparalleled contribution to public housing. His ground-breaking designs for high-density, low-rise social housing in London in the 1960s and 70s, including the visionary Alexandra Road estate near Swiss Cottage: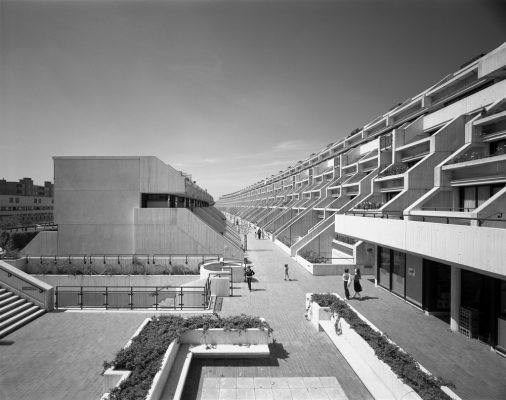 photo courtesy of RIBA
Screening of Film by Nili Portugali, Israeli Architect A.A.Dip (London), India
2 Feb 2018
At: MIFF – Mumbai International Film Festival, India
Screening Due: 2 February 2018 – 2.00 PM MIFF Prism – Official Selection
Screening & Talk with the Israeli Director / Architect Nili Portugali
This film is opening a public discussion regarding central debates, challenging the general public and 21st-century architects, as how to adopt a new worldview / holistic and cross-cultural one that will transform current thought and approaches being an existential threat to the physical and human environment in which we live. That will create a more HUMAN environment in which man feels at home. In any place, in any culture, and at any time.
At a time of existential threat to the physical and human environment Architect Portugali takes us into a deeply intimate journey in the Kabbala holy city – Tsefat, Israel. A journey that unfolds to a discovery of universal insights from her holistic / Buddhist / scientific P.O.V: What is the secret of all Timeless places in which man feels 'at Home' & what is that 'Pure Art of making' that creates them. At any culture; place; time. That, via reconstructing childhood memories engraved on each stone of the invisible city's history. A film crossing new boundaries – straddling the line between art and cinema.
For further information please visit www.niliportugali.com/film.htm
MIFF details: www.miff.in
Architectural Event 2017 Archive
Architecture Events Archive, chronological:
WOHAbeing at the National Design Centre, Singapore
The design firm launched their new design brand WOHAbeing in September at MAISON&OBJET Paris and are bringing the exhibition back to Singapore.
National Design Centre, 111 Middle Road , Singapore 188969
7 Dec 2017 – 7 Jan 2018
The exhibition "Bonjour, WOHAbeing"
Nieto Sobejano Arquitectos Exhibition at Aedes Architecture Forum, Berlin, Germany
9 Dec 2017 – 16 Jan 2018
Aedes Architecture Forum Berlin Event
Nieto Sobejano Arquitectos, Madrid/Berlin
TABULA – The Arvo Pärt Centre in Estonia
Exhibition: December 9, 2017 – January 16, 2018
Opening: Friday, December 8, 2017, 6.30 pm
Exhibition venue: Aedes Architecture Forum, Christinenstr. 18–19, 10119 Berlin
Opening times: Tuesday–Friday 11:00 am–6:30 pm, Sunday–Monday 1:00 pm–5:00 pm
View. Finnish Biennial Review 2016, Museum of Estonian Architecture, Tallinn, Estonia
10 Nov 2017 – 1 Jan 2018
Eesti Arhitektuurimuuseum, Ahtri 2, Tallinn 10150
OOPEAA Office for Peripheral Architecture: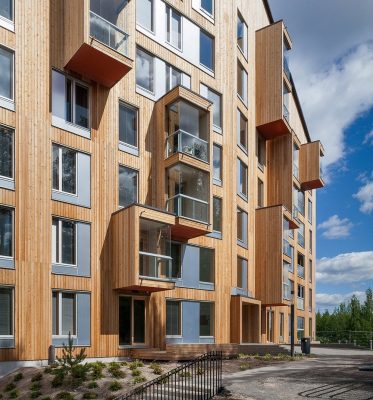 photo : Mikko Auerniitty
View. Finnish Biennial Review 2016
Welcome to the opening of the exhibition on Thursday, November 9, 2017, 5 p.m.
The 2016 Biennial Review spotlights 15 projects that represent new thinking in Finnish architecture. The selected projects include interesting new inroads in housing development and in technological development, as well as examples of international collaboration and expertise in renovation. The Review is organised by the Alvar Aalto Museum, the Finnish Association of Architects and the Museum of Finnish Architecture.
www.arhitektuurimuuseum.ee
California Courthouses, San Francisco, CA, USA
Jan 11, 2018
California Courthouses: The New San Diego Courthouse + Upcoming Solicitation
Thursday, January 11, 5:30 – 7:30 PM
Skidmore, Owings & Merrill, One Front Street, Suite 2400
Join AIASF's evening presentation and information session for interested firms to gain an understanding of current project objectives, the portfolio, and solicitation process in preparation for the upcoming architectural service solicitations.
Architecture Events in 2016 and 2017
Events for the World Architecture Events 2018 Archive page welcome